Before the "I do" and "Till death do us part" comes the most defining moment in every couple's life: the proposal. You know, the part where the guy gets down on one knee and asks the four-word question that the girl has probably long been waiting for. Or it could be the other way around, if you're all about breaking gender norms. Either way, it's certainly a huge deal, which is why some opt for a destination wedding proposal to take things up a notch. 
After all, is there anything more romantic than a wonderful couples' holiday with a surprise on the side to make it extra memorable? (Okay, it might also be hella nerve-wracking if you're the one popping the question, but you get what I mean). Of course, there is no single best way to propose on vacation. Some prefer a quieter setting without anyone else around, while others are all about grand gestures that would have Hollywood producers fighting for the adaptation rights.
So, in celebration of the cheesiest time of the year, we interviewed seven couples who experienced a destination proposal while travelling abroad. From famous locales in Europe to tucked-away spots in Asia — these might help you figure out your dream proposal, too. (But hey, no pressure!)
1. Abby & Nathan – Positano, Italy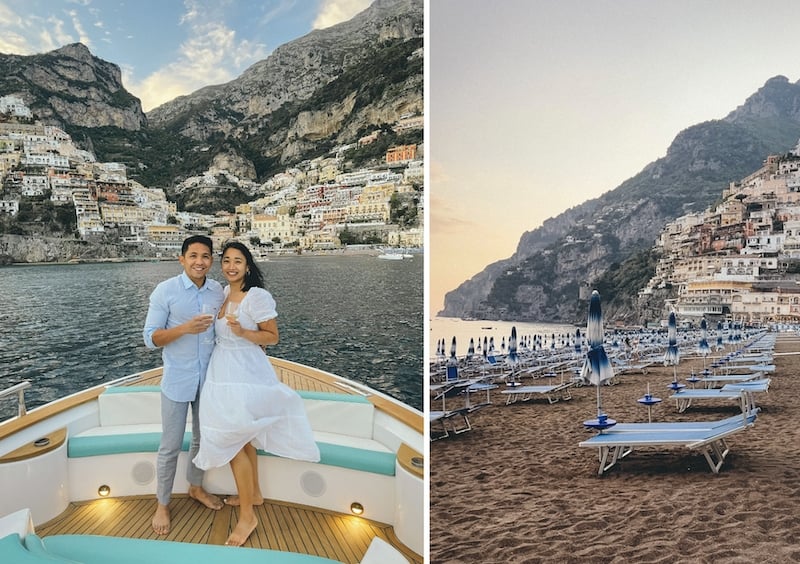 For this soon-to-wed couple, the best way to propose on vacation is a sunset tour along the Amalfi Coast. With its vibrant seaside towns nestled among gorgeously rugged cliffs — it has become a holy-grail setting for countless love stories through the ages, both on- and off-screen. "Positano, in particular, has been my dream destination for a long time," said Abby. "I was planning to go there with friends in 2018 for my birthday, but we had to cancel the trip. So I convinced Nathan we should go together."
It took Nathan two months of preparation for his proposal in May 2022. "I was reflecting and got the feeling that [this vacation] would be the best time. Abby and I have been together for only three years, but I know she's the one," he shared. He even admits he did most of the planning during his night shifts at work, so he could search for ideas as discreetly as possible. The end result? A private boat ride in front of stunning Positano, right as the sun is setting.  
In an attempt to be subtle, Nathan initially told Abby that they were going on a group tour. When she noticed that it was actually going to be just the two of them (plus the boatman), he claimed it was simply an anniversary gift. But apparently, the very fact that he booked that part of their trip was already a dead giveaway. 
"I really did [have an idea] the whole time! He lets me do all the holiday planning, so that boat ride was unusual," Abby quipped. "I actually would've been surprised if he didn't propose during that private tour." Beyond that, the two of them have already been talking about their big plans and the idea of marriage for quite some time, so it was only a matter of how Nathan would finally ask her. 
On vacation proposal jitters and awkwardly captured scenes:
Nathan: "The plan went perfectly. Everything went smoothly — from the weather to the hiding of the ring from her. What I wish that I did differently was the moment I put up the camera for the family video call. I made a group chat with some of the closest people in our lives so they can witness the proposal. I even asked her family for their blessing before this trip. 
However, maybe because of the jitters (and too much prosecco) that day, the view in the video didn't show the exact spot where I proposed. So, all that the camera was able to capture was half of my back and Abby's hand." 
Also read: 15 Picturesque Airbnb Homes & Vacation Rentals Along the Amalfi Coast of Italy 
2. Katrina & Jom – Seoul, South Korea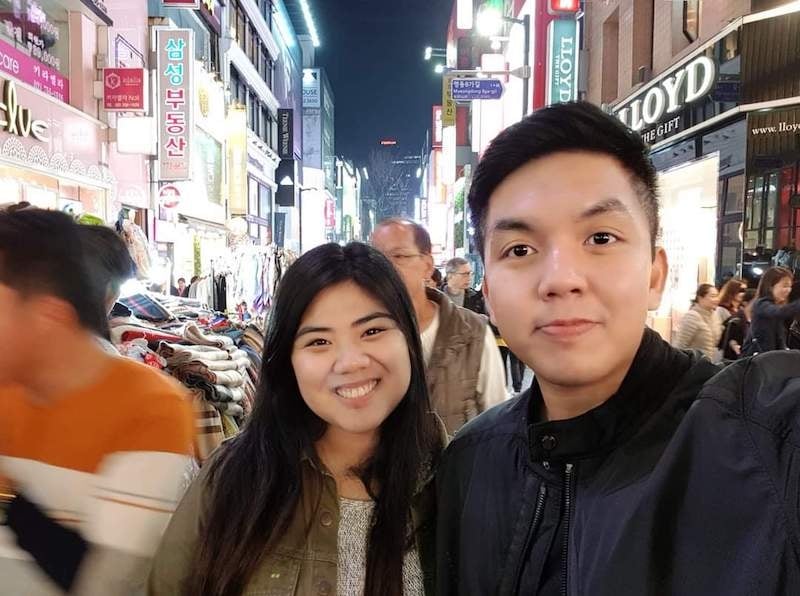 Even before the lead-up to their big moment, Katrina and Jom's story is reminiscent of a romantic K-drama. And no, it's not simply because the destination proposal was in Seoul, of all places. You know those feel-good K-dramas with a childhood friends-turned-couple trope that brings out all the butterflies? Such is the case with this pair, who braved a long-distance relationship (LDR) prior to getting engaged in arguably the most spontaneous way possible. 
Katrina flew to South Korea to celebrate Jom's birthday. At the time, he was stationed at Suwon Air Base as part of his job in the US Army. Despite her visit lasting for two weeks, their time together still felt short — which anyone who has ever been in an LDR can attest to. "We were in Seoul Station; I was going to take the train to the airport, while he was about to go back to Suwon," shared Katrina. "It was dawning on me that we would have to revert to our old routine, so I wanted to take in every minute we had together."
It didn't take much convincing for Katrina to take the later train instead. "By that time, the station was nearly empty as it was pretty late at night. We went to a little corner to talk and make plans for the next visit," she said. She admitted she began to get teary-eyed as it was almost time to leave, while Jom was comforting her and making sure she didn't forget any of her stuff.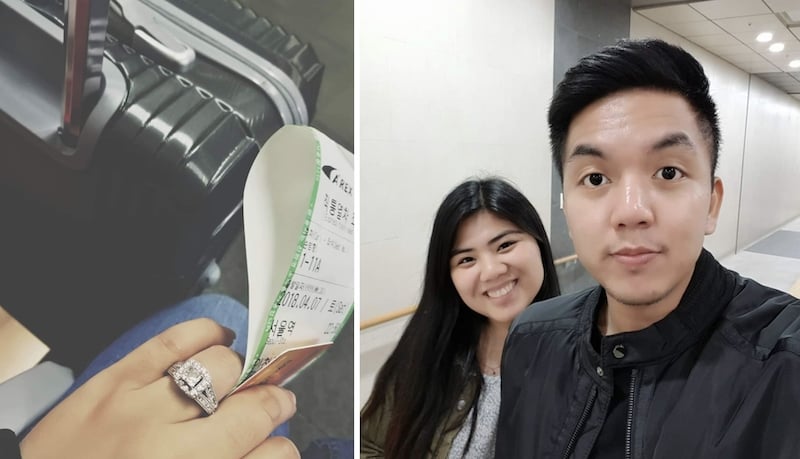 "But one more thing," he said after their embrace… then proceeded to take out a ring box from his coat. "Will you marry me?" Meanwhile, Kat couldn't believe that it was happening; she always assumed he was just kidding whenever he hinted about proposing.  "My initial response was, 'Are you serious?' And he assured me that he was. At that point, I was crying for a completely different reason," she recalled with a laugh. "Oh, and of course, I said 'yes!'" 
On finding the right place and right moment:
Jom: "We made plans to visit tourist spots in Korea, including the Garden of Morning Calm in Gapyeong-gun. I thought it would be the perfect spot, but unfortunately, it was raining and the place was closed when we went. My Plan B was Lotte Tower at sunset, complete with overlooking views of the city. When we got to the observation deck, something just didn't feel right about the setting because it was crowded. I said we should come back the next day. But it turned out there were way more people than the previous day!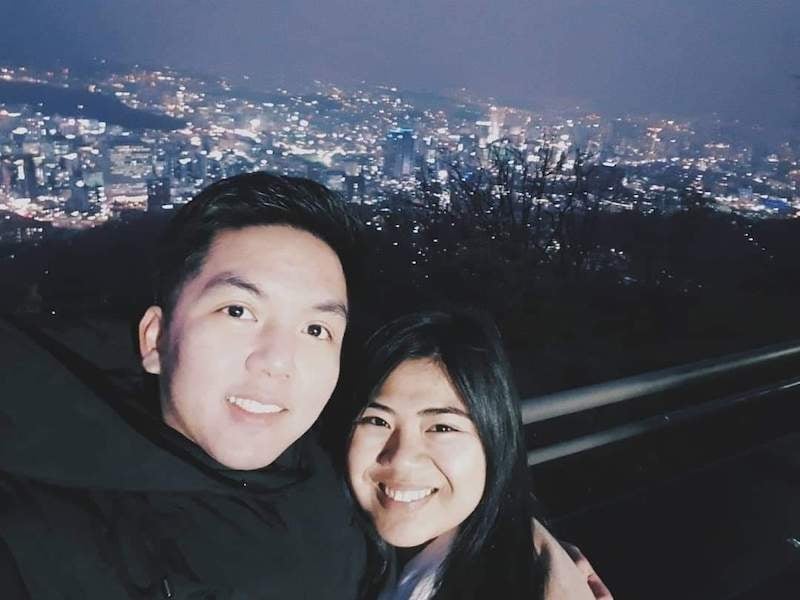 I tried to push through [with this plan] because we already bought tickets. Unfortunately, the line wasn't moving and we were pressed for time, so we just gave our tickets to another couple and left. So I decided to postpone my proposal until the next time I visited her in the Philippines. But then, I changed my mind at the very last minute, when we were already in Seoul Station. I hated seeing her sad like that — and that's when I had a lightbulb moment: I could make her sadness go away and, at the same time, make her trip even more special by ending it with my proposal.
When she already left for the airport, I was thinking that it was the least romantic way I could have ever proposed. I had so many grand ideas to do it, so many romantic ways to make it more special, but it just felt right at that moment. And all I needed was her, me, and a ring with a promise."
Also read: 16 Best Airbnbs & Vacation Rentals in Seoul for Every Budget
3. YuanYi & PeiYee – Prague, Czech Republic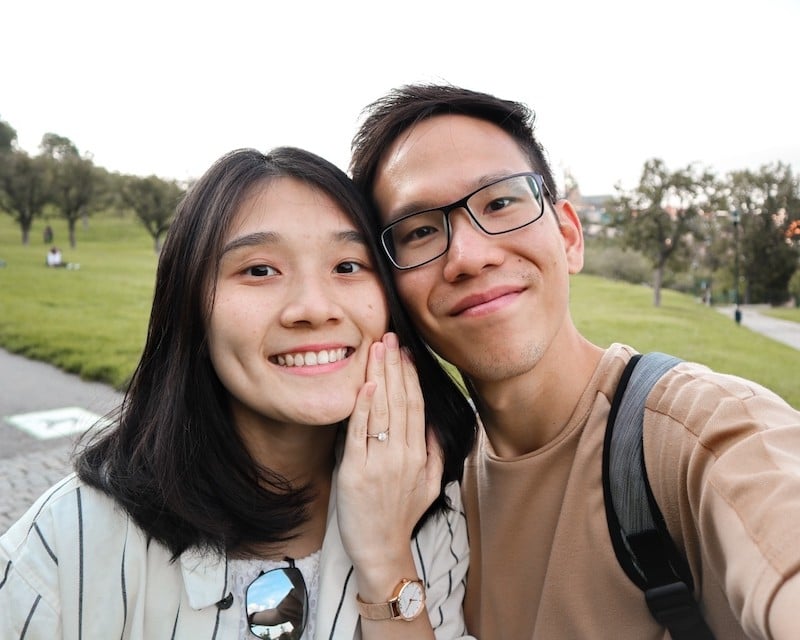 It's not unusual for couples to explore a new destination together for the first time. But for an incredible milestone added into the equation? Now, that's a trip to remember for sure. For YuanYi and PeiYee, who were also in an LDR before their engagement, that special place would definitely be Prague. "Given the subtle romantic vibe of the city, I thought it would be a wonderful and memorable experience to ask her to marry me there," YuanYi said. 
For about two months before their holiday, he was in constant communication with a local vendor who provides services for romantic occasions like marriage proposals and wedding anniversaries. It was also during this time that he found the best spot to hold the moment: atop Petřín hill, where one can marvel at the glorious panoramas of the city. "[It] was more than I could ever ask for — a hilltop late-sunset view of the beautiful city, with a space reserved for the two of us to enjoy the special moment alone," he reminisced.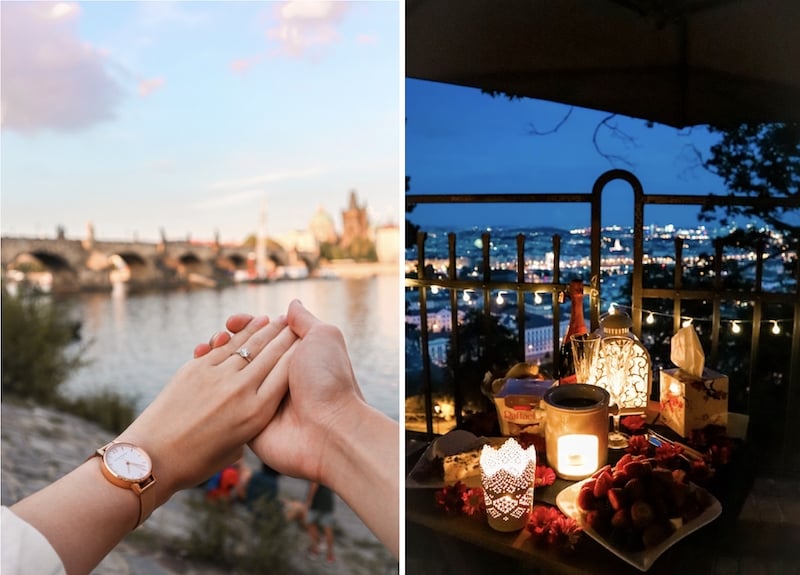 He also shared about being in constant communication with this vendor before and during their trip, since he wanted everything to go smoothly. Given the elevated location of his vacation proposal, he had to make sure they were going to the right spot, exactly on time. Awaiting them there were decadent fondue and fruits laid on a table decorated with candles and even sprinkled petals. "Thankfully, the answer was positive!" YuanYi joked. 
Meanwhile, PeiYee had a somewhat less specific wish for their Czech holiday. "That same day, I literally made a wish for us to finally be closer geographically," she confessed. "It was while we were touring Charles Bridge, on the base of the statue of John of Nepomuk, which is said to bring good luck." Lo and behold — her wish was granted in the most magical way possible, just a mere hours after! (Anyone else taking down notes?) 
On what made it a very unexpected destination proposal:
PeiYee: "YuanYi took me to a jewellery shop in Prague to 'casually' look at proposal rings, pretending that he was just starting to consider marriage. I must admit it was well-played because it completely threw me off. He also insisted we have an early dinner somewhere far from where we were staying — which he never does! 
I had a bit of alcohol over dinner, so that probably explains why I would agree to a 20-minute uphill walk right after a meal… and another 20 minutes to find an allegedly 'great photogenic spot' on the hill. There, I saw a dining set-up overlooking the city, and he insisted I go closer to have a look. I wasn't interested at first, but the trickster was on it again! 
YuanYi went on and said a bunch of things to me, like how thankful he was for how we overcame the long distance. He proposed at the end, and I was both shocked and tearful! I sort of had mixed feelings in that sense, but I was really glad it turned out the way it did. Also, I certainly don't remember responding with the conventional 'Yes, I do.' But I guess nodding counts, right?"  
Also read: 10 Best European Countries That Won't Break the Bank
4. Tricia & Jubs – Paris, France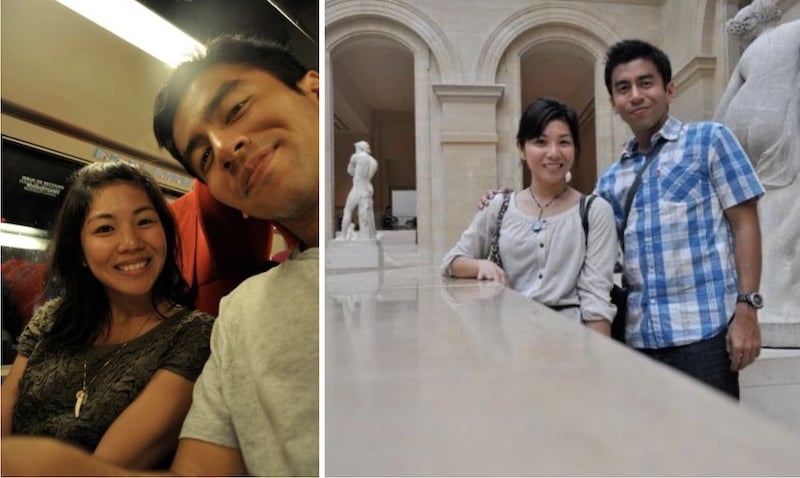 Up next we have the couple who has been together the longest: 10 years married (as of writing) and an earlier nine years before getting engaged, to be exact. That said, what could be a more romantic setting than the ever-iconic Paris? It was Tricia and Jubs's first time in France, although the latter admits he initially did not have a specific destination in mind, given that it was but a stop at their long-haul Europe trip. "Carrying the engagement ring [throughout most of it] was quite an experience," he said. 
Given how long they had been together and where they were vacationing (the City of Lights, no less), it only makes sense their loved ones were already anticipating something. "Personally, I didn't expect anything, but my friends were teasing me that it would happen there," Tricia recalled with amusement. (And to that, we say — friends really do often know best.)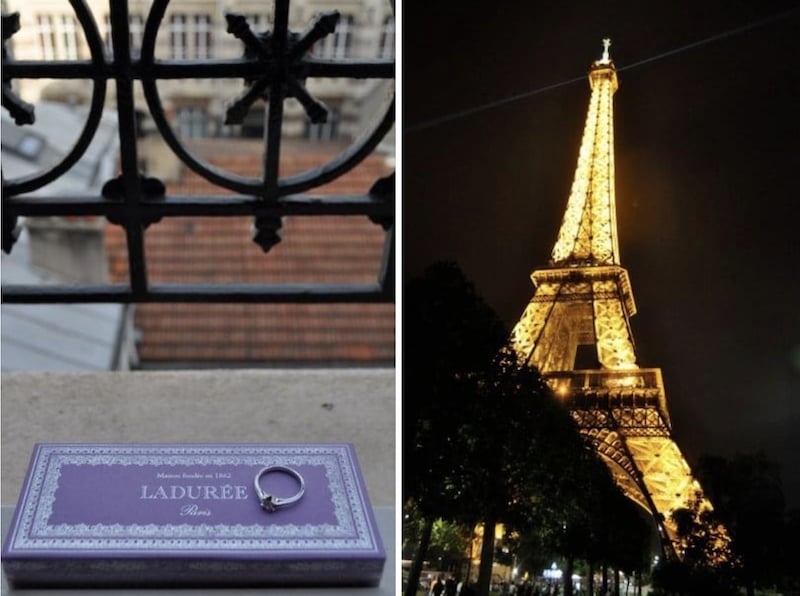 When it came to vacation proposal ideas, Jubs tried to avoid the ones that have already been done a thousand too many times. "I was supposed to propose while we were on top of the Eiffel Tower. But just when I was about to pop the question, another couple did it at that exact moment!" he explained. One could say he took that as a sign from the universe to adjust and go with something that was — at the very least — less crowded and less predictable. 
And that was how he ended up proposing to Tricia in the Champ de Mars gardens. Top it all off with a scene of the Eiffel glittering under the evening skies, and you have the picture-perfect timing that could rival any Parisian film montage. Très bien!
On keeping options open throughout their vacation:
Jubs: "We were initially in the United Kingdom, which was an incentive trip from my employer back then. Since we were already going to be in Europe, we decided to extend and visit other countries. Planning for our entire holiday came first, like securing valid passports, visas, and all that. 
As our flight to the UK drew nearer, I decided to buy the ring. It was certainly my plan to propose sometime during the trip, but I didn't want to limit myself to a specific time and place. All I knew was I wanted it to be a moment when we were alone, away from our other travel companions, so the UK leg was out of the question. 
I also took a rather non-traditional approach; I knew that her family would approve, so I did not go through the process of asking her parents beforehand [which is a common Filipino custom]. It was quite a leap of faith for me, but clearly worth it!" 
Also read: 14 Most Incredible Places in France 
5. Marla & Anton – Singapore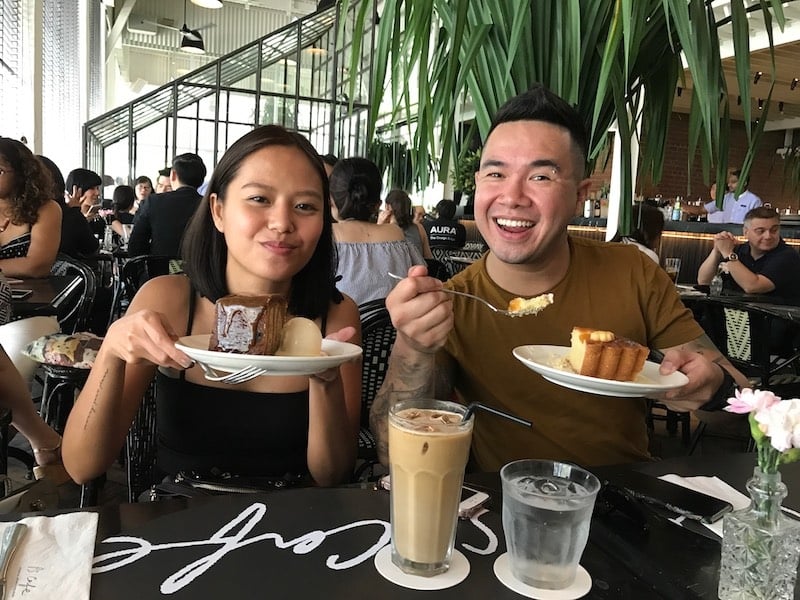 "I was honestly expecting something during more 'romantic' trips the year before. But it wasn't happening, so I stopped getting my hopes up," Marla said amusedly when asked about Anton's destination wedding proposal. True enough, it wasn't actually a vacation when they flew to Singapore in March 2017. She was invited to do a talk at a writers' festival, and she asked her then-boyfriend of five years to come along.
Their grand moment took place in the National Library Building, which was nothing short of befitting, considering they're both multi-genre writers and avid readers. This building features two 16-storey blocks linked by skybridges on each floor — serving as both a massive reading haven and an architectural marvel. While they spent most of the trip with their fellow writer friends, Anton planned for this part of the itinerary to be just the two of them. 
So there they were, browsing through vast shelves of various literary genres. Marla was seated on the floor, reading a poetry anthology titled Women Without Men, when he prompted with: "Do you want to write a story together?" Of course, she didn't suspect anything still, as they'd worked on writing projects together before. She even reminded him about the one they were already planning, inspired by a recent vacation in Hawaii. 
"No, this is a new one," said Anton before kneeling beside her. And as he revealed a dazzling yellow sapphire ring, that was when Marla finally knew. As a self-confessed introvert, one of the things she adored about her now-husband was his outgoing personality. But on that sunny morning in one of their favourite cities, she got a proposal that was very much her: "simple, quiet, and poetic."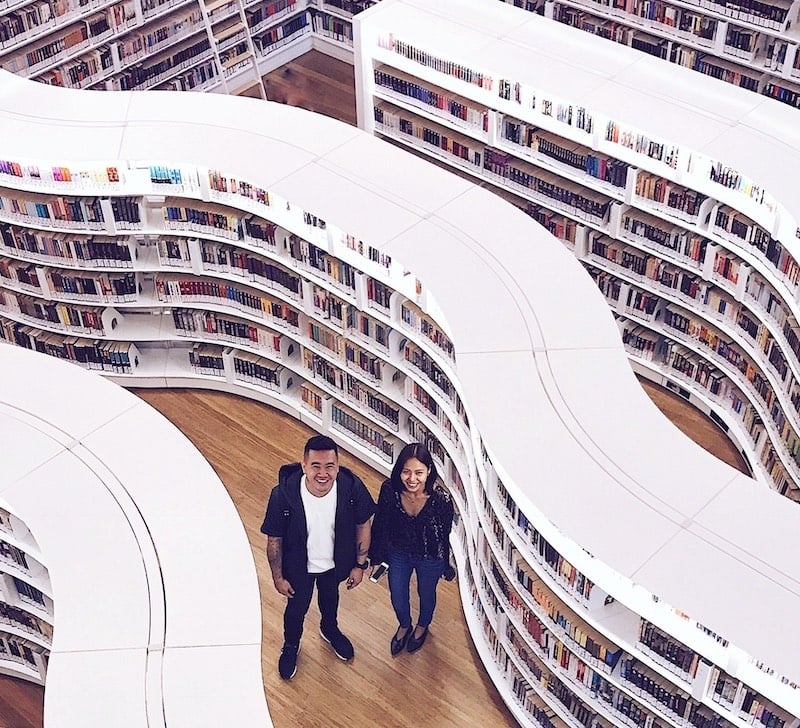 On "almost spoilers" and that one librarian:
Marla: "On the way to the National Library Building, I obviously posted a photo taken the day before at [email protected], with the caption: Bound together. Anton was quietly freaking out because he thought the people who knew about his plan would start congratulating me prematurely and ruin the surprise! 
Our engagement story also had a funny cameo from a grumpy librarian! After I said 'yes,' we were laughing and hugging — probably a bit too loudly. That was when one of the librarians appeared in front of us and told us to 'do that outside.' So, that's the story of how we got kicked out of the National Library of Singapore." 
Also read: 15 Most Romantic Wedding Shoot Locations in Singapore
6. Herbie & Reina – Dubai, United Arab Emirates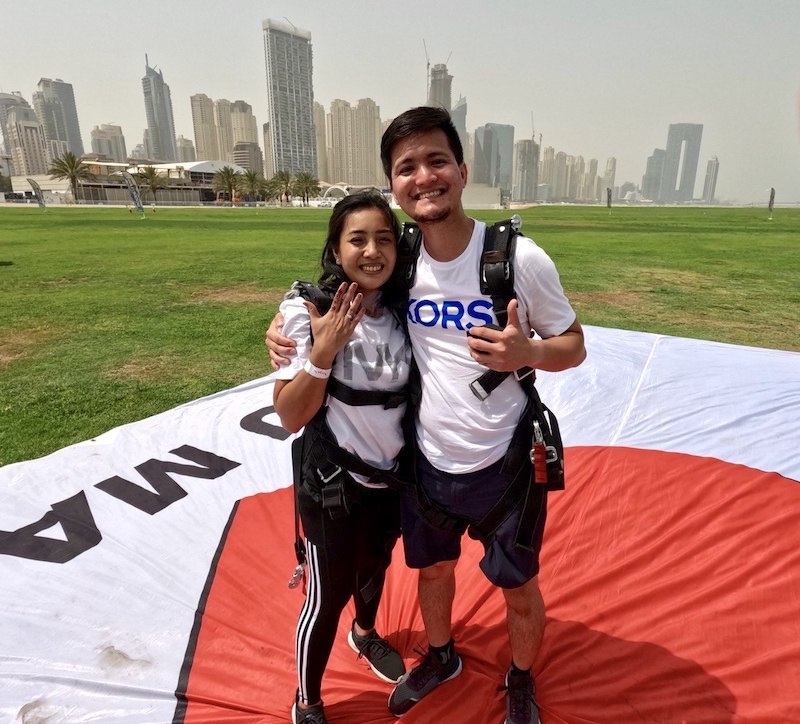 It was June 2022 when Herbie planned a (literally) sky-high sort of destination proposal to Reina, his girlfriend of three years then. Not only was it the highlight of their long overdue post-lockdown trip to Dubai, but it also happened alongside something that was on their bucket list: skydiving! 
The pair headed to Skydiving Dubai on their second day, though Reina admits she had zero clue about what was unfolding back then. "When we arrived at the counter to register, he was already quite nervous. But I didn't think [much of it] since I figured, it was probably just the adrenaline rush, a fear of heights kind of thing," she explained. Perhaps another thing that worked in Herbie's favour — as far as the surprise is concerned — was that they almost didn't make it to their super early appointment.
How early, you ask? Well, their schedule was at 7.30am… so, you tell us. Herbie and Reina left their hotel an hour in advance to take a train. But upon checking their ETA via train, they saw that they wouldn't make it on time. Hence, the last-minute decision to book a taxi. "We were already two minutes late when we got there," Reina said. "We rushed to the registration area, as failure to be on time means we couldn't go in." Fortunately, they were able to push through.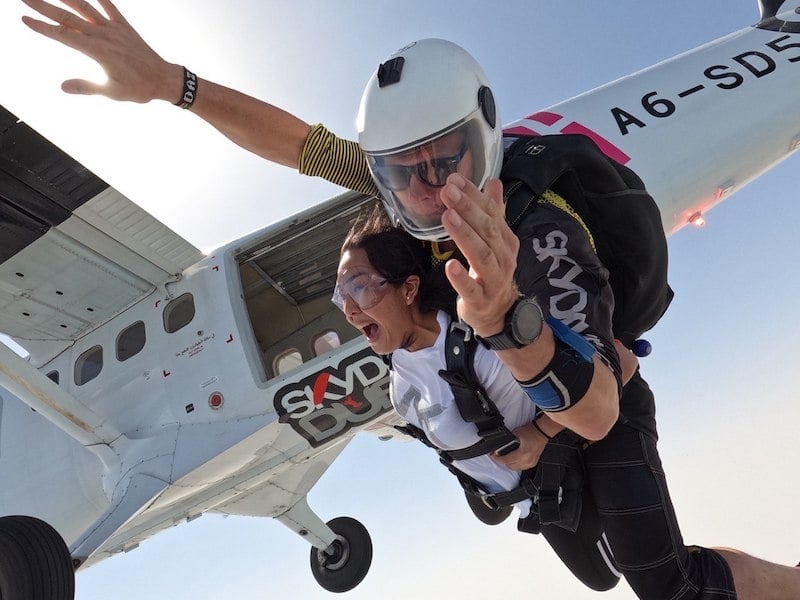 The plan was for him to jump off the plane first among their batch and her to go last. While still up in the air, her skydiving instructor asked her to look for their landing area — where she saw a white banner with a big heart logo! Written on the banner in large font was: I love you, will you marry me? "The instructor asked me who did I think that was from. I said 'I don't know, I don't want to assume, but maybe it's from my boyfriend,'" Reina recounted with a laugh. 
By the time she landed, she was already feeling dizzy from the jump. But when she saw him standing there with that same banner, the surrealness of the moment finally sunk in. You know those moments when time seems to pause and it's like you're the only two people in the world? Well, it's certainly a great thing that Skydiving Dubai was able to document that butterfly-inducing scene!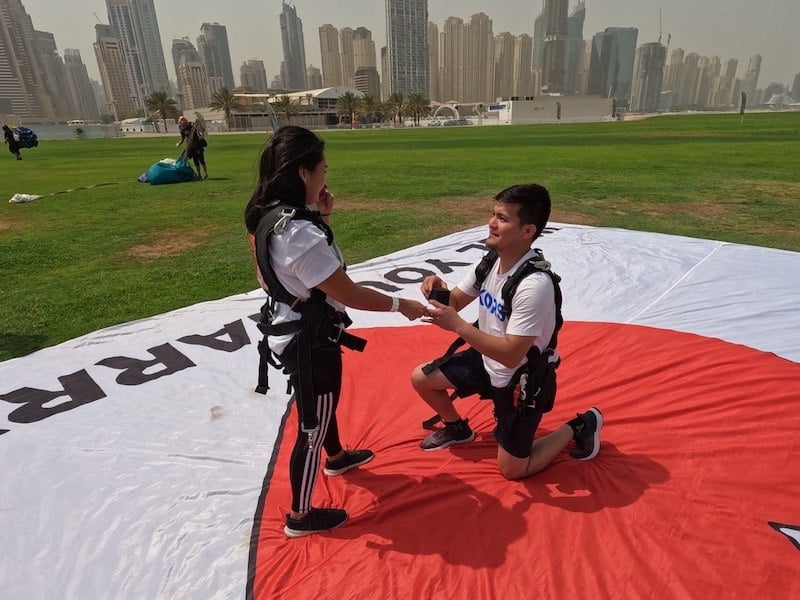 On what made proposing on vacation the best surprise yet:
Reina: "I was the one who organised our Dubai itinerary. I searched for fine-dining restaurants and tourist spots to go to, and I even booked a romantic dhow cruise. As a planner myself, he caught me off-guard on this one. When we arrived in Skydiving Dubai, he was talking to a lot of people. Little did I know he was already secretly coordinating everything. So, I'll give it to him for making that big a surprise! 
After the proposal, he told me how he worried that I would see the ring in his luggage because I usually check his things. He then revealed where he actually hid it: at the top of the cabinet in our room, so I can't reach or even see it." 
Also read: 12 Gorgeous Airbnbs in Dubai for Every Kind of Traveller
7. Grace & Ryan – Abastumani, Georgia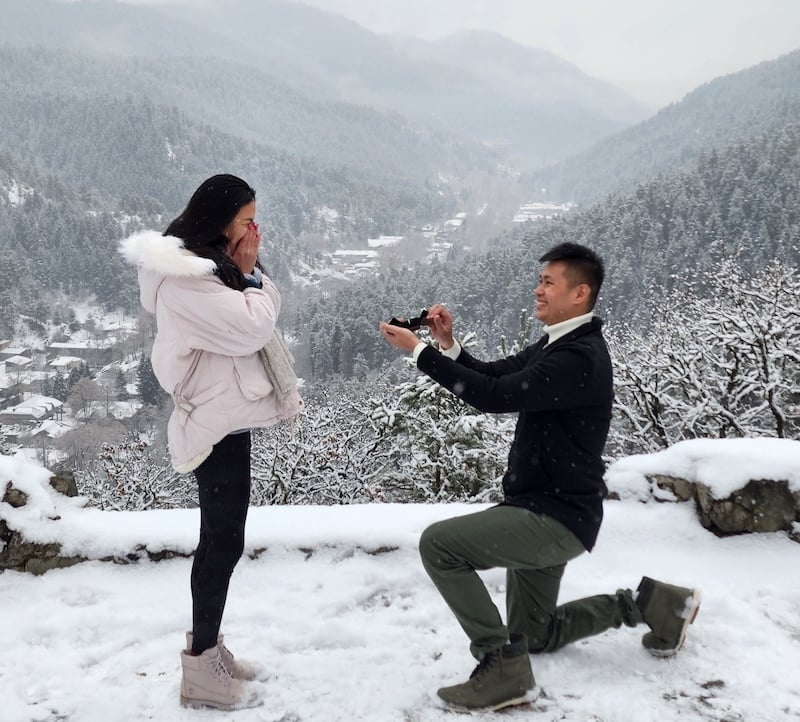 Here, we have our most recently engaged couple: Grace and Ryan, who had their engagement towards the end of January this year! Their fairytale moment happened in Abastumani, a lovely hidden gem in Georgia brimming with historic sights and natural wonders. It was actually a rather unexpected detour in their multi-destination trip, which also included Istanbul and Cappadocia in Turkey. 
"I was kind of thinking that maybe he would [ask] in Cappadocia since it's very romantic and a common place for such an occasion," Grace confessed. "But it didn't happen there, so I just shook the idea off my mind and thought that maybe he won't [for now]." Ryan, on the other hand, actually had to go through several options for this destination proposal. He specifically wanted a wintery setting wherein he would kneel on the snow — just like how it goes in countless K-dramas. 
His original choice was Gergeti Trinity Church, which is right behind a glacier and boasts overlooking views of Kazbegi. It even came highly recommended by their tour guide friend! "But when we arrived in Georgia, the weather the same as in the forecast. It was sunny the whole week, so the snow would quickly melt," Grace described. And so they made their way to Bakuriani instead, as it was known to be the country's best and oldest ski resort. However, the weather wasn't in their favour yet again, given the low chance of snow.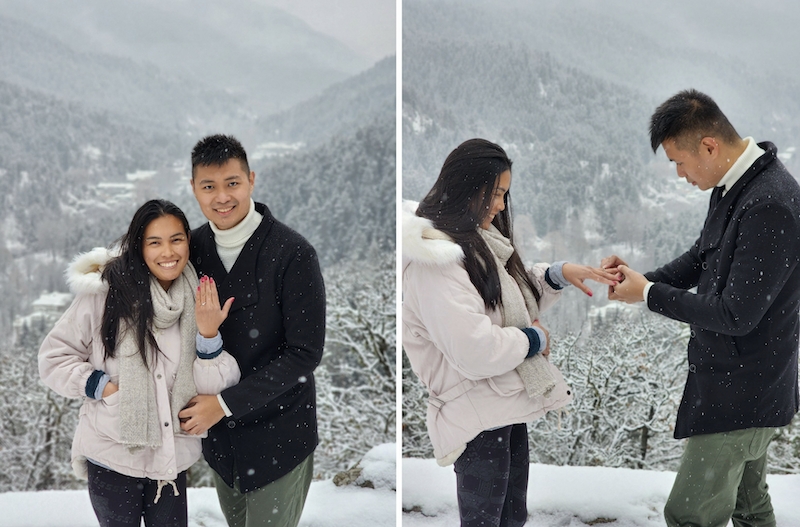 As fate (or luck) would have it — their tour guide offered another recommendation that saved the day! "On our way to Bakuriani, [our guide] saw in an Instagram story from a relative that it was snowing in their hometown. He immediately suggested that we go to Abastumani instead," Grace explained. "It was also just an 80km drive away, so we agreed!" But of course, it wasn't until Ryan finally popped the question that she finally found out why he was so adamant about going somewhere snowy. 
On having a great local guide-slash-friend:
Grace: "I was looking at the breathtaking view and listening to that friend share some trivia about the place — all of which he only made up to help Ryan distract me! Then all of a sudden, Ryan kneeled. Although, at one point, I thought tripped or something. But then I realised it was really happening!
It is one of our best decisions ever. We were able to witness the snowfall in Abastumani, which was a first for both of us. Our guide, who we treat as family, even introduced us to his grandparents. They welcomed us into their home and we had a hearty breakfast. We're really grateful for that wonderful experience!" 
Also read: Here Are All the Countries With Zero Travel Restrictions
Got a dreamy vacation proposal story you'd like to share? Or perhaps a different kind of romantic travel experience? Click here to find out how you can be our next Featured Traveller!
---
Images are courtesy of the interviewees, unless indicated otherwise.