Who wouldn't want to spend a week in an Airbnb along the Amalfi Coast of Italy? Already, we can imagine wandering through hilltop villages, swimming in sun-kissed beaches, and sipping limoncello from a balcony overlooking the Mediterranean Sea. Now that Italy is welcoming travellers again, we're raring to pack our things and go — if not now, then hopefully sooner rather than later. 
Eager to rediscover Italy? Dip your toes back into travel with an Airbnb that keeps you within reach of the world-famous beaches of Positano, the lemon groves of Sorrento, the posh yachts of Capri, and other blissful escapes under the sun. From classic Italian villas to a castle on the water, we've rounded up the best Airbnbs and vacation rentals along the Amalfi Coast below. 
Also read: 12 Best Airbnb Homes & Vacation Rentals in Switzerland
Airbnb homes & vacation rentals along the Amalfi Coast of Italy
Positano
1. The two-bedroom apartment with views of Positano's iconic skyline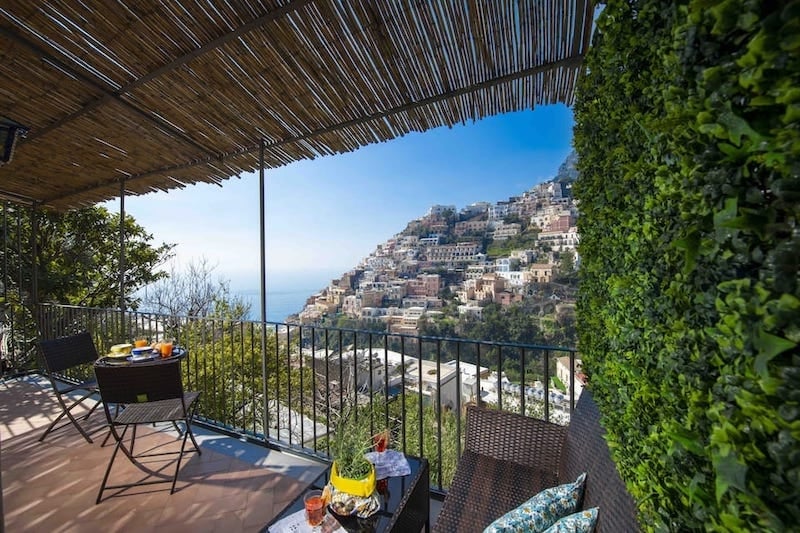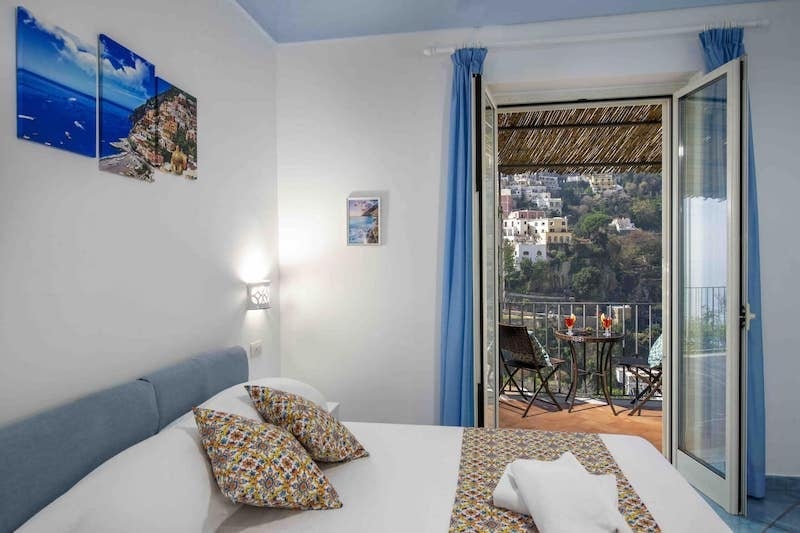 Listing name: That's Amore 
Listing type: Entire apartment 
Max. no. of guests: 4
No. of bedrooms: 2
One can hardly go wrong with a peaceful home overlooking the sea. Boasting sprawling views of Positano's colourful skyline, this two-bedroom apartment with a balcony offers the ideal spot to admire the tumble of pastel-coloured houses on the hillside. From drinking Prosecco at sunset to watching the village flicker with lights in the evening, you can live out your la dolce vita fantasies from this postcard-worthy apartment.
2. The stylish villa with sweeping views of the Amalfi Coast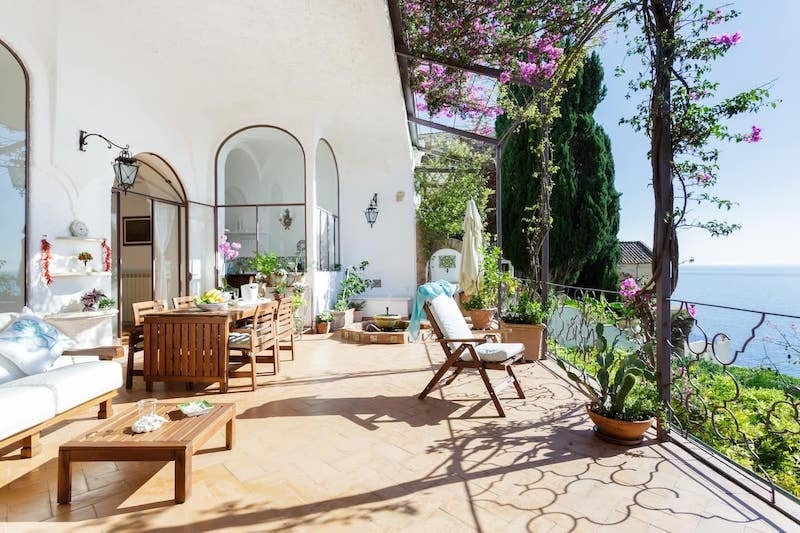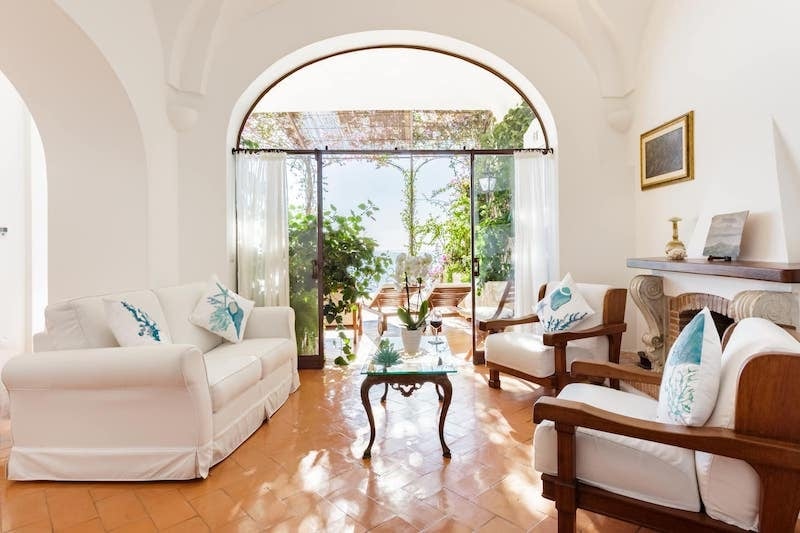 Listing name: Sumptuous villa with panoramic terrace on the Amalfi Coast
Listing type: Entire villa 
Max. no. of guests: 4
No. of bedrooms: 2
Brave the steps to Donatella's home, and you'll be rewarded with jaw-dropping views of the coastline from a vine-covered terrace. Located in a higher part of Positano, this elegant Italian villa evokes the carefree, laid-back glamour of movies filmed in Europe. Up to four guests can have the time of their lives at this Airbnb Plus, where the scenic lookouts come with a hot tub, a day bed, and a dining area for aperitivo. 
3. The luxurious 18th-century villa with vaulted ceilings and paintings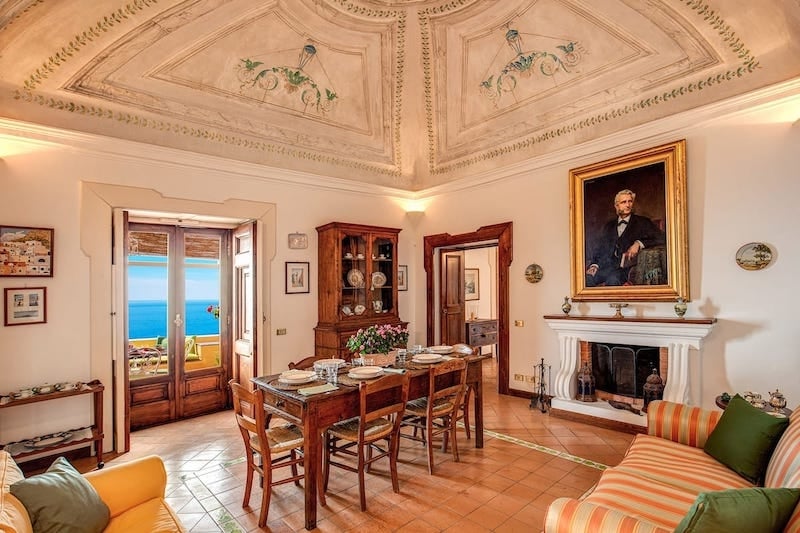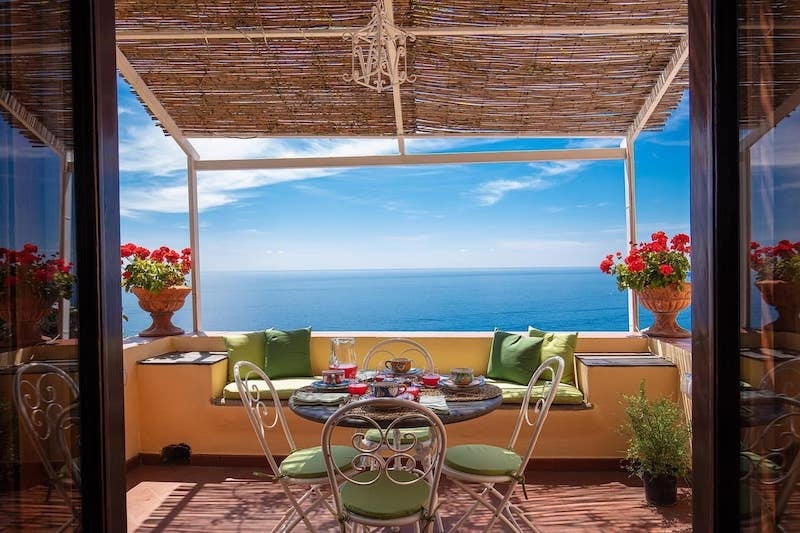 Listing name: Casa Marina. Positano Historical Artists Retreat
Listing type: Entire villa 
Max. no. of guests: 6
No. of bedrooms: 3
Surely, you're not flying all the way to Italy to crack your back while hoisting your suitcase up the stairs? For a gentle introduction to post-pandemic travel, try staying at this historic 18th-century villa. Unlike other homes, it won't force you to take hundreds of steps. Inside, the villa features vaulted ceilings, paintings, and luxurious amenities worth every penny. 
If you feel a burst of inspiration at Casa Marina, that's just part of the experience. According to the hosts, the Italian playwright Eduardo De Filippo wrote his play titled Il figlio di Pulcinella from this very house. 
4. The beachfront villa just a few minutes from Spiaggia Grande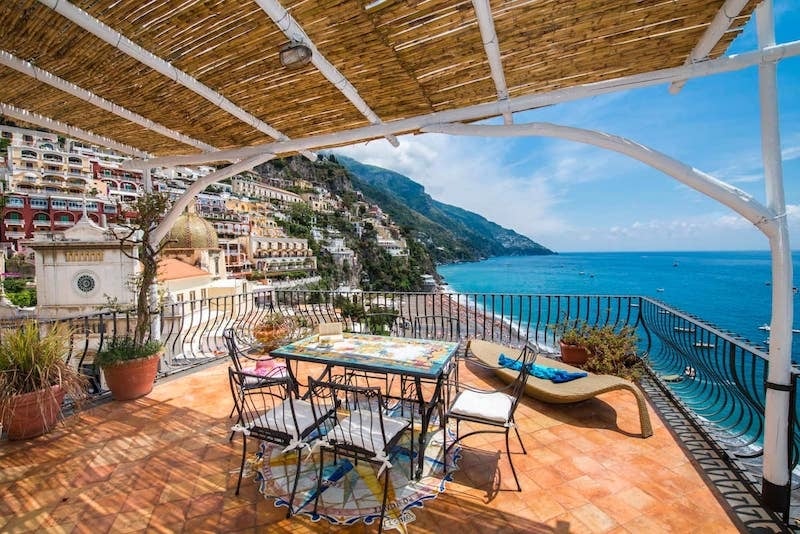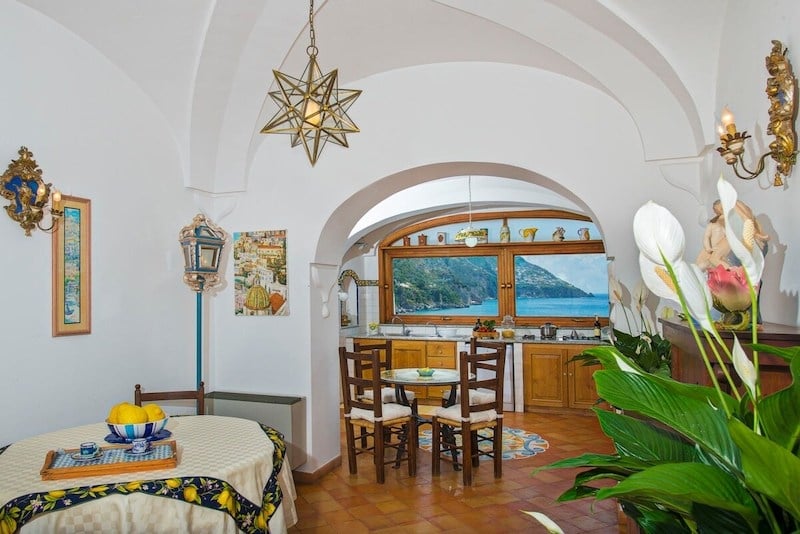 Listing name: Panoramic Villa La Scalinatella
Listing type: Entire house 
Max. no. of guests: 6
No. of bedrooms: 3
Pining for sun, sand, and sea in Italy? If what brings you to Positano are sun-kissed beaches, then La Scalinatella is where you'll want to be. Each room opens up to breathtaking views of the ocean; even the kitchen offers a glimpse of the water outside. Fortunately, this Airbnb in Positano is very close to Spiaggia Grande, a famous beach along the Amalfi Coast. 
5. Torre Trasita, a castle tower by the sea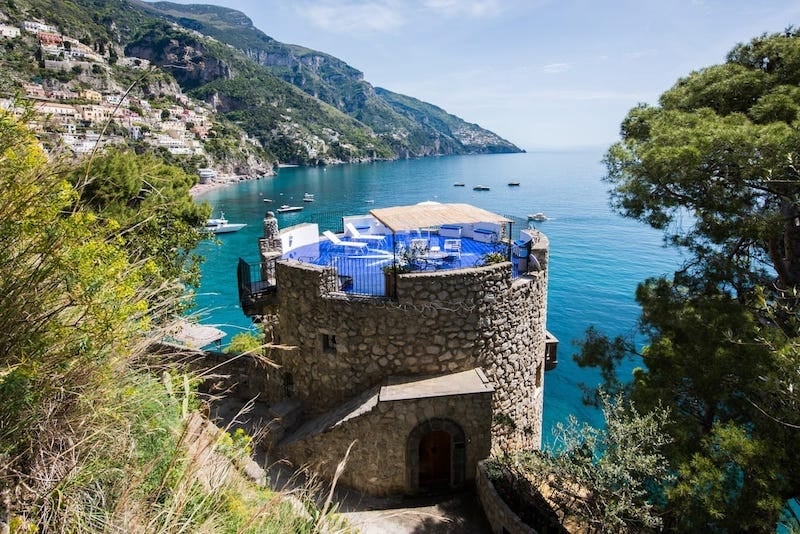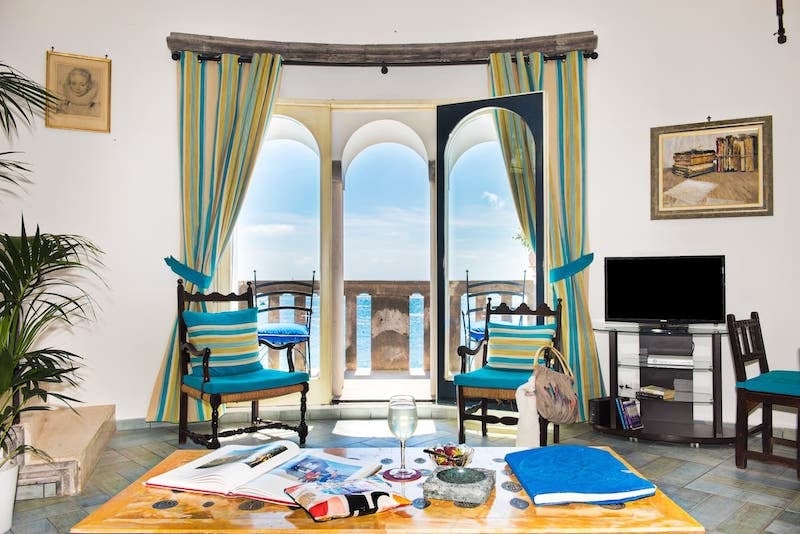 Listing name: Luxury home Torre Trasita in Positano (6 persone)
Listing type: Castle 
Max. no. of guests: 6 
No. of bedrooms: 3
Whether you're throwing out all the stops for your holiday in Europe or hoping to celebrate a milestone with a big splash, it doesn't get any better than Torre Trasita, a castle tower by the Mediterranean Sea. This 16th-century castle comes with a circular terrace on top of the tower, commanding 360° panoramic views of Positano. 
Easily the most brag-worthy Airbnb along the Amalfi Coast, this cliffside tower offers a unique experience from mainstream hotels like Le Sirenuse and Le Treville. After all, how many people can say they've slept in an actual castle? 
Also read: 16 Magnificent Castles on Airbnb That Will Make You Feel Like Royalty 
Amalfi
6. Lady Laura House, an apartment close to Amalfi's best attractions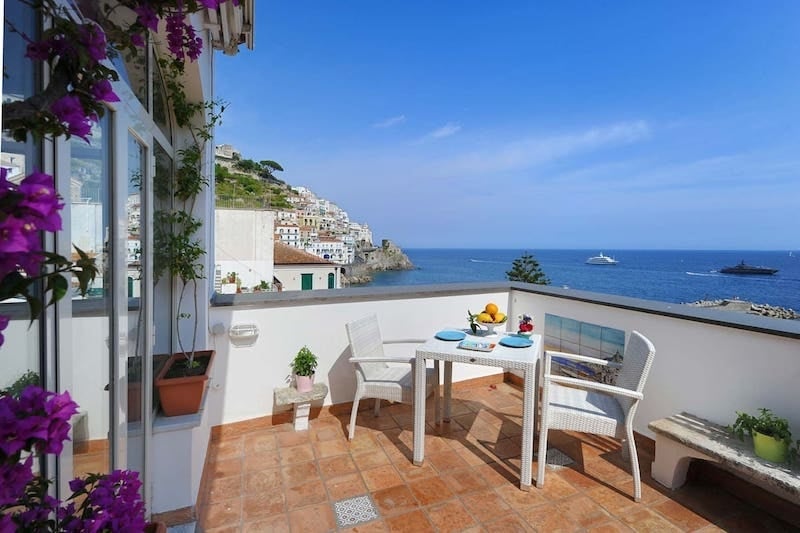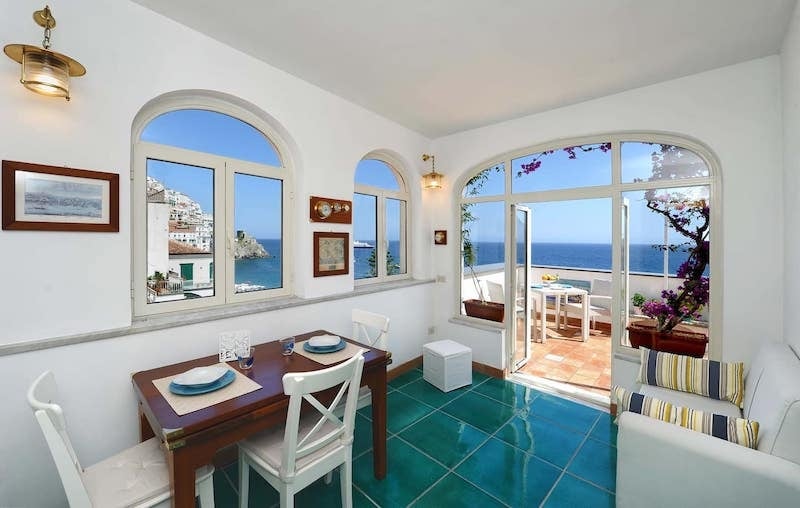 Listing name: Amalfi Lady Laura House
Listing type: Entire apartment 
Max. no. of guests: 3
No. of bedrooms: 1
Perched over the Amalfi Coast, Lady Laura House is blessed with everything you could ask for in an Airbnb: a convenient location, seaside lookouts, and a taste of the local life. Moreover, it's only a short walk to the Piazza del Duomo, the Amalfi Cathedral, and a Michelin-starred restaurant. 
The only downside is that you can expect lots of stairs before reaching the apartment — 72 steps, to be exact. Luckily, this Airbnb is well-equipped with coffee, bread, and wine to refuel your energy and welcome you home. 
7. The centrally located apartment for your town-hopping adventures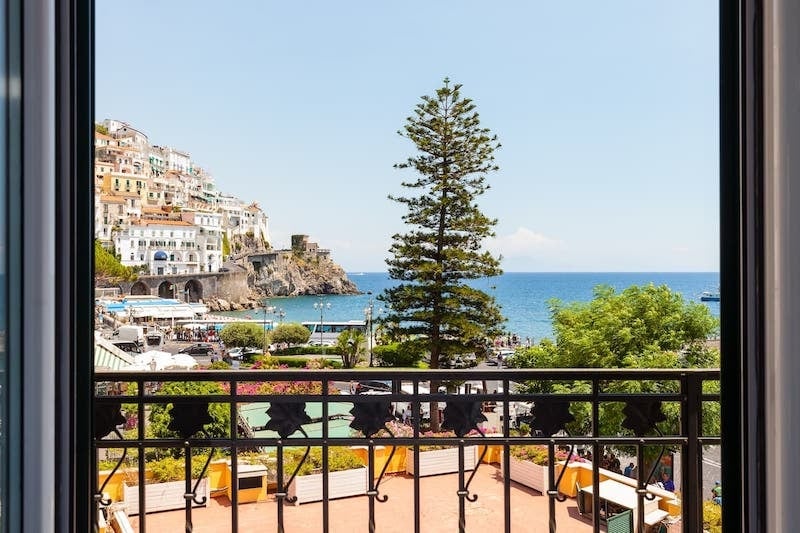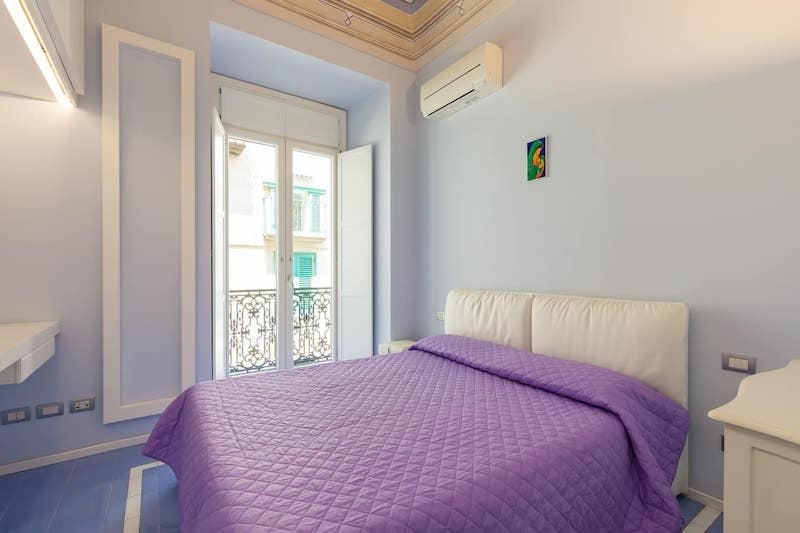 Listing name: Amazing apartment in the Center of Amalfi 
Listing type: Entire apartment 
Max. no. of guests: 4
No. of bedrooms: 2 
Want to get an early head start on your Southern Italy itinerary? For a home base that keeps you close to the harbour, this centrally located apartment in Amalfi is just a stone's throw away from the buses and ferries. It comes with minimal stairs, so you'll have no trouble heading into town and back. Anytime you crave a change of scenery, day trips to Positano, Sorrento, and Capri are well within your reach. 
Sorrento
8. The rustic holiday villa surrounded by lemon trees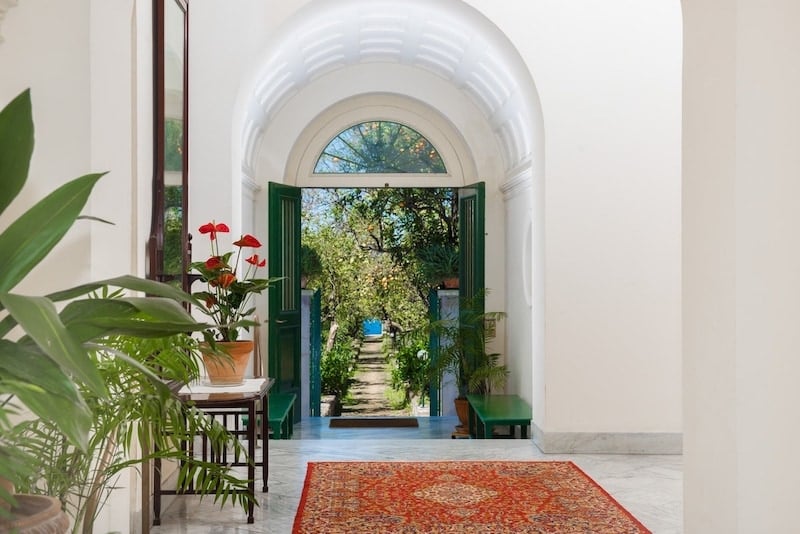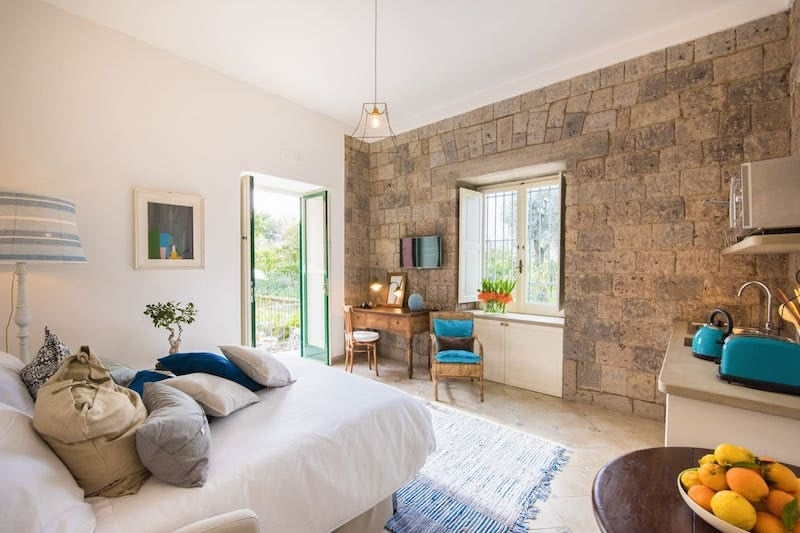 Listing name: Wander among Lemon Trees on the Sea – Villa Tozzoli House
Listing type: Entire apartment 
Max. no. of guests: 4
No. of bedrooms: 1
If someone asks you to picture the Amalfi Coast, chances are you would imagine dramatic cliffs, rugged shores, and limoncello — everything Sorrento is famous for. Thankfully, this rustic villa in Sorrento lives up to its promise on Airbnb by letting its guests wander through a stunning lemon grove. From drinking Italian espresso to keeping warm in the sauna, you can slow down and relax at this well-appointed abode. 
9. The romantic seaside apartment for sunsets and aperitivo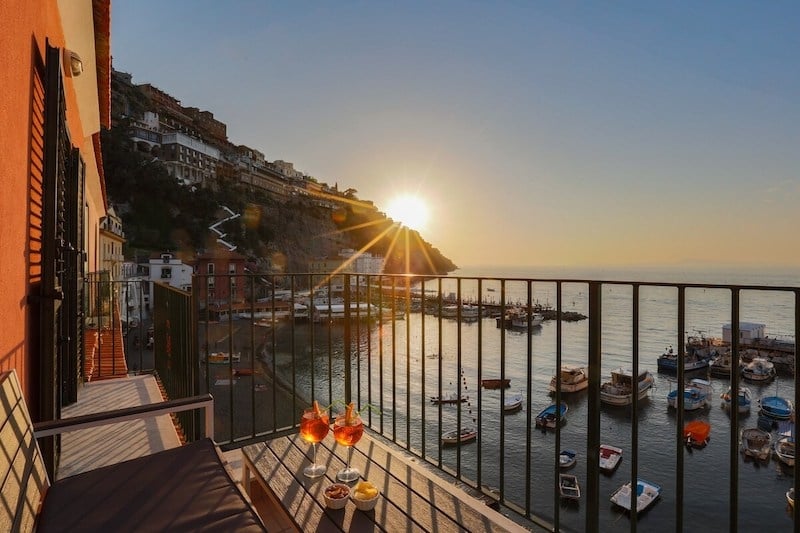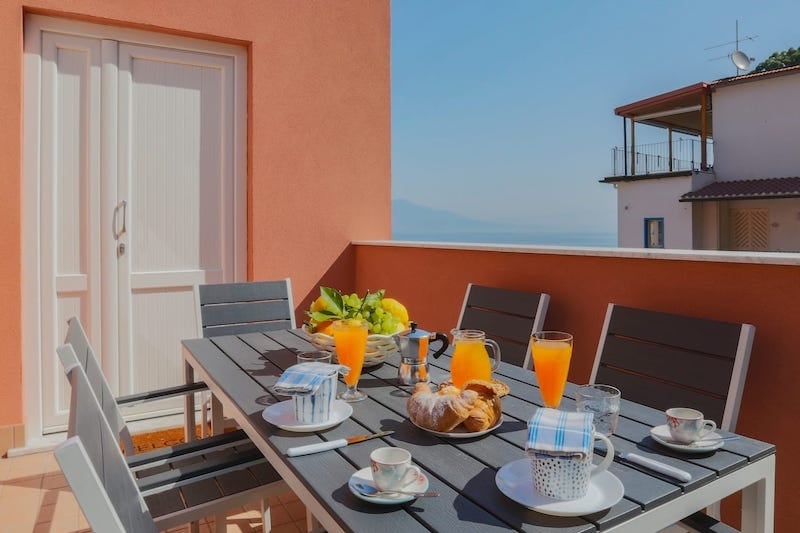 Listing name: SeaView Sorrento Apartment by the sea with terrace
Listing type: Entire apartment 
Max. no. of guests: 5
No. of bedrooms: 1
Cap off your sightseeing in Sorrento at this romantic seaside apartment made for enjoying sunrises, sunsets, and everything in between. Set in the fisherman's village of Marina Grande, this hidden gem stands in one of the loveliest corners of town. Make your way to the terrace, where you can partake in the time-honoured Italian tradition of aperitivo while watching the colourful boats in the harbour. 
10. The family-friendly retreat overlooking the Gulf of Naples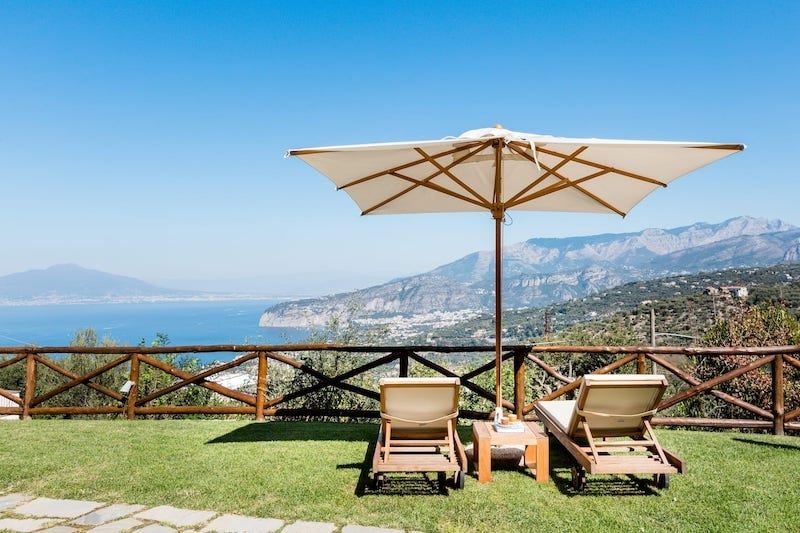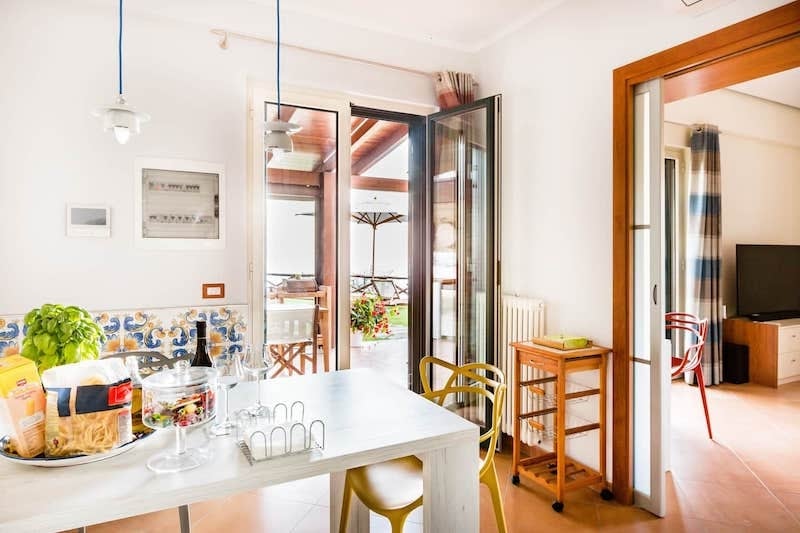 Listing name: Villa Claudia with spectacular views of the Gulf 
Listing type: Entire villa 
Max. no. of guests: 8
No. of bedrooms: 2
Travelling with family or friends? Large enough to fit eight guests, Villa Claudia is what family getaways are made of. This thoughtfully decorated villa is fitted with two spacious bedrooms, two fully-stocked kitchens, a smart TV, WiFi, and a travel crib for kids. Complete with a terrace and a hot tub overlooking the Gulf of Naples, it's tailor-made for travellers who prefer their ocean views paired with comforting amenities.
Capri
11. Villa Hibiscus, the elegant clifftop home with a pizza oven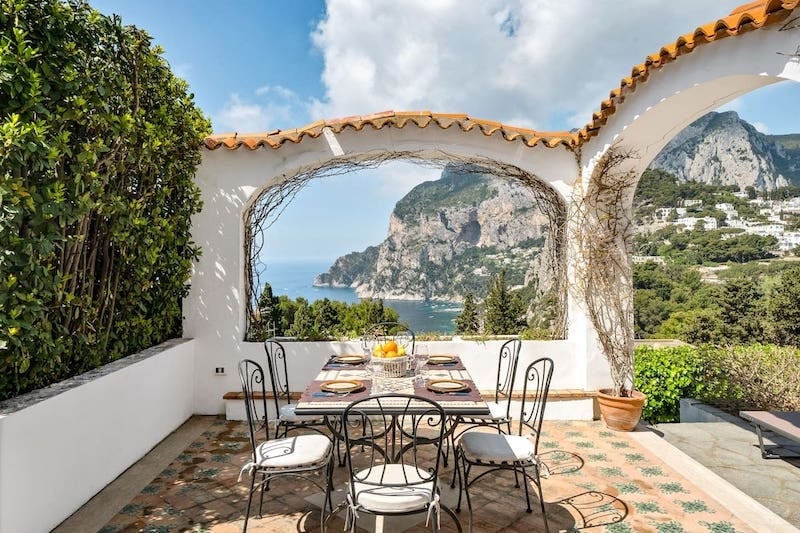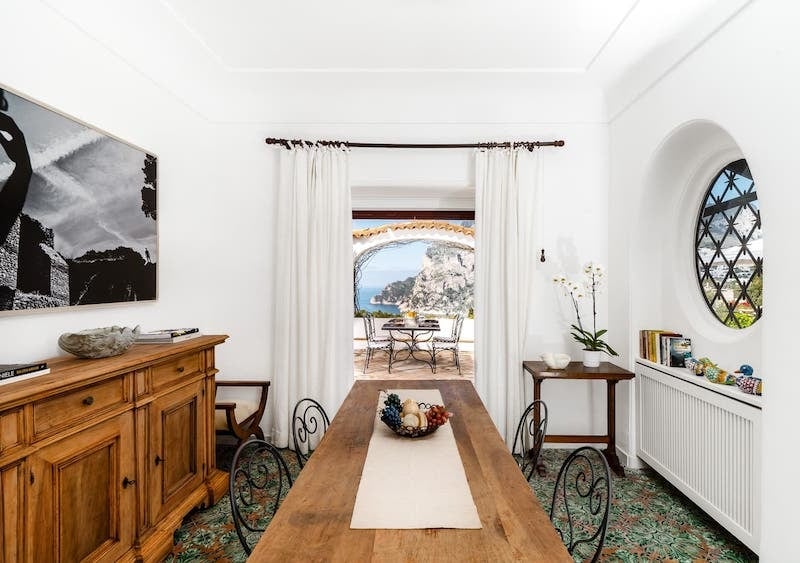 Listing name: Villa Hibiscus
Listing type: Luxury stay 
Max. no. of guests: 3
No. of bedrooms: 2
Ready to sail to a different island? Just around a 20-minute ferry ride from Sorrento lies the island of Capri, the stomping grounds of the rich and famous — from Hollywood celebrities like Leonardo DiCaprio to global pop icons like Beyoncé. 
Italy has no shortage of fabulous homes overlooking the sea, but we're partial to this Airbnb in Capri called Villa Hibiscus. From this clifftop villa, you can explore fragrant gardens, craft Margarita pie in the pizza oven on the terrace, and sip Italian wine as the sun sets over the Tyrrhenian Sea below. 
12. Casa Chiara, the apartment with a large terrace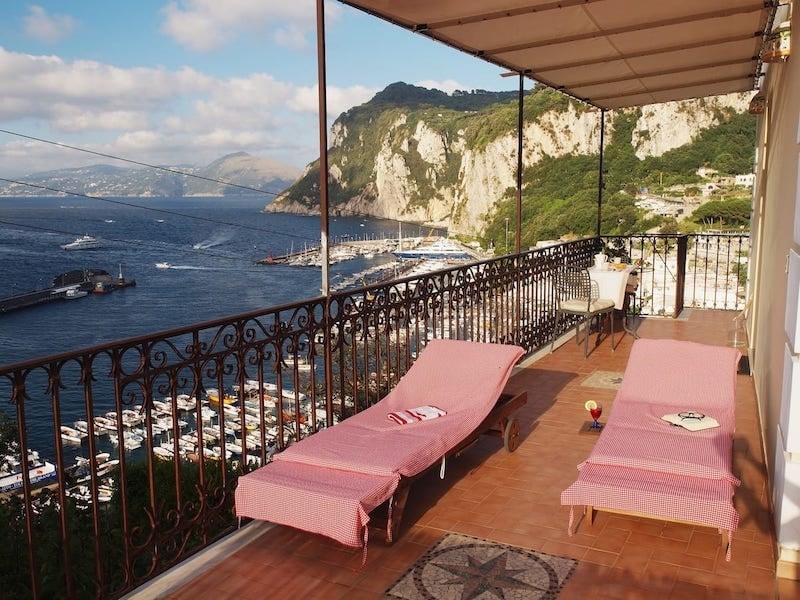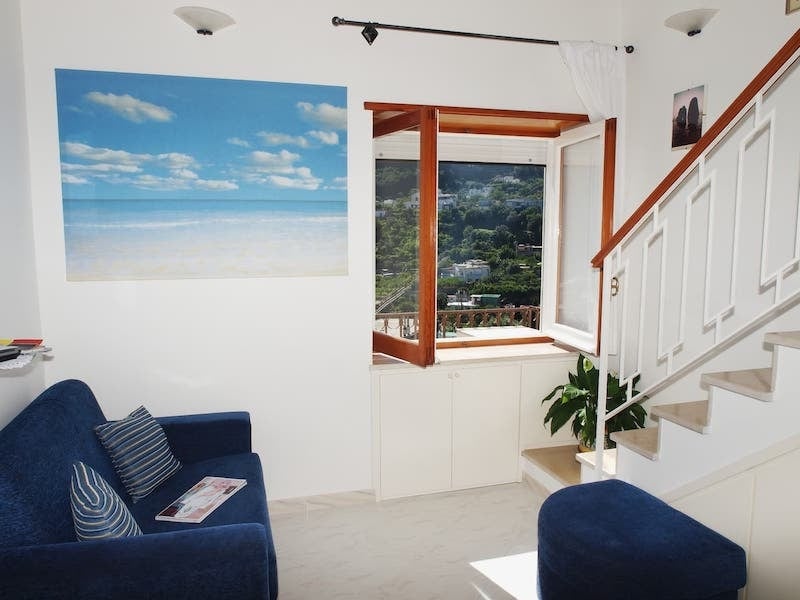 Listing name: Capri – Casa Chiara
Listing type: Entire apartment 
Max. no. of guests: 3
No. of bedrooms: 1 
If you're looking to recharge in Capri, look no further than Casa Chiara. The large terrace with daybeds and a dining area provides a calming perch for three guests looking for a waterfront escape. Overlooking the Gulf of Naples, this Airbnb in Capri lets you immerse yourself in the simpler pleasures of Italy: sun, breeze, mountains, water, and the open sky. Seascape views and easygoing vibes are all you need. 
Also read: 8 Hidden Beaches in Italy That Only Locals Know About
Unique Airbnb homes along the Amalfi Coast
13. The historic villa for design lovers in Ravello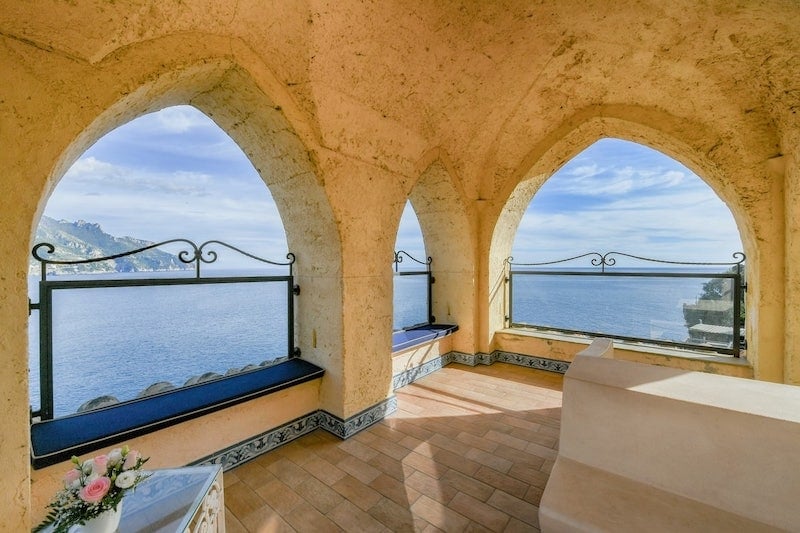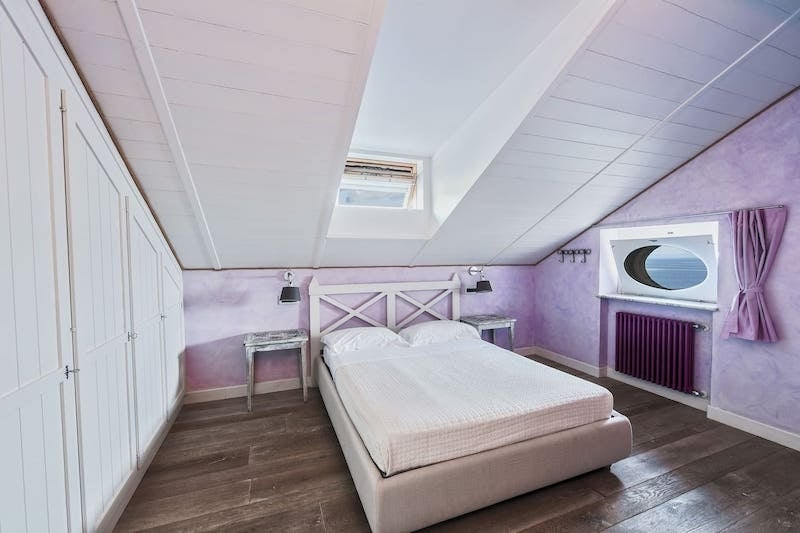 Listing name: Ravello Art Charming Villa
Listing type: Entire apartment 
Max. no. of guests: 5
No. of bedrooms: 2
Located inside a historic villa in Ravello, this apartment presents a worthy retreat for design aficionados in Italy. Traditional arches from the rooftop terrace reveal sweeping vistas of the surrounding ocean. Meanwhile, the interiors are equally generous — like the large bathtub or the kitchenette with a view. 
14. The charming house in Montepertuso with Italian hospitality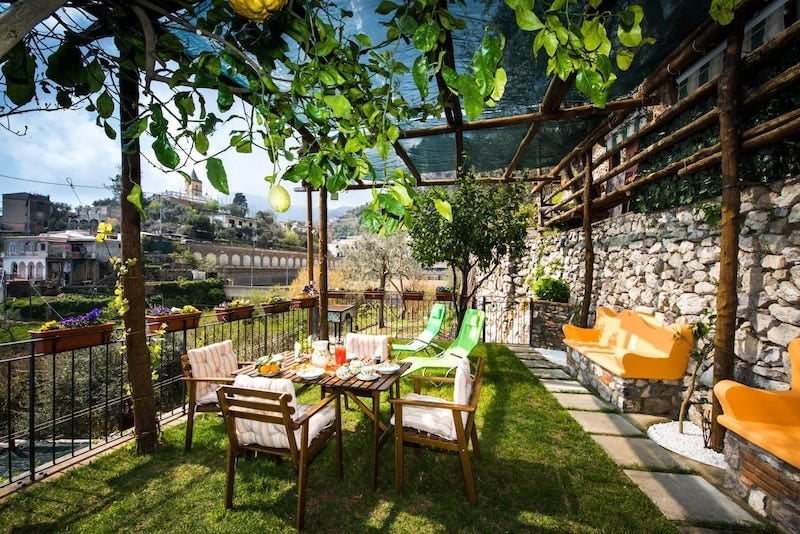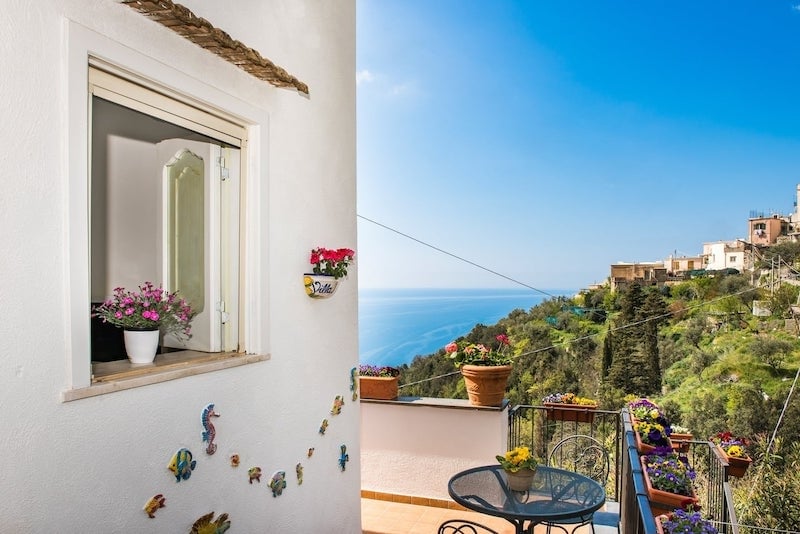 Listing name: Villa Laura,breakfast,private hot tub,experience
Listing type: Entire house 
Max. no. of guests: 5
No. of bedrooms: 2
Here's something that hotels with sky-high prices won't give you: the warmth of Italian hospitality. Take it from past guests who have stayed at the Villa Laura, a charming house in Montepertuso with a terrace amidst lemon trees and grape vines. 
Come prepared to feast on the flavours of Southern Italy. We're talking mouth-watering spreads of bruschetta, cheeses, meats, wine, and fresh produce from the property's garden. When it comes to farm-to-table cuisine, you're in luck: Your host Antonietta and her husband are talented cooks who will give you a real taste of the Amalfi Coast. 
15. The picture-perfect escape with sea views in Atrani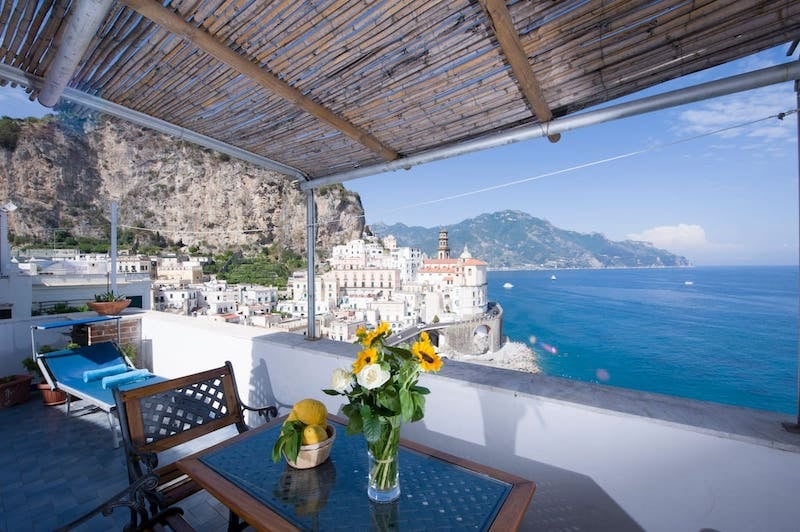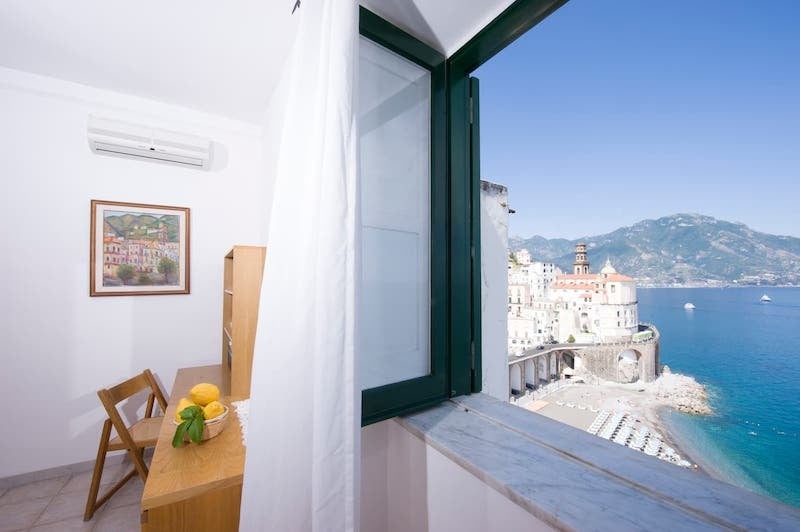 Listing name: Chiara's House – Apt. ad Atrani
Listing type: Entire apartment 
Max. no. of guests: 6
No. of bedrooms: 2
Elevate your odyssey along the Amalfi Coast with a visit to Atrani, a small fishing village that keeps away from the crowds in Positano and Amalfi. You can channel Italian summer vibes all throughout this picture-perfect apartment, from the wide windows that welcome the breeze to the outdoor terrace with a little table facing the sea. From this quiet corner of Italy, you'll have every reason to fill up your camera with memories from your trip. 
These gems of coastal towns are only the beginning of your glorious trip to Italy. After checking out these Airbnb homes and vacation rentals along the Amalfi Coast, check out our picks for Rome and Venice so you don't miss out on the best of la dolce vita.
Got a property you'd like TripZilla to feature? Inquire with us here.
---
This article contains affiliate links. When you book through these links, we may earn a small commission at no additional cost to you. All images courtesy of the respective property listings.