Throwback to the year 2019 when I was still a university student in Perak, Malaysia, I was lucky enough to have visited Singapore and Johor Bahru on an extremely budget trip. Frankly, it was quite a spontaneous one. My coursemate Fye (pseudonym) lives in JB and frequently travels to Singapore, so I did not need to worry about the itinerary, as she planned it out for me. I am also grateful to this day that she let me stay over at her house in Gelang Patah. (Kudos to Fye!)
Of course, I don't want this article to be merely "clickbait." Thus, to clarify, one of the biggest reasons for me to be able to travel with such a limited budget is that I stayed over at my coursemate's house in Johor, instead of staying overnight in Singapore. 
Let's catch a glimpse of what could I do with only S$200 on my budget trip to Singapore and Johor Bahru!
Disclaimer: Some prices may have increased over the years, especially during the pandemic.
Also read: Everything That Went Wrong During My First Trip to Japan and South Korea
My three-day Johor Bahru and Singapore itinerary
Day 1: Entering Singapore by bus from Johor
I travelled from Perak to Johor Bahru by bus and stayed one night before departing for Singapore the next day. We had to wake up very early to take the bus from Gelang Patah to Singapore. It took a lot of walking and waiting, and because it was a Thursday, we could see many Malaysians travelling by bus to Singapore from JB for work. 
After going through customs, we took another bus from the bus terminal to Jurong East. Although Singapore and Malaysia are literally next to each other and share similar cultures, I knew I was in another country the moment I saw the English road sign (in Malaysia, road signs are written in Malay). 
The first thing we did once we arrived was to purchase a prepaid mobile data plan and an EZ-link card. During the trip, we neither drove nor took a taxi at all, because all attractions can be easily reached by MRT or by foot. Each MRT station here is connected to a mall, which is super cool and convenient. The Lion City truly gives off urban vibes, with majestic buildings and unique sculptures almost everywhere.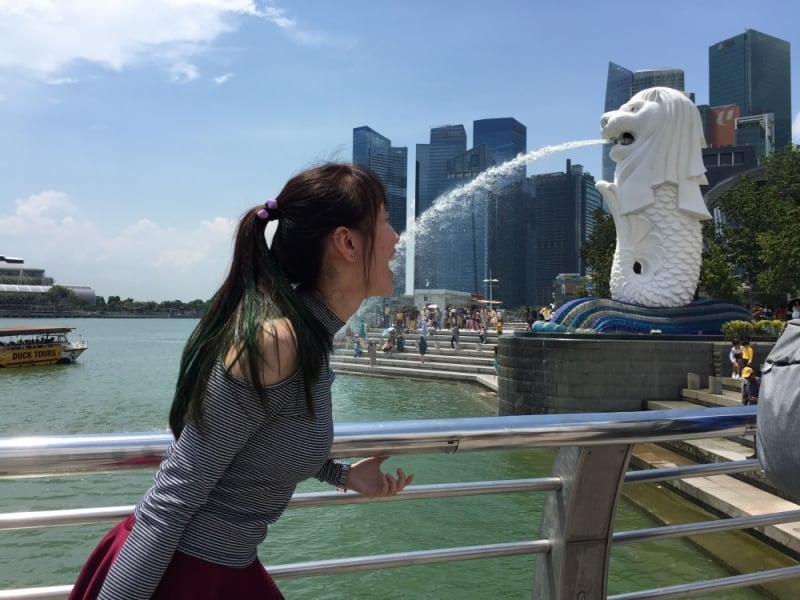 Our first stop was, obviously, Merlion Park. Because, have you really been to Singapore if you haven't taken a quirky picture with the iconic merlion statue? This famous landmark was packed with many tourists, so we had to queue for a while to get the perfect Instagrammable shot!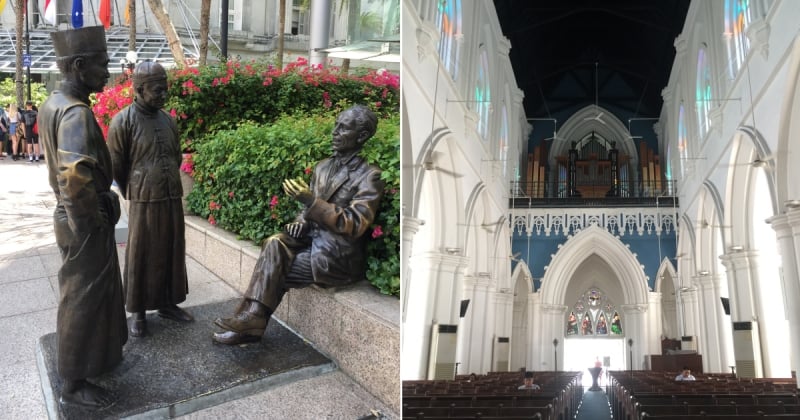 We then walked along the Cavenagh Bridge and took pictures of the statues. Lunch was jawa mee at a random mall because it was the cheapest and most valuable meal we could find (RIP, Malaysia's currency).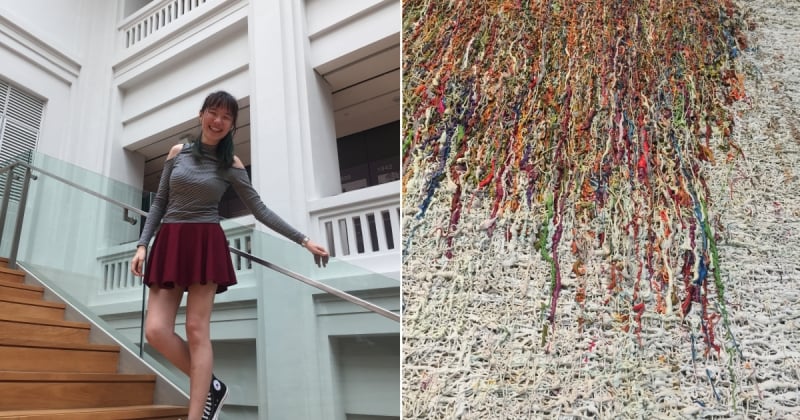 After lunch, we visited Saint Andrew's Cathedral and Singapore's National Gallery. For a better picture-taking spot, I would recommend the latter, since it has amazing interior and exterior design, as well as gorgeous artwork. I was strangely attracted to a particular art piece (pictured above) made out of what looked like a bunch of chewing gums.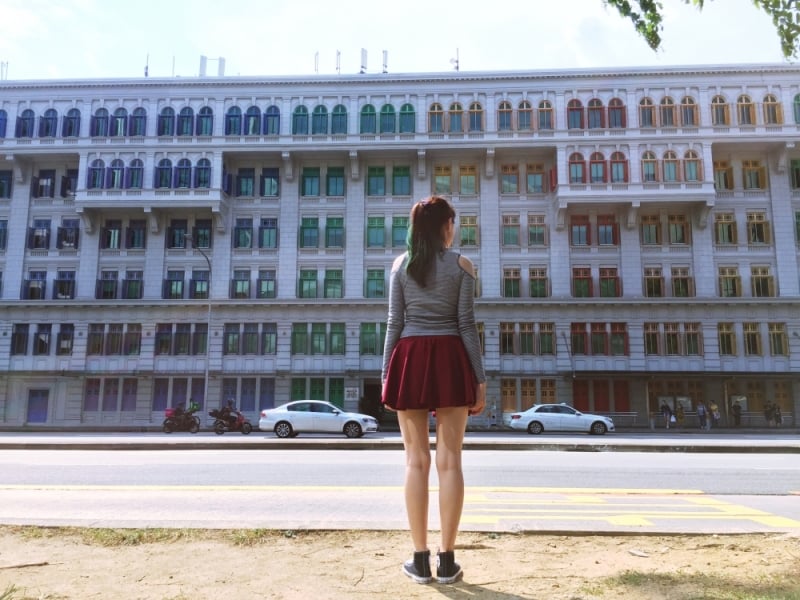 Fye knows I love taking pictures, so the rest of the trip were us visiting a lot of famous, Instagramable hotspots. I loved wandering around the city and just capturing moments everywhere. She brought me to the Old Hill Street Police Station, a stunning historical building with colourfully painted windows that was previously a police station.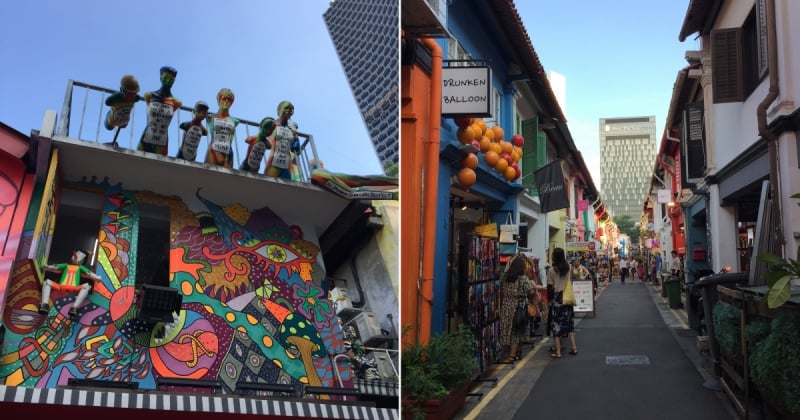 We then arrived at Haji Lane, one of the most vibrant streets I have been to. This place reminded me of Ipoh's Concubine Lane and Penang's street murals. If you love colourful things, then I promise you that you'll love Haji Lane. Of course, it is not only rainbowy but also has many bars that make it a great hangout spot. 
We had our dinner in a rather old mall in Bugis. Unfortunately, Fye and I already forgot the name of the mall; the only thing we could recall is that there is a Guan Yin temple nearby.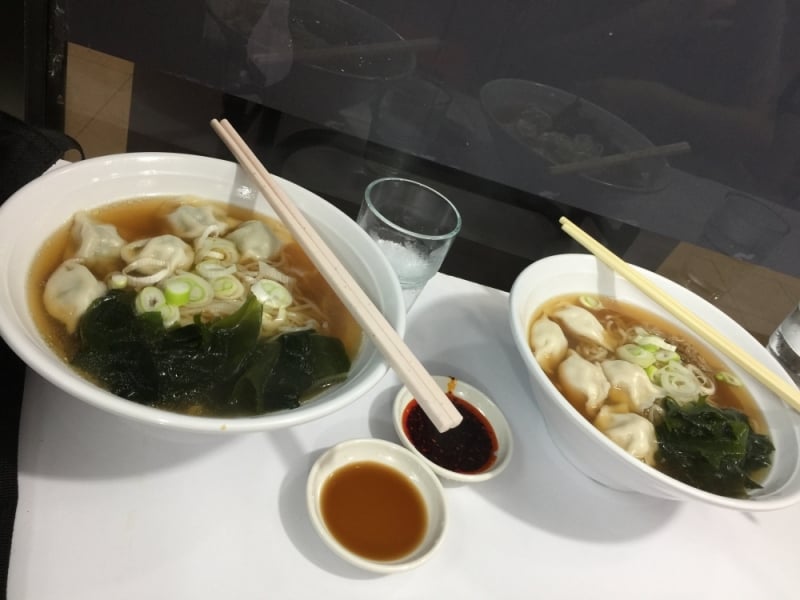 This dumpling noodle soup from a Chinese shop was so delicious and authentic, I even ordered an additional plate of dumplings. Surprisingly, dinner was cheaper than I expected. Then, we took the bus back to JB — and that concludes the first day of the Johor Bahru and Singapore trip. 
Also read: A Shopping Paradise: The Best Malls in Singapore to Shop Till You Drop
Day 2: A trip to Johor Bahru
Instead of going to Singapore, Fye brought me on a stroll around Johor Bahru. We had breakfast at V Spice Cafe & Restaurant, a North Indian restaurant in Tun Aminah, sadly this restaurant seems to be permanently closed during the pandemic. Then, we went to Sutera Mall — one of the city's most popular malls — by bus and had a simple vegetarian meal for lunch. 
It was almost Deepavali (also known as Diwali) during this time. So, I bought a beautiful saree at a Deepavali event at the mall. I was delighted as that was my first time trying one on. I chose between two sarees that were on discount, and the stall owner said that I looked pretty on this specific red and gold saree. (Now you know what my Day 3 outfit would be!)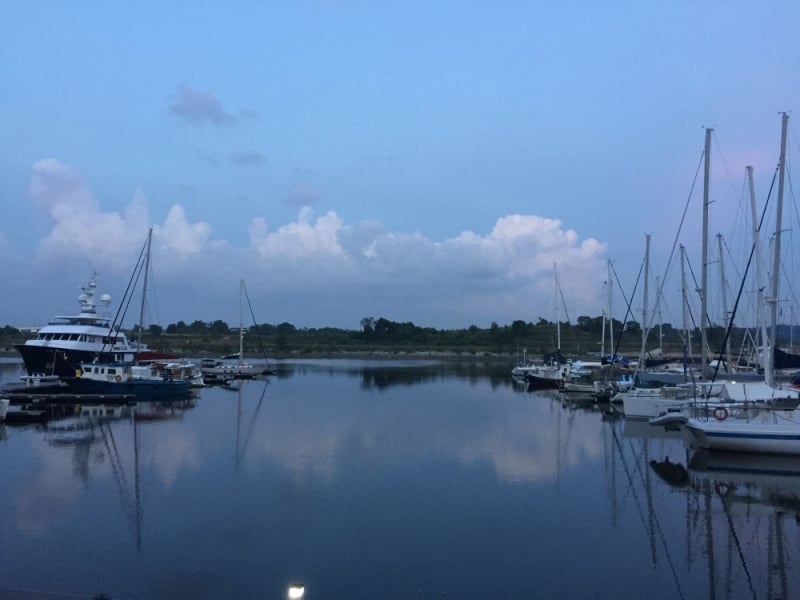 In the evening, we took a Grab to Puteri Harbour. Like many other couples there, we sat beside the harbour, enjoying the serene atmosphere while the sky slowly got darker. We also visited a DC Comics Superheroes store that had some cool merchandise. (Unfortunately, this one has permanently closed down.) And then for dinner, Fye's mother prepared us a simple home-cooked meal. That sums up my little trip to Johor Bahru.
Also read: 5 Things That Are Cheaper in Johor Bahru Than in Singapore
Day 3: Celebrating my birthday in Singapore
On the third day, we followed the same steps as the first day and travelled from Johor Bahru to Singapore by bus from Gelang Patah. Our first stop was Singapore Botanic Gardens. This place is full of tropical flora and fauna, as well as large areas for outdoor activities like jogging. Truthfully, I wasn't much impressed with it because Malaysia has many similar gardens, especially around the Klang Valley.
I was extremely excited when Fye said that she was bringing me to Jewel Changi Airport. At that time (October 2019), Jewel Changi Airport was still a pretty new tourist attraction. We had bibimmyeon and jajangmyeon at JINJJA Chicken. This restaurant had a very edgy design and colourful lights, which I quite liked.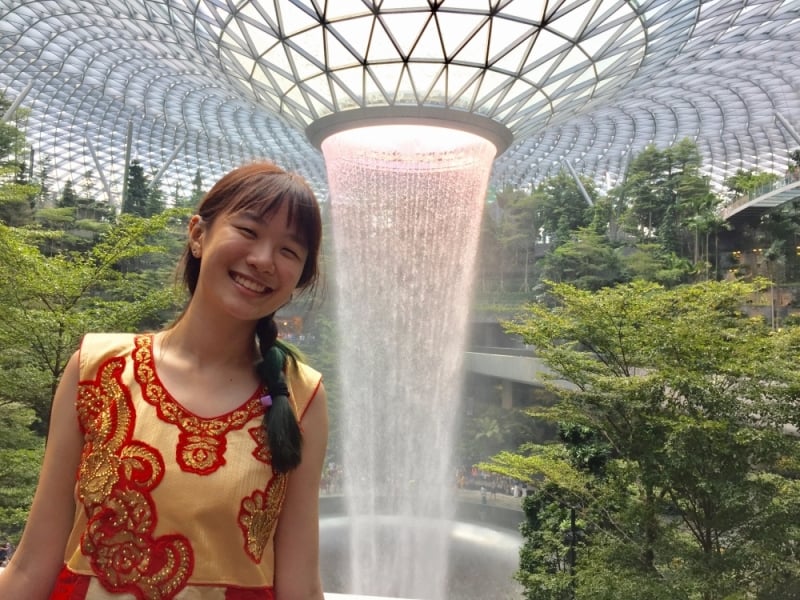 We took mandatory tourist pictures in front of Jewel Changi's magnificent Rain Fortex. Afterwards, I bought a t-shirt and some notebooks from Muji that were on sale, and then satisfied my sweet tooth at the Candy Empire. I tried to collect all colours of the Jellybeans and got my favourite M&M candies. I also got my little brother a set of adorable-looking erasers as souvenirs from Tokyu Hands. 
Then, Fye brought me to Earle Swensen's, where she treated me to ice cream as my birthday gift. (Honestly, I didn't really care if it was my birthday or not, because the rest of the day was just me immersing in the beauty of the Lion City and trying to get the whole of it!)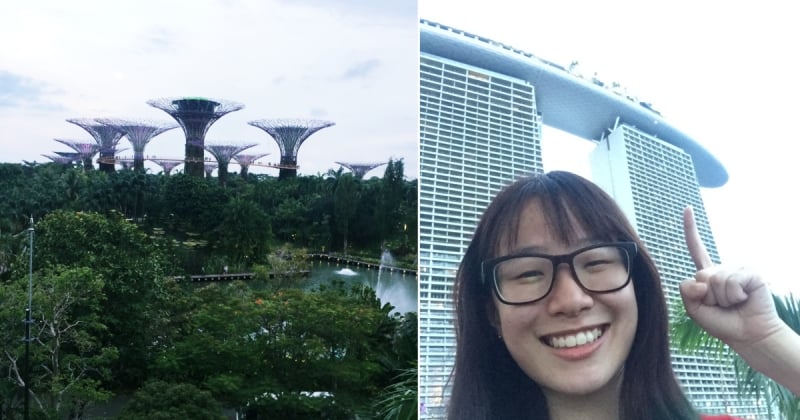 How frugal can someone get? Well, look at me. Fye said it's not that worth it to visit the Gardens by the Bay during the daytime (since the gorgeous lights are only on at night, but we weren't staying so late). Therefore, we just went to the park outside of the garden and took pictures with the attraction from afar! Here, you can even get a photo of the famous and splendid five-star hotel, Marina Bay Sands.
In the evening, we had a "fancy" dinner: a bowl of Hong Kong-style luncheon meat and egg soup noodles at Xin Wang Hong Kong Cafe. As much as I don't want to leave this charming city, it was time for us to go back to Malaysia. Singapore was amazing, and to be able to travel here under budget was just icing on the cake. 
Also read: I Survived 24 Hours in Changi Airport: My Essential Tips for Crazy Flight Cancellations
Cost breakdown on my super budget trip to Singapore and Johor Bahru
My little tips and tricks on saving money during the trip to Singapore, firstly, travel by the MRT if not by foot. Singapore is small enough, so it's definitely not necessary to take a car or taxi. Besides, the country's MRT system is quite efficient, which makes going from one place to another a lot easier. Apparently, there's also a Singapore Tourist Pass, a special version of the EZ-link card that offers unlimited travel.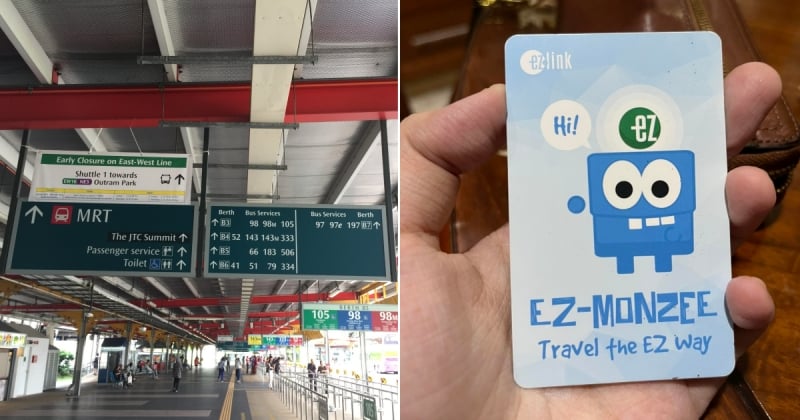 If this is your first time going to Singapore, try visiting places or attractions that have free entry. Surprisingly, there are tons of fun things to do and places to go in Singapore without having to spend a penny. 
Lastly, and I know this is quite hard for most people, but if you don't mind the hassle, travel back and forth between the two countries and just book a place in Johor instead. Nevertheless, I do not recommend this if your budget is enough, since travelling to and fro from Johor Bahru to Singapore and vice versa might be too exhausting for some. 
Below is my daily cost breakdown for this trip. Again, do note that some prices may have increased since 2019, and that the breakdown below is just an approximate reference. 
Day one
Bus from Kampar to Johor Bahru: RM58 (S$18)

Bus from Gelang Patah to Jurong East: RM8 (S$2.50)

MRT's EZ-link card: RM38 (with RM22 credit) (S$12)

Prepaid mobile sim card: RM25 (S$8)

Jawa Mee: RM10 (S$3)

Dumplings and noodles: RM30 (RM15 per person) (S$4.50)

Bus from Jurong East to Gelang Patah: RM8 (S$2.50)
Day two
Gelang Patah to Sutera Mall: RM4 (S$1.25)

Vegetarian meal: RM15 (S$4.25)

Saree: RM50 (S$15.5)

Grab from Sutera Mall to Puteri Harbour: RM 20 (RM10 per person) (S$3)

Grab from Puteri Harbour back to Gelang Patah: RM15 (RM7.50 per person) (S$2.30)
Day three
Bus from Gelang Patah to Jurong East: RM8 (S$2.50)

Bibimbap noodles (

bibimmyeon

): RM25 (S$8)

Muji: RM25 (S$8)

Candy Empire: RM18 (S$5.50)

Tokyu Hands: RM10 (S$3)

Top up EZ-link card: RM15 (S$5)

Luncheon meat and egg soup noodles: RM36 (S$11.45)

Bus from Jurong East to Gelang Patah: RM8 (S$2.50)

Bus from Johor Bahru to Kampar: RM58  (S$18)
Total: RM451.5 (S$ 140.75) 
Also read: Singapore Souvenirs: 27 Unique Things to Bring Home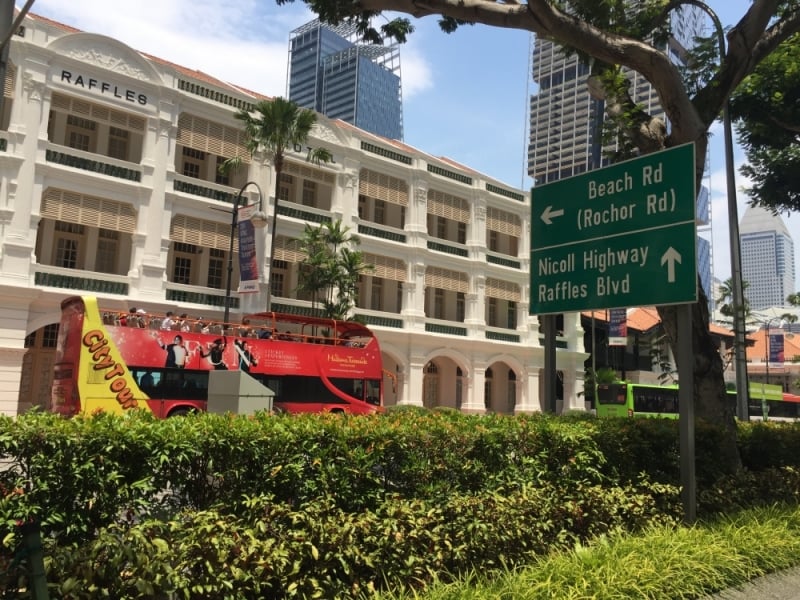 Frankly, if it weren't for the pictures, I could only remember bits and pieces of this trip to Singapore and Johor Bahru. I guess those years under lockdown have really taken a toll on my memory. Now that more countries around the world are loosening entry restrictions, I guess it is time for us to finally travel again. 
I can't wait to go back to Singapore and visit attractions that I haven't been to, like the Universal Studios, Marina Bay Sands SkyPark, Singapore Cable Car, and more! And perhaps the next time around, I wouldn't mind splurging a little more, since I am already a working adult!
---
All images are credited to Cecelia Chang, unless stated otherwise.