Arguably one of the richest cities in the world, Dubai is known for luxury shopping, a vibrant nightlife scene, and international cuisine. An architectural and engineering mecca, Dubai is a city of superlatives: It's home to the world's tallest building (Burj Khalifa), one of the largest artificial islands in the world (Palm Jumeirah), the world's only seven-star hotel (Jumeirah Beach Hotel), and the largest mall in the world (Dubai Mall).

In a city so opulent, it's a wonderful thing to know that you don't have to break the bank to enjoy the finer things in life. We've handpicked Airbnb homes in Dubai that are perfect for all kinds of travellers at varying price points — all offering premium experiences. 
Top Airbnb homes to book in Dubai
1. This dreamy villa in The Lakes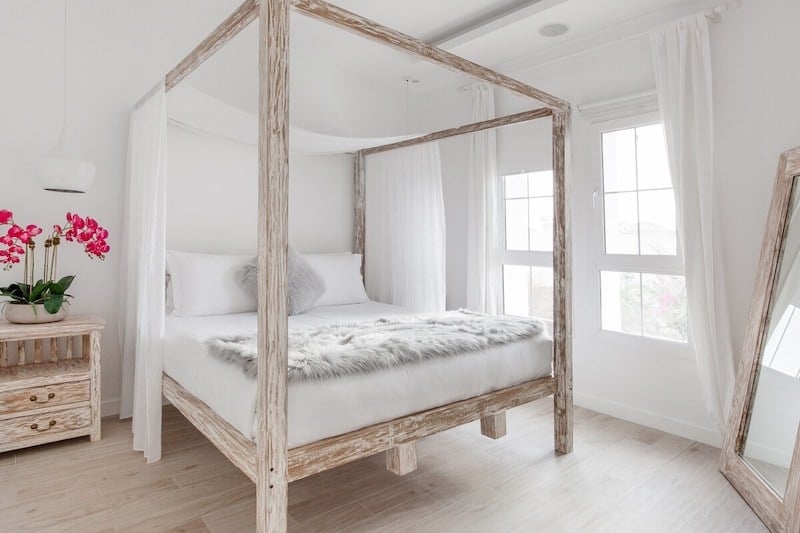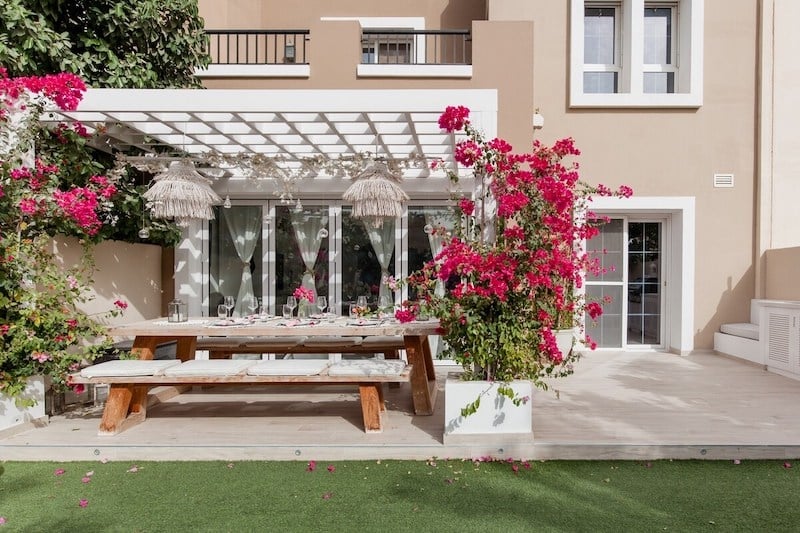 Listing name: The Lakehouse Luxury Villa, Dubai.
Listing type: Entire villa 
Max. no. of guests: 9 
No. of bedrooms: 4 
It's hard to decide which part of The Lakehouse is our favourite because it has all the comforts of a luxury hotel and then some. Located in an exclusive gated community, this contemporary home has a grand living room, hotel-quality bathrooms, and plush poster beds that will have you drifting off to sleep in no time. Large families will surely love the spacious alfresco dining area, the beautiful garden, and the private pool.
2. This travel-themed boho-chic loft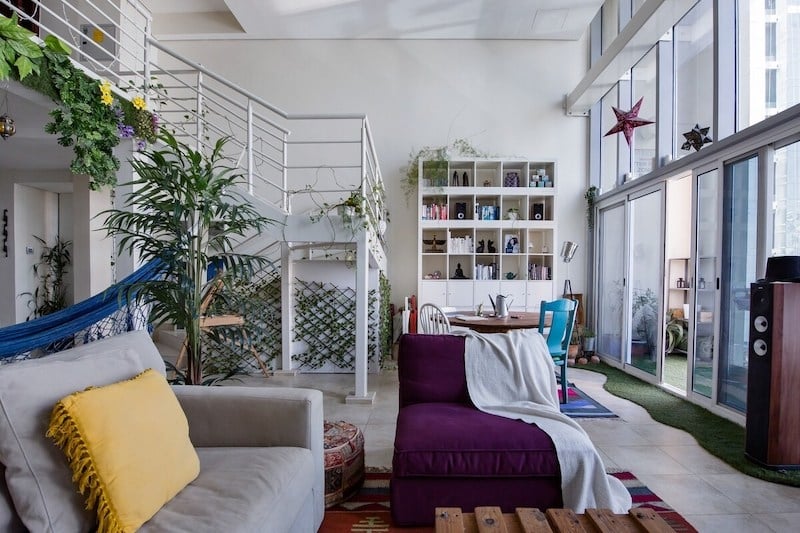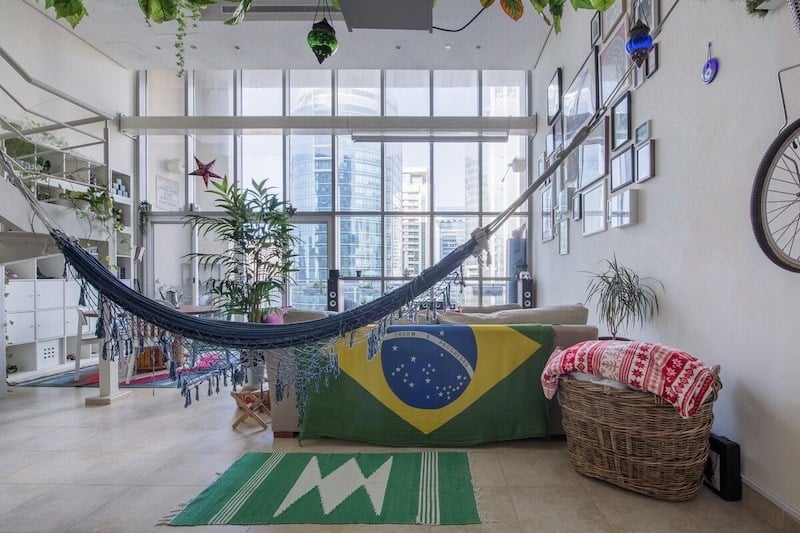 Listing name: Work from Home in Duplex Loft Apartment with Home Cinema
Listing type: Entire loft
Max. no. of guests: 2
No. of bedrooms: 1
Situated in Jumeirah Lakes Towers, this bohemian sanctuary tastefully combines eclectic décor with modern luxuries, creating a charming and comfy home. All around the loft, you will see travel memorabilia, bespoke wooden furniture, and quirky additions like the vintage bicycle and a Brazilian hammock. 
For a calming vibe, this Airbnb in Dubai is adorned with lots of indoor plants. High-rise city views can also be observed from the bedroom, living room, and balcony.
3. This majestic beachfront home at Palm Jumeirah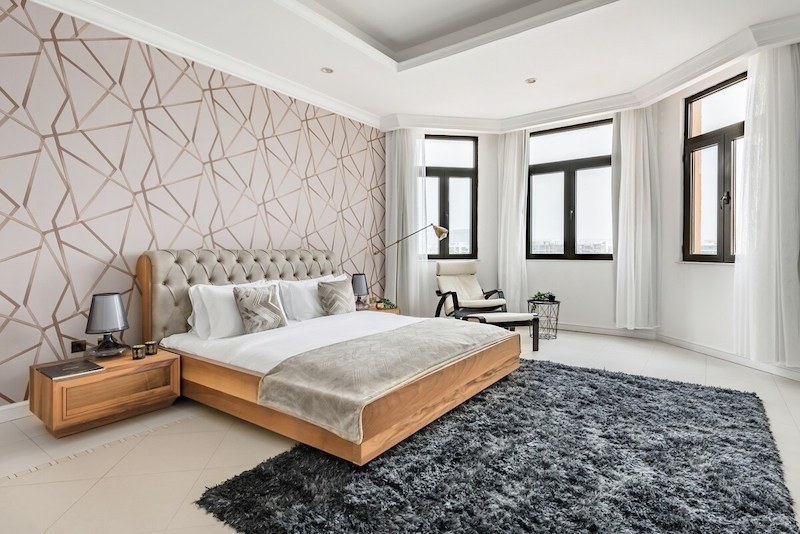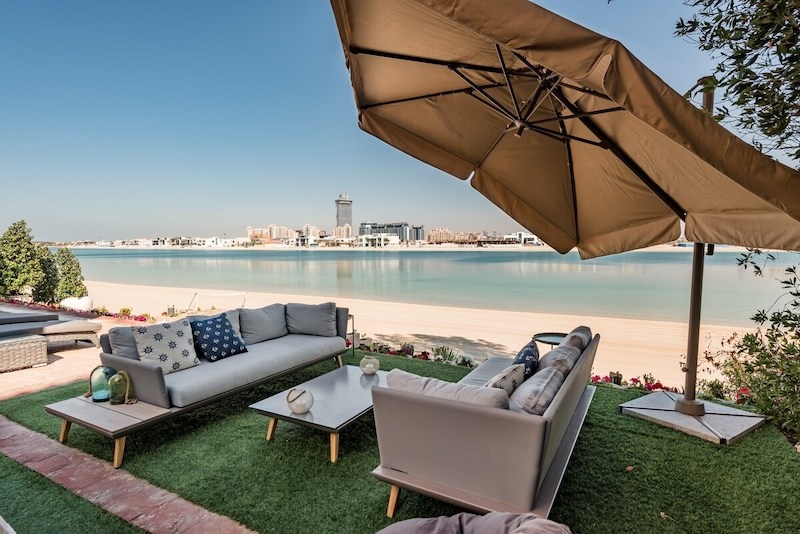 Listing name: Magnificent Beachfront Villa with a Private Pool
Listing type: Entire villa
Max. no. of guests: 10
No. of bedrooms: 4
If stately vacationing in one of the world's most ambitious developments is your thing, you'll want to book this stylish beachside villa at Palm Jumeirah. Boasting expansive ceilings, gleaming marble floors, velvet upholstery, and sleek furniture, this lovely home promises a splendid stay. 
Four artfully designed bedrooms can sleep up to 10 guests. Meanwhile, the patio doors lead to an outdoor lounging area with a small pool and a breathtaking ivory beach.
4. This luxury apartment next to Marina Mall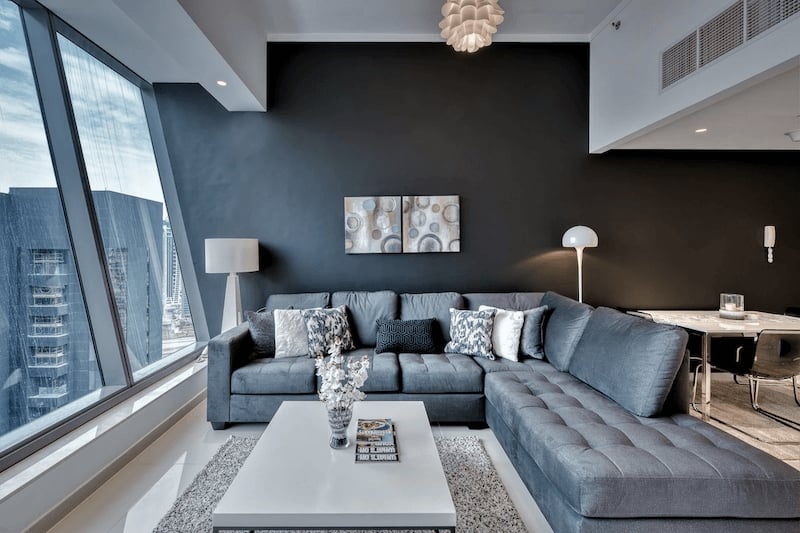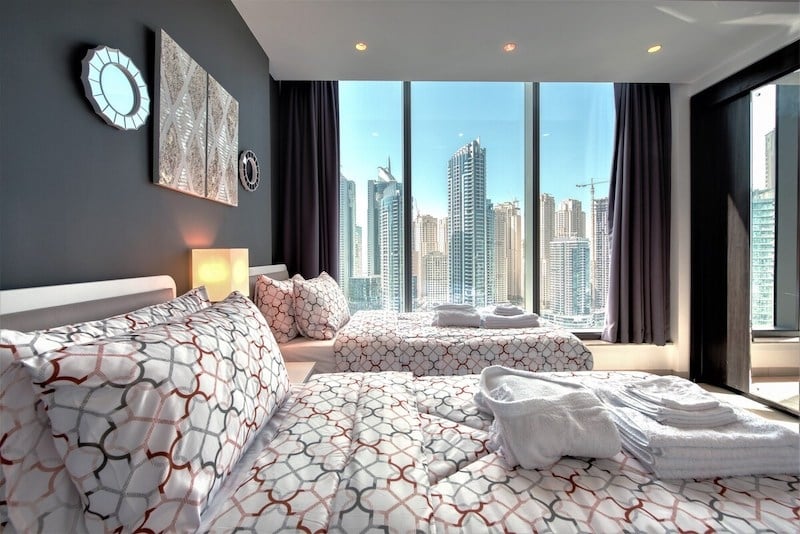 Listing name: Luxury Penthouse Water View x to Marina Mall
Listing type: Entire apartment 
Max. no. of guests: 4
No. of bedrooms: 2
For a taste of Dubai's state-of-the-art architecture, we recommend staying in this ultra-chic two-bedroom in the futuristic Silverene Towers. This Airbnb in Dubai features slanted walls, high ceilings, and sophisticated interiors. The matte black walls, black and grey furniture, and striking lighting fixtures also add to this home's classy vibe. What's more, you gain direct access to Marina Walk, Marina Mall, and the bars and restaurants of Pier 7.
5. This gorgeous penthouse at the Jumeirah Beach Residence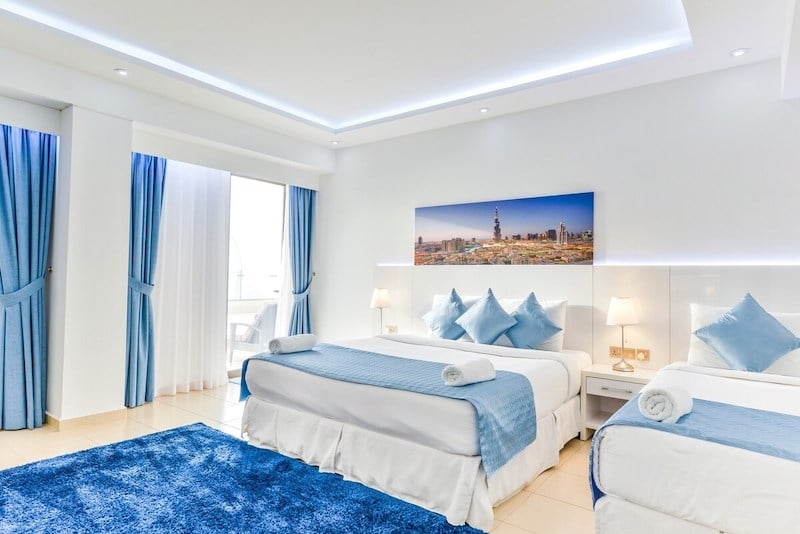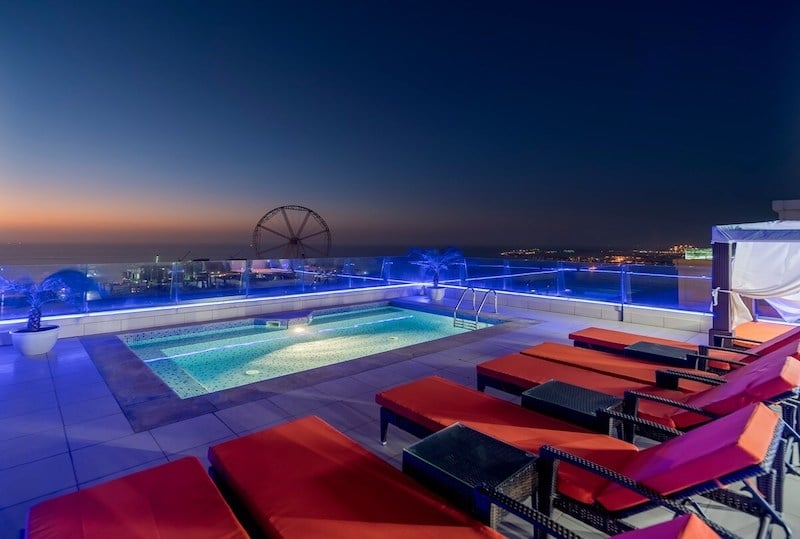 Listing name: Dubai JBR huge Penthouse 6 Bdr. private pool! (R)
Listing type: Entire condominium
Max. no. of guests: 16
No. of bedrooms: 6
This is Dubai resort living at its finest. Located at the heart of Jumeirah Beach Residence, this enormous penthouse has everything you need for a large group holiday on the waterfront. Highlights include a rooftop swimming pool with a marvellous view of the Persian Gulf and Palm Jumeirah, two wide terraces, and six bedrooms that can sleep up to 16. The host also offers services like a private chef, a Bentley tour, a butler, a limo service, and a safari tour with dinner. 
6. This bright apartment in the heart of the Marina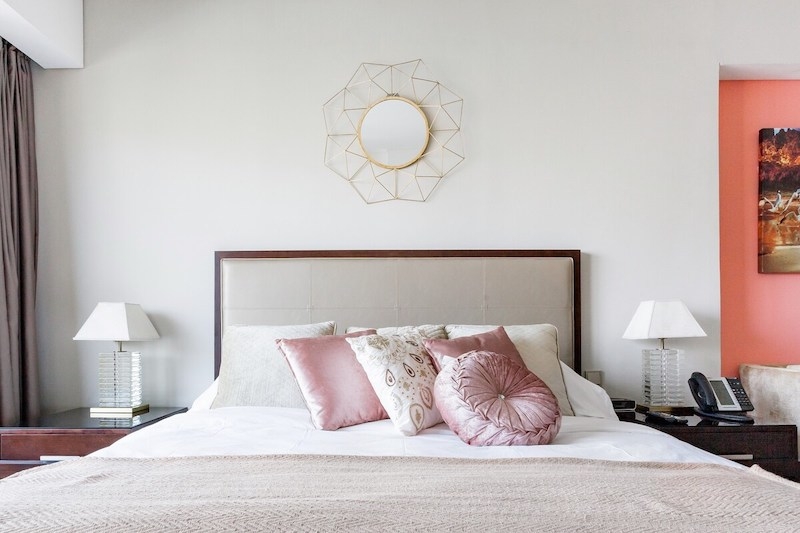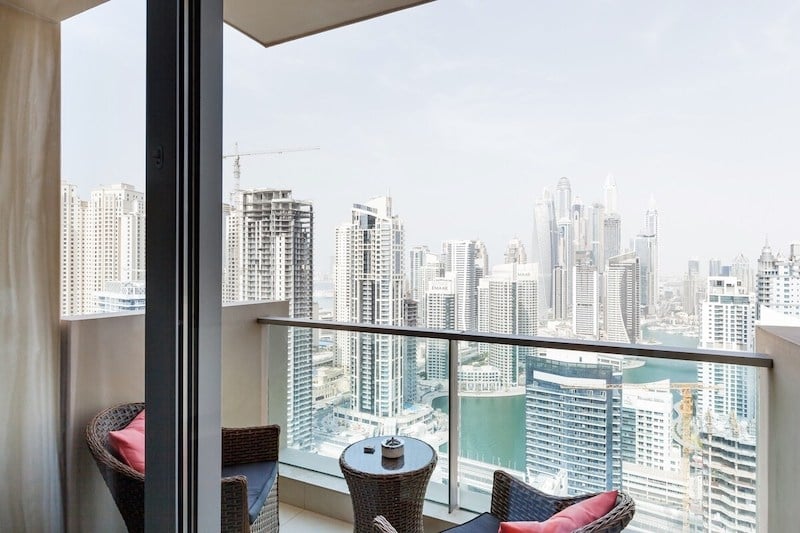 Listing name: Soak in the Bath with Skyline Views
Listing type: Entire serviced apartment
Max. no. of guests: 2
No. of bedrooms: studio
It may not be as big as the others on this list, but this pretty studio apartment located at the centre of Dubai Marina does not scrimp on style. Polished stone, gleaming metal, and glossy dark wood furnishings match well with the pastel accent wall. 
Start your urban retreat with a cup of coffee at the cosy balcony overlooking the marina. Afterwards, you can explore the metro, but we won't judge you if you choose to curl up with a book on the velvet couch instead.
7. This glamorous high-rise suite with a view of Burj Khalifa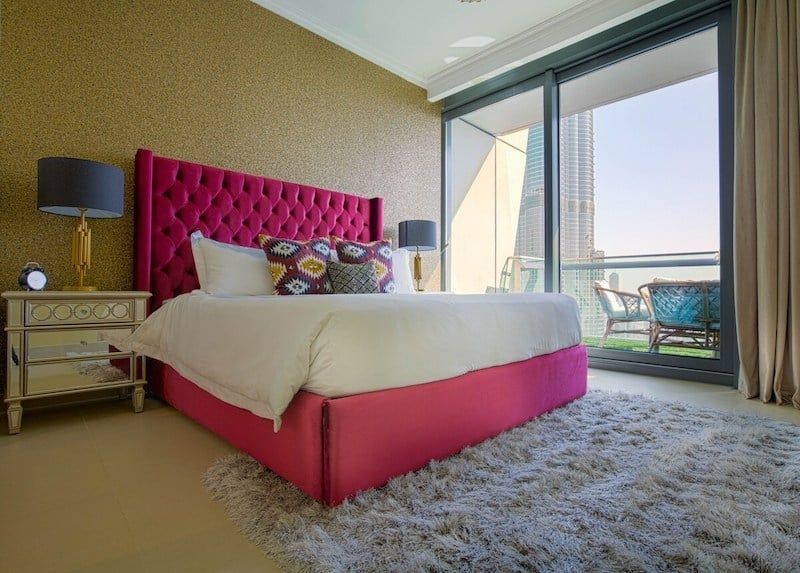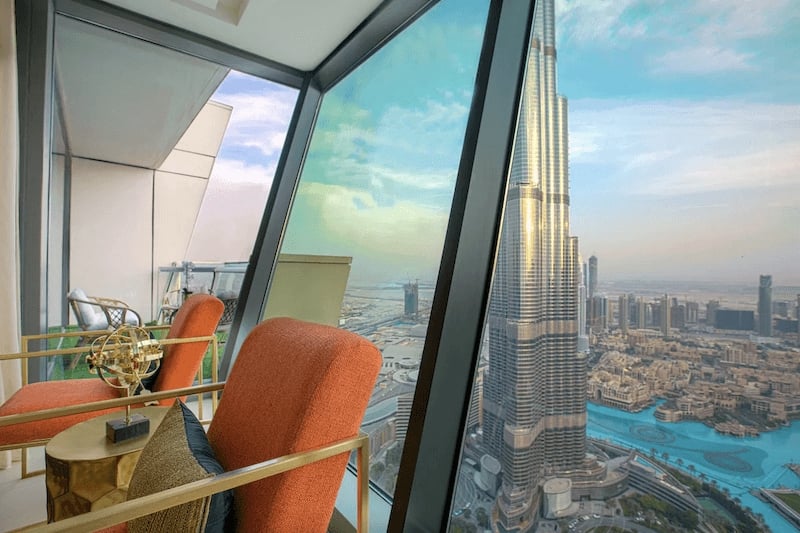 Listing name: Breathtaking Burj & Fountain View Luxurious 3 Bed
Listing type: Entire condominium
Max. no. of guests: 8
No. of bedrooms: 3
If you want to wake up with a view of the tallest building in the world, this fabulous designer suite is hard to beat. And nope, we don't mean a view that requires binoculars — rather, the Burj Khalifa stands a mere 250 metres away! 
One side of the slanted floor-to-ceiling windows leans towards the Burj, while the other faces the jaw-dropping Arabian Gulf. Aside from the stunning views, this Airbnb in Dubai also features three elegantly designed bedrooms, a luxe dining room, and two terraces with a view of the skyline and Dubai Fountain.
8. This deluxe villa with a private beach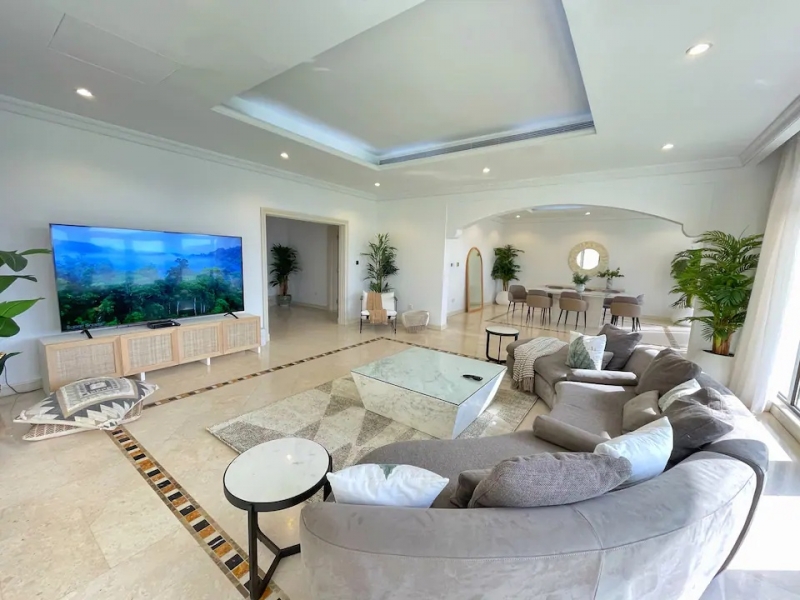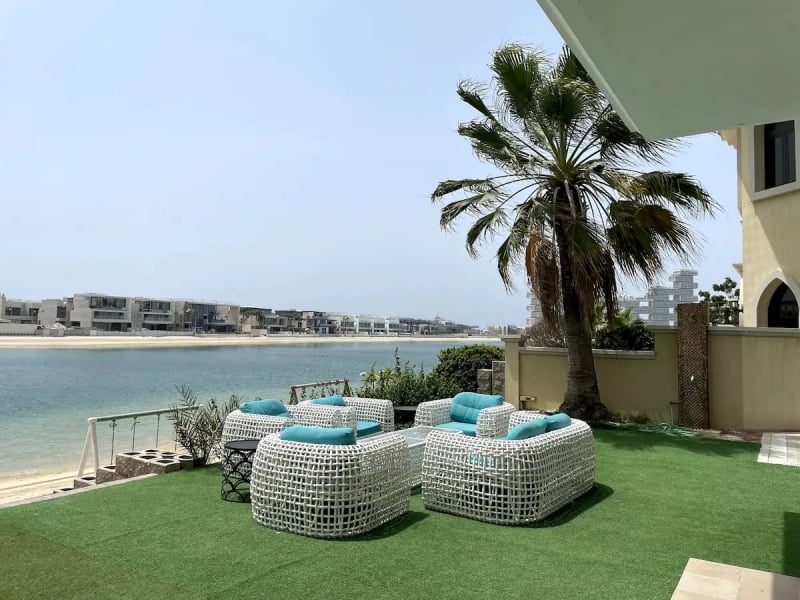 Listing name: Sea view 5 BDR villa plus maid room. Private beach
Listing type: Entire villa
Max. no. of guests: 12
No. of bedrooms: 5
If you agree that Dubai vacations are best experienced by the sea, this beachside holiday home on Palm Jumeirah is for you. A stay here includes the use of five commodious rooms, each with varying bed sizes and quality orthopaedic mattresses, a big living room, and a fully-equipped kitchen. 
Outside, a sprawling garden and swimming pool await — perfect for BBQ with the family. Plus, the beach is steps from the doorstep, making it easy for you to spend all day on the sandy shores. 
9. This elegant flat in the heart of the city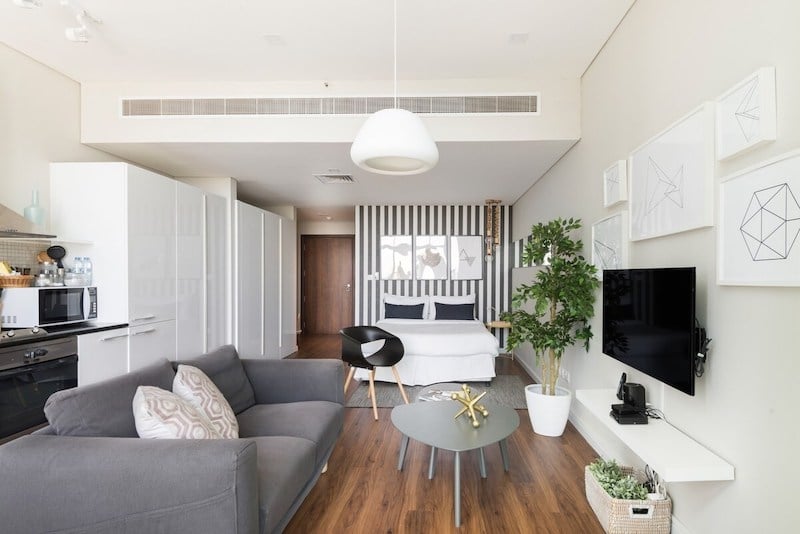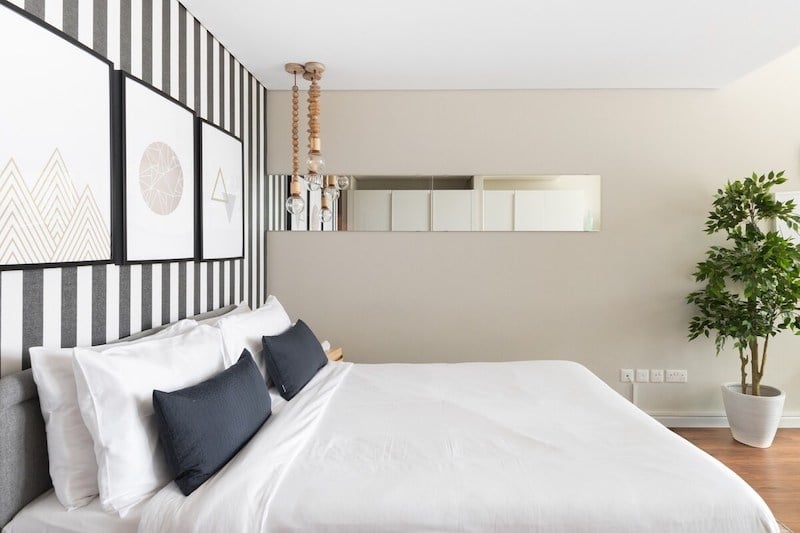 Listing name: Stylish Highfloor Studio in City Center
Listing type: Entire apartment
Max. no. of guests: 4 
No. of bedrooms: studio
What it lacks in size, this sun-drenched studio in the Financial Centre makes up for in simple refinement. This Airbnb in Dubai comes with a snug queen-sized bed, stylish furniture in neutrals, modern appliances, and lots of natural light through its floor-to-ceiling windows. 
Spend the day trying out global cuisine in nearby cafés and restaurants. At night, enjoy the city lights on the balcony or have a relaxing dip at the bathtub. 
10. This exquisite home near a seaside shopping haven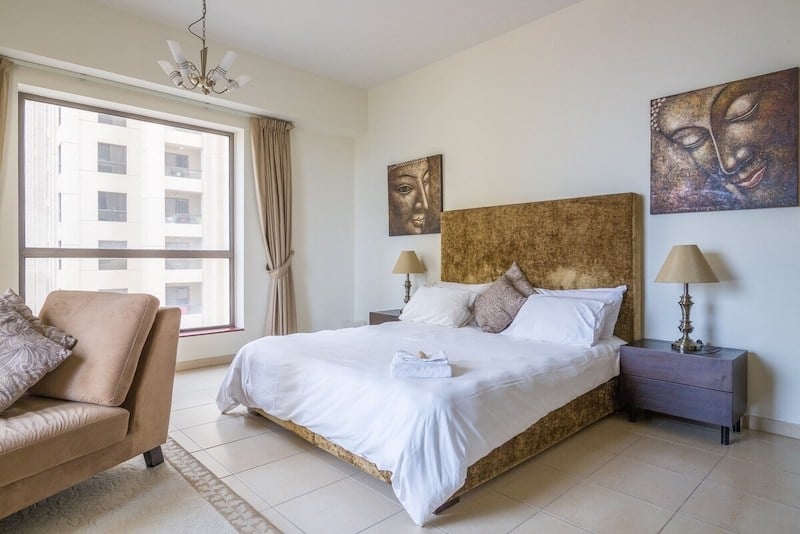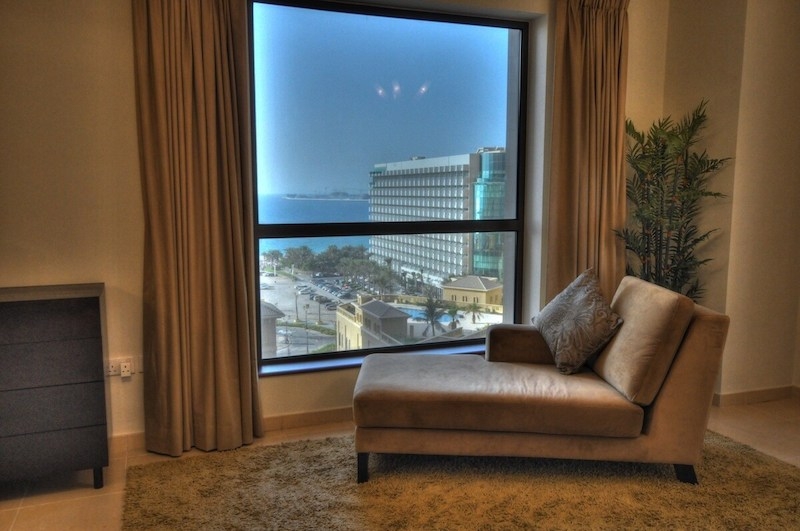 Listing name: Stunning beach side property
Listing type: Entire apartment
Max. no. of guests: 7
No. of bedrooms: 4
Thanks to this fancy Jumeirah apartment, you won't have to choose between shopping and beach bumming — you can do both! Conveniently located close to The Beach by Meraas and a complex of retail stores, this home gives you the beachside holiday you're craving for. 
After your Jumeirah adventures, feel free to catch some shuteye at one of the gorgeous bedrooms, unwind with a movie in the living room, or admire the views of the Gulf from the chaise lounge.
11. This cosy apartment in downtown Dubai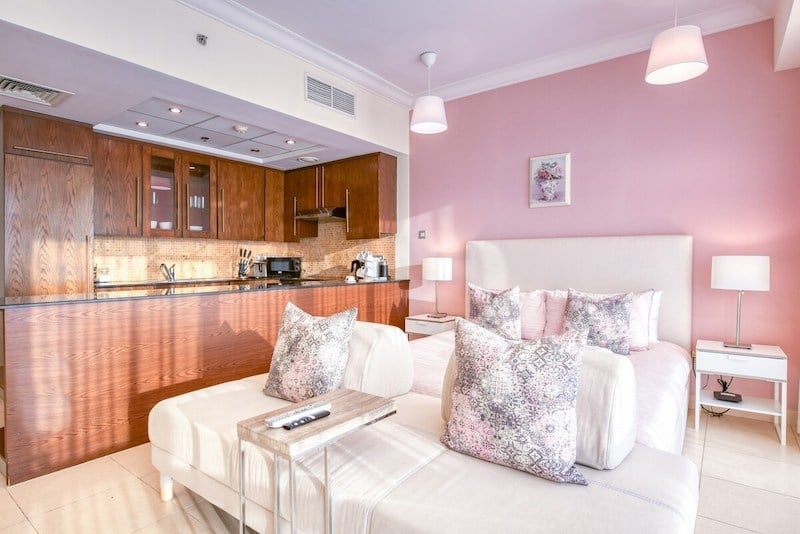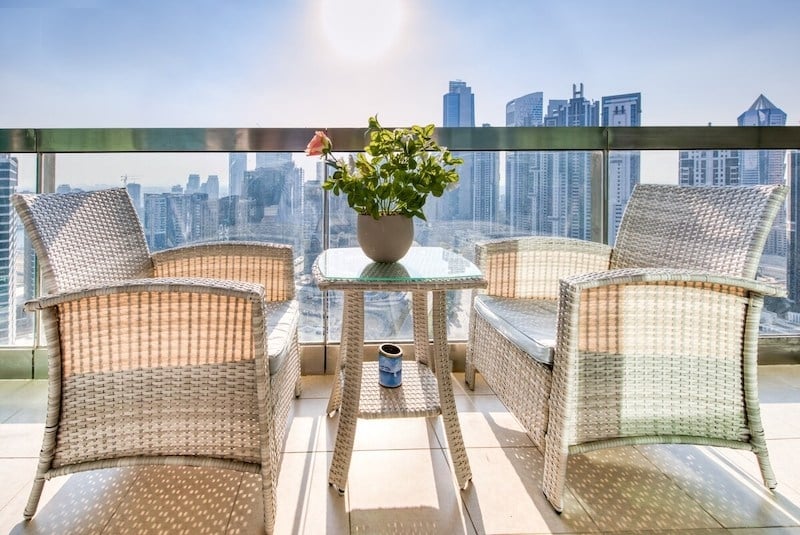 Listing name: Situate urself between Burj Khalifa & Dubai Mall
Listing type: Entire apartment
Max. no. of guests: 3
No. of bedrooms: studio
After exploring Downtown Dubai and the attractions of the metro, a lazy afternoon in this calming and cosy studio sounds like a dream. The pale pink wall and light-hued furniture, enhanced by the natural light, lend this home soothing and romantic vibes. 
We especially like the balcony where you can gaze at sweeping views of the city while sipping your coffee or wine. Major tourist spots like the Dubai Fountain and Burj Khalifa are just a few minutes away, too. 
12. This vibrant home with awesome views from two balconies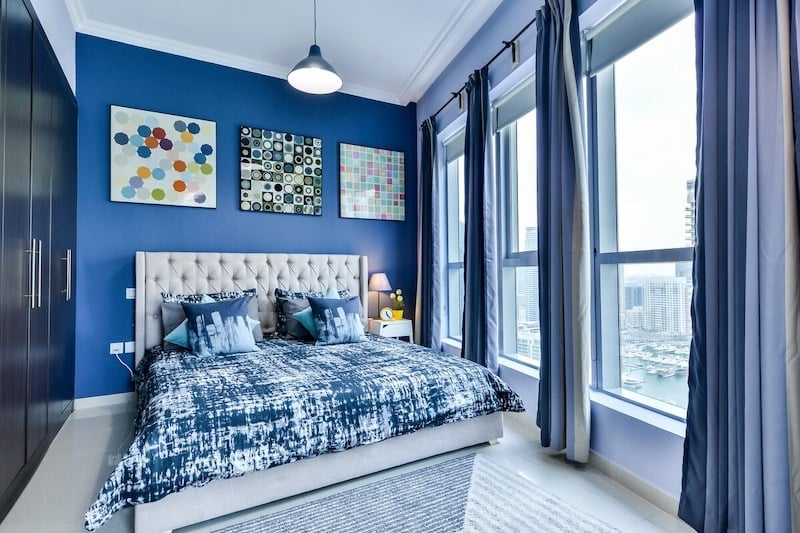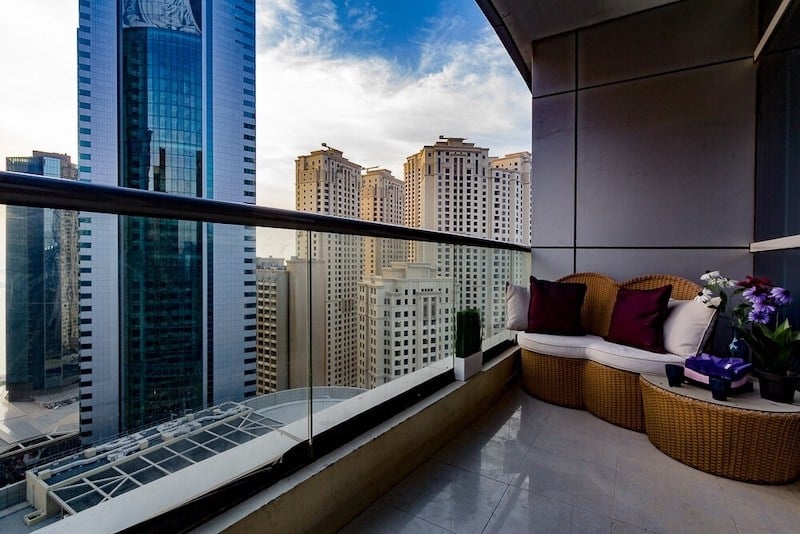 Listing name: Stunning – 26th Fl Views, 2 Balconies, 2 King Beds
Listing type: Entire condominium
Max. no. of guests: 6
No. of bedrooms: 2
Whether you're travelling for leisure or business purposes, this trendy Dubai Marina home has everything you need: sizable and stylish rooms with amazing views, a well-equipped kitchen (that includes breakfast for the first day), a dedicated workspace, fast internet, and proximity to so many Dubai attractions. With two balconies and large windows overlooking the city, this Airbnb in Dubai provides spectacular marina vistas. 
Also read: 9 Cheap Things to Do in Dubai 
Have you picked your favourite from these luxurious Airbnb homes in Dubai? We know, we're having a hard time choosing, too! Whichever you choose, we know you'll have a grand time.
---
This article contains affiliate links. When you book through these links, we may earn a small commission at no additional cost to you. All images courtesy of the respective property listings.