The samurai film, otherwise known as chanbara, was undoubtedly one of the highlights of the Golden Age of Japanese Cinema. This was during the 1950s, the postwar decade that witnessed a burgeoning film scene in the Land of the Rising Sun. Soon enough, this artistic wave made its way to other parts of the world — mostly thanks to the global fascination with samurai movies. In a nutshell, these are the equivalent of cowboy flicks from the United States and medieval knight movies from Europe.
If you grew up watching anime and/or reading manga, then you've probably found samurais (or maybe ninjas, but that's another topic) extra cool. Hey, what's not to love, right? So, we've listed down the top 10 best samurai movies of all time; arranged in chronological order, from mid-century classics to relatively new works. We even noted the director for each, should you wish to explore their filmography and further immerse yourself in the captivating world of samurai movies.
Finally, we also did a bit of online sleuthing to find out their filming locations in Japan. After all, you might want to visit these places someday to make your trip more exciting! 
1. Seven Samurai (1954)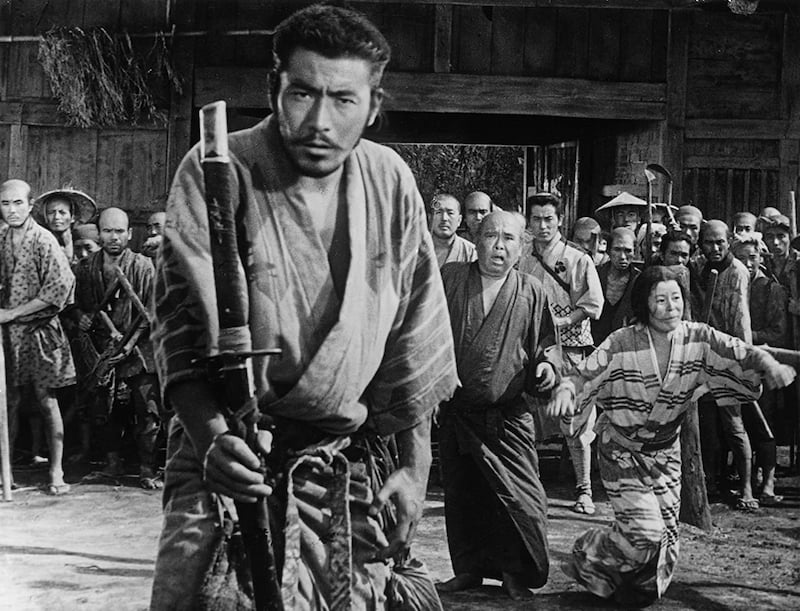 Seven Samurai takes place in 1586 during the Sengoku period, a time of political unrest and class conflict. The story centres on a village of farmers who decided to hire seven rōnin (masterless samurai) to defend them against bandits who are constantly stealing their crops. Considered one of the most iconic samurai movies of all time, it has been remade several times in various languages. It's also directed by Akira Kurosawa — A.K.A. the filmmaker who put Japan on the global cinematic map. 
Filming location:
The fictional village was a set built in the Tagata district of Izu province in Shizuoka prefecture. It's quite close to the coastal city of Atami, which is popular for its onsens (hot springs). 
2. Throne of Blood (1957)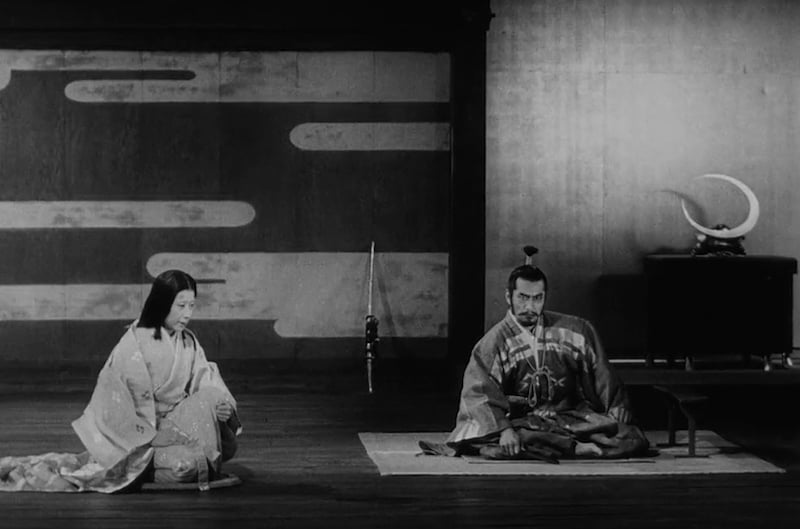 If you find Shakespeare's Macbeth fascinating, then you'll definitely enjoy this retelling by (again) Akira Kurosawa. Throne of Blood takes place in feudal Japan and is infused with techniques from Noh: the oldest form of Japanese theatre that actually predates The Bard! Samurai general Taketoki Washizu seizes power by murdering a local lord, at the urging of his scheming wife, Lady Asaji Washizu. Though, if you haven't seen or read the original play, you're still likely to enjoy this part-samurai film, part-supernatural epic. 
Filming locations:
The exteriors of Lord Tsuzuki's castle were built and shot on Mount Fuji. While most directors would simply opt for artificial smoke, Kurosawa and his crew actually stayed on the mountain for days, waiting to capture real fog enveloping the slopes. The forest scenes were partially filmed in Aokigahara Forest, whereas General Washizu's mansion was shot in the Izu Peninsula.
3. New Tales of the Taira Clan (1955)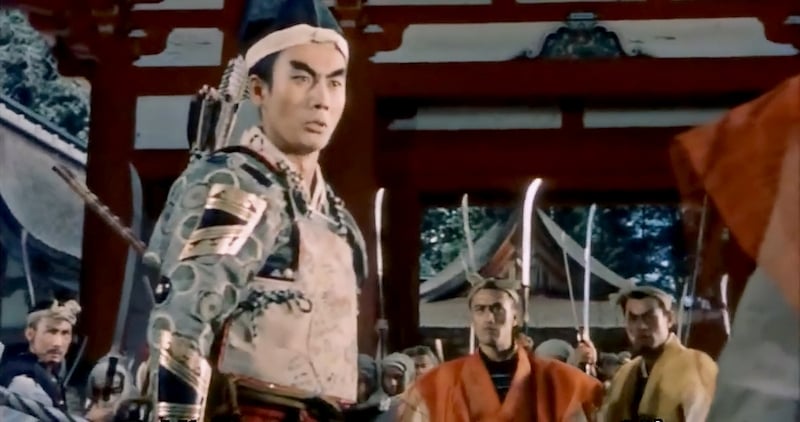 What happens when the warrior class finally refuses to be subservient to the nobles? Such is the plot of New Tales of the Taira Clan. It revolves around Taira Kiyomori, an impulsive young samurai who seeks to avenge his disgraced father and leader of the samurai clan. But, of course, there's more: Kiyomori later finds out that he might be a son of the late emperor. Apart from being one of Kenji Mizoguchi's very few films in colour, it's also his second-to-the-last film before he passed away. 
Filming location:
Kyoto has always been known as the main filming location for countless samurai movies. For this one, the most notable would be the Hebizuka Kofun, a historic tumulus in a residential area near Katabiranotsuji Station. This keyhole-shaped tomb is one of the largest stone chambers in Kyoto and was rumoured to be cursed. 
4. The Hidden Fortress (1958)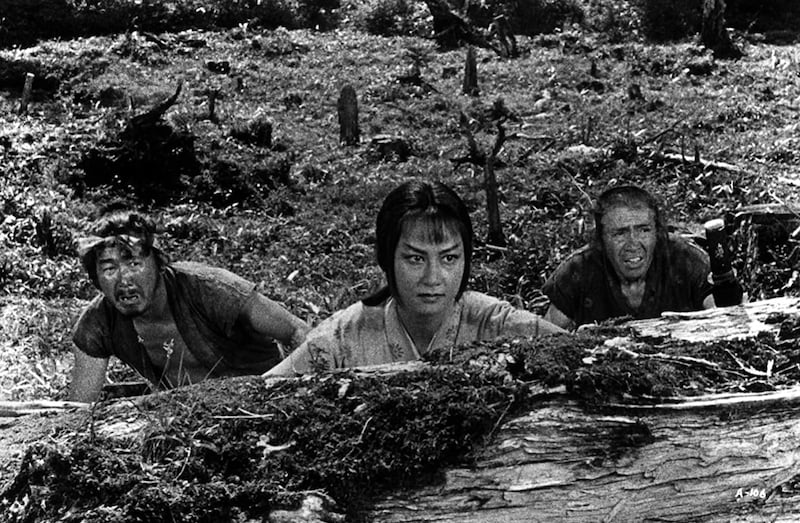 Clearly, one can never watch too many samurai movies by the renowned Akira Kurosawa. The Hidden Fortress tells the story of Tahei and Matashichi: two peasants who take on the task of escorting a man and a woman across enemy lines — in exchange for gold. Unbeknownst to them, the man is actually General Rokurota Makabe, while the woman is Princess Yuki of the Akizuki clan. Sounds familiar? Well, here's a fun fact: George Lucas admittedly drew inspiration from this film for his very own Star Wars films. 
Filming location:
Horai Valley in Hyogo prefecture serves as the main location for this samurai film. You'll find this in the Rokko Mountains, a go-to among hikers and rock climbers. Though, if you'd like to visit the real-life version of the titular fortress, then we recommend visiting Akizuki Castle Ruins in Fukuoka prefecture. 
5. Kagemusha (1980)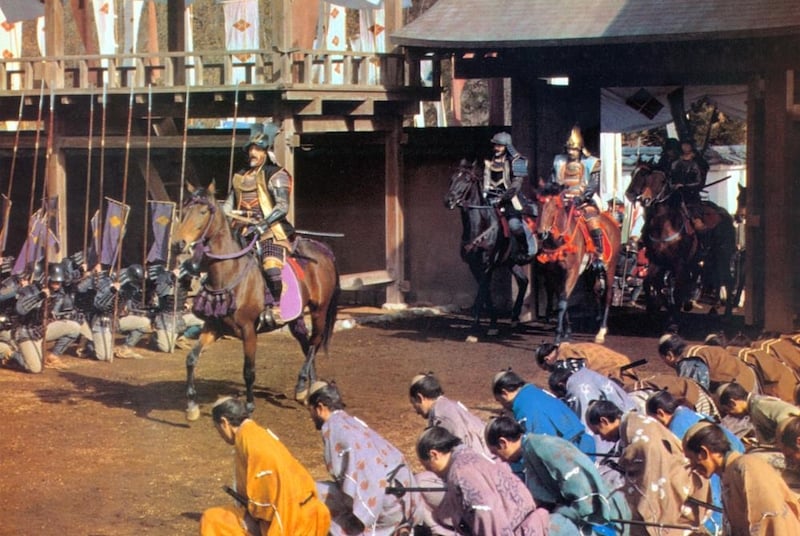 Kagemusha is the Japanese term for a political decoy, literally translating to 'shadow warrior.' In this story, a petty thief is hired by warlord Shingen Takeda and his brother to help them hold off attacks from rival clans. The thief's task? Impersonate the dying Shingen, whom he bears an uncanny resemblance to. (What could go wrong?) Apart from Kurosawa at the helm, George Lucas and Francis Ford Coppola also contributed to this cinematic work; they basically produced the international version! 
Filming locations:
This is one of the few samurai movies on this list that was bankrolled by Hollywood, so you can expect a wider-than-usual array of filming locations in Japan. This includes the epic battle scene shot at Yuhara Plain in Hokkaido, as well as the majestic Himeji, Iga Ueno, and Kumamoto Castles. 
Also read: 13 Hollywood Movies That Perfectly Capture The Beauty of Asia
6. Ran (1985)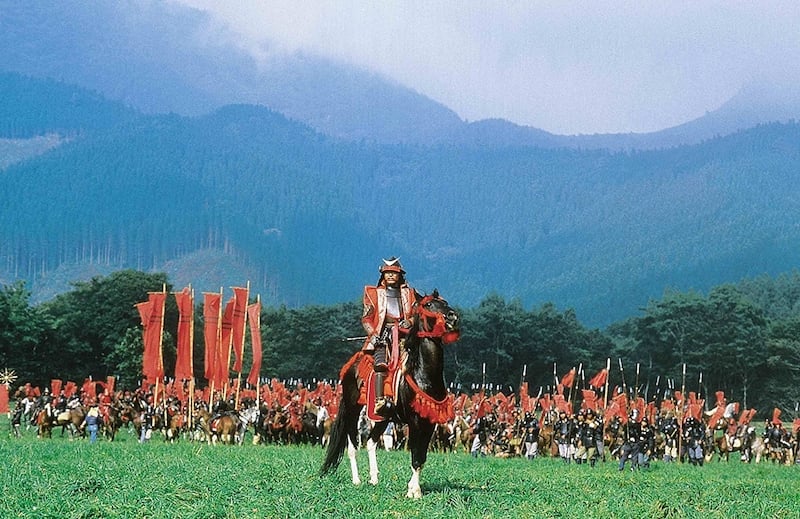 Okay, this is the last Akira Kurosawa film on this list, we promise. Similar to the second item, Ran is also one of his samurai movies loosely based on a Shakespeare play. This time, it's King Lear — although it also draws inspo from legends about the historical Mōri Motonari. The plot revolves around the ageing warlord Hidetora Ichimonji, who decides to divide his kingdom among his three sons. Naturally, a brutal power struggle ensues, especially when the youngest son defies the pledge of obedience. 
Filming locations:
Most of the movie was shot around the mountains and plains of Mount Aso — A.K.A. the largest active volcano in Japan! Kurosawa was also granted permission to shoot at the ancient Kumamoto and Himeji Castles. They also custom-constructed a few majestic structures on the slopes of Mount Fuji! So, is it even a surprise that Ran had the most expensive production budget in Japan at the time of its release? 
7. The Twilight Samurai (2002)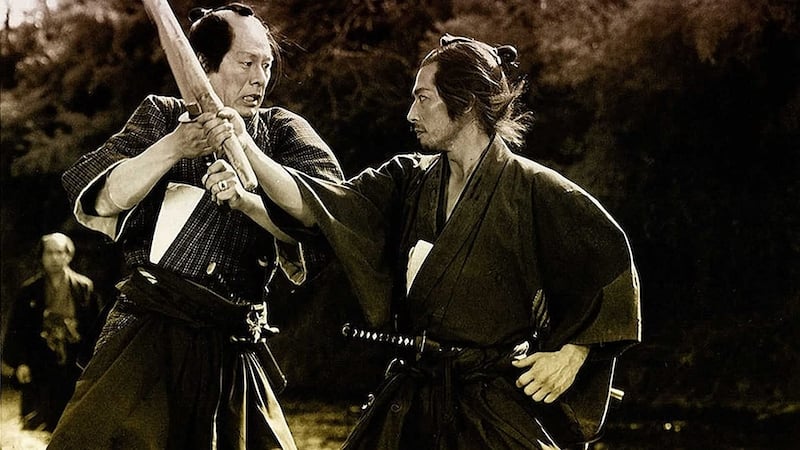 Now, on to the early '00s. The Twilight Samurai is an Oscar-nominated historical drama by Yoji Yamada. It takes place in mid-19th century Japan and centres on Seibei Iguchi: a widower and low-ranking samurai who spends most days working in the fields in order to provide for his mother and two daughters. His once normal and contented life turns upside down when his divorced childhood sweetheart returns to town. Fair warning: this is one of the few samurai movies that could possibly make you shed a tear! 
Filming locations:
Most of the filming took place around the Shonai region of Yamagata prefecture. Though, for the homes of Seibei and his colleagues, these were shot in two historic buildings: the Iwahashi Family Residence and Matsumoto Samurai House. You'll find both in the city of Semboku in Akita prefecture.  
8. 13 Assassins (2010)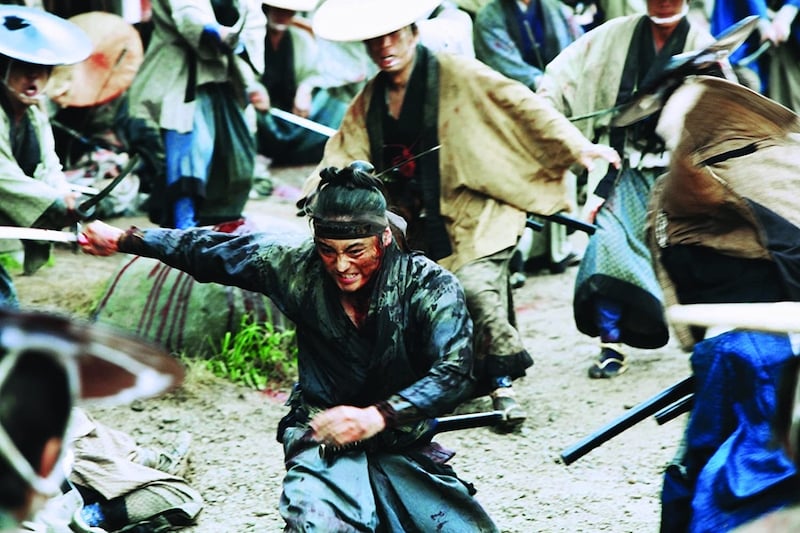 We'll give you a heads up as early as now: 13 Assassins is one of the more bloody-violent samurai movies. But don't let that stop you — this masterpiece by Takashi Miike is a must-watch. And yes, these said assassins are actually samurais led by Shinzaemon Shimada, who believes that there's more to Bushido than blind obedience. He and his team are tasked to ambush and kill Naritsugu Matsudaira, a sadistic warlord about to ascend to the Shogunate Council — which might as well start a civil war. Oh, and did we mention that Naritsugu also happens to be the Shogun's half-brother? Yep, better get on that ASAP. 
Filming location:
A bulk of this samurai film was shot up north in the city of Tsuruoka in Yamagata prefecture. It's best-known for its sacred mountains as well as Tsuruoka Park, which is especially breathtaking during cherry blossom season. 
9. Rurouni Kenshin Part 1: Origins (2012)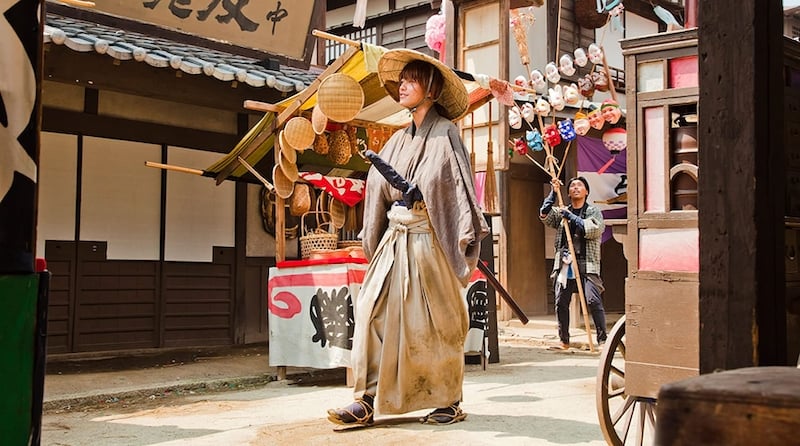 Some of you might know this as Samurai X, the title of the anime adaptation. Both that and the manga were a hit during the '90s, so when the live-action came out, it was a childhood dream come true for many. Keishi Ohtomo's movie series currently has three parts, but for now, we'll talk about the first: Rurouni Kenshin Part 1: Origins. We meet Kenshin Himura, a former assassin who vowed to never kill again and simply spend his days helping those in need. But, of course, things don't go exactly as planned as he crosses paths with ruthless criminals. 
Filming locations:
Rurouni Kenshin sure had a great budget, as proven by its fantastic filming locations in Japan. Most scenes were shot in Shiga and Kyoto prefectures. In the former, this includes the Miidera Temple on Mount Nagara, as well as Hachiman-bori Canal. In the latter, fans should definitely visit Zuishin-in Temple, the Five-Storied Pagoda at Ninna-ji Temple, and the Central Hall of Ryukoku University – Omiya Campus. 
10. Blade of the Immortal (2017)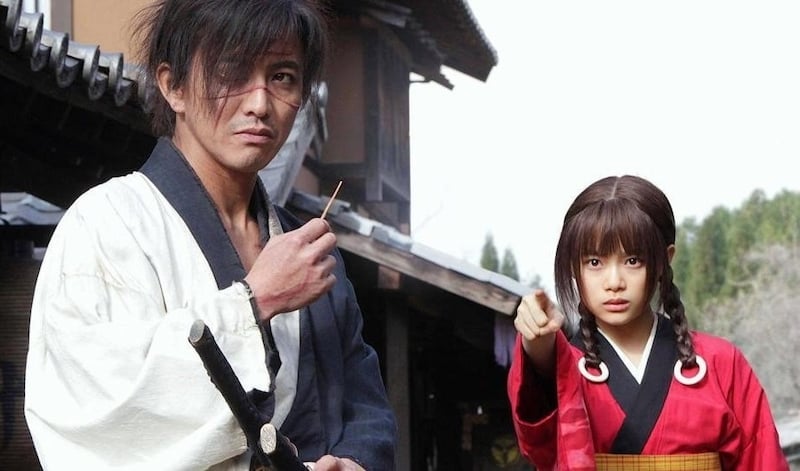 Finally, we're down to the most recent one among these samurai movies. Blade of the Immortal is another must-see by Takashi Miike that also happens to be his 100th film! The main character, Manji, is an immortal samurai. Though, he acts less like a superhero and more like a 'living ghost' stuck in the mortal realm. (No kidding—he says stuff like, "You're lucky you can die" in the most un-sarcastic way possible.) Years after the death of his sister, Manji takes an orphan teenager under his wing. Together, they go on a mission to take revenge on the rogue samurais who killed her parents. 
Filming locations:
The shooting for this samurai film took place in the outskirts of Kyoto, where the production team created a massive village set! 
Also read: 10 Destinations in Asia That Were Inspired By Studio Ghibli Movies!
With complex characters, unforgettable plots, and interesting filming locations in Japan, these samurai movies are sure to leave you wanting more. If you're looking for a sign to binge-watch these ASAP, well, this is it! 
Alternatively, you might have already seen some (or all) of these samurai movies. That said, what can you say about 'em? We'd love to hear about your take/s in the comments. 
---
All images are credited to IMDb Official Website.