Five years ago, I arrived in Honolulu as an exchange student at the University of Hawaii at Manoa, fully expecting to feel out of place among the thrill-seekers on the island. Soon, I discovered that the Hawaiian Islands packed just as many cultural activities and sumptuous eats. I'm not much of a surfer myself, and I still found plenty of things to do while I was in Hawaii.
Eight principal islands make up the Hawaiian archipelago, meaning we have a lot of ground to cover. These major islands include Oahu, Big Island, Maui, Kauai, Molokai, Lanai, Niihau, and Kahoolawe. Most of the Hawaii attractions below are set in Oahu, where you'll discover artsy streets, turquoise seas, golden sands with turtles, verdant forest trails, cultural shows, and laid-back surf towns — all within driving distance! 
Going beyond wave-chasing and hula dancing, we've handpicked the must-see attractions in Hawaii that not everybody knows about. Take a look at these dreamy coastal escapes, and you'll feel the aloha spirit anywhere you go! 
Also read: 17 Stunning Airbnbs in Hawaii for the Best Experience
1. Admire the murals in Kakaʻako
Marked by vibrant murals splashed across old buildings, the Kakaʻako district offers a glimpse into the creative side of Honolulu. This neighbourhood was on the verge of dilapidation until a group of artists transformed the streets and made it their canvas. Now, you can revel in an eclectic mix of industrial warehouses and cutting-edge artworks that turn into surreal backdrops. So striking, they seem to pop out of the walls! 
Every February, an art collective known as Pow! Wow! Hawaii collaborates with local artists to decorate the walls with new murals. While you're in the neighbourhood, you might also want to drop by Kakaʻako Farmer's Market on Saturdays too! 
2. Experience island-style brunch at Honolulu cafés
One of my favourite things to do as a student in Hawaii was to go breakfast-hopping at Honolulu cafés. The best part? All of them are a short bus ride away from each other! 
Swing by an award-winning nook called Café Kaila and take your pick from their bestselling dishes: buttermilk pancakes, cinnamon french toast, and waffles with caramelised apples. Head to YogurStory for a Hawaiian dish called the prime rib loco moco, a hamburger patty with fried egg, gravy, and white rice. And for the grand finale of desserts, you can seal the deal with their comforting ube pancakes! 
These purple pancakes don't source their ube from the Philippines. Rather, they are made of Okinawan sweet potato, coconut milk, butter, condensed milk, and sugar. Not only are they tempting to look at, but they're almost pretty to eat. 
Almost. 
3. Swim with sea turtles at Hanauma Bay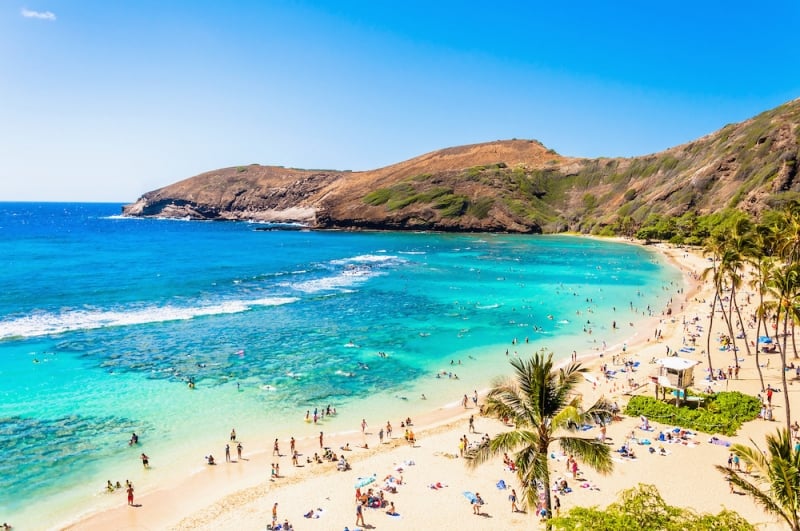 Marine biodiversity and shallow azure waters come together in Hanauma Bay, a must-see destination for beachgoers in Hawaii. Fringed with palm trees along southern Oahu, this coastline is perfect for travellers who want to relax in the sand and appreciate the diverse array of marine life in Hawaii's oceans. You can behold over 450 species of tropical fish, green sea turtles, and living coral. All you have to bring is your swimsuit, towel, reef-safe sunscreen, and a small fee of US$7.50 (S$10.5)!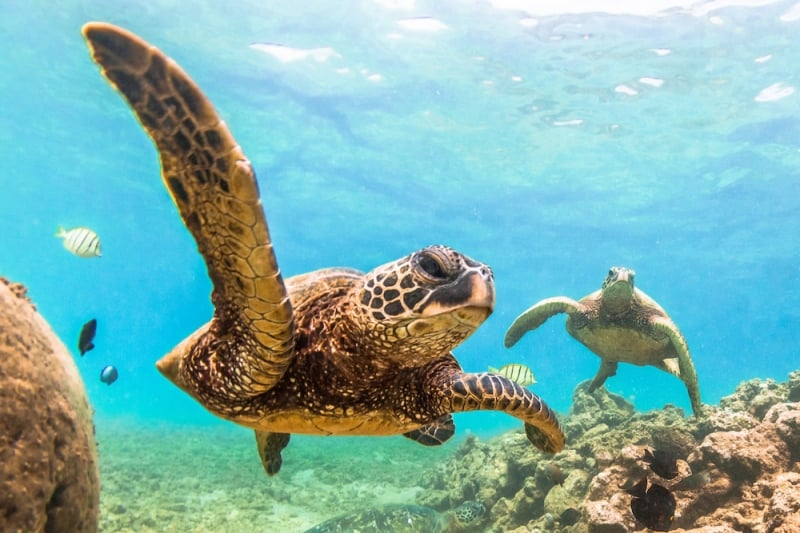 Hawaiians have a great deal of love and respect for their seas. That's why visitors can only snorkel at Hanauma Bay after watching an educational video on reef safety.
If you plan to snorkel, make sure that you keep a safe distance and admire the eye-catching fish without disturbing them. Even the sea turtles, which have gotten used to swimming alongside snorkellers in the shallow reefs, shouldn't be touched. 
4. Cool down with rainbow shave ice at Matsumoto's
If you're not beating the heat with a cup of shave ice in your hand, can you really say that you've been to Hawaii? Many Asian countries have their versions of frozen ice with syrup. Filipino halo-halo and Korean patbingsu come to mind, for example. But Hawaiian shave ice was inspired by kakigori, a sugary treat that arrived with the Japanese workers who laboured in the pineapple fields and sugar plantations in Hawaii. 
Hawaiian shave ice is produced by shaving down a block of ice until it is fine like powder. Then it's coated in bright-coloured syrups and heaped with a scoop of ice cream. 
Slurp your way through Hawaii's most iconic shave ice shop, Matsumoto's Shave Ice, nestled in the surfing town of Haleiwa. Flavours include mango, guava, li hing mui (a salty plum syrup), piña colada, coconut, passion fruit, vanilla cake, green tea, and more. You'll be eating rainbows with every scoop! 
5. Explore the Hawaii Volcanoes National Park on the Big Island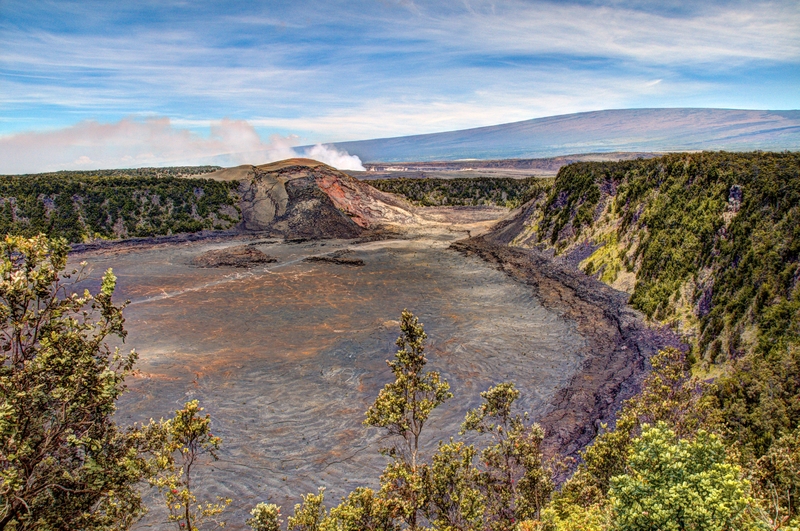 From mighty volcanoes to historic trails, the Hawaii Volcanoes National Park on the Big Island of Hawaii boasts of some of the most spectacular landscapes on earth. You can marvel at crater lakes that are more than a hundred years old! With its dramatic ridges and calderas, the rocky terrain on the Big Island feels a bit like walking on the moon.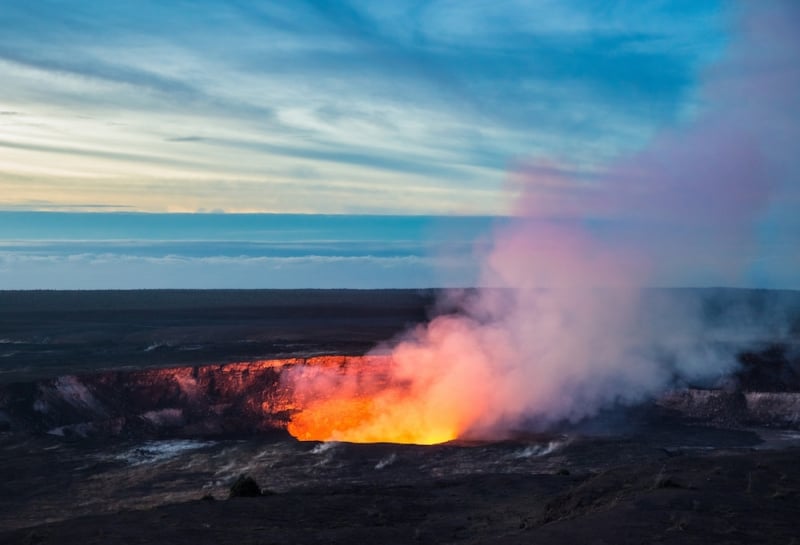 If you've seen the Disney film Moana, you know that the Hawaiians have a different kind of respect for their lands. In Hawaiian mythology, the molten lava that spews from volcanoes is what shapes new islands.
Similarly, in the world of Moana, the fiery Te Kā resembles the volcano goddess Pele, whom the native Hawaiians revere as both the source of creation and destruction. She created every island that makes up Hawaii. It makes you think of the ending of the film a little differently, doesn't it?
6. Taste the flavours of the sea with Hawaiian poke
Another thing I love about Hawaii? The seafood is to die for! While there's plenty to devour in Hawaii, no journey to the islands is complete without trying poke. Poke, which is pronounced "poh-kay," means "to slice" or "to cut crosswise into pieces." It calls back to the days when ancient Hawaiian fishermen would dice their caught fish and eat them raw. Think sashimi, if it were served in bite-sized cubes instead.
I recommend hole-in-the-wall eateries such as Ahi Assassins in Beretania Street and Ono Seafood. Trays are filled with different chunks of raw fish that were marinated in soy sauce with sesame oil. You'll see ahi (yellowfin tuna) poke, salmon poke, smoked tako (octopus) poke, and all kinds of seafood options! Some are mixed with shoyu and Japanese teriyaki sauce, while others have a spicy mayo taste.
My personal favourite haunt for poke was Fresh Catch because it was so near my university, and they served over 30 different styles of poke. There, it was common to see fishermen come in with these massive fishes and bring their catch of the day to the kitchen. Fresh from the ocean, indeed! 
7. Feast on traditional dishes at Helena's Hawaiian Food
When I was living in Hawaii, I rarely felt homesick. I suspect that the food had a lot to do with it. As a Filipino who finds comfort in home-style cooking, the arrangement of viands and side dishes in Hawaiian restaurants felt very close to the food we had back home. 
Thinking of eating as the locals do? You can't go wrong with Helena's Hawaiian Food, which continues to serve the best traditional Hawaiian dishes on the island of Oahu. It has been operating as a family-run restaurant since 1946. 
Try the pipikaula short ribs, which tastes crispy and succulent at the same time; the lomi lomi salmon too, which is a chilled side dish made from salted salmon, tomatoes, onions, and green onions. And of course, the kalua pig, whose tender shreds of pork have a smoky flavour. Between mouth-watering bites, take spoonfuls of sweet haupia — a coconut pudding dessert with a jelly-like appearance. 
8. Learn about Hawaiian culture at Bishop Museum
Dive straight into the rich history of the Hawaiian Islands at Bishop Museum in the Kalihi district of Honolulu. Established in 1889, this gem of a museum holds over 24 million artefacts, making it not only the state's biggest museum but also the largest trove of Hawaiian and Polynesian treasures in the entire world. Furthermore, it was built to honour Princess Bernice Pauahi Bishop, the last descendant of the royal Kamehameha dynasty. 
Start by roaming the Hawaiian Hall, where a paper mâché sperm whale looms over visitors. Peruse the exhibit rooms with traditional Hawaiian instruments, ancient weapons, royal jewels, cloaks, artworks, and so forth. Observe astronomical shows at the J. Watumull Planetarium, which will captivate anyone who wishes to soak up evening skies and celestial views — what the ancient Hawaiians saw when they navigated the world. 
9. Take part in a traditional Hawaiian luau
Any trip to Hawaii is incomplete without participating in a lūʻau! This is a festive celebration unique to the islands, a traditional Hawaiian feast that's filled with music shows and hula dancing. Many visitors to the archipelago try to fit at least one lūʻau into their itinerary, as witnessing the storied history and culture of the native Hawaiians is one of the best things to do while you're in Hawaii. 
Consider Paradise Cove at the Ko Olina Resort for fire spectacles, henna tattoos, and a dinner buffet of traditional Hawaiian cuisine under the stars. A necklace of shells or flowers called leis will be placed on your neck upon your arrival. If a more authentic lūʻau is what you're after, the Polynesian Cultural Center has hands-on activities that will teach you how to hula and play native games. You'll get up close and personal with the Hawaiian spirit of aloha!
10. Munch on malasadas at Leonard's Bakery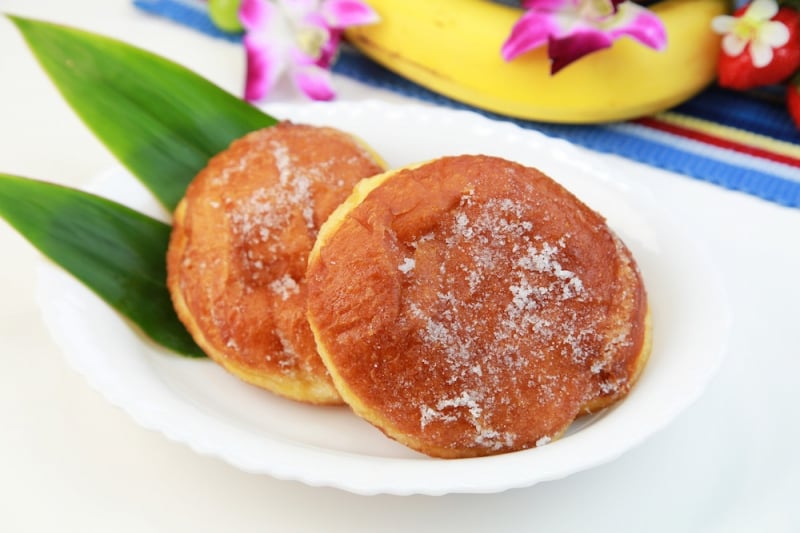 Many cities have their own versions of fried dough pastry. New York has the cronut at Dominique Ansel Bakery. Madrid, the sugary, deep-fried sticks of dough known as churros at Chocolatería San Ginés. Not to be outdone by these culinary destinations, Honolulu has its own comforting treat called the malasada. Picture a palm-sized ball of dough that's been fried to perfection and coated in cinnamon sugar. Unlike crunchy churros, these pastries have a soft exterior and hold a delicate lightness within.
But why the European-sounding name? Malasadas trace their origins from Portuguese immigrants, who settled in Hawaii in the 19th century to work in the sugar plantations alongside Japanese and Filipinos workers; in doing so, they brought their cuisine as well as their unique take on the doughnut to the Hawaiian Islands. 
Leonard's Bakery, a famous shop in Kapahulu Avenue, has been selling these Portuguese confections since 1952. I remember visiting this bakery on Tuesday mornings when the crowds weren't so long. I'd take a peek into the pink box to see whether the pastries were as piping-hot and fresh as their aroma seemed to suggest. Without fail, they always were. 
Also read: Go Nuts Over These 13 Types of Doughnuts Around the World
11. Hike the Diamond Head Summit Trail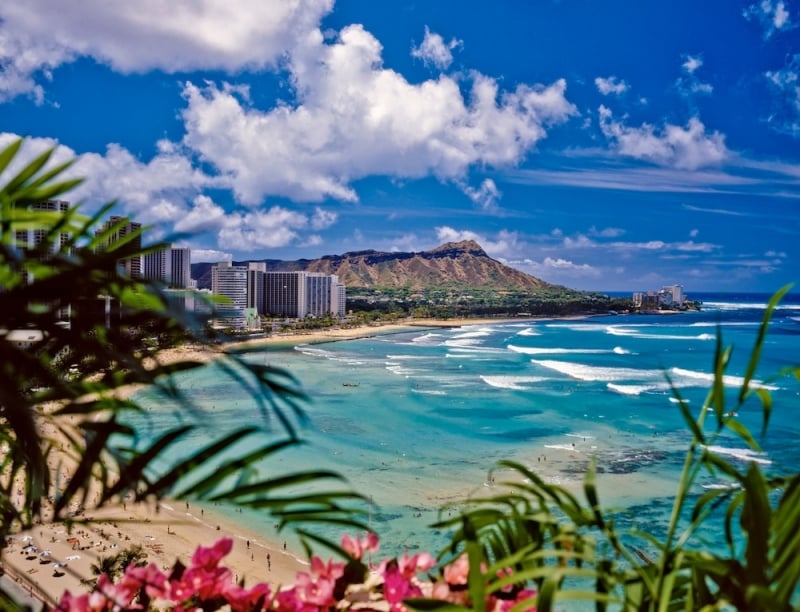 Featuring in photographs of Honolulu's skyline, the 300,000-year-old crater of Diamond Head is one of the easiest hiking attractions in Hawaii. Set out for its epic ridges early in the morning when the sun isn't quite as harsh, and it will feel more like a leisurely stroll. Much of the way has already been paved for travellers, who can walk to the top and back in less than two hours. At its highest point, the Diamond Head Summit Trail offers postcard-perfect views of Waikiki Beach and southeastern Oahu. During the winter, you might even spy humpback whales!
I don't hike very often, so I must confess: While I was huffing and puffing like the wolf in The Three Little Pigs, seeing the grandmothers and teenagers in frilly dresses walk past me without even breaking a sweat may have bruised my self-esteem. But it just goes to show how easy and family-friendly this trail is. Anybody can do it!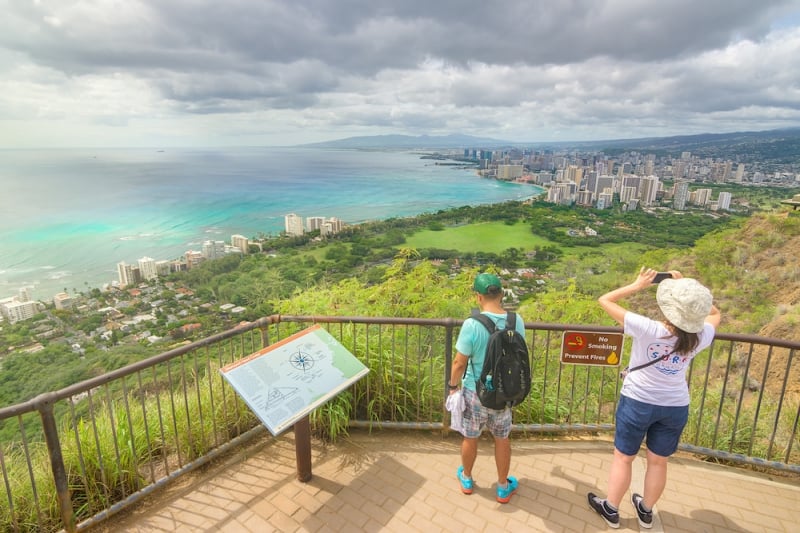 Other famous hikes in Oahu that are feasible for beginners include Lanikai Pillbox Trail, Manoa Falls Trail, Makapuʻu Point Lighthouse Trail, and Waimea Falls Hike. All of these scenic trails are definitely on my list of outdoorsy things to do when I return to Hawaii some day.
12. Catch awesome waves on idyllic beaches
"Surf's up, bruh!" When it comes to highly rated things to do in Hawaii, you shouldn't miss an opportunity to pick up a surfboard and hit the waves! For those who want to surf for the first time, Lanikai Beach in Oahu, Hanalei Bay in Kauai, Papaohaku Beach in Molokai, and Hapuna Beach in Maui have mellow waves and smooth-sailing breaks. No need to tame the mighty oceans! You can opt to wade in their waters or settle in for a lovely picnic under the shade of the trees. It's up to you, really!
Ranging from pristine to uniquely-coloured sands, Hawaii has too many beautiful beaches to name in one list. Why not make yourself at home at one of these stunning beach getaways across the Hawaiian Islands? This way, you'll always stay close to the shore.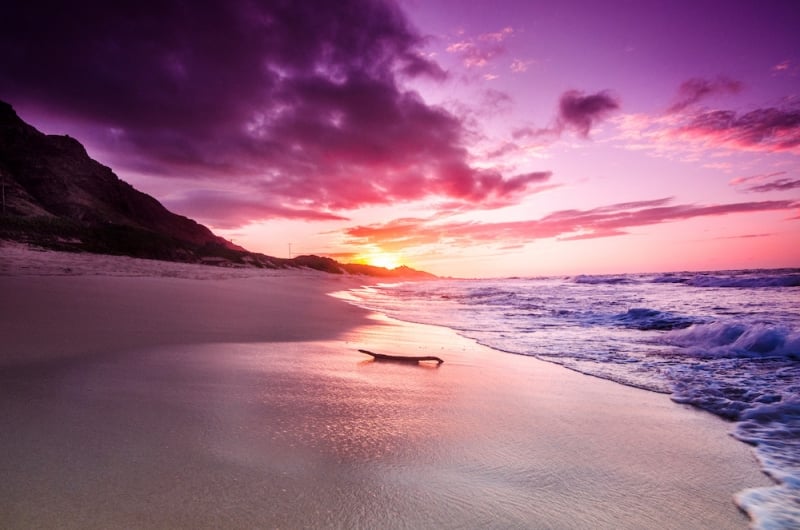 Already know how to surf like a pro? Escape to the North Shore for epic waves that climb higher than the houses on the shoreline! But surfers should practice caution with the strong currents and riptides, especially during the winter season. 
Also read: Best Water Activities of Hawaii 
13. Taste the garlic shrimps on the North Shore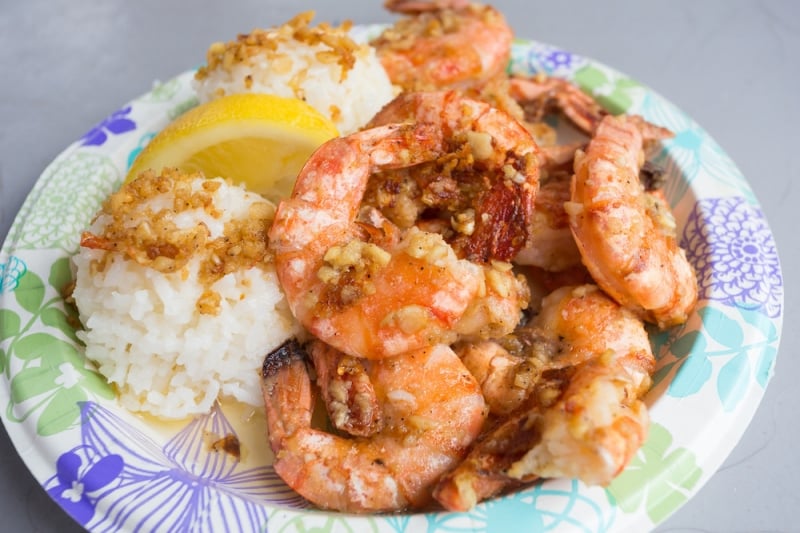 Aside from being a popular gathering spot for surfers, Oahu's North Shore is also home to stellar eateries. Savour the juicy and buttery shrimp scampi at Giovanni's Shrimp Truck, which is practically an institution in Hawaii. Each plate comes with 12 jumbo shrimps and two glistening scoops of white rice, drizzled in garlic lemon butter. It's true that when it comes to eating these prawns out of the shell, there's no getting around the mess. But that's what makes the experience so memorable! 
If you find yourself visiting the North Shore more than once, be sure to check out other roadside food trucks such as Hono's Shrimp Truck, Romy's Kahuku Prawns & Shrimp Truck, and Fumi's Kahuku Shrimp Truck. 
14. Climb the Koko Head Crater Trail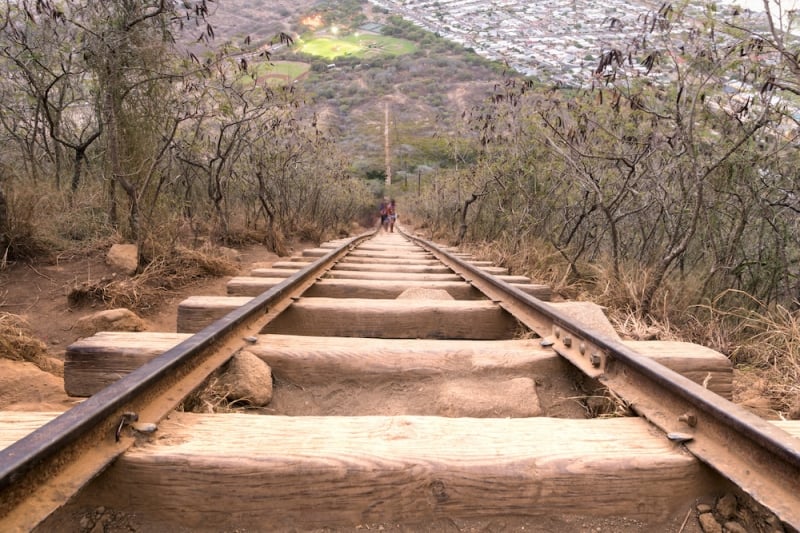 Let's just say that there are easy trails, and then there are trials that will make you want to throw your hands up in the air and wish you stayed at home eating mochi ice cream! But for those who are brave in body as well as heart, the Koko Head Crater Trail rewards you with panoramic views of Hanauma Bay at its summit. The higher you go, the steeper the incline will be. At some point, you will feel as if you are climbing the railway stairs, heaving yourself up with your entire body.
Needless to say, this hike will test your endurance and strength with each step. Carry an insulated tumbler and come with daring, enthusiastic friends who can join in on the fun. Later, you can rest your tired bodies and sate your hunger at Koko Head Café.
How many steps to the top of the crater? Around 1,048. But hey, if Barack Obama was able to complete this hike in his fifties, you can do it too!
15. Tour a Kona coffee farm — and drink their coffee too!
Did you know that Hawaii was the first state to grow coffee in America? A missionary named Samuel Reverend Ruggles planted the very first coffee tree in Kailua-Kona in 1828. Today, Kona coffee is one of the rarest and most expensive coffees in the world. Coffeeholics adore this coffee's rich and subtle flavour, which has no bitter aftertaste. 
Looking for underrated things to do in Hawaii? Join a sip n' stroll through a Kona coffee farm in the Big Island! Kona Coffee Living History Farm and Greenwell Farms offer specialised tours where you can learn how Kona coffee is harvested and processed. You'll have a personal walkthrough of the coffee orchards and historic coffee mills! Before the day is done, you can even taste their freshly brewed coffee! 
While shopping for beans to take home, keep an eye out for a label that says "100% Kona Coffee." After tasting authentic Kona coffee, you'll find it hard to go back to instant coffee! 
16. Count the stars over Mauna Kea
"At night, we name every star. We know where we are." As you might remember, this is a song from Moana — and it has some truth to it, too! The ancient Polynesians were the world's first great navigators and voyagers of the Pacific Ocean. Adept at reading the wind and stars, they sailed the high seas long before the Europeans did. 
Majority of travellers arrive in the Big Island to marvel at colourful sand beaches and jaw-dropping volcanoes, but I suggest taking a late-night detour to find the Milky Way above Mauna Kea, the highest mountain in Hawaii at 4,207 metres. Here, you will also find the world's largest astronomical observation site, the Mauna Kea Observatory.
Gaze into infinite night skies and beyond through the telescopes at the visitor's centre. As the stars and constellations appear, you can stare up at the heavens well until morning. 
17. Chase rainbows over twin waterfalls in Kauai
Waterfalls are present in nearly every island in Hawaii. Among the most unique and breathtaking of these cascades is Wailua Falls in Kauai, which starred as a backdrop for the television series Fantasy Island. These twin falls flow all year round and pour into Wailua River, which you can reach after a quick hike downhill. Hitch a ride in your friend's car by early morning, and you might arrive just in time to see a rainbow shining over the falls. How amazing is that? 
Also read: You Haven't Been to Paradise Until You've Visited Hawaii: Here's 10 Reasons Why
Hawaii's attractions are a gorgeous tapestry of landscapes, seas, and skies. Between the crystal-clear beaches and rainbows over gushing waterfalls, it's easy to believe that Hawaii won the geographic lottery. And with a mélange of diverse cultures and flavours, the islands are a food trippers haven as well!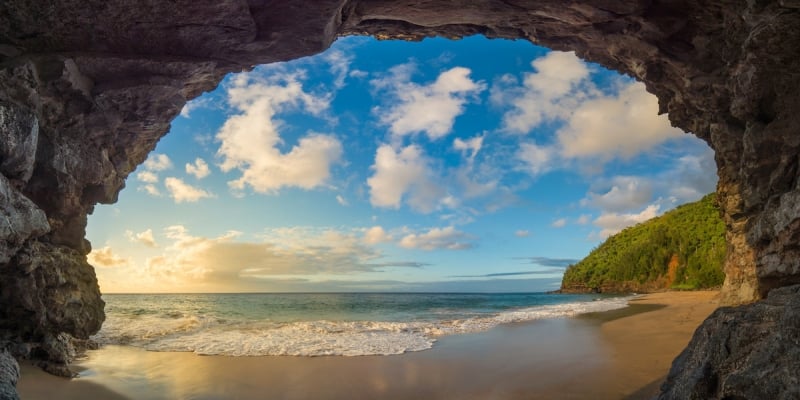 If you're still hankering for more exciting things to do in Hawaii, consider exploring these impressive lookouts and crystal-clear beaches that show different sides to this paradise. Let us know about your Hawaiian adventures and tag us on IG: @tripzillamag! 
At the end of the day, Hawaii doesn't have to pull any gimmicks to look good in photographs or become a great island adventure. It simply is.