Water sports have always been a rather niche group of sports, you need the right balance of youthfulness and bravery to pull it off. When I say bravery, I really mean the willingness to accept pain, whether it be physical pain, or the pain of embarrassing yourself as you fall for the umpeenth time as you try to learn wakeboarding for the first time. You'll think to yourself, "how hard can it bloody be just to stand up?!"
Nevertheless, water sports have been gaining a larger following in recent years as adrenaline junkies seek out fresh sources and viral videos on the internet have influenced a rush of casual fans to try it out for themselves. Not only them though, one of the big reasons for the rising interest in water sports is due to new forms such as Stand-up Paddling (SUP) which are very graceful and serene in nature.
Also read: Tokyo Bucket List: 20 Challenges For Your Next Trip
Wakeboarding (Cable-Skiing) – Batam, Indonesia
This one is quite literally a hop across the pond. No more than an hour away from our shores by ferry, it makes for the perfect day trip with friends and family. At just SGD 108, you get a return ferry ticket to Batam, land transfers, lunch, full day ski pass as well as equipment rental and coaching by the in-house instructors! Walk-in rates are also available. You could go to Batam being a complete ametuer and return like this guy.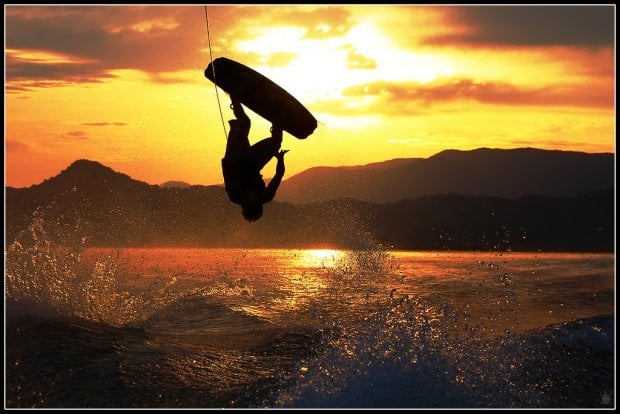 No promises though, some of you might end up more like this guy.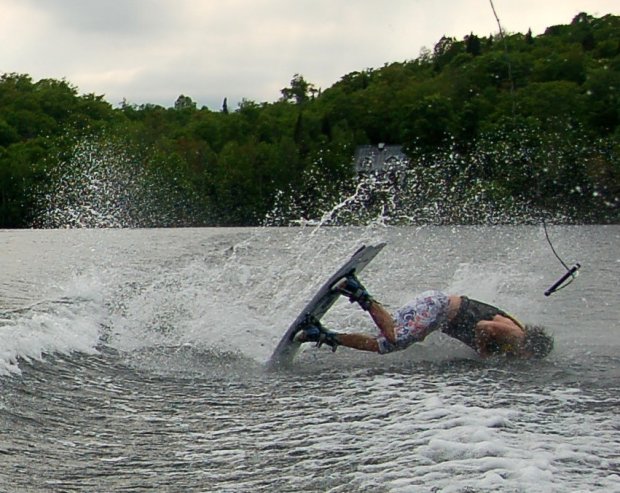 Yowch that got to hurt.
At around $100 in total, this easily beats out the options you have in Singapore especially now that SKI360 at East Coast Park isn't operating, and the alternatives at Punggol are rather pricey for beginners. For a full day's worth of excitement, it doesn't get much better than this as you laugh and watch your buddies tumble into the water.
Deep Water Soloing – Railey, Thailand
Deep Water Soloing (DWS) isn't in the technical sense of the word, a water sport. Or maybe it is. I'll let you decide that one for yourself.

For the uninitiated, DWS is a combination of bouldering and outdoor rock climbing, only done without any safety harnesses. Upside? It liberates you completely, as any climber will know the only function of those pesky carabiners and ropes keep you from falling to your death. Here, you have the wide expanse of hopefully warm and inviting water to catch you when you fall.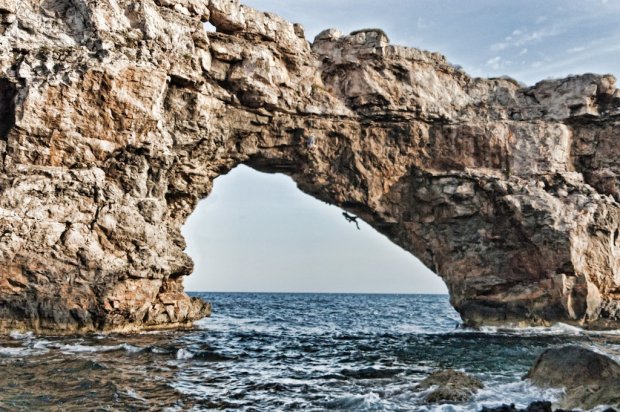 The beauty of the sport is that you get the challenge of rock-climbing in a natural outdoor setting, often stunning if you choose Railey, with the freedom of bouldering without cumbersome equipment. Of course the ultimate reward is making it to the top of your climbing route, allowing you to pose for that all-important Instagram-worthy photo before savouring that sheer plunge back into the water. Or dread it, either way, you're gonna have to get back down somehow 😉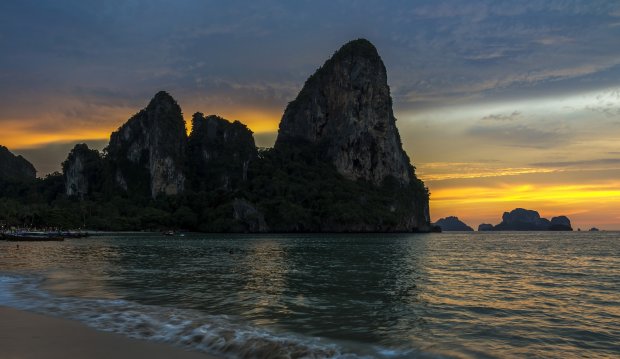 Railey makes for an excellent location for beginners and experts alike to take on the sport, it is hard to imagine a more perfect setting, with its plethora of cliffs to attempt and the crystalline waters that just beckon to you. A climbing school, Basecamp Tonsai, advertised full day 5-6 hour DWS trips for 700 baht ($25), so this should give you a rough idea of how much to expect this activity to cost you. Seems quite reasonable to us!
White Water Rafting – Borneo, Malaysia
White Water Rafting is one of the rare exhilarating sports that is enjoyed sitting down on your butt. You might think that being in a rather sedentary position might limit the amount of fun you can have, get ready to think again.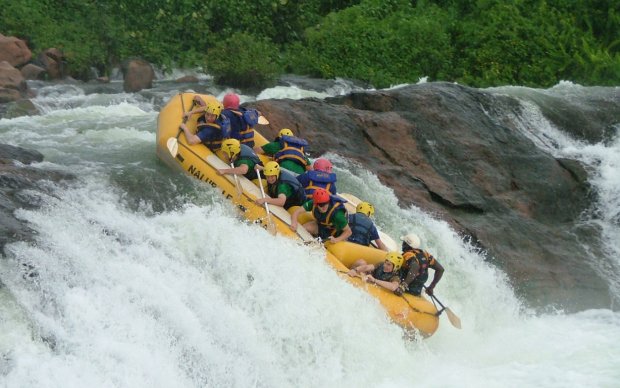 Does any part of this picture look boring to you?

The great thing about white water rafting is that it is done in a group, so bring a group of friends to fall in the water together, sorry I mean splash water at one another.  Alternatively, make new friends with the people on the boat, whom within 5 minutes of meeting you, will marvel at the 180 degree change as you transform from a mild-mannered, soft-spoken human being to a full-on expletive-hurling monster as the rapids catch up with you.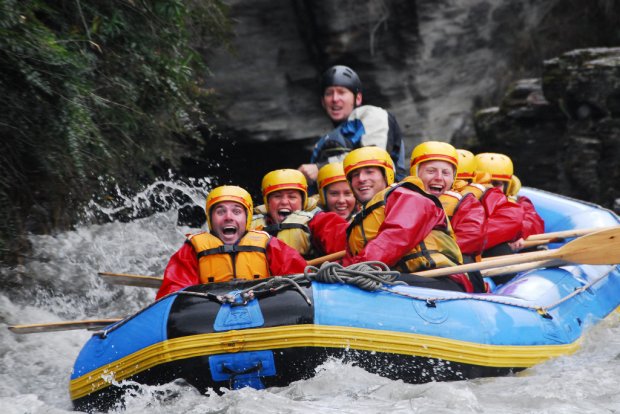 Oh sure, they're all smiling now, but if you look deep into their eyes you'll see the fear as a looming drop approaches. Hint: look at the first guy.
One of the best locations to raft is right in our neighbours backyard, in Borneo! Rafting down River Padas affords you a spectacular backdrop to your water sports, if you have time to slow down and appreciate it that is. You will be speeding down the river that runs right through Kota Kinabalu National Park, which gives you a glimpse of the wildlife and animals that roam the park. Check out Riverbug for some of their affordable packages that include transport to and from River Padas.
Kayaking – Ha Long Bay, Vietnam

Disclaimer: you do not have to make the trip all the way to Vietnam for some kayaking. Kayaking can be done almost anywhere with a water body. The difference lies in the experience, and no doubt one of the best times you'll ever have will be kayaking in Ha Long Bay.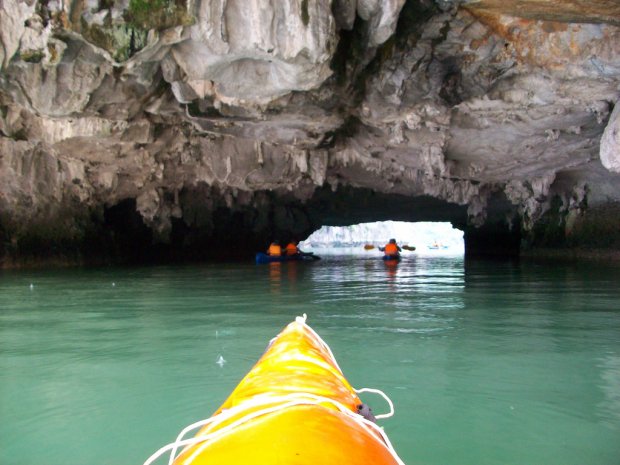 First person view from a kayak, heading through a tunnel.
Paddle through natural tunnels, visit hidden caves and lagoons, stumble upon untainted, unpopulated beaches with stretches of white sand all to yourself. These are just some of the perks that you get by exploring Ha Long Bay. Conditions for kayaking are mostly optimal, the Bay's thousands of islands help to ensure that the water is dead calm and there are minimal currents around. While this might not provide you an adrenaline shot like some of the other sports on the list, there's nothing that can quite compare to immersing yourself in the tranquility and otherworldliness of Ha Long Bay.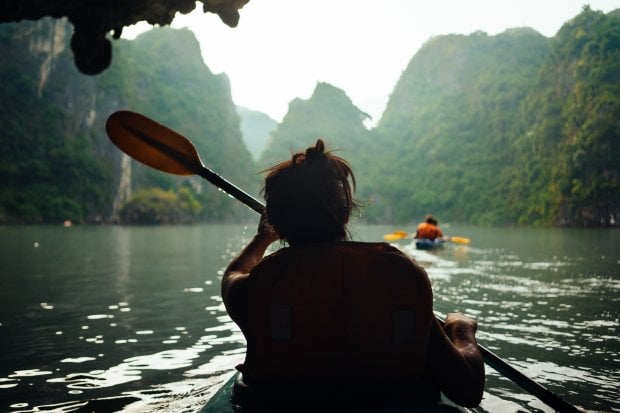 I will follow you into the unknown. 
Ha Long Bay is a noted World Heritage site, and for this reason some might be wary of visiting it due to the masses of tourist that will no doubt flock to any site with such a distinction. The number of tourists certainly is high, but with a bay this big (it has nearly 2000 islets and is over 1500km2 in size), there is definitely more than enough of the bay to go around. We recommend going on a kayak tour while you're there to get the most out of your time (after all wandering around aimlessly does sound romantic but in reality could just mean a lot of paddling to nowhere), and you'll find no shortage of operators all eager for your business.
Kiteboarding (Kitesurfing) – Mui Ne, Vietnam
Fast becoming recognized as the mecca for kiteboarding in Asia, Mui Ne has been blessed with a combination of strong winds and low rainfall, which make it ideal for this water sport. The beautiful landscape and world famous sand dunes nearby help make a compelling case even stronger.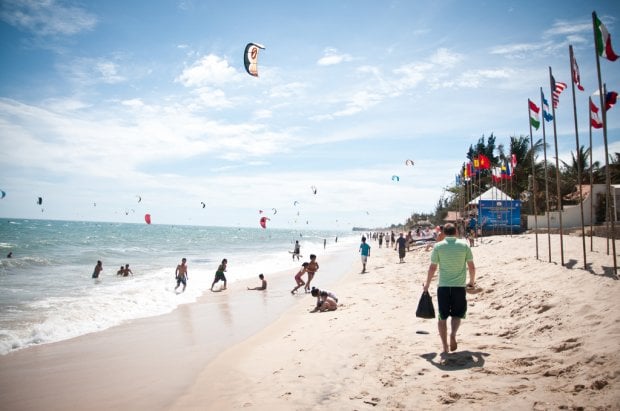 On any given day, you'll see plenty of colourful kites in the sky. This should ease any of the concerns that you might have, thinking to yourself that you're mad for agreeing to try this out. You'll be mad along with all these people!
Kiteboarding is gives you the best of both worlds as you get to surf, except that you don't have to wait for the pesky phenomenon known as waves to get started. The wind and kite will do all the work for you! Admittedly one of the more difficult water sports to pick up, nevertheless it proves to be one of the most rewarding experiences should you eventually learn to control the board. Like this guy:
Because everything is better in black and white. 
And if you become a master at your craft…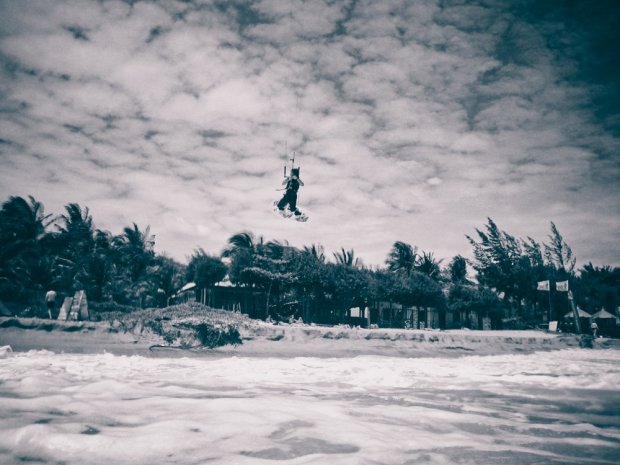 Is that a bird? Is that a plane? No its a kiteboarder!
As this is a highly unique water sport (it is quite unlikely that many would have prior experiences or skills that prepare them for this), we highly recommend that first-timers get started at a kite centre where you can go through a training programme to make sure that you're not a danger to anyone else around you, or to your own self for that matter.
Jetskiing – Langkawi, Malaysia
Jetskiing is probably among one of the more luxurious choice of water sports on this list, given the general high costs associated with enjoying the activity. The rental will set you back quite a fair bit, given that the machines have engines producing up to 130 horsepower and can go up to 100km/h, it is understandable.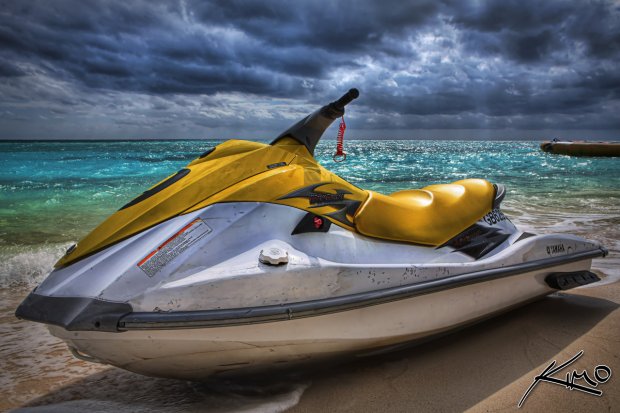 For those who want to indulge in some serious speed over water, a jet ski is realistically as fast as you can go on water without shelling out some serious moolah. We recommend the Pantai Cenang beach in Langkawi which has a number of small operators who are licensed and insured to ensure that your experience won't be spoilt by any unsavoury incidents. Tip: always check your jetski for any cracks or scratches before you set off to prevent any disputes from happening
JetLev – Sentosa, Singapore
Alright this one is kind of a cop-out, but once you watch JetLev you'll understand why we included it.
Looking badass with streams of water blasting out of your jetpack is just a bonus effect, the real thrill of JetLev is the sensation of being to control your own flight and the incredible sensation of soaring up to 10 feet above the water.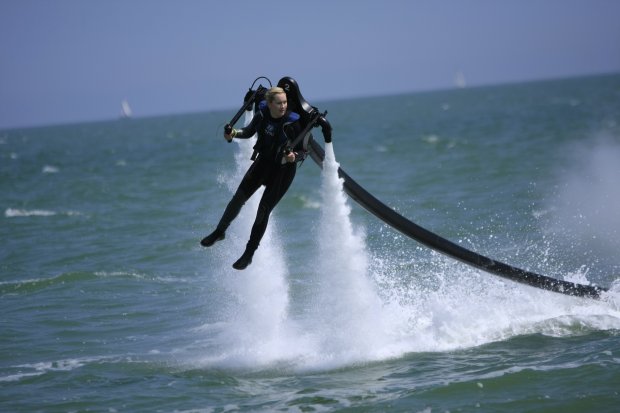 Gently adjusting the throttle with your right hand, not unlike on being on a motorcycle, you control the gush of water that streams out of the back which then propels you up up and away! Sounds simple doesn't it? Well no, not really.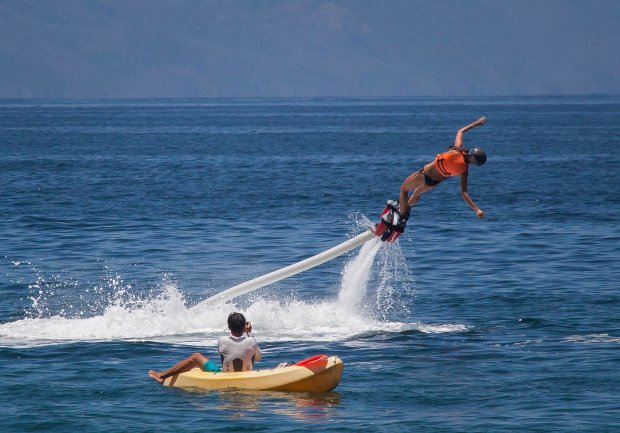 This will be a very common sight the first few times you attempt to get out of the water, the sense of balance and control is just so unlike anything you've ever done before.
We love the people who came up with this brilliant innovation, as it panders to the universal childhood dream of travelling by jetpack. Now if only they could come up with a land version of this…
Stand-up Paddling – Ko Samui, Thailand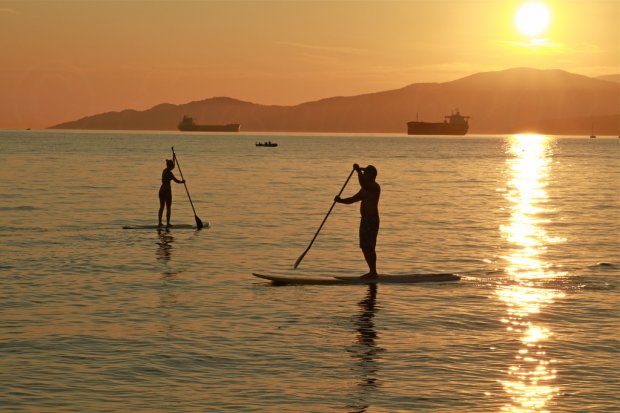 Stand-up Paddling (SUP) is one of the more serene water sports on this action-packed list, but it is definitely interesting and worth your time to get into. A great core exercise for your body (you need to engage those core muscles to maintain balance on your board and stand up!), the idea is to stand on a surfboard and use a paddle to move around. Ko Samui is a great place to get started on SUP, as there are some shops which will rent you the equipment at a decent rate, and they even provide yoga instructors to teach you how to do yoga on water!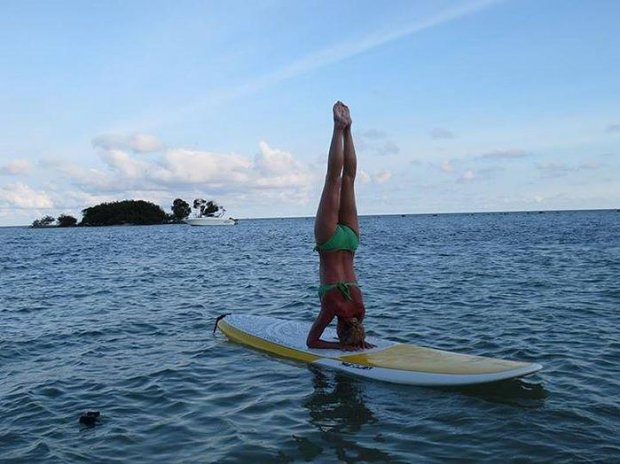 Very zen and very badass indeed. 
An advanced form of paddle boarding can spontaneously be thrust you should waves start breaking, but don't worry the waters at Ko Samui tend to be calm throughout most of the year which makes it perfect for newcomers to the sport.
Well, there you have it, some of the best travel destinations within a stone's throw from Singapore (relatively speaking) to go and enjoy all kinds of water sports!
If there are water sports that we have missed out on do let us know in the comments section below!
Also read: 10 Untouched Islands in Thailand for the Best Beach Escapes