Seoul is an incredible city, brimming with mouth-watering food, exciting attractions and unforgettable shopping spots. The number of things to do, see and eat in Seoul are endless, and unique experiences await you on every corner.
If you're heading to Seoul for the first time, you are in for a one-of-a-kind adventure – just like the one I recently had. Not sure where to even begin? Try completing this checklist of 30 things to do in Seoul on your very first visit.
Also read: Where to Stay in Seoul: 14 Best Airbnbs in Seoul
Tips:
Rent a pocket Wi-Fi and stay connected on the go. Enjoy unlimited 4G data and stable connection wherever you go in Korea from just S$6 per day!
Don't forget to get reliable travel medical insurance so you can enjoy the best of Seoul knowing you're covered in case of a mishap! SafetyWing is a convenient and affordable international option that offers coverage from just $1.32 per day, as well as a flexible subscription option for long-term explorers.
1. Have the time of your life at Lotte World
Lotte World is the world's largest indoor amusement park. Comprising both an indoor theme park and an outdoor amusement park, Lotte World is also surrounded by a hotel and a large shopping complex!
This top-notch attraction is great for families, kids and couples alike. Lotte World is more than just an ordinary theme park, it's a massive entertainment hub that promises fun in epic proportions!
Getting there: 240 Olympic-ro Songpa-Gu, Seoul, Korea. The park is connected to Jamsil Station on Line 2 and Line 8 of the Subway. Take Exit 4 and head to Lotte World.
2. Buy cosmetics at Myeongdong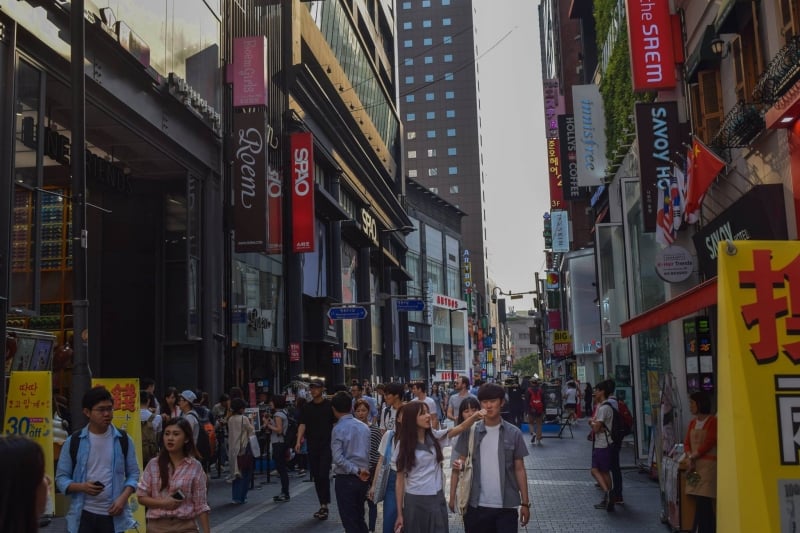 Myeongdong is a cosmetic lover's paradise. You can find all the popular Korean cosmetic brands in Myeongdong, from Innisfree and Etude House to Tony Moly and MISSHA. Look out for the 1+1 (buy one get one free) offers, and don't be shy to go around collecting free samples! Before you go, check out my travel buddy Celine's 10 tips for shopping in Myeongdong!
Confession: I went absolutely crazy here.
Getting there: Myeong-dong Station (Subway Line 4), Exit 5, 6, 7, or 8 / Euljiro Il-ga Station (Subway Line 2), Exit 5.
3. Explore Bukchon Hanok Village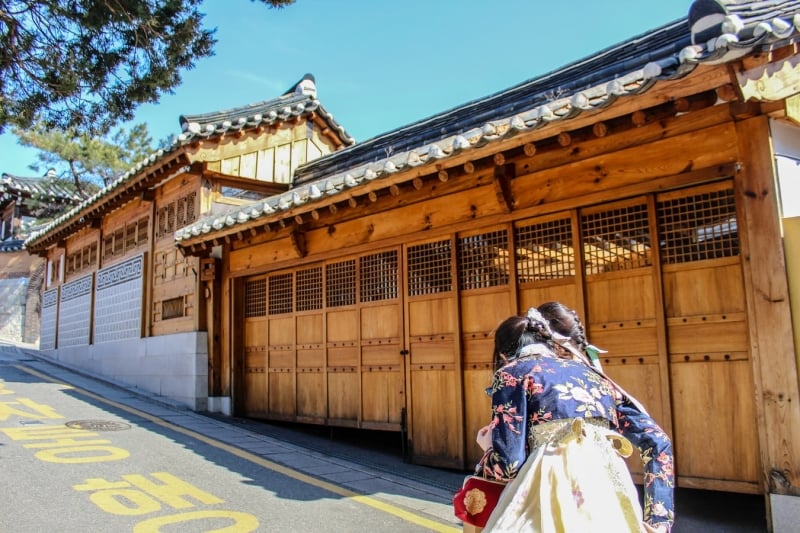 The Bukchon Hanok Village is one of my favourite photo spots in Seoul. The traditional hanok houses found here date all the way back to the Joseon Dynasty, and people actually live in them! This picturesque residential area is nestled in the heart of the city between Gyeongbokgung Palace and Changdeokgung Palace, and from atop the hill, you can see a background of modern buildings in the distance.
Getting there: Anguk Station (Subway Line 3), Exit 2.
Tip: Get a map at the Tourist Information Centre!
4. Catch the guard changing ceremony at Gyeongbokgung Palace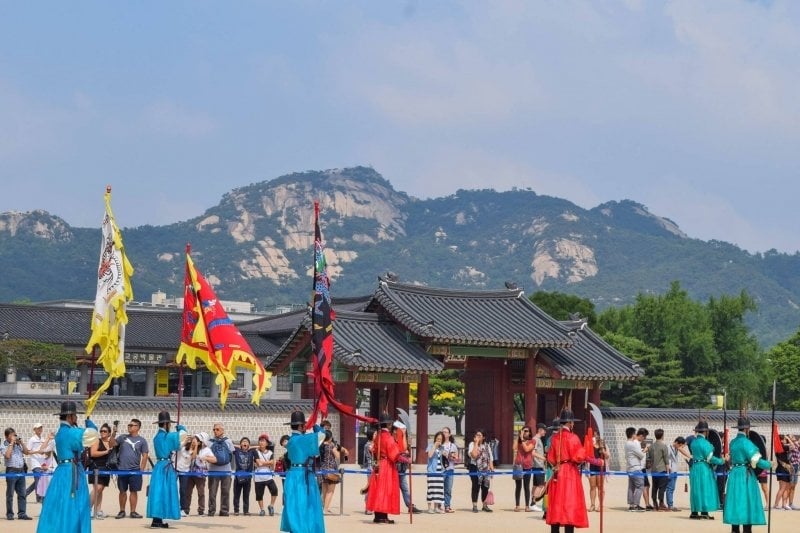 When visiting the Gyeongbokgung Palace, don't miss out on observing the Royal Guard Changing Ceremony or the Gwanghwamun Gate Guard-on-Duty Performance. Either one happens every hour between 10am to 4pm at the Gyeongbokgung Palace, every day except Tuesdays.
Getting there: Gyeongbokgung Palace Station (Subway Line 3), Exit 5 / Gwanghwamun Station (Subway Line 5), Exit 2.
5. Put a gatekeeper costume on at Gyeongbokgung Palace
Right before and after the ceremonies mentioned above, visitors can don a gatekeeper's costume at the Sumunjangcheong Building, located behind the Gwanghwamun Gate. You have no reason not to do this – the Sumungun (Gatekeeper) Costume Experience is absolutely free!
6. Buy snacks at Lotte Mart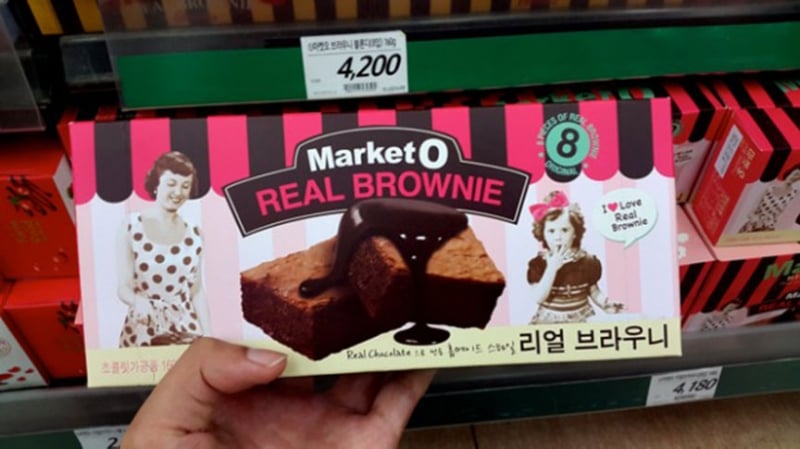 Lotte Mart is the place to buy all the Korean snacks you can ever dream of. Bring a big bag along because you'll need to fill it up with MarketO brownies, tteokbokki crackers, Lotte biscuit sticks and all the other delicious Korean goodies!
Want to know what else I bought there? Check out my article on the 12 must-buy food items from Lotte Mart!
Getting to Lotte Mart outlet at Seoul Station: Seoul Station (Subway Line 1 and 4), Exit 1.
7. Ride the world's steepest wooden roller coaster at Everland
If you're looking for a different theme park experience while in Korea, Everland is where you need to be. It is South Korea's largest outdoor theme park and houses five unique zones of rides and attractions. Among all the rides, Everland is proudly home to the world's steepest wooden roller coaster and South Korea's only safari!
The best advice we have for you is to visit the park as early as you can. Based on past reviews, Everland has too many rides to squeeze into a day!
Getting there: 199 Everland-ro, Pogog-eup, Cheoin-gu, Gyeonggi province. Take bus 5002 from Gangnam Station or 5700 from Jamsil Station. The ride will take around an hour and costs KRW2,500.
8. Take the cable car up Mount Namsan
Home to the N Seoul Tower, Mount Namsan is a must-visit attraction in Seoul. While Mount Namsan is a mere 237 metres at its peak, the athletically challenged among us (like me) may not be so keen on climbing it. Fret not – there is a cable car to shuttle you there! At the top, enjoy the city views or go even higher up the N Seoul Tower's observatory.
Getting there: From Myeong-dong Station (Subway Line 4), walk for about 15 minutes towards Pacific Hotel, and continue straight from there. The boarding point for the cable car will be visible.
9. Indulge in delicious street food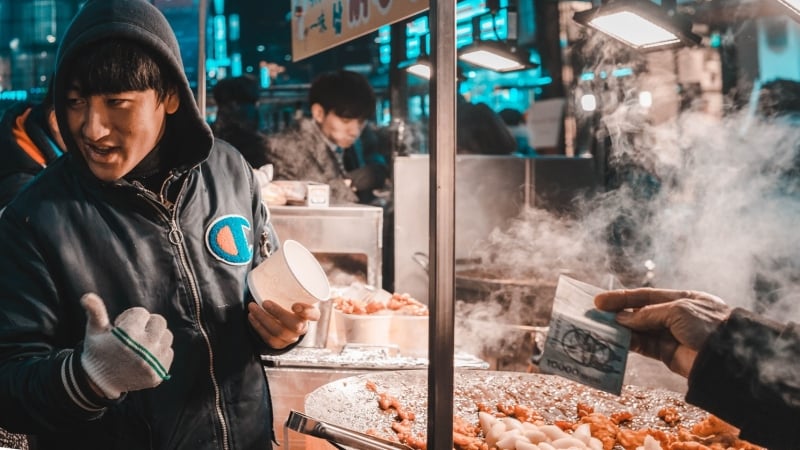 You should never go hungry in Seoul, especially when there's plenty of yummy street food everywhere! Some must-try street food in Seoul include tteokbokki (spicy rice cakes), hotteok (sweet pancakes), kimbap (seaweed rice rolls) and of course, the classic chicken skewers! 
10. Have a photo-shoot at Common Ground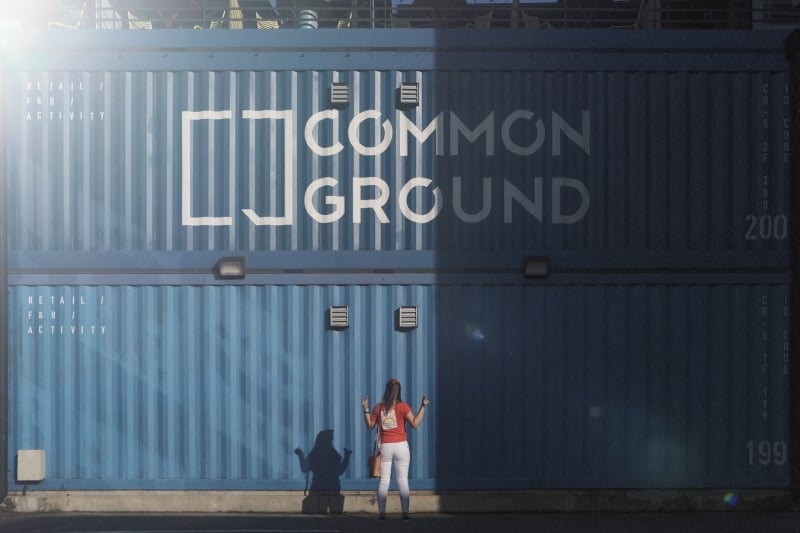 Common Ground is Seoul's very own container park. It is essentially a shopping mall with trendy shops, and also a great place to just hang out or have a hipster-ish photo-shoot.
Getting there: Konkuk University Station (Subway Line 2 and Line 7). Exit 6.
11. Enjoy a hilarious non-verbal performance
For a truly iconic and memorable experience with your loved ones, consider the humorous NANTA Theater Show. Nanta Show is Korea's most popular theater performance that takes place in a non-verbal musical setting.
It features a culinary-themed comedic performance that includes acrobatic moves and rhythmic melodies. Remember to book your tickets in advance as they tend to sell out quickly.
12. Go shopping in an underground shopping centre
Seoul's extensive underground facilities are really impressive, and a few times I emerged from the subway to find myself in a massive underground shopping paradise. Some of the best underground shopping spots in Seoul include the Express Terminal Underground Centre, Gangnam Underground Shopping Centre and Yeongdeungpo Underground Mall. Scour the labyrinthine alleys and you're guaranteed to find great bargains!
Also Read: 7 Shopping Places in Seoul You Might Not Know About
13. Play with furry kitties at a cat cafe
While shopping at Myeongdong, I was lured into a cat cafe by a cat mascot. No regrets at all. JUST LOOK AT THOSE CUTE CATS! Need I say more?
Cat Cafe 고양이놀이터 Cat Playground, Myeongdong
Address: 3F, 37-14, Myeongdong 8-gil, Jung-gu, Seoul, South Korea
14. Buy traditional souvenirs at Insadong
If you're planning on buying traditional goods, head to Insadong! There is one main road in Insadong lined with booths, shops, galleries, teahouses and restaurants. Be sure to wander into the alleyways to discover hidden charms and unexpected gems.
Getting there: Anguk Station (Subway Line 3). Exit 6.
15. Snap quirky photos at Seoul Alive Illusion Museum
Situated right in the heart of Seoul, Seoul Alive Illusion Museum is the first museum to bring interactive 4D optical illusions to South Korea. There are over 100 exhibits that visitors can witness and experience first hand.
The most unique part about this museum? You can create personalised artworks, using your body and facial expressions, with the help of digital technology. Nab the chance to live out your favourite Disney movies through displays showcasing Frozen and Cinderella characters.
Spend hours roaming the museum and make sure your camera (or smartphone) is fully charged. Expect to snap lots of photos and create precious memories.  
16. Drink tea at a teahouse
I really wanted to experience a traditional teahouse in Seoul, so I hunted down Insadong Chatjip, a hanok teahouse. The cup of homemade Jujube Tea I had was absolutely delicious! Seoul has many fantastic teahouses, so forget Starbucks and go traditional instead.
Address: 33-1, Insadong-gil, Jongno-gu, Seoul
17. Try the Korean fire noodle challenge
Have you seen the videos of people taking on the Korean fire noodle challenge? There's no better time to hop on the bandwagon than when you're in Seoul! Run off to the nearest convenience store, grab a cup of spicy noodles and prepare it in your hotel room. Kick it up a notch and gobble it down as fast as possible (or add a dash of chili powder, if you're crazy).
18. Shop at Ewha Women's University Shopping Street
Attention, ladies! The area near Ewha Women's University, also known as Edae, is a heaven for shoppers. Wander where your feet take you and shop alongside fashionable Korean women. Buy clothing, cosmetics and shoes, pop by a salon for a makeover and when you're tired, take a break in one of the many cafes around.
Getting there: Ewha Womans University Station (Subway Line 2), Exits 2 and 3.
19. Drink the famous ginseng chicken soup at Tosokchon
To have a taste of Seoul's famous ginseng chicken soup, also known as Samgyetang, drop by Tosokchon. There might be a queue if you come during lunchtime, but the ginseng soup will definitely be worth the wait!
Address: 5, Jahamun-ro 5-gil, Jongno-gu, Seoul
Getting there: Gyeongbokgung Station (Seoul Subway Line 3), Exit 2. Go straight about for 170 metres and turn left into Jahamun-ro 5-gil Road. Tosokchon (토속촌) is located 10 metres ahead on the left.
Also Read: How to Travel Seoul on a Budget
20. View an exhibition at Dongdaemun Design Plaza
The Dongdaemun Design Plaza (DDP) is a new attraction in Seoul and it is a venue for events, exhibitions and shows related to the design industry. When I was there, the "Andy Warhol Live" exhibition, which features about 400 of Andy Warhol's artworks, was ongoing. On your visit to Seoul, be sure to check whether there is anything happening in DDP that suits your interests!
Getting there: Dongdaemun History & Culture Park Station (Subway Line 2, 4 and 5), Exit 1.
21. Stroll along Seoullo 7017 a.k.a. Seoul Sky Park
Opened to tourists in 2017, Seoullo 7017 is a re-purposed highway overpass overlooking Seoul Station. Made to resemble New York's High Line Sky Park, this one-kilometre pedestrian walkway is one of the more recent additions to Seoul's thriving list of tourist attractions. Apart from being an incredible vantage point for photos (night photography is highly recommended), it also houses over 200 different types of plants and even boasts a number of ambient cafes and eateries!
Getting there: Seoul Station (Subway Line 1 and 4), Exits 2 and 8.
22. Dip your feet in Cheonggyecheon Stream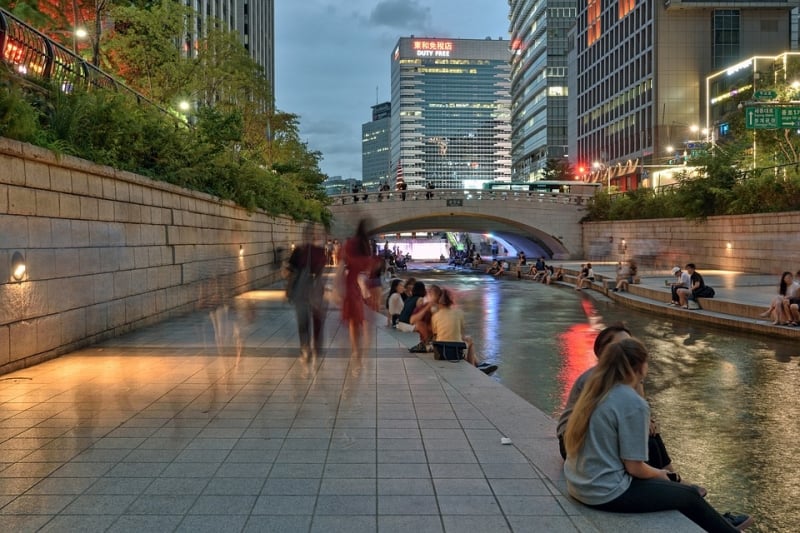 Just a short walk from DDP is the Cheonggyecheon Stream, which provides an easily accessible retreat from the surrounding city. On hot summer days, locals gather under the bridges to enjoy the shade and dip their feet in the cool water. It is actually possible to walk along the length of the stream, which spans 10.9 kilometres. Along the way, you can make detours to visit the many attractions nearby.
23. Have a walk around Namdaemun Market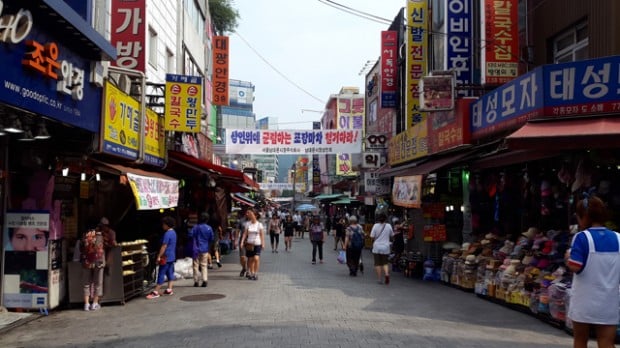 Located within walking distance of Myeongdong, Namdaemun Market is a traditional market that sells all sorts of things – clothing, bags, accessories, cosmetics, textiles, kitchenware, ginseng and even buns! This market is definitely worth a visit because the prices of the goods found here are very competitive.
Getting there: Hoehyeon Station (Subway Line 4), Exit 5.
Also read: 8 Must-Visit Stores in Seoul to Shop For K-Pop Merchandise
24. Go café-hopping at Garosu-gil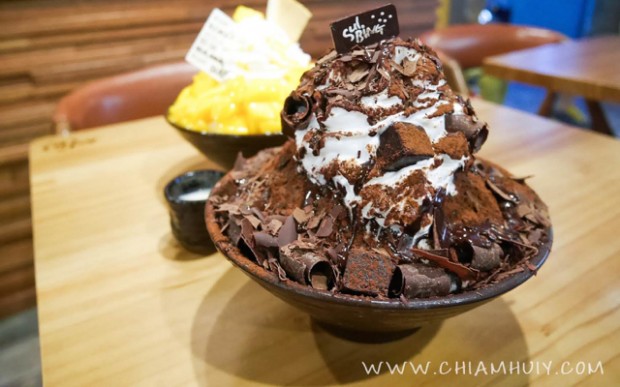 Cafe-hopping in Seoul is an easy affair; just make your way to Garosu-gil, where you can find a large selection of cafes for your choosing. Indulge in delectable tarts from Deux Cremes and then hop over to O'Sulloc Tea House to try all sorts of green tea desserts. If you're in Seoul in summer, then hunt down a bowl of patbingsu (Korean shaved ice dessert). Or just go without a plan and wander into any random cafe in sight – that's alright too!
Getting there: Sinsa Station (Subway Line 3), Exit 8. Go straight for 250 metres and turn left.
25. Finish a bottle of Milkis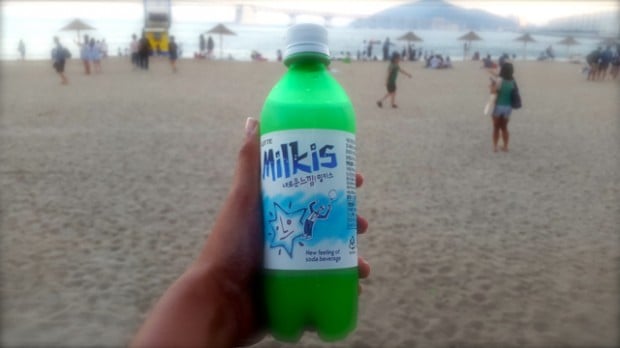 Milkis is that one non-alcoholic drink you must try when in Korea. This carbonated drink has one special ingredient: milk! The combination of soda and milk might sound weird, but this drink is perfect in its own right.
26. Try the Korean-style braised chicken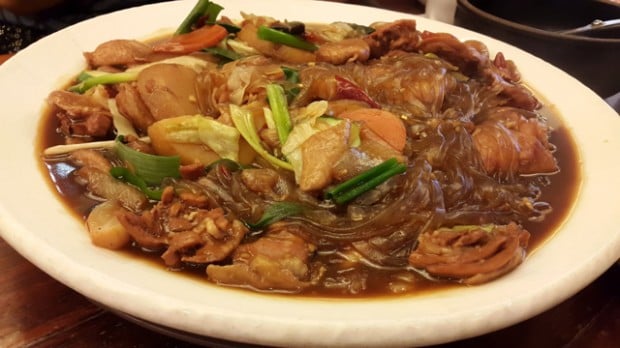 I could easily fill this checklist with the different foods you simply have to try in Seoul, but I shall limit it to one of my favourites: Andong Jjimdak (braised chicken of Andong). What's there to love about this? The Andong-style chicken is soft and tender while the soybean-based sauce is sweet and savoury. Slices of potatoes, carrots, and onions are thrown into the delicious mix, and starch noodles complete the dish. Yum!
27. Lick 32 centimetres' worth of twist ice cream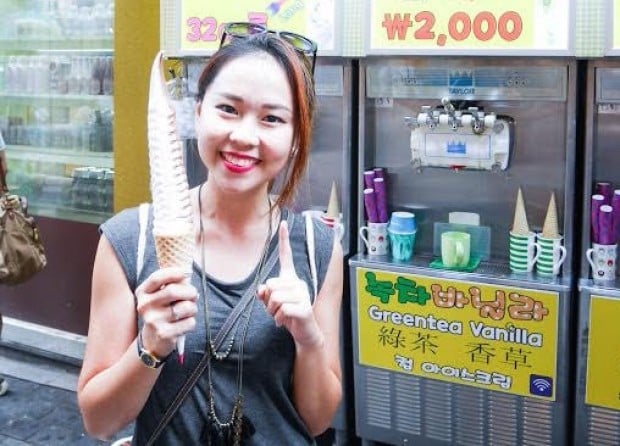 When you see an ice cream stand in Myeongdong, don't just walk past it! For 2000 KRW (SGD 2.40), you can get yourself a 32 cm twist ice cream cone. If you're having this on a hot day, share it with a friend because speaking from experience, the ice cream melts really fast!
28. All-night shopping at Dongdaemun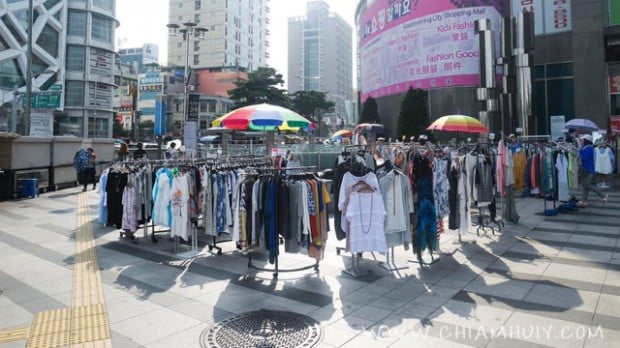 Seoul is truly where you can shop till you drop… asleep. Dongdaemun, one of Seoul's biggest shopping districts, comes alive at night (10pm to 5am, to be specific). There are two districts in Seoul – one for retail shopping and the other for wholesale shopping. Some of the most popular shopping malls here include Doota, Migliore, Hello apM and Good Morning City.
Getting there: Dongdaemun Stadium Station (Subway Line 2) / Dongdaemun Station (Subway Line 1 and 4)
29. Indulge in cheap and fresh seafood
If you love seafood, do not miss out on a trip to Noryangjin Fisheries Wholesale Market, located near Noryangjin Station. In there, you can check out the seafood auction (it starts and ends in the very early hours though!) and buy really fresh seafood from the hundreds of stores there. The best part that the prices are really affordable, and you can expect to purchase enough to eat for two for about 20,000 krw. When you're done with your shopping, head to one of the many restaurants located in the same market and they'll cook your purchases for a small fee!
Address: 674, Nodeul-ro, Dongjak-gu, Seoul
30. Experience a seshin (full body scrub) at a jjimjilbang (bath house)
No trip to South Korea should be without a visit to a jjimjilbang – however, getting steamed up in the sauna is not the most intimidating experience there! If you're up for it, you should try a seshin performed by "scrub mistress" or "scrub master", a ritual that's embraced by locals and well, not so much the visitors. The pain factor is high on the list, but that's what makes the scrub so efficient, and you'll literally get every inch of your body (yes, you'll be naked) exfoliated. You'll leave the jjimjilbang feeling and looking like a new person!

Before you go and have the time of your life in Seoul, be sure to download the extremely useful Visit Korea app which will help you with information, navigation, travel planning and so much more!
Once you're done with all these awesome activities on your first trip, come back a second time to complete these 24 fun things to do in Seoul on your SECOND trip! I will see you there!
After Seoul, I hopped on the K-Shuttle to discover some of the best attractions in the different provinces of Korea, and spent a few days exploring the city of Busan. The directions in this article are taken from VisitKorea, and my wonderful first trip to Korea was made possible by Korea Tourism Organisation (Singapore Office).
---
Facebook image credit: Vincent_St_Thomas via Canva Pro