You might have heard that Italy is the most Googled country for post-pandemic travels — which is easy to see why! This boot-shaped peninsula offers a plethora of experiences catering to various interests; from history and culture to food and shopping. And of course, you can't forget the beaches in Italy: known far and wide to be utterly captivating, leaving no vacation dream unfulfilled, especially for the sun-seeking traveller. 
Some of you might be looking at making a beeline for the usual coastal haunts like Capri, Cinque Terre, and Positano. After all, you're probably curious to find out what the hype is all about, right? However, if you prefer beaches that are under-the-radar and less touristy, then you're in luck because we've come up with a list for you! From 'secret' local favourites to quiet coves nestled between more famous sites, you just might be able to have these beaches in Italy all to yourself. (Well, outside the peak season, that is.)
1. Isola Bella, Sicily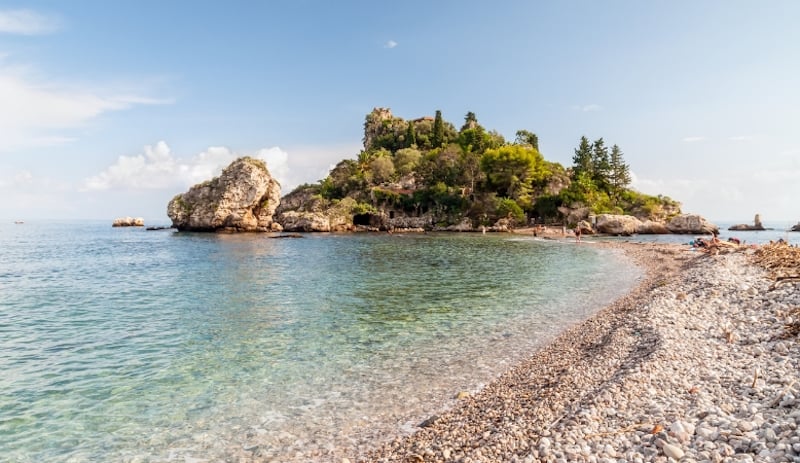 At the seaside of Taormina lies Isola Bella, a lovely tiny island that lives up to its name. It's connected to the mainland by a sandbar that widens only during low tide. Nicknamed the 'Pearl of the Ionian Sea,' this nature reserve boasts emerald waters that are ideal for diving and snorkelling. Prefer other water activities? You can also enjoy a boat ride, rent a jet ski, or simply bask in the Sicilian sun. 
Meanwhile, a picturesque medieval villa sits on top of the island's hill. There, you can take in sweeping views of the sea as well as Mount Etna. Afterwards, head over to the charming town of Taormina for a dose of history and culture. There's the Teatro Antico di Taormina, a remarkably well-preserved Greek amphitheatre and an absolute must-see. FYI — it dates all the way back to the third century BC! 
Also read: Here's How Sicily, Italy Can Pay for A Portion of Your Travels in Their Region!
2. Baia delle Zagare, Puglia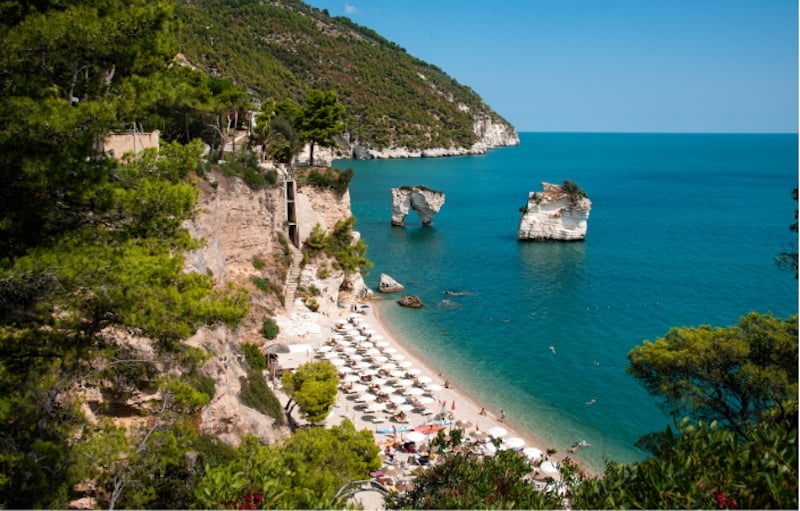 The coastal region of Puglia remains undiscovered by most travellers, which makes it a great pick for a quiet vacay. There, you'll find the postcard-worthy Baia delle Zagare, which is considered as one of the loveliest beaches in Italy. Oh, and in case you were wondering, it takes its name from an indigenous flower that blooms every spring. From the shore, you'll spot two white limestone formations: the Arco di Diomede and the Le Forbici. And yes, they're quite a sight to behold!
What makes Baia delle Zagare even more appealing is the limited access, as to protect the site. You can either take a boat from Mattinata or check in to either the Baia delle Zagare Hotel or the Baia dei Faraglioni Hotel, which have elevators leading down the beach. If you'd rather not check into these hotels or take a boat, you'll have to obtain a pass from the Mattinata City Council. We recommend planning ahead, though, since they only allow 30 visitors per day. 
3. Marina Serra, Puglia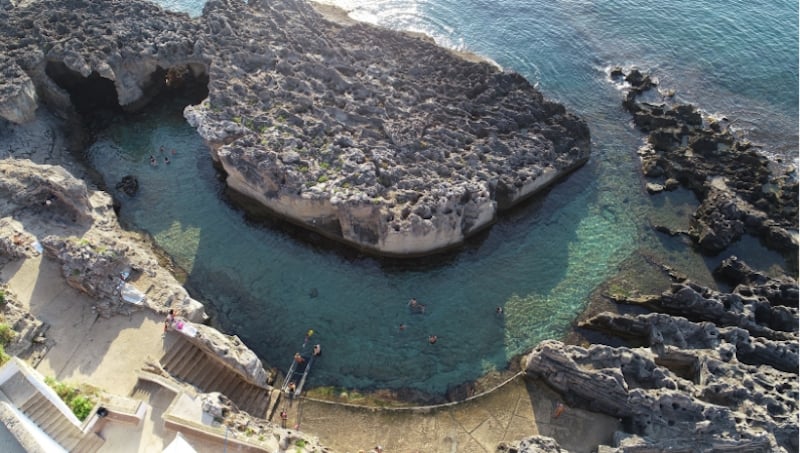 Marina Serra is a scenic seaside village in Tricase, where simplicity blends with old-world grandeur. The beach features a stunning natural pool set amidst rocky walls. Reminiscent of a magical summer film scene, the waters are shallow enough to wade in for as long as you wish. Though, if you'd rather just lounge and enjoy the sun, there's also a private beach right beside this. If you'd like to swim further, the natural pool also leads into a couple of grottoes. 
Looking to have the place all to yourself? We recommend visiting this spot during dawn, at about 6am — trust us, the early wake-up call is worth it! Watch the sun rise, with the water and rock cliffs glistening in a golden shimmer. During summertime, this spot is often chosen as a 'natural venue' for nighttime cultural shows such as classical theatre and jazz concerts.
4. Spiaggia di Sansone, Tuscany
When talking about the Tuscany region, one would usually think of its verdant rolling hills and vineyards as far as the eye could see. However, it also has its fair share of secluded beaches in Italy that are worth the visit. Case in point: Spiaggia di Sansone on Isola d'Elba. If you're wondering why the latter sounds familiar, that's because it's the same island where Napoleon Bonaparte was exiled to. 
Spiaggia di Sansone is a breath of fresh air from the usual glitzy tourist spots. It's uncrowded for most of the year, save for a handful of locals during summer. Then again, it's only accessible by yacht or a rocky and narrow two-kilometre trail. There, you'll find an unspoilt scenery brimming with limestone cliffs and crystal clear waters that are calm even on windy days — perf for snorkelling and kayaking! 
You can also check out the cliff-diving area; you'll know it when you see local teenagers jumping into the sea. But if you'd like a more outdoorsy experience, we recommend staying in the nearby campsite. 
5. Fiordo di Furore, Campania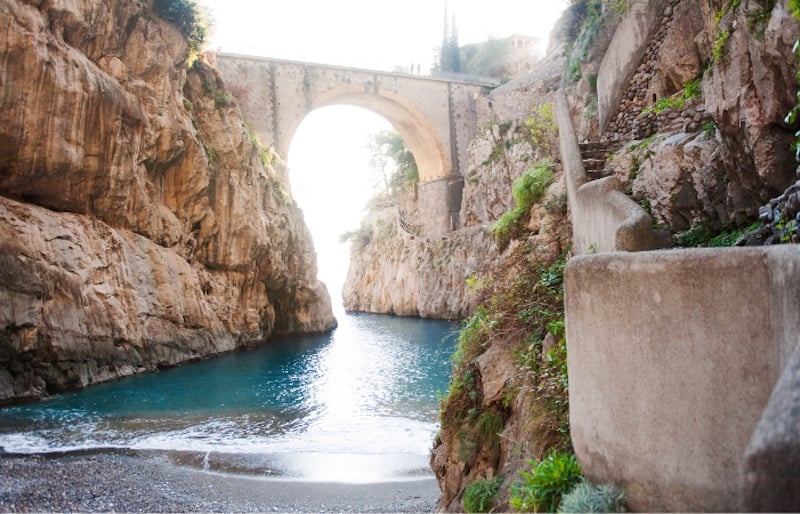 The town of Furore is a hidden gem on the Amalfi Coast. There, you'll find the fascinating formation that is the Fiordo di Furore, which is technically not a fjord (as its name suggests) but a narrow gorge that opens to the sea. Right above this opening is a 28-metre-high bridge that's part of a state road. It's also the site of an annual high-diving tournament held every July!
Meanwhile, the tiny pebble beach offers a relaxing time for those who prefer holidaying under-the-radar. The view of the arched bridge and bright centuries-old houses looks straight out of a fairytale… or maybe even a fantasy movie! It's one of those things that you feel like you've already seen before — but that doesn't make it any less breathtaking. Also, the sun only shines through in the early afternoon, making it even more ideal for those who prefer less sunshine. 
6. Spiaggia di Chiaia di Luna, Lazio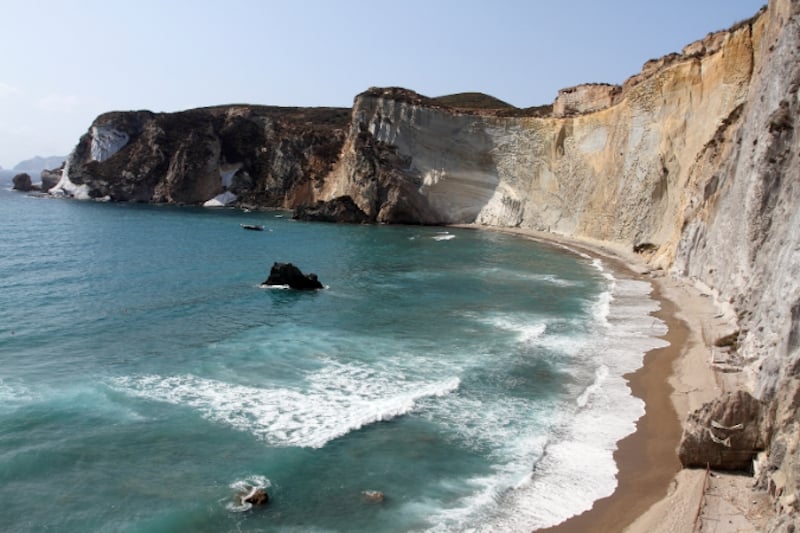 When in Rome during the summer, do as the Romans do: escape the tourist-filled city and head straight to Ponza. To get to the island, you'll need to take an hour-long train ride to Anzio, where you'll take another hour-long ferry trip. Once you get there, go inside the half-kilometre tunnel that goes through the mountain. It'll lead you to the other side — exactly where Spiaggia di Chiaia di Luna awaits. (Yes, direct access by sea isn't allowed.) 
This narrow strip of fine white sand is like a natural amphitheatre, with its crescent moon shape lined by a volcanic cliff. Oh, and did we mention it's one of the best beaches in Italy to enjoy a romantic sunset? That said, we definitely recommend staying longer; watch the sun plunge into the Tyrrhenian Sea and bathe this secluded shore in the most stunning colours.
7. Cala Luna, Sardinia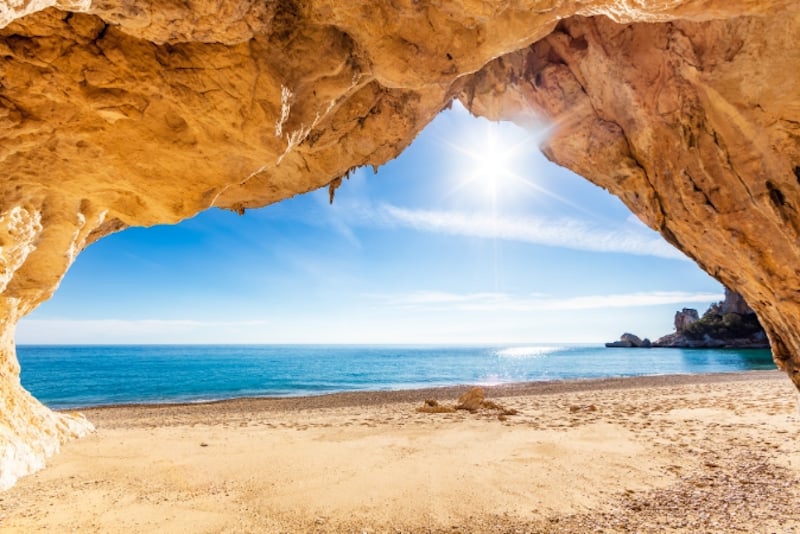 Want to explore more crescent-shaped hidden beaches in Italy? Head over to the other side of the Tyrrhenian Sea to sunny Sardinia, A.K.A. the 'Emerald Coast.' Sure, the region has always been known for its many gorgeous shores, but as far as secluded coves go, Cala Luna is your best bet. And unlike most beaches on this list, this one is quite accessible, which is ideal if you're travelling with small children or elder folks. You can take the easier option via boat or the more adventurous one via a four-kilometre hike.  
Speaking of adventures, Cala Luna has a few tricks up its sleeve for those looking to go beyond swimming and snorkelling. There are several trails nearby where you can go trekking and even rappelling. Alternatively, there's the Grotta del Bue Marino, a massive sea cave that you can explore by boat. Though if we're being honest, once you step on Cala Luna's pristine golden shores, you might not ever want to go anywhere else! 
Also read: 10 Most Beautiful Islands to Visit in Italy 
8. Bagni della Regina Giovanna, Campania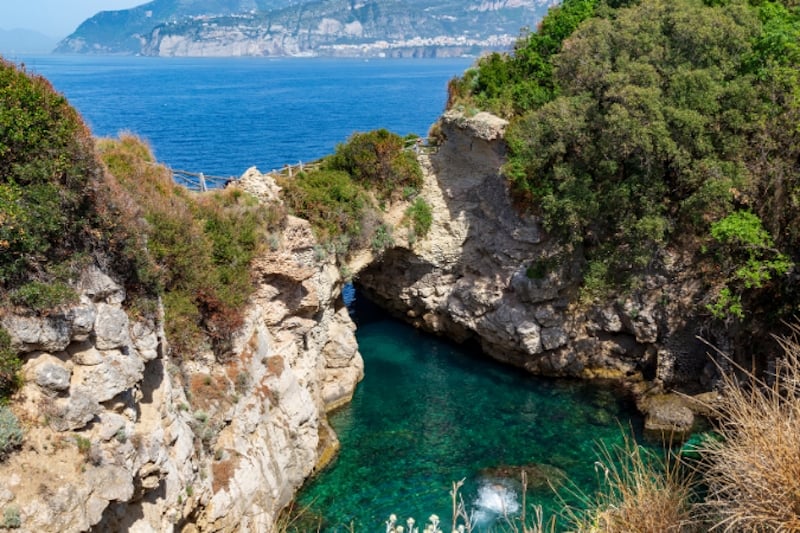 What is it about the Amalfi Coast and its otherworldly swimming holes? Not that we're complaining! Another case in point: the Bagni della Regina Giovanna, a lagoon tucked between the rocky cliffs of Capo di Sorrento. You can reach it either by a small boat or the stairs from the adjacent Villa di Pollio Felice, an ancient Roman ruin. Speaking of history, this beach-slash-grotto used to be a private pool of the Queen of Naples in the 14th century. 
So, go on and have a relaxing dip in its warm, crystalline waters — and maybe even pretend you're a royal! Oddly enough, it's never overcrowded despite being a favourite spot among locals. After all, it's one of the best beaches in Italy for panoramic coastal scenery. Climb to the cliff above Bagni della Regina Giovanna, where you can take in the view of Sorrento on one side, and the famous island of Capri on the other. 
Also read: 8 Dreamiest Towns in Italy That Will Steal Your Heart
Itching to explore these beaches in Italy that are arguably the best-kept secrets among locals? Same here. In the meantime, how about binge-watching these summer movies to satisfy your sun-soaked wanderlust? 
Oh, and if you had to narrow it down to just one, which of these would be your top pick? Or better yet, have you been to any of these hidden beaches in Italy already? Go on and tell us all about it in the comments!