Tsutaya Books is Japan's largest bookstore chain, with more than 1,400 stores in Japan, Taiwan and China. With its unique minimalist aesthetic, Tsutaya is also widely regarded as one of  the world's most beautiful bookstores. 
On 7 Jul 2022, Tsutaya Books opened its first bookstore in Southeast Asia in Malaysia. Located in Pavilion Bukit Jalil, the 31,000 square feet space boasts a massive bookstore and a cafe. Besides your usual share of books, you can also get arts and crafts, stationery, curated gifts, souvenirs, and various lifestyle items like interior decor and merchandise. There are also resting areas too, and you can expect the concierges on-site to help with recommendations.
As a notorious book-lover myself, I knew I had to go there. An aesthetically pleasing bookstore was the perfect excuse to go out so on the weekend, so I took a trip to Pavilion Bukit Jalil just to check out this shiny new bookstore. I simply wanted to see if the hype was worth my time and money. 
Spoiler alert: it was everything I could ask for.
Also read: 12 Beautiful Libraries & Bookstores to Visit Around Asia
So…many…books…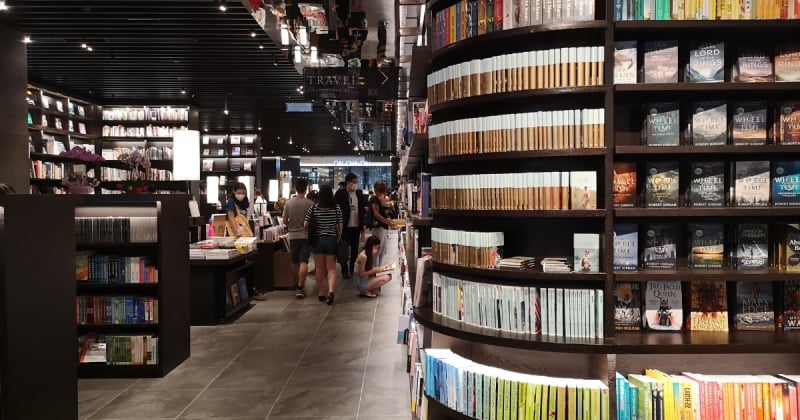 The bookstore opened at 10am, and I reached Pavilion Bukit Jalil around 10.30am. We recommend coming around this time if you want ample parking spots. 
Expert tip: Park in the Orange Zone C. When you enter the mall from parking, the bookstore is just one floor up. Take the escalator and it's right there. 
To my surprise, there was already quite a crowd there. I guess visiting Tsutaya Bookstore is now one of the trendy things to do in Malaysia. The bookstore limited the number of people who could enter, so we had to wait our turn. Before me, there were two full rows. I waited for 30 minutes, and when my row was ready to go, I had to wait an additional 10 minutes in the storefront queue before I managed to head in!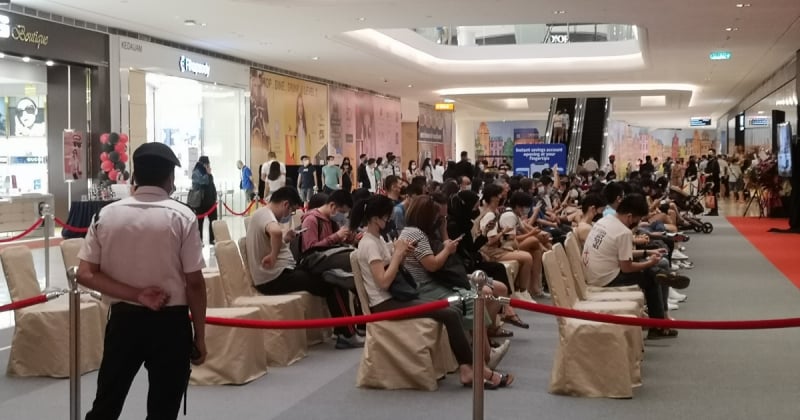 Lo and behold, I was immediately in love. It was just too good to be true. Rows and rows of bookshelves filled the space, as well as display sections selling homeware. I immediately dove for the Young Adult Fiction section, and I was pleased to know they had many titles I recognised. 
Judging from the few books I picked up, the prices were affordable and standard. But I heard the merchandise was more expensive. That said, some of the books I was looking for weren't there. Upon checking with the friendly staff, I was told that those titles were already sold out. Awww…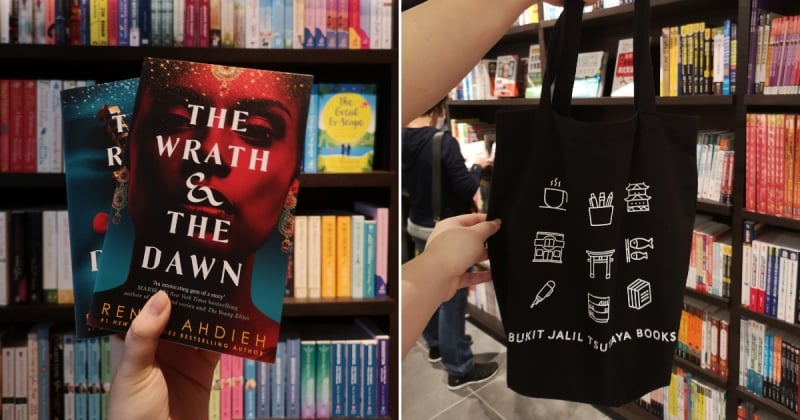 I did manage to pick up Renée Ahdieh's The Wrath & The Dawn duology (both books) though! My favourite thing about my bookstore visit was the adorable tote bag they gave me. Best believe I'll be using it as much as I can!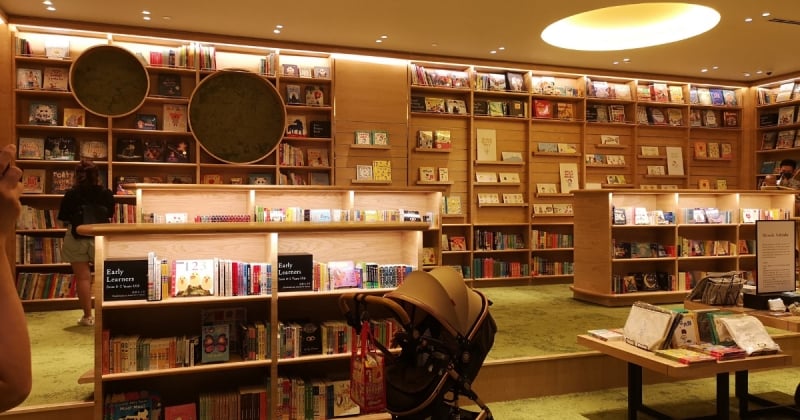 After that, I took a brief peek into the Children's Books section. Compared to the black minimalist layout of the whole bookstore, it was bright and inviting. There were young kids and their parents inside, just soaking up the atmosphere. Tsutaya's anime and manga section is pretty notable, so if you're into the genre, do check them out!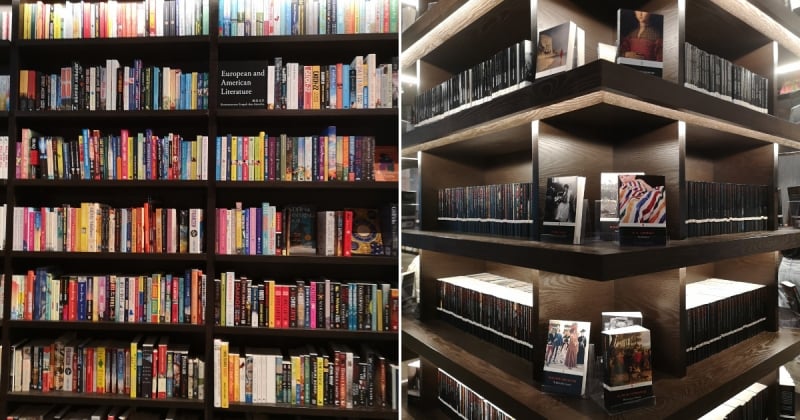 I completely adored the relaxing atmosphere. Not only was it aesthetically pleasing, but there was also so much to see. Tsutaya's book inventory includes both fiction and non-fiction titles, both in English and Chinese. On that note, you can totally find all sorts of books here — I came across travel guides, cookbooks, autobiographies, photography books, and more. Everything was so organised and neat, and there were easily identifiable signs.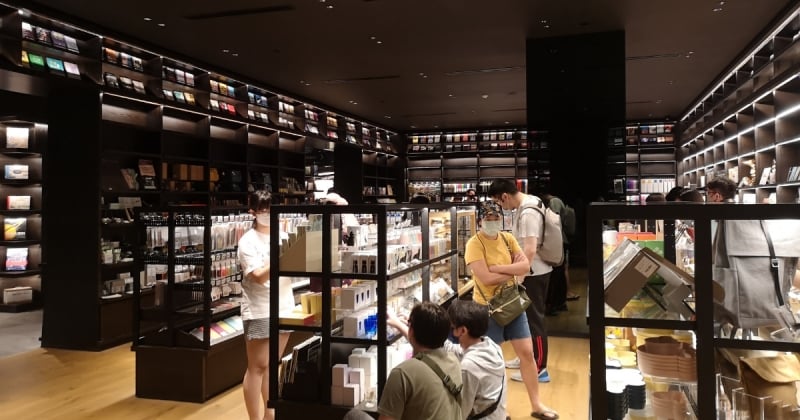 But if you're not here for the books, there's an extensive stationery section too. I was too engrossed in deciding which books I wanted to get that I simply passed it by. When I left the bookstore, I passed by unique bags on display and a wall of fancy-looking plates inside a glass-doored cabinet. There's going to be something for everyone, so don't you worry! 
A cafe in a bookstore?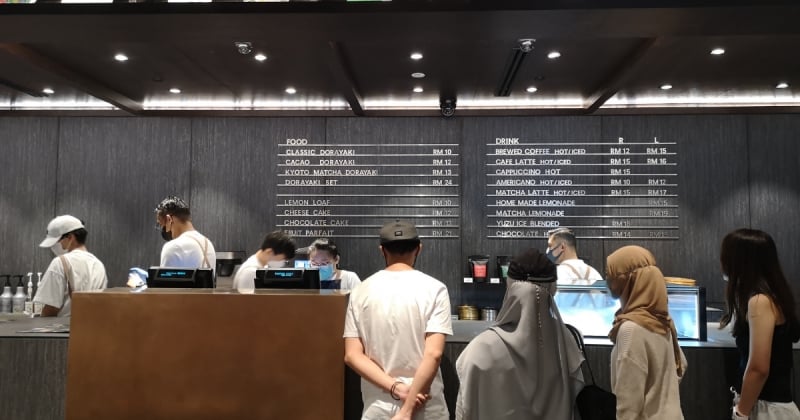 Tsutaya's Ivy Tokyo Cafe is great when you want to chill or grab a bite. It's literally inside in the bookstore, but the dining space has its own dedicated section. After you place an order at the counter, you can wait at any of the tables. The cafe staff will bring your food and drink directly to you, so it's not a self-pick-up service. 
Now onto the menu! There are both coffee and matcha beverages, but they also had non-caffeine drinks like hot chocolate and lemonade. We recommend pairing it with their Japanese artisanal desserts, like their signature dorayaki or fruit parfait. I ordered their Dorayaki Set (RM24/S$7.59) where you could customise your dessert and drink of choice. I got their Cafe Latte and the Classic Dorayaki. Since I was with two other people, I also ordered their Lemon Loaf (RM10/S$3.17).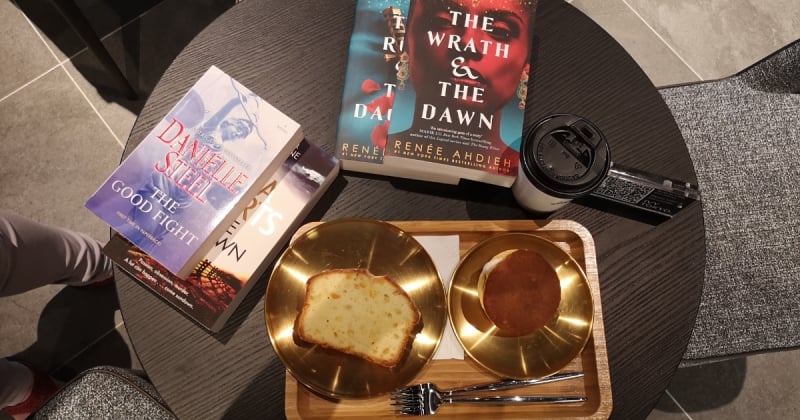 I liked the cafe for a number of reasons. Considering it matched the bookstore's whole aesthetic, it was a spot definitely worth checking out. The service was great and the staff was super friendly too. Plus the tables and space was clean. As for the food, the presentation was Instagram-worthy. They came with a set of faux-gold plates and forks. 
My final verdict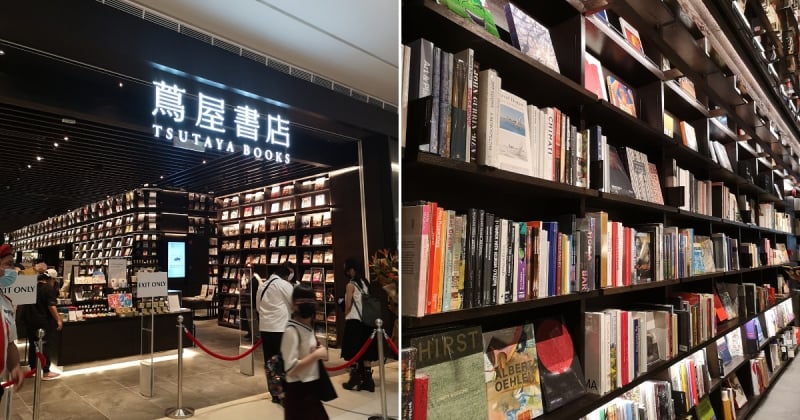 Would I come back here? Definite yes! 
If you want to take public transport, you can hop aboard the Sri Petaling LRT line, and get off at Awan Besar Station (SP19). Pavilion Bukit Jalil currently offers a free shuttle service to and from the train station from 8am–11pm. 
Overall, Tsutaya Bookstore is great for dates and hangouts with friends. You can take a lot of pictures here thanks to the colourful backdrop of books. That said, we do expect Tsutaya to be crowded for at least a little while more since it's still brand new and full of hype.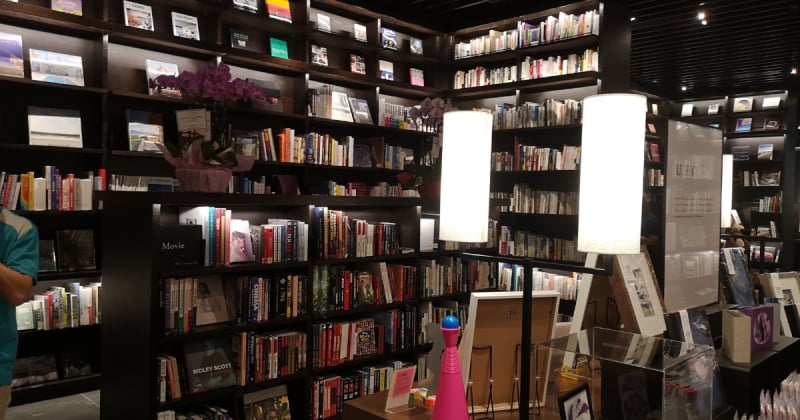 Tsutaya Bookstore in Pavilion Bukit Jalil is a world you would want to get lost in. It's literally the perfect paradise for book lovers, and you'd never want to leave. Will you be heading there anytime soon?