The question of Seoul vs Tokyo has always been a difficult one to answer. After all, these dazzling metropolises are part of many a traveller's bucket list, whether it's those from Asia or beyond. And given that both cities are highly developed, generally safe, and absolutely exciting, deciding which one to visit first only gets trickier. It's like choosing between New York and Paris, or Barcelona and Rome; each is a quintessential destination in its own way and thus, comparing seems futile. 
Sure, there's not really a right or wrong answer to which city in Asia is better for first-timers. Nonetheless, it does help to identify the things you look for when travelling somewhere you haven't been to before — as well as what you can expect from these. Either way, we're willing to bet that the more time you spend in either Seoul or Tokyo, the more you'll fall in love with the place! Read on to find out which one is a better fit for you. 
1. Top attractions in the city
When it comes to choosing which city in Asia to visit first, the must-see places are certainly a major factor. After all, both are known for having endless sights that can spruce up even the most boring Instagram feed. Expect sprawling skylines, an alluring mix of ancient and futuristic structures, and soothing natural scenery amid urban spaces. 
And when it comes to picking a particular season, it's not even a matter of Seoul vs Tokyo, because both are stunning during whatever time of the year! Rather, it's more of what one looks for when it comes to historical sites, contemporary architecture, nature parks, and so on. 
Seoul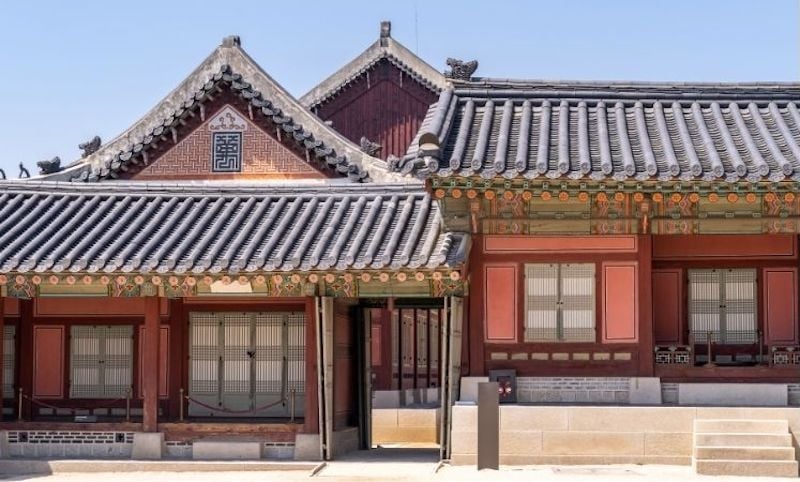 Heavy on history and culture, as it is on dazzling buildings and hip neighbourhoods, most Seoul attractions are aesthetically pleasing and brimming with energy. For starters, there are Gyeongbokgung Palace, Bukchon Hanok Village, and Changdeokgung Palace for those who want to explore South Korea's storied past. Sometimes, one might even forget that such grand, ancient places coexist with the neon lights in neighbourhoods like Myeongdong and Itaewon — which we'll get to later on.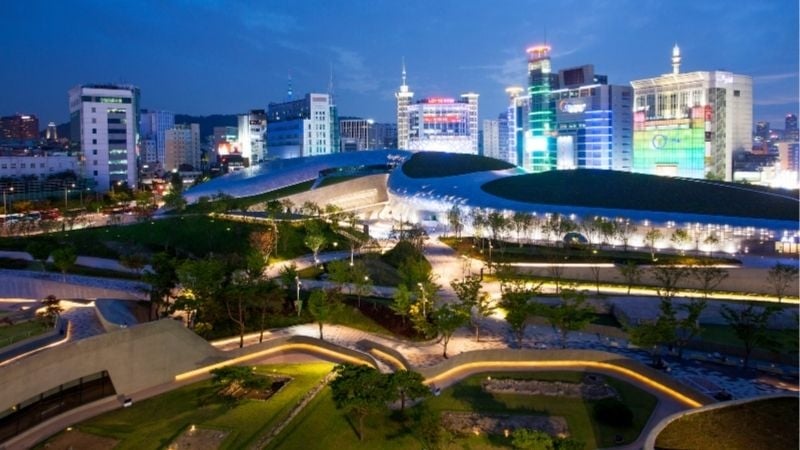 Up for something outdoorsy without leaving the city? Then head over to Namsan Mountain Park, known for its cherry blossoms during spring. Located inside this park is the N Seoul Tower, which is your best bet for panoramic views of the city. Though, for structures that are newer and bolder, we recommend Dongdaemun Design Plaza and Lotte World Tower. 
Also read: 30 Fun Things to Do in Seoul on Your Very First Visit
Tokyo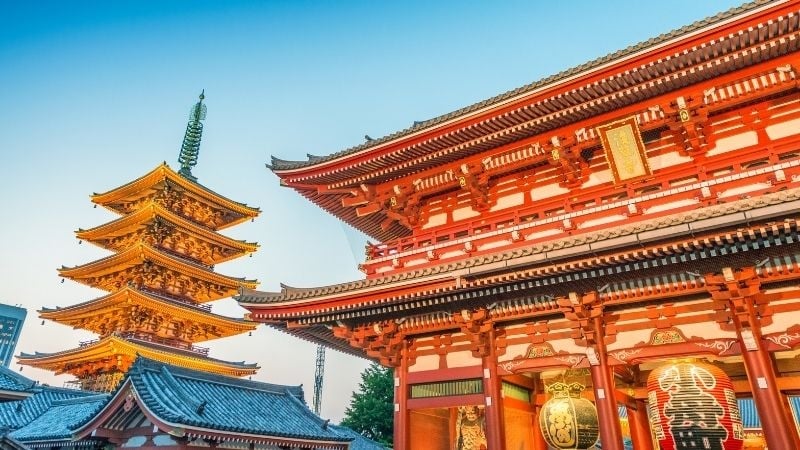 While it also has its fair share of historic buildings and cultural sights, Tokyo is distinctly quirkier, with an overall vibe that makes the city look like it's always sparkling day in and day out. Just like Seoul, this is another city in Asia that effortlessly caters to whatever your interests are. But perhaps a good place to start would be the traditional neighbourhood of Asakusa. Here, you'll find many noteworthy sites like Sensoji Temple, Asakusa Shrine, and the Textile Culture and Ukiyo-e Art Museum.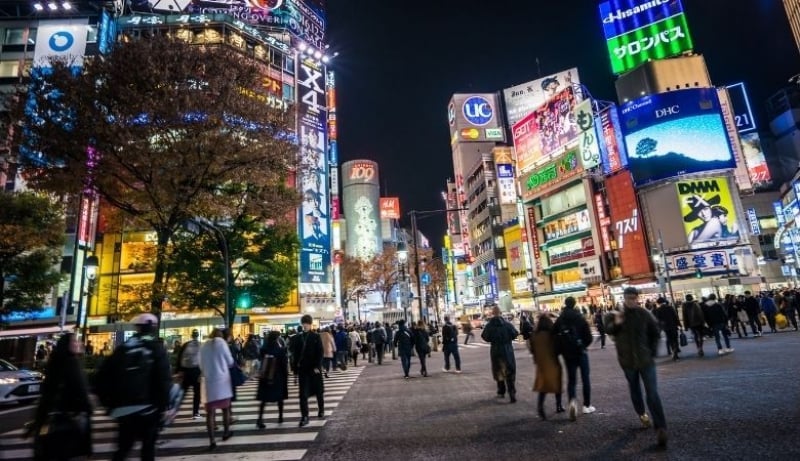 Of course, one can't miss the quintessentially neon Shibuya Crossing (if you didn't go there, then did you even go to Tokyo at all?). But for the best view of the city skyline, especially at night, then Tokyo Skytree is the way to go. And should you wish to escape the hustle and bustle of the metropolis, there's always the massive Ueno Park, which is best experienced during cherry blossom season.  
Also read: 33 Fun Things to Do in Tokyo on Your First Visit
2. Day trips
As with most Asian capitals, touring the city itself is sometimes not enough — especially when there are other must-visit spots nearby (or, you know, near enough for a day trip)! So, whether you're opting for Seoul or Tokyo, you might want to allot at least an entire day and plan a tour to these equally fascinating attractions. 
From Seoul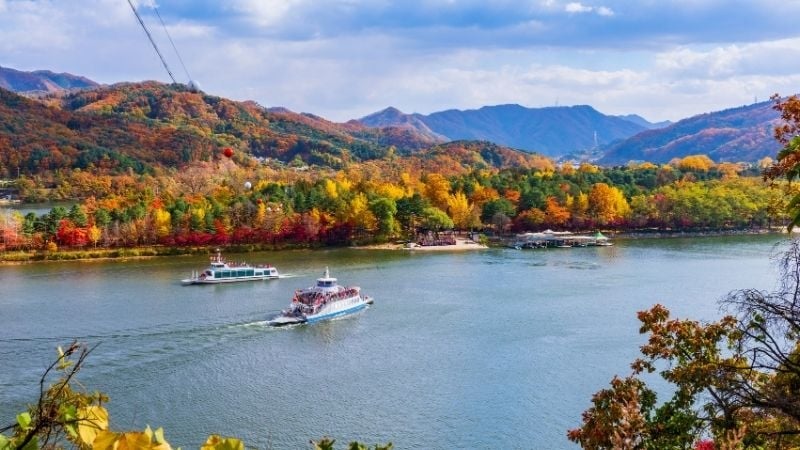 Let's start with arguably the most popular Seoul day trip destination: Nami Island. It's one of those rare places that seem to ooze tranquility and breathtaking natural scenery no matter the season. Want something more adventurous? Make your way to Everland in Gyeonggi Province, which is only a three-hour drive away. It's also the largest theme park in the country and remains unrivalled up to this day!
For more historical sites beyond Seoul, make sure to check out Hwaseong, whose name translates to 'brilliant fortress.' Situated in Suwon City, this UNESCO World Heritage site spans over five kilometres! Alternatively, there's the DMZ — A.K.A. the buffer zone between North Korea and South Korea — for those who wish to immerse in 20th century history and contemporary global politics. 
From Tokyo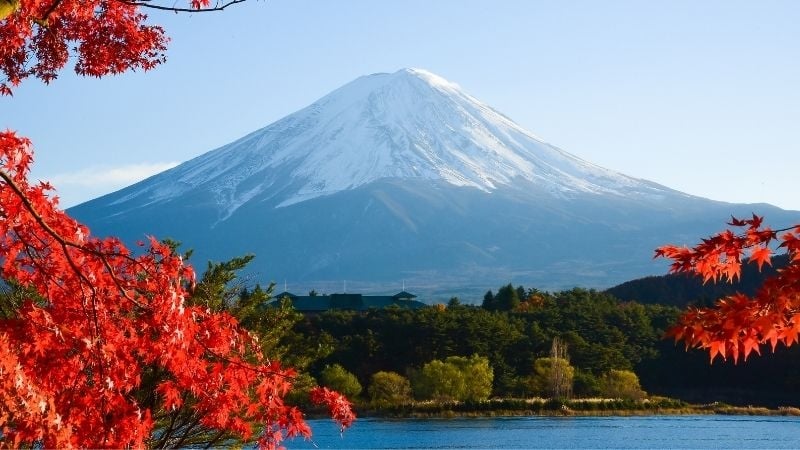 Not to be outdone, Tokyo also has a handful of tourist hits on its outskirts; for starters, Tokyo Disneyland and Tokyo DisneySea, which are right next to each other. Another would be the iconic Mount Fuji, the highest volcano in the country that's surrounded by five lovely lakes. There's also the mountain city of Nikko, a UNESCO World Heritage site brimming with impressively intricate architecture; from imperial villas to shrines and temples.
Another notable neighbouring city would be Yokohama, known as one of the first Japanese cities to be utilised for international trade. It's also quite the melting pot of Asian cultures, mainly thanks to its large Chinatown area. And finally, there's Chiba Castle — although, it's not actually a castle but a folk museum! Nonetheless, it looks every bit dreamy and fairytale-like, don't you think? 
3. Shopping and pop culture
Hey, what's a vacation in Seoul or Tokyo without shopping, amirite? After all, there's nothing like scoring amazing finds, as well as the thrilling possibility of discovering a unique piece you won't find anywhere else! Fortunately, both these cities in Asia boast countless shopping spots for both big spenders and value-for-money ones. (You know what they say — nobody shops quite like we Asians do). Add in the fact that both are also well renowned for their distinct pop cultures, and you've pretty much got the ultimate excuse to shop till you drop! 
Seoul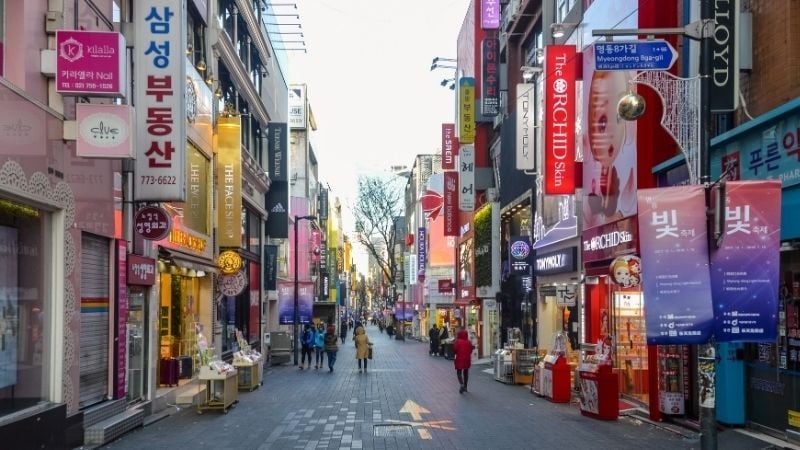 One cannot talk about South Korea without talking about Hallyu (Korean wave) culture. For those unsure of what this means — Hallyu covers not only the usual suspects like their pop music and dramas, but also films, fashion, beauty, and other cultural aspects. So, where else can you truly bask in this than in the capital where it all began? And, of course, you'll definitely want to bring home a piece (or 10) of this with you! 
At the heart of Seoul shopping culture is Myeongdong, you'll find nearly every cult favourite Korean lifestyle brand you can think of, though it also has its fair share of foreign brands! There's also Hongdae for vintage finds and Ewha Womans University Shopping Street for affordable local boutiques. As for luxury fashion, Garosu-gil is where you can explore the most stylish designer shops, ateliers, and art galleries in the city.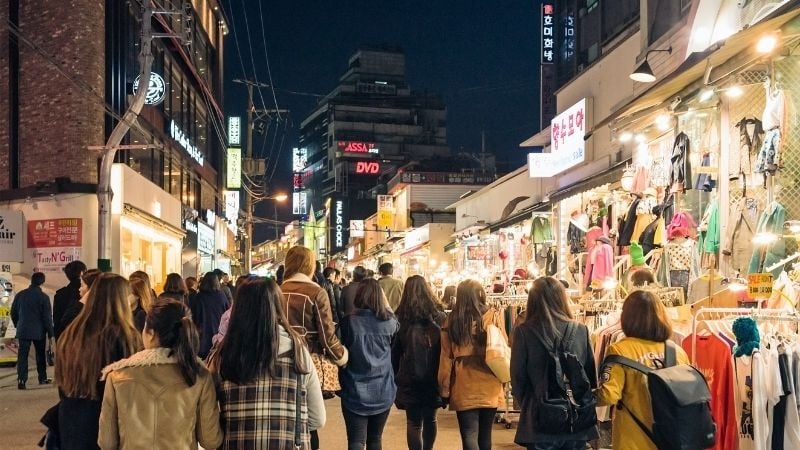 Meanwhile, Dongdaemun Shopping Market is perfect for night owl travellers, as it's open from midnight until sunrise! Finally, don't forget to stop by Insadong and Lotte Mart for all sorts of souvenirs with the most bang for your buck.
Also read: Beyond Myeongdong & Hongdae: 7 of Seoul's Hippest Neighbourhoods You've Yet to Discover
Tokyo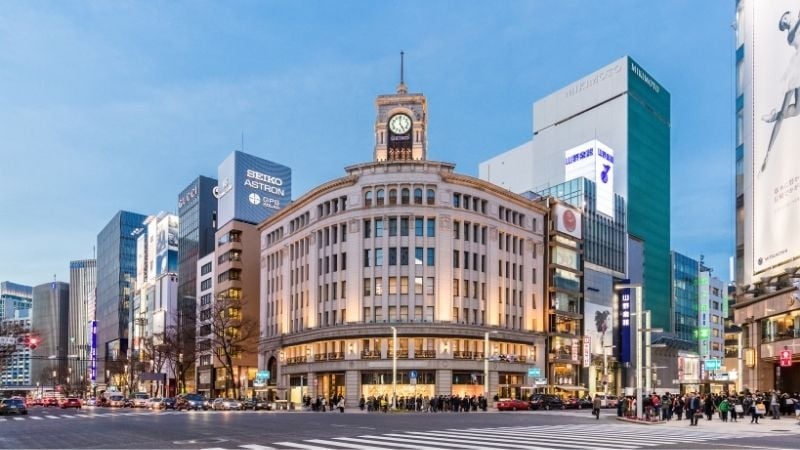 To say that Tokyo's shopping scene is unlike anything else in the world is, frankly, an understatement. After all, it's where you'll find everything from high-end and offbeat fashion, rare designer items, artisanal goods, to cool gadgets — some of which you probably didn't know existed beforehand! Another good thing about most of the shopping spots here is that they're distinguished according to their speciality in particular items. 
First up is Ginza, which is your best bet for high-end shopping (or browsing). Meanwhile, Shibuya and Harajuku are known for leading Japan's pop and trendy youth cultures —  kawaii finds included! There's also Shimokitazawa, an absolute vintage haven with all its antiques and authentic second-hand designer pieces. Oh, and you don't have to worry about the authenticity, as Japan has a strict policy against selling fake items.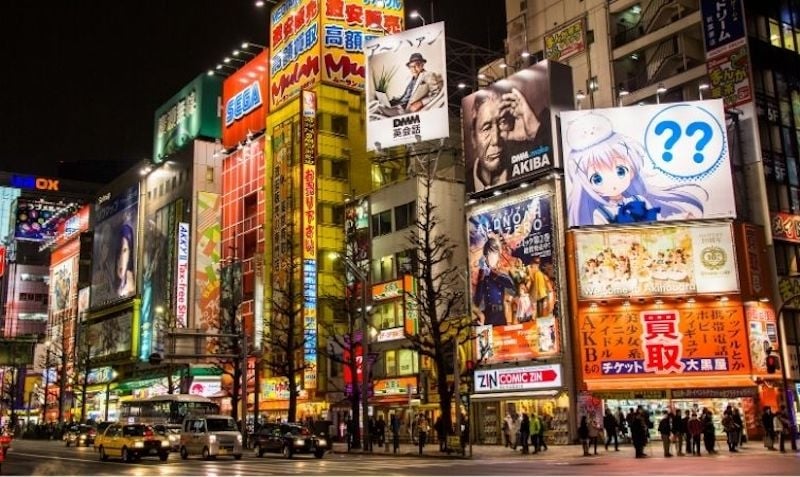 On a quest for the best cutting-edge tech finds? Head over to Akihabara, where you'll find the latest and most inventive gadgets —  sometimes at special discounted prices just for foreigners! This neighbourhood is also a must-visit for the otaku crowd, what with its extensive list of gaming  and anime stores. 
Also read: 12 Shopping Destinations Around The World You Have To Visit In Your Lifetime!
4. Nightlife
For some travellers, basking in the local nightlife is a great way to feel young and alive — never mind your actual age! Good thing that both East Asian capitals are known for becoming even livelier as the sun goes down and the city lights are shining through. Sleep who? (Just kidding — please imbibe accordingly, especially if you have an early day ahead.)
Seoul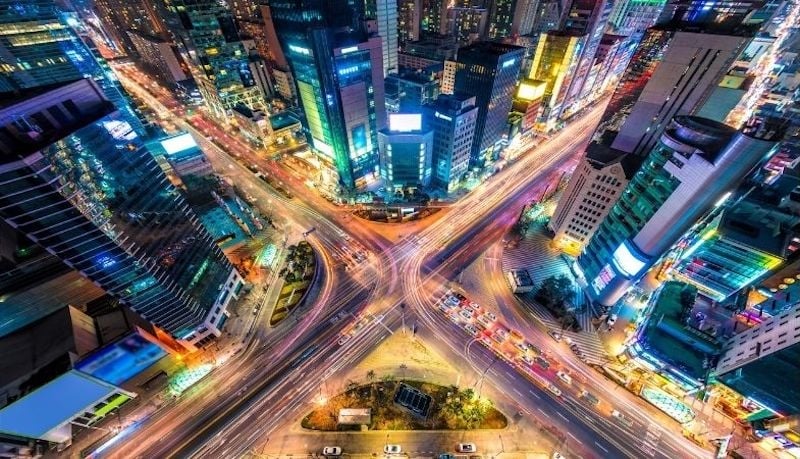 Given that South Korea is among the countries with the highest alcohol consumption, one can easily assume that Seoul is easily one of the best cities to party, too. Here, you'll find an abundance of clubs and bars with different types of music and atmospheres to cater a wide range of preferences. Prefer something lowkey? We recommend hitting a noraebang or a private karaoke room, which is widely popular among locals of all ages.
Whichever your preferred establishment type is, you can definitely find one you'll enjoy when exploring Seoul's top nightlife districts. Among the most popular ones would be Hongdae, arguably the ultimate hangout of local university students and 20-somethings! Up for clubs on the snazzier end? The neighbourhoods of Apgujeong and Cheongdam-dong in Gangnam are your best bet. For crowds with a wider demographic, you can't miss Itaewon and its slew of rooftop bars, foreigner-friendly clubs, gay bars, and late-night restos. 
Note: The legal drinking age in South Korea is 19 years old in Korean age (that's 18 years old in most countries). 
Tokyo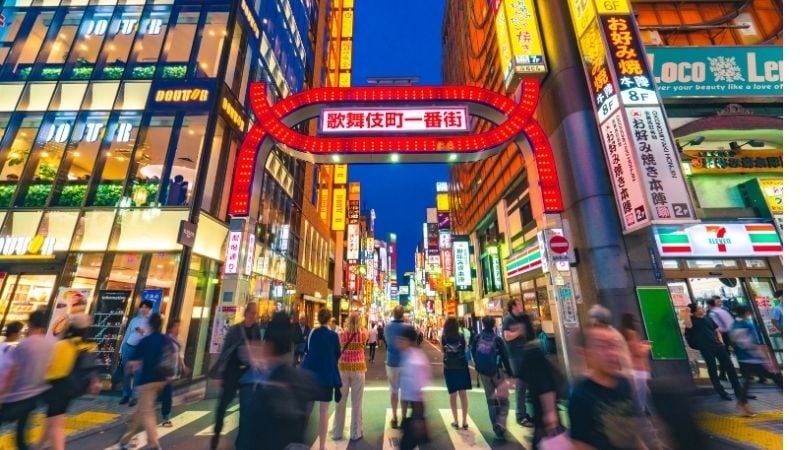 If there's one thing that most (if not all) travellers look forward to when visiting Tokyo, it would be the neon-filled streets that come alive at night. While the nightlife in Seoul tends to have the more youthful energy, the one in Tokyo definitely makes up for it with its own spectacular spots for revelry and all things exciting. 
Let's start with the two most popular nightlife districts: Shibuya and Shinjuku, both boasting a wide range of clubs, hole-in-the-wall bars, izakayas (Japanese gastropubs), and eateries that are open even till the wee hours. There's also Roppongi, which caters mostly to expats and foreign tourists with its mostly Western-style establishments. And finally, Ginza is the place to be for both luxury clubbing and lowkey yet stylish cocktail bars. 
Note: The legal drinking age in Japan is 20 years old. 
5. Food scene
When it comes to Seoul vs Tokyo, it's definitely tough to decide as both are quite the food-obsessed cities. While Seoul has the more accessible and exciting street food stalls, the dining options in Tokyo are significantly more diverse. So, instead of naming all the top places to eat or comparing local cuisines, we'll go over what to expect and what are the dishes you shouldn't miss!  Come on, we don't have all day… although you definitely should allot an entire day for a well-spent gastronomic experience. 
Seoul
With a range of interesting flavours that can satisfy the simplest to the most adventurous of taste buds, Seoul's food scene will definitely leave you wanting more. From street food and traditional K-BBQs to cafés and trendy global concepts, you'll find a handful of these scattered throughout every neighbourhood. Good thing that there are a lot of options for every budget, too!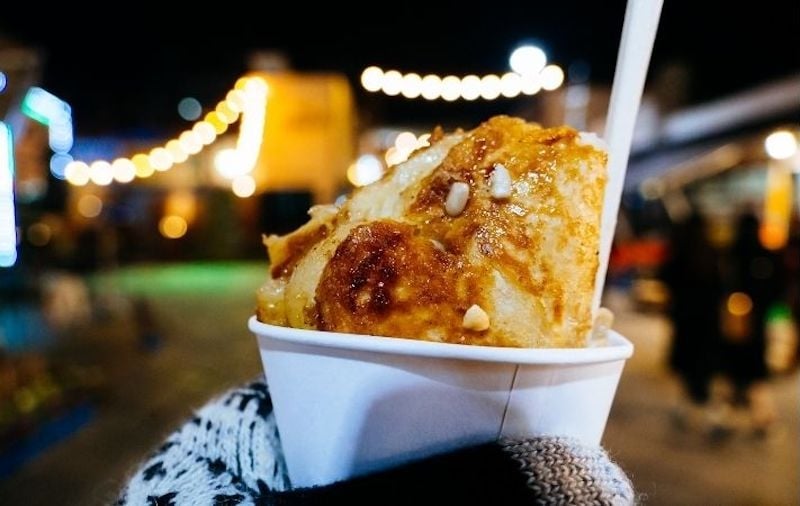 And hey, it's about time you get to experience what your fave K-drama characters always seem to be feasting on, yes?
Must-try local dishes: Samgyeopsal, dak galbi, bibimbap, hotteok, Korean fried chicken, and pajeon
Tokyo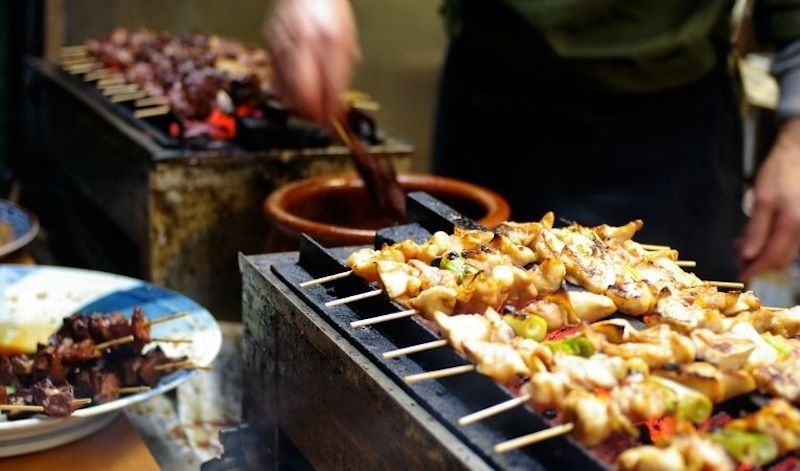 Take it from us —  it's practically impossible to leave Tokyo with an empty stomach, what with its vibrant dining scene and crowd favourite eateries that are almost always packed. In fact, it's easy to tell which ones are worth the hype when you see how many people are lined up outside!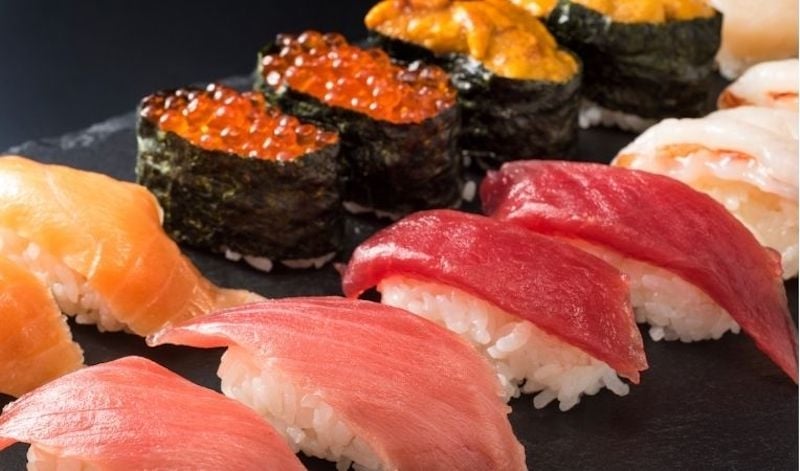 This city in Asia is also known for its 'boutique' dining scene, wherein most highly recommended spots only have a few items on their menu. Clearly, a far cry from the usual extensive menus that we're used to. Though, this isn't to say your overall options are limited; far from it, really! You'll just have to learn to enjoy resto-hopping if you wish to have the full Tokyo foodie experience. 
Must-try local dishes: Nigiri sushi, tempura, yakitori, ramen, soba, and omu rice
6. Public transportation
Fortunately, both are known for having some of the best public transportation in the world. Never mind the fact that they're sprawling cities, with many attractions not always within walking distance from another — as long as you can navigate the system of trains, buses, and even taxis, you'll be fine. Though, if you'd ask us, the subways are your best bet, whether in Seoul or Tokyo, since the trains are always on the dot!
Tokyo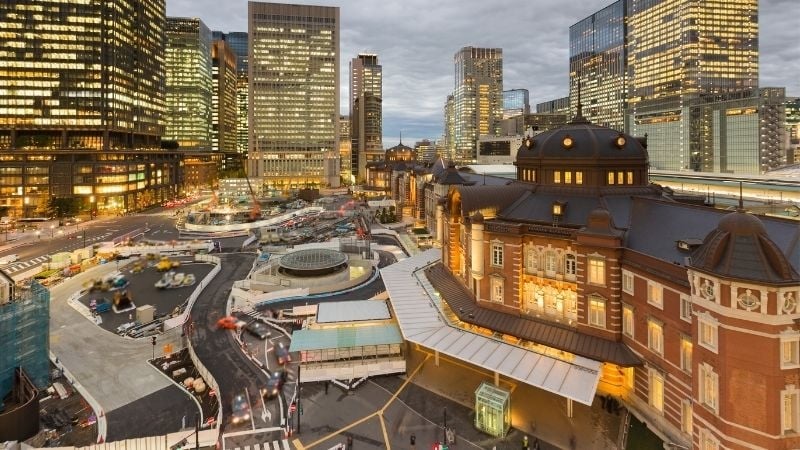 Granted, Tokyo does have a more extensive network of public transpo, so there's barely any need to rent a car or take a cab. However, it could also get quite confusing because many train lines are run by different companies, and so, tickets are not always interchangeable. Nonetheless, we still recommend buying daily or weekly passes to reduce cost and save time! A fair warning: The rush hour crowds can get quite intense, especially for those not used to such a fast-paced environment. 
Seoul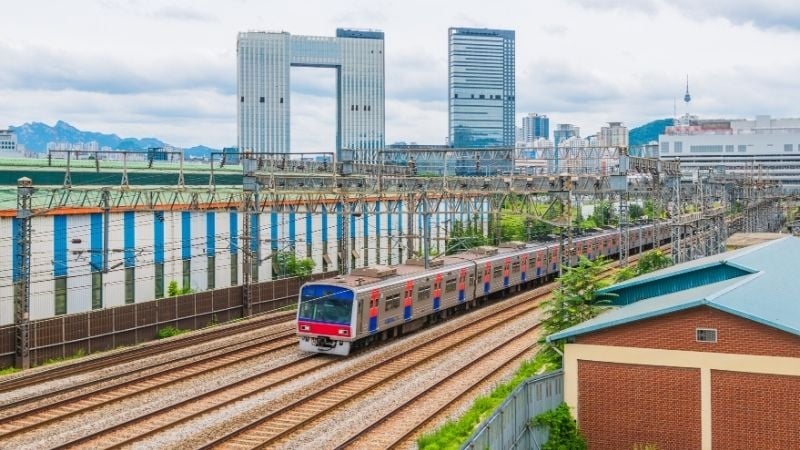 The Seoul Metro, on the other hand, is an easier (yet still extensive) subway system. Most of the stations are even situated close to popular Seoul attractions. Buses and taxis are also a good idea, but one must take possible traffic into consideration, especially during rush hours! Still, it's all fairly easy to navigate (and less claustrophobia-inducing), even if it's just your first-time. 
The TZ Verdict on Seoul vs Tokyo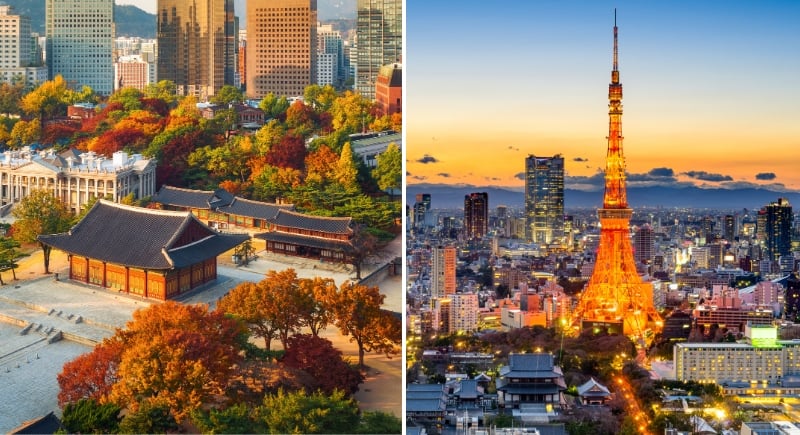 As with most destinations, it all boils down to which cater to your travel interests and preferences. But anyway, let's sum it all up, shall we?
If you'd ask travellers who have been to both, some would say Seoul is better for first-time visitors. It's generally cheaper, after all, especially if you'll be travelling solo or with friends. It's also more ideal for those who only have a few days (i.e., four days or less), yet still wish to check out everything notable. Even from just one visit, you can easily acquaint yourself with the city and its soul (pun intended); something that's not so feasible in bigger and more frenetic Tokyo!
Although, when it comes to family vacations, Tokyo is definitely the more popular choice. (Hello, Disneyland, for starters!) While it has the rep of being a generally expensive destination, there are still ways to keep your spending in check! Another slight advantage? Some travellers would say that Tokyo has more and cleaner public restrooms, so heads up if that's an important factor for you! Finally, if you're all about that energetic and fast-paced way of city living, then this is the metropolis for you. 
In short: Seoul for easier budgeting and itinerary-planning; Tokyo for more options regardless of whom you're travelling with. 
Also read: These Pinoys Share Why They Keep Coming Back to Japan, Korea, and Taiwan for More
So, have you decided which famous city in Asia is perfect for you? Or if you've been to both cities already — which would you say is better for first-time visitors? 
While you're at it, you might also want to check out the best places you can stay in Seoul and in Tokyo. Hey, a bit of early planning never hurt anyone!