For any K-Pop fan in the world, Seoul is the ultimate dream destination. Being the epicentre of the Korean Wave, Seoul is THE place to be if you want to fully immerse yourself in K-Pop culture. What's more, it's also the best place to shop for K-Pop merchandise.
Sure, you can probably get your hands on albums and whatnot thanks to online shops, but it can sometimes take ages for your precious cargo to arrive. It's also usually quite pricey thanks to import taxes and shipping fees. That's why, when I visited Seoul a few years ago, I went on a K-Pop shopping spree and returned with an impressive haul! 
You can generally find stores selling K-Pop merchandise in most tourist hotspots. However, there are certain stores and locations that are better and provide a more holistic shopping experience. As a true K-Pop fan (I identify as a Once), I'm here to spread the joy! Here's my eight personal favourite locations to shop for K-Pop merchandise! 
Myeongdong District
Any true K-Pop fan will tell you that the first stop of your K-Pop adventure should be the bustling streets of Myeongdong. Easily accessible via the Seoul Metro, this vibrant district is a celebration of youth culture, much like Ximending of Taipei and Tokyo's Harajuku. You can find plenty of delicious street food carts, a plethora of branded cosmetic stores and, of course, treasure troves for diehard K-Pop fans!  
1. MUSIC KOREA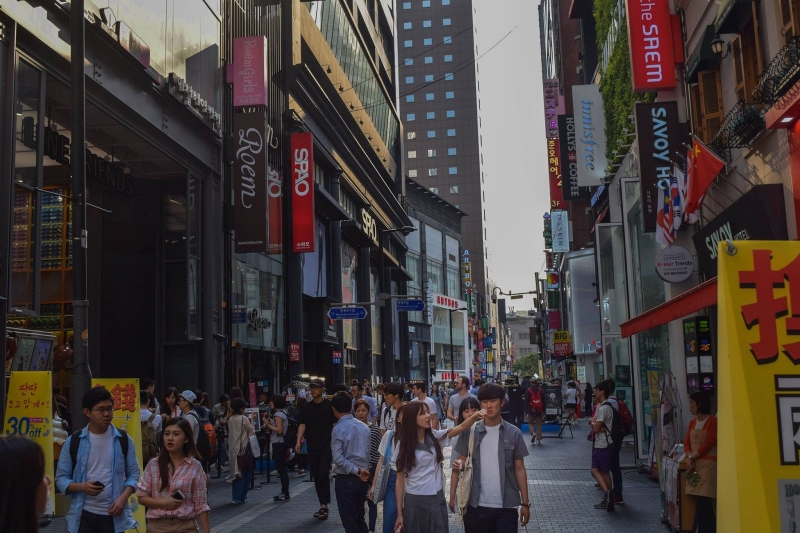 Music Korea is one of the biggest K-Pop merchandise retailers in South Korea. Not only does it have a popular online store that ships globally, it also has a physical store in Myeongdong. Right out of Exit 6 of Myeongdong Metro Station, you'll see a massive Uniqlo building. Opposite it is where you'll find Music Korea (third floor). 
Inside, you'll be able to buy the latest K-Pop merchandise ranging from official albums and posters to collectibles and even K-Drama memorabilia. Sometimes, the store may even give you freebies like posters or photocards if you buy something! What's more, shopping at Music Korea — based on personal experience — is quite enjoyable. From the neatly stocked shelves, the ambient lighting and the pleasant decor, the store feels almost therapeutic. 
And most importantly, when popular artists release new albums, they sometimes hold fan-signing events at the store too! However, you'll have to be super lucky to win a chance to meet your idols up close though! 
Address: 
3F, 52, Myeongdong 8na-gil, Jung-gu, Seoul, South Korea
Opening Hours: 
9.30 am to 10.30 pm daily
Also read: Here's How The South Korean Government Helped K-pop Rise to Global Fame
2. Buruttrak
Compared to Music Korea, Buruttrak (or Buru's Ddeurak) is more laid back and rustic. Instead of a fancy-looking building, it operates out of a humble, homey shoplot. Like Music Korea, it stocks plenty of official albums and goods. However, this famous music store also sells a selection of posters, notebooks, stickers, coasters and other collectibles. 
Having been open since 1979, this K-Pop shop in Seoul also has a rare selection of oldies,  from OG K-Pop groups like g.o.d, Fin. K.L., H.O.T. and more! You can even visit their website to enquire about the availability of a particular item before visiting too!  
Address: 
37-1 Myeongdong 8na-gil, Jung-gu, Seoul, South Korea
Opening Hours: 
10.00 am to 10.30 pm daily
3. Myeongdong Underground Shopping Centre
However, before you even reach Buruttrak or Music Korea, you'll likely pass by the Myeongdong Underground Shopping Centre. It's connected to the Myeongdong Metro Station exits, so it's literally impossible to miss it. My friends, I say this with all seriousness: this is my most highly recommended spot to buy your K-Pop merch. 
There are quite a number of K-Pop shops to choose from, which means that prices are quite competitive. That means you may be able to score something for a cheaper price here. The albums are all official (and come with the usual pre-order benefits), while there are also additional merch like lomo cards, stickers, and even towels! If your idol has modelled or advertised for a particular brand, you can probably find the related merch here too! 
I don't have a favourite store to recommend here but that's mainly because they all sell different items. You could easily spend hours here before you even emerge onto the streets aboveground! 
Dongdaemun
Dongdaemun is one of the most frequented tourist hotspots in Seoul. Here, you'll be able to see famous landmarks like Gyeongbokgung Palace and Dongdaemun Market. You can also visit popular K-Drama filming locations like Cheonggyecheon Stream. 
And of course, there's the most iconic modern structure in Dongdaemun: the futuristic Dongdaemun Design Plaza (DDP).It is here where we will find our next K-Pop shopping hotspots. 
4. KTown4U
For the longest time, KTown4U has been a staple online store for many international K-Pop fans. It shipped global group orders for albums, stocked rare merch like magazine features and official lightsticks, and even organised celebrity and fan club events! 
In 2017, KTown4U officially opened its first offline store in DDP! As you would expect, you can stock up on official K-Pop goods here ranging from albums to lightsticks. Occasionally, you'll also be able to participate in special events such as birthday hangouts or (if you're really lucky) fan signing events! 
Address: 
D281, Eulji-ro, Jung-gu, Seoul Design Market B2 NO.7
Opening Hours: 
10:00 a.m. to 10:00 p.m. daily
5. SM Town & Store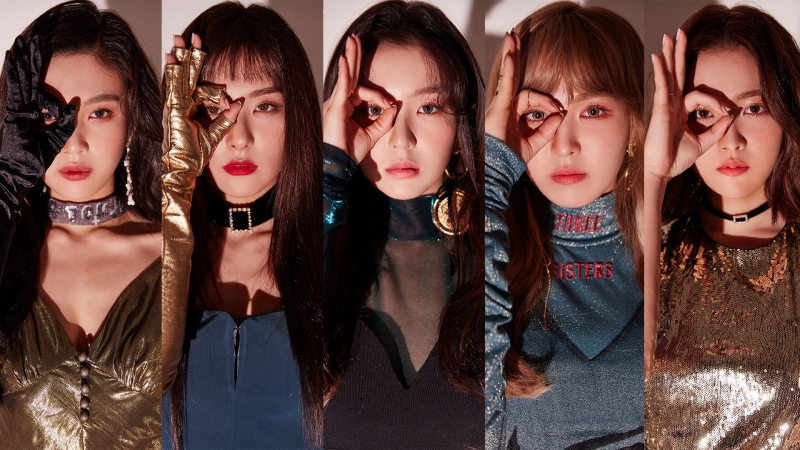 Attention fans of Red Velvet, EXO, Girls' Generation, Super Junior and all other artists of SM Entertainment: this one's your personal K-Pop paradise! The SM Town & Store @ DDP is arguably one of the most popular SM-exclusive K-Pop shops in Seoul!
You will be able to find a wide range of K-Pop merch related to SM artists including albums, fashion accessories, unique DIY souvenirs and more. Understandably, the number of merchandise for a particular artist varies depending on their popularity. So, you'll likely find more EXO merch than, for example, f(x). 
In addition, SM also has a store at COEX Mall in Gangnam. However, since they've announced that they will cease operations on 29 June, I've decided to omit them from this list. 
Address: 
281 Eulji-ro, Jung-gu, Seoul
Opening Hours: 
10:00 a.m. to 10:00 p.m. daily
Also read: The Perfect Home Workout Playlist: 18 K-Pop Songs That Will Get You Pumped! 
Gangnam
The district of Gangnam shot to fame thanks to the viral 2012 hit song, Gangnam Style. Generally speaking, Gangnam is an upscale shopping and nightlife district, punctuated by gleaming skyscrapers and stylish eateries and clubs. There are likely plenty of K-Pop stores in Gangnam, but here, I'll highlight the two most unique.  
6. Gangnam Tourist Information Center
It might sound weird to visit a tourist information centre for your K-Pop shopping needs but there's good reason for it. Conveniently located in central Gangnam, the Tourist Information Centre does more than just provide information to tourists. On the second floor of the building, visitors will be able to immerse themselves in a true Hallyu experience. 
Known as the K-Wave Experience Zone, this is where visitors can discover and learn about the rise of K-Pop as a global musical genre. However, it's not anything like a regular museum. You can find mock performance stages, virtual concerts, and music video filming sets. There's even professional makeup artists who can turn you into a K-Pop idol for a day! 
Of course, there's also a café and store where you can shop for plenty of unique K-Pop souvenirs. And, here's a secret, K-Pop idols sometimes drop by in person too! 
Address: 
161, Apgujeong-ro,Gangnam-gu, Seoul, Korea
Opening Hours: 
10:00 a.m. to 7:00 p.m. daily
Note: Due to current circumstances, the K-Wave Experience Zone is temporarily closed until further notice. 
7. SUM Market @ SM Entertainment
With the popularity of artists such as SNSD, Red Velvet, and EXO, it's no surprise that fans regularly visit the SM Entertainment building. Inside, you'll find an SM-themed café, where you can enjoy snacks and drinks as well as admire some art pieces by your favourite SM idols.
However, the main highlight is SUM Market. This is one of the more unique K-Pop shops in Seoul. Not only will you be able to buy albums and other K-Pop merchandise, you can also get your hands on special collaborative snacks like Super Junior Ramen! For diehard SM fans, this is the perfect place to hunt for a K-Pop souvenir you won't find anywhere else!
Address: 
52-1 Samseong-dong, Gangnam-gu, Seoul, South Korea
Opening Hours: 
10:00 a.m. to 10:00 p.m. daily
Disclaimer: I just want to say that while it's okay to visit K-Pop entertainment agencies, it's NOT okay to camp outside/inside and wait for a chance to see your favourite artist(s). 
Others
8. 20 Space – The Mint Universe (Cube Café)
20 Space, which used to be called Cube Studio Café, is an ambient café owned by Cube Entertainment. Located near Seongsu Metro Station, 20 Space features a modern, relaxing atmosphere where customers (fans or otherwise) can chill and enjoy refreshing drinks and yummy snacks. 
Apart from that, you can also purchase K-Pop souvenirs related to Cube artists such as BtoB, CLC, (G)I-dle and more. If you're a fan of Cube artists, this is certainly a location that's not to be missed when you go on a K-Pop shopping spree! 
Address: 
Seongsu 2(i)-ga 3(sam)-dong, Seongdong-gu, Seoul, South Korea
Opening Hours: 
10:00 a.m. to 10:00 p.m. daily
Happy Shopping!
And there you have it, eight of my personal favourite locations to look for K-Pop merchandise. I'm sure you'll be able to find something that you fancy in these K-Pop shops in Seoul. The only other tip I shall leave you is to ensure you have enough space in your luggage because we all know you'll need it!