Jeju Island is an island south of the Korean peninsula. Known for its splendid weather all year round, Jeju Island receives around 15 million visitors a year. The flight route between Seoul and Jeju is the busiest in the world, with at least one flight every ten minutes.
Because of this, Jeju can become very crowded during certain periods. This is so especially during the summer, when everything is open and visitors flock to the island to enjoy what Jeju has to offer. If you want to enjoy summer activities but do not like the crowds that come along with it, here are some alternatives that are equally interesting!
Alternative to Jeju's beaches: Yeosu Mangseongri Beach
Hyeopjae Beach, on the northwest coast of Jeju Island, is one of the most perfect beaches in Jeju Island. Surrounded by lush evergreen forests and crystal clear waters, the beach itself is made of white sand that is as fine as dust. Because of its sheer beauty, Hyeopjae Beach is the number one beach most people who visit Jeju Island go to.  
Just like Hyeopjae Beach, other beaches in Jeju remind visitors of an untouched paradise, with waters so clear you can see the floor and sand so soft it feels like powder. Jeju's beaches thus become very crowded during summer months, when the water is warm enough for swimming and other water activities. In fact, the crowds at Jeju's beaches are only second to Haeundae in Busan.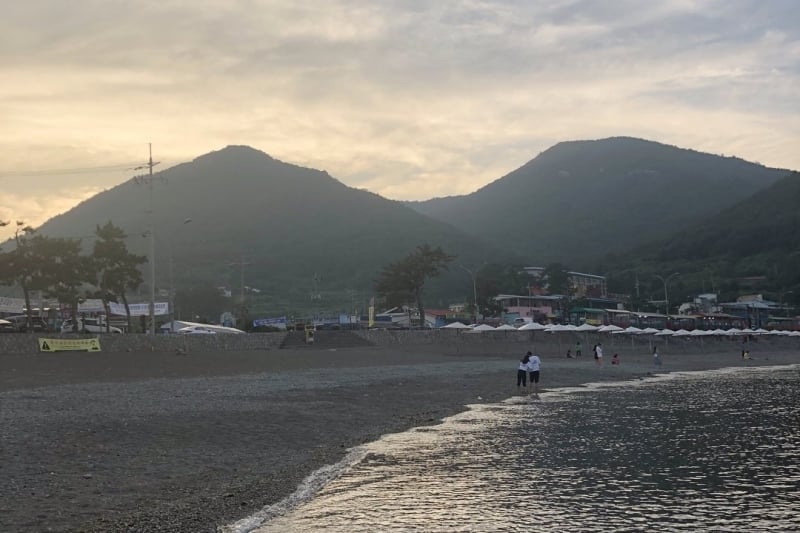 If you want to relax or swim at a beach without facing the crowds, why not head down to Manseongri Beach in Yeosu? The beach is located in a secluded part of the city, being accessible from Yeosu's city centre by a single-lane tunnel. Manseongri is famous for being one of only two black sand beaches in South Korea (the other is in Jeju Island), yet the beach is not as crowded as the beaches in Jeju or Busan. 
Next to Manseongri Beach is the Yeosu Ocean Railbike, a unique attraction where visitors can ride railbikes along a track. The three-kilometre track is located along the coast of Manseongri, so visitors can ride the bike and feel the summer breeze. Other than the railbike attraction, there are a lot of seafood restaurants dotting Manseongri Beach, so visitors can enjoy a sumptuous seafood dinner after relaxing at the beach or riding the railbike.
Alternative to Hallasan: Mireuksan (Tongyeong)
It is believed that every Korean must visit Hallasan at least once in their lives. One of Korea's most sacred mountains, Hallasan is also the highest mountain in South Korea at 1950 metres high. Because of its height, most visitors climb Hallasan for the expansive views at the summit. On a clear day, the whole of Jeju Island can be seen from the summit itself.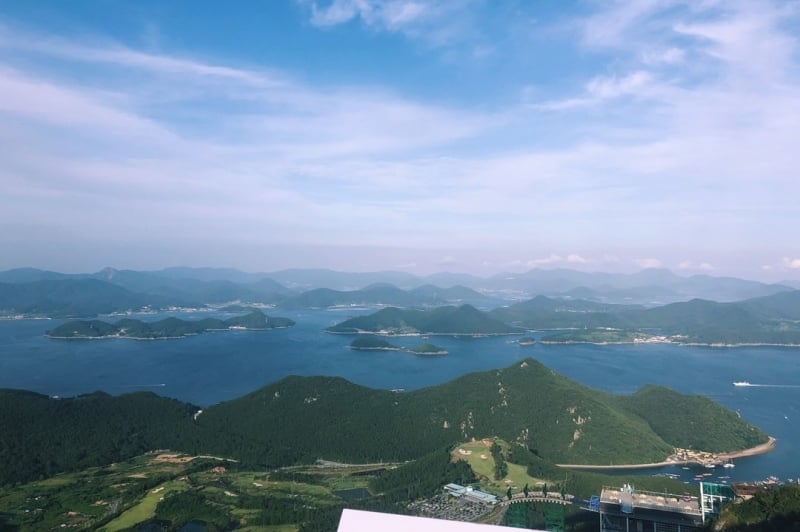 If climbing mountains is not your thing, why not visit Mireuksan in Tongyeong?  Mireuksan is similar as it offers a clear view of the neighbouring islands (and even Japan's Tsushima Island) on a nice day. The main difference is that the top of Mireuksan is easier to reach for most people. As there is a cable car from the foot of the mountain to the top, visitors just need to make the 15 minute ascent to the summit from the cable car station at the top of Mireuksan.
This is unlike Hallasan, where the only way up to the summit is a nine-hour round-trip hike. You can still choose to walk up to the summit of Mireuksan, but the return journey will only take four hours. Along the way up Mireuksan, there are also temples for hikers to visit and take a break, making the hike less mundane.
Alternative to Jungmun Tourist Complex: Gyeongju Bomun Resort
The Jungmun Tourist Complex is an area on Jeju Island. Filled with Korea's best hotel chains such as Lotte and Shilla, the tourist complex also has some attractions worth visiting. There are so many things to do within the tourist complex and the hotels themselves, so visitors can spend their whole day at the tourist complex.
Beside Jungmun, there are other resort areas in Korea worth staying over. Located within the ancient capital of Gyeongju lies the Bomun Lake Resort. With Bomun Lake at its centre, the tourist complex has many hotels for you to choose from, along with multiple attractions in the vicinity. The resort is also ten minutes by public transport from the city centre, so tourists have a lot more places that they can visit. 
At the east end of the lake lies Gyeongju World, a theme park with extreme rides and food that is not overpriced. If you come in the summer, the water park at Gyeongju World will be open too, so you have two parks to visit. At the other side of the lake is the Gyeongju East Palace Gardens, comprising botanical gardens and bird park.
Seafood: Marinated Crabs (Yeosu), Squid Kimbap (Tongyeong)
Being surrounded by the sea, most say that the best seafood can be found in Jeju Island. The seafood is freshly caught and prepared on the same day, preserving the freshness of the product. However, there are other places in South Korea where you can enjoy great seafood. If you see a map of South Korea, you will notice that three sides of Korea are surrounded by water. 
On the south coast of the peninsula are the seaside cities of Yeosu and Tongyeong. Once strategic naval ports under the command of Admiral Yi Sun Shin, these cities are now famous for their unique seafood offerings. Over here, we list one speciality seafood option that you can try in Yeosu and Tongyeong each.
Yeosu is known for their marinated crabs. Freshly caught crabs are marinated in either soya sauce or spicy bean paste and served raw. An order of marinated crabs comes with both the soya sauce and spicy marinated crab, along with rice and Korean side dishes. The best way to eat the crab is to add rice into the shell and mix together. Do come in a group as the marinated crab is only served with a minimum of two portions (or you can just order two portions yourself).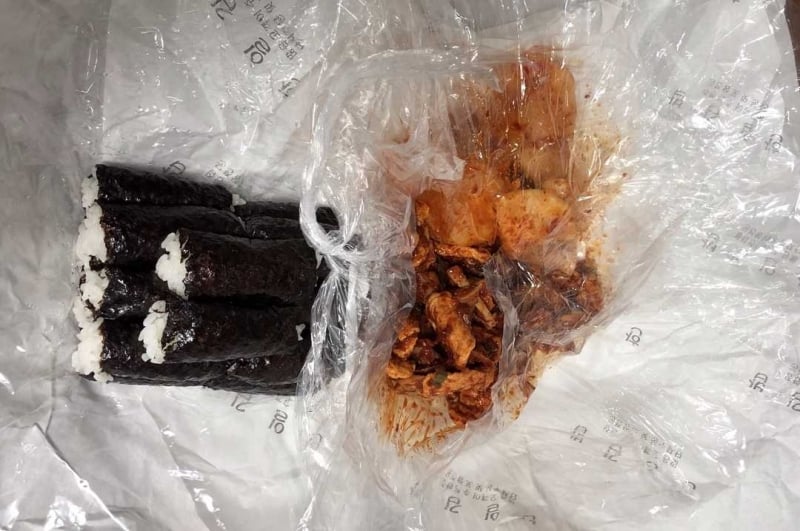 Although Tongyeong also has marinated crabs, we recommend the chungmu kimbap, a speciality that can only be found in Tongyeong itself. The kimbap is not wrapped with other ingredients but served next to a plate of marinated squid and kimchi. Chungmu was actually a village in Korea that served kimbap next to its ingredients instead of rolling them in. While Chungmu village has been absorbed into modern-day Tongyeong city, the style of eating kimbap separately still remains in Tongyeong. Paired with locally caught squid, this kimbap is a must try in Tongyeong.
We still recommend that you visit Jeju Island if you can do so, for it is the most visited place in South Korea after Seoul and Busan. However, you can also enjoy similar experiences outside of the island. For those who have already been to Jeju Island, why not take a trip down to the south of the peninsula to see a different side of the sea?