Tokyo has been on the top of everyone's travel list for as long as we can remember. But what exactly can you do there? Well, frankly, quite a lot — and that's no exaggeration! Although, if you're travelling there for the first time, here's a handy list of things to do in Tokyo to help you plan ahead. 
1. Experience the madness of the famous Shibuya Crossing
Okay, so, it's just zebra crossings. Well, a lot of zebra crossings! But that's exactly why Shibuya Crossing is one of the most famous Tokyo attractions. Plenty of people come here just to witness the orderly chaos of this bustling intersection — and, of course, to cross it themselves. Personally, I hate crowds, but this is one crowd that I totally don't mind, because how cool is this?
If you stop by Shibuya, the local izakayas are a must-try! But it's impossible to decide where to go when you are surrounded by a bunch of illegible venues, right? That is why you should book Tokyo Bar Hopping Night Tour in Shibuya by MagicalTrip. Together with a local, knowledgeable guide, you won't have a chance to miss out on the best Izakayas of Shibuya!
Tip: Capture an aerial shot from the Starbucks directly above the crossing for a pretty neat photo!
Getting there: Take the train to Shibuya Station and exit by the Hachiko Exit
2. Catch the latest trends at Harajuku
This stylish district is where the funkiest, the most quirky, and the most up-to-date fashion trends emerge from. Head over to Jingu Bridge on the weekends and catch a parade of the Harajuku fashionistas. Their outfits will surely (and literally) brighten your day! You can also shop at the hip stores on Takeshita Street, eat, and simply walk around while basking in all things cute and chic.
Want to know more about Harajuku? Then, Harajuku Kawaii Fashion & Pop-culture Tour by MagicalTrip is the way to go! In this tour, you will be taken around to see the streets of Harajuku, as well as the signature restaurant known as "Kawaii Monster Café." The unique food and the atmosphere is a must experience!
Getting there: Take the train to Harajuku Station on the Yamanote Line
3. Stuff yourself silly at the Standing Sushi Bar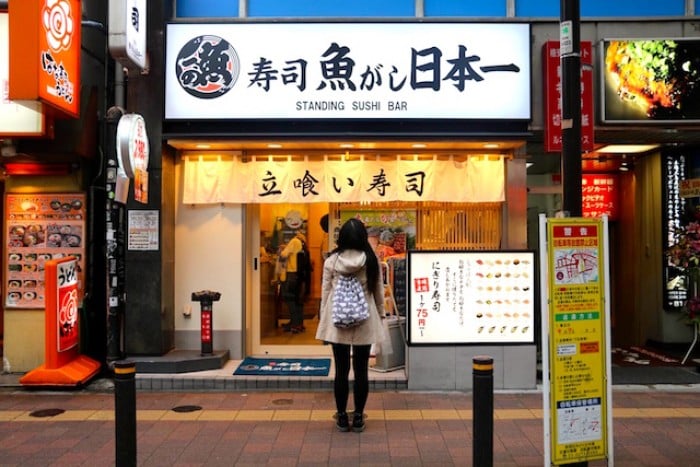 Seriously, is this even an option? Well, if we're talking about must-visit places in Tokyo, then it's not! For the best-value-for-money sushi, we recommend the Standing Sushi Bar. And yes, customers really do stand whilst dining! It makes for a unique and mouth-watering gastronomic experience, especially since it's found only in Tokyo. So, go on and stuff your faces silly with super cheap and super yummy meals!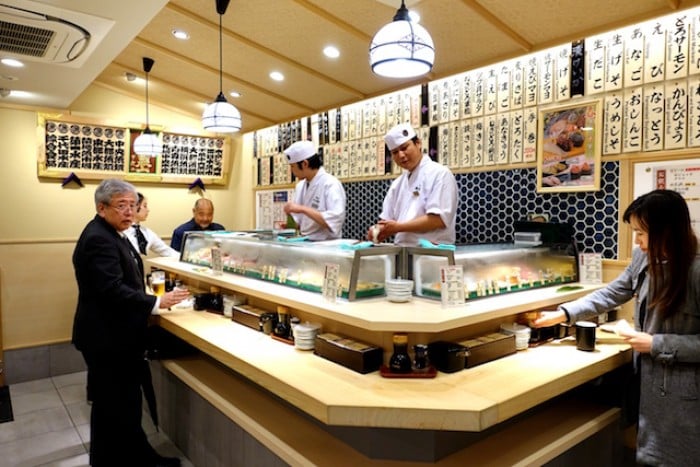 It was pretty hard for me to go back to eating supermarket-bought sushi after this. Now, they all just taste bland and downright fishy (pun intended) to me, sadly.
After you've had the chance to taste some authentic sushi, why not learn to make it yourself? At the Tokyo Sushi Making Class by MagicalTrip, you will have the opportunity to make traditional sushi from scratch!
Note: Uogashi Nihon-Ichi (Standing Sushi Bar) outlets are found all over Tokyo. Click here for the exact locations! The most convenient would be the one located in Shibuya, but my favourite would be the one in West Shinjuku. The latter is surrounded by many other eateries, and is less crowded too!
4. Roar at an authentic sumo wrestling match
Seriously, how can you not want to do try one of the most popular Tokyo attractions? Head over to Ryōgoku Kokugikan, an indoor stadium where you can catch an actual sumo wrestling match! You'd think there's nothing much to these well-built men pushing each other around, but it's actually pretty exciting! And if you really want to get the full experience (i.e. the roaring crowd, the energised atmosphere, and possibly the throwing of cushions), then Friday and Saturday evenings are your best bet. Keen to see the sumo stars up close? Then sign yourselves up to catch the Early Morning Sumo Training!
5. Go nuts with the vending machines
There's plenty of vending machines that sell interesting stuff in Tokyo. So, if you spot one, just stop what you're doing and take a look!
The best (or worst, depends on you, really) vending machine in town would be the one that dispenses natto. (FYI, natto is basically fermented soybeans that's pretty slimy and stinky for the unseasoned eater). This one definitely tops my list for being the most *ahem* interesting thing to do in Tokyo. 
Tip: You can find a natto vending machine outside of Sendaiya, a natto-manufacturing company.
Address:3-25-1 Kitazawa, Setagaya-ku, Tokyo
Getting there: Take the train to Higashi-Kitazawa Station
6. Enjoy local tours in Tokyo
If you're interested in a fun guided tour in Tokyo by knowledgeable locals, try Magic Trip! They are an experienced company providing guided tours catering to just about everyone, from bar-hopping, cultural sightseeing and even sumo tours! There's no doubt you will learn so much more on a guided tour than winging it by yourself, for even the all-knowing Google will not be able to replace insightful conversations with a true blue local.
Check out the Tokyo guided tours by MagicalTrip for more details and find the best tours for you!
7. Sign up for a cooking class

Step into a Japanese home and enrol into authentic cooking classes that will change the way you think about ramen, sushi, bento, udon, omurice, etc. airKitchen transports you into the warm and cosy households of friendly locals, where you will learn about choosing nutritious ingredients, healthy cooking methods, and the Japanese way of life. Every host has a different speciality and character, so you'll be guaranteed a unique experience everywhere – airKitchen is available in over 40 cities!
Check out over 300 cooking classes in Tokyo by airKitchen for more details and find the best cooking class for you!
8. Try not to get pricked at the Hedgehog Cafe
Rabbit cafe, cat cafe, owl cafe… meh. Been there, done that. What really caught my eye would be Harry Hedgehog Cafe that is filled with those cute little critters! It's pretty popular, though, so make sure you make a reservation online on their website to easily cuddle (ok, maybe not) with these spiky-but-totally-adorable things!
Address: 6-7-2 Roppongi, 2F Iwahori Building, Minato 106-0032, Tokyo
Getting there: Take the train to Roppongi Station and exit by Exit 3

9. Take plenty of totally cute Neoprints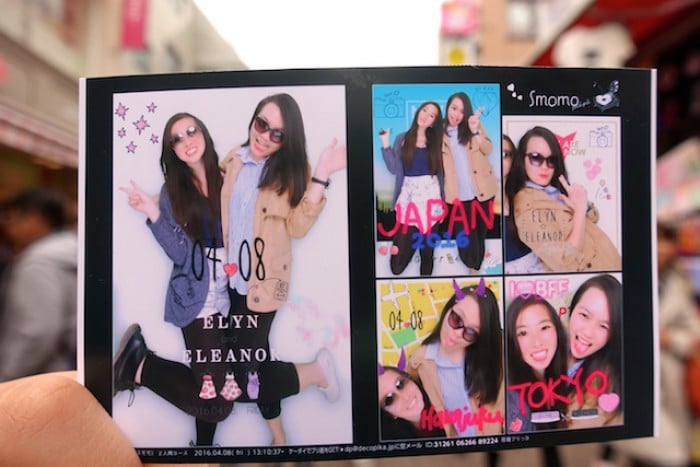 Neoprints were all the rage back in the '00s, but their machines are growing sparser and sparser in Singapore as we speak. So, better add this to your things to do in Tokyo and feel free to go a little crazy with the snaps! It's quite easy to find these machines, which are usually in arcades around the city.
10. Get in the mood at a maid cafe
I mean like, duh, who doesn't know about the famous maid cafes of Akihabara? It's an experience that you'll probably only ever get in Japan, so why not?
But why just stop at maid cafes? While you're there, you should also check out the best highlights of Akihabara's Anime and Otaku culture in one day! Akihabara Anime & Game Tour by MagicalTrip is the most popular English tour available – you can visit some really cool game and anime shops you that only locals know about in Akihabara, and yes the iconic maid cafe too, on the tour!
11. Shop till you literally drop in Ginza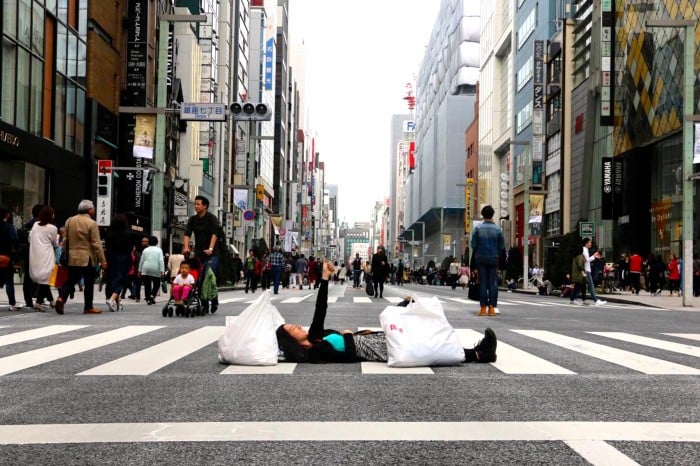 Ginza is the most luxurious places in Tokyo for shopping. There, you'll find a plethora of high-end brands, cups of coffee going for $10, and (wait for it) a 12-floor Uniqlo store! And even if you're not planning on buying anything, how can you skip a visit to one of the fanciest shopping districts in the world?
Also, it's hard to resist buying anything when the Uniqlo is a dozen storeys high. Don't kid yourself, it's time to break out those wallets!
Address: 6 Chome-9-5 Ginza, Chuo, Tokyo
Getting there: Take the train to Ginza Station and exit by Exit A2
12. Get your freak on at the robot restaurant
If humans aren't your thing, then why not try out the Robot Restaurant of Shinjuku? This restaurant is truly a unique, one-of-a-kind dining experience that you really can't find anywhere else in the world.
Adorned with crazily bright neon lights and mirrors, the design of the building itself will already make you feel like you've landed in some alien country. Coupled with the crazy show filled with female performers, robots, as well as weird props such as light-studded tanks and dinosaurs, this extremely random and extremely, extremely bizarre show is totally worth the visit.
I mean, where else in the world will you ever see such a scene? Be sure to make a reservation, because this popular dining show is known to sell out fast sometimes!
Address: B2F Shinjuku Robot Building, 1-7-1 Kabukicho, Shinjuku-ku, Tokyo
Getting there: Take the train to either JR Shinjuku Station and exit by the East Exit, or to Tokyo Metro Shinjuku-sanchome Station and exit by Exit B12, and walk over to the Shinjuku Robot Building
13. Take a piss at Piss Alley
Okay, I'm just kidding! Still, this is one of those things to do in Tokyo that aren't suitable for faint stomachs. Piss Alley — or in less vulgar terms, Memory Lane — got its name from people… well… urinating all over the alley. (Don't worry though, that's all in the past!) While you're there, soak in the distinct local vibes, and try out their rather unusual selection of food. Think frog sashimi, pig testicles, and snake liquor, to name a few. Feast away, my adventurous friends! Alternatively, snigger at your friends as they try to choke these delicacies down.
The alley is filled with locals after work every night, which is why it is hard to get seats. If you want to explore the Japanese drinking culture and izakayas in-depth, I highly recommend the Tokyo Bar Hopping Night Tour in Shinjuku. With this tour, you'll get a local guide to help you navigate through their favourite Izakayas in this alley as well as other areas!
Address: 1-2-11 Nishi-Shinjuku, Shinjuku-ku, Tokyo
Also Read: 13 Bizarre Foods in Thailand to Try… If You Dare
14. Get hot and steamy at an onsen
Relax those muscles of yours as you slide your body into a hot spring (or onsen). These are aplenty in Japan, so it's pretty easy to find one! Also, it'd be quite an experience to be naked amongst an even bigger pile of nakedness, don't you think? (Divided by gender, of course).
To be honest, I had a pretty hard time stripping the first time. But once you see how much all the ladies (or gents!) don't really care, it gets easier. Trust me.
Getting there: Take the train to Shinjuku Station and exit by the East Exit
15. Rendezvous at a love hotel *winks*
Sleazy, yes. Fun, most definitely, especially if you're a tourist! While locals try to be as discreet as possible whilst patronising such hotels, what are the chances that travellers like yourself will bump into your fellow hotel-stayers back home?
If you haven't caught on yet, Tokyo is filled with these hotels that are for passionate trysts, away from prying eyes. They're often spectacularly themed and decorated — definitely worth a visit! From Hello Kitty to Merry-Go-Rounds, enjoy a night marvelling at the elaborateness of it all, even if you're not looking for an *ahem* wild night with your lover!
16. Enjoy a ramen-for-one
Ahh, ramen. Nothing beats slurping down a good bowl of hot, steamy soup, especially if you're visiting during the winter! And yes, slurping is totally allowed — the louder the better. For the best experience, visit the famous Ichiran Ramen, where you can dine alone in your stall to really enjoy your bowl of ramen. It's one of those things to do in Tokyo that feel like heaven for your tastebuds. Trust me, eating alone ain't as bad as it seems!
There are quite a few Ichiran Ramen stores around Tokyo. So, do a bit of research before you go to make a convenient stop for lunch/dinner on your itinerary.
17. Visit the biggest fish market in the world (now in a new location)
Who hasn't heard of Tsukiji Market? There's a reason why it's one of the most popular places in Tokyo, after all. Enjoy the fishy smell in the air as you walk through this bustling jungle of a market. And when you're done, drop by any of the eateries to stuff yourself silly with fresh seafood!
Having moved from its previous premises in October 2018, Tsukiji Market is now known as Toyosu Fish Market. And if you have the chance to, check out their famed Tuna Auction, which takes place in the wee hours of the morning and get an exclusive look at the internal workings. While the auction rules remain the same, visitors can now witness the daily event from a viewing gallery with an upper and lower observation deck. Do note that registrations will have to be made in advance if you want to visit the latter!
Address: 6 Chome-3 Toyosu, Koto City, Tokyo 135-0061, Japan
Getting there: Take the train to Toyosu Station on the Yurakucho Line.
18. Dance the night away at a nightclub
This one's for all the party animals out there! One of the best things to do in Tokyo would definitely be hitting the nightclubs. I would totally recommend ageHa: The biggest club around with three dance floors, plenty of bars and places to take a chill pill at when you get a lil' tired. And get this — they even have an outdoor swimming pool! Pretty cool, huh?
Address: 2-2-10 Shinkiba, Koto, Tokyo
Getting there: Take the free shuttle bus from opposite Shibuya Police Station to AgeHa at Shinkiba Station
19. Sweeten up your day with Japanese sweets
Enough of the savoury stuff — bring on the sweets! The possibilities are endless, but here are a few suggestions for you. If you find yourself in Shibuya, grab yourself a soft-serve cone from SILKREAM, a magnificently rich and milky treat, served in the delicate, buttery-sweet Langue de Chat biscuit-cone. Yum!
If not, get yourself some daigaku imo (sweet potato tossed in sweet molasses) a tasty warm treat for a cold winter's day. You'd think that sweet potatoes can only go so far on the mouth-watering scale. Well, this treat would probably change your mind about that.
Finally, don't miss out on the perennial favourite — Tokyo Banana! Everybody, and I mean everybody, goes crazy over this sweet treat. I swear one box just isn't enough, not for me, anyway. Creamy, banana-flavoured custard encased in soft, fluffy banana sponge, these delightful cakes can come in a variety of designs and flavours! So grab a few boxes and stuff stuff stuff yourself.
20. Visit the only DisneySea in the world
Ok, so this isn't strictly in Tokyo, but it is right at its fringes, located at Urayasu, Chiba. So, still worth adding to your list of things to do in Tokyo! Also, how can you not give one of the most magical places in the world a visit?
What's so special about Tokyo's DisneySea, though, is that it's the only one in the world! Inspired by (duh) the sea, this nautical-themed park is divided into seven "ports of call," so enjoy yourself as you wander from place to place. Be sure to snap a photo of this park's centrepiece, Mount Prometheus, say hi to Ariel at the Mermaid Lagoon, or take a languid gondola ride at the Mediterranean Habour!
Address: 1-13 Maihama, Urayasu, Chiba Prefecture
Getting there: Take the train to Shinjuku Station and purchase a ticket from the JR Highway Bus Terminal
Also Read: Tokyo Disneyland: Tips and Tricks for a Perfect Trip
21. Grab a bite (or five) at nearby konbinis
Japanese convenience stores — or konbinis, as the locals call these — literally takes convenience to new levels. Found just about every other street in Tokyo, the major players are Lawson, FamilyMart, and 7-Eleven: All well-stocked with everything you need, from grooming products to snacks and magazines. However, what really sets kobinis apart from your average convenience store is the wide range of ready-to-eat meals, which includes belly-warming oden (a light stew with various ingredients like fish balls) in the colder months, as well as an extensive selection of alcoholic beverages.
Tip: Get your hands on FamilyMart's fried chicken if you can! Crispy and juicy, it gives legit fried chicken shops a run for their money.
Also read: 7 Underrated Goodies to Try at Japanese Convenience Stores
22. Find your zen in Japanese gardens
Amongst the towering skyscrapers of this buzzing city, relax a little by taking a stroll around the many beautiful Japanese gardens! They're renowned for capturing the best aspects of vast landscapes into a confined space, such as that of Rikugien Garden, which emulates the poetic elements of a waku poem. Or how the Koishikawa Korakuen Garden weaves the features of mountains, lakes, and rivers together to create a beautiful, harmonious blend.
Picnics are always welcome, especially during sakura season! Need some fun shots of these picturesque nature spots? Try a game camera for some unusual snaps.

23. Get lost between pages at the book town
The second-largest secondhand book market in the world, Jimbocho houses over 170 bookshops, publishing houses, and literary societies! Book lovers, get ready for a full day of endless and absolutely blissful book-hopping.
Of course, there are non-Japanese titles as well. My favourite would be the Kitazawa Bookstore, embellished with comfy seats and gigantic soft toys. There, you'll find a wide array of books including antiques from the English Middle Ages!
Address: 2 Chome-5 Kanda Jinbocho, Chiyoda, Tokyo
Getting there: Take the train to Jimbocho Station and exit by Exit A1, and walk to the right
24. Stand on glass at the Tokyo Skytree
The Skytree is among the top Tokyo attractions, especially since it's the tallest building in the city. It has two observatory decks: One at 350 metres and the other at 450 metres. What's even cooler is that the floor's plated by glass! It's both a pretty cool and scary experience. (Especially if you're like me who has a fear of heights…)
On good, clear days, you can see almost the entire city. Feast your eyes as you take in the breathtaking skyline. Unfortunately, it's not free — but totally worth it for the amazing views!
Address: 1 Chome-1-2 Oshiage, Sumida, Tokyo
Getting there: Take the Tokyo Skytree shuttle service from Tokyo Station, Ueno-Asakusa Area, Haneda Airport, Tokyo Disney Resort or Daiba Area
25. Travel back in time at the Imperial Palace
The Imperial Palace is home to the Emperor of Japan, and we commoners have the privilege to explore the outer grounds of the compound. Just look at that architecture, and feel yourself being transported to a previous era!
Be sure to check out the impressive, gigantic moats, and stone bridges littered all around. You'll definitely feel awestruck by this ancient beauty amidst the modernised buildings of Tokyo. Also, if you go during the right season, get ready to be further impressed by the adorning, iconic cherry blossoms. These look even more spectacular at night!
Address: 1-1 Chiyoda, Tokyo
Getting there: There's a few different gates to enter the palace from, so depending on where you want to go, there's a few different train stations to alight at too. So research, research, research to make the best out of your trip here!
26. Visit the whimsical Ghibli Museum
Who hasn't heard of Studio Ghibli? Well, if you haven't, then it's time to educate yourself a little with their world-acclaimed animated films. Seriously, these are a work of art!
Done with watching those movies? Perfect, now you're all set for visiting the Ghibli Museum in Mitaka. Designed by the studio's director, Hayao Miyazaki, this museum promises to transport you into the storybook world.
And even if you're not a fan of Miyazaki's work, this whimsical and fantastical land is nevertheless a pretty interesting place to visit. It really feels like you're being transported into another world!
Getting there: Take the train to Mitaka Station and catch the Ghibli Cat Bus
Also read: How I Spent a Magical Day at the Ghibli Museum in Tokyo
27. Visit Yoyogi Park on the weekends
One of Tokyo's largest parks, Yoyogi Park is a beautiful place to explore, especially during autumn when the verdant canopy turns red and gold. However, it's more than just for nature lovers! On weekends, it turns into a hive of activity, with various street performances such as ukulele musicians. The most anticipated and photographed though has to be the rockabilly dance crews.
Every Sunday, they gather to prove that indeed, rock & roll never dies! With their OTT hairdos, leather outfits, and a generous cool factor, seeing them dance with the park as a backdrop makes for an interesting experience.
Getting there: Yoyogi Park is near JR Line's Harajuku or Yoyogi Station, and Tokyo Metro's Meiji-Jingumae Station
28. Walk up Mount Takao
Just a one-hour train ride from Shinjuku is Mount Takao. It's home to several hiking trails, some of which are leisurely ones that will take you to the summit. On clear days, you may even catch a glimpse of Mount Fuji looming in the distance. If you're not up for a hike, you can also catch the tram or chairlift up and down for your Takao experience without breaking a sweat.
Getting there: From Shinjuku Station, take the train operated by Keio Railways and alight at Takaosanguchi Station
29. Hang out with the hip kids at Shimokitazawa
Known as Shimokita to the locals, this neighbourhood is a must-visit for culture vultures. Filled with quaint little shops selling all things cool from vintage clothing to indie labels, it's also home to a good smattering of bars and cafes. Grab a seat by the sidewalk and sip on a drink while people-watching.
Getting there: Hop on the Keio Inokashira Line from Shibuya or the Odakyu Line from Shinjuku and alight at Shimokitazawa station
30. Flip your own okonomiyaki (Japanese pancake)
You'll hardly see a DIY okonomiyaki restaurant anywhere outside of Japan! This fun food experience lets you fry your own Japanese pancake. All you need to do is order your preferred ingredients, mix them together, and cook them on the hot griddle in front of you. You can then dress it with the various condiments on your tables, such as mayonnaise and bonito flakes. It's kinda like Chinese steamboat and Korean BBQ — which means it's great as a social gathering. Just be careful to not burn those precious morsels!
Try Sakura Tei, which is conveniently located in Shibuya and is wallet-friendly.
Address: 3 Chome-20-1 Jingumae Shibuya, Tokyo 150-0001
31. Have your fill of food and drink with literally one coin
We all know Tokyo can be an expensive place to visit, but it doesn't have to be so. Apart from takeaway bentos from konbinis and quickie lunches at standing room only shops, we also love visiting what is known as One Coin bars/restaurants. They are called that because almost everything goes for 500yen, which is the highest value of a yen coin. We particularly like the Ueno 500 Bar, where pizzas, snacks and alcoholic drinks including wine and cocktails go for one coin (500yen) each. What a deal!
Address: Mihashi Bldg B1F, 4-9-15 Ueno, Taito-ku
32. Admire the artworks at the Yayoi Kusama Museum
Whether you're a full-on art enthusiast or simply looking for more must-visit places in Tokyo, better add the Yayoi Kusama Museum to your itinerary. Best known for her whimsical installations and extensive use of polka dots, Kusama is certainly one of Japan's most celebrated contemporary artists. You'll certainly want to take your sweet time with all the mesmerising works; from the giant pumpkins and vibrant paintings to the Insta-famous Infinity Mirror Room. However, the museum only allows visitors to stay up to 90 minutes to avoid overcrowding!
Also read: 5 Must-See Tokyo Museums For Every Kind of Art Fan
33. Explore the city's speciality coffee scene
With all the countless things to do in Tokyo, you're probably going to need enough caffeine to keep you going. So, why not try out some of the best brews that the city has to offer? Go beyond the usual gimmicky cafes by opting for third-wave coffee shops that place the spotlight on their drinks, service, and coffee expertise. Fortunately, there's quite a handful of these everywhere you go; from chic downtown spots to quaint stands tucked away in quiet neighbourhoods. Our personal faves include Onibus Coffee, Little Nap, and Fuglen — but that's just naming a few!
Also read: Top 30 Tokyo Souvenirs & Where to Get Them on Your Next Trip
So there you have it, folks — all the super fun things to do in Tokyo on your very first visit! So what are you waiting for? Get ready, get set, and go to the land of the rising sun for the time in your life!