Seoul is a paradise for shoppers, so much so that it's easy to be overwhelmed when picking a place to go shopping – with so many choices, how do you narrow it down? To help you out, we've scouted the best shopping streets, malls and markets in Seoul and found out what they are best for (clothes, cosmetics, souvenirs, etc.). On top of a heavy wallet, bring along some shopping bags and get ready to fill it up. You're about to step into a shopping heaven unlike no other!

For Skincare and Cosmetics
1. Myeongdong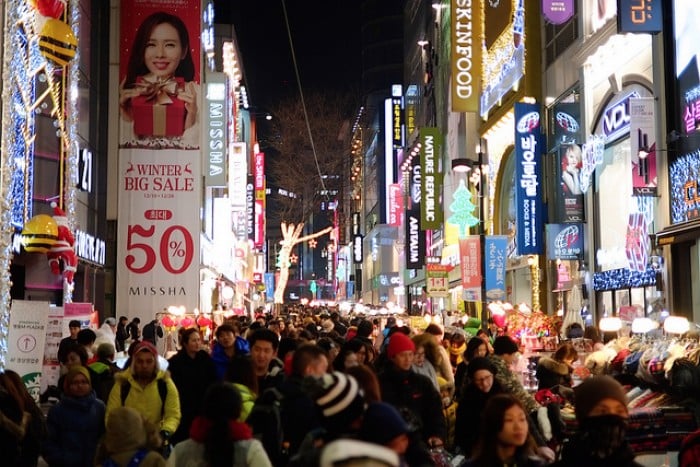 Image credit: el_ave
Let's start with the largest and hottest shopping spot in Korea! Myeongdong used to be a favourite local haunt, but now it is a tourist hotspot too, popular as the to-go place for skincare and cosmetic brands. There could be as many as twenty makeup stores in a single block here! Every cosmetic and skincare brand in Korea, such as Nature Republic, Innisfree and Too Cool For School, has at least one store in Myeongdong. It's definitely the best place to swatch and compare before pulling out your bucks for a purchase! Myeongdong is also a great place to shop for clothes and fashion items in general.
Opening hours: 10am to 10pm, Daily
Address: Myeongdong-gil, Jung-gu, Seoul
Nearest stations: Myeongdong Station, Exits 5, 6, 7, or 8 or Euljiro 1 (ij-ga) Station, Exits 5 or 6
2. Lotte Department Store's Main Branch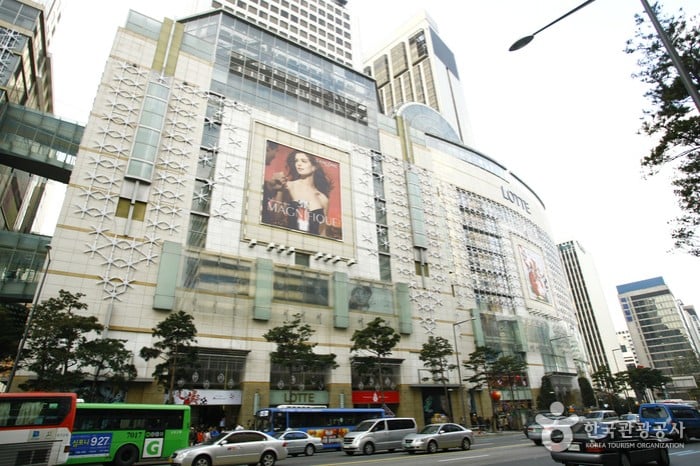 Image credit: Visit Korea
Welcome to sale central! Lotte Department Store has a dizzying amount of skincare and cosmetic brands and an even more mind-boggling amount of sales. They carry all the big brands like Missha, Sulwhasoo and Laneige. Also, you can get a 5% to 10% discount when you pay via Visa. Lotte Department Store is also one of the places where you can conveniently get tax refunds on your purchases. The best part: you can opt to get a receipt and pick up your items at Incheon airport instead of lugging shopping bags around in Seoul. Simply show your passport and boarding pass to the staff when you make your purchase. Your purchases will come in sealed bags at the airport and you can bring them onboard even if they are more than 100ml!
Opening Hours: 10:30am to 8pm, Daily
Address: 30, Eulji-ro 11-gil, Jung-gu, Seoul, South Korea
Nearest station: Euljiro 1(il)-ga Station
3. Ewha Woman's University Shopping Street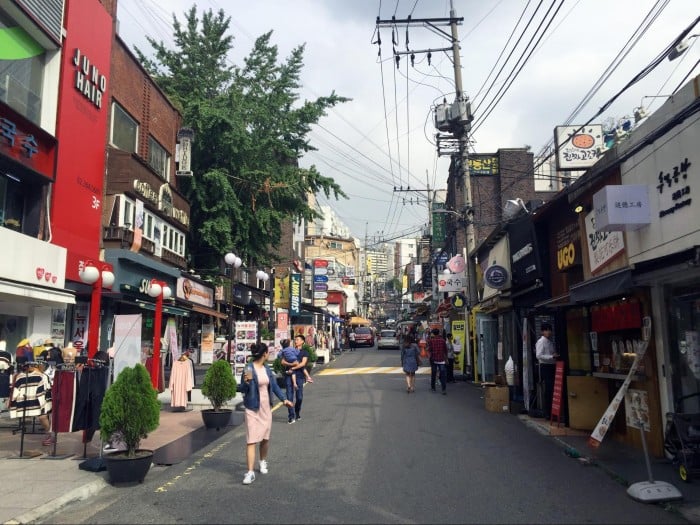 Ewha Woman's University Shopping Street caters mainly to the young and trendy students in the Ewha University nearby. In this area, the cosmetics are discounted and you can find all popular brands that local Koreans love such as Tony Moly and Skinfood. It is a shopping heaven that sells everything including clothes, shoes, and cute accessories like chokers, socks and rings. How we wish we have a shopping street like this near our own schools!
Opening hours: 11am to 10pm, Daily
Address: 52, Ewhayeodae-gil, Seodaemun-gu, Seoul
Nearest station: Ewha Woman's University Subway Station, Exit 2 or 3
For Street Fashion
4. Namdaemun market
Image credit: d'n'c
Namdaemun Market is a large traditional market selling everything from mountain gear and carpets to fashionable clothes. Getting lost in the dense maze of thousands of stalls is the best way to land yourself a bargain! Most of the clothes here cost between 10,000 to 20,000 Won. Namdaemun Market is such a great place for bargain-hunters that you might even afford to get stylish bags and fancy gifts for your friends back home!
Opening hours: 11pm to 5pm, Monday to Saturday
Address: 21 Namdaemunsijang 4-gil, Jung-gu, Seoul, South Korea
Nearest station: Hoehyeon Station, Exit 5
5. Goto mall (Gangnam Terminal Underground Shopping Centre)
Image credit: Visit Korea
Goto Mall, also known as the Gangnam Terminal Underground Shopping Centre, is an 800-metre-long underground alley of clothes, accessories and cosmetics. Many subway stations are connected to such underground malls, and Goto Mall is one of the biggest in Seoul. It is more popular among locals, as compared to Dongdaemun and Namdaemun Market which are popular among tourists. Their products are cheaper for the same level of quality! Many even tout Goto Mall as the first shopping stop you should make. See for yourself if you can find any great steals.
Opening hours: 10am to 10pm
Address: 128-4 Banpo-dong, Seocho-gu, Seoul, South Korea
Nearest station: Express Bus Terminal Station
6. Dongdaemun
Image credit: Eugene Lim
You can literally shop till you drop at Dongdaemun. The sky's the limit when you're at a shopping district that closes only at 5am. There are wholesale and retail goods spread throughout the 26 malls and 30,000 shops. The must-visit malls are HELLO APM, Migliore, Doota Tower and Good Morning City. You can find chic Korean brands like Style Nanda and BangBang. Countless street stalls surround these malls, hawking accessories, shoes, and delicious, delicious food.
Opening hours: 10am to 5am, Tuesday to Saturday; 10:30am to 11pm, Sunday.
Do note that things only get lively after 10pm.
Address: Euljiro 6(yuk)-ga, Jung-gu, Seoul, South Korea
Nearest stations: Dongdaemun Stadium Station, exit 8 or 9, or Dongdaemun History & Culture Park Station, Exit 2 or 14
For Local Designer Clothes
7. Common Ground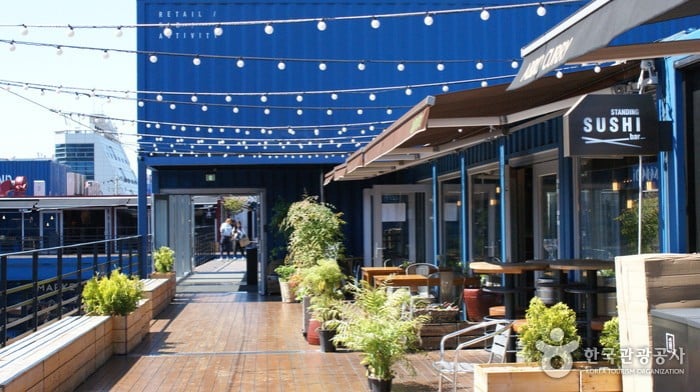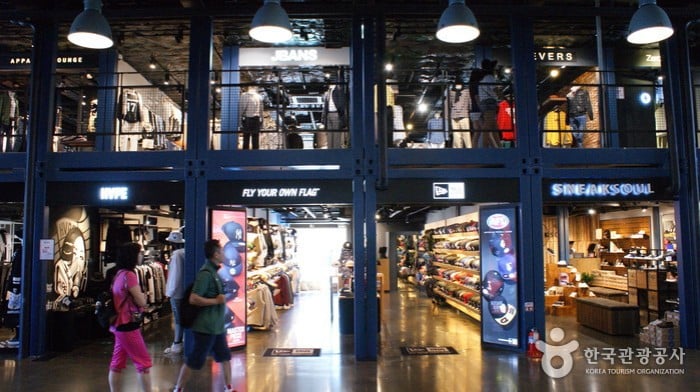 Image credit: Visit Korea
Common Ground is an artsy pop-up container mall packed with ENERGY! Small local designers have set up quirky, oh-so-cool shops here. You will find the latest local designs and unique items that reflect Seoul's vibrant youth culture. It is also a great spot to people-watch; call us creepy but we're just doing research (to copy their look). Also, most locals look out for a "Made in Korea" tag. These clothes may be more expensive but they are muuuch better quality than cheap imports from China.
Opening Hours: 11am to 10pm, Daily
Address: 200, Achasan-ro, Gwangjin-gu, Seoul
Nearest Station: Konkuk University Station, Exit 6
8. Hongdae (Hongik University Street)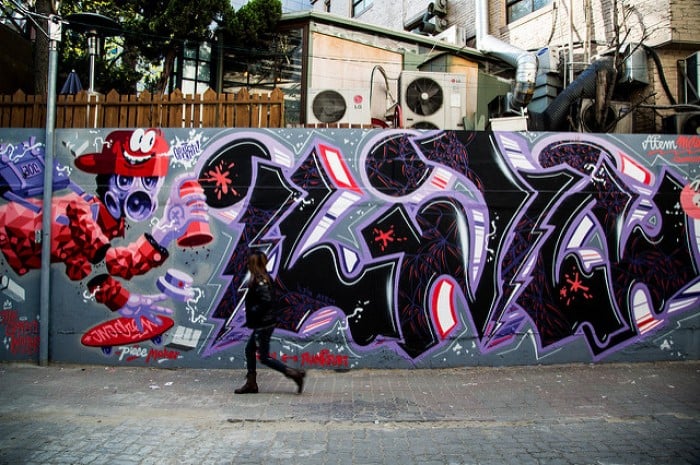 Image credit: sojason .com
Hongdae is honestly so cool you should visit it even if you aren't shopping. We can't guarantee that you won't be tempted, though! Koreans describe Hongdae as the place local retailers go "when they can't afford the rent at Myeongdong". Many local shops that made Myeongdong great have now moved to Hongdae and transformed it with their underground culture and youthful atmosphere. These fashion shops are tended with passion by local designers. Check out the Hongdae "playground" when you need a break – Hongik university students gather here for crazy street performances and festivals!
Opening hours: 11am to midnight, Daily
Address: Eoulmadang-ro, Mapo-gu, Seoul
Nearest station: Hongik University Station, Exit 8 or 9
9. Garosugil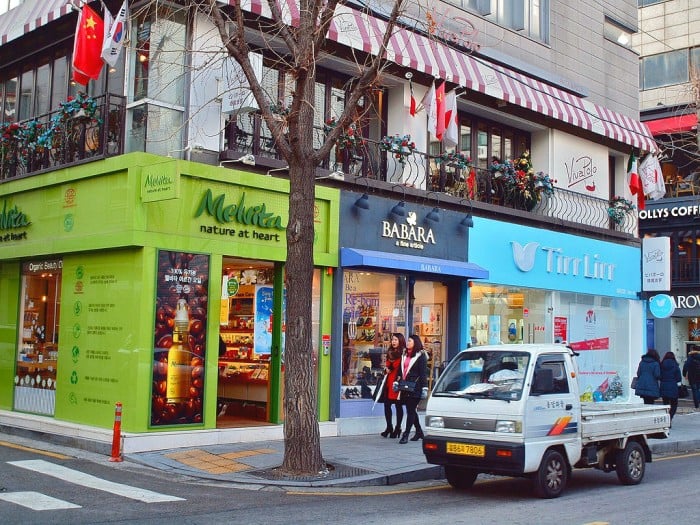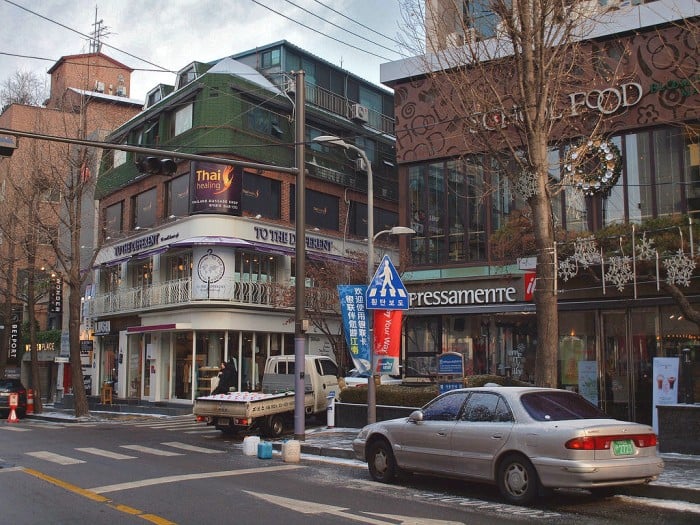 Image credit: Alejandro
Garosugil in Gangnam is for the most high-end of fashionistas. You can truly witness Gangnam Style for yourself, but be warned – instead of awkward dancing, Garosugil boasts chic art galleries, stylish designer shops and elegant ateliers. Their unique boutiques are practically art pieces themselves with contemporary decorations and interesting clothing. Well, we still dare you to prance down the street to the tune of Gangnam Style! You might be the next viral thing!
Opening Hours: 10 am to midnight, Daily
Address: 667-13 Sinsa-dong, Gangnam-gu, Seoul, South Korea
Nearest station: Sinsa Station, Exit 8
For Traditional Crafts and Souvenirs
10. Samcheongdong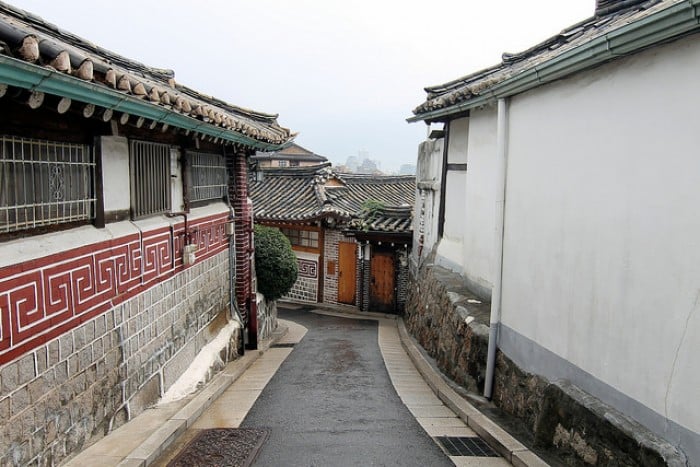 Image credit: donchili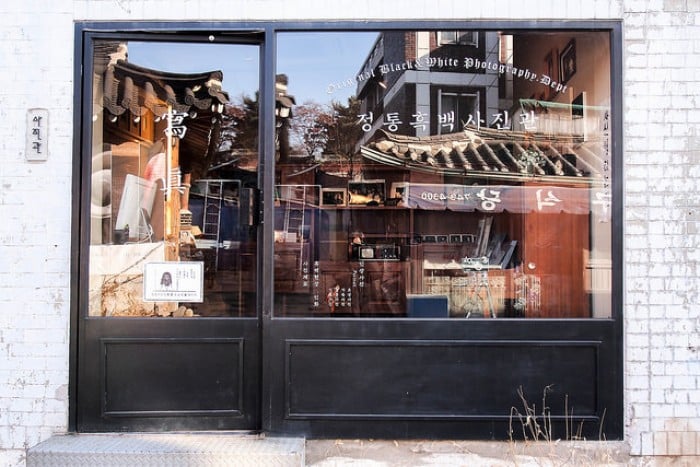 Image credit: minoir
Don't limit your shopping to modern fashion! Why not delve into the full Korean experience? You get to shop AND sightsee Samcheongdong, which is famous for traditional Korean houses (Bukchon Hanok) and traditional crafts shops. Shop artsy accessories and sip artisanal coffee in between.
Opening hours: 10am to 6pm, Daily
Address: Samcheong-dong, Jongno-gu, Seoul, South Korea
Nearest station: Anguk Station, Exit 1
11. Insadong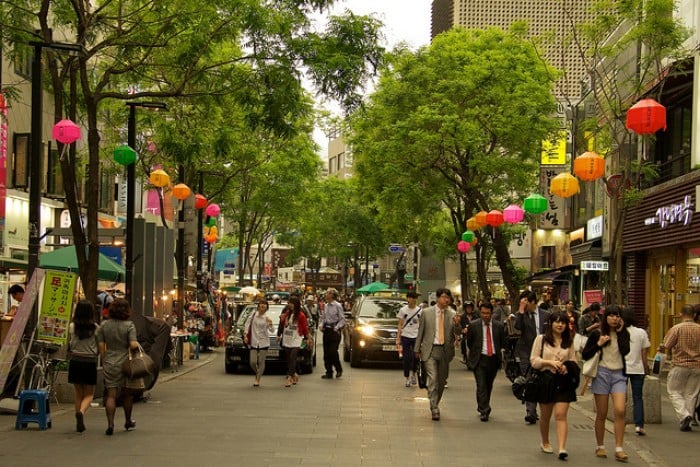 Image credit: Mario Sánchez Prada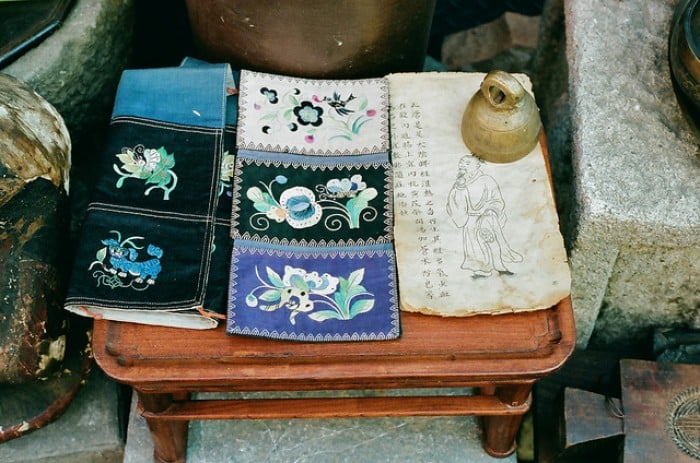 Image credit: sprklg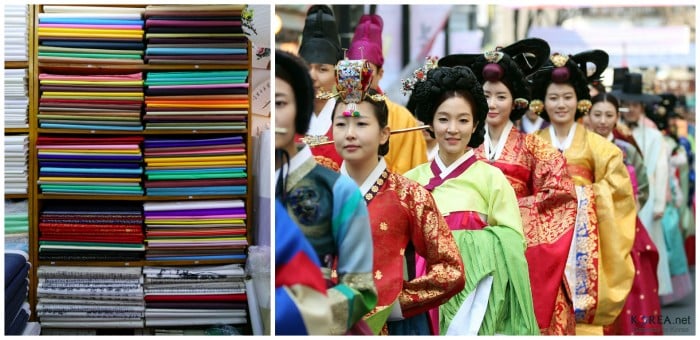 Image credit: Richard Fisher & Republic of Korea
The 700-metre-long Insadong Street is another great place for traditional Korean crafts. You can transform yourself into a true Korean lady (or try to) by buying a hanbok! They come in an array of bright colours and pretty prints. You can also find traditional paper (also known as hanji) as well as traditional pottery, folk crafts and teahouses in Insadong.
Opening hours: 10am to 8pm, Daily
Address: Insa-dong, Jongno-gu, Seoul, South Korea
Nearest station: Anguk Station, Exit 6 or Jonggak Station, Exit 3
12. Gwangjang Market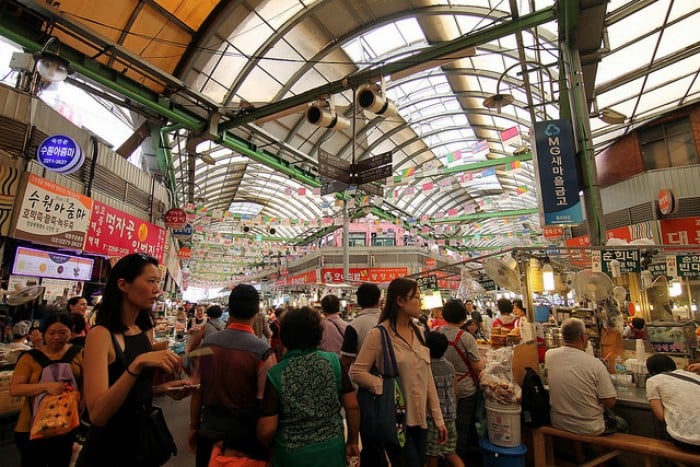 Image credit: donchili
Image credit: frakorea
Now here's a super retro market. Gwangjang Market first opened in 1905 and is the go-to place for wedding hanbok dresses and wedding food. Even if you're not marrying a Korean oppa anytime soon, you still purchase local fabrics, hanboks, lacquerware and FOOD!
Opening hours:
Clothing stores open 9pm to 10am the next day, Monday to Saturday
General stores open 8:30am to 6pm, Monday to Saturday
Address: 88, Changgyeonggung-ro, Jongno-gu, Seoul
Nearest station: Jongno 5-ga Station, Exit 8 or Euljiro 4-ga Station, Exit 4
For Korean Snacks
13. Lotte Mart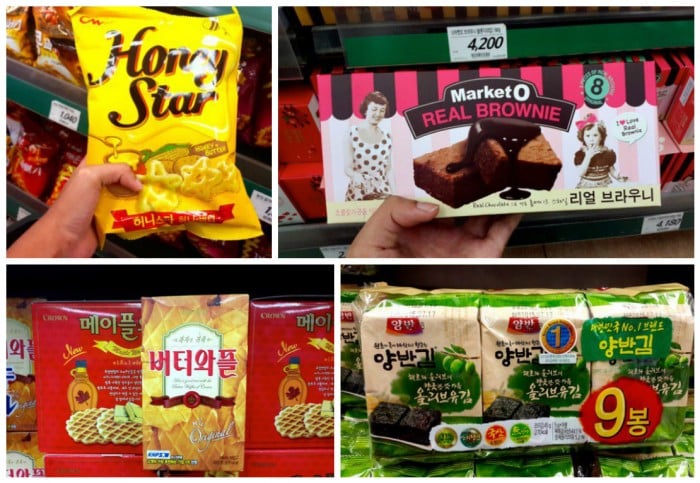 Lotte Mart is Korea's top discount store which sells everyday essentials, clothes, and lots of SNACKS! The most popular and easily accessible outlet for most tourists is the Seoul Station Branch. They even provide tax refunds! Here's where you can stock up on all things delicious like Honey Butter Chips, Market O's Real Brownies, Crown Butter Waffles and crispy seaweed. The selection is humongous and you will find everything you can dream of and more!
Opening hours: 9am to midnight, Daily
Closed every second and fourth Sunday of the month
Address: 432, Cheongpa-ro, Jung-gu, Seoul
Nearest station: Seoul Station, Exit 1
Also read: 12 Must-Buy Food Items from Korea's LOTTE Mart
14. E-Mart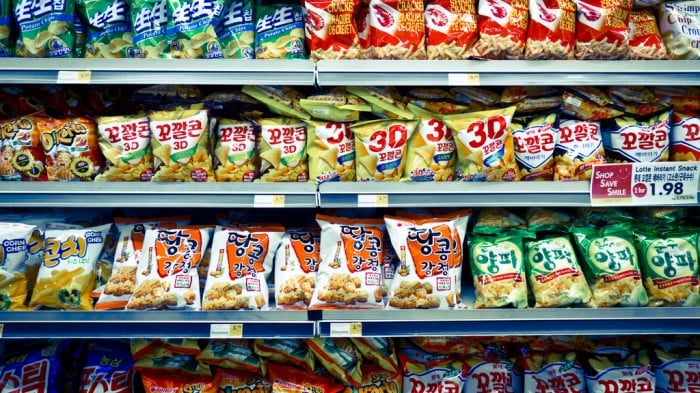 Image credit: Benson Kua
E-Mart is another discount chain in Korea. It is the largest chain in Korea and is supposedly cheaper and less crowded than Lotte Mart. The most accessible outlet from the city centre is the Yongsan Branch. Try Smoky Bacon Chips and Rice Krispies! Check out their tea section as well for soothing Korean citron tea. Do bring your own bag as E-Mart does not provide plastic bags.
Opening hours: 10am to midnight, Daily
Address: 55, Hangang-daero 23-gil, Yongsan-gu, Seoul
Nearest station: Yongsan Station, Exit 4
15. Home Plus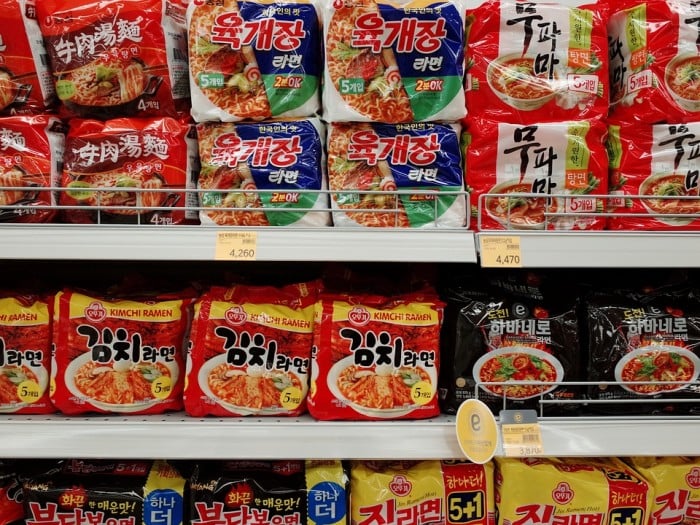 Home Plus is a discount chain owned by Tesco, and their most central outlet is the Dongdaemun branch. It's a wonderful candy land with a huge section filled with rows of tiny candy sachets. You can also purchase makgeolli (a subtly sweet alcoholic Korean beverage) or even pre-packaged Korean foods such ramyun, soups, or sauces so you can have authentic Korean food back at home.  
Opening hours: 9am to midnight, Daily
(Closed every second and fourth Sunday of the month)
Address: 133, Cheonho-daero, Dongdaemun-gu, Seoul
Nearest station: Yongdu Station, Exit 3 or Jegi-dong Station, Exit 3
For Korean Dried Seafood
16. Chungbu Market
The smell hits you even before you step foot into this market – the pungent smell of dried seafood is unmistakable! Browse through a mind-boggling array of dried seafood at this wholesale market, which includes more varieties of dried anchovies than you can imagine! As mentioned, the pong is rather strong, and is known to linger on your clothes for hours so we suggest to not visit this right before a date.
Opening hours: 9am to 6pm on weekdays
Address: Ojang-dong, Jung-gu, Seoul, South Korea
Also read: 10 Best Places To Eat in Seoul
Shopping Tips
Ask if for tax refunds if possible. Korean taxes can be as high as 10% of the total price.

Check the Korea Tourism Organisation's

website

for sale season. You can check the sale dates and participating outlets.

You can deposit your items in the many coin lockers in Seoul's train stations. That way, you can explore a place with ease without carrying all your shopping from a previous stop. Just make sure you remember to collect your items when you leave!
It's almost a good thing we don't live in Seoul, or we would never have enough money to pay our bills. Maximise your time in Seoul and plan your shopping wisely! Enjoy some (or ALL) of these great places to shop in Seoul!
---
This trip was made possible by Korea Tourism Organisation (Singapore Office).