There's no better place to nerd out to your anime and video game obsessions than in Japan. Home of famous manga and iconic franchises worth millions if not billions of dollars, Japan will let you live out your childhood dreams of being swept into another world filled with stories and heroes that we grew up with. There are so many whimsical places to visit, from video game-themed cafés to anime museums. To make the best out of your trip to Japan, read our comprehensive Japan guide tailored for gamers and anime fans!
For anime fans
1.  Ghibli Museum
First on this Japan guide is, of course, none other than the enchanting Ghibli Museum. In matters of animation and childhood classics, Studio Ghibli elevated Japan to worldwide recognition thanks to its touching fables such as My Neighbour Totoro and Spirited Away. 
Helmed by director Hayao Miyazaki, Studio Ghibli has produced powerful and poignant stories throughout the years while sticking to traditional 2D illustrations. In fact, they've only recently announced the production of their first-ever 3D feature film. Nevertheless, you can always experience the classic Ghibli films come to life at the Ghibli Museum in Mitaka, Tokyo. 
You'll be welcomed by a life-sized replica of Totoro peering outside the museum windows. As you step foot in the premises, take photos against the colour-studded walls, watch an original Ghibli short film, and feel waves of nostalgia as you come upon items and designs straight out of the Ghibli films. If you want a firsthand account of what it's like to spend a day in the Ghibli Museum, read about this traveller's experience here!
Address: 1 Chome-1-83 Shimorenjaku, Mitaka, Tokyo 181-0013
Operating hours: 10am to 6pm
2. Pokémon Center Tokyo DX and the Pokémon Café
You must have already heard of the Pokémon Centers scattered throughout Tokyo. But if you want to see the biggest and brightest, head to the district of Nihonbashi. Not only is this Pokémon Center the largest, but it also features a Pokémon Café, which makes this store the first of its kind. 
When you get to Pokémon Center Tokyo DX, you'll be welcomed by an adorable Snorlax statue flanked by Pikachu and Mew at the entrance! Get ready to be submerged in Pokémon stuffed toys robed in various costumes, Pokémon stickers, fun Pokémon videos, tasty Pokémon-themed snacks, and so much more. 
If you're done splurging, proceed to the café where the Kanto starter Pokémon will greet you at the tables. By this time, your stomachs ought to be grumbling because the café serves drool-inducing meals. Take your pick from their Pokémon-themed curry, carbonara, hamburger, and even ice cream! Not taking photos of these intricately-plated dishes is a crime!
Fun fact: According to a study conducted by a US-based company called TitleMax, Pokémon is among the highest-grossing media franchises of all time, raking in a whopping US$92.121 billion worldwide. That's roughly US$4 billion per year since it began in 1996!
Address: Nihonbashi Takashimaya S.C. East Building 5F, 2-1-12 Nihonbashi, Chuo-ku, Tokyo
Operating hours: 10.30am to 9pm
3. Tokyo ONE PIECE Tower
Does this drawing style look familiar? Well, that's because it was popularised by Eiichiro Oda back in 1997. At the same time, it was the birth of the best-selling manga and anime series called One Piece. This manga is a story about the adventures of a boy named Monkey D. Luffy who wants to proclaim himself the King of Pirates. As he navigates the seas to fulfil his ambition, he meets interesting characters who eventually comprise his crew called the Straw Hat Pirates!
Naturally, a classic like One Piece deserves its own themed attraction, and fans of this franchise won't be disappointed. Tokyo ONE Piece Tower is an indoor theme park that features super entertaining games, performances, and merchandise all paying homage to the epic story of Luffy. The idea of the theme park is for guests to imagine that they've landed on an island run by the Straw Hat Pirates, who want their fellow voyagers to have nothing but the best time possible! If you're an old school anime fan, place this on your Japan guide, stat!
Address: 4-2-8, Shiba Park, Minato, Tokyo
Operating hours: 11.30am to 1.30pm; 1.45pm to 4.15pm; 4.30 to 7pm
4. The Gundam Base
Calling all Gundam geeks! Next on our Japan guide for anime fans is the iconic Gundam Base found in Diver City Tokyo Plaza. You wouldn't be able to miss this even if you tried because of the life-sized Unicorn Gundam statue looming over everyone who passes by. 
The statue is known for its automatic transformations every hour. The Gundam goes from Unicorn Mode to Destroy Mode while the gears in the head, shoulders, knee armour, and front skirts shift in between systems. If you visit in the evening, you might catch the statue light up in green and red, as well as the special short film on the screen behind it. 
Don't forget to actually explore the Gundam-themed store that's loaded with Gundam merchandise and collector's item kits dating back to 1980. You can also try building your own Gundam action figures at the workshop station, and sate your cravings at the Gundam Café on the second floor of the mall!
Also read: Here's Your Chance to Visit a Life-Size, Moving Gundam Statue in Japan
Address: 〒135-0064 Tokyo, Koto City, Aomi, 1 Chome−1−10 ダイバーシティ東京 プラザ7F
Operating hours: 10am to 8pm
5. Sanrio Puroland
Hello Kitty fans, this is your cue to run wild! Sanrio Puroland, A.K.A. Hello Kitty Land, is an indoor theme park dedicated to our beloved Sanrio mascots like My Melody, Cinammoroll, the Sugarbunnies, and of course, Hello Kitty! They may not be considered anime by traditional standards, but these Sanrio characters definitely embody a whole lot of Japan's kawaii (cute) culture. 
The theme park houses expansive gift shops where you can buy ultra-cute and original Sanrio character merchandise. The Lady Kitty House Shop, for example, sells not only stuffed toys, but also Hello Kitty suitcases, stationeries, tumblers, among other authentic accessories. Each store is impeccably designed and manicured to reflect its featured character. Hence, expect the My Melody Shop to be bursting in pastel pink, and the Kiki and Lala Shop smothered in periwinkle! 
Your little ones are sure to have a blast in Sanrio Puroland, as it also features character parades, interactive doll-like rooms, and picture-perfect backgrounds in every nook and cranny. Get those cameras out because you can't miss a single moment!
Address: 〒206-8588 Tokyo, Tama, Ochiai, 1−31
Operating hours: 10am to 5pm
6. Nakano Broadway (Mandarake)
This Japan guide wouldn't be complete if we didn't give a shout out to Mandarake. Mandarake Inc. started with a humble manga bookstore in 1980 and has since expanded, establishing itself as one of the oldest and largest otaku (geek/nerd) emporiums in Japan. Among its best shopping complexes for everything anime is Nakano Broadway, which sells an eclectic range of merchandise from antique manga to the latest collectables. 
Anime aficionados even go so far as saying that Nakano Broadway beats the Mandarake shop in Akihabara, which is known for being the ultimate hub for anime and gamer geeks alike. But more on Akihabara's treasure trove qualities later. If you head to Nakano Broadway, you won't just be able to shop anime action figures, manga, and anime-inspired fashion. 
Nakano Broadway's complex is also packed with Mandarake speciality shops, from sports to Star Wars stores, all of which span four floors. So no matter your otaku inclinations, you'll surely be able to hunt their merch down at a cheap price! Find more Mandarake complexes in Kanto, Shibuya, Ikebukuro, and Utsunomiya, to name a few. 
Address: 5 Chome-52 Nakano, Nakano City, Tokyo 164-0001
Operating hours: Hours for each store in the complex may vary but the best time to visit is from 11am to 8pm. 
For gamers
7. ARTNIA Square Enix Cafe
Among Japan's greatest gifts to gaming culture is undoubtedly Square Enix, the video game developer which gave us the Final Fantasy, Kingdom Hearts, and Dragon Quest franchises. If you've grown up fighting evil incarnates like Sephiroth, have fallen in love with heroines like Yuna, or find chocobos utterly irresistible, make your way to ARTNIA. This is the official Square Enix café where you'll find their authentic merchandise, from plushies, bedroom posters, stickers, and even CDs of the games' OSTs!
As someone who's been to ARTNIA twice, I can say that it's pretty much a mini Final Fantasy museum where you can admire action figures and authentic FF accessories like Squall's Griever necklace, all protected by glass cases on top of pedestals. The best aspect of the café is that you can order food inspired by the Square Enix games. You'll finally find out what a potion and phoenix down taste like!
Address: 6 Chome-27-30 Shinjuku, 新宿区 Shinjuku City, Tokyo 160-0022
Operating hours: 11am to 9pm
8. Huis Ten Bosch Game Museum
If you still can't get enough of arcade culture, then add Huis Ten Bosch to your Japan guide for gamers. This attraction is the largest theme park in Japan, and will transport you to Europe with its medieval-inspired environment. Likewise, the old-world charm seeps into the theme park's gaming gallery. The Huis Ten Bosch Game Museum houses computers and consoles that date back to the 1980s, so you're bound to have an educational experience as you while away your afternoon playing old video games like Space Invaders.
The museum has educational corners where people can learn all about gaming history. Aside from this, gamers can examine vintage models of different types of gaming technology. If you thought Gameboy Color made you feel old, just wait until you see Nintendo's Game & Watch displayed in the museum. It basically paved the way for everything else Nintendo released!
Address: 1-1 Huis Ten Bosch Machi, Sasebo, Nagasaki 859-3292
Operating hours: 9am to 9pm
9. Taito HEY
Finishing this Japan guide for gamers is yet another Akihabara must-visit, Hirose Entertainment Yard, commonly called HEY. Like the SEGA Towers, HEY is an arcade mecca that celebrates games that date back to the '90s, such as Capcom's Street Fighter and Dungeons and Dragons. That said, expect HEY's gaming machines to feature a lot of shoot 'em up, fighting, and beat 'em up games (Hi there, Darius fans!). 
Most of these games are retro and vintage, specially catered to die-hard arcade gamers. But there's still a fair share of modern entertainment to enjoy too. These include updated shooting game machines that feature gun-shaped controllers, and card-based systems for interactive trading cards. Don't miss out on HEY's UFO crane machines either; they offer exclusive Taito-themed prizes you can't win in any other arcade!
Address: 〒101-0021 Tokyo, Chiyoda City, Sotokanda, 1 Chome−10−5 廣瀬本社ビル
Operating hours: 10am to 11.45pm
A few more tips…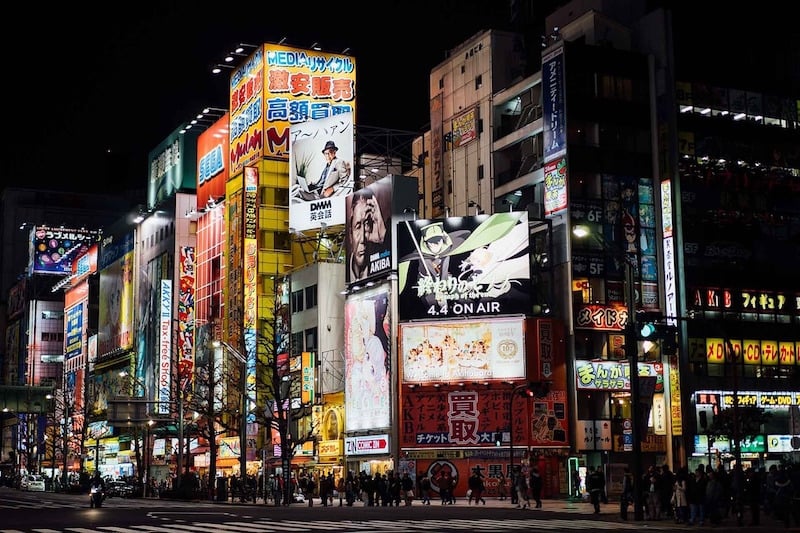 Before we wrap up this Japan guide for gamers and anime fans, our last piece of advice would be to ensure a trip to Akihabara at all costs if you truly want to experience all-out otaku culture. Akihabara is Japan's premier hub for gaming and anime stores.
Otaku-inspired shops are found in every corner; plus, we're sure that there's many more to discover that we haven't mentioned here. Try looking up Animate, Akihabara Cultures Zone, and Super Potato to continue your otaku shopping ventures. 
And with that said, make sure to bookmark this article if you're planning to visit Japan soon. No trip to Japan is complete without stepping foot in an anime or video game store, after all. Till then, sayōnara!