Japan is a heaven for any sushi/sashimi fanatic, and is filled to the brim with some of the world's freshest fish. But what if you don't eat raw fish? Well stop right there before you start crying foul, for there's plenty of other delish things to eat in Japan! For a start, here are 23 things (other than Sushi) in Japan to fill your tummies with!
Watch the video here:
Also read: 12 Underrated Foods You Should Never Leave Japan Without Trying
1. BAKE Cheese Tarts

Image credit: BAKE cheese tart
Love cheese? Then this one is for you! Think small cheese tarts that can fit into the small of your hand, crisp fluffy pastry and a gloriously gooey cheese filling. Mm, mm – We guarantee you won't be able to stop at one!
BAKE cheese tarts can be found in the Tokyo/Kanto, Kansai and Kyushu regions. Their stall at Lumine EST Shinjuku always has a long queue, so be prepared to wait to get your hands on these gooey cheesy gems!
2. Sakuratei: DIY Okonimiyaki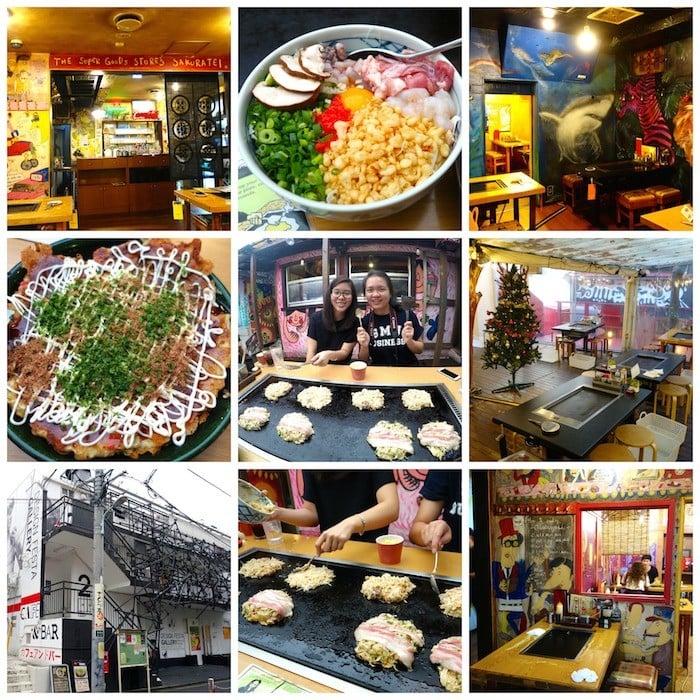 Sakuratei is a nondescript DIY okonomiyaki (Japanese pancake) joint tucked within a design museum. In fact it's so well hidden that we were the only tourists present all 3 times we patronized the outlet. Yes, it's so good that we went there a total of 3 times! You mix up your ingredients in a bowl, and cook it on a hot plate right in front of you. Doll your pancake up with some sauce, mayo and garnishings and voila! Your very own okonimiyaki. The interior of the place is delightfully funky with a hipster vibe as well, making for lots of interesting photo opportunities!
Address: 3 Chome-20-1 Jingumae Shibuya, Tokyo 150-0001, Japan
Contact number: 03-3479-0039
3. Lavender Soft-Serve Ice Cream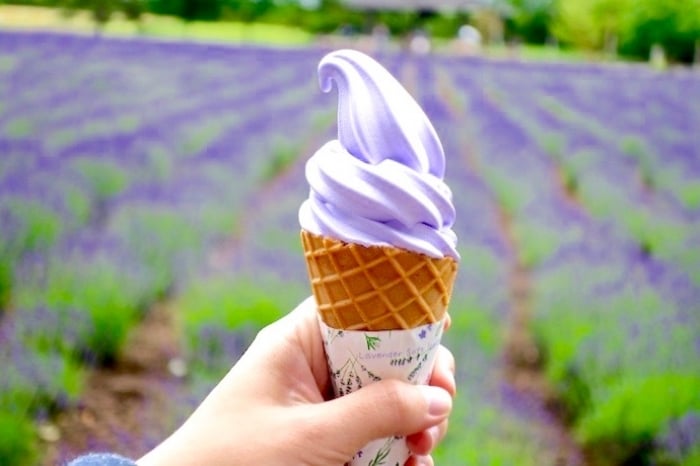 Come July every year, the flower fields at Furano's Farm Tomita come alive in a vibrant sea of colour. The lavender fields at Farm Tomita are well-worth your making the trip down to Hokkaido, and offer picturesque backdrops for any Instagram lover! The farm also specializes in lavender soft-serve icecream, a fragrant sweet treat guaranteed to tantalise any taste-bud. We daresay this particular icecream flavor is hardly found anywhere else in the world. Wow! Trust us, an indulgent pit-stop at Farm Tomita definitely deserves a spot in your itinerary.
4. Ichiran Ramen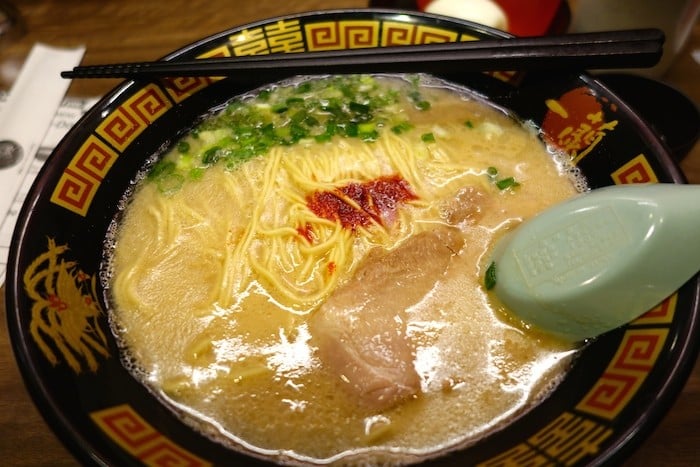 So Ichiran Ramen has a reputation of dishing out the best ramen in town. As per true Japanese style, you place your order via vending machine. For you to concentrate wholly on the flavour, you sit in individual cubicles facing a wall. You slide your order through a hole in the wall, and you don't even see the waiter's/waitress' faces. You feel like a secret ninja ramen warrior – bring on the good stuff! After receiving your order, the hole is sealed shut by a wooden blind. All that's left is your ramen and you, and boy is it good! For fans of the ramen, you can even buy pre-packed noodles and stocks to bring home.
Ichiran Ramen can be found all over Japan! Check out their website to aid your hunt for the yummiest ramen you'll ever eat.
5. Animal Donuts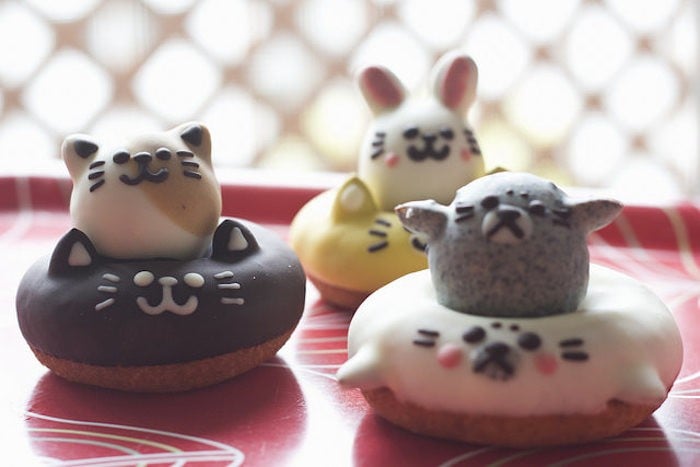 Image credit: Japanexperterna.se
Animal donuts have hit the shores of Japan, and man they're almost too cute to eat! Appealing to lovers of all things cute, these darling little things are quickly snatched off shelves everyday. Known as "doubutsu doonatsu" to the locals, the ingenious pastries originate from the shop called "Floresta" in Kansai. These donuts have since taken Japan by storm, and can now be found all over the country. Kawaii!
6. Kit Kats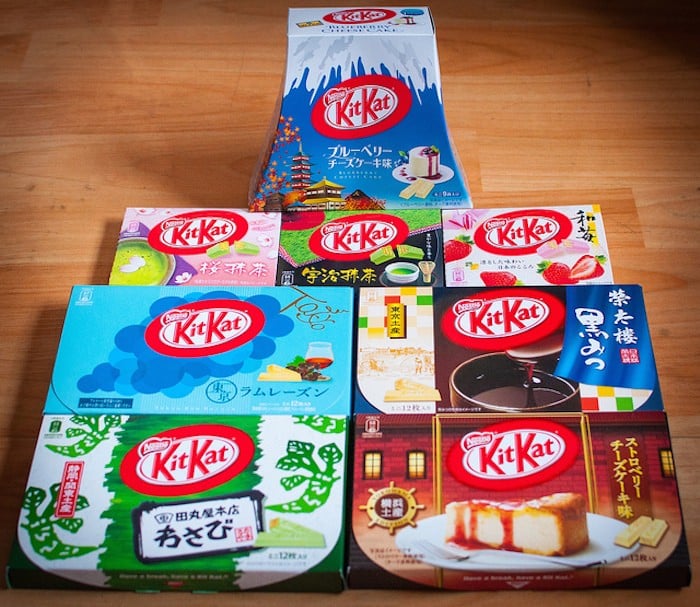 Image credit: Jordi Sanchez Teruel
This yummy chocolate snack is well-known all over the world, but only in Japan do they come in an array of flavours galore. Flavours of strawberry cheesecake, tea, matcha, red bean, sweet potato, cayenne pepper, rum & raisin and even wasabi… You name it, Japan's got it! Have a break, have a Kit Kat – they even make for novel souvenirs for your friends and family back home.Yum!
7. Candied Baby Crabs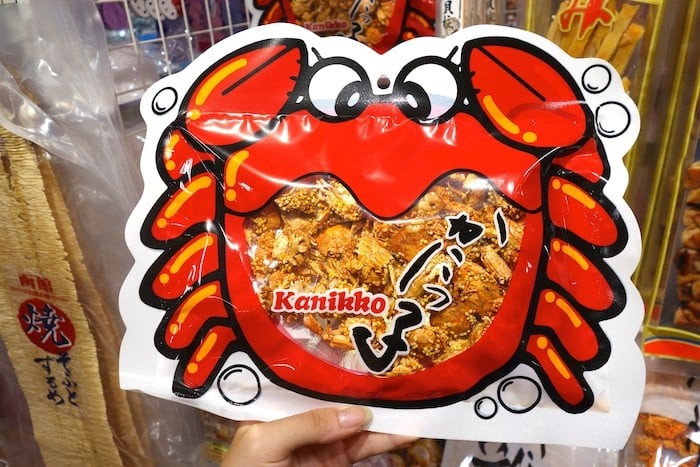 Move over potato chips, these candied baby crabs take the cake. This snack consists of actual small hermit crabs coated with a sweet sauce and sesame seeds. Delicious or creepy snack, it's your call! Well, when in Japan, do as the locals do right? And the locals seem to loveeee this snack, or "tamagogani" as it's rather affectionately called. Crunch away!
8. Square watermelons
Image credit: Joi Ito
Somehow, regular oblong-shaped watermelons just do not seem to cut it for the Japanese. Check out these square watermelons that somehow resemble a present more than a fruit. Well, we don't know about you, but we'd love to receive such a present! The Japanese have even churned out heart-shaped or dynamite-shaped melons… does the shape affect the taste, we wonder? Tell us if you know the answer, we are dying to know!
9. Collon snacks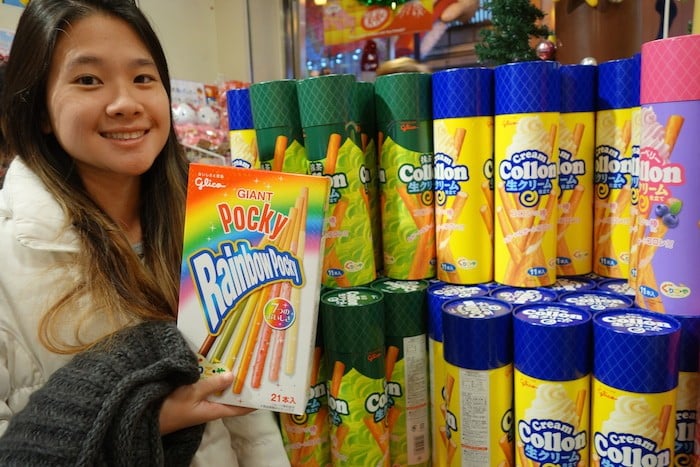 Despite being slapped with an unfortunate name, these small tubes filled with cream are ironically an absolute pleasure to eat. Find them in many flavours ­– matcha, blueberry, chocolate, and even good-old vanilla. Why not pair the snack with giant rainbow pocky sticks while you're at it? In Japan, you just gotta go big or go home.
Also read: 8 Must-Try Japanese Snacks That Are Also Muslim-Friendly
10. Raw horse meat (Basashi) + Raw Horse Meat Ice Cream (Basashi Ice)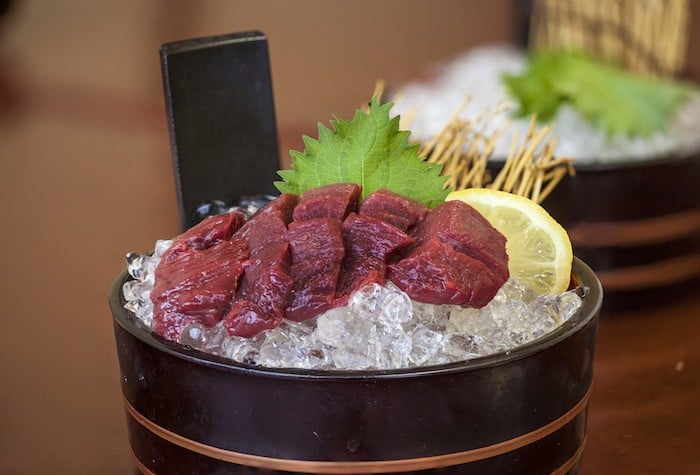 Image credit: George Alexander Ishida Newman
Okay we are just going to put it out there – the thought of eating horse may definitely come across as strange, but where else in the world are you able to try raw horse sashimi? Just like the case with the square watermelons, regular fish sashimi just ain't enough for the creative Japanese. If you're cool with chowing down a pony, why not try Basashi ice ­– raw horse meat flavoured ice cream? We gotta admit, the Japanese sure are adventurous!
11. Chankonabe (Sumo stew)
Image credit: PV9007 Photography
Chankonabe, to put it simply, is the food and soul of sumo wrestlers. And as we all know, sumo wrestlers are huge and have to eat. A lot. Thus you can imagine, chankonabe only comes in one size – giant. It's basically a jumbo-sized steamboat filled with meat and vegetables in a buttery miso soup, and is really quite yummy! Warning: do eat this on an empty stomach! How often do you get to eat like a sumo wrestler?
12. Tokyo Milk Cheese Biscuits
Image credit: Tokyo Milk Cheese Factory
This, I feel, is the gem of the lot. Not many people know about this particular snack yet, and boy are you all missing out! There are a few flavours to choose from ­– Honey & Gorgonzola, Salt and Camembert, Basil Tomato & Mozzarella Cookie – and trust us when we say all the flavours are ah-mazing. So. Good. My personal favourite, however, is the Salt and Camembert. Find these Milk Cheese biscuits in stores all over Tokyo, as they aren't sold in any other part of Japan. Give me these over Tokyo bananas, ANYTIME!
13. Onigiri (Japanese rice ball)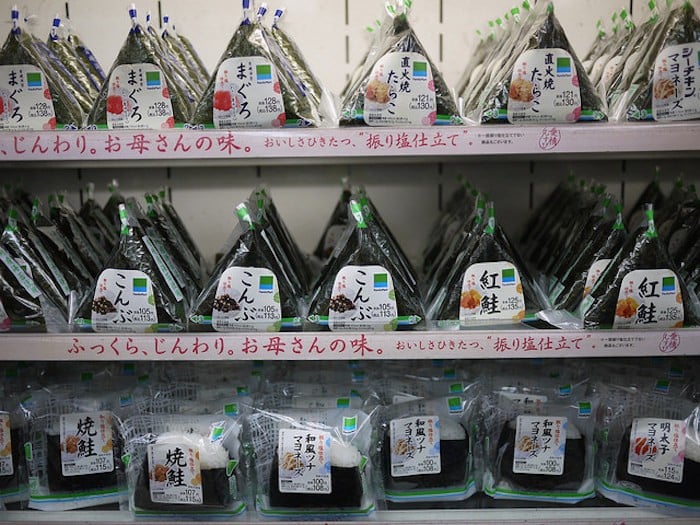 Image credit: Tobin
When in Japan, you just gotta get yourself one of these darling little things for breakfast. Imagine snacking on one of these as you make your way down the streets or sit snug in a shinkansen (bullet train) ­– it honestly doesn't get more Japanese than this. Choose from prawn, beans, or even roasted meat filling ­– whichever you pick, it's lip-smacking good. Onigiri can be found in any convenience store around Japan, and will most certainly become your best friend in the mornings.
14. Pufferfish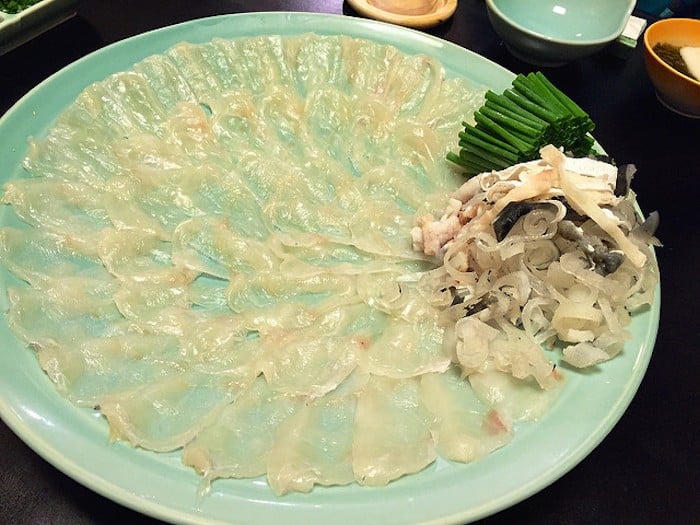 Image credit: Tetsuji Sakakibara
Warning: Eat this only if you dare! Pufferfish (or fugu, as it's more colloquially called) is a delicacy in Japan, but can prove to be fatal if not prepared properly. Indeed, fugu is an extremely risky indulgence. But hey, how often can you say you tried pufferfish sashimi and survived? Enjoy that tingling on the lips that pufferfish is so famous for, and pray hard with every bite. Enjoy a good game of Russian roulette, Japan style!
15. Taiyaki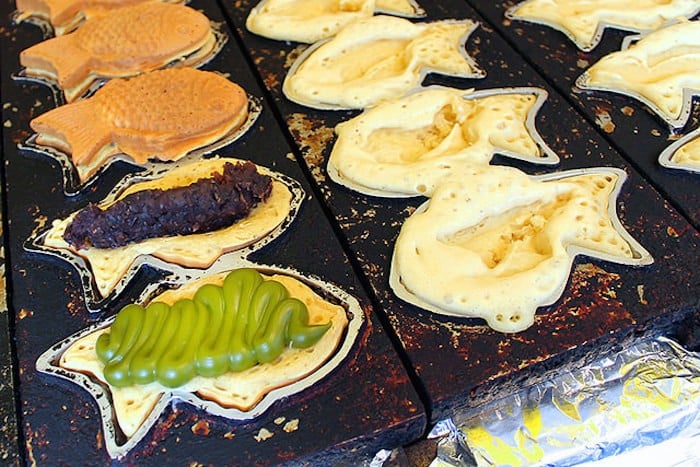 Ah, Taiyaki is loved by both adults and kids alike. These cute fish-shaped cakes can come with chocolate, cheese, chocolate, red bean or matcha fillings, and offer many a satisfying bite. The aroma is to kill for as well, just ask anyone roaming the streets of Japan! Did we mention they're both yummy and adorable? Best of both worlds, really!
16. Harajuku crepes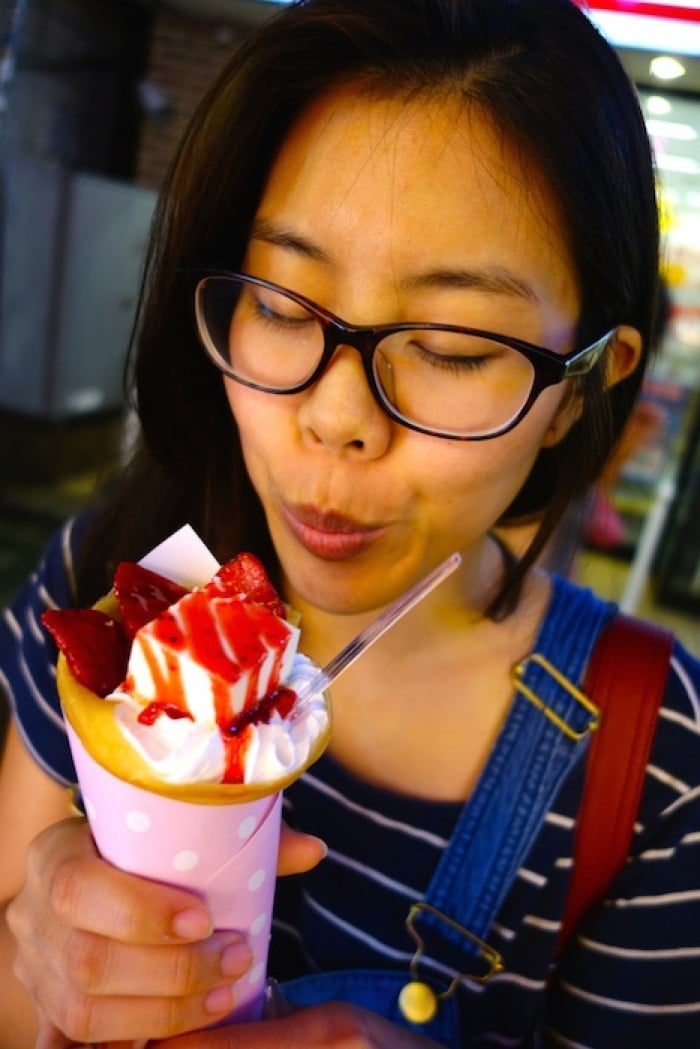 Harajuku is known as Tokyo's kawaii central, and is home to various shops peddling adorable clothes and accessories. It's not uncommon to see cosplayers strutting their stuff in this area as well, flaunting colourful hair and extravagant costumes. Make sure you get yourself a crepe whilst strolling down Takeshita Street ­– no Harajuku experience is complete without a delectable crepe in hand! Check out Marion Crepes for your crepe fix, we promise you won't regret it!
17. Giant candy floss @ Harajuku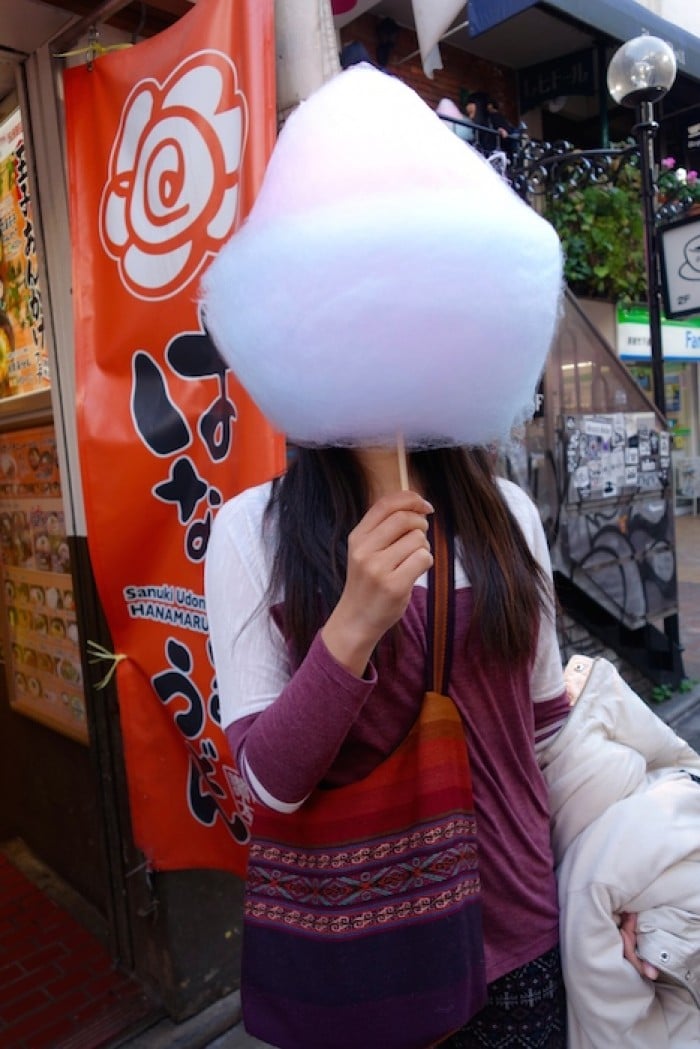 After getting your crepe fix, why not up your sugar level with a giant candy floss as well? The candy floss is huge and serves for a great Instagram prop! Pamper yourself, you deserve it. You can walk off all that calories later!
Also read: 20 Delicious Japanese Ice Creams and Popsicles You Must Try
18. Calbee shop @ Harajuku
As if all that sugar ain't enough, you can also get chippy at Harajuku's Calbee shop! Choose various toppings for your potato chips, and just soak in all that oil. Grease tastes oh-so-good, especially while you're on holiday!
19. Udon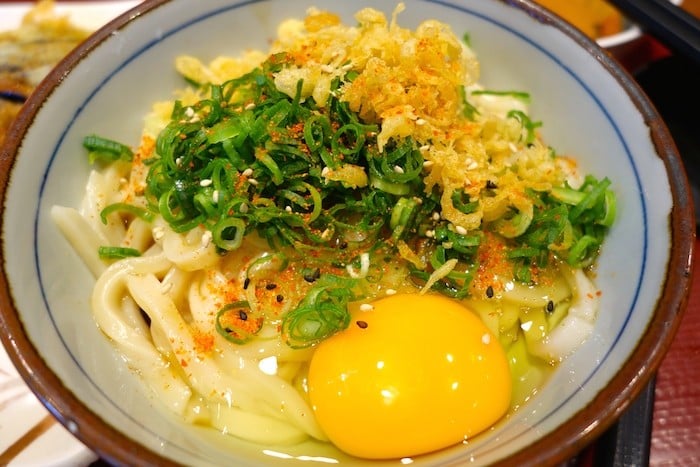 Of course, how can we forget Udon? Complete with a raw egg, mmmm a steaming bowl of udon could right any day gone wrong. Pair a bowl of udon with some freshly-fried tempura for an utterly satisfying meal. Udon shops are found along almost every street in Japan, so take your pick!
20. Kobe beef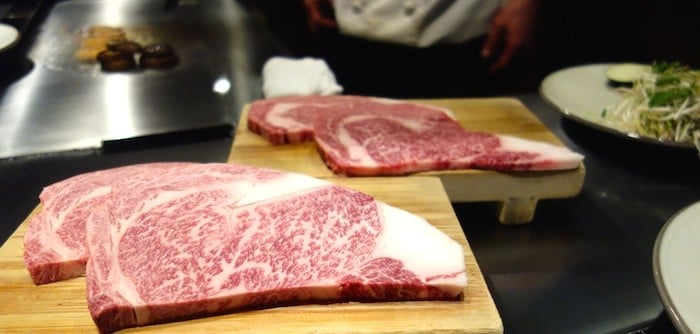 If you're a fan of clichés, you're definitely gonna love saying – "I had Kobe beef in Kobe!" Kobe is an easy day trip from Osaka, and even deserves a couple of days on its own. The highlight of the city would definitely be its authentic Kobe Beef. Splurge on an extravagant Teppanyaki meal, or join the crowds in queuing for the more affordable Steakland. It's so good, it literally melts in your mouth! Don't believe me? Try it for yourself!
21. Takoyaki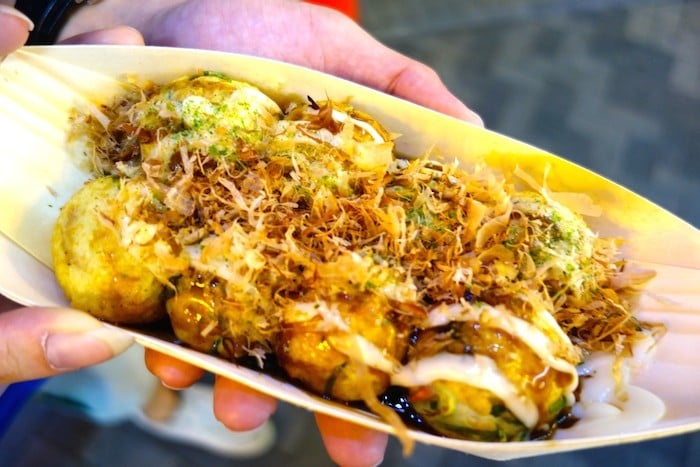 Takoyaki is the quintessential Japanese snack. Choose from a center of octopus, prawn or ham and cheese, and enjoy that explosive bite of flavour. It's often said that Osaka's takoyaki is the best in all Japan, and often draw snaking queues and hungry crowds.  
22. Kichi Kichi Omurice
This omurice gem is found hidden along Kyoto's Pontocho Alley, and is worth every penny. Customers flock to Kichi Kichi not so much for the dish itself but for the show put on by the chef ­– the chef swishes, flicks, and basically creates the best omurice you will ever see (and perhaps even taste, too!) The small establishment only seats 8 people at any one time, so do make reservations to secure your spot. The moment when he slices the egg open – ah, it's gastronomic porn, to say the least.
23. Convenience store/department store meals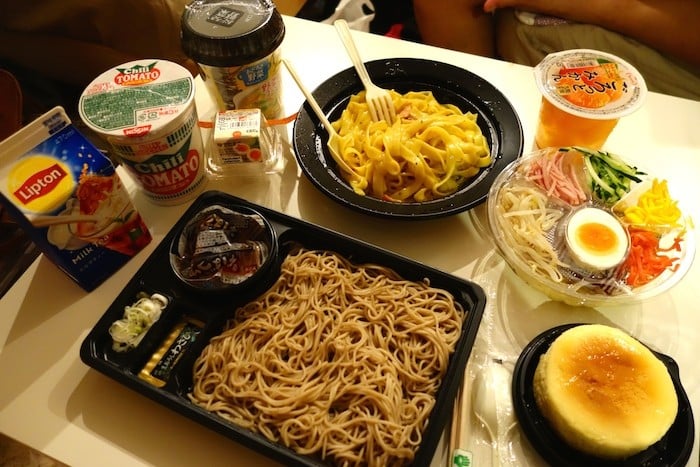 As always, I leave the best for last. Japan's convenience and department stores sell some of the best and cheapest Japanese food for your blissful indulgence. Plus point: Department stores slash their prices from 7pm till closing time at 8pm. So gather a few friends, and have a Japanese food party at your hostel. You'll be amazed at how awesome the food tastes, and how little a dent the meal leaves in your wallet!
Also read: 8 Must-Try Japanese Street Food in Kyoto
So now you know that Japan isn't only about sushi, but in fact offers so many DELICIOUS food options for those averse to raw fish. Do visit Japan with an empty stomach – you've been warned!