Seoul can be an expensive city for travellers. Who can possibly resist the shopping mecca that is Myeongdong, where all the cutesy, neon-coloured shops seem to be calling your name? But with a little foresight and extra planning, you can still paint the city red without blowing through your moolah. 
We know your hard-earned money is better spent on experiences and memories in Seoul. That's why as early as now, we've prepared these life-saving budget hacks to help you in the planning stages of your Seoul trip. Read on below, we've got you covered! 
Also read: All the Dos and Don'ts in South Korea That Locals Wish You Knew!
1. Schedule your trip when it isn't peak season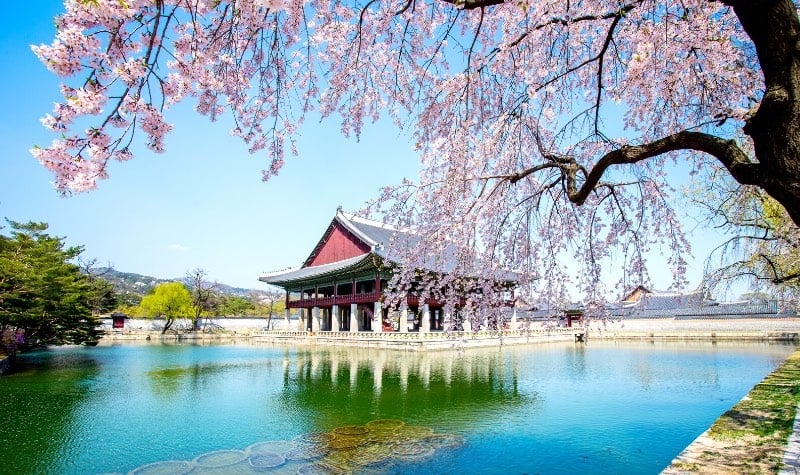 Many tourists usually flock to Seoul from April to May for the cherry blossoms in spring, or September to October for the autumn foliage. But for low-cost flights to South Korea, try to schedule your flight at least three months in advance and watch out for seasonal flight deals or other promotions. 
Moreover, it's best to avoid flying to Seoul during national holidays. This includes Seollal (Lunar New Year's Day) in January, as well as Chuseok (Korean Thanksgiving Day), a major three-day festival that takes place in September or October. Celebrations in the city during these periods can get overwhelmingly busy! 
2. Book cheap accommodations
When it comes to accommodations in Seoul, your best bet is to stay in a hostel, a guesthouse, or an Airbnb rental. Compared to hotels, these properties tend to offer lower prices for guests, all while being located in prime spots throughout the city. 
Consider these top-rated guesthouses that have earned good reviews from travellers for their warm hospitality, cosy ambience, and exceptional cleanliness. Or you can also pick one of these budget-friendly hostels that cost as little as ₩18,000 (~S$21) per night! One of the advantages of booking a hostel is that they frequently provide guests with free perks like WiFi, luggage storage, city maps, and guidebooks. 
Now, if you prefer to stay in a home with a more personal touch, check out our round-up of curated picks for budget-friendly Airbnbs in Seoul below: 
Also read: 7 Affordable Airbnb Homes in Seoul for Budget Travellers [UPDATED 2020]
3. Exchange your currency at the right place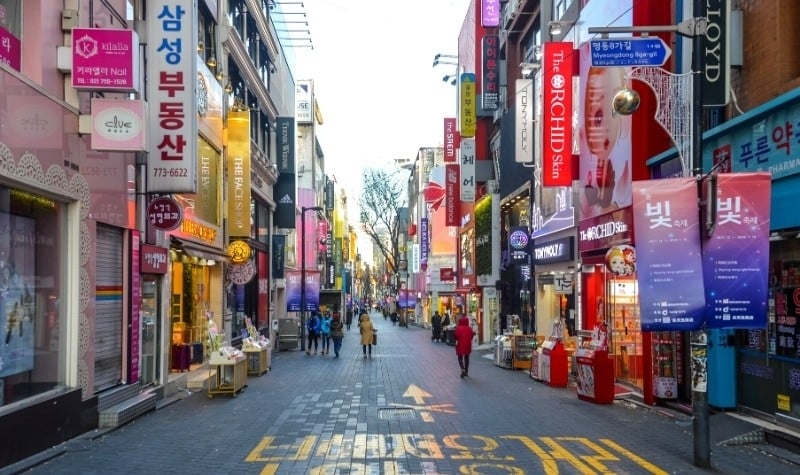 Don't exchange all your money at Incheon International Airport! To make the most of your budget in your Seoul trip, you can actually get better exchange rates from banks or authorised currency exchange centres around the city. Keep an eye out for Shinhan Bank, KEB Hana Bank, Kookmin Bank, or Woori Bank, where the bank clerks will be ready to help you change your money into Korean won (KRW). 
Alternatively, you can also exchange your currency from the independent money changers all over Myeongdong, Itaewon, and Dongdaemun. For a list of standard rates, you can double-check with the Korea Tourism Organization's reference here. 
Korean won banknotes come in denominations of ₩50,000, ₩10,000, ₩5,000, and ₩1,000. Meanwhile, the coins are available in ₩500, ₩100, ₩50, and ₩10. 
4. Buy a T-Money card for your subway and bus trips
Now, it's safe to assume that you'll be riding the train and the bus most of the time in Seoul. For this reason, you can save more in the long run if you buy a transportation card called T-Money. Just the Suica card in Tokyo, the T-Money card comes in many adorable and pop culture-themed designs. 
With this card, you can save yourself the hassle of buying a single ticket anytime you want to go somewhere. Use your T-Money card by tapping it on the sensor every time you take the bus and enter or exit train stations. 
You can buy the T-Money card from convenience stores and vending machines in train stations. Don't forget to download the Subway Korea app along with other handy South Korea apps, and you're good to start exploring! 
5. Explore less expensive areas like Hongdae
For your budget-friendly adventures in Seoul, try to explore beyond the expensive districts like Myeongdong and Gangnam. These buzz-worthy tourist districts are jam-packed with big-name brands and higher rents, so it can be challenging to save money. 
By contrast, you can score greater bargains if you shop near universities like Hongik University and Ewha University. You can find many student-friendly cafés and funky boutiques in Hongdae, a lively and vibrant neighbourhood where Seoul's young people like to gather. 
For your convenience, we've also tracked down the best flea markets and low-key shopping areas you need to know about on your next trip to Seoul. 
6. Join a free walking tour with Korean students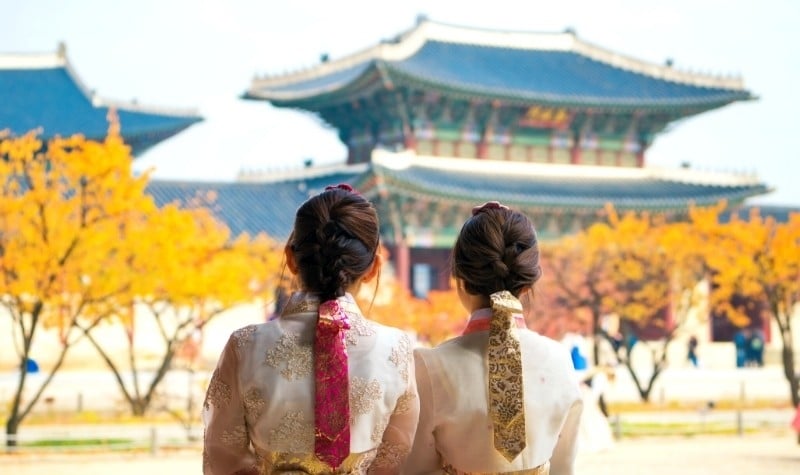 Another way to make your Seoul trip happen on a tight budget? You can sign up for a guided walking tour of Seoul, led by Korean students! These walking tours offer customised itineraries based on your preferred activities and places to visit. As such, they provide a fun and closer look at day-to-day Korean life in Seoul. You get to explore the city of Seoul from a local's perspective, completely free of charge! 
Check out the most popular student-led walking tours at SeoulMate and Meteor Youth. Just be sure to make an online reservation at least three days ahead of your tour date! 
7. Eat at Korean restaurants if you're travelling with a group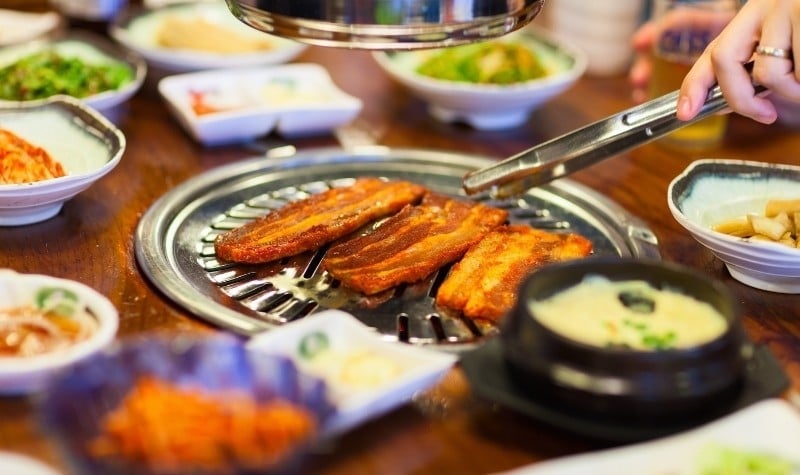 If you're travelling with buddies and you're deciding where to eat, choose to dine at Korean restaurants in Seoul. The advantage of eating at Korean restaurants is that they're practically made for big groups. Plus, it's a pretty fun bonding activity to cook your dinner with your friends! Not only can you indulge in mouth-watering grilled meats, but you can also rest assured that the banchan (side dishes) on the table will keep everyone in your group well-fed. 
Even better, the price points aren't steep at all. For less than ₩12,900 (~S$15), you can already enjoy a full course at these affordable barbecue buffets in Seoul. Now that's a steal if we ever saw one! 
8. Korean street food is your friend
As you can tell, we love our Korean barbecue! That much is incontestable. Still, we also don't want to bite off more than we can chew, figuratively and financially speaking. Chowing down on samgyeopsal every night is fun, but it can also drain the budget for your Seoul trip if you aren't careful. If you have extra money to spare though, then by all means, enjoy your Korean BBQ to the fullest! 
Another trick to lighten the impact on your wallet is to eat your way through the streets of Seoul. From odeng (fish cakes) to tteokbokki (spicy rice cakes), you can feast on delicious Korean street food that can cost anywhere from ₩1,000 (~S$1.17) to ₩5,000 (~S$5.84)! This way, you can skip dinner at a restaurant and still feel very full at the end of the night. 
Also read: 10 Cheap Eats in Seoul for 5,000 Won or Less!
9. Get your snack haul from Korean convenience stores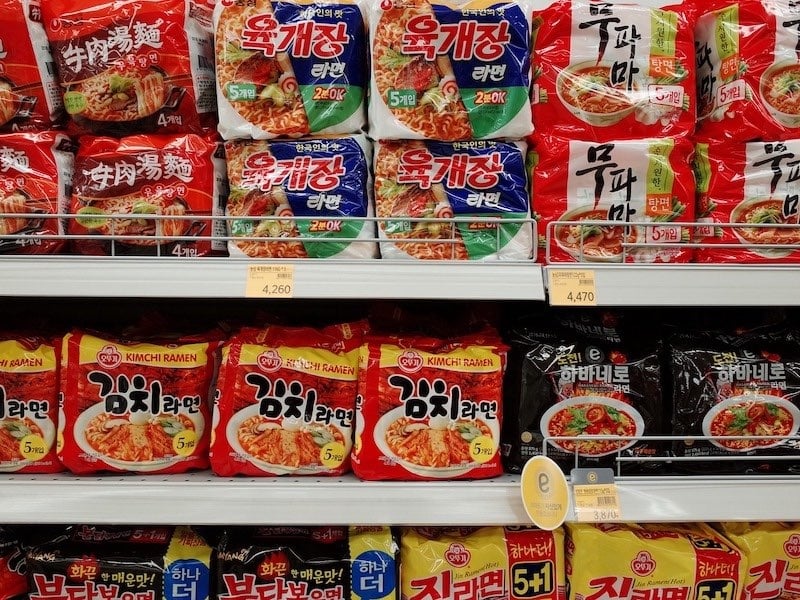 Anyone who loves K-dramas is going to go bananas at the recognisable snacks and flavoured drinks you can find at convenience stores like 7-Eleven. Choose your treat from the shelves that are regularly stocked with rice meals, spicy instant noodles, banana milk, steamed bun cakes, cold brews (sometimes with a K-pop idol's face on the bottle label), honey butter almond chips, and of course, soju. 
10. Buy affordable souvenirs from traditional Korean markets
For unique keepsakes that you and your friends back home will love, hit up the traditional markets of Seoul. While they're known for a dizzying array of food stalls, the vendors at Gwangjang Market and Namdaemun Market also sell bags, artisan handicrafts, textiles, silk goods, ceramics, local artworks, jewellery, and all kinds of souvenirs you can only find in Seoul! 
Also read: 25 Cute & Cheap Souvenir Items to Buy from Korea [Updated 2019]
11. Score great bargains at the underground shopping malls
Did you know that you can also discover rare finds below the city? Many of Seoul's best shopping arcades are underground in stations, such as the Yeongdeungpo Underground Mall in Seoul Subway Line 1 (Yeongdeungpo Station) and the Myeongdong Underground Shopping Center in Myeongdong Station Line 4. You can shop for trendy clothes, accessories, cosmetics, food, K-pop merch, and various products at cheaper prices, especially compared to high-end department stores in Seoul. 
Speaking of shopping, we know that figuring out your size and fitting clothes in another country can get confusing sometimes. Download this Korean clothing size chart as a shopping reference, so your money doesn't go to waste! 
12. Enjoy all the free activities that Seoul has to offer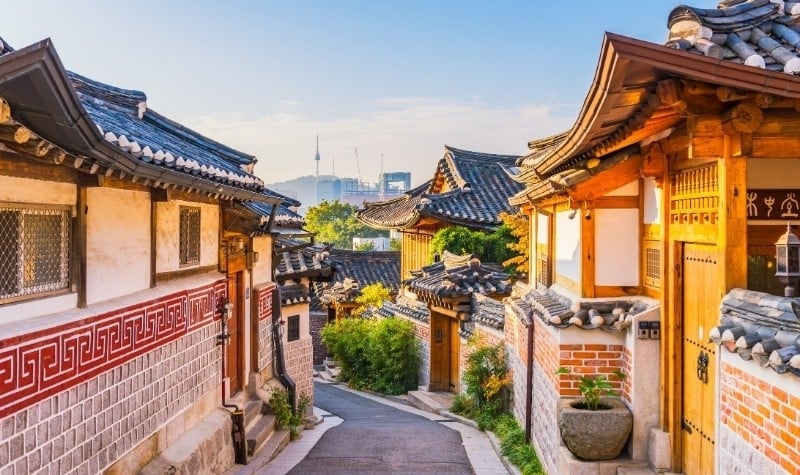 Whether it's wandering around Cheonggyecheon Stream or snapping photographs at Ihwa Mural Village, there's no shortage of free activities you can do in Seoul! You can visit the Bukchon Hanok Village, admire the Dongdaemun Design Plaza, stroll around Hangang Park near the Han River, take an evening walk along the Seoul City Wall, or set out on a hiking trip to Bukhansan, one of the best mountain climbs near Seoul. 
Many museums and galleries in Seoul also grant free admission to visitors. Without any cost, you can spend an entire day learning about Korean art, culture, and history at museums like the National Museum of Korea, the War Memorial of Korea, and the Seoul Museum of History. 
These are just a few examples to get you started! To make your travel budget really go the distance, check out this round-up of freebies and discounts you can enjoy in Seoul as well. 
Also read: 30 Fun Things to Do in Seoul on Your Very First Visit [Updated 2020]
We hope these tips can help you plan your budget for your next Seoul trip. If you have any useful money-saving hacks to share, let us know in the comments! 
---
Featured image credit: Cait Ellis | Instagram