We don't know about you, but if there's one thing that we miss most about travel, it's the new, exciting, and oftentimes thrilling experiences that we get from theme parks. Who doesn't miss screaming their lungs out during a rollercoaster ride? Or taking in panoramic views from a Ferris wheel? Or simply walking around, with a yummy snack in hand?
It's also no secret that many of us miss travelling to South Korea: a country that has always been known for its fascinating pop culture, impressive historical sites, mouth-watering cuisine, and so much more! So, for your future (and probably post-pandemic) trips, why not explore the best South Korea theme parks, too? From jaw-dropping roller coasters to uniquely adorable concepts, here are your best bets for a fun-filled time in the Land of Morning Calm! 
1. Everland
Many consider Everland as the 'Disneyland' of the Land of Morning Calm. It's quite the popular day trip pick, given that it's only a three-hour drive from Seoul. Oh, and of course, it also happens to be the largest South Korea theme park and remains unrivalled up to this day! You'll find it in the outskirts of Yeongin City in Gyeonggi Province. 
Everland has five zones, each boasting its own fascinating attractions: Global Fair, Zoo-Topia, European Adventure, Magic Land, and American Adventure. From seasonal parades and VR rides, to a mini-safari and one of the world's steepest and fastest wooden roller coasters; you'll definitely want to allot an entire day here! 
And while it's open all year-round, we recommend visiting during springtime when its Four Seasons Garden is in full bloom. 
Also read: Check Out These Flower Fields in South Korea Straight out of A Storybook
2. Lotte World
Looking for the best Seoul amusement park? Ask any local or frequent traveller, and they would most likely recommend Lotte World. This massive complex in the Songpa District is divided into two areas: Magic Island and Lotte World Adventure. The former is an outdoor park-slash-artificial island on Seokchon Lake, while the latter is the world's largest indoor amusement park! 
Aside from thrilling rides and dreamy fairytale attractions, don't miss out on the architectural crown jewel that is Lotte World Tower! Here, you'll find a luxury hotel, a music hall, and a shopping centre featuring an aquarium and a skating rink. 
3. Seoul Land
First things first: despite what its name suggests Seoul Land isn't exactly in the capital. Rather, it's housed inside Seoul Grand Park complex in nearby Gwacheon City. And compared to the previous two, this one is arguably the most ideal for families travelling with tiny tots! Aside from amusement park attractions like bumper cars and 40 different roller coasters, there's also a zoo and a botanical garden within the complex. 
Fun fact: Seoul Land happens to be the pioneer of amusement parks in South Korea! It has five areas: World Plaza, Adventure Land, Fantasy Land, Tomorrow Land, and Samchulli Hill. Most of the rides are even themed with popular cartoon characters that kids would surely enjoy. 
4. Gyeongju World Amusement Park
Meanwhile, in the southeast Gyeongsangbuk Province, there lies Gyeongju World Amusement Park. It's most popular for its X-Zone, which features death-defying rides — and best believe we're not exaggerating when we say that. From an inverted roller coaster to a 70-metre drop tower, to a steel roller coaster ride with a 90-degree dive; these are sure to entice any thrill-seeking traveller! 
Not sure if you can handle these? Fret not as this South Korea theme park also has 'tamer' attractions like a carousel, Ferris wheel, and giant spinning teacups! And during winter, Gyeongju World offers a large-scale ice sledging site for both adults and children alike. 
5. E-World Daegu
Beyond Seoul and Busan, the city of Daegu is an underrated destination that's known for its traditional medicine, textile, and fashion industries. It's also the third-largest city, as well as a popular filming location for many K-dramas! Should you have the opportunity to visit, make sure to check out E-World. 
This amusement park is built around the 83-storey Woobang Tower — A.K.A. the main star of the Daegu skyline! In fact, it used to be called Wooband Tower Land up until the mid-'90s. Anyway, the best time to come here would be after 5pm; not only is the entrance fee cheaper, but this is also when E-World is lit up with colourful, dazzling lights in every corner! We're telling ya — it's like a scene straight out of a rom-com.
6. Aiins World
Fancy a trip around the world in a single day? Well then, head over to Aiins World in Bucheon City. This unique South Korea theme park features over 100 models of iconic buildings and other structures from 25 countries. Some of our favourite replicas include the Tower Bridge, Arc de Triomphe, Great Wall of China, Times Square, and the Petronas Towers — to name a few! And even though these are just small-scale versions, the attention to detail is quite impressive. 
Also read: Europe in Southeast Asia: 7 Charming Towns for a Europe-Inspired Getaway 
7. Maze Land
If you grew up with a fascination with mazes like those from fairytales and/or fantasy movies, then make sure to visit Maze Land (or Miro Park in Korean) on your next trip to Jeju Island! Here, you'll find the largest stone maze in the world, which spans over five kilometres long. There are also two other mazes, as well as a museum if you'd like to know more about the centuries-old history of mazes around the world. 
8. Eco Land Theme Park
Also on Jeju Island is Eco Land Theme Park, where you can further immerse yourself in lovely, nature-filled sceneries. This park is built within the primaeval forest of Gotjawal,  most of which you can explore aboard an English steam locomotive — just like those in the 1800s! During the ride, you'll get to see flower fields, gardens, and all sorts of woodland creatures. Afterwards, we recommend enjoying a picnic by the lake or walking around and having your photo taken with the European-inspired attractions!
Also read: 10 Affordable Airbnbs For Your Next Trip to Jeju Island
9. Wolmi Theme Park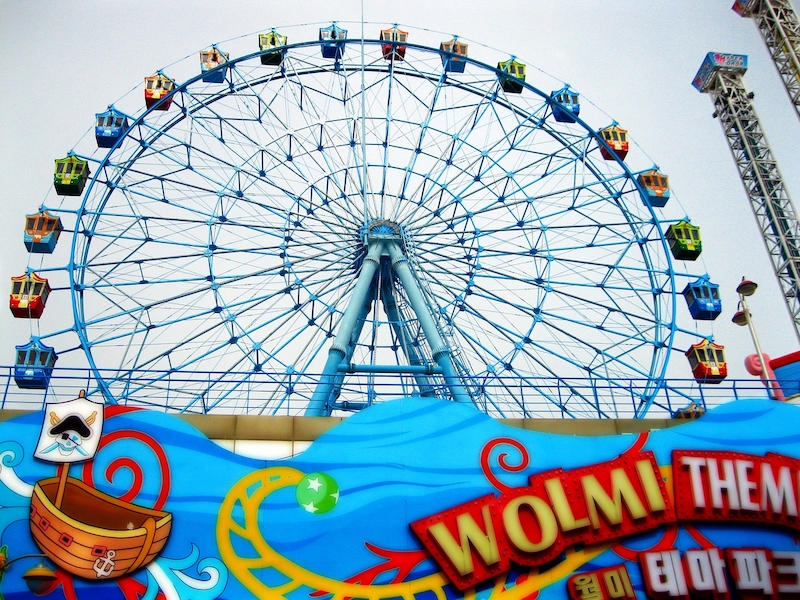 Wolmi Theme Park is reminiscent of those vibrant seaside carnivals where many an American summer movie takes place. You'll find this on Wolmido Island, which is only a 50-minute train ride from Incheon International Airport. So, if you'll only be in South Korea for a short layover, then this is something you might want to consider.
Granted, it's not as big as other parks on this list; nonetheless, the vibrantly hued attractions never disappoint. And hey — you might even have some time left to explore the rest of the island afterwards! 
10. Imsil Cheese Theme Park
As its name suggests, Imsil Cheese Theme Park is the 'cheesiest' among all the amusement parks in South Korea. Kidding aside, its quirky concept is a nod to the legacy of Imsil County as the first-ever cheese producer in the country. (And if there's anything that South Korean cuisine has shown us, it's that the locals sure love their cheese!)
Apart from the cheese-themed rides and cheese-shaped buildings, this 32-acre park also features several 'cheese experience' centres. There, you can learn all about cheese-making, including its history and various methods! And, of course, there are restaurants where you can indulge in some ooey-gooey cheesy goodness, as well as a shop where you can hoard Imsil cheese and other fun souvenirs.
Also read: And It Was All Cheese: 11 Easy Cheesy Recipes to Try at Home!
11. Shinhwa Theme Park
In a nutshell, Shinhwa Theme Park is like Jeju Island's own version of a Universal Studios. Upon stepping through its gates, you'll be welcomed by a colourfully whimsical world where animated characters (all from the popular Korean animation studio, TUBAn) come to life. It's divided into three zones: Rotary Park, Oscar's New World, and  Larva Adventure Village, each boasting spectacular rides and VR games that'll broaden your imagination. Aside from children, we'd also recommend this if you're a huge fan of animation and world-building!
12. Gimhae Lotte Water Park
Gimhae Lotte Water Park is one of the best South Korea theme parks to visit during summertime! It is, after all, the largest water park in the entire country. You'll find this in Gimhae City in South Gyeongsang Province, about a half-hour drive from the more popular Busan. It features a Polynesian theme and over 40 attractions; such as massive swimming pools, indoor and outdoor wave pools, an 18-metre-high tornado water slide, and more!
Beyond water activities, Gimhae Lotte Water Park also has a zip line for those craving an added adrenaline rush. During colder months, the indoor swimming facilities remain open, while the outdoor ones are often converted for winter sports such as snow sledging. 
Also read: 15 South Korea Apps to Download for Your Travels to The Land of The Morning Calm
So, have you decided which South Korea theme park you're visiting next? Doesn't matter whether you're travelling with family, friends, or by yourself — with all the exciting attractions in each one, you'll surely have a spectacular time. And yes, suffice to say, it's definitely going to be worth the wait!