Step aside, Myeongdong and Hongdae — there's a new wave of trendy spots in the bustling South Korean capital, and they're just as captivating, if not more! Do the dongs (neighbourhoods) Hannam, Ikseon or Hyehwa ring a bell? If your answer is no, then you're in for a real treat. It's time we let you in on all the insider deets about these hip places in Seoul. As the popular Korean expression goes, kaja!
1. Hannam-dong
Already a well-known hangout spot among locals, Hannam-dong is packed with stylish cafes and galleries that are beyond Instagrammable! Still, this neighbourhood in the Yongsan district exudes a more sombre impression than the nearby Itaewon.
First time in Hannam-dong? Be sure to check out the intricately designed Leeum Samsung Museum of Art for elaborate Korean and international art collections. It even highlights a spiral staircase featuring famed Korean artist Choi Jeong-Hwa's Alchemy chandelier series!
For music lovers, head to the Hyundai Card Music Library, home to over 10,000 records and books. Fun fact: It has all magazine issues of Rolling Stone since 1967!
On top of the art, Hannam-dong gets its much of its charm from its series of cafes and restaurants. The pink-themed One in a Million and gallery-cafe Studio Concrete are great spots for tasting speciality beverage while taking chic Instagram shots. You can also order a famous avocado burger at Downtowner and any roasted dish of choice at Anthracite.
If you're into buying artwork at reasonable prices, head to collagE. It has a vast collection of limited edition posters by budding Seoul artists, as well as magazines and books. Meanwhile, the stores Beaker Shop, D&DEPARTMENT SEOUL, Mo Jain Song and H-pix are fantastic places to shop for clothes, accessories and other lifestyle goods.
How to get there: Ride the subway from Seoul Station to Hannam Station via the Gyeongui-Jungang Line. Travel time will take no more than 10 minutes per way. Alternatively, you can ride a taxi for approximately 15 minutes.
2. Sinchon-dong
Not to be confused with Sinchon, the entire region, Sinchon-dong makes up a smaller area popular for night activities and for being home to South Korea's top universities.
Yonsei University is an idyllic complex to start your university-hopping tour of the district. Besides being among the oldest, it's one of South Korea's three SKY or most prestigious institutions. Just a few minutes walk away, Sinchon Graffiti Tunnel stands as a testament to the thriving street art culture of Seoul. Not to mention, it's already been featured in a number of Korean dramas including Goblin! If you don't have a particular destination in mind, simply wander around Sinchon Walking Street.
With students being the main dwellers of this neighbourhood, expect plenty of budget-friendly eats in Sinchon-dong. Head to Chuncheonjip Dakgalbi Makguksu for a taste of their best-seller, dak-kalbi, before savouring the "best beef in Sinchon" found in Sodo-Jeok! For refreshing bingsu (shaved ice), visit either Homilbat and Pop Container.
Hyundai Department Store, one of South Korea's big three department store chains, is easily within reach. From luxury goods in the main building to the budget-friendly items at U-Plex, you'll never run out of options for Korean souvenirs!
How to get there: On the Circle Line of the subway, take the train directly to Sinchon Station in between Ewha Womans University Station and Hongik University Station. You can also reach the same station by hopping on the Gyeongui Line.
3. Mangwon-dong
No farther than a subway stop from Hongdae, Mangwon-dong is the epitome of a mostly undiscovered neighbourhood in South Korea. Quite literally, its gems are tucked away in small, charming alleys, making your exploration of the area all the more exciting!
Start with a visit to alter.ego, an exhibition hall dedicated to the works of Seoul's independent artists. The entire place itself was decorated by a prominent art collector by the name of Ok Bo-kyung.
On World Cup Road, you'll spot the famous pink vending machine-style cafe called Zapangi. It's the go-to place for coffee, tea and doughnut lovers alike.
Another must-visit is 817 Workshop, mostly because of its rooftop lounge where you can look over the entire neighbourhood while enjoying a cup of the cafe's signature beverages. You'll be thrilled to know that there's also a place right in this neighbourhood known for serving the best ice cream in South Korea. Le Glacier Des Etoiles changes their menu from time to time so be sure to drop by as much as you can during your trip!
If it's purely food souvenirs you're after, head straight to Mangwon Market. You can find all your Korean culinary must-haves here! Otherwise, Linnea's Garden will just about satisfy all your other needs. It's one of those Korean "general stores" that sells anything and everything.
Wrap up your tour at Mangwon Hangang Park. It's located right by the Han River, making it the ideal place to enjoy some well-deserved R&R.
How to get there: Take Seoul Subway Line 6 from Seoul Station to Mangwon Station. Mangwon Market is only about a five-minute walk from Exit 2 of the station.
4. Ikseon-dong
Although one of the older neighbourhoods in Seoul, Ikseon-dong does a great job of luring younger travellers. A quick trip to the place will instantly show you exactly how and why.
A place where tradition meets modern day living, Ikseon-dong boasts of nostalgic hanoks (traditional Korean house) converted into cafes, restaurants and galleries — mostly concentrated in Ikseon-dong Hanok Alley.
Going around, you'll even meet people sporting hanboks (traditional Korean clothing) of different colours and unique styles. You can rent yours from Kukminhanbok Chabim! Then, walk to the nearby Unhyeongung Royal Residence, former home of the eventual Emperor Gwangmu. There's also a museum which you may enter for free.
Much like Ikseon-dong Hanok Alley, the pink-themed Gyeongyangsik 1920 has long been integral to Ikseon-dong's tourism (as well as culinary) scene. It serves a mouth-watering dish called Fried Pork Chop with Spicy Tomato Sauce — a favourite among customers. You can also try the rare flat-grilled dumplings at Changhwa Dang, the soufflé pancakes at Dongbaek Bakery, and basically all street food you can find on Pojangmacha Street!
Continuing with the theme of tradition and all things vintage, stop by Vintage Bonnie. Here, you can find all sorts of antiques, clothes, accessories and housewares to buy! Fancy perfumes? Don't think twice about visiting Proust, a scent shop which doubles as a tea cafe. It's one of the few places in the area where you can create your own scent to take home!
How to get there: To get to Ikseon-dong, take either Subway Line 1, 3 or 5 to Jongno 3(sam)-ga Station from Seoul Station. Spots like Ikseon-dong Hanok Alley and Vintage Bonnie are accessible from Exit 4 via Donghwamun-ro 11-gil Street.
5. Sinsa-dong
From traditional and unconventional to full-on mainstream — we've now arrived at Sinsa-dong in the Gangnam district.
Garosu-gil gets its name from the ginkgo trees that line up all along the road that stretches up to nearly one kilometre. Here is where locals and tourists garbed in upscale fashion garments walk in such style — it'll almost feel like you're watching a real fashion show! What's more, the entire street lights up during the autumn season when leaves turn yellow. It's truly a sight to behold!
The restaurants in Sinsa-dong are just as fascinating as its boutiques. Whether you're seated indoors or outdoors, you'll experience great ambience and food at Acacia Cafe & Bistro. Be sure to try their Acacia Burger for a filling brunch! For something more dainty, order the Cotton Candy Ice Latte and Flower Paap at Banana Tree Cafe. If you're still around later in the night, check out Garosu Brewing Company for some beer and pizza!
With Sinsa-dong mainly being a fashion district, shopping in the area is as easy as ABC. Just walk the entire length of Garosu-gil Road and you'll find local and international boutique shops left and right. In particular, go to Jung Saem Mool for your cosmetic needs and South Korea's first Maison Kitsuné flagship store for fashionable wear. Oh, and if you're a fan of their video game, NC Soft's SpoonZ just opened a memorabilia store in the neighbourhood, too!
How to get there: Ride Subway Line 3 to Sinsa Station from Seoul Station. Garosu-gil will be just a few minutes' walk from Exit 8 of the station.
6. Hyehwa-dong
In Hyehwa-dong, Seoul's theatre district, streets are closed off to all vehicles every evening to give way to those wanting to enjoy the vibrant nightlife of the area.
Ihwa Mural Village is the place to appreciate head-turning street art. As it is a residential area, remember to be as respectful of the locals as possible! Move along to Naksan Park for a short scenic hike and a stunning view of Seoul. With dozens of open theatres around, begin your theatre adventure at PMC Daehangno Jayu Theater, perhaps the most popular of them all.
The fun in Hyehwa-dong doesn't stop at its art scene, as amazing cafes and restaurants like Hwehwa Kalguksu abound in the neighbourhood. This particular destination has, in fact, been around for over 30 years and remains to be the best place to get kalguksu (handmade knife-cut noodle soup) in Seoul. For comfort food and drinks, look up Mix & Malt and Jazz Story!
For shopping, nothing beats the excitement offered at the Filipino Market (also known as Daehangno Philippine Market). Other than food, this Sunday street market sells uniquely Filipino-made artworks, home necessities and even magazines that appeal to both Filipino expats and tourists! Another place not to be missed is 10×10, a multi-store that sells lifestyle products and —  wait for it — legit travel souvenirs such as postcards, toiletry pouches and luggage tags!
How to get there: Subway Line 4 stops at Jongno-gu via the Hyehwa Station. Just take any of its trains from Seoul Station.
7. Seodaemun-gu
Unlike the rest, Seodaemun-gu represents an entire gu (district) of Seoul which encompasses Hongdae, Ewha Womans University and even the earlier mentioned Sinchon-dong. The activities and places to do are almost endless.
For starters, make sure to visit the Seodaemun Museum of Natural History, the first public natural history museum of South Korea, and the Seodaemun Independence Park, home to the Seodaemun Prison History Hall, a museum built for Korean patriots. After learning a bit of Korean history, take a quick hike to Mt. Ansan, regarded as the most underrated mountain in Seoul and one of the best places to spot cherry blossoms in springtime!
Visit Bahn Seoul for sumptuous contemporary Seoul and Italian cuisine. Although on the pricier end, Waffle It Up is worth a try. It serves up unique waffles, gelato and other desserts which make for a great mid-afternoon grub! Tired of regular cafes? Visit Mr. Healing, a two-in-one place for getting massages and coffee. Don't forget to reserve your massage chairs in advance as crowds of students from nearby universities come to the place often during break time.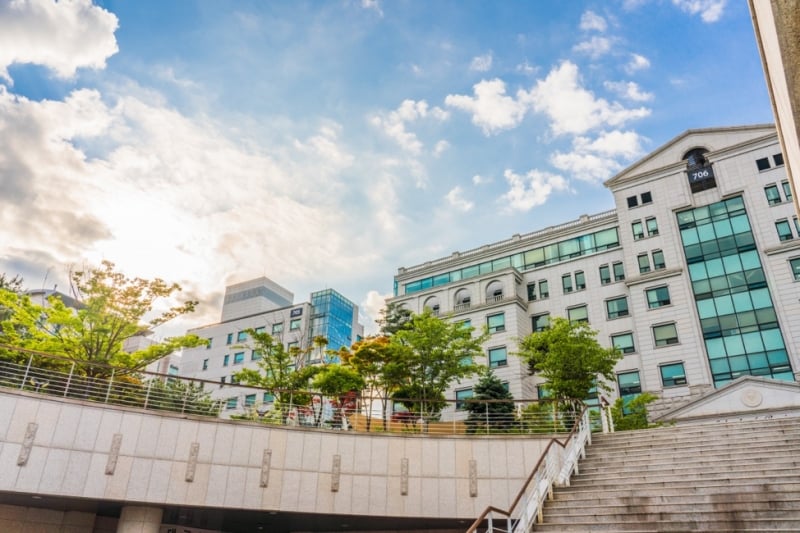 While touring the universities, stop by Hanyang Plaza inside Hanyang University. It has an adorable stationery store, a flower shop as well as a souvenir store where you can shop to your heart's content, while immersing yourself in South Korea's unique student culture! And of course, do stop by the street food stalls scattered throughout Seodaemun-gu for authentic local delicacies.
How to get there: To get to Seodaemun-gu, hop on the Seoul Subway Line 5 from Seoul Station to Seodaemun Station. If you're heading straight to the Seodaemun Independence Park, you can take Line 3 and stop at Dongnimmun Station.
Venture out to these hip neighbourhoods in Seoul!
The next time you're in Seoul, don't just limit yourself to familiar spots like Myeongdong and Hongdae! From colourful villages and themed cafes to overlooked nature and cultural attractions, these up-and-coming hip places in Seoul are guaranteed to win you over.
For more information on the lesser-known areas in Korea, visit Korea Tourism Organization's official website and Facebook page.
---
Brought to you by Korea Tourism Organization (Singapore).