Anyone who's ever been to Seoul will surely be able to recount the city's youthful ambience and rich culture. Needless to say, the vibrant capital city of South Korea offers plenty of experiences to avid travellers. In fact, some may argue that even an entire week is only just barely enough time to explore Seoul to the fullest. 
One of the most popular destinations in Seoul that you simply have to visit is Itaewon. During the day, tourists in Itaewon can visit several important museums that showcase Korean history in all its glory. However, when night falls, the whole area transforms into Seoul's most bustling nightlife hub, coming alive with trendy bars, clubs, and a plethora of restaurants offering culinary delights from across the entire world! 
Simply put, Itaewon is the most culturally-diverse area in Seoul and definitely deserves its own spot on any travel bucket list. To start you off on planning a good time in Itaewon, here's a list of eight must-do activities! 
1. Hop between some of Seoul's most important museums
Thanks to its image as a bustling nightlife hotspot, Itaewon doesn't usually come to mind when we think of cultural heritage. However, two significant cultural sites that we highly recommend you visit in the area are The LEEUM (Samsung Museum of Art) and the War Memorial of Korea.
As the name suggests, The LEEUM is a private art museum owned by the Samsung Foundation of Culture. The main building and gallery showcase the finest pieces of traditional Korean art, including pottery, calligraphy, and even jewellery. Additionally, you can also admire some contemporary masterpieces by both Korean and international artists in an adjacent building. 
On the other hand, the War Memorial of Korea allows visitors to dive into the fascinating history of the Korean War which split the Korean Peninsula in two. The beautifully designed museum houses old weapons, stories, and even a memorial remembering those who gave their lives in the conflict. If you're looking to develop a deeper understanding regarding the relationship between North and South Korea, this is the place to start. 
Also read: How to Spend 24 Hours in Itaewon — a Quick Travel Guide
2. Pay a visit to the Seoul Central Mosque
By and large, Buddhism and Christianity are the two main religions in Seoul (and South Korea in general). However, in the little enclave of global culture that is Itaewon, there is a thriving community of Muslims. As such, Itaewon is also where you will find the Seoul Central Mosque, the largest mosque in the country! 
The mosque is open to the public but bear in mind that you will have to cover up before entering. Nearby, you'll find plenty of Halal-certified eateries and Middle Eastern grocery shops. You can also make a short detour and visit Chulsoo Pottery, where you can try your hand at the craft.  
3. Shop 'til you drop at Itaewon Antique Street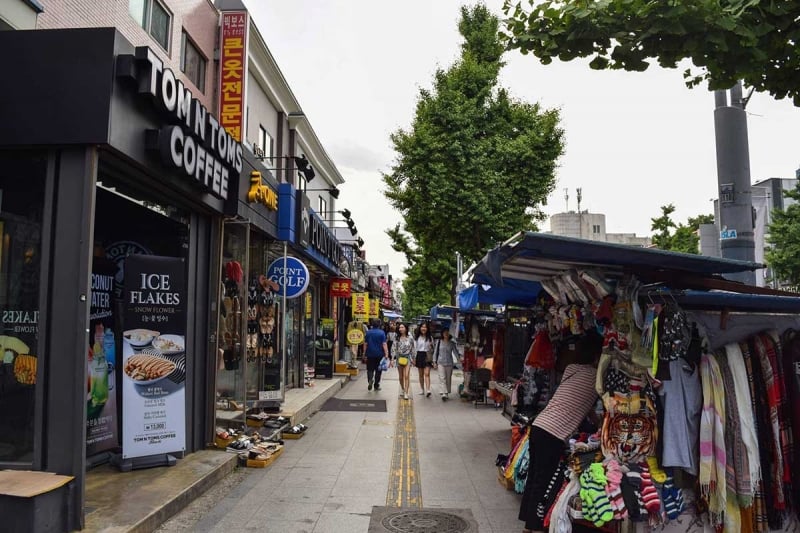 As you'd expect from a cultural melting pot, Itaewon is also a shopping paradise. No, I don't mean massive malls and department stores like in Myeongdong! In Itaewon, the best retail therapy can be found in flea markets, underground shopping complexes, and hole-in-the-wall boutiques.
If you're really in the hunt for a good bargain, hit up the famous Itaewon Antique Street! You'll know you've arrived when you spot various stalls and shops lining the sidewalk and street. There, you'll find plenty of options ranging from souvenirs to quirky t-shirts and socks, customisable handbags and even branded fashion accessories. The best part? Everything is affordably-priced! Happy shopping!
4. Take a trip to the iconic N Seoul Tower on Namsan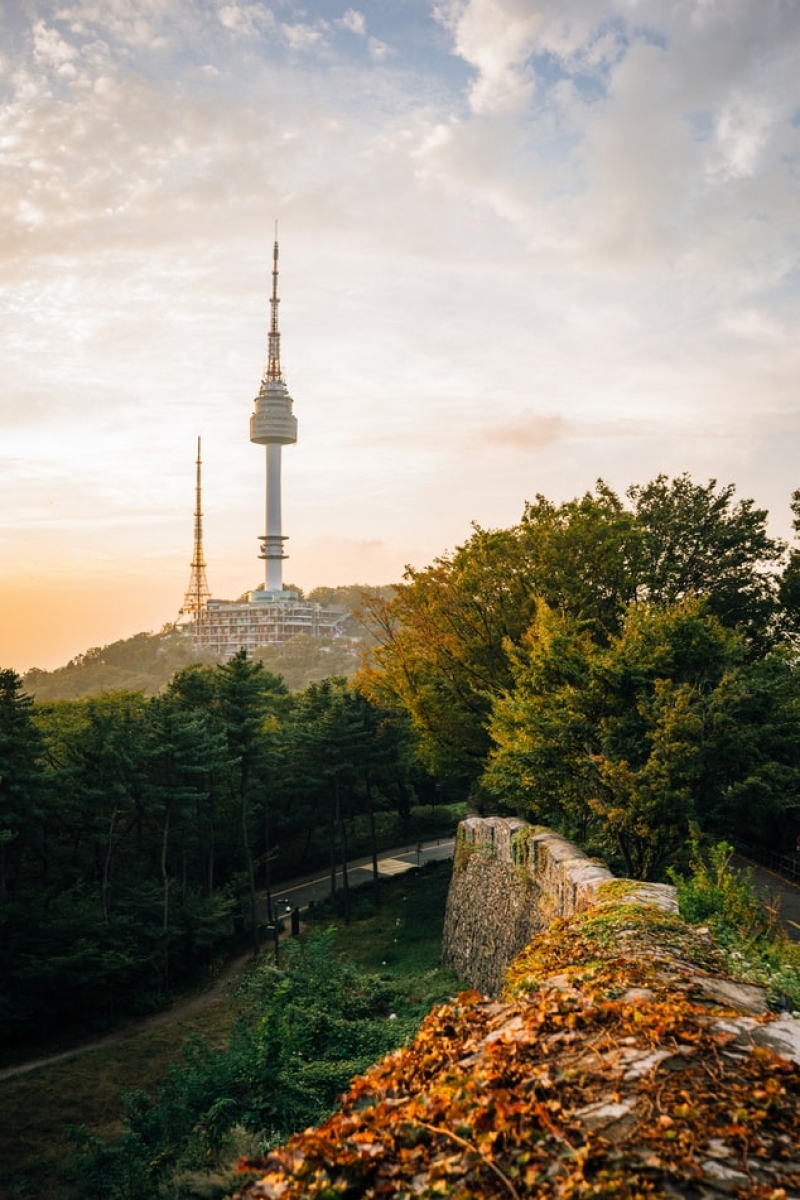 The iconic N Seoul Tower needs no elaborate introduction. After all, it's appeared in so many K-dramas and Korean variety shows that it has become arguably the most recognisable structure in the Seoul city skyline! From its famous love locks to its beautiful botanical garden, N Seoul Tower is the definition of the perfect mini-excursion. 
There are two ways to reach the tower which is seated on the peak of Namsan. You can either hop aboard a cable car or hike your way up there. We recommend the latter. It's only a 250-metre (roughly) climb so it shouldn't take very long. Along the way,you'll also be able to admire the scenic beauty of the area. Plus, it's free! 
5. Chill by the famous outdoor pool of the Hamilton Hotel
Despite not being a historical or cultural site, the Hamilton Hotel is an Itaewon landmark in its own right. Established in the early 70s, the Hamilton Hotel is most famous for its outdoor pool on the 5th floor. During the summer, it is often the site where some of the most exciting pool parties are held! 
You don't even have to be a guest of the hotel to attend! All you need to do is pay the entrance fee and you're set! If you're not into wild pool parties, you can also come here for a relaxing swim. Thanks to its rooftop location, you can also enjoy a view of the bustling streets of Itaewon as you kick back and relax by the pool. 
6. Bless your palette with some scrumptious international cuisine
Another major reason that Itaewon NEEDS to be on your Seoul bucket list is the food! As you explore the lively neighbourhood, you'll find your senses continuously being assailed by a plethora of appetising aromas. That, my friend, is the smell of Itaewon's famous international food scene! 
Thanks to Itaewon's diverse culture, you'll find all sorts of delectable delights here, ranging from traditional Korean food to Italian and French cuisine. You can even find authentic Arabic and Indian restaurants! We know you'll definitely have a hard time choosing where to eat so we'll give you our favourite trifecta of eateries: Nekkid Wings (American-style restobar), Passion 5 Patisserie (famous bakery that even K-Pop idols frequent), and Manimal Smokehouse for the best brisket in town! 
7. Enjoy the exciting nightlife of Itaewon
Of course, no visit to Itaewon is complete without experiencing its vibrant nightlife. Like Lan Kwai Fong in Hong Kong, Itaewon is the party centre of Seoul. There are so many bars, pubs, and clubs here that you could spend hours just deciding on which one to visit first! A bar/pub crawl is mandatory and if you're looking for a fun night out with friends, Soap Seoul is one of the locals' favourites. 
As for me, I'm more of a "beer-at-the-pub" kind of guy, so I recommend a visit to All That Jazz. Founded in 1976, All That Jazz is South Korea's oldest Jazz bar and still one of the most famous hotspots in Itaewon. If you're lucky, you might even be able to enjoy a live performance by local Korean Jazz artists!  
8. Pamper yourself with an authentic Korean jimjilbang experience
If you've watched any K-drama or Korean variety show, you're no doubt familiar with jimjilbangs. For those not in the know, a jimjilbang is basically a traditional Korean spa/sauna/bathhouse. After a long day of exploration, visitors can visit a jimjilbang to relax and unwind. Apart from various themed spa and sauna rooms, there are also often vendors selling light snacks. 
In Itaewon, the jimjilbang of choice is Itaewon Land. It's actually known as one of the best in the country! Choose from a variety of steam baths, massages, and rejuvenating spa treatments and pamper yourself silly after an entire day out and about in Itaewon. 
Also read: 30 Fun Things to Do in Seoul on Your Very First Visit [Updated 2020]
Bonus: Immerse yourself in culture at the annual Itaewon Global Village Festival
True to its moniker as Seoul's global city, Itaewon plays host to an annual global cultural festival which takes place every October. Since the Itaewon Global Village Festival first began in 2002, Itaewon has seen the scale of the celebrations grow as more and more participants from across the world converge in the festival to celebrate diversity. 
Throughout the festival, visitors will be able to enjoy various food exhibitions, take part in cultural activities, admire street performances and learn about various cultures around the world! In recent years, the festival has also seen popular K-Pop artists dropping by for surprise performances! 
Note: Due to the ongoing COVID-19 pandemic, it is not yet clear whether or not the Itaewon Global Village Festival will be allowed to take place in 2020. We suggest planning a visit for the festival in 2021 instead! 
More than just a clubbing district
And there you have it, eight diverse activities to enjoy in Seoul's most diverse district! Were you surprised to learn that, beyond the nightlife scene, there are actually plenty of cultural activities to experience in Itaewon? So, the next time you're in South Korea, make sure to check out Seoul's eccentric "global city"! 
---
Facebook image credit (left): Seoungho Lee via Canva Pro