Almost every step you take in Seoul is a mouth-watering assault of the senses, and that has a lot to do with the delicious street food on display! Anywhere you go in this city, you're only ever a few steps away from the aroma of grilled meats and the long lines of people waiting to try them. 
From stir-fried rice cakes to crispy pancakes oozing with sweetness, you can race through the dizzyingly good flavours of South Korea's capital by getting to know its food alleys, night markets, and hole-in-the-wall restaurants. For your next food binge in Seoul, here are the must-eat street foods and where you can take a bite out of them! 
1. Tteokbokki (Spicy rice cake)
For those who love spicy food, tteokbokki is a must-try delicacy in Seoul! It consists of cylindrical Korean rice cakes that are soaked and seasoned with a vibrant chilli sauce. While tteokbokki can be found in Gwangjang Market and Myeongdong Shopping Street, you can take your street food binge up a notch by heading to Tteokbokki Town in Sindang, known for having some of the best tteokbokki eateries in Seoul. Check out Mabongnim Halmeoni Tteokbokki for their generous helpings of soft and chewy tteokbokki. 
If you feel like preparing this snack at home, you can grab instant tteokbokki packs from Korean convenience stores as well! 
2. Hotteok (Stuffed pancake)
Any time of the day is a good time to eat hotteok, a sweet Korean pancake with a blend of cinnamon, dark brown sugar, and chopped peanuts within. Savoury fillings like kimchi or japchae are also available. 
Planning to explore Bukchon Hanok Village in Samcheong-dong during your stay? We suggest making a stop for Samcheong-dong Hotteok, a shop in the vicinity that's famous for their fluffy hotteok stuffed with honey or red bean filling. Just take care not to spill the contents on your hands when you bite into your hotteok, as the pancake filling can be extremely hot! 
3. Odeng (Fish cake)
Ranking high among our priorities for a street food binge in Seoul is eomuk or odeng. These fish cakes are skewered on a wooden stick and left to boil in a broth. Luckily, you won't have to make too much of an effort to find them, as they can be seen everywhere, from the hawker stalls and food trucks in commercial districts like Myeongdong to traditional Korean markets like Gwangjang Market and Namdaemun Market. 
4. Bungeoppang (Fish-shaped bread)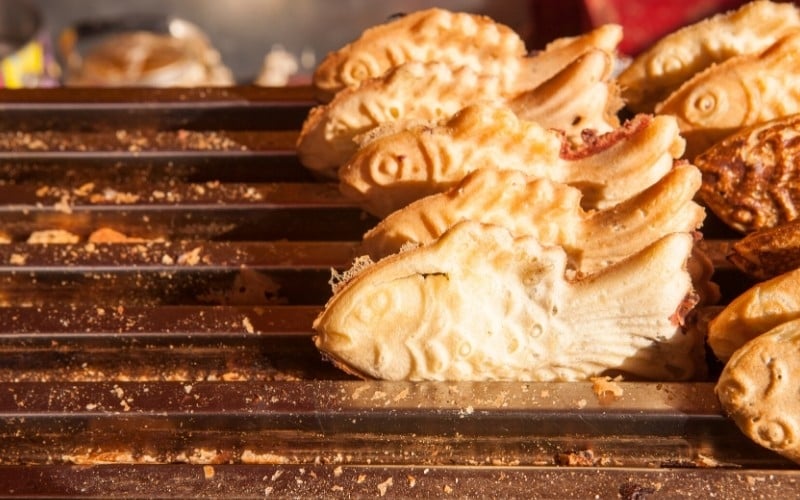 When in Namdaemun Market, you can also try bungeoppang for a dessert that's as pleasing to the eyes as the palate! Similar to the Japanese dessert taiyaki, this Korean fish-shaped pastry is filled with a sweet red bean paste and cooked in a fish-shaped waffle iron until it's golden brown. That said, you can also find vanilla ice cream or chocolate inside some bungeoppang as well. 
5. Gyeranppang (Egg bread)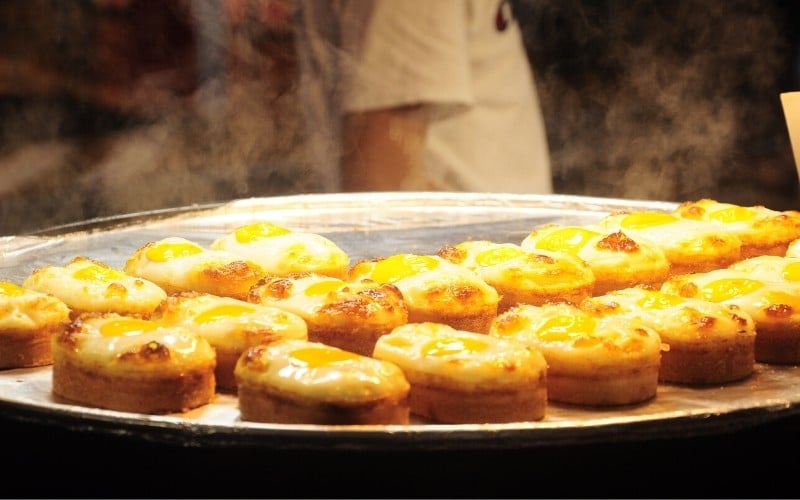 Who can look at gyeranppang without being reminded of Myeongdong Shopping Street? Truly, it's hard to say what makes egg bread look more tempting: their muffin-like appearance, or the glistening, freshly cooked egg on top that's just begging to be eaten! Either way, gyeranppang makes a fantastic breakfast snack for when you're just heading out to start your day. Better yet, pop these goodies into your mouth to boost your energy and protein between shopping trips in Seoul! 
Also read: 12 Must-Try Korean Street Foods in Myeongdong
6. Pajeon (Savoury pancake)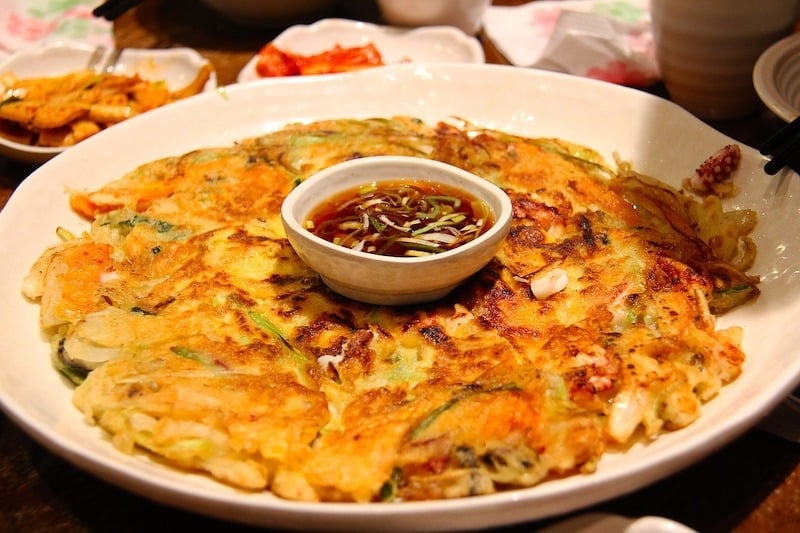 Far from the sweet flapjacks that you drizzle in syrup, pajeon is a crispy, savoury Korean pancake that's often prepared right in front of you in Korean food markets and served with a dipping sauce. Often, the batter consists of wheat flour, rice flour, eggs, and scallions. However, there are other varieties of pajeon you can try as well, such as bindaetteok (mung bean pancake), haemuljeon (seafood pancake), soegogi-jeon (beef pancake), gochujeon (green chili pepper pancake), and kimchi-jeon (kimchi pancake). 
For a special taste of pajeon in Seoul, you should hunt down the crunchy octopus-stuffed pajeon in Nakseo Pajeon, a restaurant that has been featured on many television shows in South Korea. Find it at the end of Pajeon Alley in Hwigyeong-dong, near Hoegi Station. 
7. Kimbap (Seaweed rice rolls)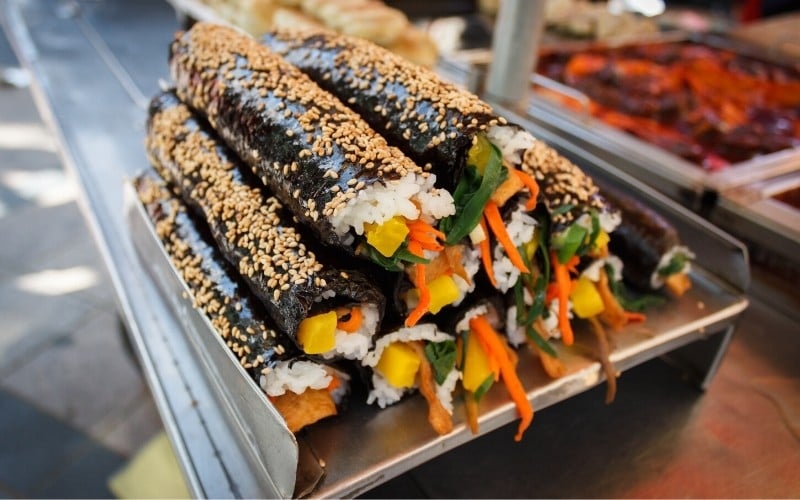 Another popular street food option is kimbap, which is being sold in small carts all over Seoul. Just like sushi, it's made by wrapping steamed rice, vegetables, and meat fillings in a sheet of roasted seaweed. These ingredients are rolled into a cylindrical form, after which the rice roll is sprinkled with sesame seeds and sliced into bite-sized portions. 
Head to Gwangjang Market for a special take on this dish called mayak-kimbap, which contains carrots, spinach, and pickled radish — made dangerously addictive, thanks to its hot mustard dipping sauce! More importantly, you can be assured of the high quality of the rice at this market, because the vendors are constantly making new kimbap for customers as soon as they run out.  
8. Jokbal (Pig's trotters)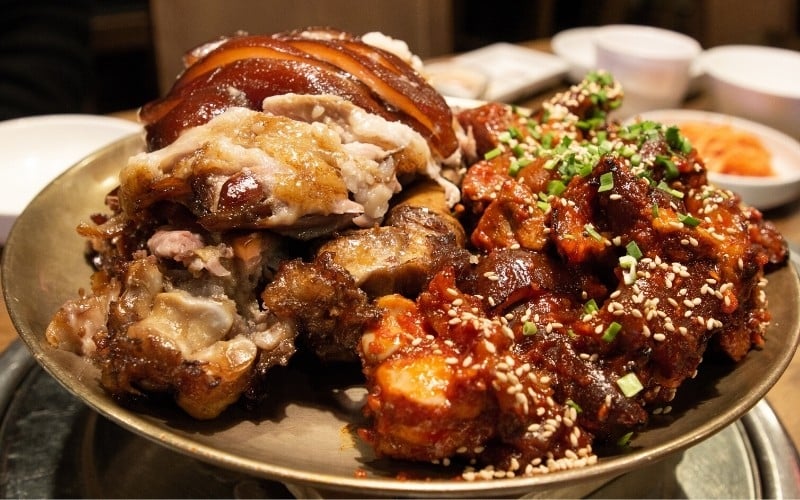 Jokbal is pig's feet or trotters that have been braised for hours in a marinade of soy sauce, garlic, ginger, and rice wine. Immersed in these flavours, jokbal is then cooked in a combination of spices until the meat is tender enough to slide off the bone. In Seoul, this street food pairs extremely well with soju. 
For a real taste of Korean drinking culture, dare to try jokbal in the many stalls lining Jokbal Alley inside Gongdeok Market. Or visit the ultimate go-to jokbal place, Manjok Ohyang Jokbal in Dongdaemun, which serves a jokbal platter in five spices: star anise, cinnamon, dried orange peel, cloves, and Chinese pepper. 
Also read: 15 Korean Dishes to Try That You Always See in K-Dramas
9. Yangnyeom tongdak (Korean fried chicken)
Speaking of food that's best enjoyed with beer, yangnyeom tongdak is essentially seasoned chicken that's been fried twice for extra crispiness! These bite-sized pieces of fried chicken are served in a paper cup for takeaway. Of course, you'll probably want to have some beer to go with that as well. It's a timeless tradition in Seoul, after all! 
For fried chicken with a kick, brave the crowds in student-friendly Hongdae for a cup of sweet or spicy fried chicken with honey mustard sauce at Hong Cup — it's perfect for drinking the night away too! 
Also read: [Updated 2020] Top Korean Celebrity Restaurants Every Hallyu Fan Must Know!
10. Japchae (Stir-fried glass noodles with mixed vegetables)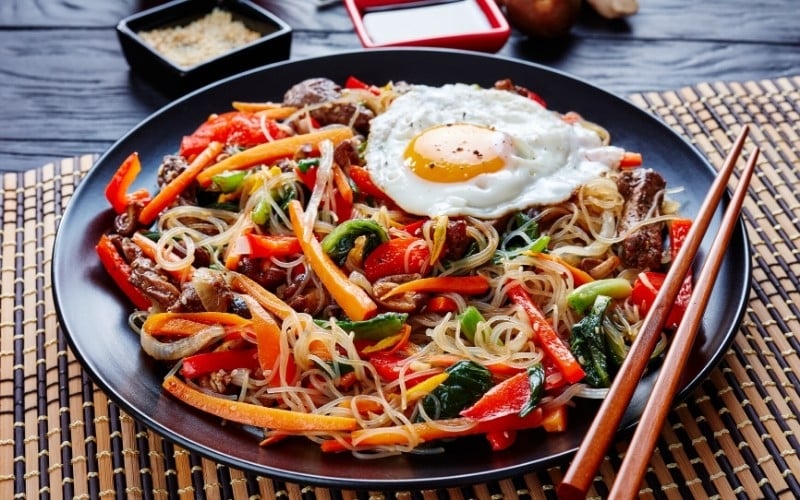 Japchae is a classic Korean dish produced by stir-frying dangmyeon, which are chewy and slippery glass noodles that are made of potato starch. Ingredients include stir-fried vegetables and assorted toppings, such as strips of egg, carrots, mushrooms, spinach, and marinated slices of beef, topped with sesame seeds. The result is both savoury and slightly sweet. Help yourself to this colourful and balanced meal at the go-to place of Korean street food in Seoul: Gwangjang Market. 
11. Mandu (Dumplings)
No culinary tour of Seoul is complete without trying mandu. Korean dumplings can have different meat fillings: minced pork, beef, chicken, shrimp, or vegetables. Furthermore, they can be prepared by steaming, boiling, or pan-frying. Inside Dongdaemun Market is a small alley called Meokja Golmok, where you can savour mandu and bibimbap, among other traditional Korean fare. 
Looking for a sit-down restaurant? Take a break from skincare shopping at Myeongdong Kyoja, practically an institution in Seoul for its pillowy-soft and juicy mandu. Service is always speedy at this famous Korean establishment, but don't eat so fast that you burn your tongue — the dumplings, so packed with flavour, are well worth the wait. 
12. Kalguksu (Knife-cut noodles)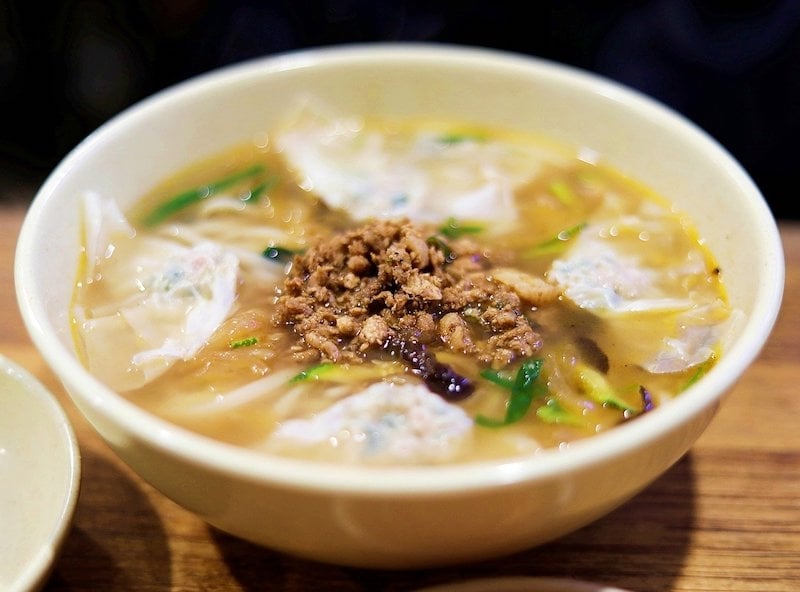 If any recent appearance in pop culture has cemented Seoul as a must-visit destination for foodies, it's the Netflix documentary series Street Food: Asia! As it explores the cuisines of different Asian countries, the series features the Korean dish of kalguksu (knife-cut noodles) in its episode about Seoul. 
Pull a seat in Cho Yoon-sun's stall in Gwangjang Market — you can recognise the stall by the poster of the Street Food: Asia series — and watch her roll, pull, and chop the dough for the noodles so expertly, she doesn't need to look while crafting your dish entirely by hand. Order her handmade noodle soup, a rich broth with slippery noodles and steamed dumplings that will melt on your tongue. 
Also read: Top 5 Night Markets to Visit in Seoul [Updated 2019]
Still hungry for more street food in Seoul? If you really want to do a deep dive into Korean cuisine, fire up the MangoPlate app on your phone, and save these eateries on your bucket lists for a culinary experience you won't forget!