If you thought Korea was only great for shopping, you are wrong. Korea is home to a large number of amusement and theme parks, and even consists of some of the world's best attractions!
We've compiled the country's best, and probably some that you may not have even heard of.
Also Read: 5 Iconic Theme Parks You Need to Experience At Least Once
1. Everland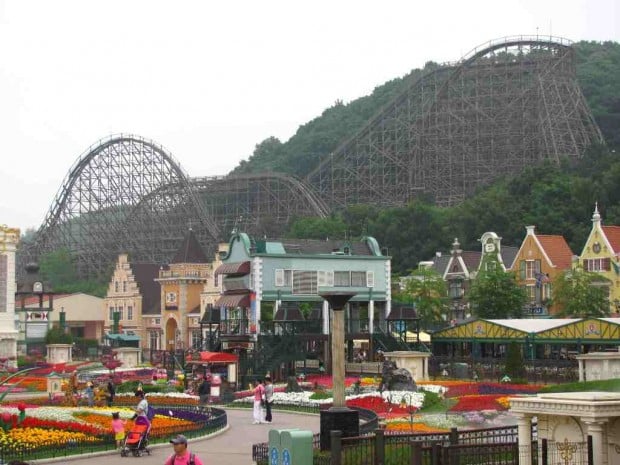 Image credit:Wikipedia
Experience an adrenaline rush at Everland, a unique theme park featuring the world's steepest wooden roller coaster and South Korea's only safari experience. Being South Korea's largest outdoor theme park, Everland offers five unique zones of rides and attractions.
The grounds of Everland are vast with plenty of rides and attractions, so we recommend getting to the park as early as possible so that you can enjoy them all! The gates open at 10am every morning.
Getting there: Everland is located at 199 Everland-ro, Pogog-eup, Cheoin-gu, in Yongin of the Gyeonggi province, roughly 30 km southeast of Seoul. To get there, take Bus No. 5002 from Gangnam Station or No. 5700 from Jamsil Station. The ride usually takes around an hour and costs 2,500 won (~SGD3).
2. Lotte World
Lotte World is a must-do for every traveller in South Korea! Holding the Guinness World Record for being the world's largest indoor amusement park, Lotte World Adventure is home to heart-pumping roller coasters and captivating shows. Be sure to visit Magic Island as well, which comprises an artificial island on Seokchon Lake. Surrounded by water, the outdoor park offers a whimsical fairytale atmosphere, complete with an enormous enchanted castle as well as more than a dozen thrilling rides and attractions that are suitable for all ages.
The Lotte World Hotel and a large shopping complex is located adjacent to the amusement park, offering great fun for families, friends and couples alike.
Getting there: Lotte World is located Lotte World 240 Olympic-ro Songpa-Gu, Seoul, Korea. To get there, take the train to Jamsil Station (Subway Lines 2 and 8) and use Exit 4 to reach the park.
3. Seoul Land
Image credit: Conor Jen Fan Club
A more family-oriented park than the above two, Seoul Land offers a diverse assortment of rides and attractions through its various themes that make it a perfect place for families and children.
Apart from their fancy roller coasters such as Space Cruise and Magic Carpet, and even the Sky-X and Dokkaebi Wind, the park immerses visitors into its vast selection of seasonal festivals and laser shows.
Seoul Land is also host to Korea's largest botanical garden and zoo, the Seoul Grand Park.
A tip though, don't forget the guide map!
Also Read: 9 Best Theme Parks in Asia for Families and Kids
4. Love Land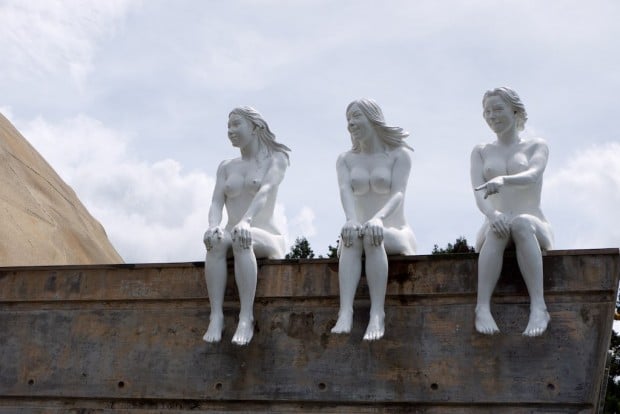 Image credit: Dave Miller
You'll need to be 20 or above for this one. A park themed around sensuality and eroticism, Love Land is the first sexual theme park in Korea.
There are indoor and outdoor spaces of admiration. While the indoor displays cartoon-like imagery, the outdoor is a playfield of salacious statues of various sexual acts — from kissing to 'doing' — with a tinge of humour.
Sexual education for newly wedded couples perhaps? Oh, how kinky…
Also Read: Jeju Loveland: The First and Only Erotic Theme Park in Korea
5. Maze Land
Image credit: Rosa Eujin Jeong 
If you ever need a break from the roller coasters, get yourselves aMAZEd in the world's longest stone maze located at the Maze Land. Pun intended.
You'll be glad to know that this unique theme park on Jeju Island has two more mazes — the wind maze and another shaped as a Jeju female diver, haenyeo.
These mazes were built on the principle of 'samda', a Jeju dialect term that refers to the three items found on the island that are in abundance — wind, rocks and women.
You will also get to bathe in the wonders of Mother Nature as you navigate through the mazes.
6. Aiins World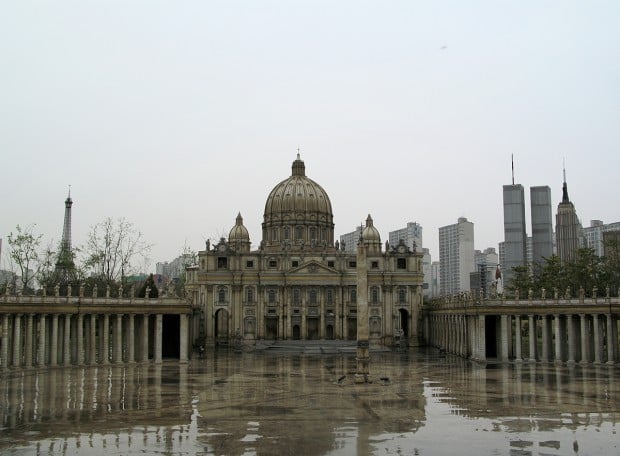 Image credit: Anna Lee
Another unique take on a theme park, Aiins World will bless the architectural geeks with a magnificent display of over 100 models of iconic buildings and monuments from 25 different countries.
Pay attention to the details. You'll be impressed at the level of intricacy adopted to model these icons.
Get your cameras ready for this one!
7. Psyche World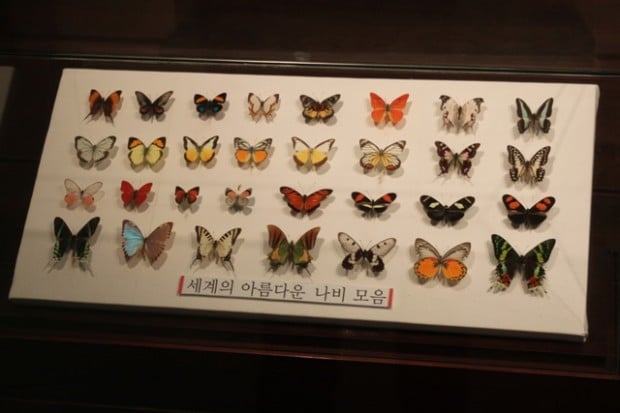 Image credit: Rawr Korea
The largest butterfly museum in the world, Psyche World is a theme park that offers visitors a massive attraction of some 3,000 different butterfly species.
A colourful park filled with images, statues and information on these beautiful creatures, and the chance to see them live flying around, the park is an interesting take on what a theme park can entail.
Apart from butterflies, there are other enticing spots such as The Crystal Palace where visitors can play and get lost in a plethora of mirrors. The Seil Park is for the thrill and adventure seekers who can have fun competing wire obstacle courses in the sky.
8. Gyeongju World Amusement Park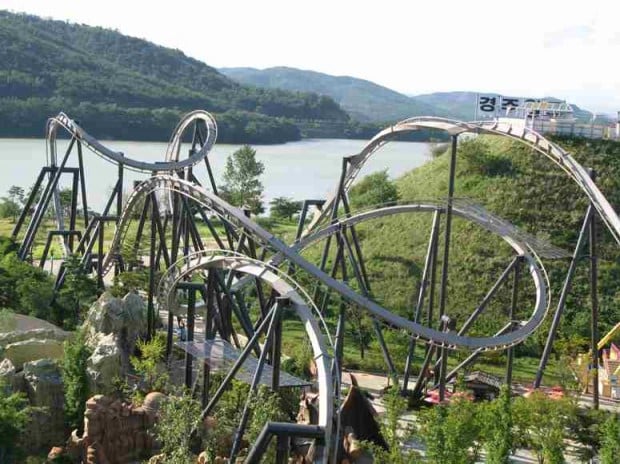 Image credit: Theme Park Review
Gyeongju World Amusement Park serves as the biggest park in the southeast region of Korea, and its most attractive ride has got to be the thrilling Phaethon roller coaster with its twisted layout. The Mega Drop and Tornado is just as exciting, and definitely not for the faint-hearted!
If you need a good splash, the California Beach it is! The large water park is packed with state-of-the-art equipment and designed with excellent thematic treatment. It's a marvel!
9. Wolmi Theme Park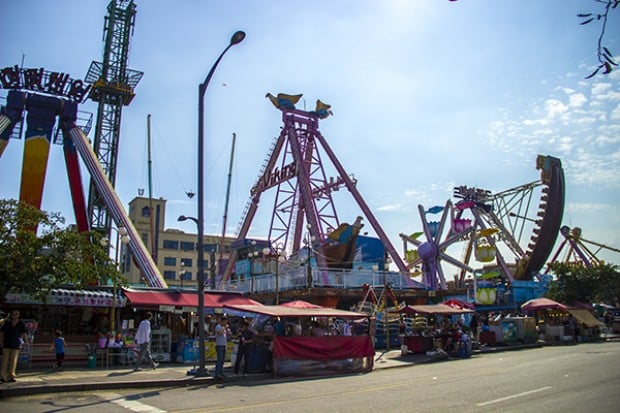 Image credit: Earth Excursion
Wolmi Theme Park is often noted for its crazy Viking Ship that swings high and for a long period of time. Its Apollo Disco Ride is definitely one of its kind too. Insane, that is!
Other activities such as water ball and flume rides, as well as its large indoor children's playground, make the park compatible for visitors of all ages.
Want a trivia? Popular Korean television shows like "We Got Married" and "Running Man" have been shot there!
10. E-World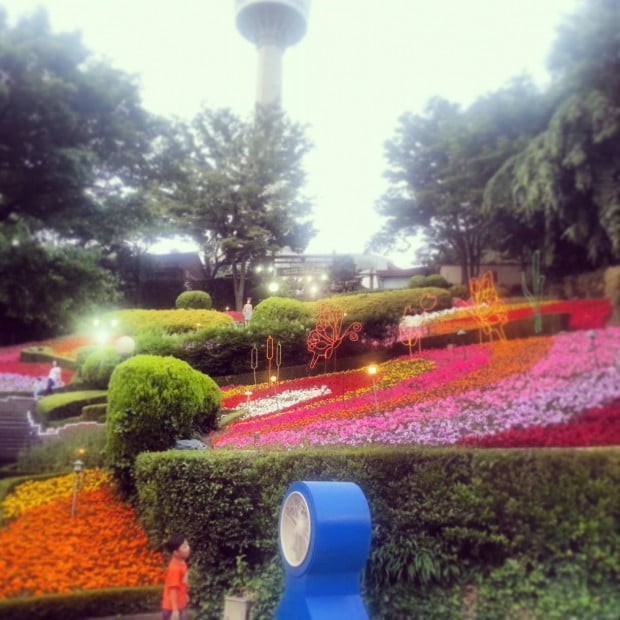 Image credit: Sneaker Socks And Soju
A theme park built around the Woobang Tower, E-World is the representative amusement park of Daegu. It houses multiple rides, exhibitions, performance halls and what not.
One of the popular rides include the Boomerang, a roller coaster that goes forward and backwards. A similar attraction to the Apollo Disco World in Wolmi, the park's Tambourine is one to be aware of. Be ready to be literally yanked off your seats!
For more thrills, don't miss the Ranger!