Visiting Japan, particularly Tokyo, can really make a dent in your bank account. It's one of the most expensive cities to travel to after all. There are a lot of shops, amusement parks, and restaurants to visit that make it hard for any tourist to resist. But did you know that there are actually a lot of free things to do in Tokyo? Budget travellers, you'll be happy about this so read on and you'll find out!
Also read: How to Travel Tokyo on a Budget
1. Visit Hachiko's statue and see him reunite with Professor Ueno
Who doesn't know Hachiko? He is the loyal Akita who waited for more than nine years for his human, Professor Ueno, outside Shibuya Station. His story is well-loved not just by the Japanese nationals but foreigners as well. That's why a visit to Tokyo may never seem complete without dropping by at his statue. But did you know that they have reunited already? Today, you can find a new bronze statue of Hachiko and Professor Ueno together at the Tokyo University. Tsutomo Ueda sculpted the statue in commemoration of Hachiko's 80th death anniversary.
2. Join the crowd in Shibuya Crossing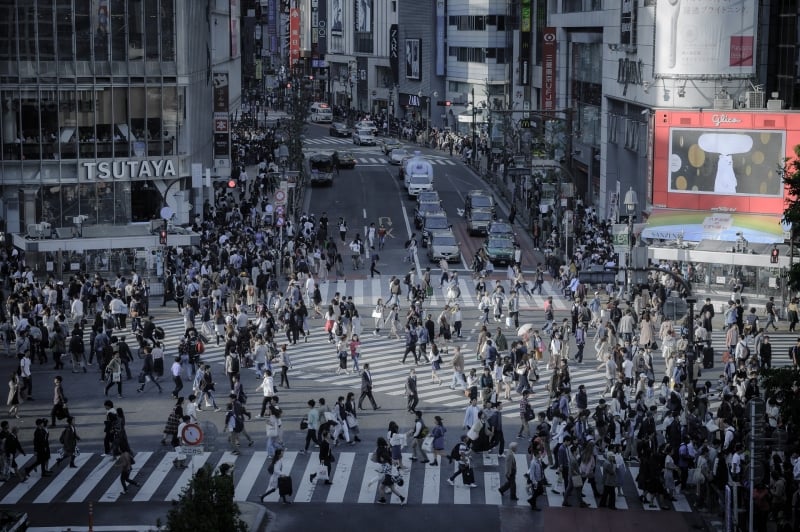 Now that you're in Shibuya, why not join the group and cross the famous Shibuya Crossing? It's one of the most known crossings in the world that you often see it even in international movies. And really, it's just a joy to see all the cars stop to make way for the crowd crossing the street.
3. Meet the Humans of Yoyogi Park
Another must-visit in Shibuya especially during the weekend is Yoyogi Park. When there's no school or work, the park is busy with performers and sometimes even cosplayers. It's one of Tokyo's largest parks where locals and tourists can have picnics or watch street performances.
4. Bring out your lenses in Harajuku
Harajuku is home to street art and fashion inspiration. Seeing teenagers dressed in style is pretty typical in the area, especially in Takeshita Street where you can find the most trendy shops in Tokyo. Just a short walk from Takeshita is Omotesando Hills which caters to more adult customers.
5. Enjoy the view from the Tokyo Metropolitan Government Building in Shinjuku
If you'd like to see the view of Tokyo from up high, you can visit the Tokyo Metropolitan Government Building in Shinjuku also known as Tokyo Tocho. The building provides a panoramic view of the city and beyond. On days with good weather, you can even get a glimpse of Mt. Fuji from here!
Also read: 6 Reasons I Fell in Love With Tokyo and Why You Will Too
6. Take a picture with the Statue of Liberty replica in Odaiba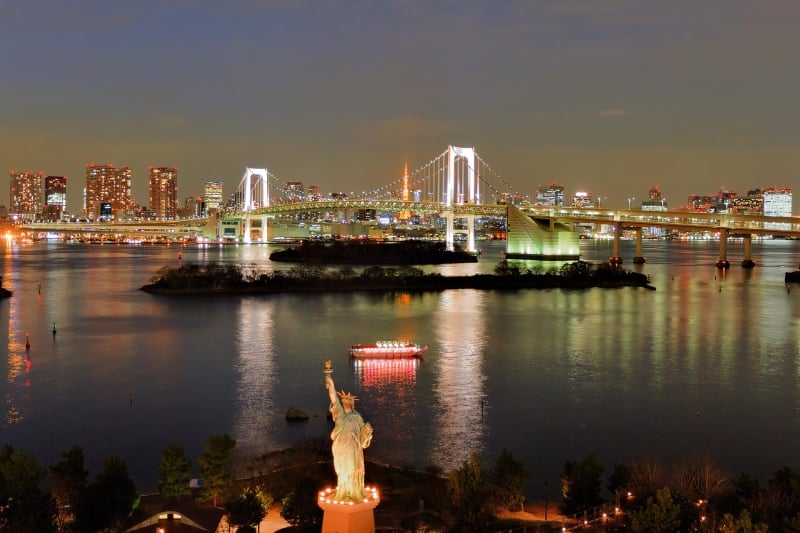 Odaiba is Tokyo's famous shopping and entertainment complex. Here, you can find the Fuji TV building, the Rainbow Bridge and a model of the Statue of Liberty. Gundam fans head to DiverCity Tokyo Plaza to watch the life-sized Gundam transform and come to life before heading to the store to shop for toys
7. Window shop for electronics at Akihabara
Akihabara is Tokyo's electronics heaven. The Otaku culture had influenced the businesses in this area. Being in Akihabara feels like you're in a game and anime world. You'll see a lot of manga or anime references. You can also find maid cafes here. And if you're a fan of the group AKB48, you can also catch one of their performances in one of the theatres in the area as well.
8. Get free admission to the Imperial Palace
The internal grounds of the Imperial Palace may not be open to the public but there are areas that tourists may visit. There are also free walking tours available that you may schedule ahead or on the spot. There are volunteer guides who share the history of the palace complete with photos of persons being spoken about in the tour.
Also read: What to Expect When Travelling to Japan: Expectations vs. Reality
9. Visit Sensoji Temple and sample local snacks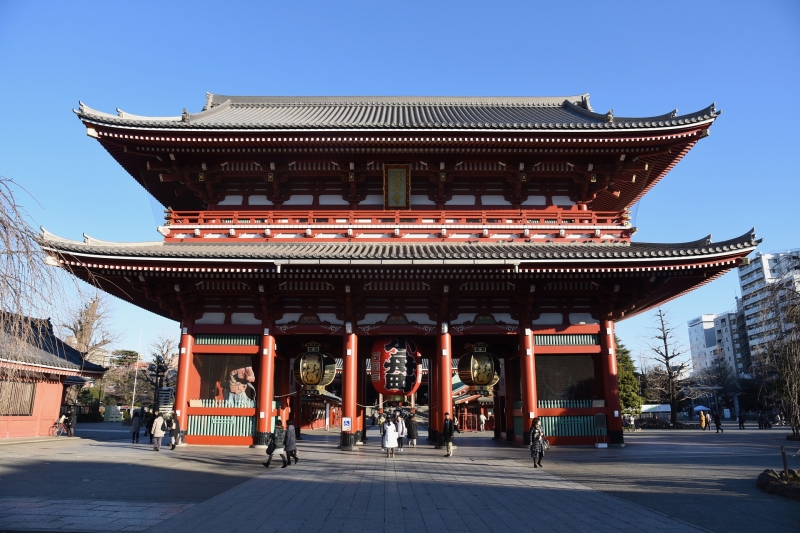 Sensoji Temple or Asakusa Kannon Temple is a Buddhist temple that's also often visited by foreigners. Upon entering the outer gate of the temple, also known as Kaminarimon or Thunder Gate, a 200-metre shopping arcade called Nakamise will welcome you and lead you to the second gate called Hozomon. Stalls in Nakamise sell traditional Japanese souvenirs from yukata to folding fans. There are also a bunch of local Asakusa snacks that your loved ones will surely enjoy.
10. Watch Sumo wrestlers practice in Arashio-beya
Witnessing a real Sumo match can be pretty expensive. But spectators are allowed to watch Keiko or Sumo practice of Sumo wrestlers also known as riskishis in Arashio-beya. No reservations are needed to observe Keiko because the audience is not allowed to get inside the building anyway. Instead, there's a large window along the roadside where you can watch the practice from 7.30am to 10am. The early morning Sumo practice is almost every day except in March, July, November and one week after the grand tournaments.
Also read: 24 Fun Things to Do in Tokyo on Your Very First Visit
11. Marvel at Roppongi's public art and design project
There are several art installations in the public areas of Roppongi Hills. From a giant rose to beautiful street furniture, these works of art will surely give more life to your travel photos.
12 Witness tuna auctions at the Tsukiji Fish Market
Every morning at around 3.30am or even earlier, there are tuna auctions ongoing at the Tsukiji Fish Market. Only two sets of 60 people (120 in total) are allowed to enter this business event. Guests don't need to pay, but it's a first come first serve basis. So, some people line up as early as 1am to get to the auction floor. Don't forget to bring your jacket because the fish market is not heated at all!
13. Sample some snacks and satisfy your hunger at Depachika
You'll never run out of konbini when in Tokyo. But if you're looking for cheap food aside from 7Eleven or Lawson products, you may also take a depachika visit! The nickname depachika is a combination of words depato which means department store and chika or basement. You can find depachikas in the lower levels of department stores where you can sample different Japanese, Asian and western food. Who knows, you may find your dinner for the night during one of your visits here!
Also read: A Sample 4-Day Tokyo Itinerary for First-Timers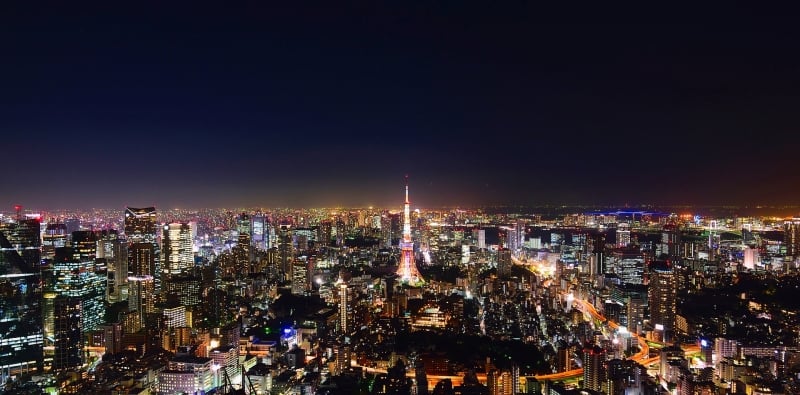 It's quite surprising to know that there are a lot of activities to do in Japan that won't require you to spend a yen. But it only goes to show that it's not impossible to make your Japan dreams come true. Don't be scared. Book your tickets, plan your stay, and enjoy Tokyo! Ganbatte!