Travel is always mainly about the experience rather than material aspects, no doubt about that. But at the same time, it's good to bring home something — especially if it's unique souvenirs that you won't find anywhere else! It's a great way to remember your trip whenever you're feeling nostalgic, or even when travelling isn't an option in the meantime. 
And when it's a Europe trip that you've probably been dreaming of since forever, well then, you definitely need to shop for awesome local finds. After all, this famed continent is known for having some of the yummiest food and drinks, artisanal handicrafts, and other interesting items. Better yet, go beyond the usual French macarons, Italian wine, Swiss chocolates, or gimmicky keychains. Here are all the unique souvenirs you should look out for on your next Euro holiday!
Also read: 15 Underrated Cities To Visit In Europe
Food and drinks
1. Mozartkugel
When in Austria, make sure to take home a box (or 10) of Mozartkugel, or more commonly referred to as Mozart balls. These are dark chocolate-coated truffles filled with pistachio-flavoured marzipan and nougat. And yes, it's really named after the famous Austrian composer! 
You can buy authentic Mozartkugel from Cafe Konditorei Fürst stores in Salzburg, which is also Mozart's hometown. However, there are also other versions almost everywhere in Austria, from supermarkets to airport gift shops. Either way, it's certainly one of the most unique souvenirs you can take home from your trip in Austria!
2. Turkish coffee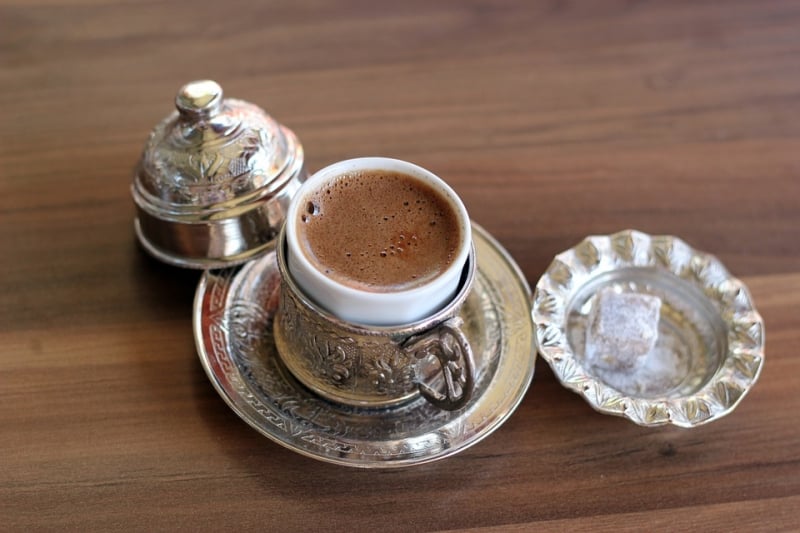 Turkey's coffee culture is certainly something that will appeal to coffee lovers everywhere. So, it's only right to bring home some Turkish coffee (or kahve, as the locals call it) to keep the experience alive. 
Despite being served black, Turkish coffee is sweeter and stronger than other beans. In fact, the country even has a proverb for it: "Coffee should be black as hell, strong as death and sweet as love." For the best Turkish coffee purveyor, Kuru Kahveci Mehmet Efendi is a go-to for both locals and tourists. 
Note: Turkey, by landmass, is positioned 5% in Europe and 95% in Asia. Nonetheless, we find this unique souvenir worth mentioning for its exquisite taste. 
Also read: 15 Countries With a Coffee Culture Worth Travelling For
3. Turrón
A turrón is a popular nougat confection, especially during the Christmas season in Spain. It's typically made of honey, sugar, egg whites, and toasted nuts. Fortunately, you can bring home some of these sweet confections, even when you visit on a non-Yuletide month!
Turrón also comes in different variants, depending on the ingredients and preparation methods.  The brittle variety is called turrón duro or Turrón de Alicante, while the chewier type is called turrón blando or turrón de Jijona. Both names are in reference to the towns in which these two variants became most famous.
4. Canned seafood
Canned seafood might be something you see every day at your local supermarket, but in Portugal, it makes for unique souvenirs! In the capital city that is Lisbon, you'll find an abundance of seafood in colourful (and arguably Instagrammable) tins. Take your pick among sardines, tuna, anchovies, and the more unusual catches like eel and octopus. Keep an eye out for homegrown brands Tricana, Minerva, and Prata do Mar, which are the crowd favourites. 
5. Spices
At the local markets in most foreign cities, spices are some of the most common things you'll spot. But trust us when we say that these are something you shouldn't miss when you're in Macedonia! This country reflects both Mediterranean and Middle Eastern cultural aspects. So you can expect that they take their food seriously — especially their spices. 
Stock up on spices like saffron, Bukovska pepper, summer savory, sweet clover, and dried tomatoes to fill up your cupboard back home. And while you're at it, might as well recreate the exotic Macedonian recipes you've tried during your stay! 
6. Limoncello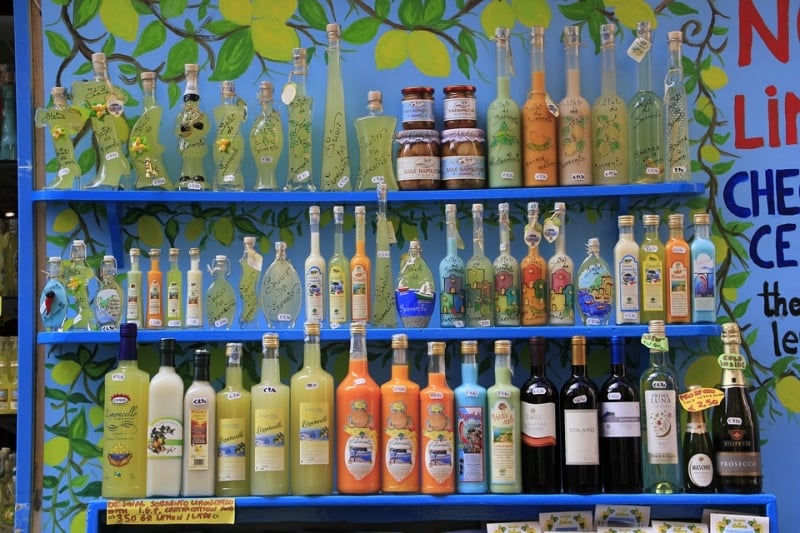 Wine and pasta are already a given when it comes to Italy souvenirs, as it's one of the country's top-selling exports. So, how about something more distinct like limoncello? This local liquor is mainly produced in Southern Italy from the zest of Femminello St. Teresa lemons. You can find the best and original ones in the Amalfi Coast. Imbibe accordingly by drinking this unique souvenir in an ice-cold glass, post-meal — just like how the locals do! 
7. Halloumi cheese
What to bring home to remember your stay in Cyprus, A.K.A. the Jewel of the Mediterranean? We recommend some tasty, native halloumi. It's a type of brined cheese made from a mixture of goat's and sheep's milk — sometimes with cow's milk as well. It's perfect for grilling and frying, as it doesn't melt even at high temperatures. Enjoy this as an appetizer or side dish, especially if you're cooking homemade Mediterranean cuisine! 
Bookshelf additions
8. Comic books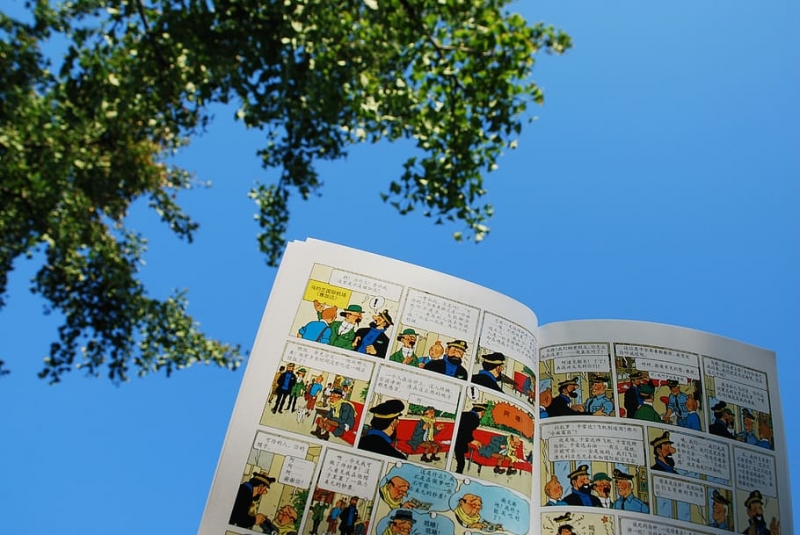 Don't leave Belgium without bringing home some local comic books. Oh, and did you know that its capital city Brussels is the comic centre of Europe? In fact, the city has a Comic Book Route, where you can find fictional characters painted to life through more than 50 colourful street murals. 
Grab a copy of famous comic books that originated in Belgium, such as The Adventures of Tintin, The Smurfs, and Spirou & Fantasio. Such unique souvenirs are a must-buy especially if you grew up reading (or even watching) these titles! Don't forget to check if the copy you're buying is translated in English, or whichever European language you prefer.
9. Books by local authors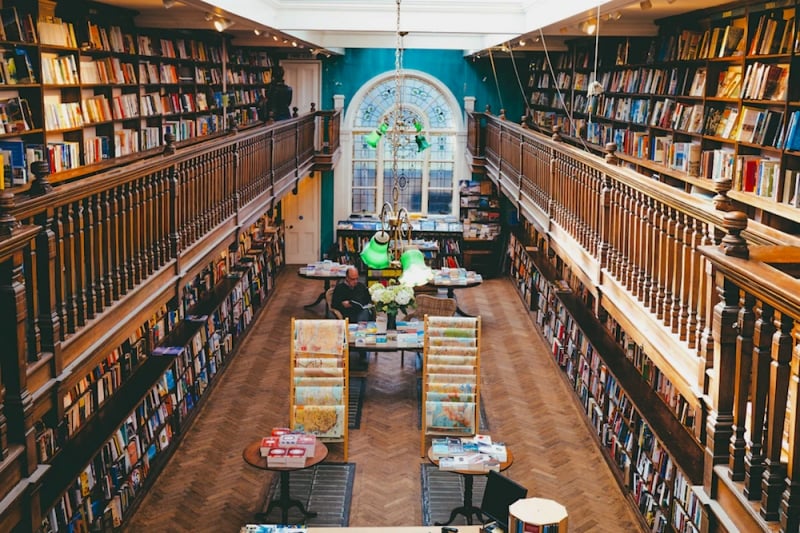 Whether or not you're a hardcore bookworm, make sure to visit a London bookshop when you're in England. After all, the city is a literary capital that has been home to the likes of Oscar Wilde, J.K. Rowling, George Orwell, and Agatha Christie — to name a few. So, it's no wonder that the bookshops here are a league of their own! 
For truly unique souvenirs with the utmost character, opt for secondhand books written by local authors. If you're lucky, you might even stumble upon a rare title or even a first-edition copy! Some of our highly recommended secondhand bookshops include Foster Books, Henry Pordes Books, and The Bookshop on the Heath. 
Also read: 7 Books To Read That Will Make You Fall In Love With Europe
Novelties and home decor
10. Whiskey stones
It's probably already a given that you'll be buying a bottle (or two) of Irish whiskey on your trip to the Emerald Isle. So, how about making sure that not a single drop goes to waste with the help of whiskey stones? Unlike the usual ice cubes, these will keep your glass of whiskey at just the right temperature without diluting it. They're made from rare marbles that can only be found in Connemara — which is on the western coast of Ireland and a three-hour drive from Dublin.
11. Carved wooden spoons
When mentioning Romania, most people would immediately think of Dracula and other folklore. But if there's one unique souvenir that you should immediately search for during your trip, it's their carved wooden spoons. Originally used for more practical purposes, these utensils are now mostly decorative items. They come in different hand-carved traditional designs, each with a special meaning or "power." For instance, a rooster symbolises hope, while a stork is said to bring good luck. 
12. Music box
Apart from topnotch watches and exquisite cheese and chocolates, Switzerland also produces intricately made music boxes. The standard ones play melodious songs like Edelweiss and the Happy Wanderer. Meanwhile, for high-end music boxes, you can play many different songs through their interchangeable cylinders! You can also find these in other designs, like those fashioned as wooden Swiss chalets. There are also more innovative styles, such as a transparent box that allows you to see its fascinating inner workings. 
Also read: Switzerland Is The Safest Country In The World For Travellers
13. Delftware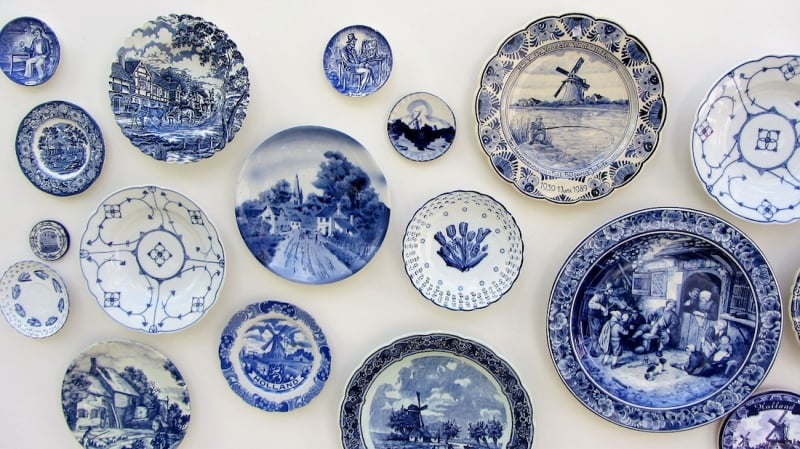 Delftware, also called Delft pottery, is blue and white tin-glazed pottery that came from the Dutch city of Delft, hence the name. Though you don't need to go to this city specifically, since you can find Delftware all over the Netherlands. 
Delftware comes in many forms, like vases, plates, teapots, and decorative statues. But we recommend getting a functional one that you can use a lot. Might as well make the most out of such unique souvenirs, right? Also, make sure to handle these with care on your flight back home, as they're quite fragile. So, probably best to bring them in your carry-on. 
14. Dala horse
The Dala horse, otherwise known as the Sweden horse, is named after Dalarna, a region in Sweden which it came from. These vibrant hand painted ponies are famous for being the country's symbol. It's also one of the unique souvenirs that even most Swedes have at home. Don't you think these make for such stunning decor?
For authentic pieces, look for those made of hand-carved wood, with hand paintings of traditional Swedish flowers. The most popular ones are in red, with blue ones coming in second. If going all the way to Dalarna isn't an option, you can find these in Gamla Stan, the Old Town of Stockholm.
15. Matyó embroidery
There are several different styles of embroidery that are popular in Hungary. Though if you have to pick just one, then it should definitely be Matyó embroidery. Included on the UNESCO Intangible Cultural Heritage list, it's an integral part of traditional Hungarian folk culture. Definitely one of the most unique souvenirs you shouldn't miss!
Matyó embroidery is characterised by floral motifs, which make for a lovely design on tablecloths that you can bring home with you. You can find the best ones in the town of Mezökövesd, up north in the region of Matyó. Alternatively, you can also buy these from the stores at Castle Hill in Budapest. 
Also read: 10 Airbnbs in Budapest for Your Next Visit to the Hungarian Capital
16. Natural linen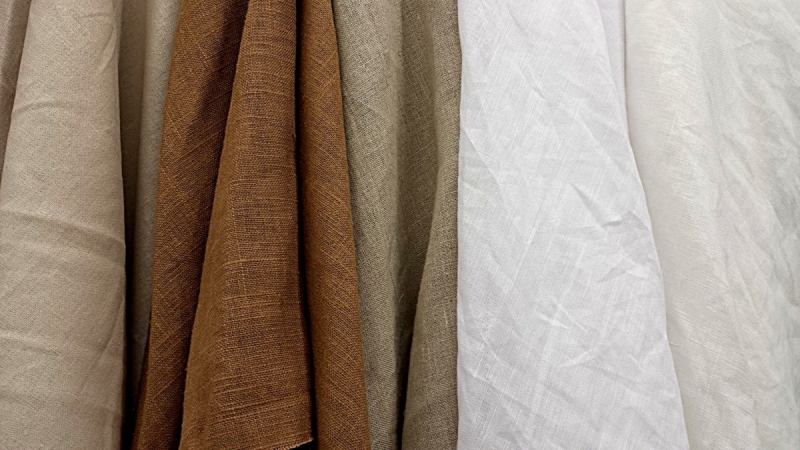 Don't leave Poland without buying natural linen products — whether it's bed linens, tablecloths, curtains, or napkins. After all, the country is known for having the best quality linen in the world. Apart from that, natural linen is a durable fabric that's good for the environment and your skin! It has also been part of Polish tradition for centuries. So, for some truly unique souvenirs, you can opt for linens that are designed with traditional floral-minimalist patterns. 
17. Christmas tree ornaments
It's a well-known fact that no other country does Christmas quite like Germany! In fact, it's the origin of most Christmas customs we celebrate today — from advent calendars to Christmas trees. And what better way to bring home the festive cheer than with some eye-catching Christmas ornaments? Choose among interesting designs like glass baubles, hand-carved nutcrackers, and angels with chiming bells. You can find these all year 'round in Rothenburg Market Square and at Kathe Wohlfahrt stores. 
Also read: 10 Dazzling German Castles That Are Straight Out Of A Storybook
Clothes and accessories
18. Marimekko prints
Marimekko is best known for producing eclectic patterns in the most exuberant colours.  And while this immensely popular design company is found worldwide, you can find its best and widest selections right in its home country, Finland. 
You can find a Marimekko store in almost every city shopping mall here. So there's no excuse for you to miss out on this Finnish sartorial treasure! Take your pick among the many selections: shirts, dresses, bags, purses, and a lot more. Or better yet, buy a piece in every kind — we promise, you (and your wardrobe) won't regret it!  
Also read: 16 Summer Style Staples to Add to Your Travel Wardrobe
19. Lava jewellery
Iceland attracts many globetrotters for its volcanic activity. During your trip, you might be tempted to take pieces of lava rock as unique souvenirs. However, do fight the urge to do so, as it's against Icelandic law to remove rocks from their habitat. Instead, you can shop for lava jewellery, which combines cooled lava rocks into silver and other materials! It comes in different forms like necklaces, bracelets, earrings, and even cufflinks. Sounds a lot better (and way more stylish) than trying to smuggle volcanic rock, doesn't it? 
Also read: 8 Airbnb Homes in Iceland for When You Finally Make That Trip
20. Amber jewellery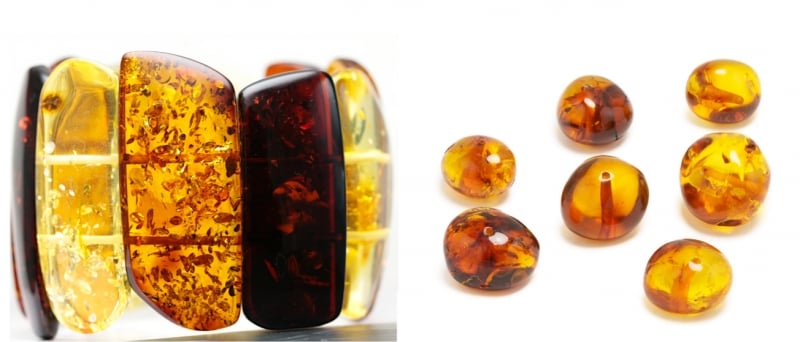 Beyond matryoshka dolls, Fabergé eggs, vodka, and caviar — amber is another piece of Russian treasure that you shouldn't miss. In fact, Russia's Kaliningrad region is where you'll find the largest amber reserve in the world. And then there's the historic Amber Room in Saint Petersburg, which is actually a reconstruction of the original one stolen by the Nazis during World War II. 
Suffice to say, amber is a huge part of Russian culture. So, why not bring home some amber jewellery? Opt for those crafted by local artisans for authentic and unique souvenirs! Just make sure to do some research beforehand, as to avoid counterfeits. 
21. Evil eye beads
Since ancient times, the Greeks believed that the evil eye (mati) helps ward off misfortune and evil spirits. According to tradition, it protects you and your loved ones from any bad glares and sends the ill thoughts back to the onlooker. (Think of it as a sort of proactive karma.) And hey, it wouldn't hurt to believe in such superstition, wouldn't it? 
It's a good thing you can find this distinct blue symbol almost anywhere in Greece! Evil eye beads are often placed on pendants, bracelets, earrings, and other trinkets that you can easily wear and/or bring wherever you go. So yes, better stock up on these unique souvenirs for you and your friends back home. 
Also read: 7 Picture-Perfect Airbnbs in Mykonos, Greece
22. Opanak shoes
Perhaps one of the most unique souvenirs you can find in Croatia is the opanak shoes. These light but durable leather footwear have been worn by Balkans for generations. And though these are typically worn with traditional attire, who's to say you can't wear them with your usual jeans and shirt getup? It comes in various styles like pointy-toe, loafer-style, and ankle-strapped, so you can definitely choose according to your personal taste! 
Also read: 8 Airbnbs In Croatia For A Relaxing Mediterranean Holiday!
23. Crest badge
A Scottish crest badge is traditionally worn to show allegiance to an individual or membership in a specific Scottish clan. Think of it as a real-life version of house sigils on series such as Game of Thrones and Harry Potter! Each heraldic badge represents a crest embodied with a motto/slogan, and is often made of gold, silver, or white metal. You can find the best of these in popular gift shops all over Edinburgh. 
Also read: 20 Budget Destinations in Europe You Should Visit in 2020
Indeed, there's no other continent quite like Europe! So, the next time you're there, might as well go big or go home with unique souvenirs. Which of these cool items have caught your eye the most? We're all ears!