Welcome to the land of royalty, big red buses, classic literature… and what's arguably the most enviable accent in the world! London is on top of many globetrotters' bucket lists. And why wouldn't it be? There's always so much to see, taste, and experience around England's capital. 
Not to mention, its attractions range from the iconic and usual, to the quirky and off the beaten path. So, whether you're up for something touristy or would rather do as the locals do, here are all the reasons why you should travel to London soon! 
Also read: 8 Budget-Friendly Airbnb Homes & Vacation Rentals in London

1. There's more to London's bridges than you think
Surely, we're all familiar with the good ol' nursery rhyme, London Bridge. But did you know that there are actually 33 bridges in Central London? In short, anytime you're walking by the Thames River, you'll surely spot at least one of these bridges nearby. With their marvellous structure and rich history, these bridges certainly make for an enjoyable London sightseeing experience. 
The most iconic one is Tower Bridge, and it's one of the first images that comes to mind when you hear "London." It features two Victorian Gothic towers that are connected with two walkways. The upper walkway is made out of glass, while the lower one splits up and rises every so often to allow passage for large boats. There's also the actual London Bridge, whose site dates all the way back to the Roman era!
Then there's the relatively new Millennium Bridge, which you can easily guess based on its modernist design. It first opened in 2000, as part of London's millennium celebration. And of course, you can't miss Westminster Bridge! You'll need to visit it if you want a gorgeous picture with Big Ben and London Eye, each on different ends — which leads me to my next point…
2. Westminster is where you can see Britain's symbols of power and religion up close
The borough of Westminster known all over the world as a grand political hub. Walk around its bustling streets for a glimpse of Britain's seats of power. 
Palace of Westminster and Big Ben
First stop: the Palace of Westminster, aka the Houses of Parliament. This colossal Neo-Gothic masterpiece is the meeting place of the House of Commons and the House of Lords. You can even attend a parliament debate or committee hearing that's open to tourists! Adjacent to it is Big Ben — the tower clock famous for its accuracy and massive bell. Oh, and did you know that the actual Big Ben is originally the 13-ton bell, not the whole clock tower? 
Westminster Abbey
Right across the street is Westminster Abbey. Step inside this stunning church that has been the coronation venue for monarchs since 1066. It's also the resting place of over 3,000 great Britons such as Isaac Newton, Charles Dickens, and almost every Tudor royal (except Henry VIII). And of course, who can forget the royal weddings that took place here — especially that of Prince William and Kate Middleton? 
Note: Photography is not allowed inside the abbey.
3. The royal palaces will leave you in awe
If you didn't see at least one of the UK royal family's grand residences, then did you really even travel to London? Perhaps not. Hence, adding these to your itinerary is a no-brainer. Bonus points if you're a fan of period dramas such as The Crown and The King's Speech!
Also read: 20 Impressive Castles in England That You Should See
Buckingham Palace
The most famous one, of course, is Buckingham Palace. It's the official home of Queen Elizabeth II, and just a few blocks away from Westminster Abbey and the Palace of Westminster. Some parts of the palace are open to visitors for ten weeks in summertime, so try to time your visit for that. But if you can't, the view from outside its gates is still worth it! From there, you can watch the world-famous Changing of the Guards: a historical tradition that happens at 11am every Sunday, Monday, Wednesday, and Friday.
Clarence House
A few blocks away is St. James's Palace, a complex that houses the Royal Court offices and officials' apartments. Within these grounds, you'll find the immaculately all-white and stately Clarence House. This is where the Prince of Wales and the Duchess of Cornwall live. And although most of the complex isn't open to the public, you can visit Clarence House during August! 
Kensington Palace
Kensington Palace is arguably the most beautiful among all the royal residences. In fact, it's where most of the younger generations of royals live — including Prince William and his family. And unlike most of the other royal homes, this one is open to visitors all year round! So, you definitely have the chance to explore the grand Victorian rooms, along with original furniture and family portraits.
This was also where Princess Diana used to live before her untimely death. There's even an exhibit featuring some of her most stylish clothes. (Many a fashionista consider her a style icon!) Outside, you'll find The White Garden created in the late princess's honour. The flower arrangement is quite an artwork, featuring different wildflowers, shrubs, and trees. True to its name, white roses in large terracotta pots surround the reflective pond in the centre. 
Eltham Palace
Eltham Palace is currently unoccupied, and you can visit this former royal estate on Sundays for most of the year. Its exterior is medieval style, while the interiors feature eccentric Art Deco elements. Built in the 11th century, the place went from being a Tudor manor to a modernised mansion in 1933, after a millionaire couple bought it. They even had secret passageways built to connect some of the bedrooms!
Hampton Court Palace
Hampton Court Palace is famous for being King Henry VIII's favourite home. (Can't remember this notorious guy? Oh, just the Tudor dude who had six wives — two of whom were executed.) It also happens to be the oldest surviving Tudor palace. 
This Baroque palace features elegant corridors, a well-preserved chapel, and a Great Hall decorated with magnificent tapestries. Outside on its 60-acre grounds are even more interesting sights! This includes a cool hedge maze, a deer park, the world's largest grapevine, and the oldest England tennis court. 
Tip: Book your tickets in advance! It's one of the London attractions that offer special discounts if you buy online.
Also read: Where Was 'Bridgerton' Filmed? Here Are the Real-Life Locations From Seasons 1 & 2
4. The London Eye serves some gorgeous panoramas
On the southern bank of the River Thames, the London Eye stands tall at 135m. Enjoy panoramic views of London during the 30-minute Ferris wheel ride. On a clear day, you can even see as far as Windsor Castle in neighbouring Berkshire County. It has 32 pods representing each of the city's 32 boroughs. Each pod carries interactive tablets that provide information about the notable landmarks you'll spot during the ride.
Every now and then, some of the pods are converted into pop-up concepts, like bars or restaurants, usually for big events! And ever since the London Eye opened in 2000, major cities from around the world have built their own renditions of this iconic Ferris wheel.
5. Riding the iconic red buses is as quintessential as it gets
Apart from Big Ben and Tower Bridge, the double-decker red bus is also among the top reasons to travel to London. For locals, it's probably another mundane thing they see every day. But if you're a wide-eyed tourist, then this is definitely something to be excited about. Not only is it a great way to explore London, but it's also, well, an attraction in itself! 
For a truly touristy experience, hop aboard the ones with an open top. Take a seat on the top deck because that's obviously where the fun is. (Just pray it doesn't rain!) Prepare your camera and watch the city go by. 
Also read: How to Get Around London By Bus
6. So many Thames river cruise options to choose from
Another London sightseeing staple would be going around the city via the River Thames. There's nothing like taking in the view of the skyline while enjoying a fun boat ride. What's more, there are plenty of cruise options to choose from, depending on your preferences. And the following are just some of 'em! 
There's the standard tour that starts in Westminster Pier and ends in Greenwich. If you want a midday boat ride with fine live music, then the Sunday lunch jazz cruise is a good way to start your week. 
Don't feel like cruising during daylight? There are evening cruises that often start at dusk (yay for golden hour!) and allow you to witness the city being lit up as nighttime settles. Some of these even offer a full-course meal or wine and canapés to keep you entertained. 
But if you prefer a river tour packed with an adrenaline rush, then the speedboat cruise is the one for you! This high-speed ride takes around 50 minutes, so it's definitely not for the faint of heart. In the summertime, there's a film cruise where you can watch a movie on the top deck, under the London night sky.
7. The grounds of Hyde Park are full of surprises
If New York has Central Park and Barcelona has Park Güell, then London has Hyde Park.  Is it just me, or are most urban parks a good indicator of how lovely the rest of the destination is? At 142 hectares, Hyde Park is the largest park in the city! It's also quite close to Kensington Palace, so it's like hitting two London attractions with one stone. Though, Hyde Park's own attractions might be more than enough to keep you preoccupied for a day.
Rent a paddleboat or rowboat for a short ride around The Serpentine, where you'll spot many an elegant swan. During the summer, the lake has a swimming area for those who want to beat the heat. If you'd rather just relax and enjoy the view, you can rent a sun lounger by the shore! 
Aside from its historical significance spanning centuries, Hyde Park hosts concerts and festivals every so often. Keep your ears peeled; you might want to catch a show! If you're up for a rather odd attraction, there's a "secret" dog cemetery at the northern edge. It was built way back in 1881 during the Victorian Era. 
Go for a stroll or bike ride around the park to see what else is out there. From cabins and secret tunnels, to gorgeous trees and a Peter Pan statue commissioned by the character's creator, J.M. Barrie himself! Bring some snacks and have a picnic in between stops. Pretty much anywhere in Hyde Park is a lovely picnic spot, really. 
8. Kew Gardens is more than just a big green pretty space
Despite the countless royal parks and palaces, the Kew Gardens holds its ground as one of the most stunning places to visit in London. Alternatively known as the Royal Botanic Gardens, this UNESCO World Heritage site is home to more than 50,000 living plants and several nature-inspired structures. But apart from the actual flora, there's definitely a lot more to see here!
Kew Palace
This red-brick four-storey manor is the smallest of all British palaces. A study in elegant simplicity, it used to be the Georgian monarchs' retreat from the stifling demands of the Royal Court. Its most notable resident is King George III, the first king to study science as part of his education. He spent most of his life here in Kew Palace — such as his childhood years and then later on, with his wife and 15 kids.
Temperate House
Temperate House reopened in 2018 after undergoing a five-year renovation. Its vast plant collection features some of the rarest temperate plants. And true to its name, all 10,000 individual plants require conditions above 50 degrees to survive. Head up to the balcony, which goes around the interior perimeter, for a better view of the lush scenery below.
Palm House
While not as big as Temperate House, Palm House was the first glasshouse of Kew Gardens. It houses palms and rainforest plants from various tropical countries. So, probably best not to wear layered clothing if you plan to head inside! Similar to the previous item, it has a full balcony. Keep an eye out for the cocoa (chocolate!) tree, as well as the elixir-like Madagascar periwinkle that's used to treat several types of cancer.
Princess of Wales Conservatory
Built in 1987, the Princess of Wales Conservatory is the newest glasshouse of Kew Gardens. It's quite like a glass labyrinth, with its many level changes and partitions. There are 10 computer-controlled climate zones showcasing a variety of ecosystems, such as carnivorous plants, water lilies, orchids, and cacti. 
It also has an underground aquarium — and yes, it's as exciting as it sounds! The exhibits recreate several ocean habitats like mangroves, coral reefs, and rock pools. There are even freshwater exhibits that serve as replicas of the Amazon and Congo river systems.
Treetop Walkway
Beyond the glasshouses are even more lovely trees, like oak, beech, and sweet chestnut. The Treetop Walkway lets you see these tall trees up close, along with sweeping views of the gardens and the city. You might even spot several birds and their nests along the way. 
At almost 60 feet high with see-through steel flooring, I wouldn't exactly recommend this if you're scared of heights. But hey, if you're all for spectacular scenery next time you travel to London, then this is probably worth it!   
The Hive
How about a dazzling art installation on a wildflower meadow that depicts life inside a beehive? Standing at 55 feet tall, The Hive is a larger-than-life structure, with a mesh frame featuring 1,000 LED lights. These lights glow according to the vibrations of bees that live in Kew Gardens. This is accompanied by live music specifically composed to beehive sounds in the key of C. Needless to say, it's one of the most fascinating large-scale contemporary artworks you'll ever find!
9. Catching a West End show is a must
Head to the West End and watch some of the best theatre productions in the English-speaking world. Otherwise called Theatreland, it's most famous for showcasing award-winning musicals. Though if you prefer other theatre productions, there are also some that host cutting-edge plays and comedies. Whichever you prefer, West End is one of those entertainment experiences that you have to try at least once in your life! Be sure to look into a London theatre guide for all you need to know before booking tickets to a West End show.
Fun fact: Les Misérables is the longest-running West End musical. Meanwhile, The Mousetrap, which premiered at The Theatre Royal in 1952, is the longest-running play in both West End and overall theatre history!
While it's highly recommended to book tickets months in advance, there are still some ways you can get last-minute tickets! One would be going to your West End theatre of choice early in the morning. You just might be able to snag a returned ticket, or even a ticket sold on the same day as the actual show! Another way is to visit the TKTS booth in Leicester Square, where you can get last-minute tickets at discounted prices. Either way, best to prepare your list of priority shows to watch.
10. The best museums in London are (mostly) free
You read that right! You can immerse yourself in the cultural scene without paying a cent (well, most of the time). From British history, sciences, to all kinds of art, these London attractions are some of the best places in the world for culture vultures. This city is, after all, the capital of a former world empire. (Make of that what you will…) 
Note: Usually, permanent collections have free entrance, while some special exhibitions have an admission fee.
British Museum
The British Museum will welcome you with its mesmerising Greek Revival architecture. This is a preview of what you're about to experience in its hallowed halls: a journey through different lifetimes and civilisations. It has around eight million artefacts retracing the history of humankind, arranged according to location: Ancient Egypt, Asia, Africa, the Middle East, and Greece and Rome. 
Although, I'd get it if time is of the essence and you can only take in so much. That said, you can cut to the chase and prioritise the museum highlights. These include (but shouldn't be limited to): the Rosetta Stone, Parthenon Marbles, Egyptian mummies, Easter Island statue, Sutton Hoo Ship burial helmet, and Assyrian lion hunt reliefs.
Natural History Museum
From the outside, the Natural History Museum looks more like a cathedral with its Romanesque architecture. But lo and behold — inside, you'll find some of the most mind-blowing scientific exhibitions. It's essentially an ode to the Victorian Era: a time of irrepressible curiosity and astounding scientific discoveries. Whether or not you're a science geek, it will definitely spark your inner child's interest!
For starters, there's the  25.2-metre-long blue whale skeleton suspended from the ceiling of the main hall. Other interesting finds are dinosaur bones, Charles Darwin's pigeons, Hans Sloane's nautilus shell, and a moon rock from the U.S. Apollo 17 mission. As for actual creatures, there's the preserved body of the monstrous 28-foot colossal squid.
National Gallery
At the heart of historic Trafalgar Square is the National Gallery. It might take time for you to go through its entire collection. But afterwards, you'll get why it's deemed as one of the best art museums in the world. I mean, you must be doing something right if you're often compared to the likes of the Paris Louvre and the New York Metropolitan Museum of Art. 
Art connoisseurs and enthusiasts travelling to London are in for a thrill! The permanent collection has over 2,000 paintings spanning from the 13th to the 19th century. From da Vinci, Rembrandt, van Gogh, Picasso, Boticelli, to Monet, the list of artists and works is endless! And no need to worry about crowds even during peak hours — the space is so massive, you can usually still find a quiet corner.
Victoria and Albert Museum
While the National Gallery features mainly paintings from the Renaissance up to the Modern art movement, the Victoria and Albert Museum (V&A) art collection is a lot more comprehensive. In a way, it caters to a broader audience due to the variety of its showcased decorative arts. Think Asian ceramics, Western furniture, jewellery, photography, and more! 
And don't even get me started on their über-cool temporary exhibitions, which are focused on modern fashion and pop culture. It's perfect for those who prefer a more en vogue collection with its own impressive history! In recent years, the V&A has featured and/or collaborated with the likes of Balenciaga, Pink Floyd, Christian Dior, and Elton John. Absolutely smashing!
London Transport Museum
Wait, hear me out — it's a lot more interesting than it sounds. That, and the fact that you won't need an entire day to fully explore this museum! Allot an hour at best, and you're good to go. 
Before there were Japan's bullet trains and even San Francisco's cable cars, there was London's public transport system. The London Transport Museum traces back this aspect of the city's history to the 1800s. Highlights include the first underground steam engine, a wooden Metropolitan Railway coach, horse-drawn buses, and the iconic red London bus. And yes, you can hop aboard these!
11. A slice of Brit pop culture, please
If I had to make a list, I'd probably lose count of the many iconic pop culture figures that hail from England. No wonder there are many tours catering to different fan bases! But hey, sometimes it's better to cut to the essentials. That way, you can get more variety when you travel to London for these. After all, most of us have more than one favourite London-based TV show/movie/musician. Talk about set-jetting! 
King's Cross
Head over to King's Cross railway station and look for the Platform 9 and ¾ sign: the gateway to Hogwarts Express in the Harry Potter series. Have your photo taken with the luggage trolley embedded in the wall, even though your Hogwarts acceptance letter probably got lost in the mail years ago (*sigh*). You can also have a professional photographer take a picture of you wearing a Hogwarts House scarf of your choice. Don't forget to drop by the souvenir store; time to buy that wand you've been dreaming of forever!
Also read: 5 Enchanting Universities in England That Look Just Like Hogwarts
Baker Street
According to Arthur Conan Doyle's Sherlock Holmes novels, sleuth duo Sherlock Holmes and John Watson lived at 221B Baker Street. This fictitious address of our favourite British detectives might be tricky to find IRL. Why? Because it's actually situated between 237 and 241 Baker Street! 
There, you'll find the Sherlock Holmes Museum. So, take note, Sherlock (whichever version, really) fans-slash-pilgrims! Quite nearby is the Sherlock Holmes statue that's right outside the Baker Street underground station!
Abbey Road
Here comes the sun, and I say it's all right. Okay, so London doesn't exactly have the sunniest weather, but a walk along Abbey Road is bound to brighten up the day of any Beatles fan. Recreate their 1969 album cover at the iconic black-and-white-striped pedestrian lane. You'll know it when you see other fans trying to do the same! 
Just remember to look before crossing; it's an actual road, after all. After the photo op, walk a few steps, and you'll see Abbey Road Studios, aka the Beatles' former recording HQ.
Earl's Court Police Box
Once upon a time, police boxes weren't exactly what you'd consider London attractions. They served as mini police stations with a direct phone line, as well as CCTV cameras later on. In the hit BBC series Doctor Who, the distinct blue police box located outside the Earl's Court underground station also happens to be a TARDIS (the show's term for time machine). And with that, Allons-y!
Dukes Bar
James Bond filming locations are far and many. Although Dukes Bar isn't one of those, many Bond fans would still travel to London for it! This quiet hotel bar along St. James's Place used to be frequented by Ian Fleming, author of the James Bond novels. (Side commentary: As a "half-introvert", personally, I'd be weirded out if people found out what my favourite bar is).
Rumour has it that it's where he got the inspiration for the famous Bond catchphrase, "shaken not stirred." But one thing's for sure: Dukes has some of the best martinis in London — including its two signature James Bond martinis!
Westbourne Park Road and Portobello Road (Notting Hill District)
Before the likes of Bridget Jones's Diary and Love Actually, Notting Hill set the standard for modern British romcoms. Remember that scene where the paparazzi hounded Will Thacker's house? You can find the iconic blue door of Will's flat at 280 Westbourne Park Road. 
Fun fact: The actual door in the movie was removed and auctioned off. The owners replaced this with a black door, as to not attract attention from fans. But later on, they decided to repaint it blue, just like the original one! 
Just down the street at 303 Westbourne Park Road is the spot where Will bumps into Anna Scott. You might wanna drop by Coffeebello, which is right beside the now-defunct location of the Coffee Shop (yes, that's really the name) from the film. And then there's a souvenir shop aptly called Notting Hill at 142 Portobello Road, where Will's Travel Bookshop used to be!
12. The food and dining scene brings many taste buds to heaven
Munch your way through the many delicious food the city has to offer. Don't worry about the calories; we promise they're worth it — especially if it's your first ever travel to London!
Breakfast: Borough Market
Start your day at Borough Market, where it's best to come by early morning (it opens as early as 8am!) between Wednesday to Friday to beat the crowd. You see, not all traders are present on Mondays and Tuesdays, whereas Saturdays are often packed. Take your pick among the many options from this fantastic market!
Kappacasein's "cheese toasties" are oozing with gooey grilled cheese goodness. For baked goods, Bread Ahead offers a delicious assortment. Their doughnuts have been dubbed as the best in the world, with unusual fillings like caramel custard, salted honeycomb, and homemade blackberry jam. Don't forget to drop by Monmouth Coffee for your caffeine fix!
Lunch: The Golden Hind
Don't leave London without sampling England's most beloved dish: fish and chips! For lunch, head over to The Golden Hind in Marylebone Village. This 100-year-old family-run restaurant serves the best fish and chips in town. Take your pick between freshly caught cod, haddock, halibut, plaice, and rock salmon with chunky hand-cut chips (fries). Don't forget to have green peas on the side, for a full-on classic British meal! 
Also read: 18 British Foods You Should Try Other Than Fish and Chips
Afternoon tea: Gallery at sketch
Londoners take their afternoon tea quite seriously. There's even a song that goes, "At half-past three, everything stops for tea." It's a pastime that's as British as it gets, as proven by the many fancy cafes and hotel restaurants to choose from. No kidding — even the most cynical locals deem it a necessary indulgence!
In between exploring London attractions around the area, head over to sketch's Gallery in Mayfair. They offer an exquisite afternoon tea experience inside this room that's the epitome of visually fabulous. Every inch of this pink-filled haven is Instagrammable — from the plush scalloped chairs to scrumptious food and drinks, and artworks by British visual artist David Shrigley lining the rosy walls. 
Dinner: The Magazine
Step inside The Magazine at Serpentine Galleries and be wowed by the swooping design by world-famous architect Zaha Hadid. Its structure is a modern architectural landmark, a cross between a tent and a sci-fi movie spaceship. Enjoy a lovely dinner here after exploring the picturesque Hyde Park, where it's conveniently located. Their menu specialises in "climavore cuisine" through an ever-changing roster of exquisite offerings. In case you're new to the term, it's essentially a more flexible approach to eating that works with the environment, rather than against it. Here, the ingredients are sustainably sourced and handpicked according to seasonal availability; from line-caught seafood to various fruits and veggies.
13. Shopping is always a good idea
London's style scene is a blend of high street and high end, vintage and bespoke. Whatever your preferences are, this fashion capital has everything you want and more. Oxford Street is the most famous of the shopping streets, with over 300 shops to choose from. Right beside it is Bond Street, where you might even spot a celebrity or two. Also within walking distance is Regent Street. This one has mid-range brands, along with some of the oldest and most famous shops in London.  
Carnaby Street has an iconic heritage as the birthplace of London's fashion revolution during the Swinging Sixties. Nowadays, it hosts an eclectic mix of independent boutiques, homegrown brands, and up-and-coming designer labels. For the best of vintage-anything, Portobello Road Market is your best bet. It also has the world's largest antique market, where you can score all sorts of antiques and collectables.
Meanwhile, Savile Row is the shopping mecca for bespoke menswear, where you'll find some of the best tailors. One of its oldest stores, Huntsman, is actually the inspiration for the hit spy movie Kingsman: The Secret Service. And then there's Harrods in Knightsbridge — London's own version of a Saks Fifth Avenue. It's the largest department store in Europe, with seven floors and over 330 departments. And since Harrods only has one branch, its signature green shopping bags might as well be souvenirs on their own!
14. London bookshops are in a league of their own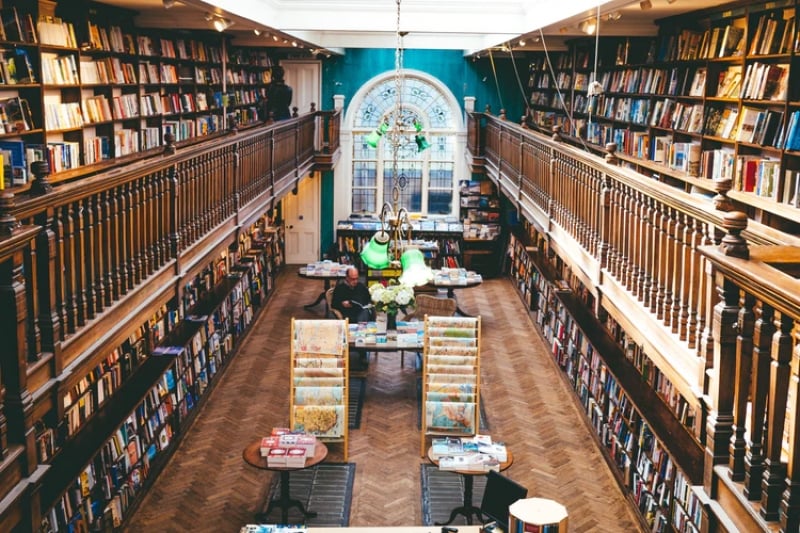 Bookworms around the globe travel to London for its status as a literary capital. After all, it has been home to the likes of Charles Dickens, Agatha Christie, George Orwell, and Sylvia Plath, to name a few. So, it's no shocker that its best bookshops are a must-visit for the globetrotting literati. Make sure to leave extra space in your luggage — you'll be up for a major book haul!
For travel-related finds, head over to Stanfords. It has the largest collection of maps and travel books, stocked under one roof. Meanwhile, the London Review Bookshop boasts a selection focused on classic and new fiction. It's owned by a literary publication, whose ethos is aptly embodied by this store. Meanwhile, Foster Books is your best bet for books that are hard to find, out of print, and/or even first edition!
Daunt Books is arguably the loveliest — or at least, the most Instagrammed — London bookshop. It's housed inside an Edwardian building, with long oak balconies, parquet flooring, and tall stained-glass windows. Its most interesting feature though is the browsing experience it offers: all books are arranged by country! And then there's Hatchards, the oldest surviving bookshop in the UK. It's also an official bookseller to the royal family, with over 100,000 books to browse through.
15. A walk around Highgate Cemetery is equal parts creepy and fascinating
Up for something on the odd and eerie side? Take a tour to Highgate Cemetery, which is perhaps the most unusual pick among London attractions. Opened in 1839, this hill-top cemetery was deemed a "fashionable" burial place during the Victorian Era. People from that era had somewhat of a romantic attitude towards death, as shown by ostentatious Gothic mausoleums, different graveside animal statues, and even Egyptian tombs. 
Highgate Cemetery has over 170,000 names buried in more than 52,00 graves. Some of its well-known occupants include Karl Marx, Michael Faraday, and George Eliot. It's divided into two parts: East and West. The latter is the older one and can only be visited through guided tours, as to protect the fragile structures. 
Also read: Brush Up on British Slang: 12 Most Common Words and Expressions to Learn
With so many reasons to travel to London, it's probably high time you schedule that vacation soon! Excited to experience all that it has to offer? We'd love to hear about it. 'Till then — cheerio!