If you thought Mother Earth only marvelled us with beautiful gardens, villages, deserts and forests, we have underestimated her power. Our earth is a magical planet, and magic connotes endless power – the very reason why nature unceasingly produces wonderment beyond our imagination. This time, we look at natural swimming holes around the globe that you may have never fathomed. Here is our pick of 10!
1. Hinatuan Enchanted River, Philippines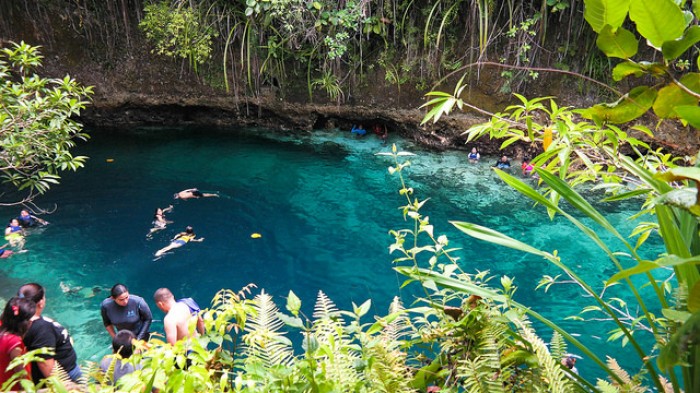 Image credit: Bro. Jeffrey Pioquinto, SJ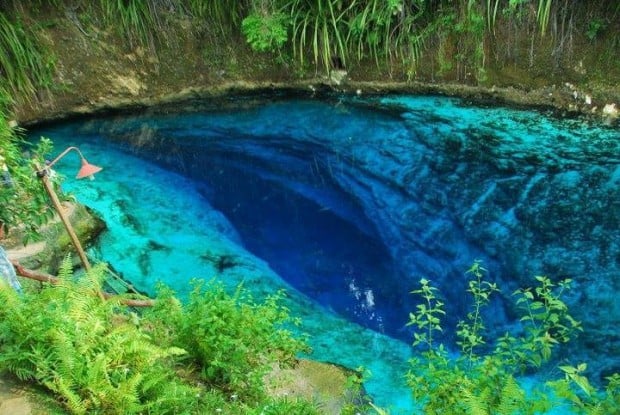 Image credit: Wikipedia
Something magical always entails a mystery. Having only been discovered in recent years, the Hinatuan Enchanted River has been a mystery ever since, for no source has explained the existence of its crystal clear waters, which flows into the Philippine Sea.
The river, which is situated on the island of Mindanao, is unique for its unfathomable depth that take prominence in the middle of the river – the reason why tourists swim in the shallow waters where depths are noticeable. Adding on another dose of magic is the 'hymn of Hinatuan'. It is played exactly at 12 noon when the caretaker rings the bell to request tourists to leave the water as it is the feeding time for an enormous school of fish whose origin also remains… a mystery.
2. To Sua Ocean Trench, Samoa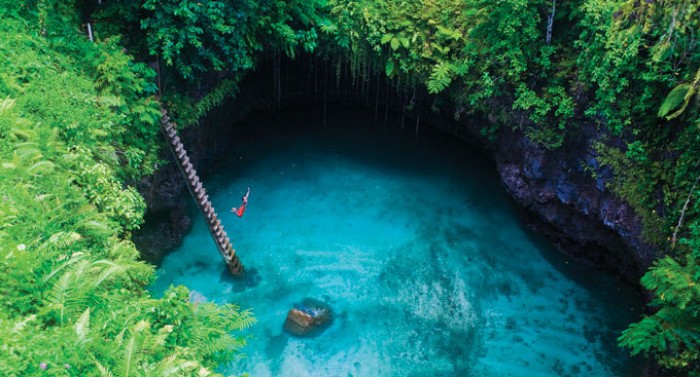 Image credit: michael
Literally translating to 'big swimming hole', To Sua Ocean Trench on Upolu Island has by far been travellers' favourite swimming spot. For such a big hole, its origins, though hard to prove, might lie in a volcano eruption that led to the ground collapsing 30 metres deep into earth.
To swim in the azure blue waters, travellers need to climb down the 98 feet long steep ladder that leads to the pool. If you are a skilled diver, you can add more zest to the adventure by navigating through the sea cave near To Sua that leads to the South Pacific Ocean via underground canals.
Also Read: Desert Getaways Around the World for The Tough Traveller
3. Kuang Si Falls, Laos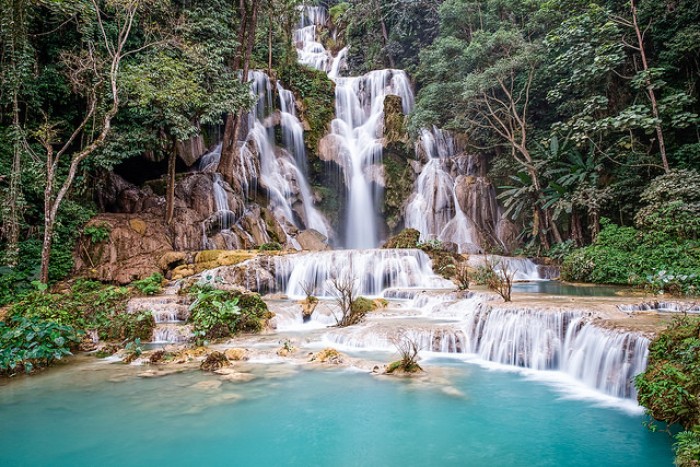 Image credit: Mild Delirium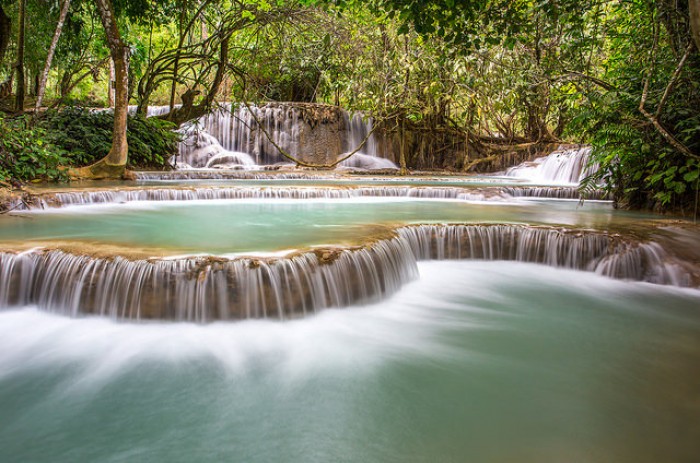 Image credit: Anne Dirke
Known to be the biggest waterfall in Luang Prabang, the Kuang Si is a majestic display of its three-tier stone-rigged waterfall that peaks at a 50-metre drop into the tranquilising turquoise blue pools beneath. The pools cascade up to five metres and offer soothingly cold water.
Apart from the pools below, you can also follow trails and walkways leading up to the top for more natural pools, and to catch the sight of the water streaming into the falls.
4. Grotta della Poesia, Italy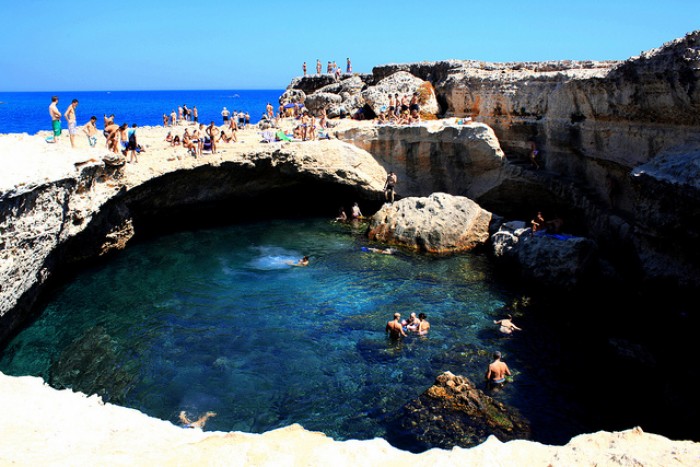 Image credit: RedFlake
It has been said that Grotta della Poesia was a favourite swimming spot for an ancient princess whose sight at the idyllic pools inspired several poets; it is no wonder that it found its name as such – Caves of Poetry. A unique limestone pool, Grotta della Poesia boasts crystal clear blue waters in its cenote (or sinkhole) that was formed by the collapse roof of an underground cavern, which may also explain its circular shape.
5. Ik Kil Cenote, Mexico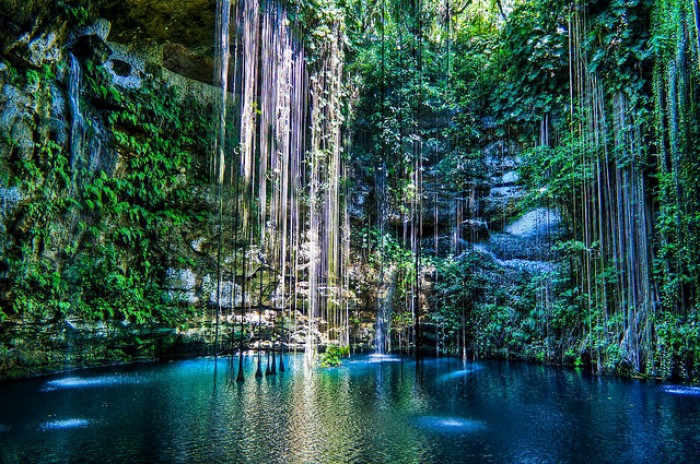 Image credit: KoiQuestion
With its history dating far back to the Mayans, the Ik Kil Cenote had once been used by Mayan royalties for religious rituals, such as human sacrifice for their rain god. But for the lack of any eerie feels you might experience, the cenote is far more magical than that. With the sun seething through the hanging vines and waterfalls, the cenote casts mystical rainbows of light that turns this Mayan history into something akin to paradise.
Travellers will need to climb down a stairway to reach the pool at the bottom of the cenote, which is about 130 feet deep, and water level at 85 feet below ground level.
6. Pamukkale Hot Springs, Turkey
Image credit: ccdoh1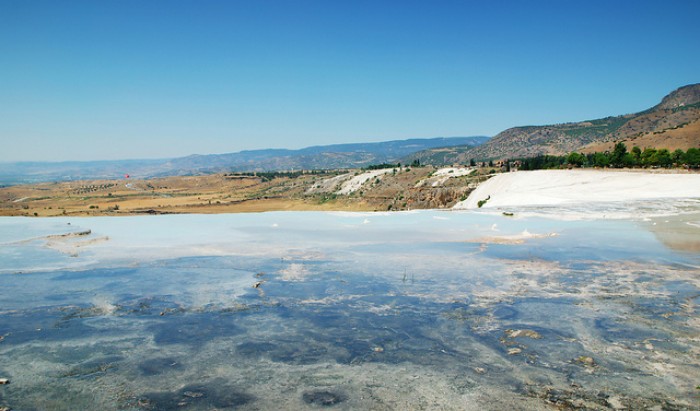 Image credit: zolakoma
Turkish for 'cotton castle', Pamukkale is a tantalising display of natural hot water pools that lay in layers of travertines, or for a better word, terraces. And its name fits perfectly for its overall feel of fluffy and white. Although the hot springs can be visited all year long, the best time is usually during winter when the pools of hot water offer a soothingly warm respite against the chilly weather.
7. Devil's Pool, Victoria Falls, Zambia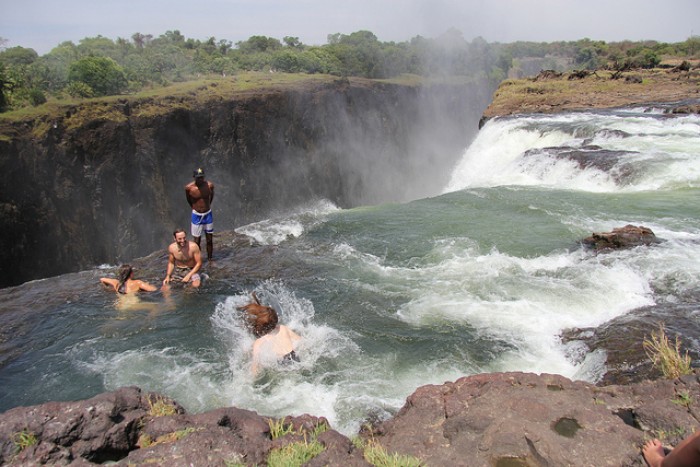 Image credit: joepyrek 
Considered the largest waterfall in the world, the Devil's Pool stands at height of 354 feet. Yet, it draws hundreds of adventurous swimmers to the edge of its waterfall at the naturally formed pool of water. During the dry season of September to December, the water flow decreases well enough from its full current, allowing the natural rock barrier to appear on the surface. This acts as a safety net for tourists, preventing them from being carried away by the Zambezi waters, which, at a few meters away, cascade down into the falls.
8. Poco Azul, Brazil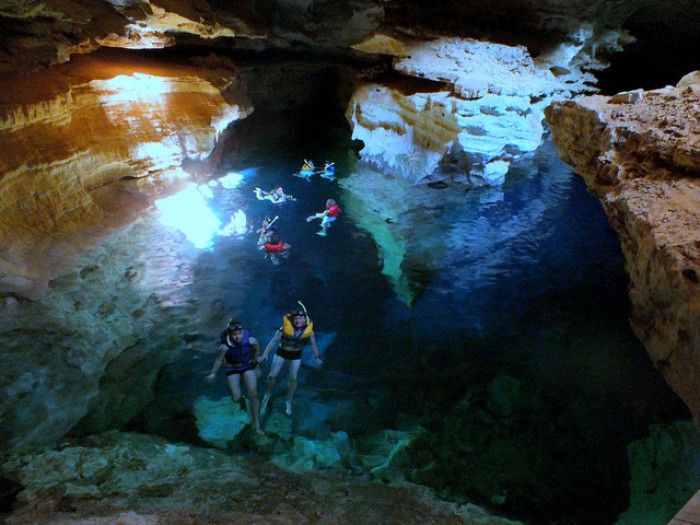 Image credit: Bart van Dorp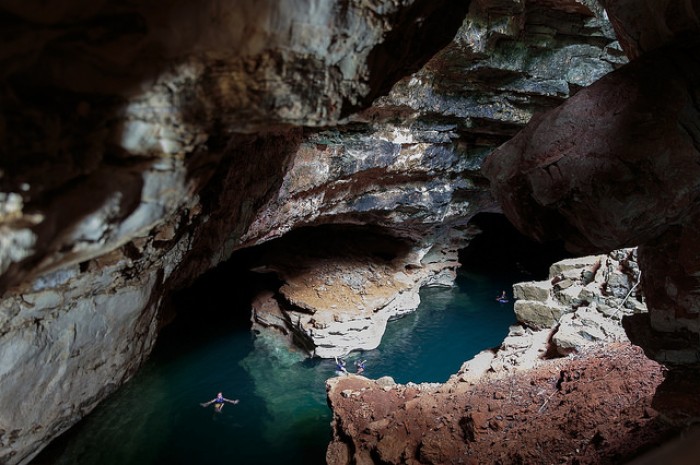 Image credit: Chico Ferreira 
Even though its name, Poco Azul, translates to 'blue pool', there are certain timings in the early afternoon where the water becomes so clear that swimming in it is akin to floating in the air. Now how magical is that?! Just make sure you don't visit during the cloudy days or hours that fall outside the sunny hours of the cave. The best timings range from 12 noon to 3pm.
9. Havasu Falls, Arizona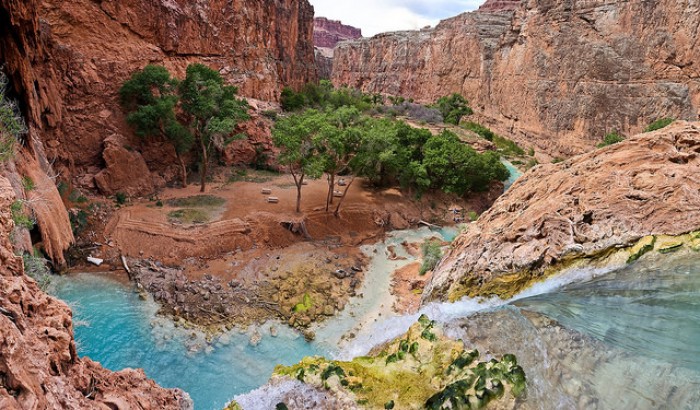 Image credit: Alan 
Situated in the Grand Canyon National Park, the Havasu Falls exudes a magical world of blue, green and red, with a main chute dropping at a close 100 feet off a vertical cliff. Although it is difficult to get reservations, the paradise-like falls is one destination for those who know how to plan ahead and can withstand hikes as long as 8 miles or more.
10. Jellyfish Lake, Palau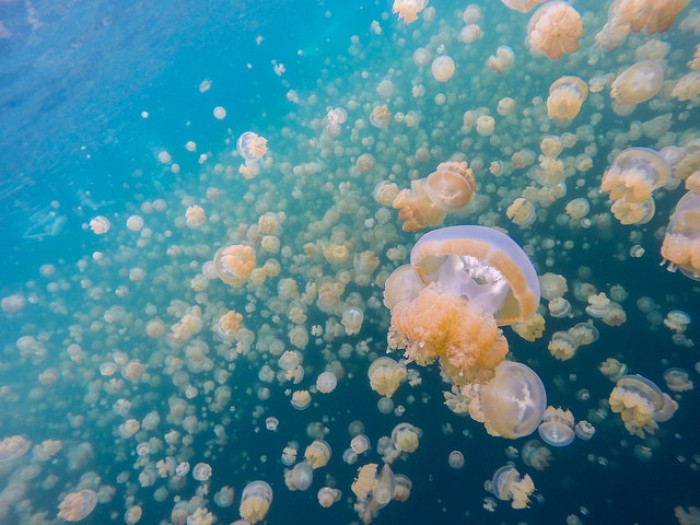 Image credit: Richard Schneider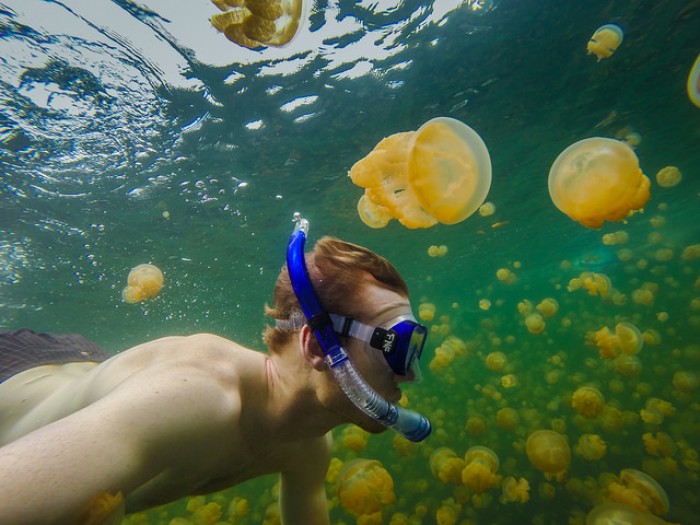 Image credit: Richard Schneider
One of the 70 saltwater lakes on the South Pacific archipelago once connected to the ocean, the Jellyfish lake, as its name suggests, will offer you a jellyful experience.
With an explosion of jellyfish communities feeding on algae and completely safe from predators, the jellyfish find their home in the small lake. Swimming in the lake is safe – the stingers of the jellyfish can hardly be felt by the human. You might find the lake perfect for scuba diving; however, it is strongly discouraged for it can disrupt the ecosystem, and it is dangerous for divers who swim 15 to 20 metres deep due to a toxic layer of hydrogen sulphide at those depths.
Also Read: 15 Shots that Tourists Should Stop Taking Already
Now it's your turn! Hit us up with a photo of a magical swimming hole you've taken a plunge into that deserves a mention.