Before Germany was united into one ruling country, it was divided into feudal kingdoms. Many powerful nobles built castles to set borders and protect their territories. Today, Germany is studded with over 20,000 palaces, fortresses, and ancestral homes — each with their own epic legacy. 
It's telling that the German language has at least two main words to describe a castle. Burg, which refers to a stronghold that can defend a territory in battle; and schloss, which suggests a more elegant residence for the royal family. 
Therefore, if castle-hopping through Europe is part of your bucket list, you won't find a better country for your itinerary than Germany. Take a look at these fascinating landmarks, and you just might find the burg or schloss you've been dreaming about. 
With Uniworld — a recipient of the 2022 TripZilla Excellence Awards in the Best for Luxury River Cruises category — you'll be able to sail across Europe, Asia, and more in style! Start with their top-selling eight-day Castles Along the Rhine cruise, which will take you on a majestic tour of castles from Basel to Amsterdam.
1. Neuschwanstein Castle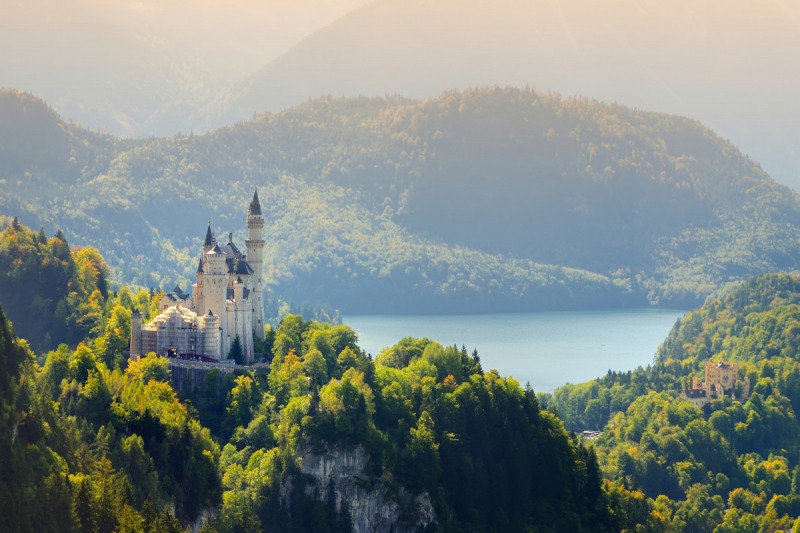 It's safe to say that there's nothing quite like Neuschwanstein Castle. Emerging from the Bavarian Alps, the "New Swanstone Castle" is arguably the most famous castle in Germany. With its blue turrets and romantic silhouette on a hill, it has bespelled travellers and inspired many fictional castles, including Disney's Cinderella's castle.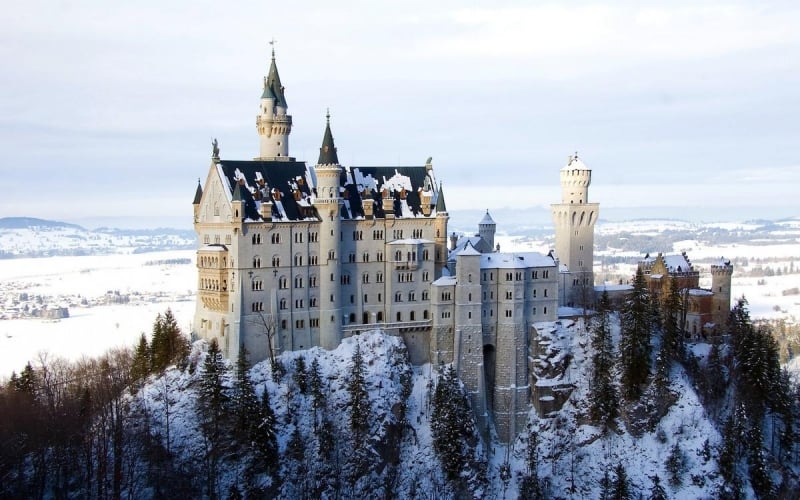 King Ludwig II of Bavaria, also known as the "Mad King" Ludwig, commissioned this palace to remind him of his childhood home. But after the Prussians won the Austro-Prussian War, he lost his authority to rule. He retreated from social life and isolated himself in Neuschwanstein Castle, where he could live out his fantasies of being a true king. Bittersweet, isn't it? 
Also read: How to Get to Neuschwanstein Castle From Munich: A Comprehensive Guide
2. Eltz Castle
Somewhere beyond our wildest dreams is an idyllic realm like this one. Tucked in the forests between Koblenz and Trier, the Eltz Castle is unique among German castles because it has survived wars while remaining largely intact.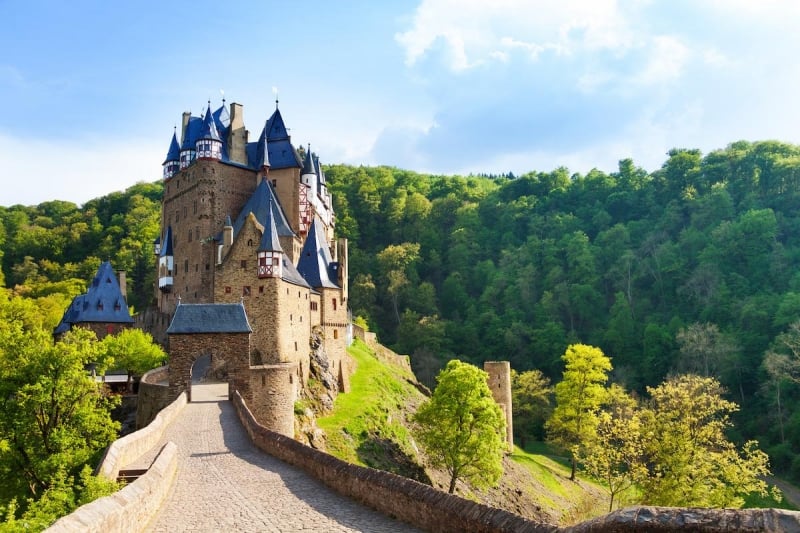 Through a guided tour, you can marvel at porcelain artefacts in the treasury; or visit the armoury, where you can glimpse rare weapons from the Middle Ages. Since the 12th century, this medieval keep has been owned by the Eltz family and their descendants. 
3. Wartburg Castle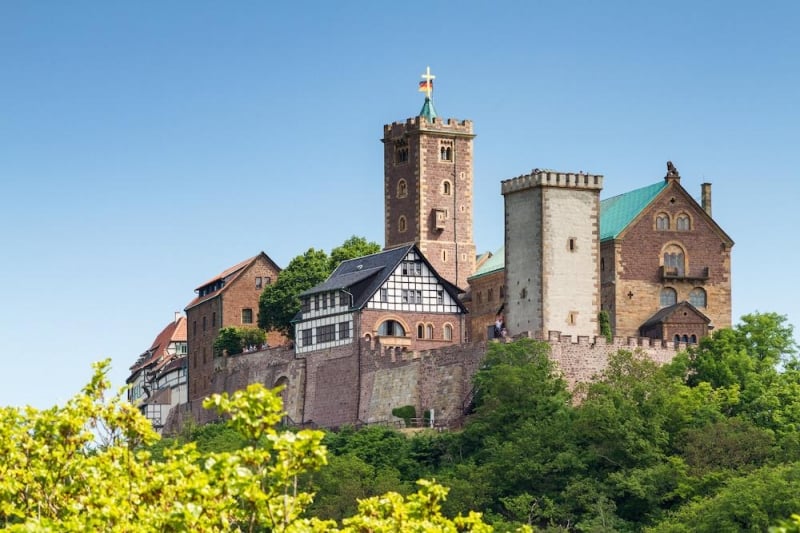 Travellers can witness over 1,000 years of history at Wartburg Castle, a rustic, charming fortress overlooking the town of Eisenach in the Thuringian countryside. Besides its notable Romanesque architecture, this hilltop castle served as a retreat for Martin Luther when he was exiled during the Reformation.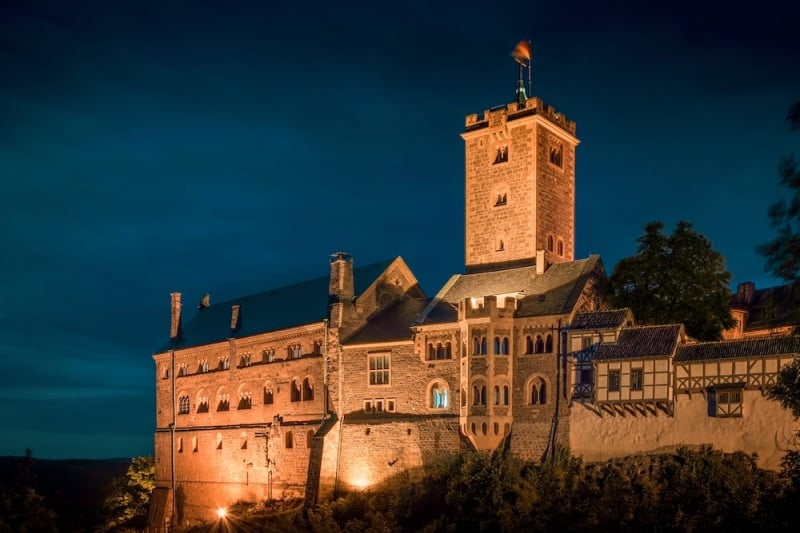 In 1999, Wartburg Castle became the first of many German castles to be declared a UNESCO World Heritage Site.
4. Schwerin Castle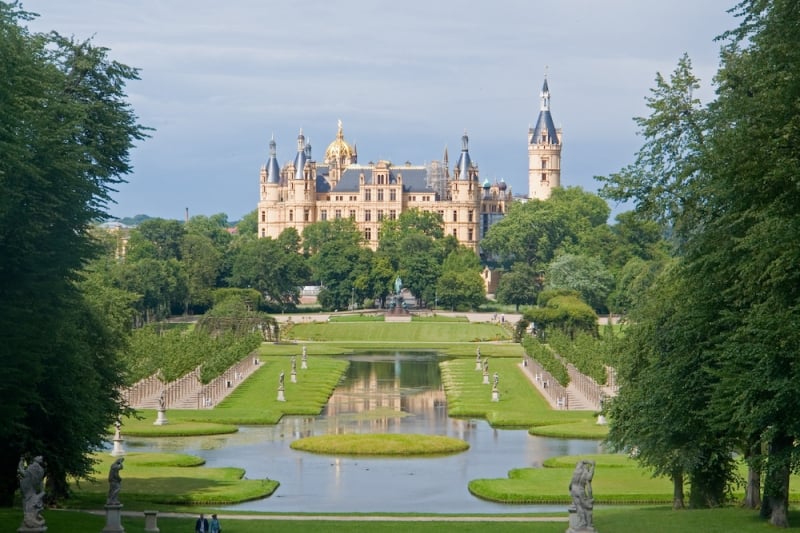 As far as spectacular German castles go, you can't go wrong with Schwerin Castle. Hailed as the "Neuschwanstein of the North," it boasts an impressive art gallery, opulent rooms, English-style gardens, and its very own poltergeist. Why yes, you're looking at a haunted castle!
If the rumours are true, Schwerin Castle hosts a 17th century-guardian spirit named Little Peter, who roams the halls and wards away visitors with bad intentions. Keep an eye out for flickering lights or jangling keys. You just might have a personal encounter with German history.
5. Heidelberg Castle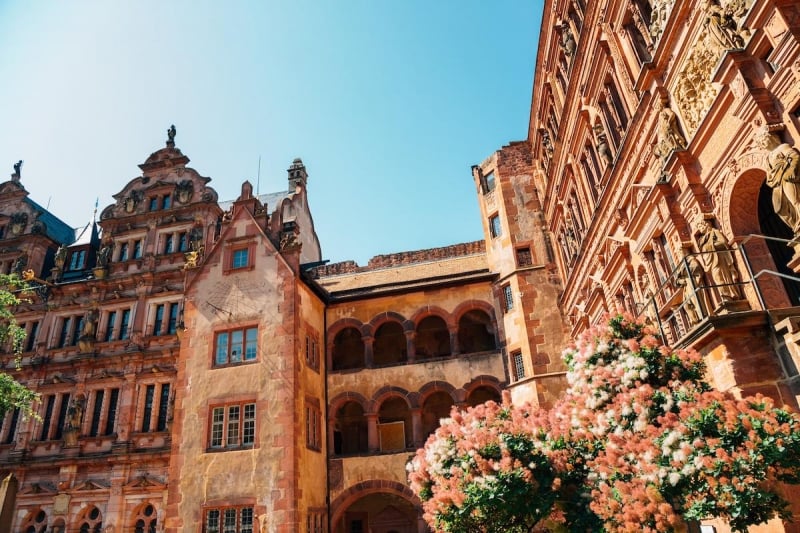 Anyone heading to the university town of Heidelberg will recognise this castle's auburn sandstone walls and ample courtyard. Or rather, what was left of them. In the early 1300s, Heidelberg Castle dominated the skyline as a Renaissance masterpiece.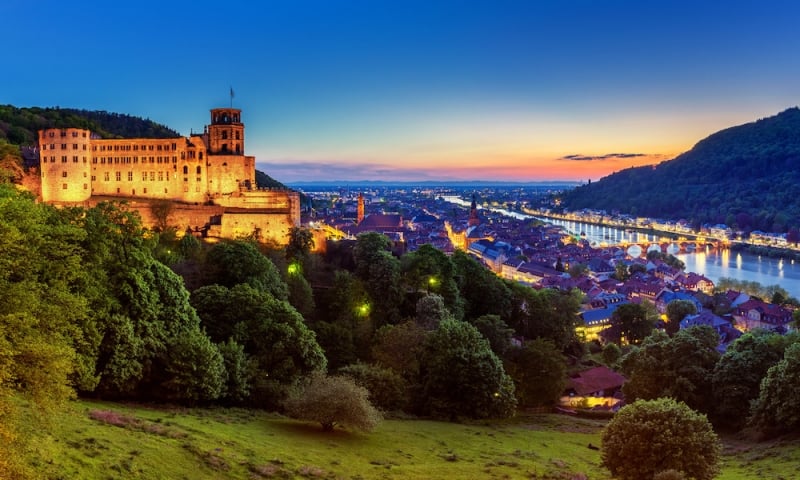 By 1869, however, Heidelberg Castle was ravaged and burned by the French army. Years later, it endured further damage when lightning struck the castle and set off an explosion. What remains of its glorious heritage are the ruins of the castle. To this day, though, it still has the ability to attract wanderers to a picture-perfect town.  
Also read: 7 Age-Old Landmarks in Germany Bound to Fill You with Awe
6. Marksburg Castle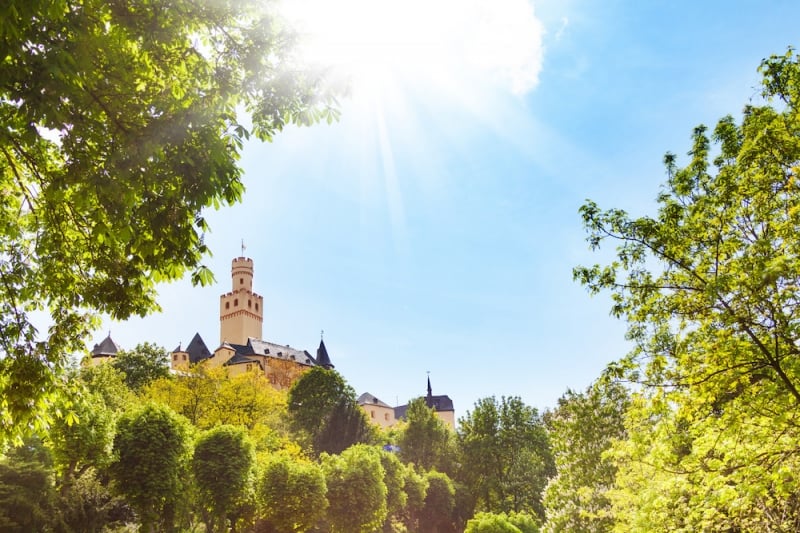 Towering above the riverside town of Braubach is Marksburg Castle. A mighty and impenetrable stronghold, it's the only castle in the Middle Rhine region that has never been destroyed. Presently, it makes quite a storybook-worthy sight for tourists.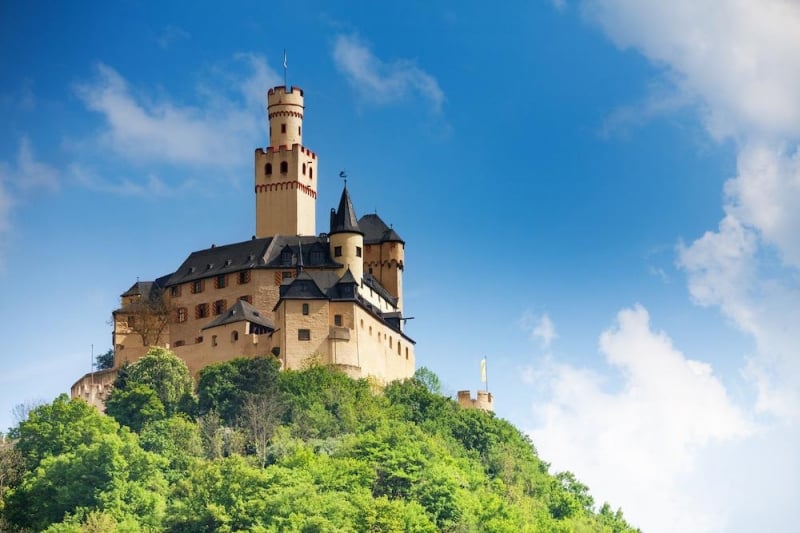 When you stumble upon this fortress today, you'll find well-preserved gates and ramparts, as well as staff members decked out in medieval garb. If you sign up for a tour, you can also attend a knight's banquet — just like in the Middle Ages.
7. Drachenburg Castle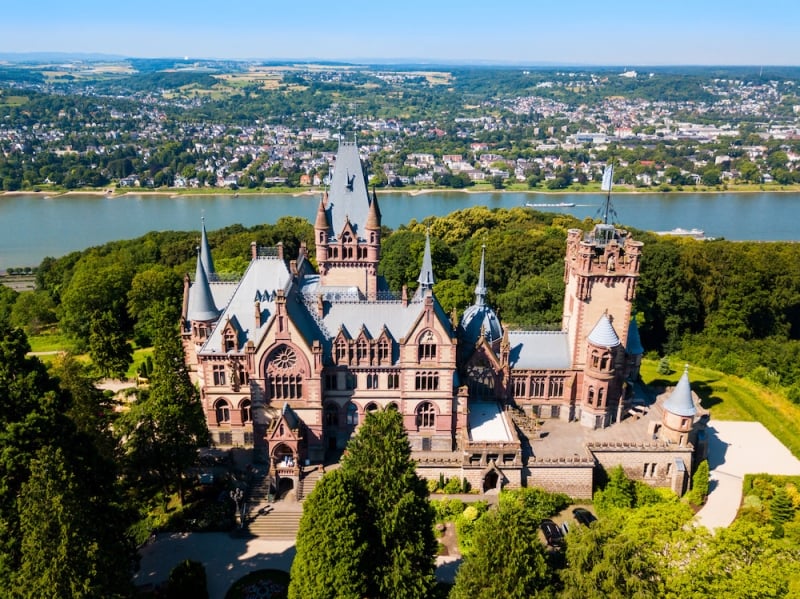 Many travellers are content to gaze at German castles from afar, but the unique atmosphere of Drachenburg Castle in Königswinter is one that you have to experience up close. Situated between Cologne and Bonn, this showpiece attraction combines the best features of a castle, a manor, and a villa. 
This ancestral home belonged to the late Baron Stephan von Sarter, who was an affluent banker in the 1800s. Fortunately, it isn't as crowded as other German castles, making it perfect for a leisurely stroll around fountains, terraces, vineyards, and towers. 
8. Hohenschwangau Castle
Come the 19th century, German castles became more than strategic fortifications for war; they started to be valued for their grandeur and aesthetics, too. Likewise, the summer palace of the Bavarian royal family, Hohenschwangau Castle, embodies the whimsy of its owners. 
Today, Hohenschwangau Castle cuts a dramatic figure with its sun-drenched walls and Neo-Gothic facade. This was the childhood home of King Ludwig II of Bavaria, who loved the castle so much that he commissioned another one just like it: Neuschwanstein. Both castles are popular attractions in Bavarian tours, often beginning in Hohenschwangau Village.
9. Hohenzollern Castle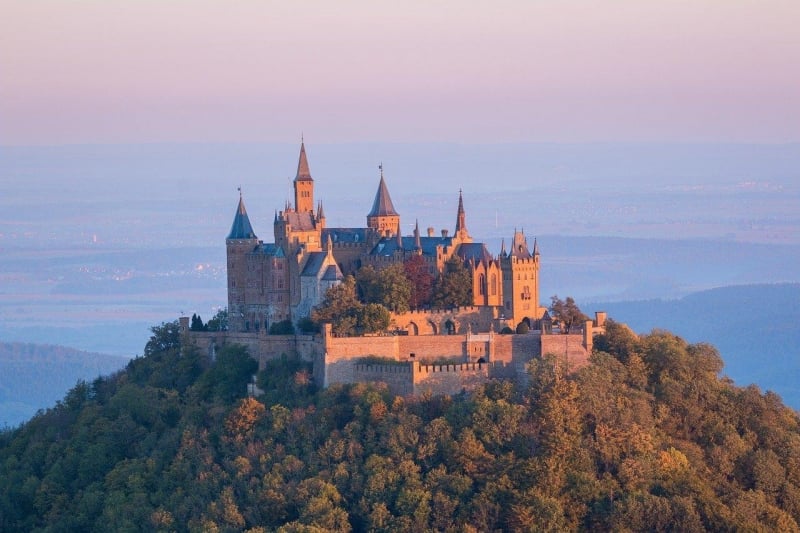 Easily one of the most legendary German castles out there, Hohenzollern Castle is a postcard-worthy destination in central Baden-Württemberg. Originally constructed as a military bastion, this fanciful abode now sits dreamily above a high bluff in the Swabian Alps.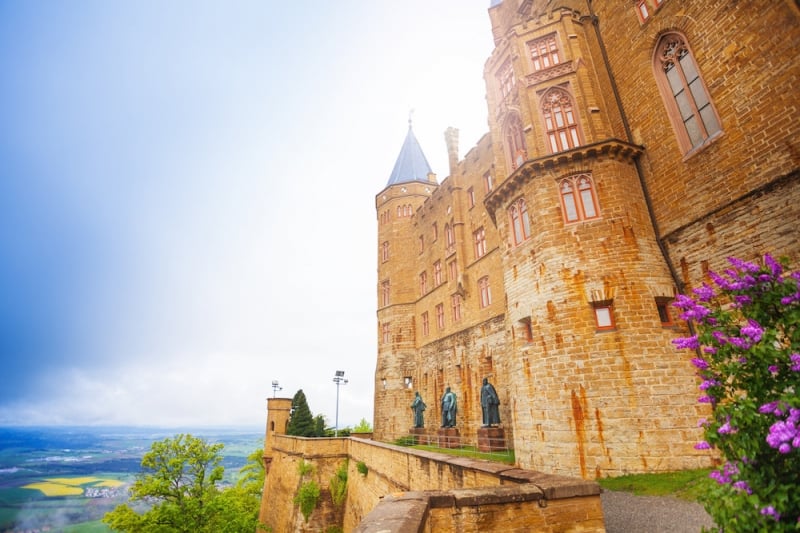 Wait for some fog and the purple-orange hues of sunset, and you just might mistake it for an enchanted kingdom on a cloud! 
10. Lichtenstein Castle
If Lichtenstein Castle looks like it was lifted from a storybook, that's because it was. Count Wilhelm of Württemberg built this imperial residence out of admiration for the historical novel Lichtenstein, which takes place in a lofty castle like this one. It sits on an exposed cliff that overlooks the lush valley of Echaz. During winter, it looks almost otherworldly.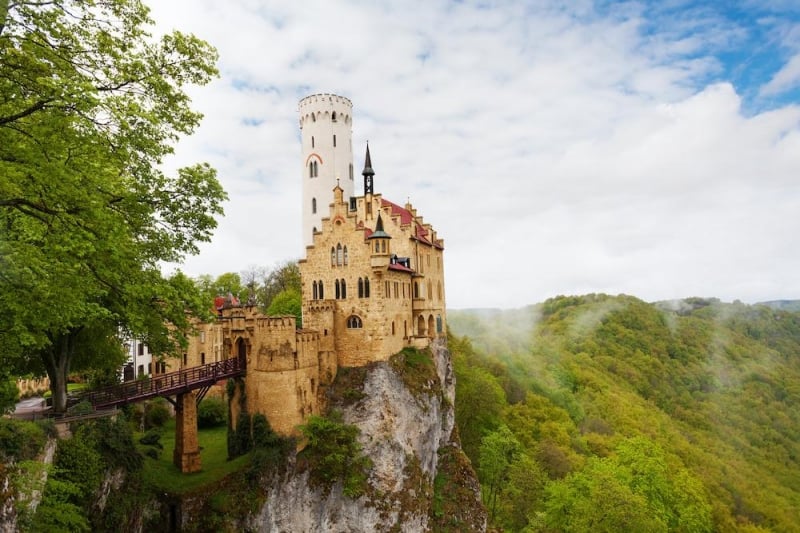 Known as "the fairy tale castle of Württemberg," the name of Lichtenstein Castle translates to "shining stone." We can see why. 
Also read: 15 Stunning Castles in Europe You Wish You Could Live In
The chances of being a secret descendant like Mia in The Princess Diaries or the long-lost heir to the throne — any throne, at this point — are, well, not very high. But if we had to pick our own Genovia, any of these German castles would be like winning the royal jackpot. 
While many people associate palaces with countries like France and England, we hope these castles will give you a reason to visit Germany, too. More than noble relics, they're proof that reality can be just as tantalising as fable.