Think of a volcanic island flecked with blue roofs along dramatic cliffs that overlook the Aegean Sea, and you have Santorini. With its reputation for gorgeous seascapes and sunsets, this popular destination boasts a wild beauty that only nature could carve. And while there's certainly no shortage of exciting things to do in Santorini, we've rounded up the best highlights for the Greek vacation of your dreams.
Also read: How I Conquered Santorini on a Budget
1. Wander through picturesque alleys at Fira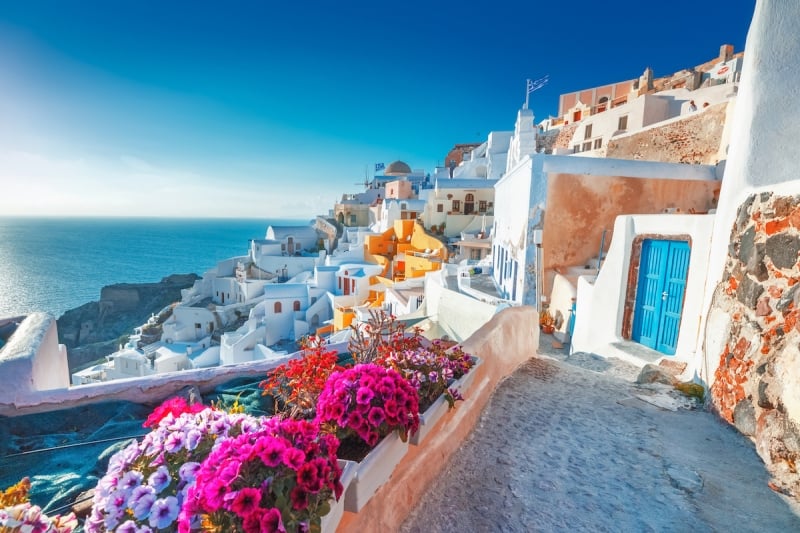 If you're feeling sprightly enough, walking is one of the best ways to explore Fira, the lively capital and commercial hub of Santorini; and later, Oia (pronounced "ee-ya"), the hilltop town with the iconic blue-domed churches. In April, it's quite common to spot wild flowers blooming along the ridge of the caldera, which you will pass on the trail from Fira to Oia. 
As you follow a scenic footpath marked by signposts, you'll come across all kinds of surprises! Give yourself ample time to get lost in the streets lined with interesting doorways, cafes, and wonderful little shops selling everything from clothes to jewellery to souvenirs. 
Although the hike from Fira to Oia can be finished in around three hours, most people prefer to take their time when it comes to sightseeing. After all, who wouldn't want to stop and stare at such breathtaking views? 
2. Try the Greek pastries at Svoronos Bakery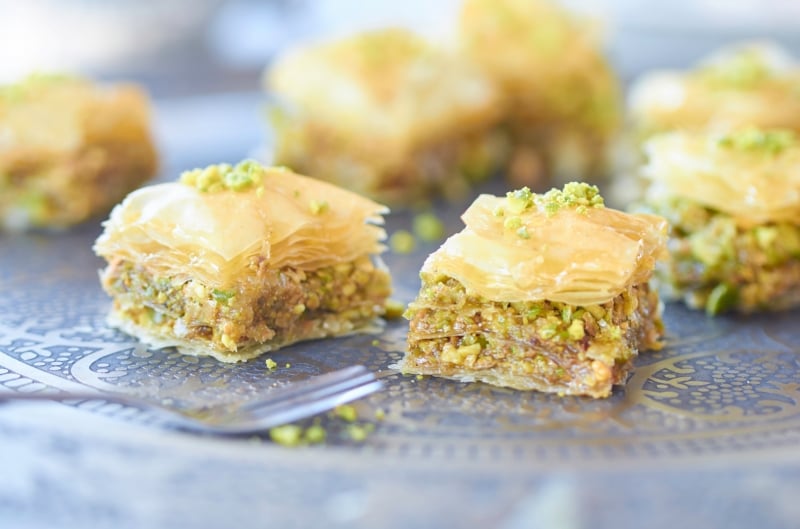 While chasing down all the photo-worthy sights in Fira, drop by Svoronos Bakery for some of the best Greek breads in Santorini. Would you believe that this family-owned establishment has been selling baked goods since 1896? Naturally, you just have to try them out!
Take a scrumptious bite out of their sesame-crusted bread rings, a popular snack among the locals. Or the baklava, which sinks under the teeth with a golden crisp, coming away with flavours of honey and pistachio. This bakery also happens to be open 24/7, so you can satisfy your cravings anytime you want! 
Also read: Foods You Must Try in Greece
3. Admire the blue-domed churches at Oia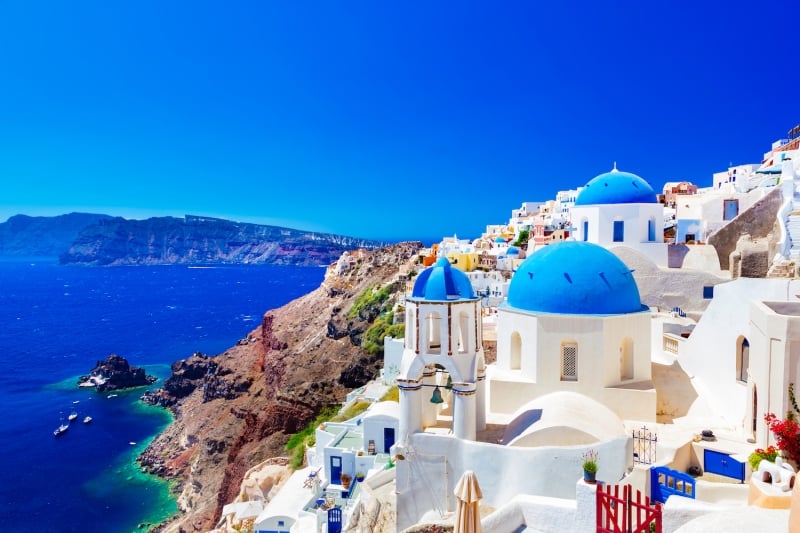 The lovely village of Oia is home to the jewel-blue churches and pristine white buildings that come to mind when you think of Santorini. Clustered along reddish cliffs, these picture-perfect houses, villas, hotels, restaurants, and staircases call out to you with striking panoramic views over the shimmering sea. You might think they are part of a dream, but no, Oia really is that stunning!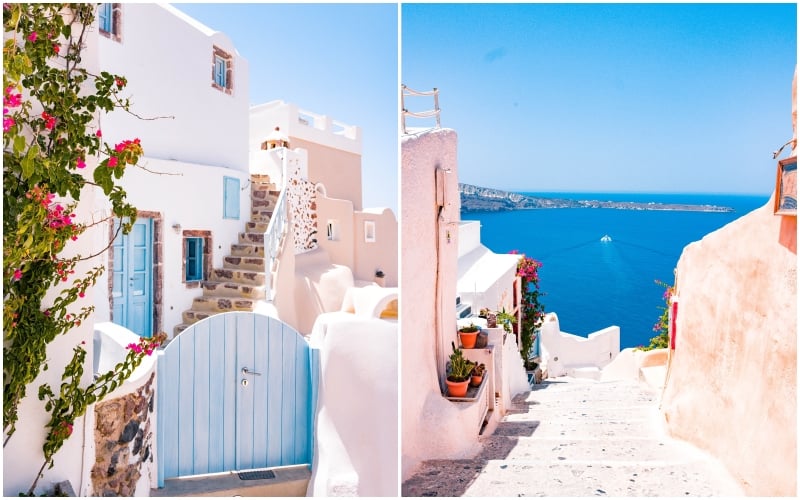 There are winding lanes of marble stone and hints of fuchsia bougainvillea, along with boutique shops and hidden passageways at every turn. Halfway through your journey, you will be grasping for words — and for more space in your camera roll! 
4. Visit the Venetsanos Winery for world-class wines
How can anybody pass up the opportunity to sample the finest wines in Greece? If you're searching for unique tours and things to do in Santorini, a wine-tasting excursion will more than whet your appetite.
We recommend that you can explore the Venetsanos Winery, one of the most prominent harvesters of the Santorini grape and wine producers in the region. This exceptional winery offers a guided walk around the teeming vineyards and the distinctive wines in their cellar. 
5. Find sensational reads at Atlantis Books
Hailed as one of the most beautiful bookstores in the world, Atlantis Books is a wondrous retreat for curious travellers. Here, the entrance is surrounded by colourful murals and thought-provoking inscriptions. If you are lucky enough to stumble upon this treasure in Santorini, you will descend into a cave-like tunnel of books, piled high and as far as the eye can see. 
Before it became a haven for bibliophiles, however, this humble building used to be the house of a sea captain. How cool is that? For this very reason, you can still spot a few nautical-inspired touches around the bookstore. 
And like most Santorini attractions, every corner is postcard material. There's even a rooftop terrace looks out onto the Aegean Sea! 
Without a doubt, this gem of a bookstore ranks pretty high up on our list of things to do in Santorini. It will be hard to leave this place empty-handed! 
6. Catch a film at an open-air cinema
In the middle of a lush garden, the Open Air Cinema Kamari invites spectators to watch movies the way they were meant to be viewed — at least, according to Greek tradition.
If you remember from your history class, the ancient Greeks once built vast outdoor theatres to host their plays. Today, this open-air cinema in the village of Kamari honours that legacy by featuring Hollywood movies (with Greek subtitles) and seating around 100 visitors under a starry night sky!
7. Dine al fresco at a traditional Greek restaurant
Anywhere you go, Greek food is packed with the freshest ingredients. Among the many delightful things to do in Santorini, getting to know the rich flavours of traditional Greek cuisine is an unforgettable experience — and it should be savoured with every spoonful. 
Consider exploring the fishing port of Ammoudi Bay for eateries with grilled fish and calamari, where you can enjoy your dinner with an outlook of the sea. Or, swing by Lucky's Souvlaki for the best gyros and meat skewers in the island. To level up your dining experience, the owner himself will eagerly take your order and assemble it right before your eyes! 
Alternatively, you can feel right at home at a garden restaurant like Pelican Kipos, which serves homemade local specialities in the calming shade of palm trees. Tuck into a classic Greek salad glistening with juicy tomatoes, fresh olives, delicious feta cheese, lemon, and olive oil. 
If you have your heart set on a specific restaurant, be sure to make a reservation well ahead of your trip. When you get to Santorini, you may find that everyone is clamouring for their own bite of heaven!  
8. Witness Santorini's famous sunsets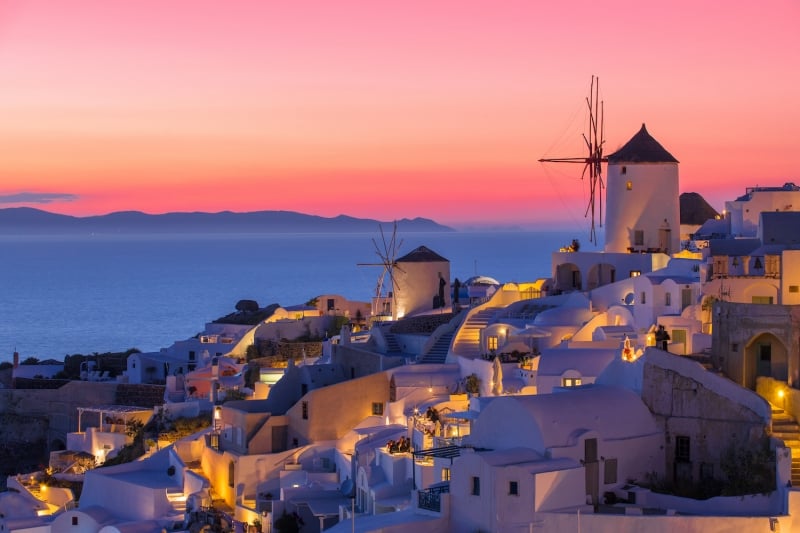 Enjoy a peerless view of Santorini when you watch the sun slip into the Aegean Sea, bathing the island in purple and orange. You can take a catamaran cruise that will lead you past the Red Beach and the Nea Kameni Hot Springs, before arriving just in time to see the sunset over the slopes of Oia. 
This mesmerising vista is what inspires so many tourists (and maybe you, too!) to embark on a pilgrimage to Santorini. For a moment, it feels as if time is standing still. Whether you are watching the sunset from a boat or the twisting streets along the caldera, this experience will surely leave your heart full. 
Also read: Greece Itinerary: Witnessing the Magic of Athens, Santorini, and Mykonos in 10 Days 
There are so many enchanting things to do in Santorini, yet not nearly enough time for all that we want to accomplish. Did we miss any of your favourite attractions? Tell us a story about your last vacation to this idyllic Greek island and don't forget to tag us in your photos: @tripzillamag!