What's better than diving into a pool on a hot day? Diving into a pool with epic views on a hot day, of course!
Here, we've rounded the 12 most epic swimming pools in Asia — that will be sure to give you your cool and have your Instagram followers reeling with envy.
From infinity pools perched over lush Balinese canopies to glass-bottomed pools atop a skyscraper, these are undoubtedly some of the world's most extraordinary hotel pools. C'mon dive in, the sun's too hot!
1 – Hanging Gardens of Bali, Indonesia
Soak yourself in these twin-tiered pools, complete with a lush jungle as its backdrop. Maybe you'll get to see Tarzan swinging out!
2 – Song Saa, Cambodia
Oops, just busted our heads trying to jump into this picture. Nestled in the still under-the-radar beauty that is the Koh Rong Archipelago, Song Saa's private pools offer guests breathtaking ocean views! 
3 – Burj Al Arab, United Arab Emirates
Get this: Burj Al Arab has not just one but five pools! Take your pick from an indoor infinity pool overlooking the city, or an outdoor pool with endless sweeping views of the sea.
4 – Six Senses Samui, Thailand 
Not sure if we're looking at a pool or a still from a James Bond movie. Take a lap, sip on some coconuts and enjoy panoramic views of the Gulf of Thailand!
5 – Aureum Palace Hotel & Resort, Myanmar
How magical is this? Experience sheer tranquil paradise from this beautiful infinity pool, right in the middle of the magical Bagan Archaeological zone!
6 – InterContinental Dubai Festival City, United Arab Emirates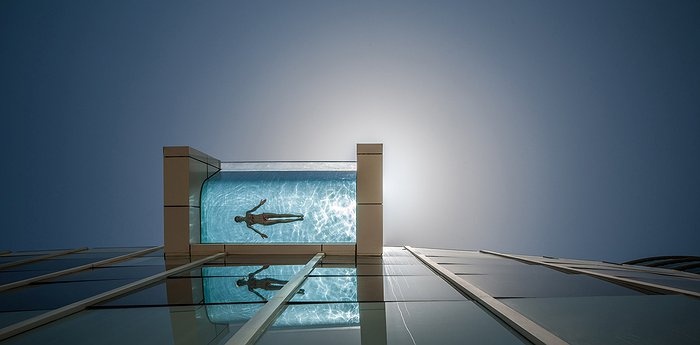 Swim if you dare: InterContinental Dubai Festival City houses a 25m pool that extends out of the hotel! If you're keen to find out how superheroes feel when they leap off buildings — this is the closest you'll get. 
7 – Aman Tokyo, Japan
Needless to say, Aman always gets it right when it comes to its hotel aesthetic. Aman Tokyo's stunning pool offers guests a striking yet tranquil space to unwind. Do so while enjoying the spectacular views of Tokyo Tower and skyscraper beyond! 
8 – Topas Eco Lodge, Vietnam
Is this what heaven looks like? Located deep in the Hoang Lien Mountains, this pool is perfect for those looking to escape the city. Enjoy a dip in the pool while soaking in the magnificent view of endless valleys!
9 – 137 Pillars, Thailand
Sip cocktails while immersing yourself in the views of Bangkok city from the rooftop of 137 Pillars — we promise the drinks are great and the views breathtaking! 
10 – Amanjiwo, Indonesia
Think Temple Run, but in real life. One of our favourites on the list, this luxurious pool offers guests spectacular and unparalleled views over Borobudur!
11 – Galaxy Macau
This is every kid's wildest dreams come true. At 575 metres high, Galaxy Macau is home to the world's longest Skytop Aquatic Adventure River Ride and the world's largest Skytop Wave pool! Say no more — we're already booking our one-way ticket there!
12 – Marina Bay Sands, Singapore
Alas, no hotel pool guide is complete without the iconic infinity pool in Singapore's very own Marina Bay Sands (MBS). A modern emblem of the nation if you will, this pool offers insane views of the city from the 57th floor! Fun fact: MBS is actually the world's most Instagrammed hotel – no surprises why!