Ahh, Taiwan. For most travellers, it's no surprise that this stunning country is deemed the Heart of Asia. Not only is it one of the safest countries in the world, but it's also one of the happiest in Asia! That said, even just a weekend in its capital Taipei is probably worth a trip because, really, why not? If this sounds like something you'd love to do once borders reopen for leisure travel, check out this 36-hour Taipei itinerary.

If you only have a day and a half to spare in Taipei, here's how to make the most out of it — without having to leave the city. This could be applicable for short weekend vacays or even during a business trip (if you can extend). We've arranged this Taipei itinerary in a way that's from the early morning of Day 1 up to the early evening of Day 2. But hey, feel free to adjust accordingly!
Day 1 – Morning to noon
1. Huashan 1914 Creative Park
For many an Insta-loving traveller, the first order of business is usually scouting photo-op spots around the area. This could range from popular Taipei attractions to random corner streets bursting with colour! Though, if you'd like to tick off this 'agenda' on your Taipei itinerary earlier, then head over to Huashan 1914 Creative Park right after leaving your bags at the hotel. 
This multi-purpose space in Zhongzheng District used to be a winery and then an industrial tech museum. In 1999, Huashan 1914 Creative Park slowly became a hotspot for all things contemporary and artsy in the city. Now, it has an abundance of indie stores, third wave cafés, galleries, and even mini-concerts featuring local musicians. Trust us when we say that nearly every corner is Instagrammable, whatever your feed aesthetic is! 
2.  Liberty Square
Liberty Square is a sixty-two-acre lot featuring landscaped gardens, impressive architecture, and walkways. The main entrance — A.K.A. the Gate of Great Centrality and Perfect Uprightness — is already a sight to behold, standing at 30 metres tall with five archways. 
Upon entering, you'll spot the National Concert Hall on your left and the National Theater on your right. Painted in red and burnt orange, with a few shades of blue and green, these twin structures are reminiscent of an ancient Chinese palace. And of course, there's Chiang Kai-shek Memorial Hall, which is arguably the most prominent among historical Taipei attractions!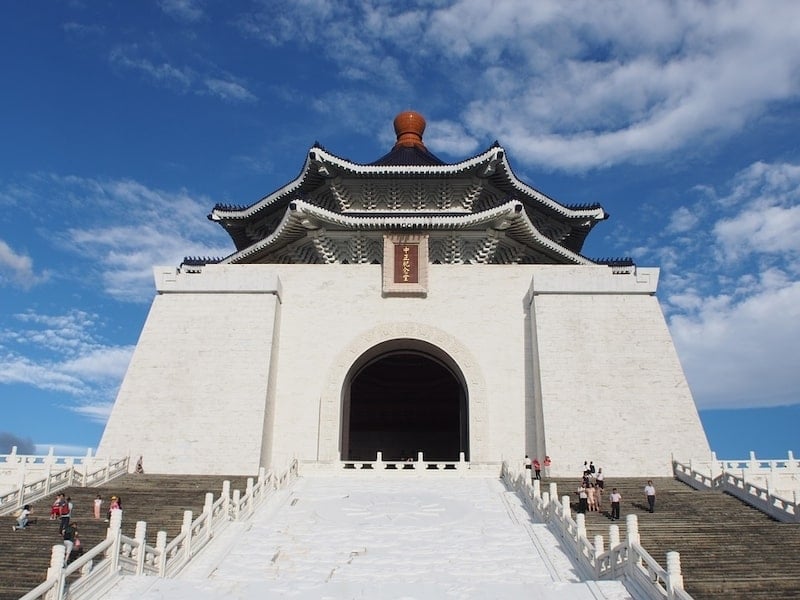 You'll notice that its main colours are the same as those of the Taiwanese flag: blue roof tiles, white marble walls, and red flowerbeds in front. There are two sets of stairs leading to the doorway, each with 89 steps: this actually represents Chiang's age when he passed away. If you can, wait for the Changing of the Guard inside the Bronze Statue Hall! It happens every hour from 9am to 5pm, so adjust your Taipei itinerary accordingly. 
3. Tao-Yuan-Street Beef Noodle Shop
After exploring two Taipei attractions, you're probably feeling hungry at this point. So, how about lunch at the nearby Tao-Yuan-Street Beef Noodle Shop? It's famous for having the best Taiwanese noodle soup, which happens to be a fave comfort food among many locals. While waiting to be seated (as the lines get long sometimes), you can watch how they make the noodles in-house! 
Take your pick between clear and braised broth. Either way, the beef is so tender that's bordering on melt-in-your-mouth levels! So, aside from milk tea and xiao long bao, this one is definitely a must-add to any travelling foodie's Taipei itinerary. 
Day 1 – Afternoon
4. Longshan Temple
After that filling lunch, take a 'spiritual stopover' at one of the largest and oldest temples in Taiwan: Longshan Temple. This Taipei tourist spot is as impressive as it gets. Not only does it house over a hundred statues of Buddhist, Taoist, and Confucian deities, but it also survived several wars and natural disasters! 
Longshan Temple was built in 1738 by settlers from Fujian Province in China. Through the centuries, locals have continuously helped in its renovation and improvement. As a place of worship for three different religions, it embodies the country's inclusivity, especially when it comes to faith. You'll find it in Wanhua District, A.K.A. the historic part of Taipei. 
Also read: 10 Breathtaking Temples in Southeast Asia You Might Not Know About
5. Dihua Street
Speaking of historic, head over to the Dadaocheng neighbourhood to experience more old town Taipei realness. It's brimming with red brick Baroque-style buildings and traditional Qing Dynasty shophouses, with each structure telling its own story. At the heart of it is Dihua Street, where you'll find an abundance of tea houses, fabric stores, souvenir boutiques, and more! 
What makes this worth adding to your Taipei itinerary is that it's surprisingly not that touristy! Though, feel free to be touristy by stocking up on medicinal herbs, dried goods, and portable antiques that this street is famous for. If you have enough time (and energy) to spare, we recommend taking a cooking class or joining a free walking tour around the block! 
Day 1 – Evening
6. Night markets
At this point, you might want to opt for a Taipei night market that's closer to your hotel. Alternatively, you can also go 'market-hopping' (wait, is this even a thing?) starting from the closest one: Ningxia Night Market, a five-minute walk from Dihua Street. TBH — this is your best bet if you want to avoid crowds; visit as early as 5pm, when the stalls are up and running already. Keep an eye out for Michelin-starred delicacies like Liu Yu Zai Fried Taro Balls and Rong's Pork Liver. 
For wider options, try Shilin Night Market, which is considered the largest and most popular one. Dating its origins back to 1899, it has over 500 stalls — and that's just for food vendors! If you're visiting during the warmer seasons, go to the air-conditioned Shilin Night Market Food Court nearby. 
On the other side of town is Raohe Night Market, which is deemed the second most popular. Though, what sets it apart from other Taipei attractions is that it's right beside the stunning Songshan Ciyou Temple! At this same entrance, you'll find the hard-to-miss Fuzhou Shizu Black Pepper Buns. Another must-try is the stinky tofu soup with duck blood curd from Shi Boss Spicy Tofu. 
Note: Peak hours are from 7-10pm, especially on Saturdays. If you wish to avoid crowds but can't go at an earlier time, the next-best option is after 10pm till closing time. However, the food might not be at their freshest (and tastiest) by this time!  
Also read: 10 Underrated Street Foods in Taiwan to Try Other Than Oyster Omelette
Day 2 – Morning to early afternoon
7. Elephant Mountain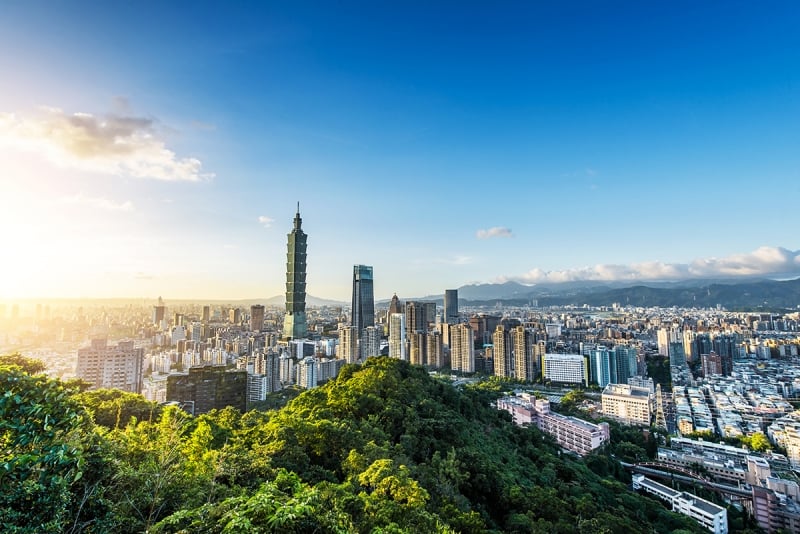 Start your Taipei itinerary for the day right with a hike in Elephant Mountain. Don't worry if you're not on the athletic side; the climb takes only about 30 minutes and the steps are well-paved. Though, you might still want to bring a water bottle and pace accordingly, since there are no landings in between. Fortunately, there are stops and viewpoints along the way, if you need a quick break.
Since this Taipei tourist spot is a public trail, you can really go whenever! If you wake up early enough, drop by to watch the sunrise at the top. Although anytime in the early morning is good, as it's not yet hot and swarming with tourists. Either way, a panoramic view of the city framed by lush foliage awaits! 
8. Din Tai Fung
Of course, no Taipei itinerary would be complete without dining in at Din Tai Fung! This world-famous resto is known for perfecting the art of making xiao long bao, after all. Also, you're probably famished after that workout you just had! The nearest location is definitely the one inside Taipei 101, which is just a few blocks away and still within the Xinyi District. 
If you want to visit the original location, head over to Da'an District. Though, this one is about a half-hour drive way… so, maybe next time? Anyway, the Taipei 101 store of Din Tai Fung opens at 11am, yet the lines begin to form well beforehand. So, assuming you finish your Elephant Mountain hike at around 10-ish in the morning, might as well head over to the mall — stat!
Day 2 – Afternoon to early evening
9. Taipei 101 Observatory
After that well-deserved brunch, ready for another round of climbing for more spectacular views of the city? Don't worry, you won't be taking the stairs this time! Clearly, we're talking about Taipei 101 Observatory! Oh, and did you know that the building altogether used to be the tallest in the world? It might have been surpassed by other skyscrapers since 2011, but this bamboo-shaped marvel remains to be a must-add to any Taipei itinerary. 
Taipei 101 has a total of 101 floors — hence the name — with the outdoor observation deck on the 91st floor. However, if the weather isn't cooperating during your trip, there are indoor observation decks on the 88th and 89th floors. The elevator ride is also quite a thrill; basically, an elevator can scale approximately 88 floors in a span of one minute! 
Note: The lines for Taipei 101 Observatory are often long, given that it's one of the top Taipei attractions. So, you might want to book an online ticket in advance, or even get a priority pass! 
10. Ximending
While it's popularly referred to as the 'Ximending Youth Shopping District,' it's actually a neighbourhood within Wanhua District! For the last stop in your Taipei itinerary, how about exploring this pedestrian shopping area for all things fun, cool, and vibrant? Since you'll be there late in the afternoon, you can watch as the whole place gets livelier as the sun goes down.
Whether you want to shop for more souvenirs or try out more delicious food, Ximending is your best bet! From retail boutiques and pop culture stores to cafés with quirky concepts, there's definitely something for you. Oh, and you can even get a last-minute knife massage, if you're feeling gutsy — or just want to relax before your flight. 
Just make sure to keep track of time or even set an alarm for when you have to go. There are so many things to see and experience around this neighbourhood that you might not ever want to leave! Yep, no kidding. 
Also read: Taiwan Travel Guide: The Best Places to Eat, Shop, See & Play!
As of writing, we're all still waiting for the day when we can freely travel to Taiwan again. In the meantime, how about brushing up on your basic Mandarin skills to make your future Taipei trip easier? Or if you want to travel vicariously, check out these Taiwanese TV shows that you probably remember from the early '00s!