Southeast Asia is studded with thousands of ancient temples, each one reflecting the history and spiritual traditions of their nation. Some temples bear the old structures of powerful kingdoms and mighty dynasties. Others are sanctuaries of peace, providing rest to anyone looking for enlightenment. Either way, these architectural treasures will stop you in your tracks. 
Whether you want to channel Indiana Jones or capture stunning photographs in your future trips to Southeast Asia, your search ends here. Go beyond Angkor Wat and Borobudur with these awe-inspiring temples, from a jungle temple in Cambodia to a dragon temple in Thailand. 
1. Wat Rong Khun in Chiang Rai, Thailand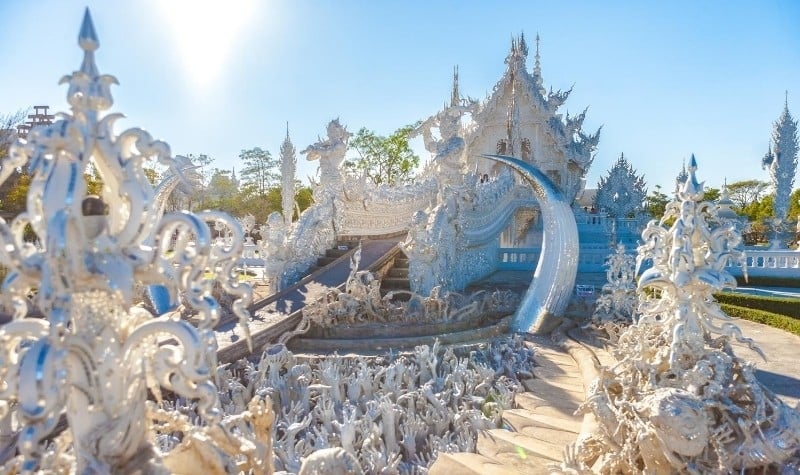 If you think all temples in Southeast Asia look the same, this shining temple in Chiang Rai, Thailand is going to change your mind. Frequently called the "White Temple" by travellers, the Wat Rong Khun was born from the imagination of Thai visual artist Chalermchai Kositpipat. Visitors will find an element of playfulness at this temple, featuring art installations in the temple grounds. Unlike other temples in Southeast Asia, white paint — not gold — is used to represent the purity of the Buddha.
Address: 60 หมู่ที่ 1 Phahonyothin Rd, Pa O Don Chai, Mueang Chiang Rai District, Chiang Rai 57000, Thailand 
2. Ulun Danu Bratan Temple in Bali, Indonesia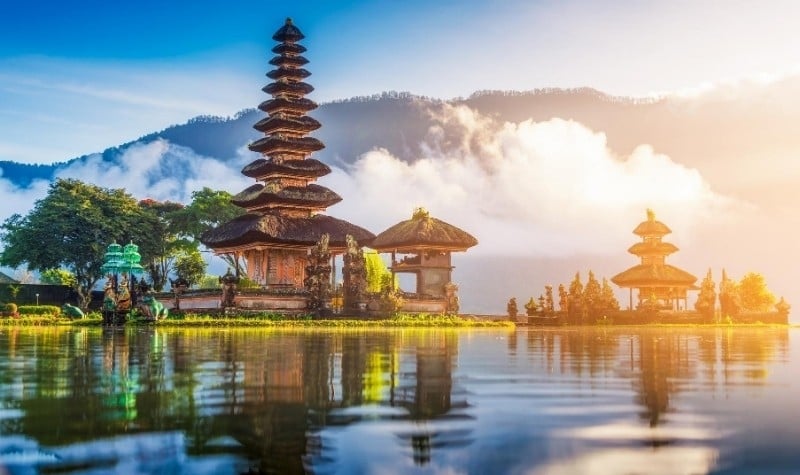 Take your Eat, Pray, Love experience up a notch by journeying to the Ulun Danu Bratan Temple in Bali, Indonesia. Floating on the waters of Lake Beratan, this Hindu temple complex is dedicated to the water goddess Dewi Danu. Moreover, it acknowledges the important role of the lake as a water source for the irrigation system in Bali. Waterside gardens, pagoda-style roofs, and the sight of mountains rising through the clouds make this Balinese temple a must-see attraction. 
Address: Danau Beratan, Candikuning, Baturiti, Tabanan Regency, Bali 82191, Indonesia
3. Dhammayangyi Temple in Bagan, Myanmar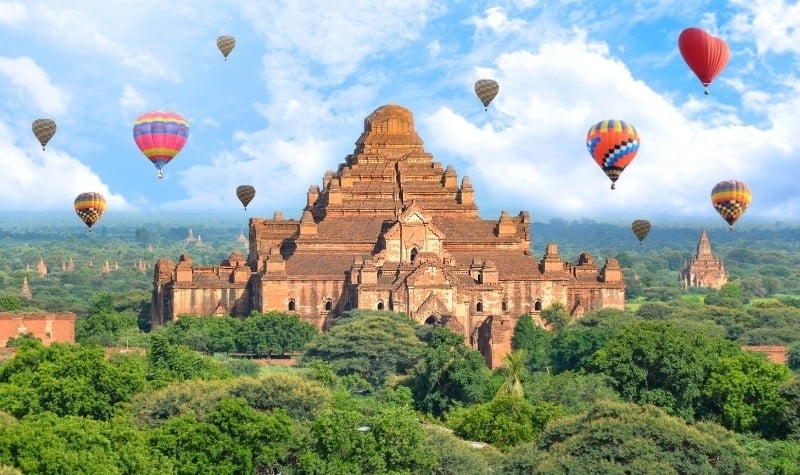 For a magical landscape the likes of which you've never seen before, Myanmar has more than 2,000 temples to make any photographer happy. One of the country's finest temples is the 12th-century Dhammayangyi Temple, which was constructed during the rule of King Narathu in Bagan. At sunrise, watching the hot air balloons flying over the temple's brickwork is an unforgettable experience. 
Address: Old Bagan, Myanmar 
Also read: 10 Amazing Destinations in Myanmar to Inspire Your Next Adventure
4. Kek Lok Si Temple in Penang, Malaysia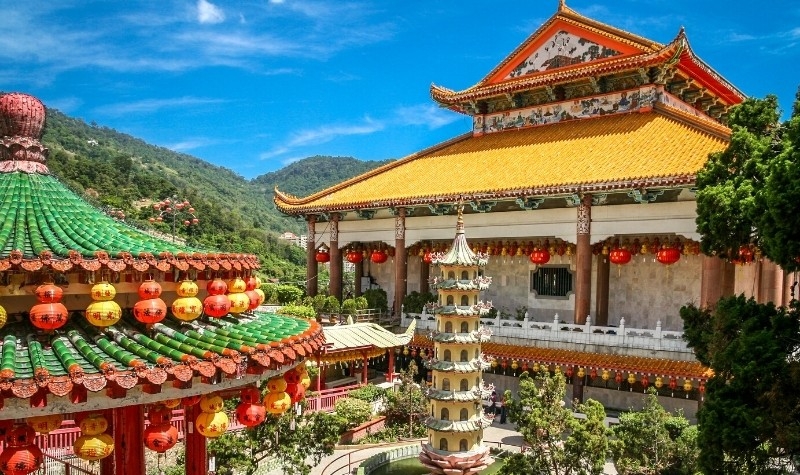 Situated in the vibrant state of Penang in Malaysia, the Kek Lok Si Temple is known for its colourful décor. A hilltop Buddhist temple, it contains millions — yes, millions — of Buddhist images and sculptures within its halls. Not only is the temple considered a sacred place for devotees, but it's also admired for its picturesque architecture. Kek Lok Si Temple stands out with its carved pillars, intricate roofs, bright lanterns, and flower gardens. 
Address: 11500 Ayer Itam, Penang, Malaysia 
5. Ta Prohm Temple in Siem Reap, Cambodia
Give in to your inner Lara Croft or Indiana Jones, and explore the maze-like ruins of this jungle temple in Siem Reap, Cambodia. Enveloped by overgrown tree roots, the Ta Prohm Temple rose to fame when it appeared in the film Lara Croft: Tomb Raider, starring Angelina Jolie. It was built as a monastery in the 12th century, joining the UNESCO World Heritage List in 1992. Only partially restored, the temple's columns and weathered courtyards create a mysterious, brooding atmosphere. 
Address: Angkor Archaeological Park, Krong Siem Reap, Cambodia
Also read: 10 Things To Do In Cambodia Aside From Temple Tours!
6. Cebu Taoist Temple in Cebu, Philippines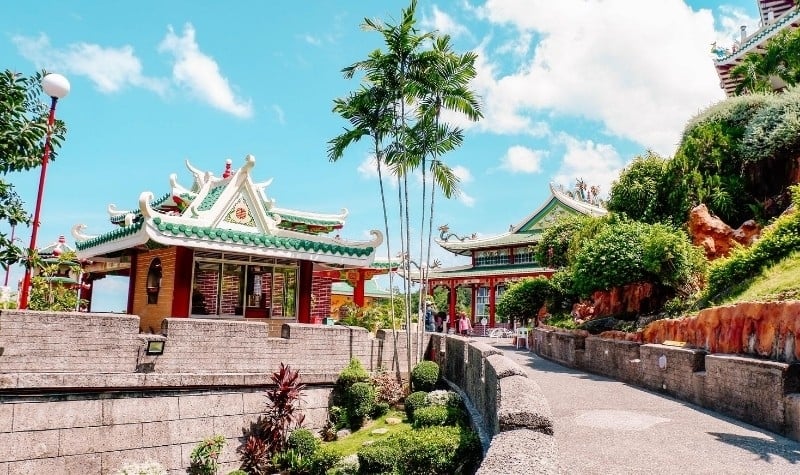 The Cebu Taoist Temple may not enjoy the tourist-heavy stardom of the Temple of Leah, which is also located in Cebu. But this Taoist temple plays a significant role in that it represents the significant Chinese-Cebuano community in the province. Thus, it reflects Chinese artistry and design, such as the red-and-green facade and Chinese dragons. Situated at Beverly Hills Subdivision in Lahug, it's a peaceful refuge in Cebu City, one of the biggest metropolises in the Philippines. 
Take note that to visit the Cebu Taoist Temple, you must secure a car ride beforehand. Only cars and taxis can enter the private subdivision. Motorcycles for hire can take you as far as the subdivision's gate; from there, you'll need to walk around 15 minutes to arrive at the temple gates. 
Address: Canyon Road, Beverly Hills Subdivision, Lahug, Cebu City, Cebu, Philippines 
7. Cao Dai Temple in Tây Ninh, Vietnam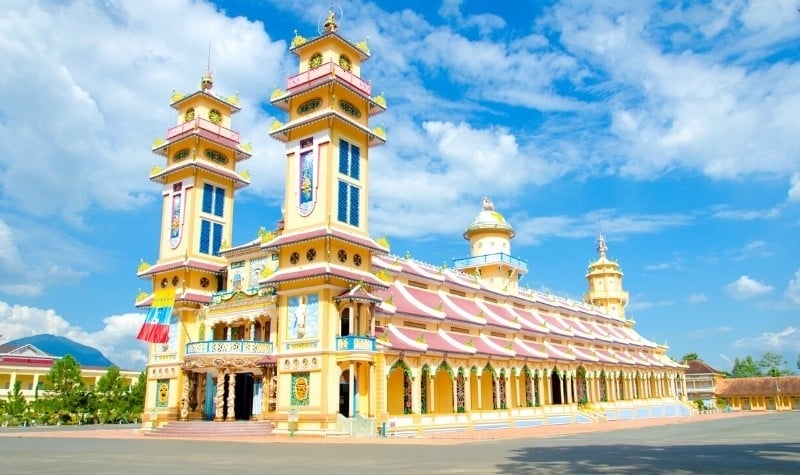 Like something out of a Wes Anderson film, the pastel facade of the Cao Dai Temple sticks out in Tây Ninh, Vietnam. What's fascinating about this Vietnamese temple is that it serves as a gathering place for Caodaism, one of the newest religious movements in Vietnam. Some of the Cao Dai saints and religious prophets include Buddha, Lao Tzu, Mohammed, Sun Yat-Sen, Joan of Arc, and Victor Hugo. Nevertheless, anyone can enter to watch the prayer ceremonies, provided that you wear trousers or skirts long enough to cover your knees. 
Address: Phạm Hộ Pháp, Phường Long Hoa, Thị xã, Hoà Thành, Tây Ninh, Vietnam
8. Buddha Tooth Relic Temple and Museum in Singapore
Standing proudly in Singapore's Chinatown district, the Buddha Tooth Relic Temple and Museum is one of the finest temples in Southeast Asia. This US$62 million (~S$85 million) temple complex houses a fragment of a tooth that allegedly belonged to Buddha. The tooth is enshrined in a massive stupa made from 320kg of gold. Here, visitors can explore five floors of Buddhist artefacts and relics, as well as a roof garden, a tea house, and a theatre. 
Address: 288 South Bridge Rd, Singapore 058840
9. Samphran Dragon Temple in Nakhon Pathom, Thailand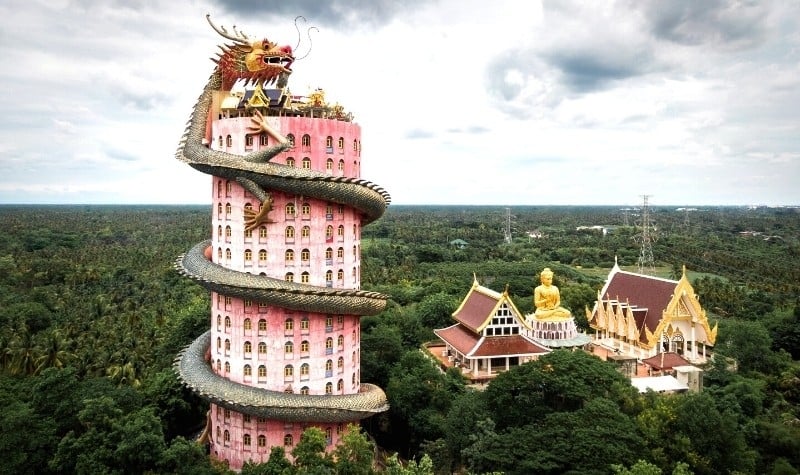 Some temples are pictures of calm and serenity. That said, this Thai dragon temple in Nakhon Pathom is straight-up one of the most badass-looking temples in Southeast Asia. Clearly, Daenerys Targaryen from Game of Thrones would've loved the Samphran Dragon Temple, which features a sculpture of a giant Chinese dragon wrapped around a pink 17-storey tower. Inside, a spiral staircase lets you climb all the way to the top. Sadly, though, the path has deteriorated over the years. 
Despite being only 48km outside of Bangkok, this Buddhist temple remains something of a hidden gem for tourists. Are you imagining yourself as the Mother of Dragons right now? So are we. 
Address: หมู่ที่ 7 92/8 Sam Phran, Sam Phran District, Nakhon Pathom 73110, Thailand
10. Tanah Lot Temple in Bali, Indonesia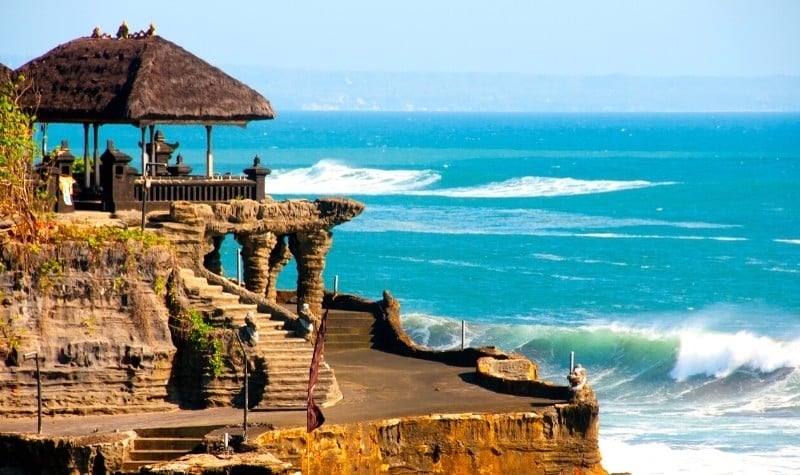 Another seaside temple in Southeast Asia that should be on your radar is the Tanah Lot Temple in West Bali. Around a one-hour drive from Ubud, this Hindu temple complex is perched on a rock facing the sea. Dreamy sunsets and the sound of the ocean waves have endeared this Balinese temple to many travellers around the world.
Address: Beraban, Kediri, Tabanan Regency, Bali 82121, Indonesia
Also read: Temple Run: 15 Beautiful Temples in Asia You Should Keep on Your Bucket List
As far as spiritual destinations go, these extraordinary temples in Southeast Asia balance cultural diversity with beauty and history. Here's to hoping that we can visit these destinations in the future!