Although it might not be as popular among tourists as compared to Krabi or Phuket, Koh Samui might just be the perfect beach getaway for you! As Thailand's second largest island, it has a lot more food and activities to offer. Here are the top 15 things to do on the island that can help you take your mind off the hustle and bustle of the city life!
1. Visit the iconic Buddha Statue at Wat Phra Yai Temple
The Wat Phra Yai Temple, also known as the 'Big Buddha Temple' in English, is one of the island's most iconic and popular attractions among tourists. Standing 12 metres (almost 40 feet!) tall within the temple, the golden Buddha statue stands out prominently against the blue sky. It is advisable to go in the morning or during sunset as you can take many beautiful Instagram worthy pictures of the temple as well as of the Buddha statue. The stairs leading to the temple tend to get extremely hot at noon so remember to bring a hat along with you!  
However, there are some things to take note of dress codes before visiting the temple. It is advisable to cover your shoulders and knees (for both men and women). Although it is a tourist attraction, it would be good to dress appropriately as it is still a religious site.
Address: Wat Phra Yai 4171, Bo Put, Ko Samui District, Surat Thani, Thailand
2. Be one with nature at the Na Muang Waterfalls
If you love nature and adventure, you can take a day trip to visit the Na Muang Waterfalls! It is also known as "Purple Waterfalls" because of its distinctive purple shade illuminating from the surface of the rocks. The beautiful waterfalls just prove that there is so much more to Samui than just its beaches! Take a nice hike and immerse yourself in the wilderness as you enjoy the scenic view of the waterfalls. You can also swim or take a dip in the water just to relax and get away from the crazy heat! Be sure to wear proper footwear so that the hike will be a lot more enjoyable.
Address: Na Mueang, Ko Samui District, Surat Thani 84140, Thailand
How to get there: The easiest way to get to the Na Muang falls is by car but there are also many Samui tours that can take you to the park that leads to the waterfalls. The walk to Na Muang Waterfalls is about a 100 metre walk from the entrance of the park.
3. Koh Samui's largest beach resort: Chaweng Beach
What's a trip to Koh Samui without visiting its beaches? 
Chaweng Beach is the largest and busiest beach resort in Samui with many beachside restaurants and other activities for you to enjoy! 
Spend the entire day there by playing water sports, having a drink by the beach or having a relaxing massage at one of the spas at the resort. 
Address: 3/55 Thesaban Nakhon Ko Samui, Tambon Bo Put, Amphoe Ko Samui, Chang Wat Surat Thani, Thailand
4. Be an audience at one of the many Muay Thai matches
If you like to engage yourself in sporty activities, you can consider enrolling in a one-day muay thai class and challenge yourself by learning Thailand's most popular sport. Not only can you learn Muay Thai, you can also watch a live fight at the boxing stadium in Soi Reggae (near the beach).
Enjoy a night out by watching the fighters and immerse yourself in the thrilling atmosphere during the fights. Fights are held every Monday, Wednesday and Saturday from 9pm until midnight. Be sure to stay till late as the best fights usually happen later in the night!
5. Have a fancy night out and watch a ladyboy cabaret show
If Muay Thai isn't something you want to watch while you're on a holiday, watching a ladyboy cabaret show might be an interesting late night activity for you. 
Cabaret Paris Follies is the place to watch ladyboys donned in fancy and lavish costumes as they dance and perform various acts. The cabaret show might not be for everyone but it is definitely one of the unique activities you can enjoy here in Samui!
Cabaret Paris Follies is located next to Soi Green Mango in Chaweng town. There are a total of 4 shows every hour from 8pm to 11pm. There is no entrance fee but you would have to buy a rather pricey drink before entering the theatre. 
6. Get your shades on at Lamai Beach
Compared to Chaweng, Lamai is second-largest resort area with plenty of attractions and dining options. It's quieter and less touristy which is a great thing because you can walk down the beach and take mad amount of pictures without everyone photobombing! 
Lamai Beach is absolutely stunning with its crystal clear waters and white sand. All you beach lovers out there will love relaxing and chilling under the sun with an amazing view! You guys better be ready to get a tan from the scorching sun so remember to apply your sunblock before you get sunburned!
Address: Maret, Ko Samui District, Surat Thani 84310, Thailand
7. Visit some intriguing rock formations
If you're in for some interesting rock formations, you have to take a look at the famous Hin Ta and Hin Yai Rocks at Lamai Beach. Known as Grandpa (Ta) and Grandma (Yai), these rocks are a major tourist attraction in Koh Samui.
You'll probably find these rocks familiar looking (and maybe obscene) because they really resemble the male and female genitalia…  I know it's an odd tourist attraction but I guess you could think of it as Nature's very own sense of humour! 
Address: 92 84310 126/92 Moo 3 Ko Samui District, Surat Thani 84310, Thailand
8. Visit the Fisherman's village walking street
After an entire day of activities, the best thing to do is to eat and shop! The Fisherman's Village Walking Street located in the town of Bophut comes alive every Friday night (5pm to 11pm) just waiting for you to go crazy over all the street food and souvenirs. You can a wide variety of local street food here so you better keep your stomach empty for this!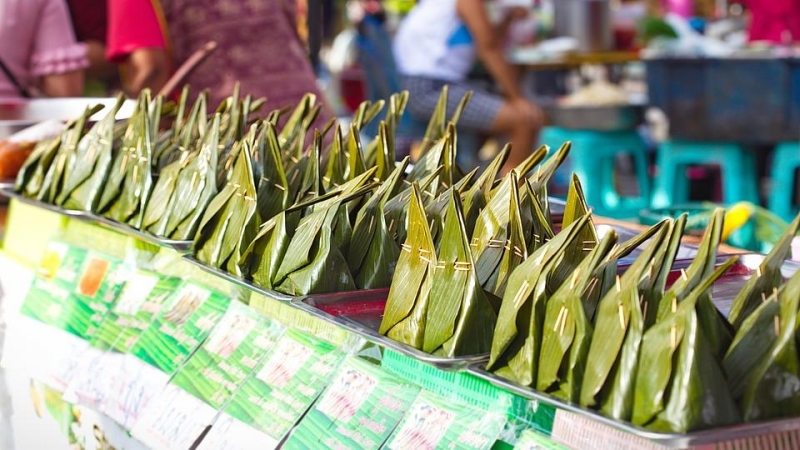 The street food include phad thai, tempura seafood and even crocodile meat… There are many stalls selling special handcrafted jewelry as well as various spices and herbs. After munching on all the street food, you can even relax by Bophut Beach nearby and end your day with a food coma… 
Address: 3 Borphud Sub-district Koh Samui District Amphoe Ko Samui, Chang Wat Surat Thani 84320, Thailand

9. Mummified Monk at Wat Khunaram
After visiting all the beaches and getting sunburnt, you might want to visit another of Samui's temple, the Wat Khunaram. This temple is particularly famous over the years among tourists due to a mummified monk that is on display. The mummified body of Koh Samui's most famous monk, Luong Pordaeng, sits in a glass casket in the temple.
Over 40 years after his death, his body is extremely well preserved especially in a hot and humid climate. 
Wat Khunaram might not be the most beautiful in terms of its appearance but it's definitely one of the most interesting and eye opening temples because of the mummified monk wearing a pair of black sunglasses!
Address: Na Mueang, Ko Samui District, Surat Thani 84140, Thailand
10. Have a Scrumptious Seafood meal at Sabeinglae restaurant
Since you're visiting Koh Samui, you have to try the local delicacies only available in the northern area of Thailand! Enjoy a picturesque dinner by the beach at Sabeinglae Restaurant. 
They serve a local speciality called Wai Kua, which is baby octopus in coconut soup. This dish is rare in other beach towns and is mostly served in Samui! You can also order the deep fried king prawn with tamarind sauce. The prawns are said to be really fresh as it is from the fisherman's village nearby the restaurant. If you love seafood and local authentic Thai flavours, you have to visit this place!
Address: Tambon Maret, Amphoe Ko Samui, Chang Wat Surat Thani 84140, Thailand
11. Try some local Thai dessert!
Kalamare is a delicious local dessert sold in Samui. You can get them in three different flavours: Original, pandan and black sticky rice flavour! They go really well with sesame so feel free to dip the dessert in sesame and enjoy the sweet treat on a hot day! 
12. Chase the heat away with some coconut ice cream
Of course you have to get coconut ice cream during your time here! You could eat it everyday if you wanted to since you can get it at anywhere along the street of Samui. Go crazy with the wide variety of toppings such as peanuts, pumpkin, sweet potato and even sticky rice! 
13. Let loose at High Park Samui
High Park Samui is a huge water park in Chaweng that guarantees you an entire day of fun! Infinity pools, thrilling water slides themed beach bars, pool parties and so much more. if you're someone who loves heights, they even have the steepest, 8-metre high water slide in the region! 
Address: 83/3 Moo 2 Amphoe Koh Samui, Surat Thani, Thailand 84320 (Open from 12pm to 8pm daily)
14. Try some of Koh Samui's home-grown rum
If you love your rum then this place will be perfect for you! The Magic Alambic Rum Distillery is home to Koh Samui's only home-grown rum. Forget about Singha! Get a taste of Samui's magical rum and special cocktails. 
After getting your stomach warm on rum, you can also take a walk around the gardens at Magic Alambic and take in the beautiful sight of greenery. 
Address: 44/5 Moo 3 Namuang, Ko Samui District, Surat Thani 84140, Thailand
How to get there: The distillery is located near Bang Kao and the easiest way to get there would be to rent a car and take a nice scenic drive to Magic Alambic. 
15. Take a day trip to the Angthong Marine Park
Take a day trip to Ang Thong National Marine Park and enjoy the wonderful scenery of limestone mountains, white sand beaches and many more! Other than sight-seeing, you can also snorkel, kayak or dive at Ang Thong. Take a walk around the park and immerse yourself in the flora and fauna of this amazing place. 
Get your cameras ready because the viewpoint from the park is stunning!
Address: 45/1-2 Moo 1, Thongsala Koh Phangan, Surat Thani 84280, Thailand
How to get there: Do take note that only government approved tour boats may enter Ang Thong so you would have to book a tour boat from Koh Samui.  
Koh Samui is more than just lying by the beach and getting a tan. There are so many other interesting and entertaining activities that you could do that could fill up an entire day of fun! Hurry book your tickets and enjoy the perfect getaway in Koh Samui!