One can't deny the beauty of sunsets in Singapore; there's nothing quite like tuning out and watching the sun set down the horizon while the red hues deepen, all within minutes before darkness sets in. And the best part? This magical phenomenon happens every day.
Despite the mildly claustrophobic geography of this concrete jungle we call home, there are actually many impressive spots where you can catch the sunset in Singapore. From popular waterfronts to hideouts you probably never knew about, this list will arm you with the best spots to witness the most beautiful time of the day at its best. Or, to impress that date of yours.
Also read: 23 Nature & Hiking Trails in Singapore To Discover on Your Weekends
Sunset spots in eastern Singapore
1. Changi Point Coastal Walk (Sunset Walk)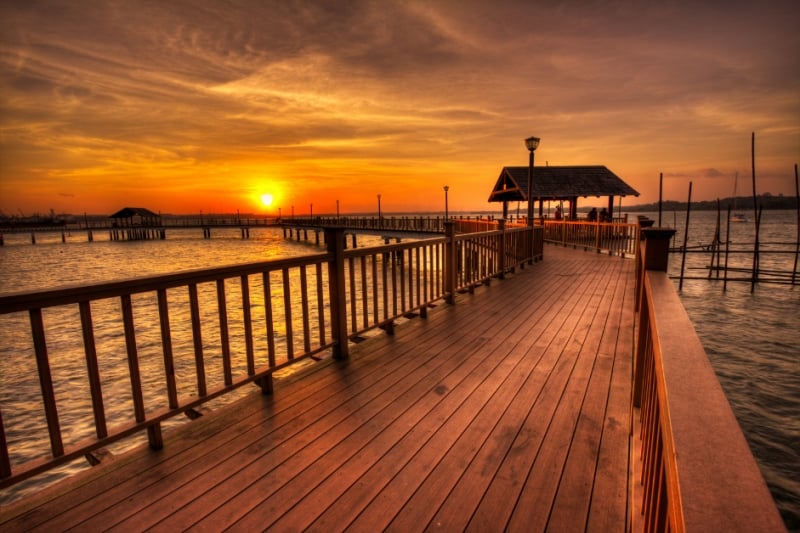 Chalets and nasi lemak aside, Changi has a beautiful boardwalk that many of us don't know about. Nestled at the western end of Changi Point, this 2km long boardwalk takes you through lush stretches of flora and fauna, the picturesque Changi Beach, and finally, a romantic over-water stroll along Sunset Walk.

Address: 6 Changi Village Rd, Singapore 509907
2. Pulau Ubin Island
And of course, every Singaporean's favourite place for a temporary retreat from the daily grind. Besides being a popular place for recreational cycling, Pulau Ubin island also makes a tiny piece of heaven when the sun starts to recede.
Address: Take a ferry from Changi Point Ferry Terminal, 51 Lor Bekukong, Singapore 499172
3. East Coast Park
Of course, we can't miss out East Coast Park when talking about sunset spots in Singapore. The go-to nature getaway for easties, the 7km long park means that you're certain to find an ideal spot to catch some amazing views of the sunset.
It's a great reprieve after a jog or the perfect place for a picnic as you relish the view of the sunset glistening against the sea.
Address: East Coast Park Service Road, 449876 
4. Bedok Jetty
If you're an eastie, Bedok Jetty is probably known to you as a fishermen hangout. But there's actually more to this quiet jetty than the idyllic wait of tugging rods. Perched atop the East Coast waters, Bedok Jetty offers a panoramic view of the sunset's orange glow over Singapore's cityscape.
Bedok Jetty is an ideal pit stop if you're coasting along East Coast Park! As you walk along Bedok Jetty, see if you can spot one of Singapore's lighthouses from this spot. Hint: It's a red blinking light on top of a block of HDB flats!
Address: East Coast Park Service Road, 449876 
Sunset spots in northern Singapore
5. Jewel Bridge @ Sunset Strip, Punggol Waterway Park
Punggol, arguably the beauty queen of all heartland estates in Singapore. Naturally, it makes one of the best sites to behold the charm of the sun's nightly retreat. At the western end of Punggol Waterway Park is Jewel Bridge, which illuminates gloriously before the saturated sky as the sun sinks.
Also, don't miss out the park's four other bridges while you're here, namely Adventure Bridge, Wave Bridge, Kelong Bridge and Sunrise Bridge.
Address: Entrance near 322 Sumang Walk, Singapore 821313
Also read: 19 Bridges in Singapore You Should Cross at Least Once
6. Yishun Dam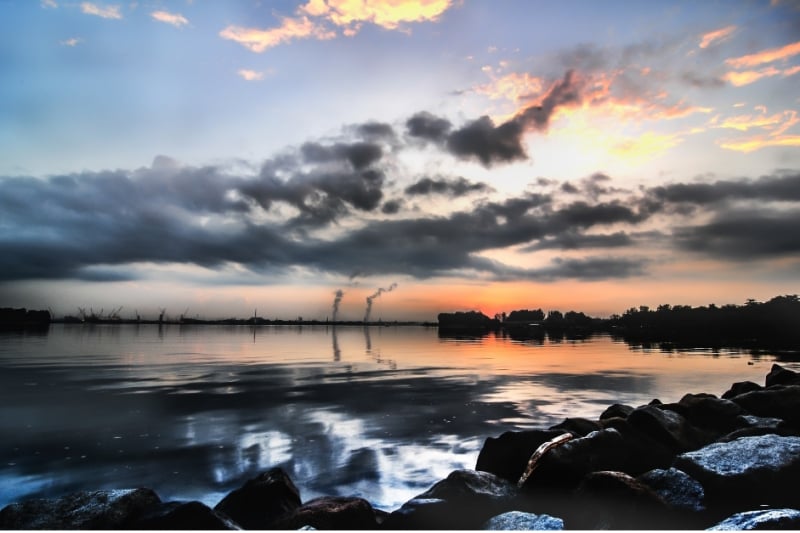 Yishun Dam is well-known to many as a fishing spot, or a favourite hangout for car enthusiasts, or an infamous haunted site. But surprisingly, Yishun Dam is not so much known to locals as the perfect place to catch the sunset in Singapore. So if you happen to be in the northern region of Singapore, head over to this underrated gem for an evening to remember.
Address: Yishun Ave 1, Singapore 769130
Also read:  5 Scenic Driving Routes in Singapore to Get Away From It All
7. Woodlands Waterfront
At the north of this neighbourhood park is the 1.5km long promenade of Woodlands Waterfront, which is quite a sight at sunset. As the north's version of Bedok Jetty, visitors are able to bask in an unobstructed waterfront view as the sun makes its descent.
Address: Admiralty Rd W, Singapore 759956
8. Rower's Bay Park
A newer addition to the list, Rower's Bay Park is tucked away in the hidden dining oasis of Seletar Aerospace Park. And of course, there's the scenic flyover of Yishun Dam nearby that provides a shortcut to the northern residential area of Yishun. One that definitely doesn't get as much attention as the nearby Punggol Waterway Park, Rower's Bay Park is an underrated gem that's perfect for a picnic against beautiful views of the sunset.
Address: Seletar Club Rd
9. Lower Seletar Reservoir Park
Now we journey to Yishun, where the ideal nature reserve for its residents is Lower Seletar Reservoir Park. We can definitely see why too — with jogging paths, fishing spots, and a water sports centre, the activities that you can engage in here are endless. And that's aside from simply sitting by the reservoir and basking in the warm hues of the sunset.
Address: Yishun Ave 1, Lower Seletar Reservoir Park, Singapore 769139
Sunset spots in central Singapore
10. Lower Peirce Reservoir
As the last bits of daylight sink, the lone pavilion perching over Lower Peirce Reservoir starts to filter its dramatic backdrop and outline a reflection onto the waters below. And if you're feeling all artsy-fartsy, this picturesque scene also makes a perfect one to recreate on a canvas.
Address: Old Upper Thomson Rd
11. CÉ LA VI, Marina Bay Sands Skypark
Singapore's city skyline is a favourite sight for many of us. Now combine that with a kaleidoscopic splash of watercolour reds, blues and oranges. Located in the heart of downtown Singapore, CÉ LA VI's al fresco skybar offers patrons a panoramic sunset view as they chill out and sip on their cocktails.
Address: 1 Bayfront Avenue Marina Bay Sands Hotel Tower3, 018971
12. Marina Barrage
Marina Barrage is not only a source of water and a flood control facility, but it is also a recreational attraction for outdoor activities like boating, kayaking, and of course, catching the Singapore sunset. You should never miss the quintessential view of Singapore from here.
Address: 8 Marina Gardens Dr, Singapore 018951
Also read: 15 Fabulous Picnic Spots in Singapore
Sunset spots in western Singapore
13. Pandan Reservoir
Stripped away from the bustle of downtown Singapore is Pandan Reservoir, a favourite jogging path for many of its nearby residents. The massive water body also offers a dreamy sight whenever the sun greets its horizon, guaranteed to satisfy all romantics out there.
Address: 700 West Coast Rd, Singapore 608785
14. The Chinese Garden
Located a ten-minute walk from the nearest MRT station (fittingly called Chinese Garden MRT), is this spot many westies might be very familiar with — The Chinese Garden! Though a long walk away, one can certainly look forward to the beauty of The Chinese Garden.
We suggest bringing along a picnic and setting it up by the lake. Talk about the perfect opportunity to spend your evening while you enjoy the warm sunset reflecting in the lake, right?
Address: Boon Lay Way, Singapore 619795
15. Mount Faber Park
You might know Mount Faber Park as one of the parks that's part of Singapore's Southern Ridge trail, but did you know that Mount Faber Park sits atop ground level, offering you spectacular views of the city and Keppel Harbour? The park is also home to a wide array of flora and fauna, and is also where our city's only cable car station is located.
Address: Mount Faber Rd
16. Henderson Waves
Nothing spells a romantic date quite like an evening at Henderson Waves. This bridge mimics the unique shape of a wave and is a popular spot for joggers, family and couples. Not only does it offer a stunning view of the sunset from an elevated height; the bridge also lights up in the most beautiful way as dusk falls.
Address: Henderson Rd, Singapore 159557 
As every photographer has learnt the hard way, the ineffable beauty of a sunset is impossible to capture on film. Visual beauty of sundown aside, bathe yourself in the tranquil, euphoric, and almost tear-jerking phenomenon of the sun's last moments.
So do yourself a favour — take some time off this evening and fathom how beautiful the world can be, even if it's just for a short 30 minutes.