Hungry for more information on the beautiful unexplored areas of Korea? If you've already read my previous article about the hidden seaside paradise of Geoje and Tongyeong, you're ready for the second instalment, covering the cities of Suncheon and Yeosu!
Suncheon and Yeosu are located in the southern part of the peninsula, boasting a rich history and abundant natural greenery. Without further ado, let me introduce you to the must-visit locations in both cities where you can witness stunning landscapes in their full glory!
1. Naganeupseong Folk Village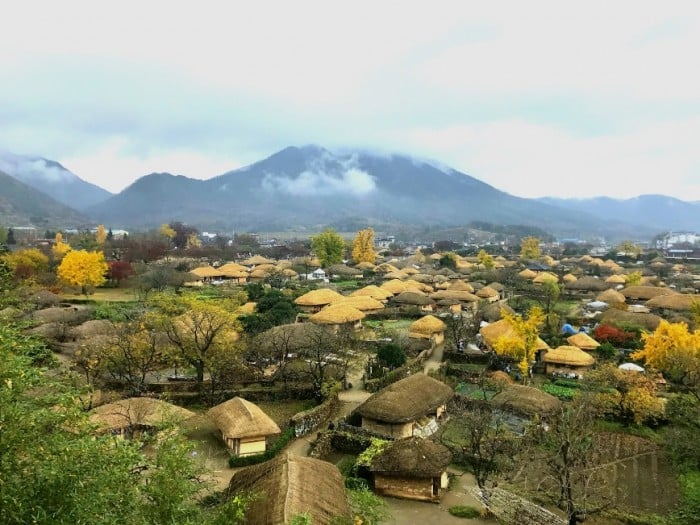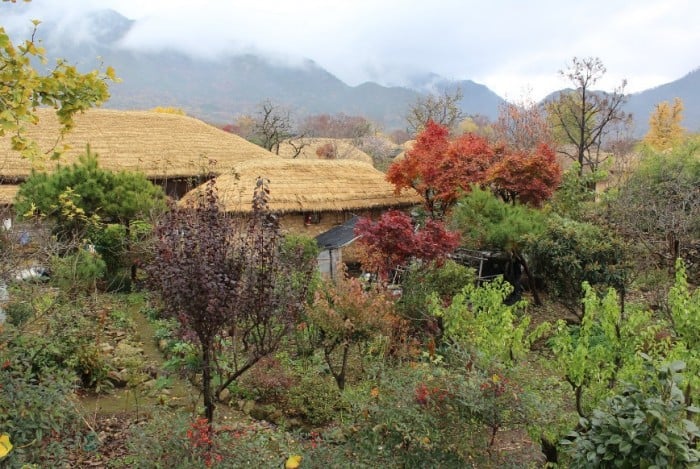 I felt as if I had traversed back in time when I stepped foot into Naganeupseong Folk Village. This quaint and rustic village is one of the most well-preserved towns from the Joseon Dynasty. Many families have been living here for generations in traditional thatched-roof houses, forging strong community bonds within the small village. Exploring the village will leave you agape at its unspoilt beauty.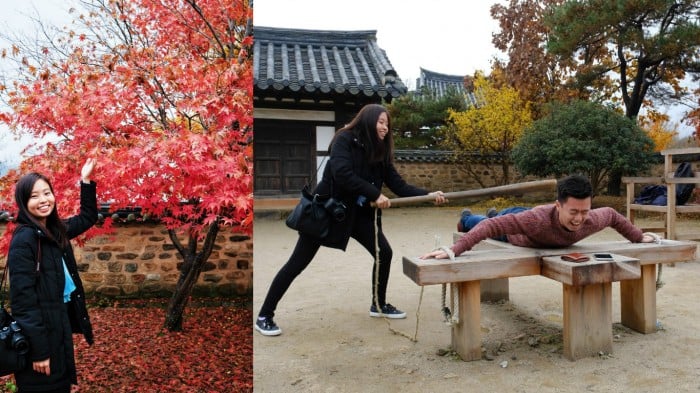 Boasting over 600 years of history, and cultural recognition as a UNESCO World Heritage Site, the village is a charming demonstration of traditional folk culture. Cultural properties such as natural resources and traditional folk heritage items like Pansori (percussion music) and Gayageum (zither) have been carefully preserved. There are also numerous cultural activities for you to try out. You can even experience ancient methods of punishment for your guilty pleasure…*insert evil laugh*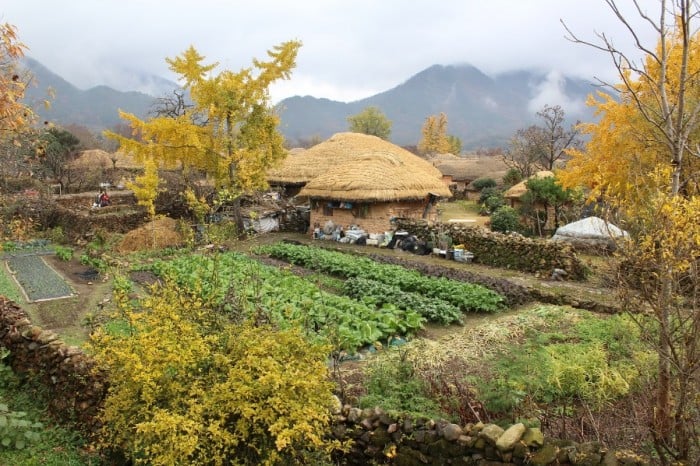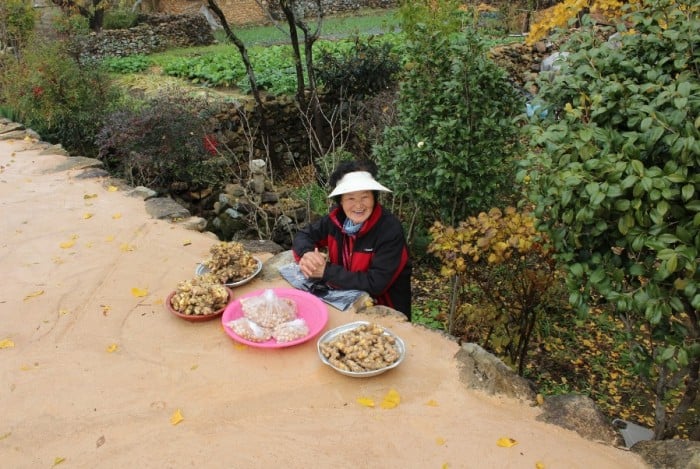 What I loved about this village was its authenticity and friendly locals! Families who stay in this village grow their own crops, and some even sell them to visitors who pass by their houses. It was fascinating to see large plots of land filled with ripe persimmon trees, as well as rows of cabbage and other vegetables that were unbelievably huge.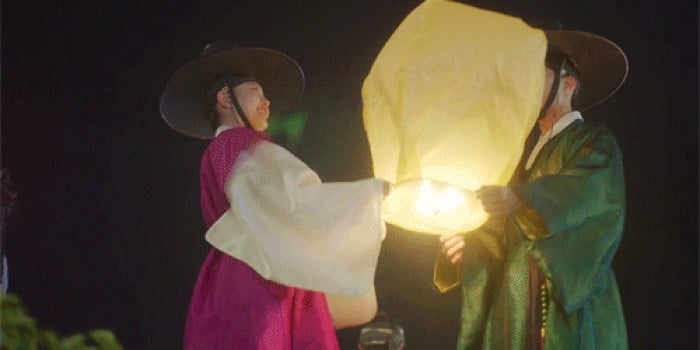 Image credit: Soompi Forums
For Park Bo Gum fans, Love In The Moonlight was filmed here! Remember the iconic bridge scene where they released the lanterns together?
Address: 30, Chungmin-gil, Nagan-myeon, Suncheon-si, Jeollanam-do
Directions: From Suncheon Station Bus Stop, take Bus No. 63 and get off at Naganeupseong Bus Stop.
Admission Fee: 4,000 won
2. Nanulteo Restaurant (나눌터)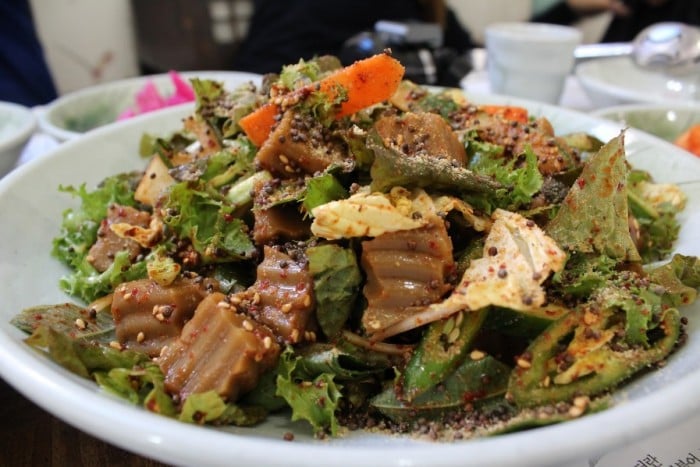 Nanulteo Restaurant specialises in acorn dishes, and is extremely popular amongst Koreans who visit Suncheon on short holiday breaks. Acorn, also known as Dotori (도토리), is known to be beneficial for your body. It is low in calories, and does not have any fat, sodium, or cholesterol at all! It is a popular diet food as it is surprisingly satiating.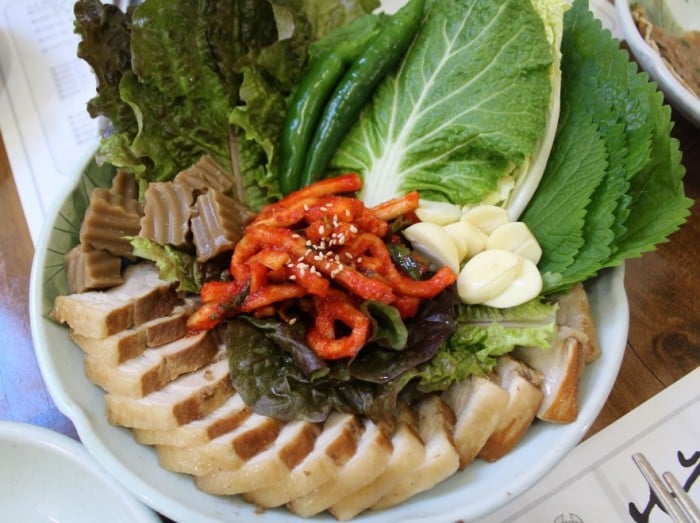 Due to its light and nutty taste, acorn jelly is best paired with sesame seeds, soy sauce, a dash of red chilli pepper powder and some scallions for added flavour. For the full course acorn set, we had the acorn jelly salad, acorn pancake, sweet and sour acorn, bossam with acorn jelly, acorn cold noodles, acorn jelly soup, and acorn bibimbap! WHAT A LAVISH FEAST. My personal favourite would be the acorn cold noodles – the noodles were superbly smooth, springy, and chewy. I couldn't stop myself from multiple servings!
Address: 1673-3 Yeonhyang-dong, Suncheon, Jeollanam-do, South Korea
Cost: 60,000 won for the Full Course Acorn Set
3. Suncheonman Bay National Garden
This sprawling garden is undeniably Suncheon City's representative tourist site. It is loved by couples and families alike for the diverse forest experiences! We spotted more than 10 couples carrying tripod stands while roaming the garden –  that probably gives you an inkling of how photogenic this location is. The Suncheon Lake Garden has mini versions of mountains and streams in Suncheon, designed to raise awareness about the ecological importance of Suncheon Bay.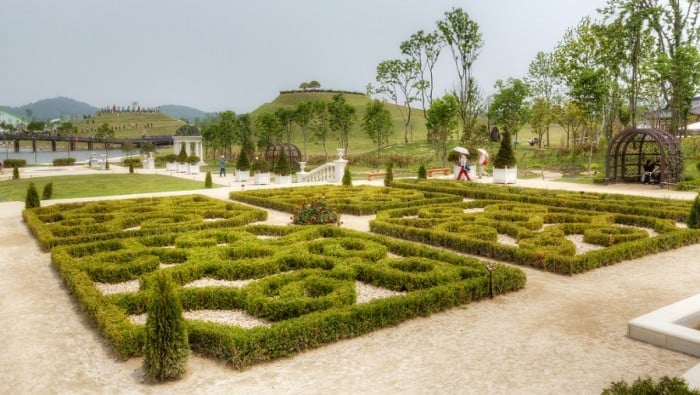 Image credit: Jaewoong Choi
The unique section would be the World Garden Zone, hands down. You don't need a flight ticket to Japan, London, Italy, or more just to snap a picture with their signature gardens! They have a Korean traditional garden, a Bonsai garden, as well as Dutch, German, American, Italian, British, Spanish, Turkish, Japanese and even Thai gardens.
Address: 47, Gukgajeongwon1ho-gil, Suncheon-si, Jeollanam-do, South Korea
Directions: From Seoul Central City Bus Terminal, take an express bus to Suncheon Bus Terminal.
From the bus terminal, walk west about 250m to Sungo Five-way Intersection (순고오거리) and turn left.
Walk about 150m and catch Bus no. 101 by the GS 25 convenience store on the right side of the street.
Ride the bus for 9 stops and get off at Suncheon Bay Garden bus stop (순천만정원 정류장).
Admission Fee: 8,000 won (includes admission to Suncheonman Bay Garden)
4. Suncheonman Bay Wetland Reserve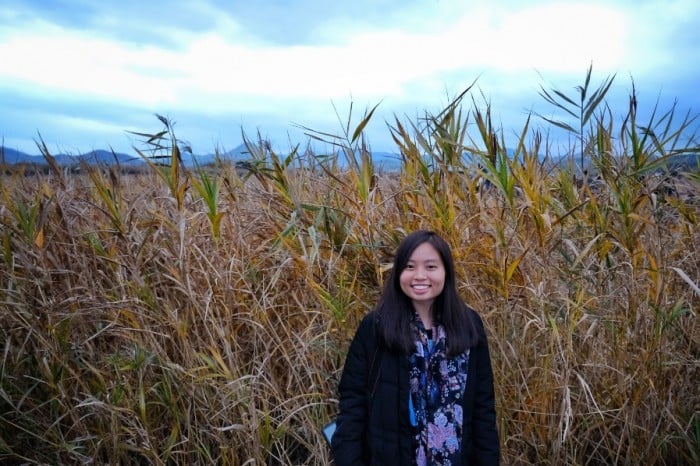 Considered to be one of the top five coastal wetlands in the world, Suncheonman Bay Wetland Reserve boasts an impressive mudflat and the biggest reed colony in Korea. The reeds take on shades of ash, grey and gold depending on the sunlight, unfolding into a spectacular symphony before your very eyes.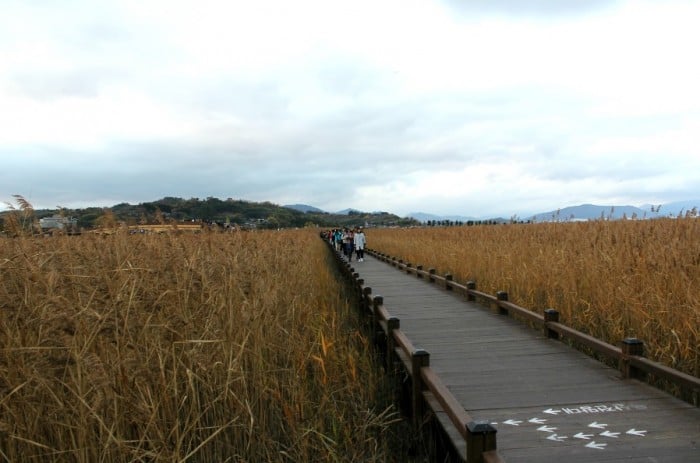 Take a lovely stroll along the boardwalk, or hike up to Yongsan Observatory for a panoramic view of the wetlands. You can even view migratory birds during the day and catch sight of twinkling stars at night! Or hop aboard a mudflat ship to catch ark shells and small octopuses. Be sure to time your visit carefully so you can get a magnificent view of the golden sunset from the observatory!
Address: 1673-3 Yeonhyang-dong, Suncheon, Jeollanam-do, South Korea
Directions: From Suncheon Bus Terminal, cross Suncheon 3-gil street and walk along Palmaro street to the bus stop. Take Bus No. 67 and get off at Suncheonman.
Admission Fee: 8,000 won (includes admission to Suncheonman Bay Garden)
5. Yeosu Maritime Cable Car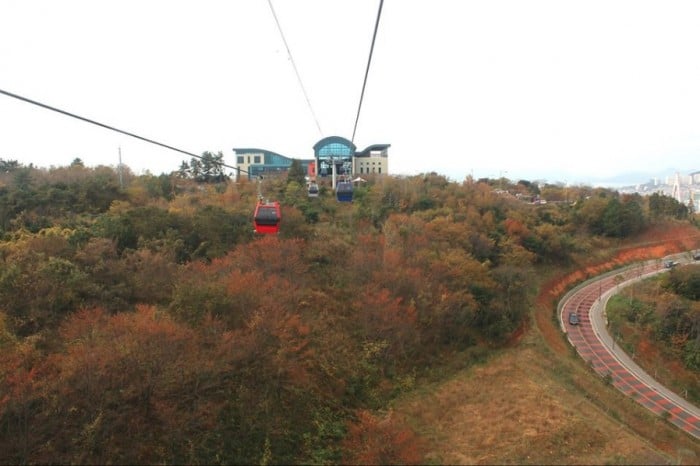 The Yeosu Marine Cable Car connects Dolsan Park and Jasan Park, and promises a splendid panoramic view like no other. Out of 50 cabins in total, they have 10 special cabins which boast a transparent glass floor – definitely not for the faint-hearted! You get to enjoy a 360-degree view of the Expo Ocean Park, the Yeosu harbour, as well as the Dolsandaegyo Bridge.
This is the view you get! Just three letters – WOW.
Address: 3600-1, Dolsan-ro, Yeosu-si, Jeollanam-do
Directions: From Dong Seoul Bus Terminal, take a bus to Yeosu Intercity Bus Terminal.
From Yeosu Intercity Bus Terminal, take any of the following buses to Dolsan: 100, 102, 103, 105, 111, 112, 114, 115, 116 (It is a 25-minute bus ride). The cable car tower is located right outside the Yeosu MVL Hotel.
Admission Fee:
General cabin: 10,000 won for one-way, 13,000 won for round trip
Crystal cabin: 20,000 won for a round trip
6. Odongdo Island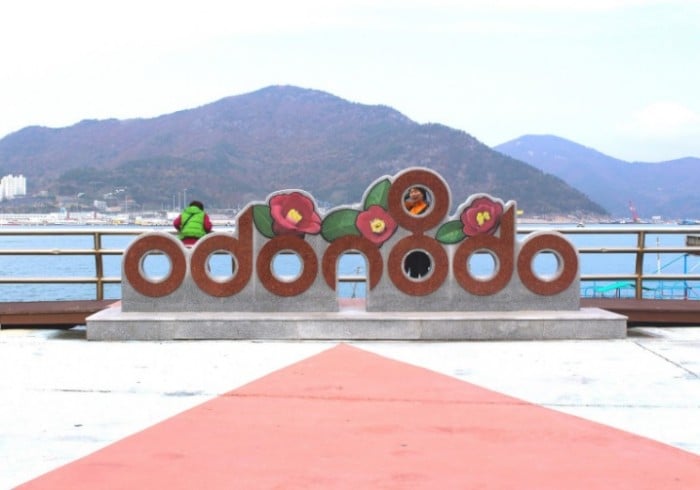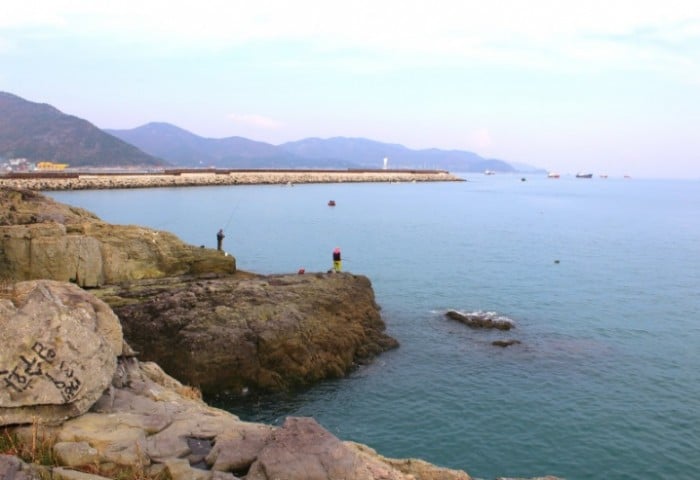 One of Yeosu's most representative tourist attraction, Odongdo Island is a tranquil respite for all nature lovers! It's a great place to just breathe in the fresh air, bask in Mother Nature and take short hikes within the park. Known as a spectacular spot to appreciate camellia flowers, the entire island turns into a beautiful shade of scarlet from March to April.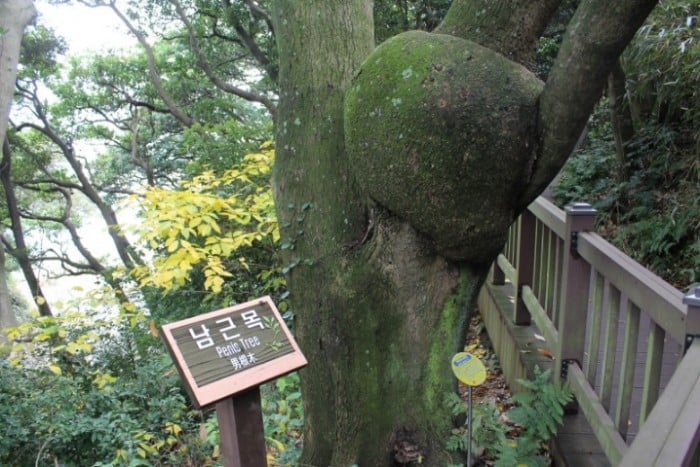 Although this island is famous for its camellia flowers…Most people might remember Odongdo Island for the wrong reasons. This iconic tree is a scene-stealer for sure!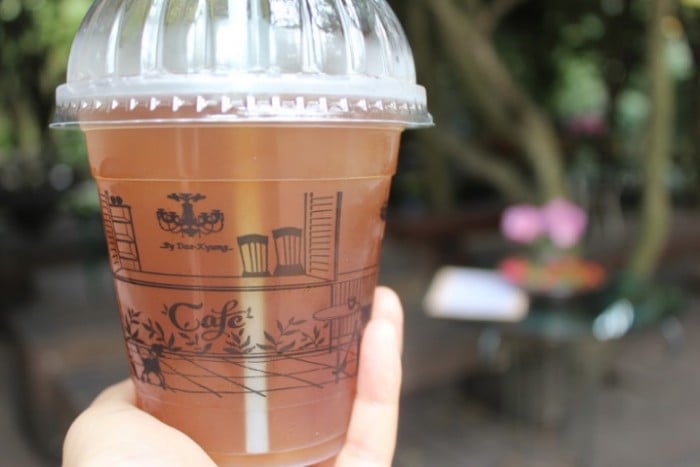 Be sure to try out the Camellia Tea from the cafe within the park! It was delightfully refreshing and tasted somewhat similar to sour plum juice. The tea is made from camellia flowers which are fermented with sugar for one year, and the extract is subsequently mixed with water to produce this delicious drink!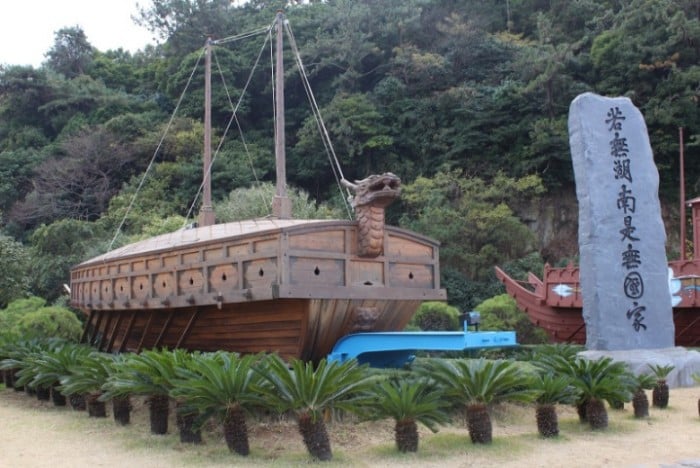 Located right in front of the entrance, this is the famous turtle ship ingeniously created by Admiral Lee Sun Shin. It is a source of joy and pride for the Koreans, because this invention allowed them to fight off the Japanese invaders successfully in 1592. You should check out the epic blockbuster – The Admiral: Roaring Currents (명량) for a better visual understanding, and gain deeper knowledge about the legendary battle!

Address: 242, Odongdo-ro, Yeosu-si, Jeollanam-do
Directions: From Yeosu Intercity Bus Terminal, take Bus No. 333 to Odongdo Island/ From Yeosu Expo Station, take Bus No. 2 or 333 to Odongdo Island. Odongdo Island is connected to Yeosu Port by a breakwater, so you can choose to walk over or take the camellia train which costs 1,000 won.
Admission fee: None
7. Yeosu Ocean Rail Bike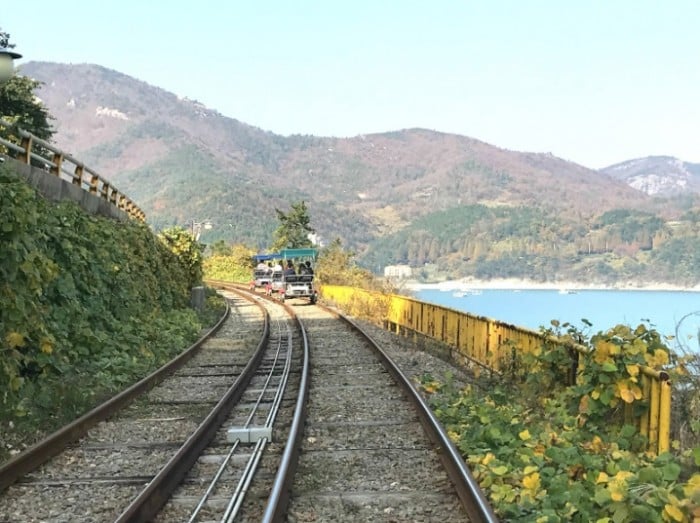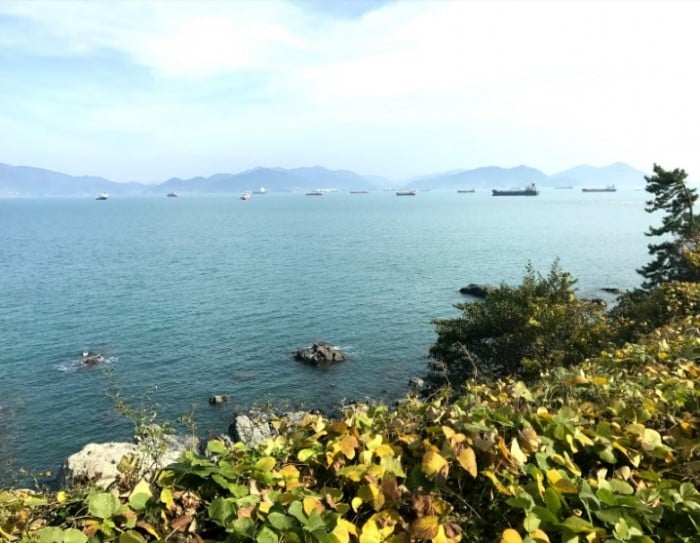 The Yeosu Ocean Rail Bike promises an unparalleled view like no other! Using a railroad track that was built in 1926, but ceased its usage, the rail bikes traverse along the coast, with a jaw-dropping view of the archipelago. Revel in the refreshing sea breeze and marvellous scenery right before your very eyes.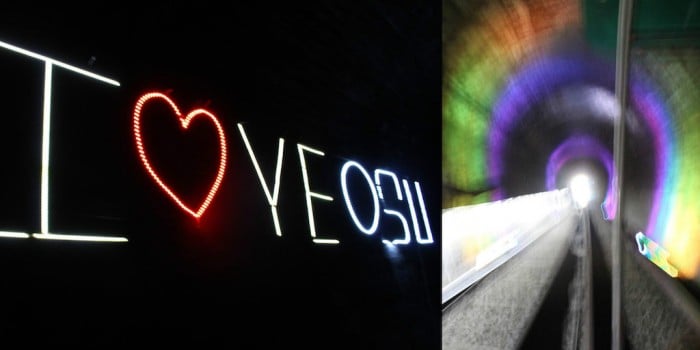 Rail-biking is such a great way to exercise while enjoying the outdoors. Isn't it great that you get to kill two birds with one stone? The track also passes through a tunnel which has been jazzed up with colourful lights for a trippy experience!
Address: 187, Mangyang-ro, Yeosu-si, Jeollanam-do
Directions: Take city bus number 6 or 7 and alight at Yeosu Rail Bike, or cab from Yeosu Expo Station. The cab fare will be 3,500 won.
Admission fee: Prices start from 20,000 won for a two-seater rail bike. It is cheaper if you book in a group.
8. Namwon Gwanhanruwon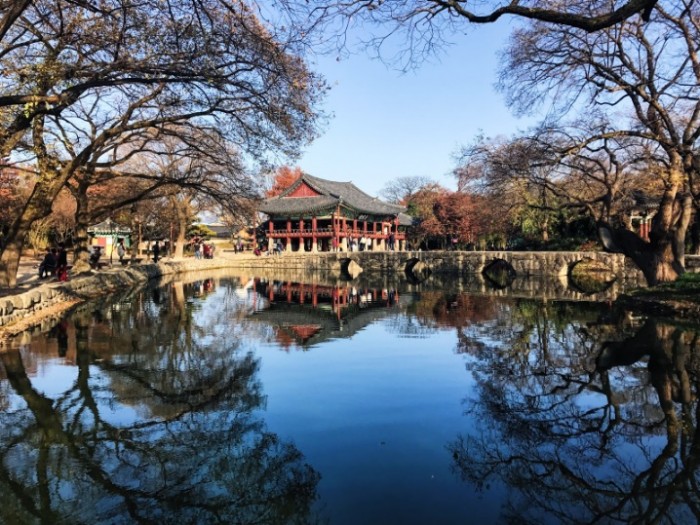 Namwon Gwanghanruwon is one of the most spectacularly beautiful pavilions in Korea. Depicting the relationship of Chunhyang and Mongryong, an iconic love story that has passed down through the ages, it is renowned for being the location where they first met. It is surrounded by a pond that symbolises the Milky Way, Ojakgyo Bridge, and Samsinsan Mountain. Just take a look at that gorgeous view – it is a true masterpiece!

Legend has it that if you walk across the bridge once a year, couples will have improved relationships while children will have good fortunes! Keen to try it out? This was undeniably my favourite location out of all, because of its picturesque scenery that made me feel as if I had stepped right into a painting. Also, for Love in the Moonlight fans, does this scene look somewhat familiar…? That's right, it was filmed right here!
Lastly, I would like to end off with Busker Busker's song, aptly titled "Yeosu Night Sea (여수 밤바다)". This soothing song is definitely earcandy and the perfect soundtrack for your adventures here.
So…are you tempted to fly to Korea already?! Get ready for an immersive cultural experience along with scenic views and delicious local delicacies when you visit Suncheon and Yeosu! Stay tuned for my adventures in Jeonju next…
The directions in this article are taken from VisitKorea, and my wonderful trip to Korea was made possible by Korea Tourism Organisation (Singapore Office). For more Korea off the beaten track suggested itineraries to inspire you for your Korea trip planning, click HERE.