South Korea is a destination that is at the top of everyone's annual 'to-go' list, and it's no surprise why. However, contrary to popular misconception, there's just so much more to the country than the major tourist hotspots of Seoul, Busan, Jeju Island and Nami Island! If you're looking for a novel experience, why not head to Daegu, South Korea's third-largest city?
Daegu is a city nestled in the North Gyeongsang Province, which is known for a thriving population, years of rich culture and history, a myriad of modern conveniences, as well as  gorgeous mountains and temples. Never considered visiting Daegu? Here are 11 reasons why this darling little city belongs in your next Korea trip itinerary!
Also read: 7 Traditional Markets To Visit In Korea For A Taste Of Local Life
1. It contains the perfect mix of traditional culture and contemporary charm
World-renowned for its history and culture that dates all the way back to the Joseon Era, visitors from all over the world flock to South Korea to catch a glimpse of its traditional palaces, Hanok houses and traditional costumes. However, for those searching for traces of Korea's traditions, they may find Seoul a little too modern and commercialised. On the other hand, Daegu is the impeccable mix of the old and new – and that is exactly what visitors love about it! Famed for its oriental medical traditions and practices, traditional markets as well as Modern History Streets, Daegu retains evidence of its rich history without forsaking progression. This is especially exemplified by its flourishing and reputable technology or fashion industries.
2. It's the 'City Of Oriental Medicine'
 Unbeknownst to many, Daegu is currently one of the few cities still offering an oriental medicine trade. In fact, it's home to one of Korea's largest and oldest oriental medicine markets. Known for the Yangnyeongsi Oriental Medicine Cultural Centre, which contains Yangnyeongsi Market as well as exhibitions tracing the history of local medical traditions, no visit to Daegu would be complete without a trip to this market. Established in 1658, the market spans a 700-metre stretch along Namseong-ro Road in the Jung-gu district and is also known as 'Yakjeon Golmok' ('alley of the medicine stores'), thanks to the many oriental medical clinics, restaurants and shops that line the street. Simply walk through the market and interact with some friendly shop-owners to gain a better insight into oriental medicine. We guarantee that you'll soon find yourself fascinated by the various types of medicinal products and forms of treatment, which differ greatly from that of Western medicine.
3. Its modern nightscape is a sight to behold
When nightfall approaches, Daegu's infallible charm is revealed. For a panoramic view of the city at night, head to E-World 83 Tower and Apsan Observatory, which are popular amongst both tourists and locals alike. Both of these are great vantage points that offer stunning views of Nakdonggang River and Daegu's city lights. Daegu Apsan Park and the trail to its peak is also a tourist hotspot, with cable cars that run to the top for convenient access. Finally, The ARC (Architecture of River Culture) Cultural Centre, which is equipped with water-themed art, photo exhibition halls and an extraordinary exterior, offers a magnificent night view that you'll never forget. For those adventurous souls seeking to go off the beaten path, simply head to the recently renovated Ayang Railroad (which was formerly old abandoned train tracks!), for a romantic experience along the riverside.
For those still looking to experience the usual Korea destinations of Seoul, Busan, Jeju, ON TOP of venturing off the beaten path, this tour is for you! With this 8D6N Grandeur of Korea package, you'll get to visit those 3 places together with Daegu, Jeonju, Daejeon, and Yongin from just SGD1888 per pax – for a 8D6N trip inclusive of flights, accommodation, tours and all relevant transport!
P.S. You'll even get to enjoy S$800 off per couple! How great is that? Book your holiday now!
4. It's home to some of Korea's coolest festivals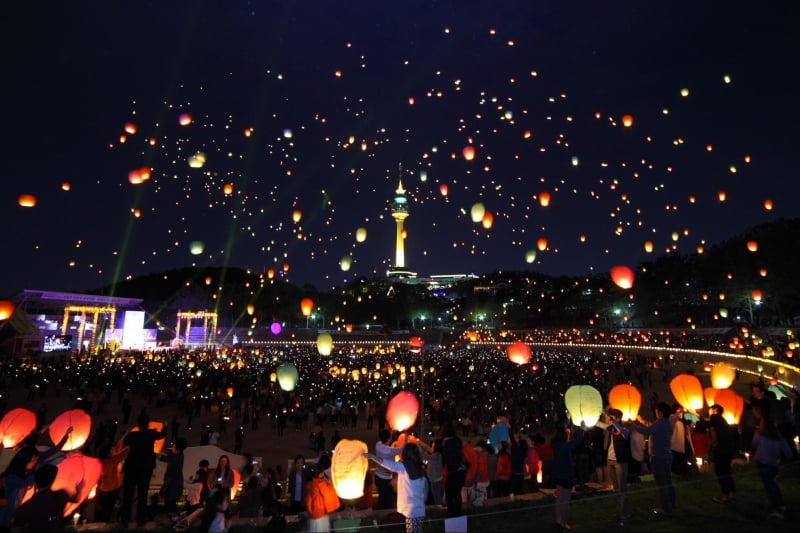 If you're tired of the typical music festivals which everyone raves about, Daegu's unique festivals will definitely impress you. I mean, where else can you find an entire festival devoted to chicken and beer? Every year, Daegu hosts its annual Chicken and Beer (Chimac) Festival, which attracts over a million visitors to gorge on hot piping Korean fried chicken and ice cold beer whilst enjoying energetic K-pop performances.
On top of that, the annual Dalgubeol Lantern Festival is also another amazing event that is not to be missed! To celebrate Buddha's birthday, thousands of Chinese lanterns are set afloat that night, illuminating the night sky into a breathtaking and picturesque painting. Come marvel at the beautifully lit sky and don't forget to snap some photographs! Finally, Daegu's annual Yangnyeongsi Traditional Medicine Festival was selected as the "Up-and-coming Festival " by the Ministry of Culture, Sports and Tourism in 2017. During this festival, medicinal herbs found in Korea's mountains are displayed and visitors are offered the opportunity to experience a vast range of relaxing and curative traditional medicinal procedures. Perfect for those interested in Korea's traditions and medical sciences!
Also read: Mark Your Calendars! – 7 Exciting Festivals in Korea to Experience
5. It has great hiking spots which offer stunning views

For all you nature lovers and outdoor enthusiasts, it's time to lace up your hiking boots! Not just known for its culture, Daegu is one of the best cities for hiking – thanks to the numerous mountains congregated nearby which offer amazing panoramic views of the entire city.
One of the most popular hiking spots is Daegu Apsan Park, a large urban-eco park located in the valley between Sanseongsan Mountain (653m) and  Daedeoksan Mountain (585.5m). There, you'll find Suseong Pond as well as various hiking routes which provide a magnificent view of the entire Daegu and, if you're not too keen on hiking up Mount Apsan (600m), you can choose to take a cable car. Palgongsan Natural Park, which is located 20 kilometres northeast of downtown Daegu is also a great option, with its numerous valleys being carpeted with azaleas in the spring and falling leaves in autumn. Finally, Biseulsan County Park is a local favourite for hiking and walking, with its rich terrain and blooming flowers.
6
. Its traditional market culture is still prominent in this day and age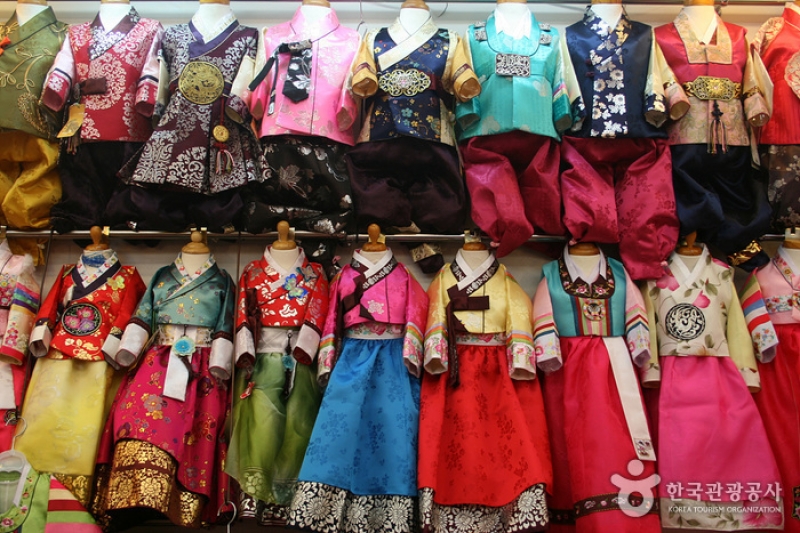 Think of shopping in Korea and the bustling Myeongdong or Dongdaemun in Seoul usually comes to mind, where tons of high-street brands and popular cosmetic shops such as Innisfree and The Face Shop fill the streets. However, Daegu distinguishes itself simply by retaining its traditional market culture, with Seomun Market being one of the largest and oldest establishments found in the city.
Boasting high-quality clothing and delicious traditional dishes, Seomun market is sectioned into 6 major districts that house approximately 4000 vendors. These stores basically sell everything that you could possibly need. From high quality fabric-related items such as silk and linen, to traditional Hanboks as well as men and women's clothing, Seomun is the place to head to for a dose of uncommercialised retail therapy. With numerous stalls selling steaming hot and aromatic snacks and local dishes such as the famous Seomun fish cake, Bibimbap (korean mixed rice with meat and vegetables) and Sujebi (soup with buckwheat dough flakes), you can look forward to a satisfying feast. Another popular traditional market you can check out is Chilseong Market, where you'll also be able to have an authentic local experience.
Ready to shop till you drop at Seomun Market? In fact, the shopping doesn't have to stop there! With this 8D Korea Enchantment + Jeju (Winter), you'll be able to visit Daegu's Seomun Market, Busan's Jagalchi Market and Nampo-dong Street, as well as Seoul's Gwangjang Market, Dongdaemun Market and Myeongdong Fashion Street.
Do this and more from just SGD1238 per person – inclusive of flights, accommodation, meals, tours and all relevant transport! What are you waiting for? Korea awaits!
7. It's the filming site of various popular Korean dramas
Attention all K-drama lovers, you're in for a treat with these insider information we're just about to leak! One of the most well-known K-dramas filmed here was 'It's Okay, That's Love', where the scene of Gong Hyo-Jin and Jo-In Sung's characters going to watch a gig together was filmed at Hill Crest, also known as Herb Hillz. Hill Crest was also the backdrop of the iconic scene where she spotted him sleeping in a restroom. Other prominent places that they filmed at include Dasanji-Bongmu Park, Spa Valley and Hwawon Recreation Area. As for the recent K-drama 'Uncontrollably Fond' starring Bae Suzy and Kim Woo-Bin, Daegu Dalseong Park was also used as the filming location.
In the the romance comedy 'Oh! My Venus', Ayang Railroad Bridge was also the filming spot for the romantic night scene where Shin Min-Ah ran to So Ji-Sub and threw herself in his arms. Finally, the highly popular 'Love Rain', starring Jang Guen-Suk and Yoo Ah-In used Kyemyung University in Daemyung-dong to film its first six parts. Arm yourself with this exclusive information and go about reenacting these famous scenes at the exact locations in Daegu!
8. You can enjoy a unique farming experience at Guam Farm Stay Village
For most of us city folks, it's not unusual that we've never stepped foot into a farm nor a village before, let alone done any farming.  At Guam Farm Stay Village which is located near the city and well-equipped with cultural facilities, you can get a taste of traditional farming that is hard to find elsewhere!
Upon arriving, visitors can take part in activities such as planting various vegetable seeds, thinning out apple trees, rice reaping or plucking of beans whilst admiring the gorgeous cherry blossoms which line the roads.  Amongst the various programs, apple and chestnut picking tend to be popular and, to facilitate the farm stay program, Nonghyup operates a weekend farm, where one can grow and taste their own vegetables such as lettuce and chili. Besides these activities, do try the fresh and juicy fruits planted in the village, which are bound to quench your thirst. Chat with some locals whilst you're at it and appreciate the slow pace of life there. Doesn't that sound like a wonderful getaway from city life?
9
. You can find your inner Zen at the magnificent Donghwasa Temple
Home to a number of important Buddhist sites, both locals and visitors flock to Daegu to marvel at its religious sites and to get a taste of its culture. Located at the south side of Palgongsan Mountain is Donghwasa Temple, one of the most famous temples in Daegu boasting of a rich history that traces all the way back to the 17th century.
Besides being a place to find your inner peace, many visitors are awed by the temple's impressive architecture, which is segmented into three sections. Inside, there are various Buddhist statues, and the most eye-catching one is a 17-metre high large statue of Buddha. Besides these statues, you will find various kinds of halls and temple buildings, all intricately decorated with marble stones as well as dragon or phoenix carvings.
Heads up, all culture buffs! Can't wait to visit Donghwasa Temple? If you're holding back due to the language barrier (we know, navigating around in Korea can prove to be rather tricky), why not sit back and relax and let the experts take you there! Check out this 7 Day Korea Autumn Highlights + 1 Night which will not only bring you to Daegu's Donghwasa Temple, it will also bring you to Busan, Gyeongju, Gangwondo and Seoul.
Save yourself the research and book your holiday today!
10. There's a memorial dedicated to Korea's legendary folk singer
As you can tell from its world-famous entertainment industry, Koreans love and take pride in their music industry. And this is especially evident from Daegu's Kim Gwangseok-gil Street, a mural street dedicated to the deceased Korean folk rock singer, Kim Gwangseok. Situated near Bangcheon Market where he used to live, this mural street has statues and murals – that depict his life and music – plastered on its 350 metre-long wall. Whilst traversing along the street, you will also encounter some unique and interactive exhibits. This street is also a performance hotspot for budding singers, with a pleasant sun-filled amphitheatre right in its centre. Every autumn, the Bangcheon Market and Dongseongno area hosts a 'Kim Gwangseok's Singing Contest', which attracts millions of visitors. If you're visiting Daegu during that period, this is something you don't want to miss!
11. Its textile and fashion scene is like that of no other
Besides being known for its traditional medicine, Daegu has also been dubbed 'the city of textile and fashion', thanks to its outstanding textile trade which has far surpassed that of other cities. Simply by strolling around Daegu, you'll find traces of its prominent textile trade such as the Korea Textile Development Institute, Fashion Centre Korea, DDC Textile Product Complex, Daegu's Designers' Club and the huge EXCO Daegu Convention Centre and Mall! For those budding fashionistas, Daegu's Textile Museum is also not to be missed. A large museum housing an array of impressive exhibitions in addition to its fashion hall, textile industry hall and textile future hall, you're bound to be fascinated by all it has to offer. Furthermore, its Fiber Enterprise Room, Textile Institutes Room and Children's Activity Room are also worth exploring. You'll definitely leave wow-ed by the gorgeous designs and materials you see!
Surprised by the amount of fun things that Daegu has to offer? Stunning by day and even more spectacular by night, I can assure you that you won't be disappointed by this gem of a city. If you're heading to Korea anytime soon, you know what you simply HAVE to incorporate into your itinerary! Should you need anymore information or help planning your Korea trip, do check out the Korea Tourism Organization's official website as well as their Facebook page for the best tips. In addition, check out this Experience Korea! page for everything you need to plan your trip. Bon voyage!
---
Brought to you by the Korea Tourism Organization.