South Korea has always been regarded as a fashionable city. But aside from that, its traditional culture is also extremely beautiful and fascinating. However, when it comes to deciding where to stay in South Korea, traditional houses (hanoks) are usually not the first choice, especially for first-time travellers. Not only are hanoks pleasant to look at and stay in, but they also make for an environmentally friendly option, as they are built with natural materials like wood and stones. 
Fortunately, looking for an ideal hanok stay in South Korea is easy through Airbnb. Why not consider these 10 stunning hanoks in Seoul or other places in South Korea where you can experience the culture like a true local?
Also read: 16 Best Airbnbs & Vacation Rentals in Seoul for Every Budget
Gorgeous hanoks in Seoul
1. This traditional house in a famous hanok village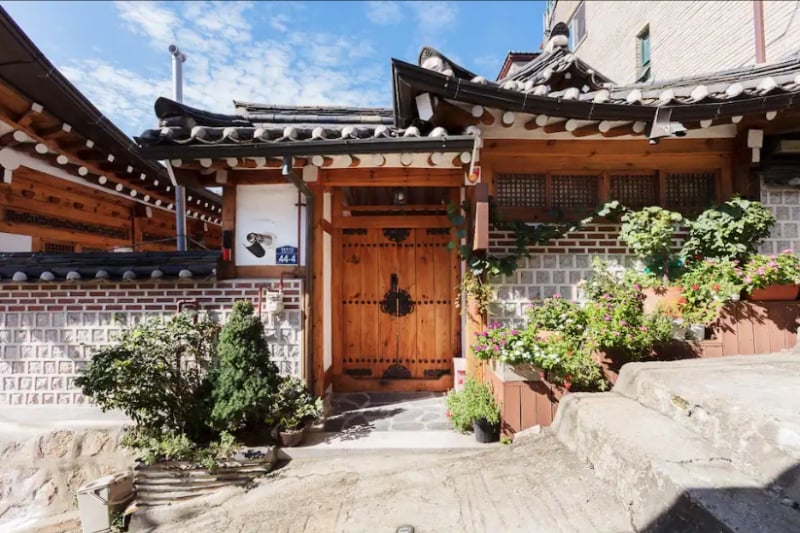 Located in the Bukchon Hanok Village in Seoul, this hanok stay is perfect for those who want easy access to the city and to spend a peaceful night at the same time. A cultural district with nice restaurants and shopping places like Insa-dong Street is just a seven- to 12-minute walk from the house. Besides, you can expect a sauna, a garden, and other traditional house elements like futon beds in this award-winning hanok Airbnb.
2. This minimalist hanok space in Seongbuk-gu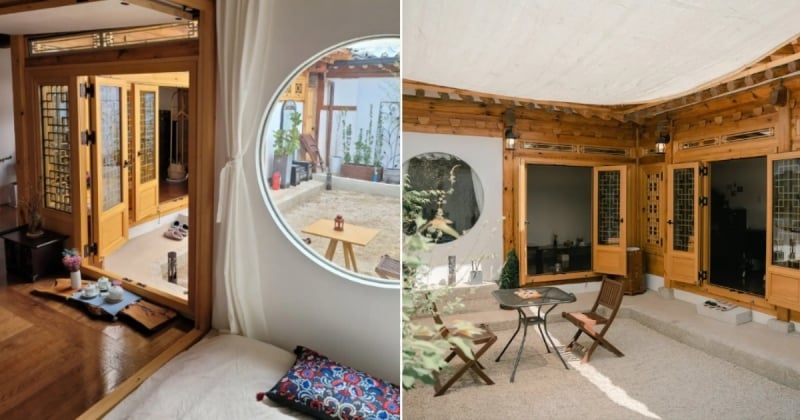 One of the more modern hanoks in Seoul is this cosy hanok with a small yard and a simple Korean house design. It's located in an old residential neighbourhood in Seongbuk-gu, instead of a bustling tourist area, so you can experience what it's like to live like one of the locals. A five-minute walk will take you to riverside cafes and bars. You can also walk up the hill to reach Naksan Park, a park that offers magnificent panoramic city views.
3. This sophisticated hanok with a bathtub and cherry blossoms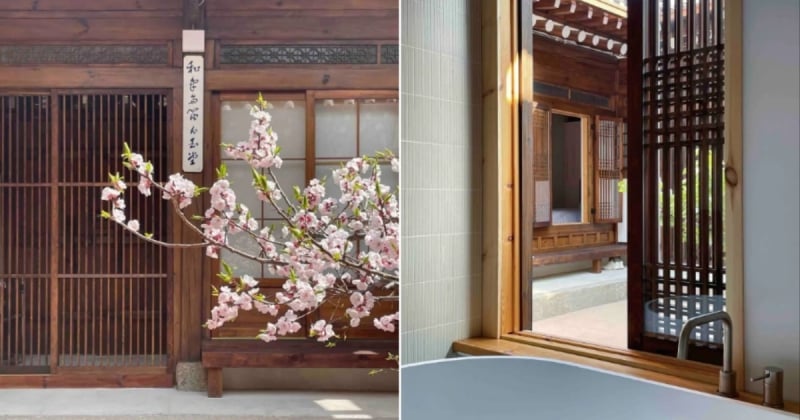 This minimalist accommodation called Unnie House is another place where you can experience a traditional hanok stay in Seoul. Here, you will see a pretty cherry tree and other modern amenities like a bathtub, coffee machines, a tea room, and board games. It only takes a three-minute walk to arrive at the Sinseol-dong subway station, and it's also conveniently located near the bus stop.
4. This hanok with a contemporary touch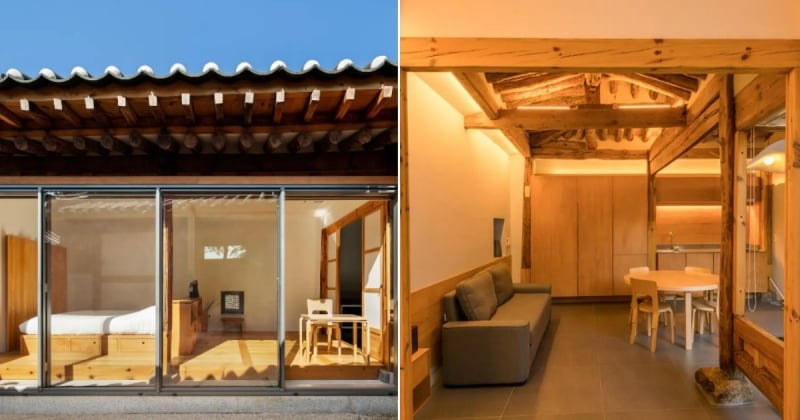 ZIKM is among the award-winning hanoks in Seoul with nearly a hundred years of history. Although this place still retains the traditional architecture — like the rooftop, wooden doors, and windows — the furniture and amenities are all given a contemporary touch. These make it a perfect place to experience both traditional Korean and modern western tones. 
5. This classic and cosy hanok house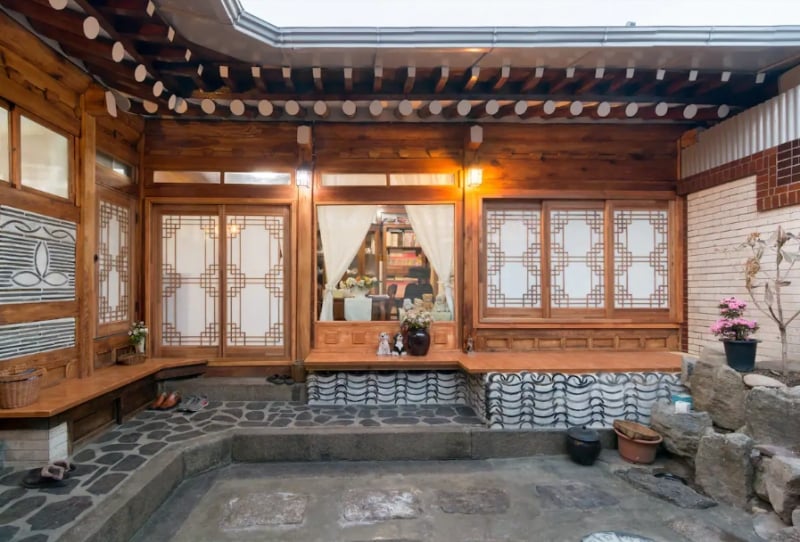 Dajayon Hanok guesthouse is a comfy hanok stay in Korea that will make you feel at home. It's situated near many popular attractions in Seoul, with places like Insa-dong, Buckchon Hanok Village, and the historical Changdeokgung palace just a 10-minute walk away. The guest house also has a small yard, a tiny garden, and a classic Korean house vibe. All these together will make you feel like you're stepping into a K-drama scene.
6. This hanok house near the palace and cherry blossom viewing spots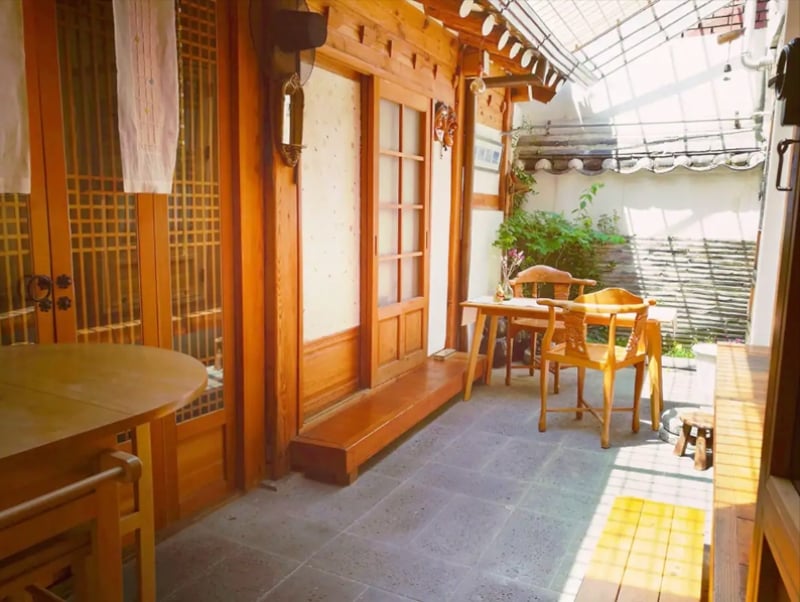 There are a handful of reasons to consider Todaki for your hanok rental in Seoul. A small but well-equipped accommodation, Todaki has all the basic amenities and even a tiny garden.  You will definitely feel warm and at ease here, especially when sunshine illuminates the entire hanok. What's better, it's located close to the Anguk subway station, cafes, restaurants, as well as cherry blossoms viewing spots like the Jungdok Library, Samcheong Park, and Changdeokgung Palace.
Other pretty hanok stays in South Korea
7. This spectacular hanok in Jeonju Hanok Village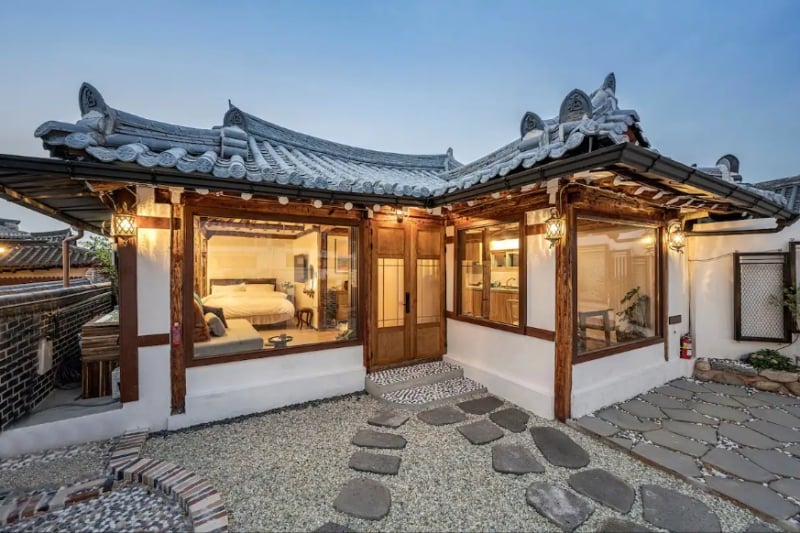 When searching for where to stay in South Korea, this accommodation inside the Jeonju Hanok Village is not to be missed if you're travelling to North Jeolla Province. This Jeonju hanok is actually over 105 years old, but was renovated to suit modern living. Landmarks such as the Omokdae historical site, Jeondong Cathedral, and the Gyeonggijeon shrine are only five minutes away. Since it's on the main street, getting nice food or shopping around is also very convenient. 
8. This hanok-style villa in Jeju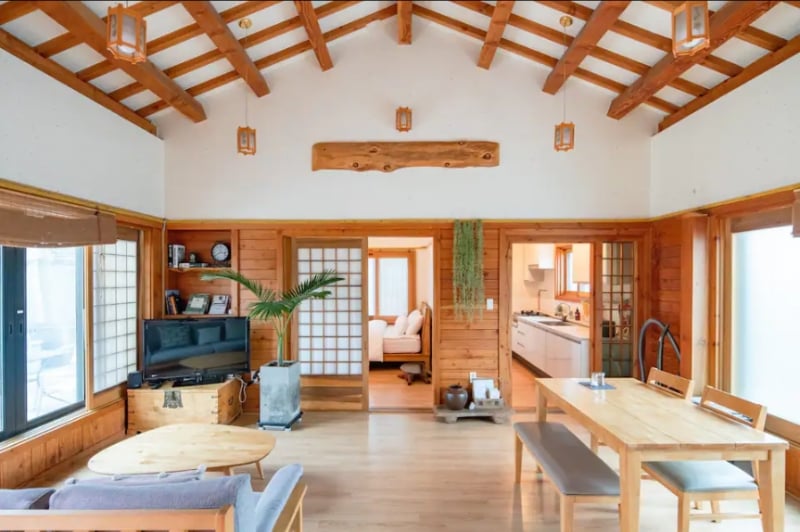 If you're travelling to the famous Jeju Island, consider this charming hanok-style villa. It is spacious, has a large courtyard, and has fruit trees and camellia shrubs encircled around it. Moreover, this villa is also built with handpicked Jeju basalt stones and red pine woods, which make it strong and sustainable. Although it's situated near the city centre, its location in a quiet neighbourhood allows guests to enjoy a serene stay without any disturbance.
9. This adorable hanok cottage in Gangwon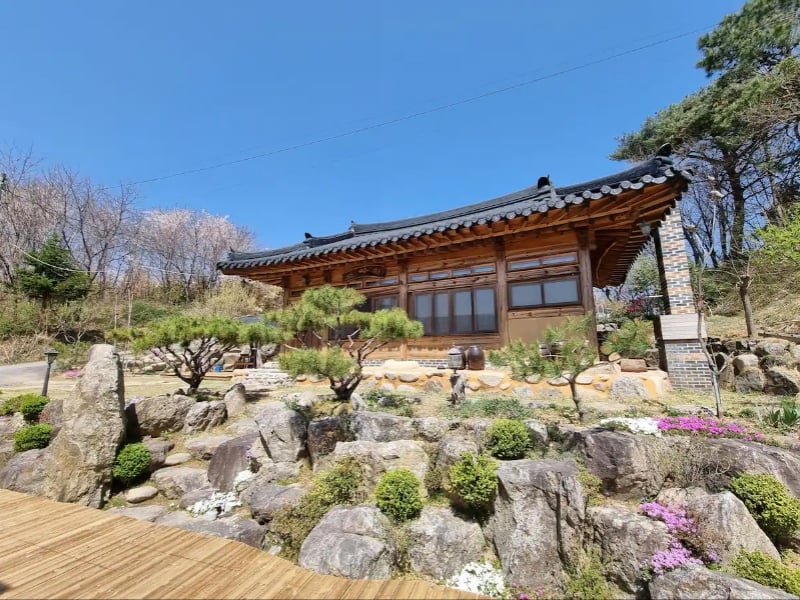 Tucked away in a forest next to the sea, this hanok in Ganghyeon-myeon is one of the most stunning hanoks in South Korea. It is only a five-minute walk to Seorak Beach, a family-friendly destination where visitors can indulge in activities like swimming and surfing. 
Pine trees, loess plants, and other adorable flowers surrounds the hanok, allowing you to get in touch with nature fully. There is also a barbeque area right in front of the house. During wintertime, the scene of snow blanketing the cottage makes for a uniquely captivating vista. 
10. This stunning hanok house away from the city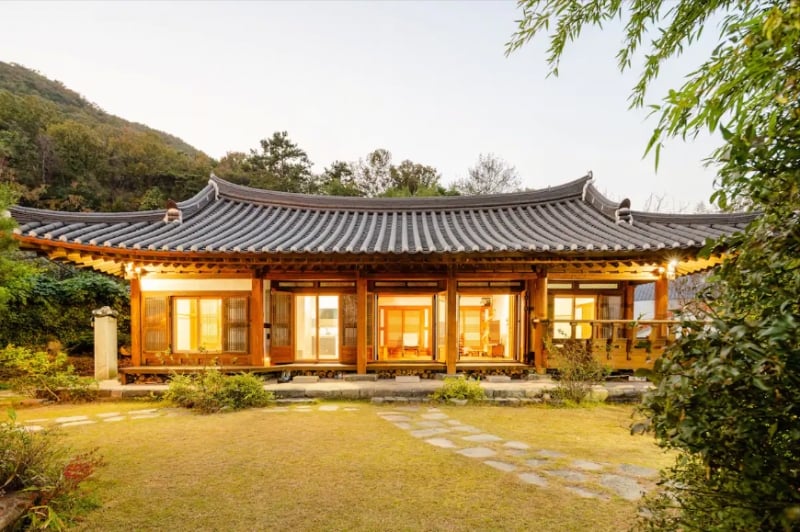 If you're looking for where to stay in South Korea, escape the tireless urban life and stay in this quaint Korean hanok in Gimhae. This massive hanok stay can fit up to eight guests. There is also an outdoor barbeque area and a huge garden. 
It is only 15 minutes from Gimhae Airport and Busan Sasang Terminal, so the location is suitable for both local and foreign travellers. It's nestled on the top of a hill, where you can camp outside to catch the sunrise and sunset, or watch the night sky accompanied by relaxing forest sounds. There's also a bathtub with an outside view — how cool is that? 
Also read: 15 Underrated Places in South Korea That You Should Experience
Now you know where to stay in South Korea if you're looking for a traditional, close-to-local experience. These gorgeous hanoks in Seoul and beyond are definitely going to make your trip even more memorable!
---
This article contains affiliate links. When you book through these links, we may earn a small commission at no additional cost to you. All Airbnb images courtesy of the respective property listings.