Jeju Island, a volcanic island located in the southernmost sea of Korea, has plenty to offer travellers all year round. The volcanic Hallasan Mountain stands sentinel at the center of the island, which boasts a spectacular coastline dappled with rugged rock formations. However, the optimal time to visit is during spring, where vivid blossoms transform the island into a vibrant canvas.
Every spring, Trazy – Korea's #1 Travel Shop with an expertise in tours and activities for Jeju Island – receives tons of questions about the island. Hence, based on our FAQs, we want to share our top insider travel tips and information for your spring getaway to Jeju Island!
1. When is the best time to visit?
The spring season in Jeju Island generally spans from March to May but the most beautiful period, or the peak season, is from late March to early April. During this period, you'll be able to feast your eyes on the gorgeous scenery of cherry blossoms and canola flowers in full bloom at the same time. In the higher altitude areas such as Hallasan Mountain, you may be able to see cherry blossoms until mid-April.
2. What's the weather like?
In spring, the weather in Jeju Island is mild and pleasant. It's mostly sunny with warm afternoon highs near 20ºC (68ºF), which is perfect for outdoor activities.
March –  Average High 12.8ºC (55.0ºF); Low 6.1ºC (42.9ºF)

April – Average High 17.8ºC(64.0ºF); Low 10.2ºC (50.3ºF)

May – Average High 21.6ºC(70.8ºF); Low 14.4ºC (57.9ºF)
Tip: Do make sure to check the weather forecast for any indication of rain!
3. What should I wear?
While the temperature is neither too cold nor too hot, Jeju Island is known for being windy. It would be wise of you to layer up with lightweight clothing and carry a windbreaker jacket in case of strong wind. This will also help you tide over the difference between day and night temperatures.
4. Where should I go?
Where to see canola flowers:
From late February until the end of April or sometimes even early May, yellow canola flowers blanket this huge volcanic Island. While you can see the flowers everywhere you go in Jeju Island during these months, our top picks are at

Sanbangsan Mountain

and

Seongsan Ilchulbong Peak (Sunrise Peak)

. There, you can score a picture of the volcanic peak against the yellow canola ocean in one frame. Don't miss out on this scenic view for your Instagram feed!
Where to see cherry blossoms:
If your travel dates coincide with Jeju's cherry blossom season, which is expected to be from March 25 to April 8 in 2018, include the following destinations in your itinerary. These places are where you can take a romantic photo of yourself standing in the middle of a large canola field – with a rippling cherry blossom canopy over your head.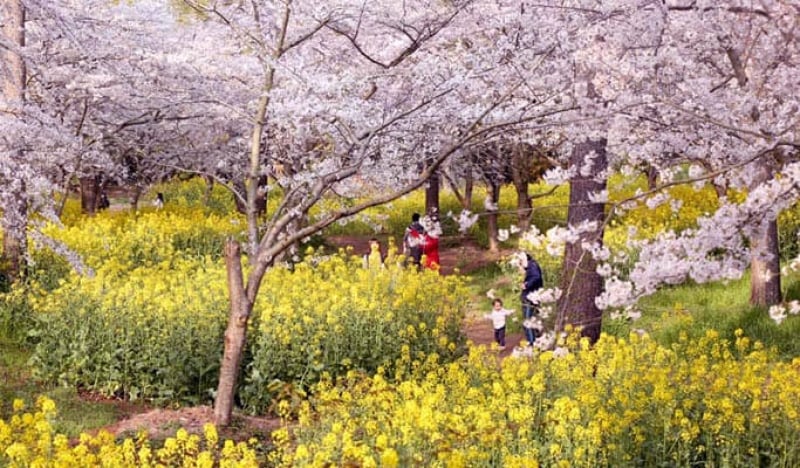 Hallim Park Jeju

: Come spring each year, Hallim Park erupts with a sea of canola flowers, cherry blossoms and tulips. It's a great time of year to enjoy slow walks in Hallim Park, especially with the balmy sunlight on your face! While you're there, don't forget to pay a visit to Hyeopjaegul and Ssangyonggul, two famous lava caves located within the park.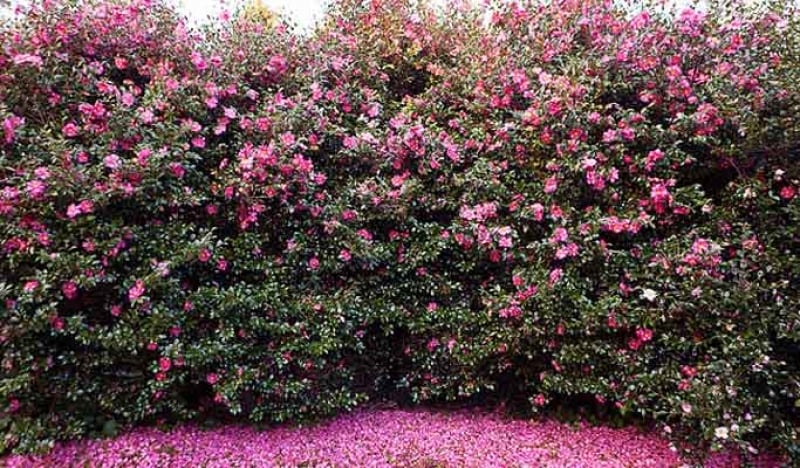 Camellia Hill Jeju

: Best known for its camellia trees of 500 different species from 80 countries, Camellia Hill Jeju consists of a huge garden with plenty of photo spots. Take your pick from backdrops comprising colourful flowers, a Korean traditional cottage, forests, as well as multiple cafés and shops.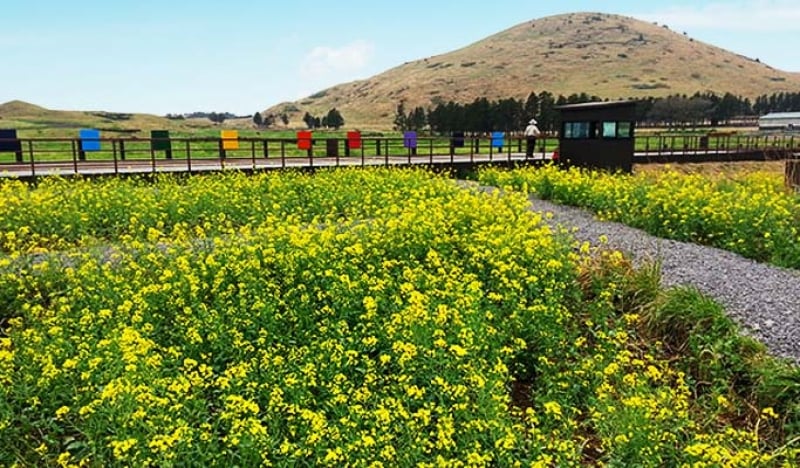 Jeju Rail Bike

: Pedaling along the railway across the vast green field, you'll encounter a marvellous landscape including volcanic cones, a wind farm, grazing cows, and

Seongsan Ilchulbong Peak

. This is all ON TOP of sprawling yellow canola fields in spring. What a sight, huh!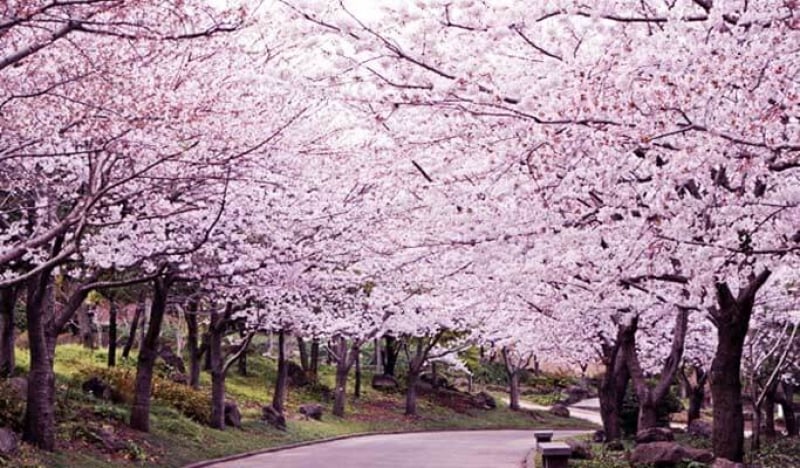 Yeomiji Botanical Garden

: Yeomiji Botanical Garden, located in Jungmun Tourist Complex is well known for its indoor garden which is the largest in Asia. Visit in spring to witness the unparalleled pinkish-white beauty that coats every inch of the park. During your visit, drop by the observatory and admire a 360-degree view of Jungmun Beach and Hallasan Mountain awash with rich spring colours.
5. Can you suggest an itinerary?
Here are Trazy's suggested itineraries that will allow you to Jeju Island in all its spring splendour.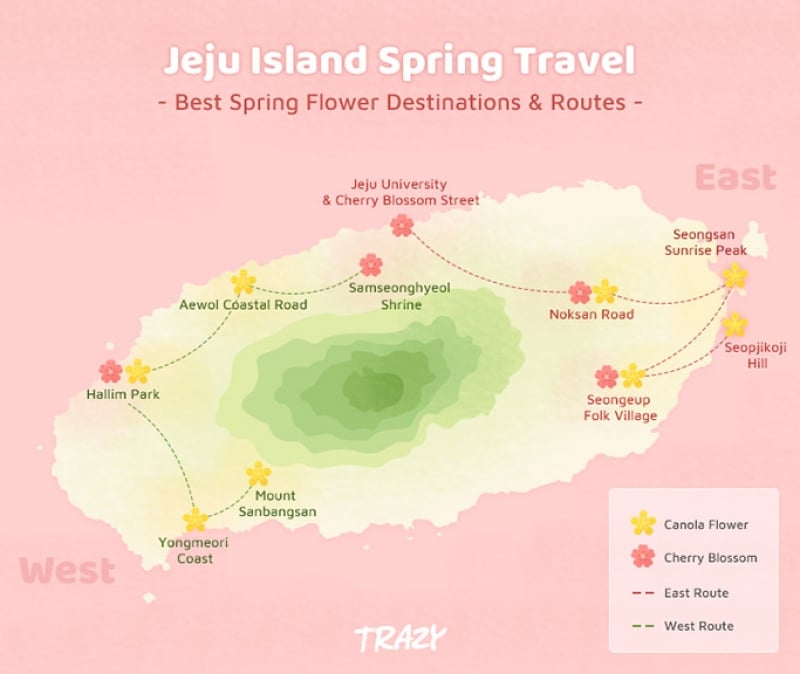 East Jeju Course

: Jeju University & Cherry Blossom Street > Seongsan Sunrise Peak

> Jeju Seongeup Folk Village > Seopjikoji Hill  

West Jeju Course

: Samseonghyeol Shrine > Hallim Park > Yongmeori Coast > Mount

Sanbangsan
6. How should I get around Jeju Island?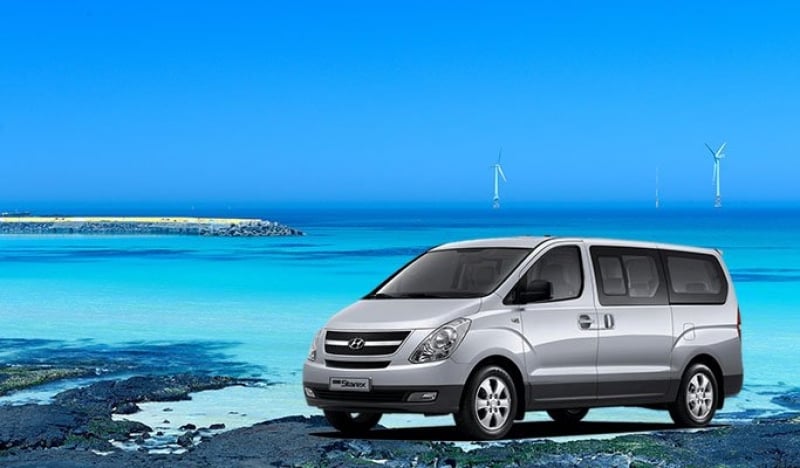 Do note that it's not recommended to get around Jeju Island via public transport. It should be fine to do so when you're looking to just get from Jeju International Airport to major spots in town but if you try to connect from one place to another via public bus for sightseeing, that would be a definite pain in the neck. In addition, buses on Jeju Island are not as frequent as they are in Seoul. We hence recommend going on tours or renting a car.
Tours:
If you're a solo traveller, it's always great to join tours to a) make friends, and b) have a worry-free experience. These tours usually offer two or three courses that cover Jeju Island's must-visit spots. As they provide pick-up & drop off services, admission to the attractions included in the itinerary and even lunch, you'll be guaranteed a fuss-free and seamless experience!
Take your pick from Trazy's tours: Jeju Island Small Group Van Tour, Jeju Island 1 Day Bus Tour
If you're travelling in a group with your families and friends, private tours will well cater to your group's needs. Pick what you and your travel buddies like and make your own custom itinerary.
Choose from these tours based on the size of your group: Private Taxi Tour (2-4 pax), Private Van Tour (4-8 pax), Private Mini Bus Tour (8-14 pax)
Car Rental:
If you wish to travel without being restrained by a fixed schedule, renting a car can be an excellent option. Then, what do you need to bring to rent a car in Jeju Island? First, you are required to have an International Driving Permit (IDP). Your passport is needed, too. Make sure the rental fees are only accepted via credit card. Drivers must be 21 years or older with at least 1 year of driving experience. To save money, note that booking online in advance for car rental can prove to be much cheaper than same-day rental onsite.
Check out Trazy Korea's Jeju Island Car Rental.
7. How long should I stay in Jeju Island?
In recent years, it has become a trend for young Koreans to go and live in Jeju Island for a month or longer. The more you stay, the more charms the island reveals. Due to the popularity of the island, a day trip from Seoul is available, but it's recommended to spend at least 2 nights to enjoy the island fully. Choose from these packages:
Got more questions about spring travel at Jeju Island?
Trazy's Jeju expert staff are here to help you. You can contact Trazy through various channels such as LINE, KakaoTalk, Facebook messenger or e-mail ([email protected]).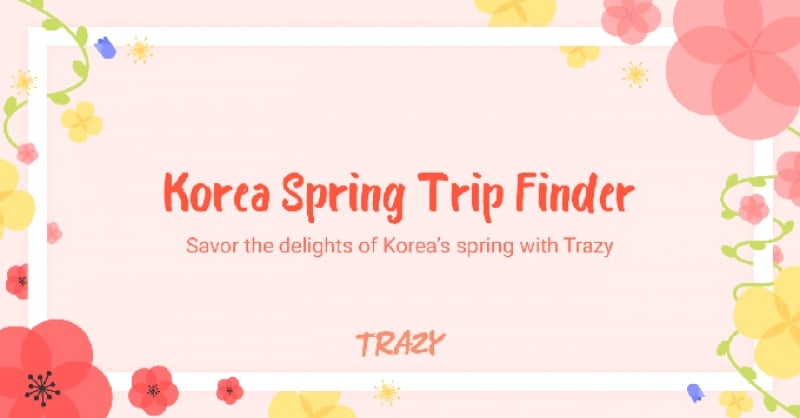 In addition, bookmark Trazy's Korea Spring Trip Finder for more travel inspiration and information about Korea's spring getaway offerings. All you have to do is to tick your preferred destinations, flowers and travel period, and use the filter to see the tours that best fit your plan.
Can't wait to visit Korea during spring? We hear you. Start planning your holiday with Trazy now!
---
Brought to you by Trazy.