Just imagine sharing a picnic mat with a significant other, munching on snacks while you both gaze at the cotton candy skies and brilliant orange sunset — that's a dreamy picnic along the Han River in Seoul that K-drama fans wish they could live out. Fortunately, reality isn't too far from fiction, since picnicking here is one of the most popular things to do in Seoul!

You may know me as the traveller who dyed her hair in Seoul, but that was just one of the things I did as an exchange student in the summer of 2022. I also did this picnic twice, and it was such a memorable experience that I still think about it from time to time. 
If you are heading to Seoul, a Han River picnic is an activity that should definitely go onto your itinerary. Read on to learn about the best places to set your picnic mats, as well as some tips and tricks to help you out. 
Also read: 15 Best Airbnbs & Vacation Rentals in Seoul for Every Budget
Best Han River picnic spots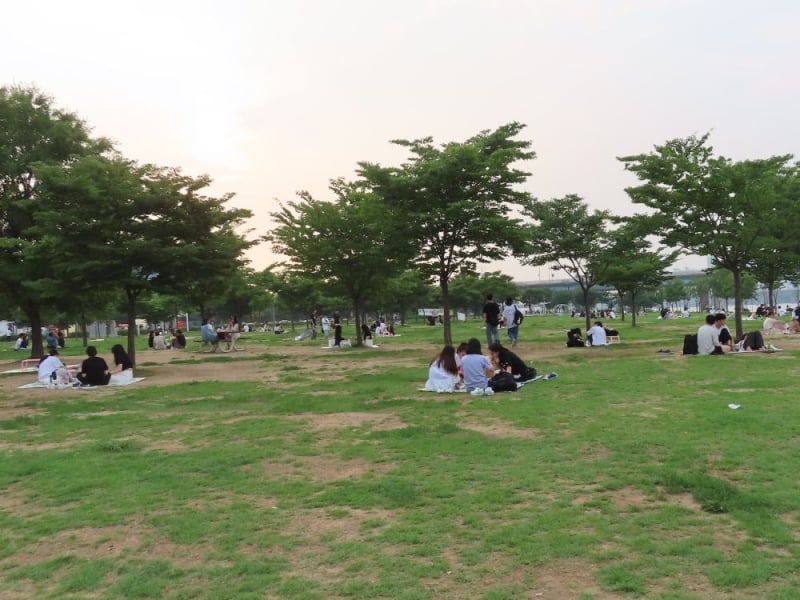 There are actually 12 Hangang (the Korean term for Han River) parks in total within Seoul. This is because the river flows through Seoul, splitting the city into two parts. That explains why there are so many Han River parks. The three most popular ones are in the areas of Yeouido, Banpo, and Ttukseom.
1. Yeouido Hangang Park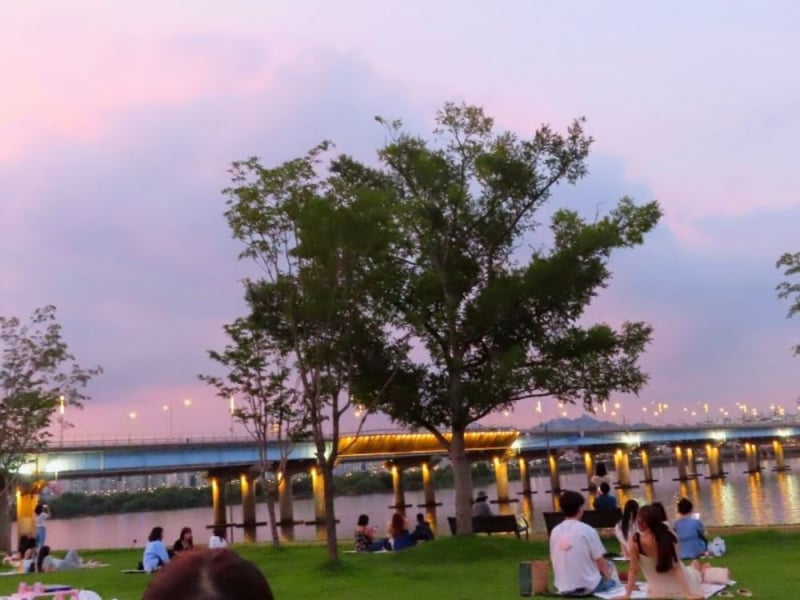 While Yeouido is known for being home to the National Assembly Building and a business district, it is also where Yeouido Hangang Park is. From biking along the riverbank to pedalling down the river in a cute duck boat, there are quite a few activities you can do here before settling down at your picnic spot. Close to the convenience store is a grassy field that faces the highway, and you can go further down to the river bank to picnic as well. 
You can occasionally catch performances at Yeouido Floating Stage, which is a short walk along the river from the convenience store. On regular days, you can also use the audience sitting area as a picnic spot. Yeouido Hangang Park is one of the most popular Han River parks as it is easily accessible by a short walk from Yeouinaru Station. 
2. Banpo Hangang Park
There are many vibey Han River picnic spots at Banpo Hangang Park, especially on the grassy field and on the concrete ground near the iconic Banpo Bridge. The latter landmark is even in the Guinness World Records for being the longest bridge fountain! Spanning nearly 1,500 metres, the bridge is where you can catch the iconic Moonlight Rainbow Fountain Show.
The rainbow-coloured jets that shoot out from both sides of the bridge are wonderfully captivating. The best times to catch the show are from 7.30pm to 9pm daily; the performance happens in 30-minute intervals, so do find yourself a good picnic spot early.
Banpo Bridge isn't the only thing that shines with vibrant rainbow hues; Sebitseom (Sebit Islets) is a man-made island made up of dome structures. At night, the various colours on their panels light up to give them mesmerising rainbow exteriors. These dome structures are shaped like flowers in different stages of blooming. Take a short stroll after your picnic down from Banpo Bridge.
You can get to Banpo Hangang Park by walking for 15 to 20 minutes from the Express Bus Terminal Metro Station. Even though it is not as accessible as the other two parks, you'll still want to come here for an aesthetic picnic by the bridge.
3. Ttukseom Hangang Park
With a view of the magnificent Lotte Tower, Ttukseom Hangang Park is another beloved picnic spot which doubles as a camping ground. For as low as ₩10,000 (~S$10), you can rent a tent and have a private picnic party. It gives you shelter against the harsh afternoon sunlight, and you can even take a nap or read a book. As with any camping trip, you can definitely stay the night. However, you can only pitch your tents in specific fields, so do check with the vendor before renting.  
Another popular Han River picnic spot in this park is a grassy field surrounded by a winding highway. Next to the field is a peculiar centipede-looking complex called J-Bug: a facility where you can admire artworks or read a book. Immerse yourself in this aesthetic landscape while slurping on ramyeon. 
If you are wondering what you can do in the evening other than catching the sunset, there is also a Music Fountain in the park. Feel the excitement build as the multi-coloured jets of water start to dance to K-pop hits. Ttukseom Hangang Park is a short walk from Ttukseom Park Station, making it highly accessible for a Han River picnic.
Also read: 13 Best Stores in Seoul to Shop for K-Pop Merchandise 
Tips on how to have a memorable Han River picnic experience
1. Get food from within the park itself
What's a picnic without delicious food? No need to bring your own; there are so many food options at the Hangang parks that you'll be worried you don't have the appetite for them all. You can easily find convenience stores near the picnic areas. Here are some of my top food recommendations for your Han River picnic! 
Ramyeon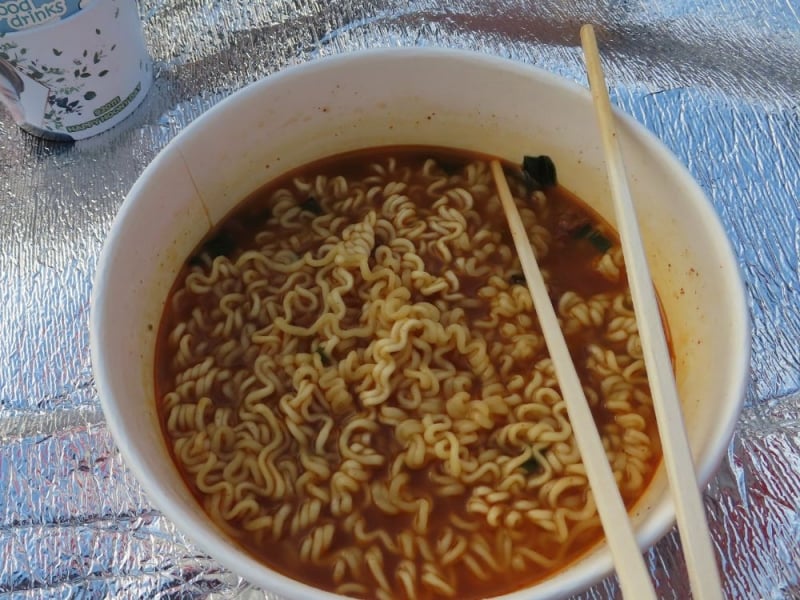 Ramyeon is the number one Korean comfort food that is simply irresistible. At the Hangang park convenience stores, you can find both dry and soup ramyeon brands for around ₩4,000 (~S$4), including disposable bowls and chopsticks. You can purchase side dishes as well; kimchi, raw eggs, sausages, and mozzarella cheese are some of the best toppings to add to your ramyeon. 
After making your purchase, you can head over to the ramyeon machine below the stores to cook your noodles. I was blown away by how effective the machine was — a four-minute process of filling the bowl with water and boiling it to perfection. Most of the time, convenience store machines can only perform the first step. This was probably why my friend and I made the mistake of taking the ramyeon bowl out of the machine too early, after seeing that the ramyeon bowl was filled with water. We couldn't figure out what the problem was until we saw a TikTok tutorial on how to use the machine correctly. 
It may be confusing when the instructions are only written in Korean, but if you follow these steps below, you should have a smooth-sailing experience with the machine. Do note that this is for the Yeouido Hangang Park machine in particular, but it doesn't differ too much from the other machines.
Scan your bowl's barcode where the barcode symbol is.

Add your

ramyeon

and the sauce packets into the bowl and place it in the machine.

Simply hit the red start button which has the square symbol. Then, wait for the machine to do its magic. 

When you see bubbles appearing, you can add in your toppings and mix the noodles so that they don't clump together. For the sausage, there is a microwave open in the same area which you can use. 
With that, you can carefully lift your ramyeon bowl over to where you are sitting and savour its warm, homely feel. Now, that's an authentic Korean experience!
BHC Chicken
This is one of the popular fried chicken chains in Seoul which have stores above the convenience stores at these three Han River parks. As Koreans love to indulge in these while picnicking, you should give them a try, too. Sweet Garlic Soy Sauce Chicken and Spicy Sauce Chicken are some of its bestsellers.
Also read: 10 Chicken & Beer Places for Your Night Out in Seoul
Delivery food
On the way to the park, you may encounter ahjummas (Korean aunties) who mercilessly shove fliers into your hands. If you look carefully, these are actually advertisements for delivery food, such as chimaek (chicken and beer). You can call up the shops and once you have ordered, you can pick up your food from the delivery points around the park. These spots are usually sheltered sitting areas labelled with numbers. 
You can also use Korean food delivery apps, which let you track your order. You get a wide range of food options, from pizza to tteokbokki. Communicate with the deliveryman by using the in-app text messenger. Some of these delivery services don't even require you to go to the pick-up point; they'll go directly to your picnic spot!
Street food
Want to enjoy authentic Korean street food while on a picnic? You can find street stalls selling snacks like skewers and corndogs, as well as luminous alcoholic drinks. On the weekends during some seasons, you can spot rows of stores in Yeouido and Banpo Hangang Parks. The Hangang Moonlight Market is bustling with activity, and you can definitely find some Instagrammable delicacies there, too. Do check the schedule for updates on these events.  
Also read: Eat Your Way Through Seoul: 12 Delicious Korean Street Foods & Where to Find Them
2. Don't skip on the mats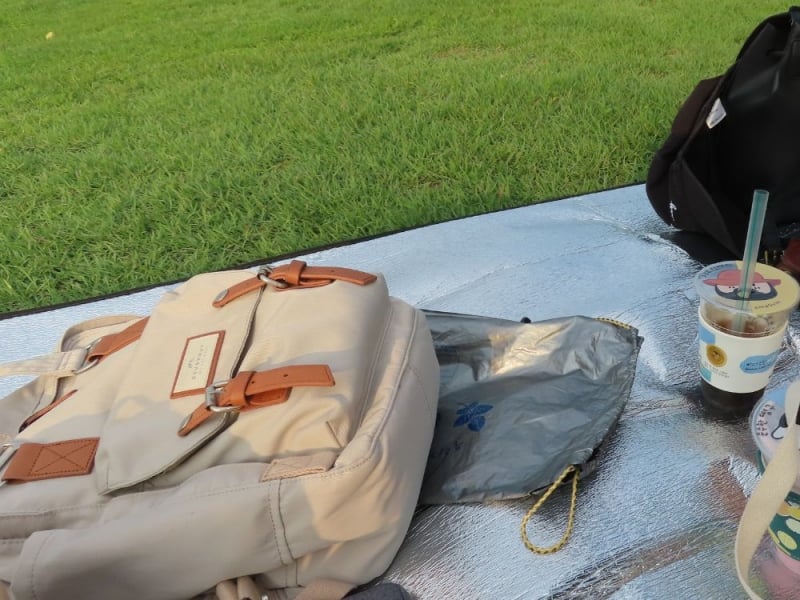 These are the most important things you need for your picnic apart from scrumptious food. My friends and I tried sitting on the grass for a few minutes, but it was the most uncomfortable feeling. Even using our shopping bags as a mat didn't help. 
We ended up renting a mat from a vendor nearby. Some of the bigger mats and picnic equipment are a bit more pricey, to the point where you'll get a trolley to transport all your rented items. However, you can just get a simple outdoor mat for ₩3,000 to ₩4,000 (~S$3 to S$4), and that will be more than enough. 
In Yeouido Hangang Park, we also had to give them a deposit fee and an identification card, which you will get back after you return the equipment. Some vendors offer a full set of picnic essentials that include mats, tables, chairs and even fairy lights; an option you can go for if you want your picnic to be extra romantic.
Also read: 13 Tips for Travelling Around South Korea on a Budget
3. Use clear water bottles as lamps
This was a Han River picnic hack we picked up from observing Korean couples sitting around the area. When the sun goes down, it tends to be very dark, especially if you are on the grassy fields. Instead of renting a lamp, place a clear plastic bottle filled with water over your phone's flashlight. The result? An illuminated water bottle that also looks lovely in the dark. Since water refracts light, you won't have to worry about your flashlight glare blinding you (and your fellow picnickers).
4. Chill out and play music or bonding games
The second part of a picnic that follows after a good meal is the few hours where you relax and soak in the vibes of being at the Han River. As you'll probably be spending the sunset hours taking a million pictures and trying not to spill your ramyeon all over the picnic mat, the night is when you unwind and have deep conversations about life. 
My friends and I even checked to see if our picnic neighbours could hear the music we were playing from our phones. But thanks to the open space, your noise doesn't get too far. This gave me a lot of peace and space to reflect on the trip, which may also be why tourists and locals love going there for a change of pace. 
If you are lucky, you may even catch busking performances down by the river, serenading you with renditions of your favourite Korean songs. If quiet talks and slow music aren't for you, we saw a group of university students sitting in a circle and playing drinking games, so it's definitely something you can do, too.
5. Have a checklist for your picnic essentials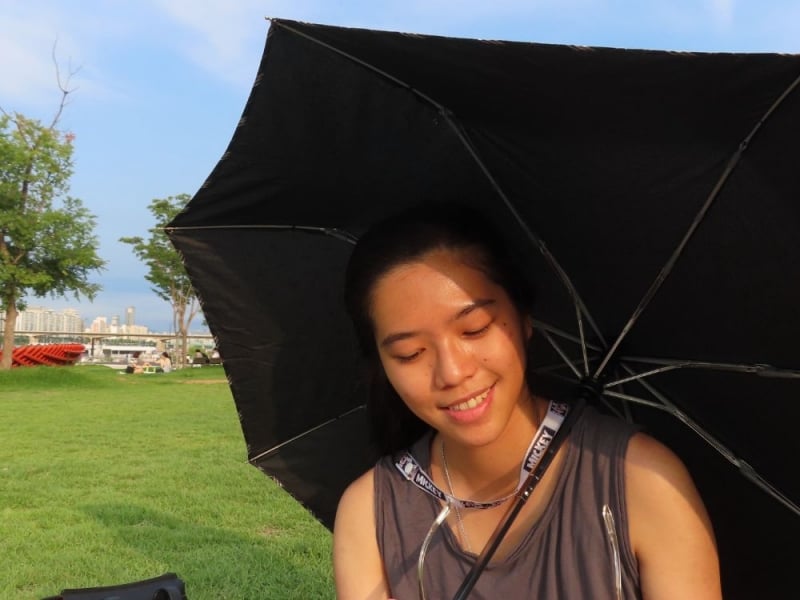 If you are going at around sunset, especially during summer, be prepared for scorching hot evenings. An umbrella can also be an aesthetic prop for your sunset photoshoots, too! Don't forget your sunscreen and a handy mini fan.
If you are picnicking on grassy fields, you need to protect yourself against nasty insects with mosquito repellent. You'll probably encounter them very often, but that's just a part of being out in nature, unfortunately.
During colder months or even after the sun sets during summer, the temperature can drop quite drastically. You can bring a jacket or even a blanket to feel cosy. 
Also read: 15 Useful South Korea Travel Tips if It's Your First-Time
There you have it: Your ultimate guide to having an unforgettable picnic along the Han River in Seoul. Do remember to check the weather forecast before you head out for your picnic; you don't want to be disappointed by a sudden downpour!
Got interesting travel tips to share from your own experiences? Let us know all about it, and you just might be our next Featured Traveller!
---
Images credited to Jessie Lee, unless indicated otherwise.