Seoul Incheon Airport is an impressive facility; a well-oiled machine that serves more than 60 million passengers every year, and the 22nd-busiest airport in the world. As a leading international transit airport, it plays a vital role in connecting the capital of South Korea to the rest of the world. But, for all these impressive stats, getting from Incheon to the heart of Seoul metropolis can be overwhelming, given that the city lies 47km away from his world-class travel hub. We're here to show you exactly how to find your way from Incheon to Seoul with this quick guide.
T-Money vs M-Pass
Once you make it through the arrival gates at the bottom floor of Incheon Airport, you've got a few options to get to the South Korean capital. Before you search for the nearest terminal, however, you'll need to pick up a transportation card. The most common transportation card in Korea is called T-Money; an NFC-enabled card which can be used on all modes of metropolitan public transport across the country. You can get one at any convenience store in the airport, or at various metro stations. Be sure to load the card up with credit, as it doesn't come pre-loaded. The cost is KRW2500.
The alternative to T-Money is M-Pass. This card is geared towards tourists on short-term visits, as it allows you to use public transport in Seoul up to 20 times daily, for a period of up to 7 days. The M-Pass card is available at the tourist information centre on the 1st floor of the Incheon International Airport (in front of Exit 5 and Exit 10). Prices for the M-Pass card start from KRW10,000 for a 1-day pass and go up to KRW59,500 for a 7-day pass.
Now that you've got your transportation card, you can start scoping out the best option to get you to Seoul!
Train
AREX, or the Airport Express Railroad, is a metro line that runs too and from the airport. It's a short walk from the arrivals terminal, and you can get there by using the exit on the first floor of the airport. It's clearly signposted from the moment you step into the Arrivals foyer.
Because the AREX forms part of the extensive Seoul metro system, you can simply use the Subway app to get directions to the station of your choice. To get from Incheon to any of the main downtown districts in Seoul like Hongdae, Gangnam, or Myeongdong, can take anywhere from 50 minutes to 1.5 hours. The journey costs KRW9500 if you take the Express train, while an All-stop train from Seoul Station will cost approximately KRW4500. Be prepared to stand during peak travel times, and keep in mind that the Express train only departs every 30-45 minutes, while the All-stop train runs more frequently, with carriages leaving Incheon approximately every 10 minutes or so.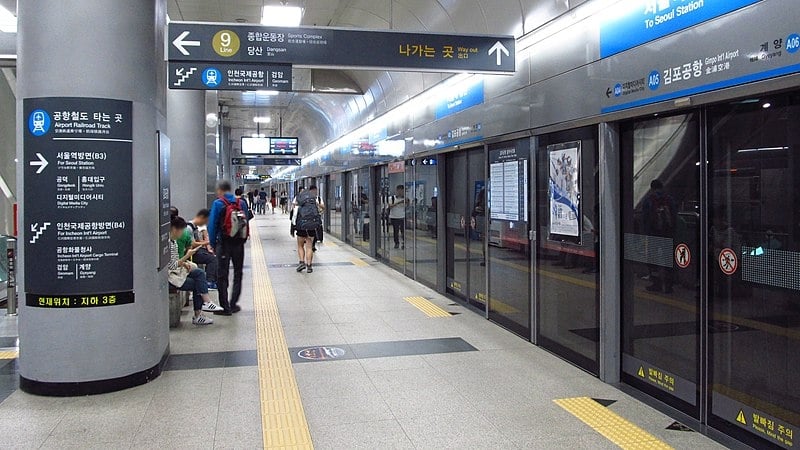 Airport buses
The airport limousine buses which run from just outside the Arrivals gates are slightly more expensive than the ultra-efficient AREX, but guarantee a more comfortable journey compared to the train. You can choose from two tiers; Standard and Deluxe. The seating configuration on Standard busses allows for more passengers, while the Deluxe buses make fewer stops. There is an Airport Bus Ticket Booth outside the Arrivals area on the 1st floor where you can purchase tickets. Ticket prices start from KRW5000 depending on your destination, with a travel time of up to an hour and 20 minutes. One of the perks of taking the Deluxe bus is that it stops at specific hotels in downtown Seoul, a convenient option especially if you're lugging heavy bags and need to get straight to your lodgings.
To find your specific bus platform, check your ticket number for the gate where it departs from, and take note of the 'A' or 'B' designation. For example, Bus 6001 to Dongdaemun might depart from Gate 04B – that is, outside Gate 4 on the right. It's also worth noting that a slew of intercity buses depart towards the end of the arrivals terminal, so if you're heading from Incheon to other parts of the country, you won't have to look far.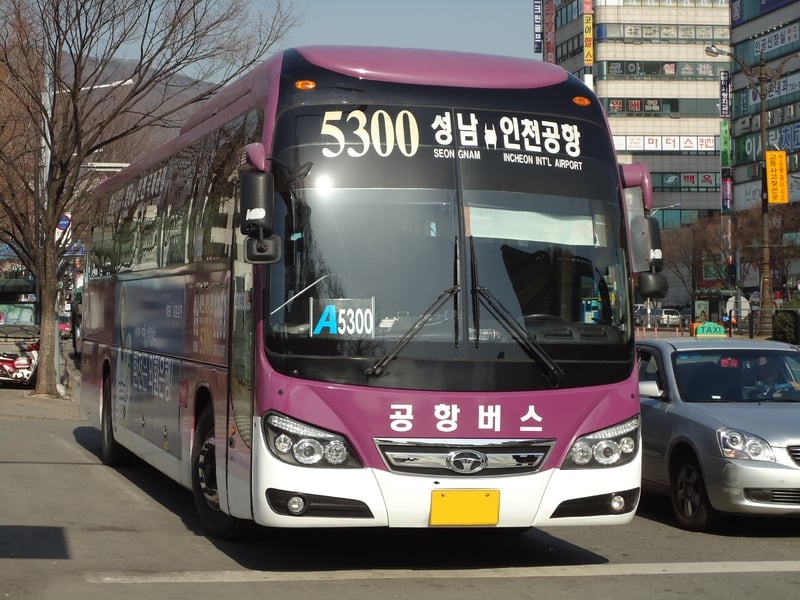 Taxi
Airport taxis from Seoul come in various shapes and sizes. You can choose from a variety of taxis depending on the number of travellers.
a) A 'medium' taxi with a driver who speaks your language

b) A 'luxury' taxi which is more premium than the standard taxi, or

c) A large taxi or mini-van, designed to carry up to eight passengers.
The taxi stands are located outside the arrival terminal across from Gates 4-8, so you needn't look far to find one. For all their convenience, they can be pricey if you're travelling alone. If you're travelling in a group of three or four, however, the cost is somewhat comparable to booking an Airport limousine bus. What's more, there's a handy booking website with a clear pricing guide so you don't get fleeced. Prices start from KRW65,000 (a medium taxi travelling to districts nearby the airport) and go up to KRW130,000 (luxury and large taxis travelling to districts east of Seoul). You can also use the site to make a reservation up to 24 hours ahead of time.
With this comprehensive guide on getting from Incheon Airport to the pulsating streets of Seoul, you've got all the more reason to make your next stopover in South Korea. Which method of transportation would you choose? Let us know!