At some point over the last two years, many of us probably wondered when we would get to travel again. Thankfully, as borders finally start reopening, we can finally satisfy that pent-up wanderlust. For me, that moment of release came just last month when I flew to Jeju Island for the first time in five years for a short 5D4N trip! 
Why would I revisit a familiar destination instead of a new one? Well, many new attractions in Jeju opened precisely when the rest of the world was in lockdown. There are now plenty of new things to do in Jeju! Don't believe me? Check out my 5D4N Jeju itinerary and find out! You'll be inspired to plan your own trip to Jeju soon! 
Also read: Travelling to Jeju Island Visa-Free Resumes in June 2022
Day 1: Arrival → Lunch → Snoopy Garden → Check-in → Dinner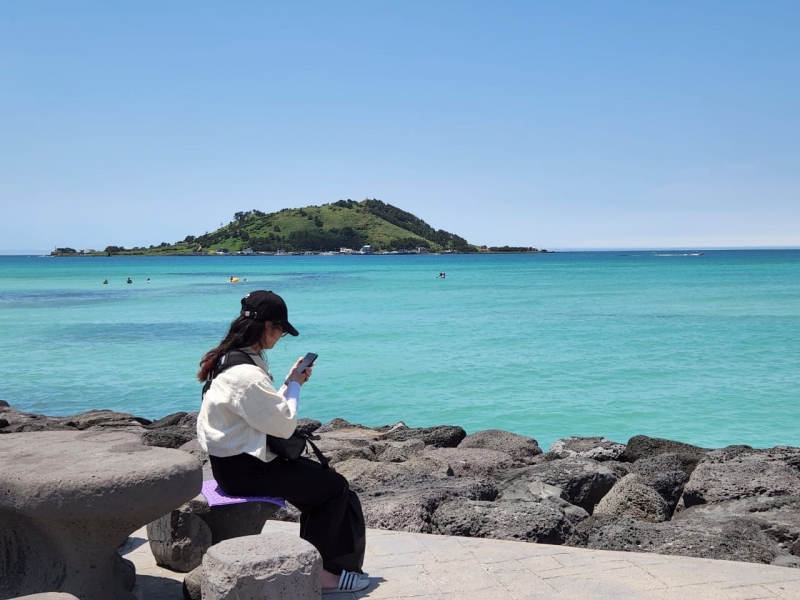 What struck me most when I arrived in Jeju was that I was physically present in a place over 4,000km away from home! The breezy summer air of Jeju greeted me when I stepped outside, and all the fatigue vanished.
I was excited about what was to come. However, before that, I had to get my on-arrival PCR test done. 
While there are plans to set up a testing station at the airport soon, for now, you will need to get a test at one of the designated hospitals in Jeju.  
Depending on what time you arrive, you may have to wait your turn for the PCR test. From experience though, the test itself is extremely quick, taking only about a minute. 
Once I was done, as any typical Malaysian or Singaporean can relate to, the first official order of business in Jeju was lunch! 
Following the footsteps of BTS's Jimin at Snoopy Garden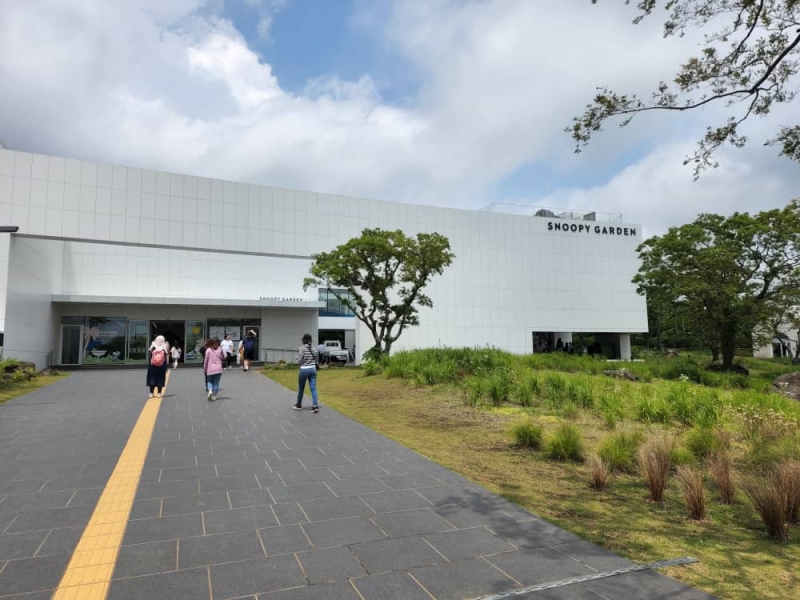 Finally, after over 24 hours of travelling, my and my tour group mates headed to our first destination in Jeju: Snoopy Garden. Visiting this beautiful 20-acre garden which opened in 2020 is one of the new things to do in Jeju.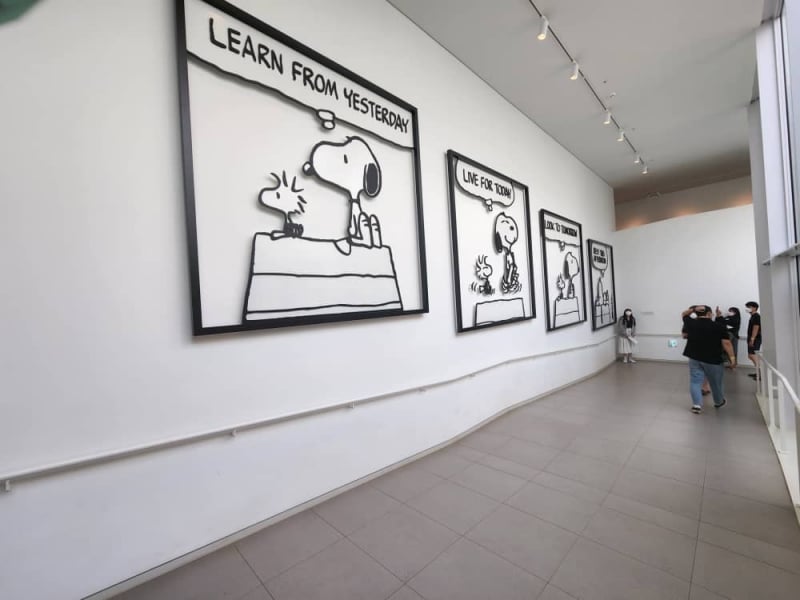 As the name suggests, this area celebrates popular cartoon and comic characters Snoopy, Charlie Brown, and the Peanuts gang. There are two separate sections to explore. The inner Garden House features plenty of Insta-worthy spots, comic strip exhibits, as well as a cafe and souvenir shop for all your Snoopy retail needs.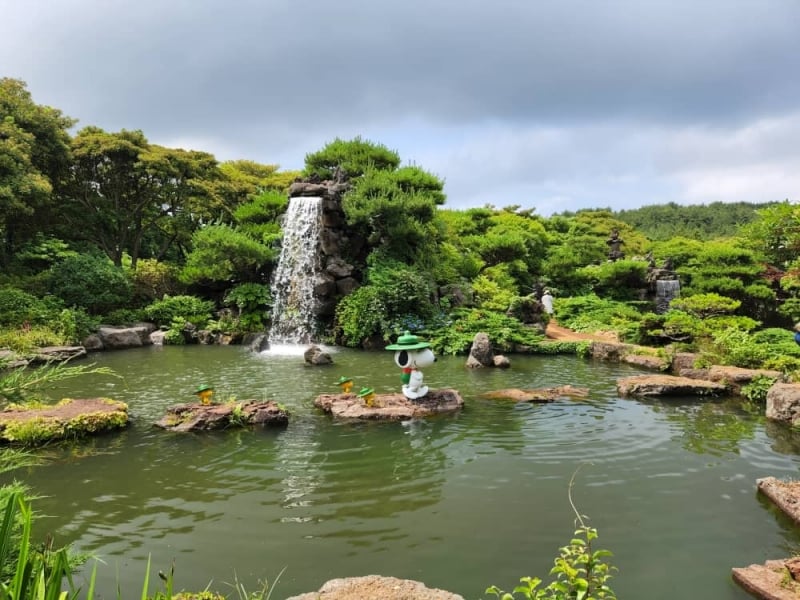 But personally, it was the Outdoor Garden that really wowed me. It was such a serene experience walking through the verdant greenery, and watching families and friends pose for pictures. There are several main attractions in the Outdoor Garden but ARMYs will instantly reccognise several of the spots that were featured in BTS Jimin's Instagram post!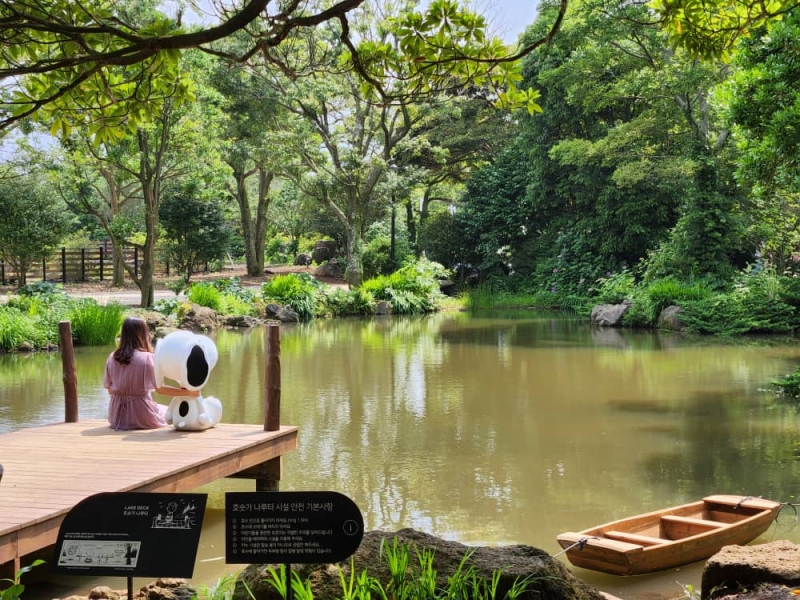 Travel tip: Visit the Snoopy statue by the lake first. It is one of the most popular spots in the garden. You will often find a long line of people waiting for their turn to recreate Jimin's iconic photo! 
After our little photo-taking session at Snoppy Garden, we headed back to the city to check into our hotel: Grand Hyatt Jeju. The moment I stepped into the hotel, I had half a mind not to come back out because the accommodation blew me away! But perhaps that is a story for another time! 
Dinner at Bagdad Cafe & Restaurant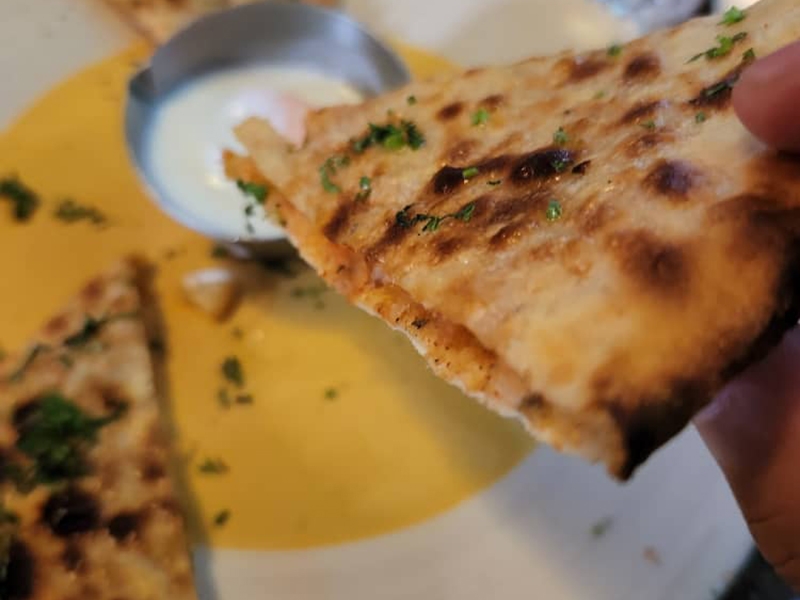 I know, it sounds weird that we would visit an Indian restaurant while in Korea, but apparently, Baghdad is one of the most famous restaurants in Jeju, even among locals! 
I love Indian cuisine, and when I tasted the food there, I knew why it was so popular. I'll save you the mouthwatering details because no words can do the explosion of flavours on my palette any justice. You just have to try it yourself the next time you're there! 
Also read: 18 Best Korean Snacks to Bring Home a Taste of South Korea
Day 2: 9.81 Park → Jeju Arte Museum → Lunch → Toto Atelier cooking class → Shopping → Dinner → Night photoshoot
Get your adrenaline pumping at 9.81 Park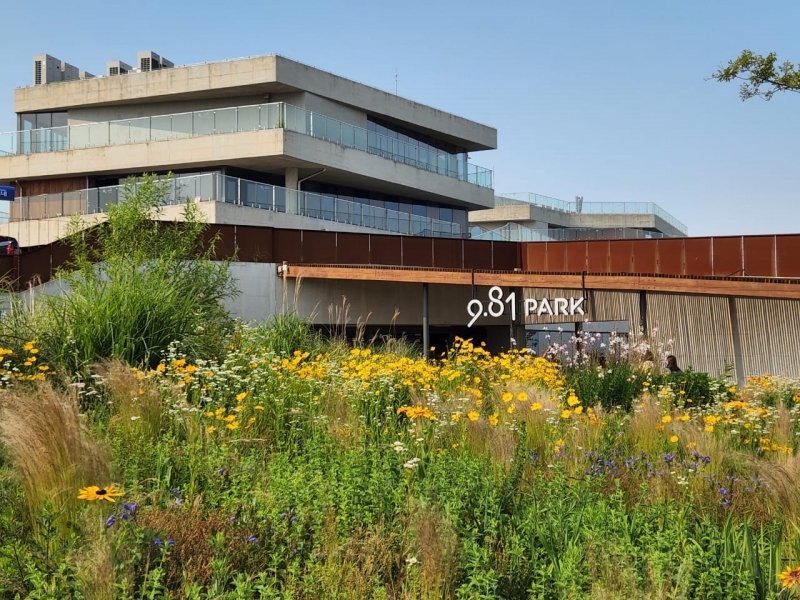 After a hearty buffet breakfast, we departed early in the morning to our next destination: 9.81 Park. Like Snoopy Garden, this exciting integrated smart playpark is another of the new attractions in Jeju that most foreign travellers have yet to visit. 
From AR arcade games to laser tag, the park features plenty of fun indoor and outdoor experiences. However, the main attraction here is easily the thrilling Gravity Racing track.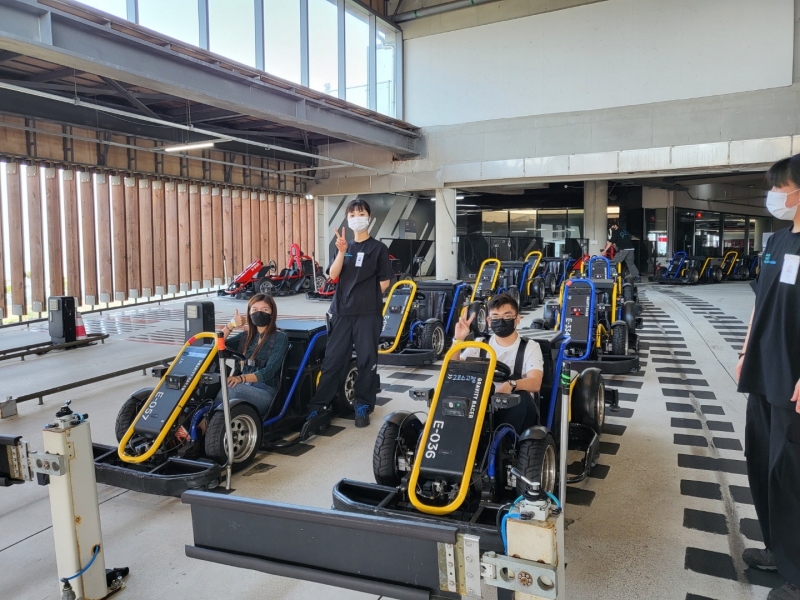 What is Gravity Racing, you ask? Imagine a typical go-kart except there is no accelerator. Instead, you will race down a winding track surrounded by verdant greenery relying on gravity to pull you down to the finish line. All you have control over are the brakes and the steering wheel to navigate the sharp corners!
You can embark on a timed race with your friends, enjoy the rush of the Jeju breeze with your significant other or simply enjoy the thrill of the ride with your family. Yes, child-friendly karts are available too. After the race, you can check your results on the 9.81 app and view some videos of your ride down!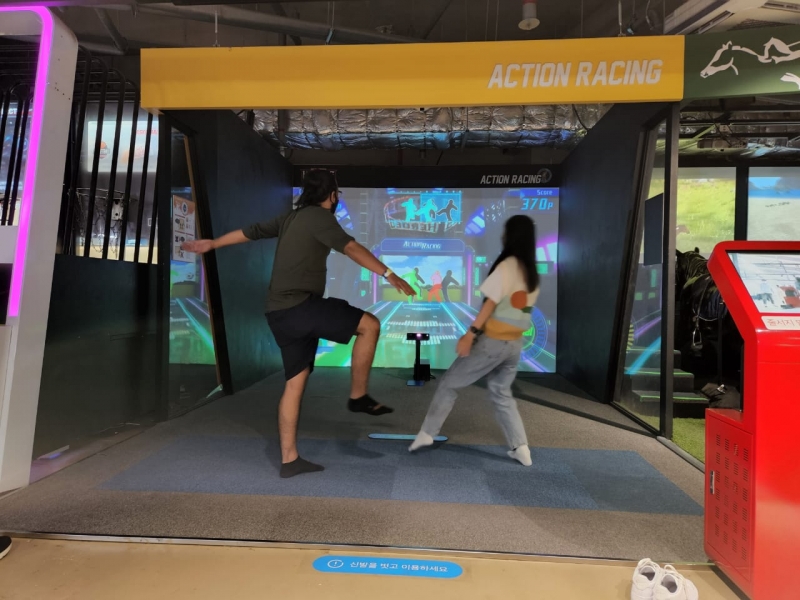 Apart from Gravity Racing, you can also play some fun AR games inspired by Korean variety shows, play laser tag with your friends, or enjoy a cup of coffee made by a robot barista! 
Light up your Instagram feed at Jeju Arte Museum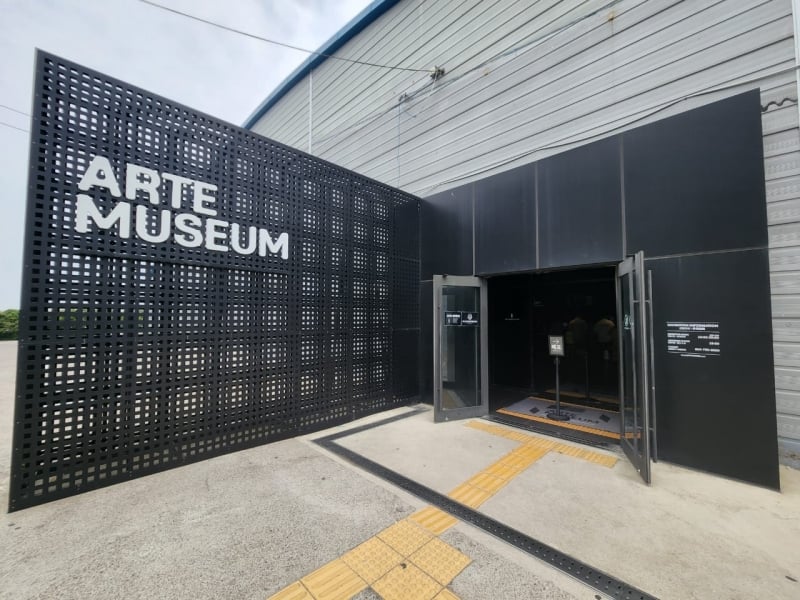 I don't particularly like museums to be honest but I'm not exaggerating when I say I could have spent an entire day at Jeju Arte Museum! 
Do you perhaps remember reading about a digital art display at COEX Mall in Seoul in 2020? It was an enormous 3D ocean wave that attracted passersby to stop and stare at it. The ones responsible for that memorable piece of public media art are the same people behind this new attraction in Jeju. 
The museum, which opened in 2021, is Korea's largest immersive media art exhibition. It is also one of the coolest new things to do in Jeju. While the outside seems like the entrance to a normal museum, the interior is a whimsical ensemble of colours and optical illusions. I felt like I had stepped into the Mirror Dimension featured in the Dr. Strange films! 
As you spend time exploring, you'll realise that some of the exhibits have hidden interactive elements. For example, when you get to the room with the waterfall, try standing in one spot without moving. You'll see the "water" split when it senses your feet!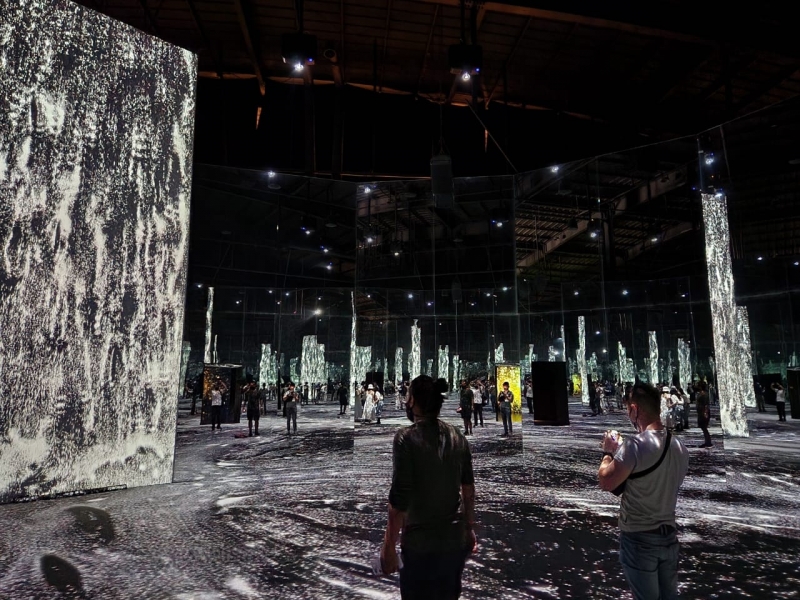 Become a master pastry chef at Toto Atelier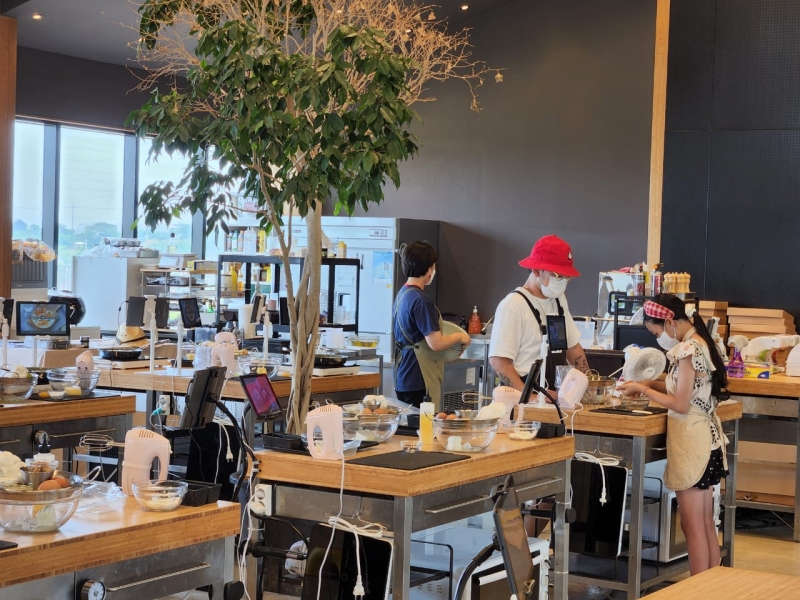 After lunch, we headed to Toto Atelier for a fun, interactive cooking class. To be honest, this was arguably one of my favourite things to do in Jeju during my trip. 
Apart from learning how to make delicious pastries, the swoon-worthy ambience of the place made it feel like I was cooking in my dream kitchen, like the ones you see in Korean dramas!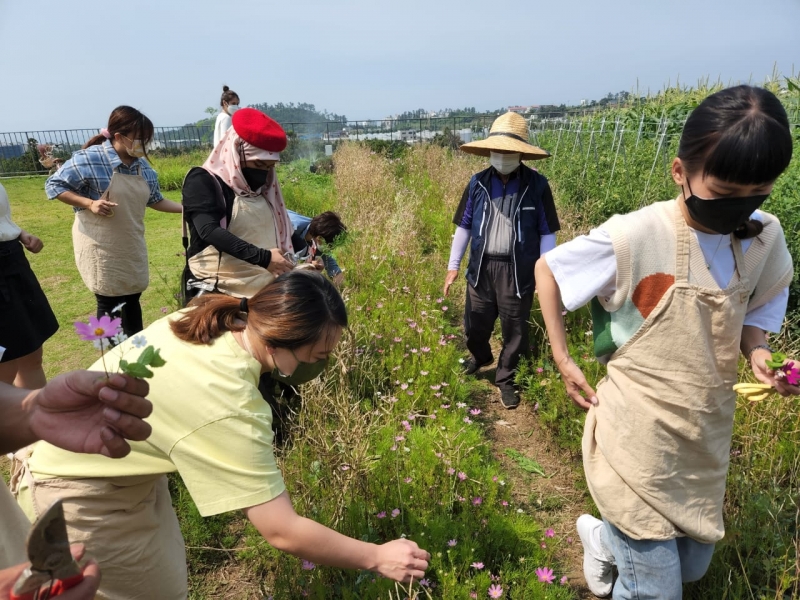 After a brief introduction by the owner, we went to the outdoor garden behind the kitchen to pick fresh herbs and flowers to decorate our cakes and pies. Talk about farm-to-table cooking! 
I opted to try making a tangerine pie using Jeju's famous sweet tangerines. The process is rather simple. There's a tablet at your workstation with a tutorial video detailing every step of the process. Simply follow the instructions, and soon, you will smell the mouthwatering aroma of your masterpiece in the oven!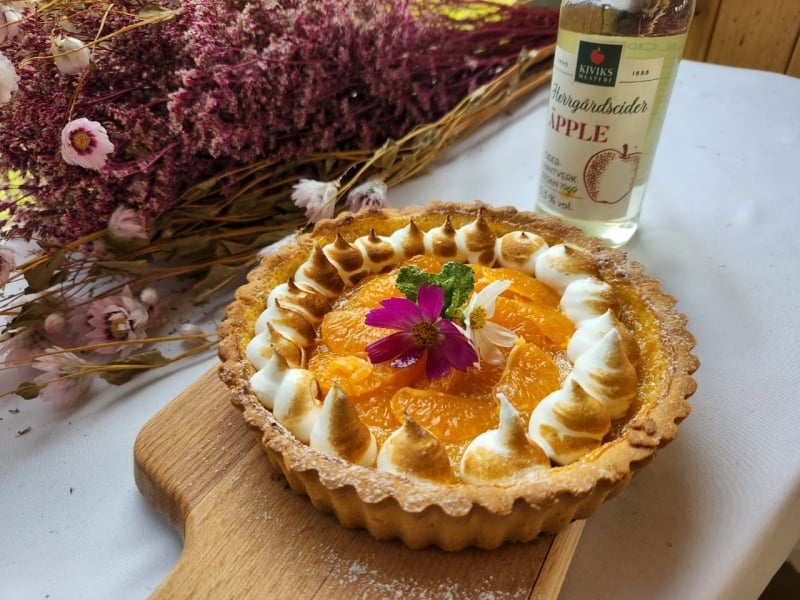 You can either dig into your pie at the cafe or ask the friendly staff to box it up for you. I recommend enjoying the fresh pie with an ice-cold serving of americano! Don't forget to some pictures of your pie to show off too! 
Discover your new profile picture under the Jeju night sky
After some quick retail therapy at the Shilla Duty-Free Main Store and dinner at the hotel, up next was one of the most unique experiences in my Jeju itinerary. 
After boarding the bus, it took us to a windy road in the hills where there was minimal lighting. There, we met with a friendly local named Jay, who took us into the forest. I'll be honest, trekking through the forest at night was quite thrilling but we soon reached an opening which was to be our makeshift photo studio! 
Jay is a professional photographer who specialises in night photography in Jeju. Offering personal photoshoot sessions from ₩35,000 (about S$50), Jay helps you capture breathtaking portraits under the starry sky! My first-ever professional photo shoot. Not a bad way to end our second night in Jeju! 
Day 3: Seogwipo Healing Forest → Lunch → Seongsan Ilchubong → Biking around Jeju → Dinner
Reconnect with nature at the Seogwipo Healing Forest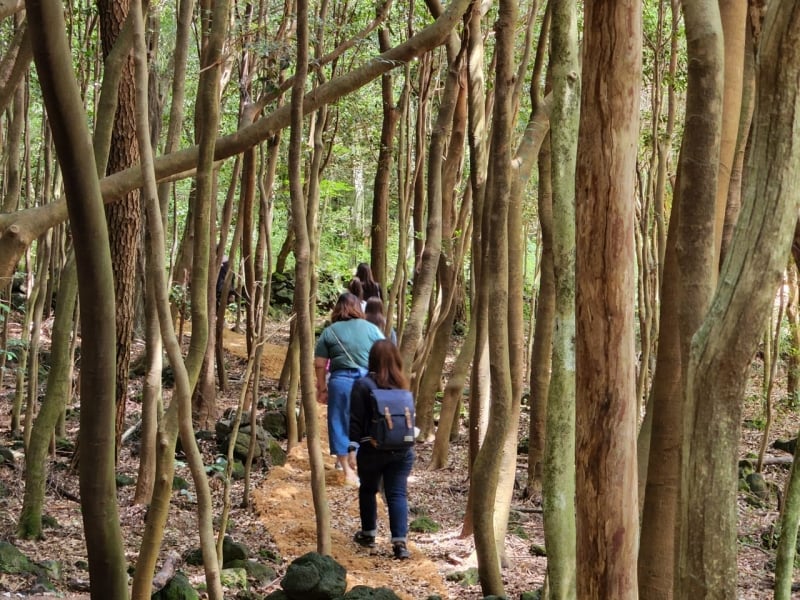 After our late-night adventure the previous day, we started day three with an early morning trip to one of Jeju's newest natural attractions: Seogwipo Healing Forest. 
As the name suggests, the Healing Forest helps you reconnect with Mother Nature. But this isn't just your regular jungle-trekking adventure. While you CAN explore the many forest trails yourself, I recommend joining a guided tour.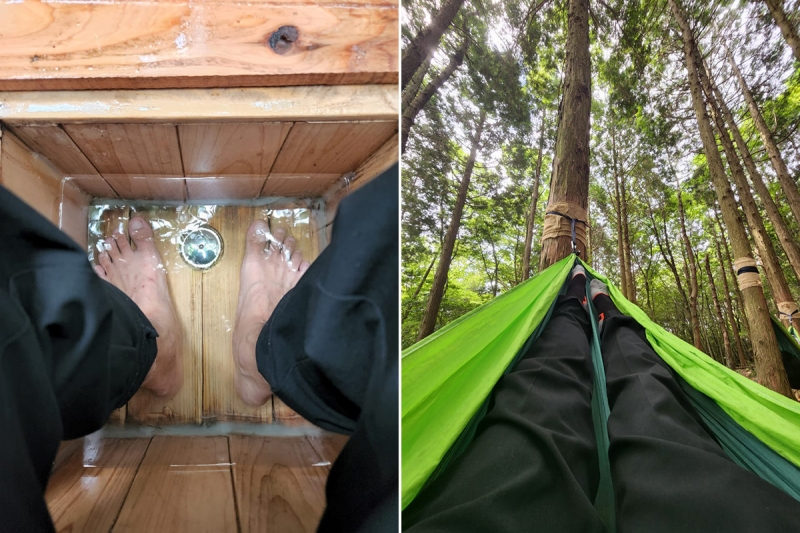 I won't spoil the fun, but at one point, you'll feel completely surrounded by the forest as you view the trees from the perspective of different animals. You'll also learn to make lucky bracelets, lay on a restful hammock, and enjoy a therapeutic foot bath at the end. 
Admire the hydrangeas of Seongsan Ilchubong (Sunrise Peak)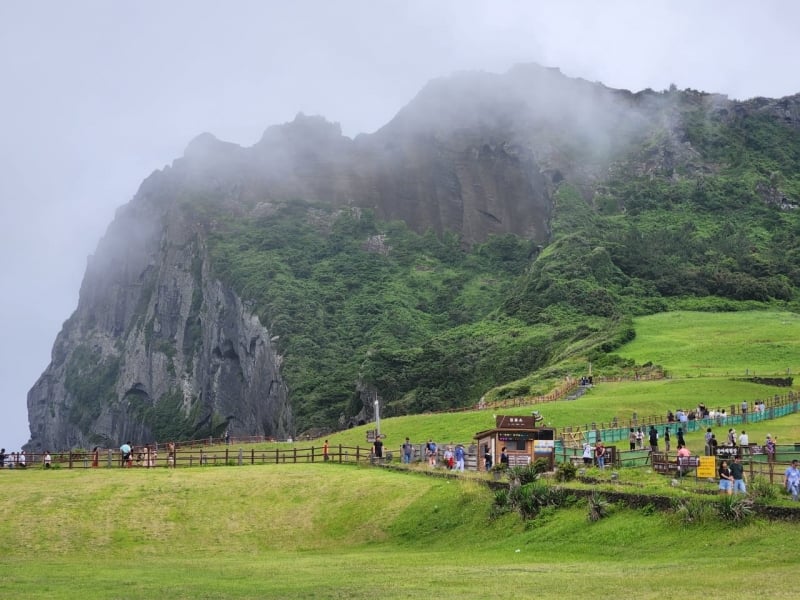 Seongsan Ilchubong isn't exactly one of the new attractions in Jeju. In fact, it's probably one of the most typical things to do in Jeju for most travellers. 
However, this was my first time visiting in summer, and what greeted me was the pleasant surprise of blossoming hydrangeas! Hydrangeas are flowering plants that are at their prettiest in summer, boasting vibrant colours that will light up any Instagram feed! After taking a few pictures, we decided to hike to the peak of Seongsan Ilchubong for the views.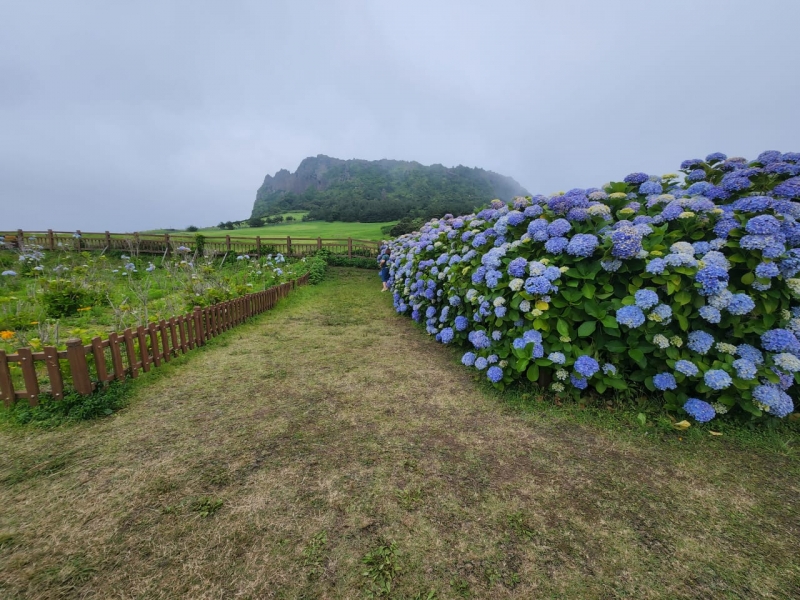 I shan't bore you with the geographical info of Sunrise Peak. I will instead share an amusing story of my friends and I suffered an existential crisis as we hiked up. We started the hike a bit later than the rest. At the entrance, our tour guide told us that the hike would take "30 minutes two-way". It didn't.
As we huffed and puffed our way past the 30-minute mark without seeing an end to the ascent, we started wondering aloud if we were just ridiculously unfit. It didn't help that there were literal children passing us on the way up and the fact that we didn't run into any of our other tour mates at the top.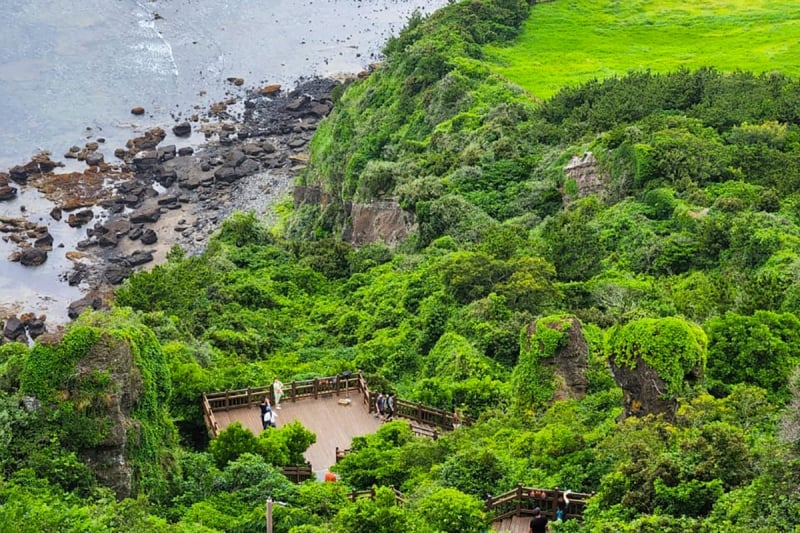 It was only later that we realised only two other members actually went all the way to the peak! Completely drained, we couldn't help but just look at each other and laugh in disbelief. That said, the view at the top was well worth the hike! 
Exploring Jeju by bike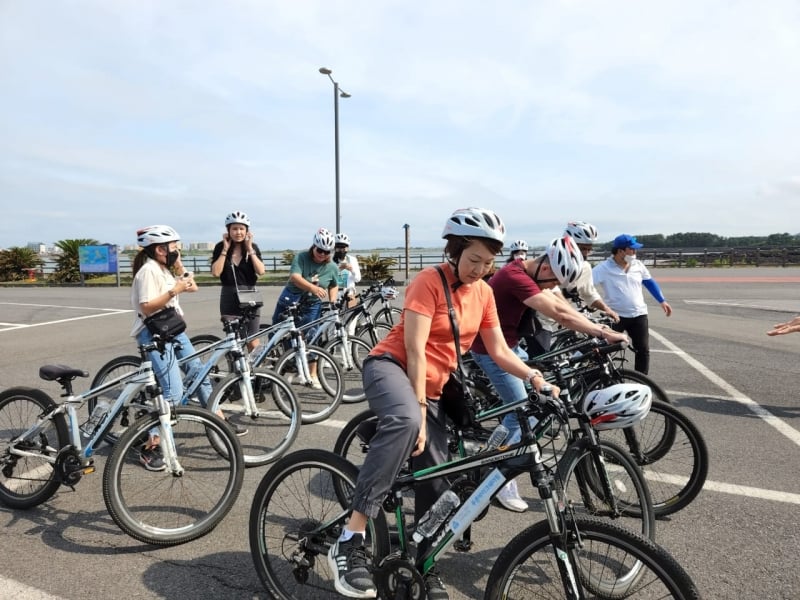 Our next activity was perfect for the mild summer weather in Jeju. Through a local bike clean-up program, BY100, we were able to explore Jeju's scenic coastal routes by bicycle! 
After meeting our biking tour leader at the starting point, we were given five minutes to ride around in an empty parking lot so that they could assess our biking skills. If you pass, you'll be allowed to ride along with the group along a beautiful bicycle route. 
However, for added safety, there was also a van that followed behind us. If someone struggled midway through, they would just board the van throughout the rest of the way. We stopped by Jongdal-ri Beach where we helped clean up a little before ending our hour-long tour by biking along a beautiful hydrangea-filled road. 
After an exhausting day, we treated ourselves to a delicious Korean BBQ dinner in the bustling Nuwemaru Street area.
Day 4: Handam Coastal Trail → Lunch → HyeopJae Beach → Sanyang Gotjawal → O'sulloc Tea Museum → Dinner
Visit G-Dragon's "Cafe" on Handam Coastal Trail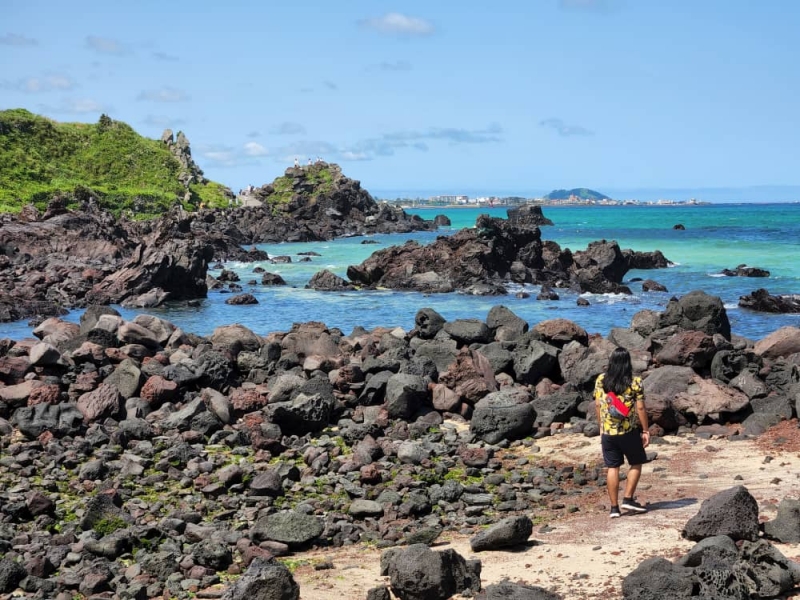 Sorry GD fans, but despite initially being known as the G-Dragon Cafe, Monsant De Aewol Cafe on the Handam Coastal Trail is no longer associated with the Big Bang member. That said, there were still a lot of fans that stopped by for a photo or two.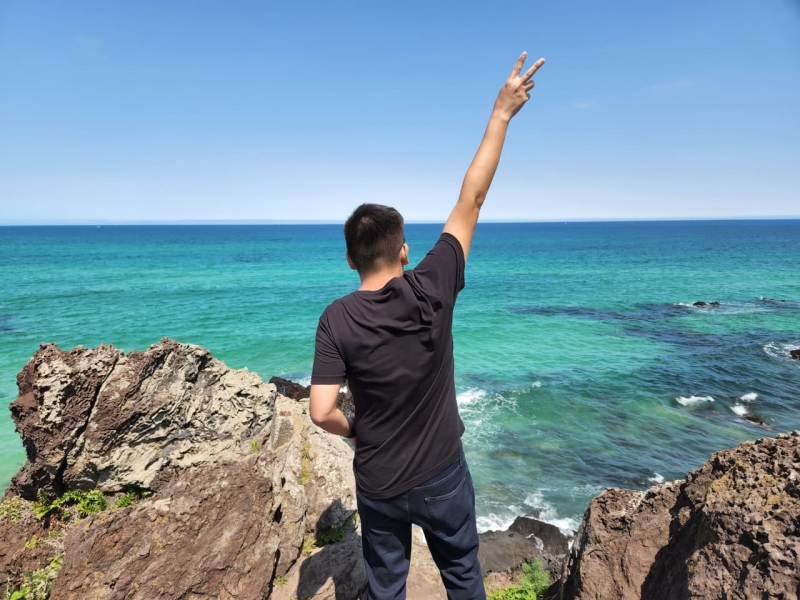 As for me, I very much preferred the scenery going in the opposite direction of the cafe area. As you embark on a leisurely walk along the trail, you'll enjoy fantastic views of the blue ocean, a scenery that fits into any Jeju itinerary!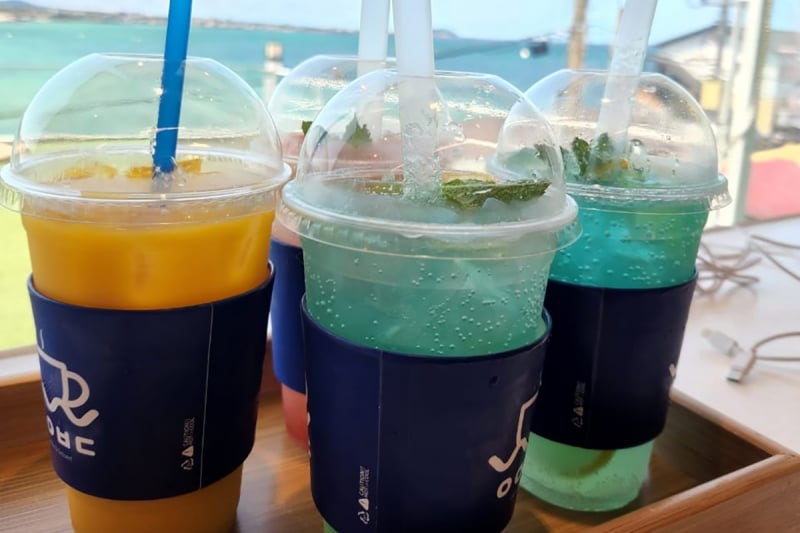 Once you've taken enough pictures, spend some time at the aforementioned cafe area and treat yourself to some refreshing drinks. I recommend either iced coffee or blue lemonade, which seems to be a popular drink in Jeju! 
Discover your artsy side at Sanyang Gotjawal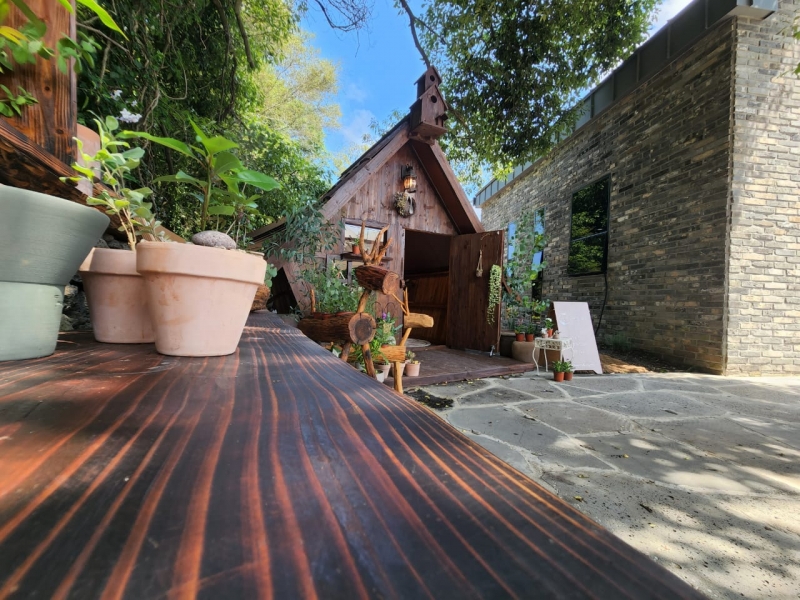 After lunch, we spent some time soaking up the sun at HyeopJae Beach before heading to another of the new attractions in Jeju: Sanyang Gotjawal Forest. 
Like the Seogwipo Healing Forest, Sanyang Gotjawal provides a refreshing change of scenery that helps you disconnect from the hustle and bustle of daily life. Within this thriving forest, you'll find therapeutic trekking paths as well as fun installations that double up as quirky photo ops.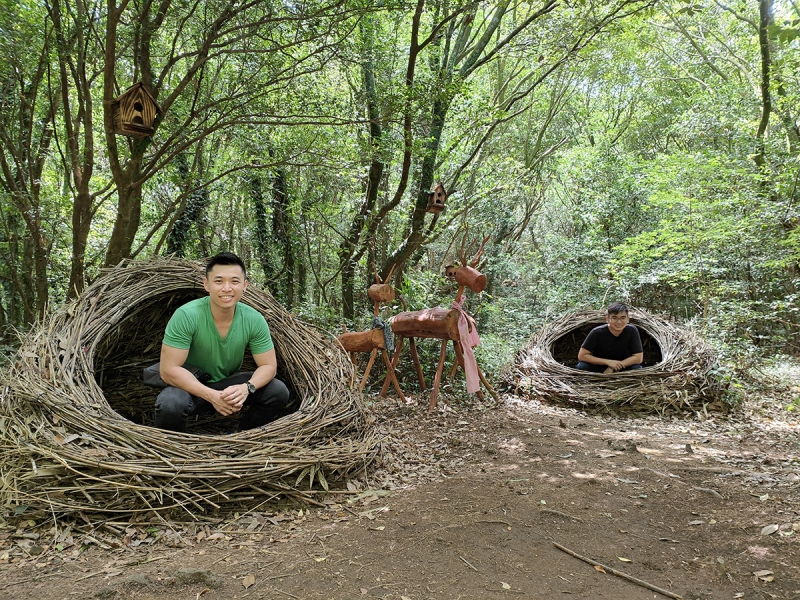 There's an easy map you can pick up at the entrance. Using that will allow you to find all the main attractions within the area with ease. My only other tip is to bring your camera and make sure it's fully charged!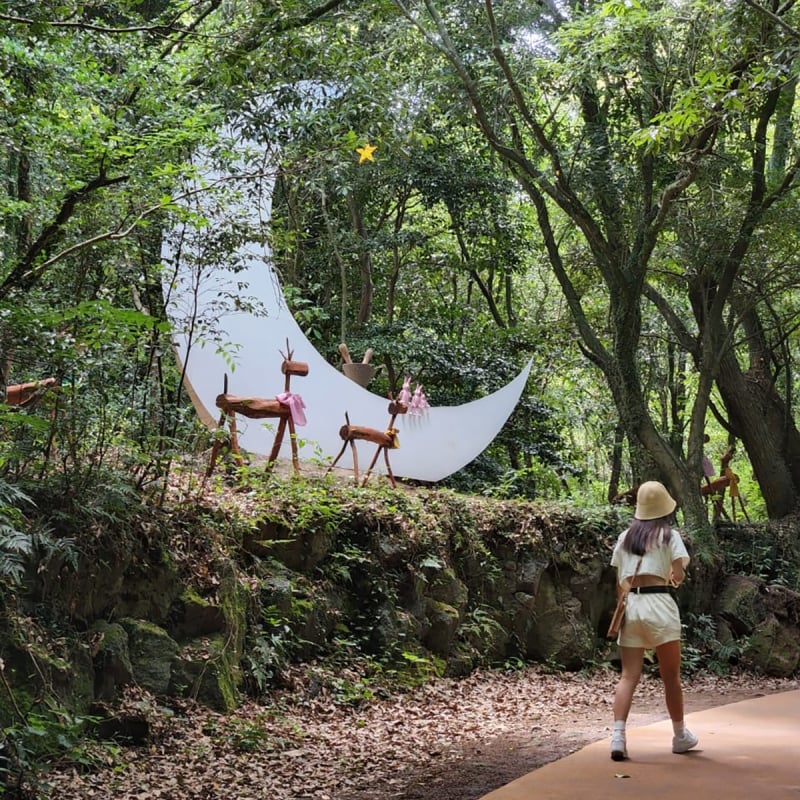 Bidding farewell to Jeju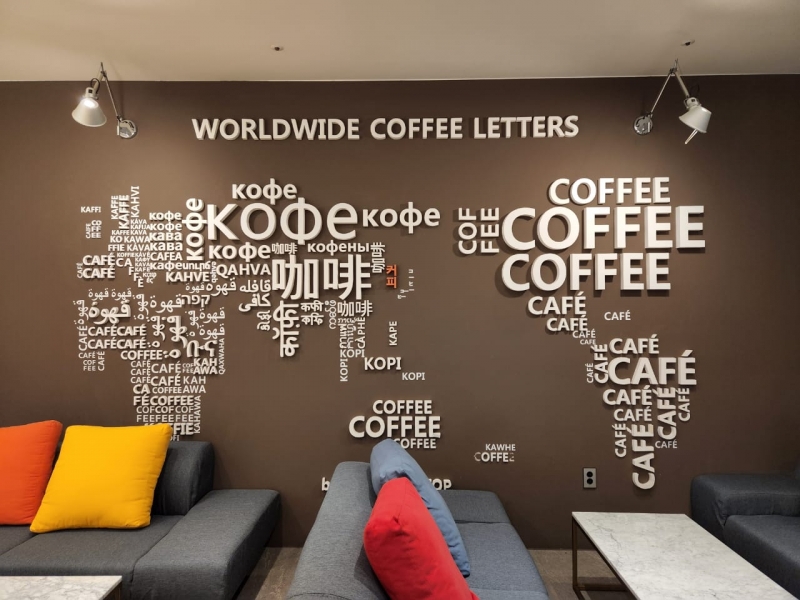 Our final official stop on our Jeju itinerary was the famous O'Sulloc Tea Museum. We didn't spend too much time there unfortunately. However, we did manage to squeeze in a quick photo session on the farm and snag a few matcha products!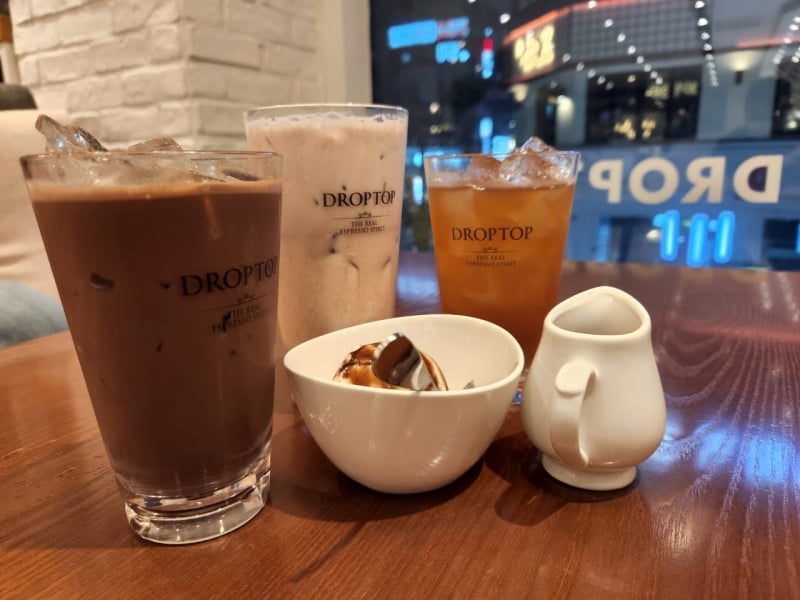 After dinner, I decided to head back to Nuwemaru Street with a few friends to look for a nice cafe. We managed to stumble upon Droptop, a cozy cafe hidden on the second floor of a BBQ restaurant. 
There, in the cozy cafe, amidst laughter, we bid farewell to our last night in Jeju. 
Day 5: Home sweet home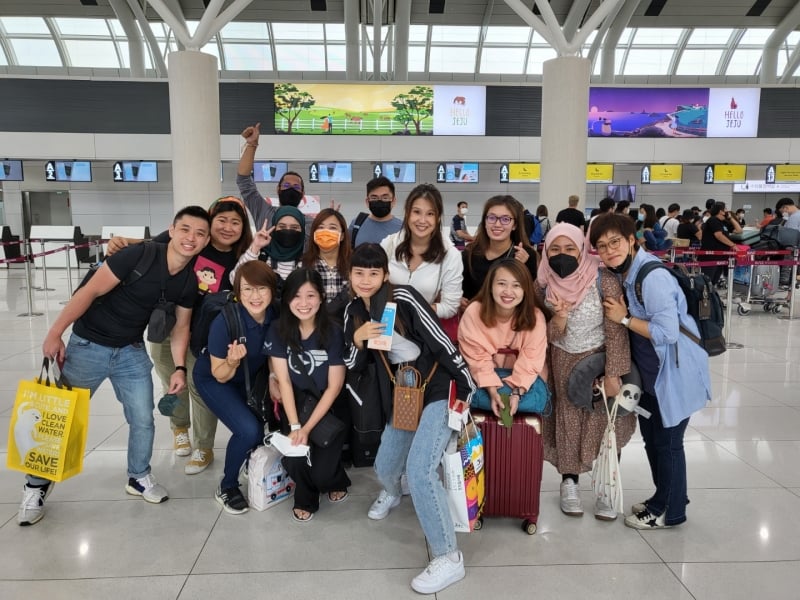 As my alarm rang on the final day in Jeju, I started to slightly regret staying out late the previous night. Braving the morning chill, I quickly packed up and rushed to the airport with the rest of the tour group. 
When I first saw my Jeju itinerary, I thought that it was kind of long. But as I sat in the airport, I couldn't help but wish it was even longer! There were so many new attractions in Jeju, and so many new things to do! 
Hopefully, I won't have to wait another five years just to visit Jeju again! 
---
Special thanks to Jeju Tourism Organization Malaysia for bringing me to Jeju!
All images credited to Darren Yeoh, Nabila, and Akmal Hakim unless otherwise stated.