As far as dazzling megacities go, Seoul is certainly on top of the list. It also boasts one of the most impressive skylines on this side of the globe; one that is vibrant, ever-changing, and never boring. Of course, this is largely thanks to a wide range of modern and contemporary architecture — most of which reflect the city's overall culture. And by this, we mean the way they were designed to embrace the future, while still maintaining ties with nature and/or tradition.  
From luxurious skyscrapers to avant-garde cultural spaces, we take a look at the most amazing buildings in Seoul that you'll definitely want to see IRL. (Yes, we know — as if you needed more reasons to miss travelling to this crowd fave destination…)
Must-see attractions and urban landmarks
1. Dongdaemun Design Plaza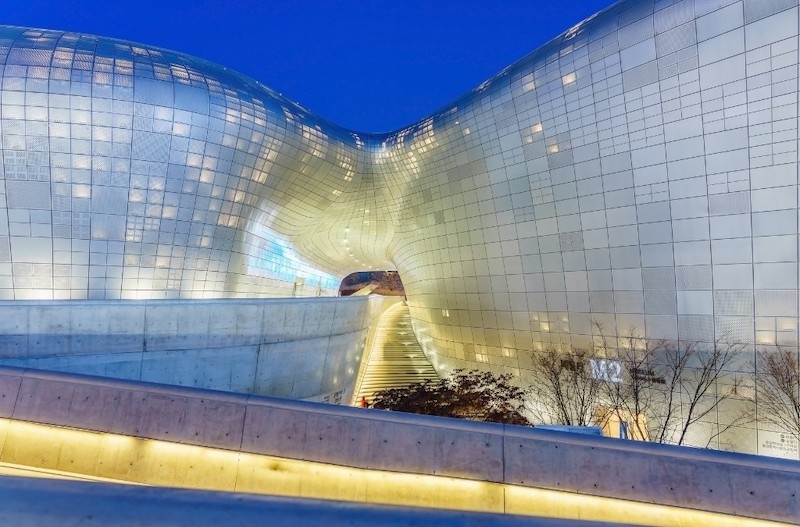 First up is Dongdaemun Design Plaza (or DDP for short), a cultural complex designed by the late Zaha Hadid. It features a Neo-futuristic style with its eccentric shape and sleek aluminium facade, while the interiors are more diverse and experimental. At night, the building transforms into an animated light show that you might wish to stick around for! 
DDP serves as the venue for various exhibitions, conferences, and fashion shows. Aside from massive exhibition spaces, it also has 24-hour retail stores, walkable parks on the roof, and even design-centric museums! For a creative space like no other, this is certainly the place to be. 
Also read: 5 Things To Do in Dongdaemun Besides Shopping
2. N Seoul Tower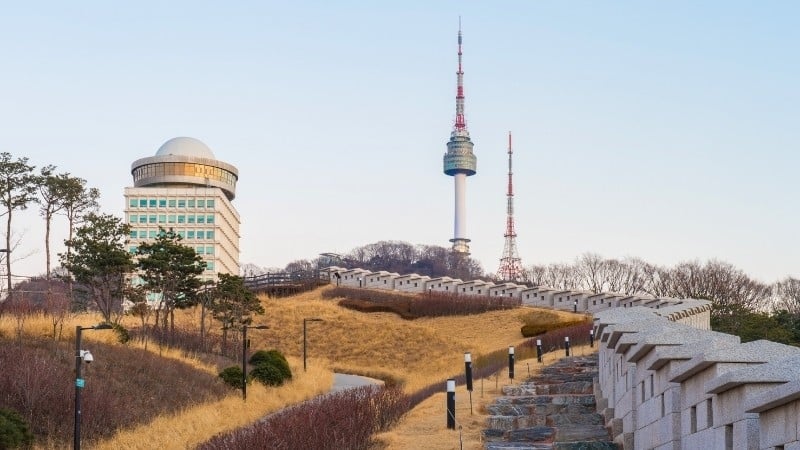 Here, we have what's arguably the most iconic modern landmark in Seoul. Standing atop the scenic Nam Mountain (or Namsan, as locals call it), N Seoul Tower often gets the spotlight as the first tower-type attraction in the country! It was originally constructed as a broadcasting tower in 1969, before opening to the public in 1980. 
Heading up N Seoul Tower is like experiencing the clouds meeting with the mountain. Make sure to enjoy the 360-views of the city from one of the four observation decks. Although, we do recommend visiting towards the late afternoon, just in time to watch the sunset. 
3. Seoul City Hall and Seoul Metropolitan Library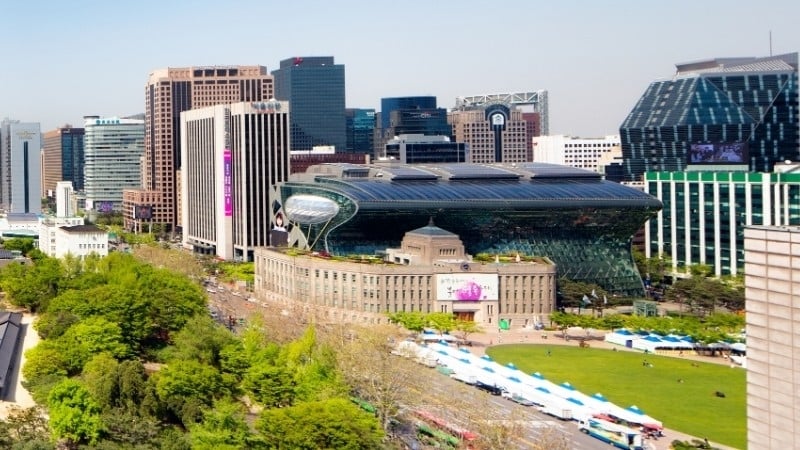 Have you ever seen a governmental building as cool as the Seoul City Hall? Probably not, but hey — that's exactly what makes it worth visiting! A fine example of the old embracing the new, it features a glass wave-like structure towering above the classic Imperial Crown-style one, A.K.A. the original city hall. Now, the latter serves as the Seoul Metropolitan Library, while the former houses the metropolitan government.
The new city hall is also one of the most eco-friendly buildings in Seoul. Over 28% of its overall energy consumption comes from renewable resources like solar and geothermal. Inside, you'll also find a spectacular vertical garden that spans seven floors and carries over 65,000 plants. Clearly, a symbol of the city's aim to adhere to sustainable development!
Also read: Seoul Itinerary: All The Best Places to Go for A 3-Day Trip!
Futuristic towers in Seoul
4. Lotte World Tower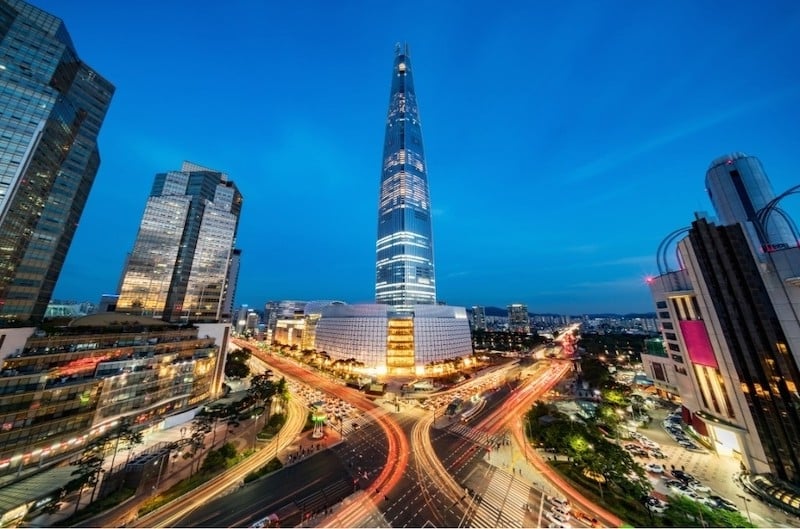 Say hello to the tallest building in South Korea and the fifth tallest in the world: Lotte World Tower. Measuring over 1,800 feet with 123 floors, it makes a case for Asian cities being at the helm of 'vertical architecture.' It also looks somewhat like a rocket about to take off into outer space, don't you think?
Of course, the inside of the Lotte World Tower is just as amazing — and that's no exaggeration at all. You'll definitely want to take time enjoying everything it has to offer; aside from apartments and corporate offices, it also has a five-star hotel, museum, mall complex, and more. Don't miss the building's observation deck, the Seoul Sky, which has a glass skywalk and is constantly competing with the N Seoul Tower for having the best panorama in town!
5. 63 Building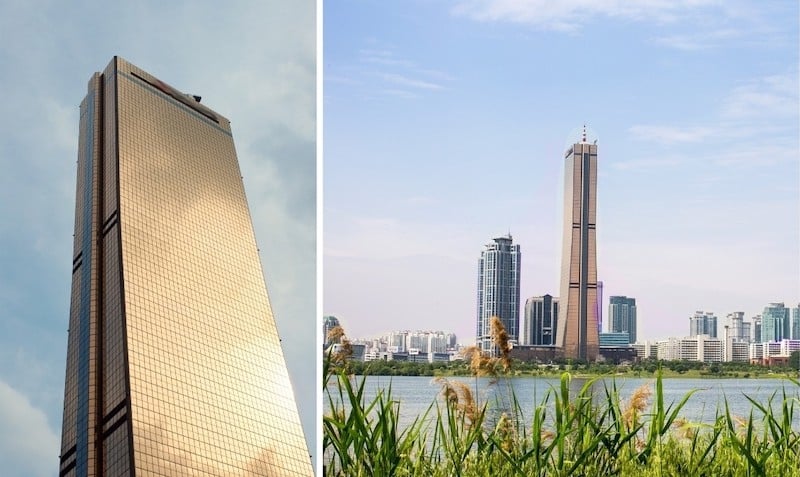 On the island of Yeouido, overlooking the Han River, is the ever-glimmering 63 Building (or 63 SQUARE, as it's officially called). It finished construction in 1985 and, at the time, it was the tallest building outside of North America! Although, its initial purpose was to be a landmark for the 1988 Seoul Olympics.
63 Building also remains to be the tallest gold structure in the world! Situated in a bustling financial hub, its occupants include major companies like Korea Life Insurance. Meanwhile, the subtle curves on the exterior are meant to resemble the Hanja character for a person or human being (人). 
6. Seocho Garak Tower East
Like a wave of liquid metal dancing towards the sky, Seocho Garak Tower East stands out effortlessly among other eye-catching buildings in Seoul's Gangnam district. In fact, for the facade, the Dutch architects who designed this took inspiration from the delicate shapes prevalent in Korean pottery. Of course, there's also sustainable functionality; what with the glass panels that provide insulation as well as solar electricity. 
7. Boutique Monaco
If Boutique Monaco looks remotely familiar to you, that's because you've probably seen it on a K-drama or two. Upon looking at this 27-storey residential skyscraper, it's easy to see why many producers would choose it for a filming location! It features an architectural design that is every bit avant-garde, with several corner sections removed to create outdoor gardens for occupants to gather in. 
Therefore, it's no wonder that Boutique Monaco is the recipient of the 2008 Silver Emporis Skyscraper Award: one of the world's most prestigious awards for high-rise architecture! Oh, and another fun fact — the working title for this building was actually 'Missing Matrix.'
Art hubs with impressive architecture
8. Leeum, Samsung Museum of Art
The Leeum, Samsung Museum of Art is a three-building complex tucked away in the famous Itaewon neighbourhood. Each building is its own kind of fascinating: the first is a museum for traditional Korean art; the second is for modern and contemporary art; and the third is an education centre. All these were designed by internationally renowned architects: Mario Botta, Jean Nouvel, and Rem Koolhaas, respectively.
Many would say the main highlight is the spiral staircase in Museum 1, which mildly resembles the one in The Guggenheim in New York. So, while spectacular buildings in Seoul are a dime a dozen, the Leeum, Samsung Museum of Art is definitely more than just those; it's a work of art — with or without the exhibits inside! 
9. National Museum of Korea
Apart from being one of the largest museums in the world, the National Museum of Korea is also quite the visual treat. Have you ever seen a 'concrete slab' with such an impressive layout? We think not. This slab is divided into two parts, with an outdoor plaza that's reminiscent of a hanok (traditional Korean house). There are also extensive gardens right outside, which include a reflecting pond, pagodas, waterfalls, and more. 
But you know what's even more extensive? The museum's collection of nearly 420,000 artefacts that offer glimpses into the nation's past; from prehistory all the way to the time of the Korean Empire. 
10. National Museum of Modern and Contemporary Art – Seoul
The National Museum of Modern and Contemporary Art has floor locations scattered across the country, with its flagship located right in the capital: the MMCA Seoul. While this particular museum only opened in 2013, some of its buildings date back centuries! And before it was converted into an artistic hub, the site served as the Defense Security Command compound. 
Architecture-wise, MMCA Seoul perfectly blends 20th-century Modernist and Brick Expressionism. It has a total of six floors showcasing mostly contemporary works, both by local and foreign artists. 
Notable campus buildings in Seoul
11. Seoul National University Museum of Art
Another iconic South Korea structure designed by Dutch architect Koolhaas would be the Seoul National University Museum of Art (SNUMoA). It has a total of six floors, half of which are underground. Perched on the side of a hill, it looks like a rectangular box that was sliced diagonally by the slope itself. Meanwhile, the central core beneath gives the illusion of both ends of the building hovering above the ground. Pretty mesmerising, don't you think?
12. Ewha Campus Center
The Ewha Campus Center (ECC) is another university gem whose architecture is seamlessly integrated with the topography. On what's supposed to be the entrance, there's a gently sloping 'valley' that leads to a stairway. The building was designed by French architect, Dominique Perrault: the same creative mind behind the French National Library in Paris, as well as the Velodrome and Olympic swimming pool in Berlin. 
Suffice to say, the ECC follows the recurring theme of his previous works; most of which are structures that are nestled, buried, or excavated. Anyway, you'll find this in Ewha Womans University, A.K.A. the world's largest female educational institute! 
Also read: 5 Prettiest Universities in Seoul That Will Make You Want to Study There
While daydreaming about these awe-inspiring buildings in Seoul, how about 'window-shopping' for places to stay, too? And while you're at it, maybe learn some basic Korean language to make your trip easier? 
Oh, and of course, if there are any more impressive structures that we missed — feel free to share your suggestions in the comments!