I don't know about you, but speak of street food, and the first country that comes to mind is Taiwan—all those night markets! Imagine my surprise during my recent trip to Seoul, when I found that Korea, too, has a thriving street food culture. In my short two weeks there, I tried many street delicacies, many of which are located near tourist destinations in Seoul.
1. Teokbokki (Spicy Rice Cake)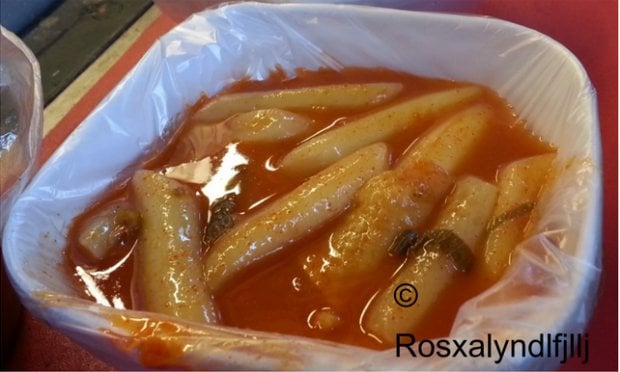 This is probably one of the most famous street snacks of Korea. For the still uninitiated, they are spicy rice cakes, usually served up together with spam and Eomuk (Fishcake), in a sweet and spicy chili sauce. That's the street stall version. After you've tried this particular version, head down to Sindang Teokbokki Town, where—you've guessed it—nearly all stalls sell teokbokki. These people take their rice cakes seriously. The one eatery I stepped into served this up: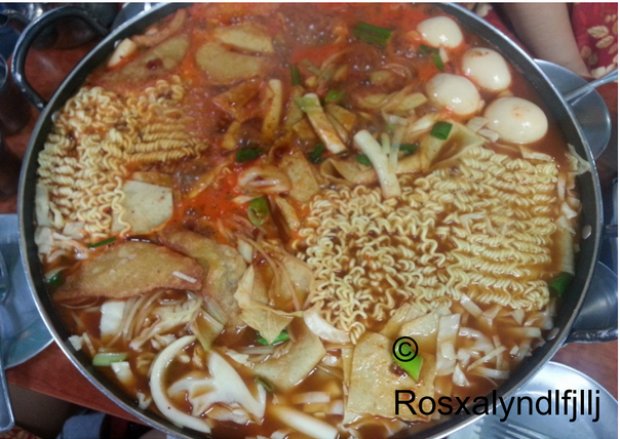 I dub thee the Teokbokki Chigae (Rice Cake Stew)
Needless to say, my travel companions and I were too stuffed to move after.
2. Hotteok (Dessert Pancake)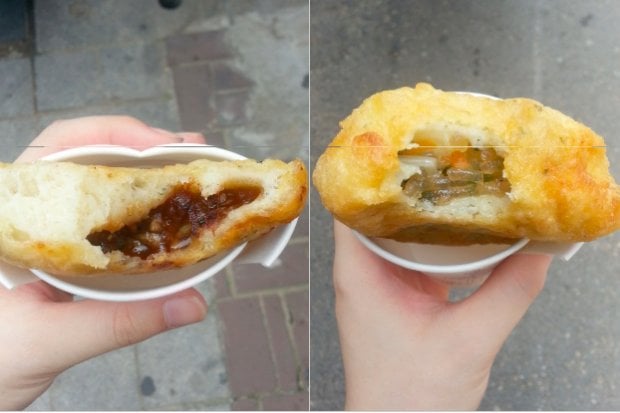 The sweet… and the savoury
There are two kinds of Hotteok —sweet and savoury. I tried both, from the same stall in Samcheongdong. This stall was nestled in a nondescript alley. But the find was worth it— the street snack was oh-so-delicious. Fresh off the stove, the dough is both hot and chewy. The sweet hotteok here consisted of a dollop of cinnamon paste in the dough, something like a bun, whereas the savoury one had vegetables and japchae (sweet potato noodles) as filling. Both were so delicious I went back for seconds! It's great for a tea-time snack, or even for a light lunch.
3. Chicken Skewers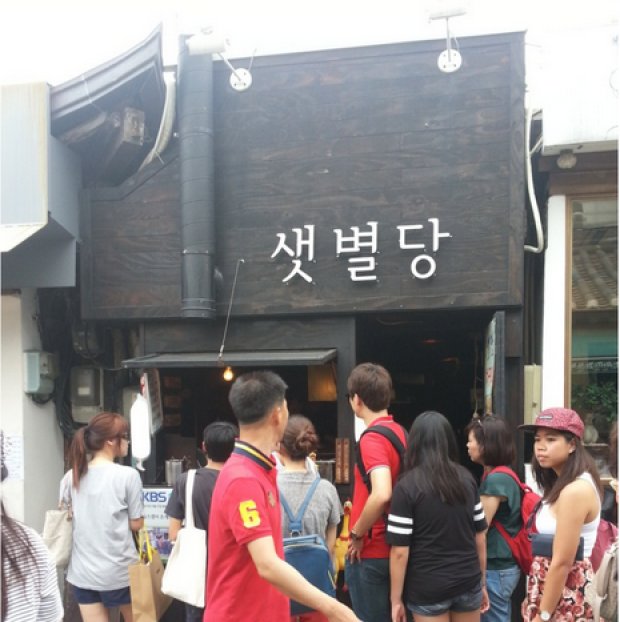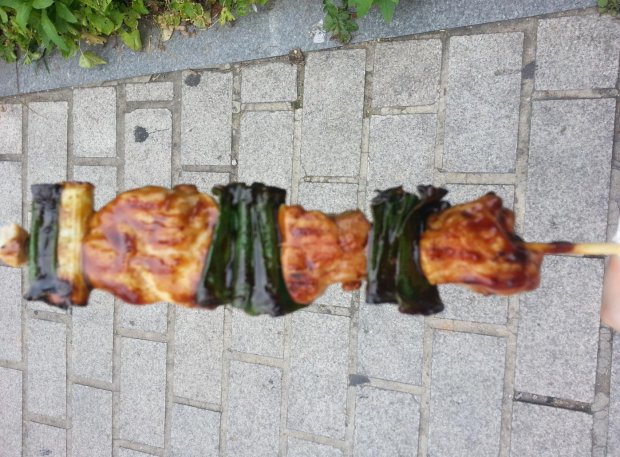 What's so special about meat skewers, you ask? This particular stall in Samcheongdong has people standing in line for them, with average waiting times ranging from 10 -20 minutes. Still not convinced? Imagine your teeth sinking into the succulent charcoal-barbequed meat, and the meat juices filling your mouth. Add to that the texture of leek for that extra crunch, and there you have it —a winning street snack and long lines.
4. Kimbap 

(Seaweed Rice Rolls)


Image Credits: Joslovesfood, Creamseoul
Some say this is a Korean version of the Japanese maki sushi, and it does look that way at first glance. But while the Japanese sushi is meant to be eaten in restaurants, Kimbap is seen as snack food, and can be found in many markets and street stalls. Every stall sells its own version of the Kimbap, but popular ingredients include egg, meat, kimchi, and perilla leaves.
5. Eomuk (Fish cake)

Image Credit: SweetandtastyTV
Sometimes known to tourists as Odeng (after the Japanese "oden"), Eomuk as a street snack is usually served on a skewer with spicy soup. It is traditionally thin and rectangular, and having been steeped in the broth for hours, has absorbed all the essence of the broth. Eomuk is best eaten on a winter's day—one bite of the fishcake and a sip of the broth will warm you to your toes!
6. Jeon (Pancake)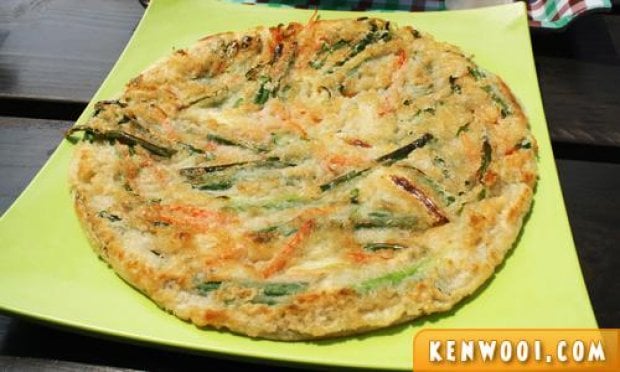 Image Credit: Ken Wooi
Imagine a pancake packed with spring onions, kimchi, meat and seafood. That's just about how it looks like. Unpretentious, but full of goodness. At most street stalls they sell two kinds of Jeon—the scallion ones and the kimchi ones, although seafood and meat may be used as well. It may taste a little bland, but the scallion pancakes usually come with some form of sweet sauce that you can dip into. The chewy texture of the dough contrasts perfectly with the crispy exterior of the pan-fried pancake, and the flavourful ingredients add to the eclectic mix of tastes when you bite into it. A word of caution though—most of them are served fresh off the pan, so don't pop them into your mouth too quickly.
7. Soondae (Blood Sausage)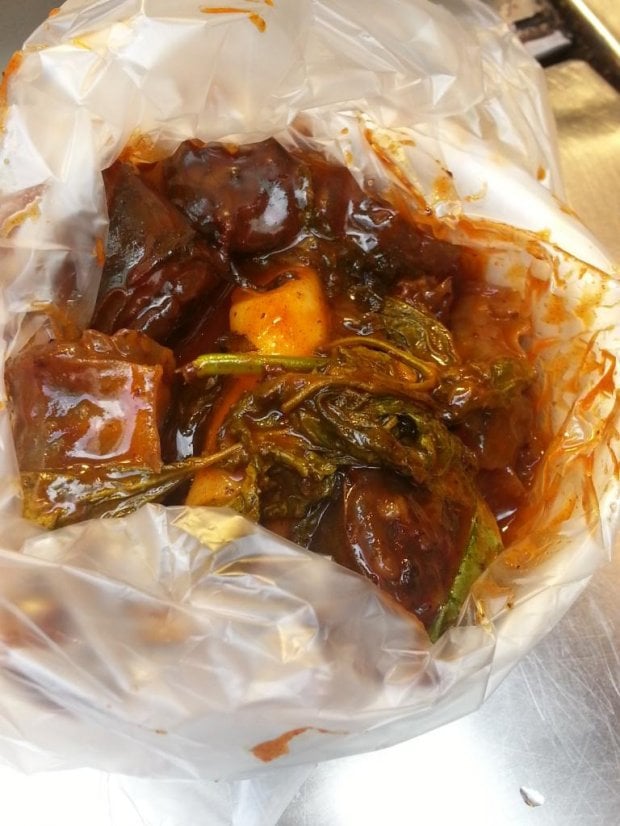 Yeah, it sounds disgusting to some people, but really, it is an acquired taste. Main ingredients include dangmyeon (cellophane noodles), glutinous rice, and pig's blood, although other variations also feature perilla leaves, barley, etc, and stuffed into intestinal casings. They're just about as chewy as gummies, and the taste is pretty mild, though the ones I tried were slightly peppery. Apparently, every region of Korea has a different recipe, so hey, you can make a list to tick off! But like I said, it's an acquired taste, so if you don't like it the first time round, try it again, and you just might fall in love with it.
8. Hodo Kwaja (Walnut Cake)

Image Credits: SweetandtastyTV, Korea-Canada Blog
Hodo Kwaja is also known as 2-bite walnut cakes. It takes the shape of walnuts, and is filled with red bean paste and walnut bits. Hodo kwajais great for when you're on the go and want something convenient and easy to eat. Think the fluffiness of kueh balu, the density of a pancake, the sweetness of the red bean paste, and the crunchiness of walnuts. Perfect.
9. Candy Cane Ice-Cream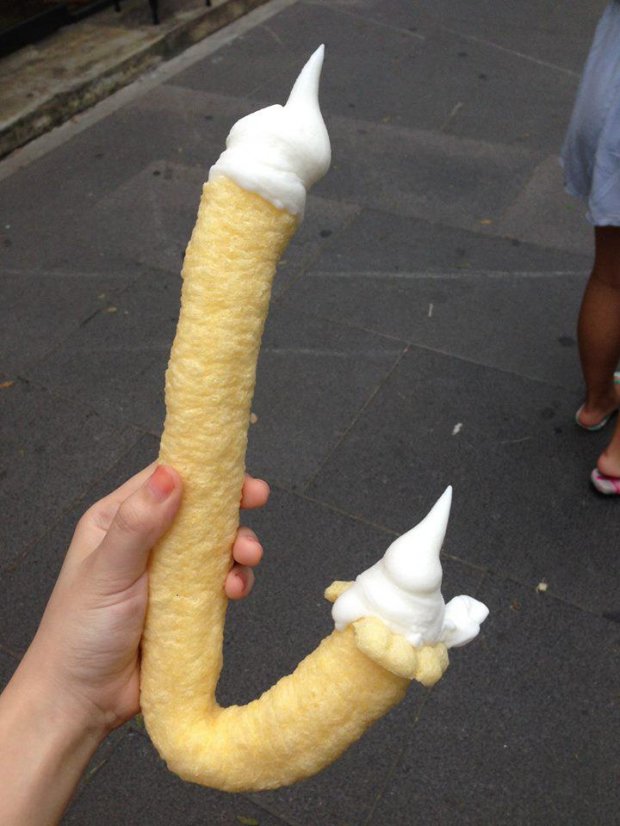 Image Credit: The Tasty Island
Necessity is the mother of invention. Someone in Korea probably noticed the inevitable stickiness that comes with eating ice-cream in a regular cone, so they came up with a cone made out of corn in the shape of a candy cane. Soft serve ice-cream goes into the hollowed out cone. It's a huge favourite with families and tourists, mainly because of the convenience and lack of wrappers to throw after. Best thing about it? No more sticky fingers. Walking Cane Ice-Cream can be found in most shopping hotspots in Seoul, including Myeongdong and Insadong.
10. Shikhye (Korean Rice Punch)
This doesn't exactly count as food, but hey, you need drinks to wash down all that delicious food, right? And this is just perfect for that hot day in summer when you need a light, refreshing drink that isn't all sugar and flavouring. I stumbled across this drink in the Ehwa shopping district. Coupled with warm hotteok (see above), It is the perfect combination for a tea-time snack. Shikhye is made mainly from milled malt barley and short grain rice, and is apparently usually drunk during the New Year. And no, you shouldn't buy the canned ones you see in convenience stores; they contain more sugar than anything. Try the actual homemade ones—I guarantee you won't regret it.
So there you have it—Street food that you must try at least once in Korea. Frankly, I tried all of the food listed, and I lost count of the number of times I went back for them. And if you're worried about eating a hole in your pocket, don't, because NONE of them cost more than 5000 KRW! =)
What are your favourites? Share them with me in the comments below so I can try them the next time I go to Korea! If you haven't actually been to Korea, these street delicacies give one extra reason to start searching for your travel package to Korea!