Are you a bargain hunter? Do you love the triumphant feeling of finding a rare treasure amongst all the random knick-knacks? Is shopping your favourite pastime? If you answered yes to all of the above, look no further as the world of flea markets awaits you! Here is a list of the top flea markets no treasure hunter should miss in the wonderful capital city of Seoul. What's more, there is something for everybody!
Also read: Seoul: Shopping Guide For Bargain Hunters
For the first timer
Daunted by flea markets? Fear not, every treasure hunter has his or her own origin story and these flea markets will be a starter kit to acquaint yourself to a whole new world of shopping out there.
1. Hongdae Free Market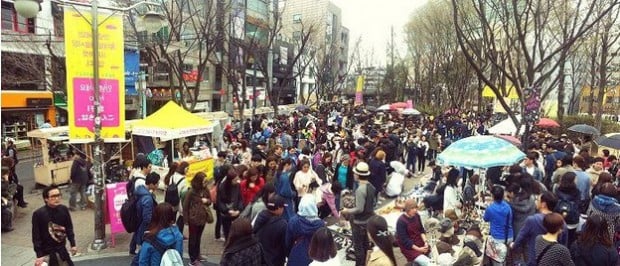 Image credits: Free Market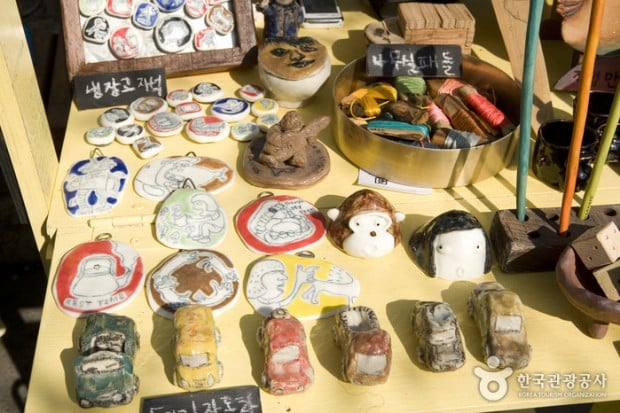 Image Credits: Visit Korea
Touted as one of the first spontaneous art markets in Seoul, the Hongdae Free Market does not fit the mould of a traditional flea market. For one, it does not sell used goods but instead offers items created by a diverse number of artists. This should suit well if you are skittish about buying used products. Besides, the venue is modest so if you think that flea markets might not be your thing after all, feel free to roam and explore the vibrant streets of Hongdae before you declare your day over. Situated at the Hongdae Children's Park, the nearest metro station is the Hongik University Station (Subway Line 2, Exit 9). Opening hours are every Saturday, 1pm to 6pm (From March to November).
2. Myeongdong Myeongrang Market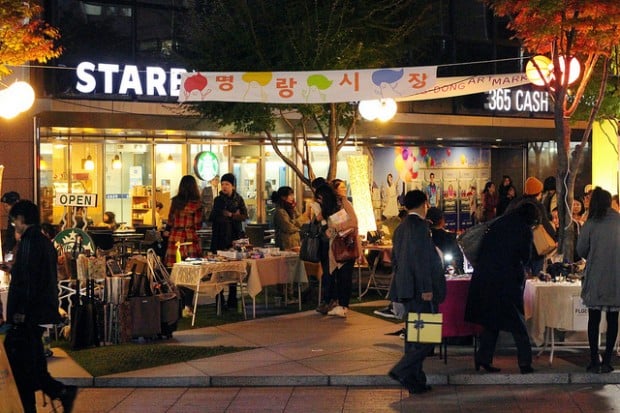 Image credits: CCKorea
The Myeongdong area is famous for the shopping it has to offer but it still has some surprises up its sleeves. Similar to the Hongdae Free Market, the Myeongrang Market is filled with creative and handcrafted items that are for sale. When night befalls, the place will be lit with candles and lanterns, casting a romantic light over the Myeongrang Market. For the first timer, one need not go out of their way to experience a flea market. Instead, they can choose to swing by the Myeongrang Market when making the rounds in Myeongdong! The market is located at the KEB plaza in Myeongdong and its opening hours are every Friday, 5pm to 9pm (from June to October).
For the casual folks
3. Ttukseom Beautiful Flea Market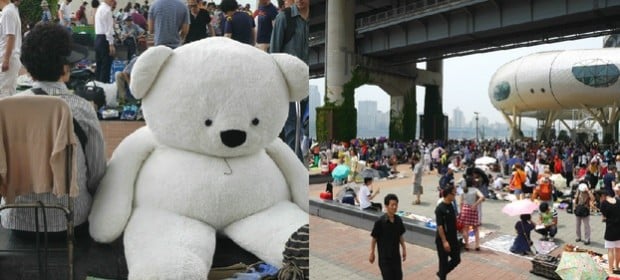 Image credits: Flea 1004
True to its name, this flea market is situated beside the picturesque Han River and promises a sight to behold while you are going about with your shopping. The Ttukseom Beautiful Flea Market boasts about 500 sellers and promises a grand day of shopping by anybody's standards.
Besides, by buying items from the flea market, you'll also be doing a good deed as 10% of every seller's proceeds will be donated to a good cause. The Ttukseom Beautiful Flea Market is held every weekend during the period from Late March to Early November. Open from 9am to 5pm, visitors can take their own sweet time to sieve through the items as time is on their side. To reach the market, you should make your way to the Ttukseom Resort Station (Line 7 Exit 2 or 3) and a well-spent weekend awaits!
For the hardcore shopper
4. Seocho Saturday Flea Market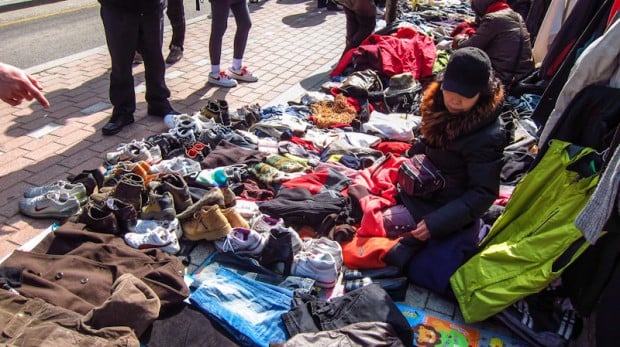 Image credits: The Seoul Guide
Departing from the usual touristy areas, the Seocho Saturday Flea Market provides a great study on the everyday folks who live in Seoul. Situated on the street right outside Sadang Station (Line 2 and 4, Exit 11), the place is a far cry from the glamour and glitz evident in the trendy Korean dramas airing on our screens but for the hardcore shoppers though, this is a literal slice of heaven. It has been hailed as one of the biggest flea markets in Seoul where you can find anything from clothing to books and household products. Popular with the locals, friendly competition to snare the best deal is everywhere. So be fast and remember the age old adage: you snooze, you lose.
The market is open from 9am to 3pm every Saturday. The shops start to close up around 2pm so try to be earlier to ensure you don't miss out!
For the young and trendy
5. Bling Night Flea Market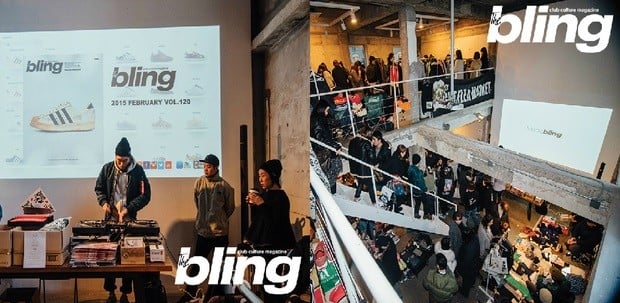 Image credits: The Bling
The Bling Night Flea Market is relatively new and is only onto its 4th edition. It usually takes place on the last Saturday of the month from 5pm to 9pm. The venue however, is prone to changes. One will have to regularly check The Bling Facebook page for updates on the next flea market.
[fzPriceBlock]icn[/fzPriceBlock]
The unique thing about the Bling Night Flea Market is that it is hosted by club culture magazine The Bling. This of course means that the flea market will be vibrating with the hottest tunes spun by the DJs on site, turning the venue into a psychedelic mix of shopping, music, food and booze, Even if you eventually end up not buying anything, the Bling Night Flea Market will still guarantee an electrifying time all the same.
The April 2015 edition of the Bling Night Flea Market will be held at SJ.Kunsthalle which is re-opening after a long hiatus.
Some helpful general tips to aid your flea market conquests:
Either go early when selection is bountiful or stay till closing time as that is when sellers slash their prices in order to get rid of inventory.
Bring cash! Most sellers do not accept cards so make sure that you have enough cash on hand to make payments for the items you want (either that or pray your friends have wads of cash so that you can borrow).
Carry a big bag or bring a shopping bag. On one hand it helps to protect the environment and promulgate the virtue of re-using that flea markets espouse, on the other, sellers usually do not prepare enough bags for customers so it would be prudent to have your own to stash all your buys. Killing two birds with one stone.
Bargain bargain bargain! At such an informal setting, bargaining never hurts. Just be careful not to make a nuisance out of yourself!
Uncertainty. There are some factors to note before you decide to hit a flea market. Some markets (especially the open air ones) might be closed due to adverse weather conditions, while others might suddenly be called off for reasons unknown. So do note that there is always a risk involved, but what is life without taking the leap right?
Lastly have fun! Go out, enjoy the sun and all the hustle and bustle.
Also read: How to Travel Seoul on a Budget in 2015