So you're dreaming of going to Korea, but you're worried about your budget at the same time. Well, what if we told you that you can still experience all that Seoul has to offer… without breaking the bank? Yes, you heard me right! These 13 FREE activities will be right up any budget travellers' alley.
Indulge in all these free activities, fill yourself with lots of yummy (read: cheap) street food, and – would you believe it – save up to 20% on your flight to Korea!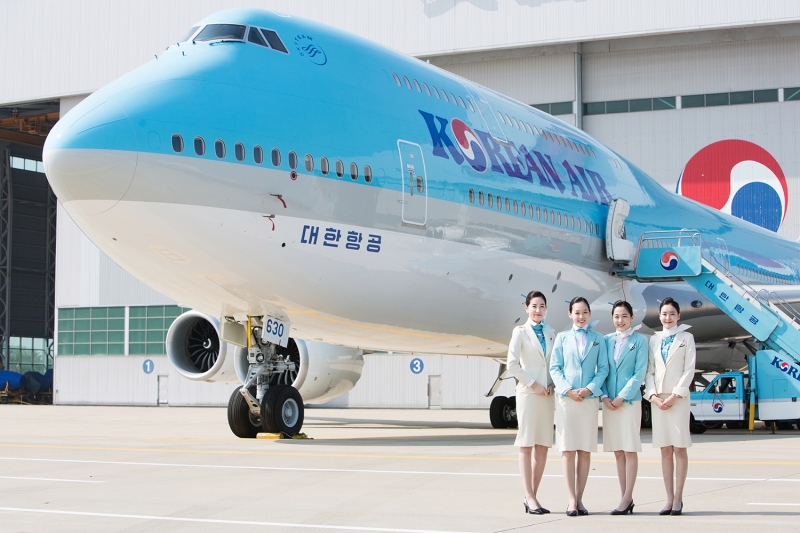 Korean Air is moving to the spanky new Terminal 4 at Changi Airport, and is rolling out some great discounts to celebrate their move: get 20%, 15% and 10% off First Class, Business Class and Economy Class tickets respectively.
Grab these exclusive discounts when you book your flights with these promo codes:
First Class: ILOVEKE20FR
Business Class: ILOVEKE15FR
Economy Class: ILOVEKE10EY
Booking period: Now to 30th September 2017
Travel period: Now to 31st May 2018
P.S. This is not only just for flights to 13 Korea destinations (including Seoul, Jeju and Busan), but for flights to 16 Japan destinations (including Tokyo and Osaka), 13 U.S.A. destinations (including San Francisco, Los Angeles and New York), and a whopping 29 destinations in China!
1. Watch a guard-changing ceremony at Gyeongbokgung Palace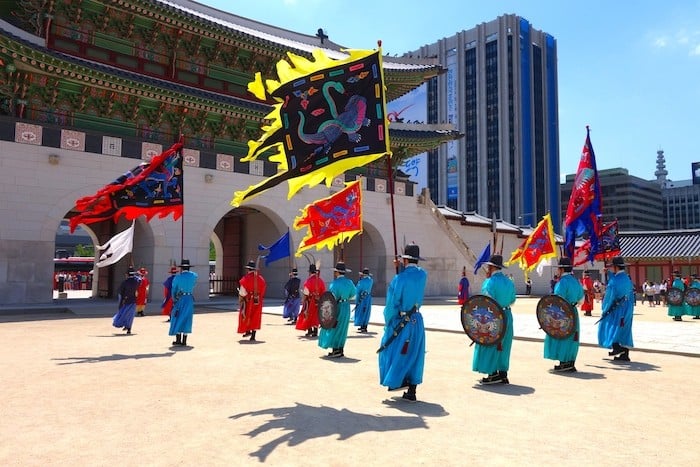 Gyeongbokgung Palace is one stop in Seoul that definitely belongs on your itinerary. Aside from roaming around the sprawling grounds, you can also witness the guard changing ceremony that takes place at 10am and 2pm daily, or participate in the Sumungun Costume Experience available daily (except on Tuesdays) at the Sumunjangcheong Building before and after the ceremony.
Do note that each visitor is only permitted about 10-15 minutes in the costume – so do think of your poses beforehand! Choose from the traditional hanbok or the guard's costume, or make a reservation for the king or queen's costume.
How to get there:
Exit 5 of Gyeongbokgung Station (Subway Line 3), or walk 400 metres from Exit 2 of Ganghwamun Station (Subway Line 5).
2. Immerse yourself in indie culture at Hongdae
Ready your cameras and unleash that inner hipster in you by taking a stroll through Hongdae! From dazzling street art and talented street performers to quaint little cafés dotted around the area, your senses will be in for a real treat.
As Hongdae is a university area, it comes alive once dusk falls with buskers crooning their tunes around every corner. In the day, however, let out your inner child at Hongik Playground or wander around the stalls of the Hongdae Free Market (operating from 1-6pm on Saturdays in the months of March to November).
How to get there:
Exit 9 of Hongik University Station (Subway Line 2)
3. Participate in an exciting festival
Watch as the city comes alive in a cacophonic myriad of festivals throughout the year) – each and every one worth timing your trip for. Book your tickets with Korean Air from now to 30th September 2017 and get up to 20% off your flights!
Trust us, there's no better time to be in Korea.
Seoul Street Art Festival
Previously known as the Hi Seoul Festival, the Seoul Street Art Festival is an exciting extravaganza not to be missed. Painting Seoul in a different light through revitalising its streets with arts and culture, the festival boasts countless musical performances and exhibitions – all of which can be enjoyed for free. Locals and tourists alike throng the streets during the festival, so start booking your tickets for this year's October edition as early as possible!
When:
October every year (2017: 05-08 October)
How to get there:

Held throughout Seoul!
Yeongdeungpo Yeouido Spring Flower Festival
Witnessing the magnificence of cherry blossom season has always been high up on any traveller's bucket list. Whilst many may head to Japan, did you know that the blooms in Korea are every bit as spectacular? The Yeongdeungpo Yeouido Spring Flower Festival is a sheer explosion of pink and white, culminating in the blooming of 1,886 Korean Cherry trees. Marvel at this spectacle both in the day and at night, where the trees will be lighted up amidst a variety of street acts.
When:
April every year
How to get there: 20 minute walk from Exit 4 of Dangsan Station (Subway Line 2 or 9) or from Exit 1 of Yeouinaru Station, or a 5 minute walk from Exit 1 of National Assembly Station (Subway Line 9).
4. Enter Instagram Heaven, a.k.a. Iwha Mural Village
Insta-worthy places in Seoul are a dime a dozen; hands up if you've seen one too many pictures on your feed of the Common Ground's iconic blue walls! This time round, why not try something different? Iwha Mural Village is a fantastic alternative that's chock full of art murals adorning every available surface. This vibrant art scene helped to revitalise the area, making it an absolute paradise for Instagrammers scrambling after the next gorgeous shot.
However, take note that despite how stunning it may look, Iwha Mural Village is, first and foremost, still a residential complex. So keep your noise levels down whilst you're snapping away! While you're there, combine your visit with a stroll through Naksan Park, a space characterised by sweeping views and fortress-like walls.
How to get there:
Exit 2 of Hyehwa Station (Subway Line 4).
5. Enjoy unlimited usage of bicycles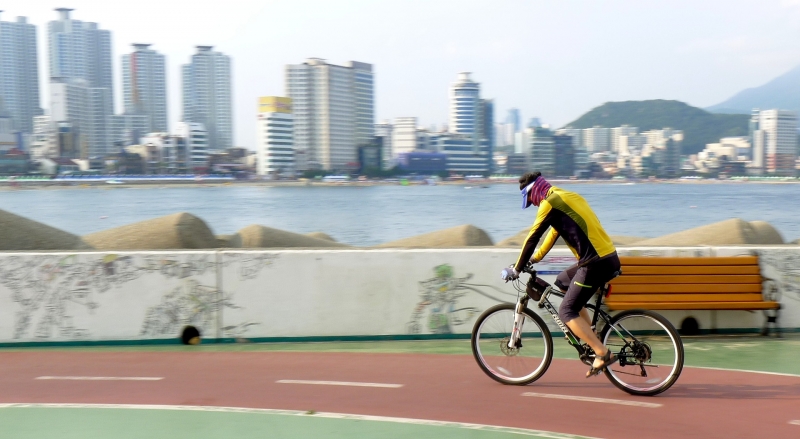 If you love cycling, you're in the right place. To efficiently explore all that the city has to offer, take advantage of Seoul's FREE public bike rental service! To top it all off, you can even get a complimentary bicycle route map from the Seoul Library and tourist information centres. To rent a bike, all you have to do is to bring along a form of identification with you. It's that simple! Ranging from a free rental period of 3 hours to even a full day, you'll be able to cycle wherever you please.
Rental outlets:
SanggyeFree Bicycle Rental Facility

Free rental period: 3 hours

How to get there: Exit 1 of

Sanggye Subway Station (Subway Line 4)
Gangbyeon Free Bicycle Rental Facility

Free rental period: 1 day

How to get there: Exit 1 of

Gangbyeon Subway Station (Subway Line 2)
Jamsil Bicycle Rental Facility

Free rental period: Unlimited, but bicycle must be returned by 5.30pm

How to get there: Exit 2 of Jamsil Station (Subway Line 2 & 8)
and more!
6. Take a breather at the Han River
After a long day of sightseeing, you'll definitely want a nice, quiet place to wind down. Take those weary bones down to one of the 27 bridges on the Han River! All 27 bridges will be lit up after sunset, so you just know that you'll be in for a special night. Grab a beer or two, park yourself on a quiet corner on the bridge, and look out onto the river and the surrounding cities.
Our top pick, however, would be the Banpodaegyo Bridge, home to the Banpo Bridge Rainbow Fountain. Feast your eyes on a dazzling extravaganza of music, lights and dancing water during the months of April to October!
How to get there:
Exit 8-1 of Express Bus Terminal Station (Seoul Subway Line 3, 7, 9). Walk straight for 250 metres, turn right at the 4-way Express Bus Terminal Sageori intersection, continue going straight then proceed through the underpass to reach the park.
Rainbow Fountain show timings:
April-June/September-October: (weekdays) 12pm, 8pm, 8.30pm, 9pm; (weekends) 12pm, 7.30pm, 8pm, 8.30pm, 9pm

July-August: (weekdays) 12pm, 7.30pm, 8pm, 8.30pm, 9pm; (weekends) 12pm, 7.30pm, 8pm, 8.30pm, 9pm, 9.30pm
Start booking your flights from now to 30th September, for travel to 31st May 2018, with Korean Air! To celebrate their move to Changi Airport's new Terminal 4, travellers can enjoy discounts of up to 20% when they book their flights with Korean Air! Use the promo codes <ILOVEKE20FR>, <ILOVEKE15FR> and <LOVEKE10EY> to enjoy 20%, 15% and 10% off First Class, Business Class and Economy Class flights respectively – you're only one click away from having an amazing adventure in Korea!
7. Catch the most breathtaking views at Mt. Namsan
Picture this: a spectacular view of a city stretching out as far as your eyes can see, lighted up with tiny dots sparkling like little fairy lights. That is the view you'll get when you're atop Mt. Namsan. Make your way up to the N Seoul Tower and be dazzled by the sight that awaits you. Bring along a padlock if you're visiting with your significant other – couples often fasten a padlock as a symbol of their love, a.k.a. locking their love in for eternity.
Besides, getting to N Seoul Tower is free; all you need is a strong pair of legs and (relatively) good stamina. Don't worry, the way up is neatly paved, so take your time and enjoy your workout with a view!
How to get there:
Namsan Circular Shuttle Bus 02, 03 and 05, that departs from various stations. Find out more information
here
.
8. Explore the Seoul Olympic Park
Standing tall from the 1988 Seoul Olympics, the Olympic Park encompasses several zones. Home to a Leisure Sports Park, Cultural Art Park, Environmental Eco-Park and a History Experience Park, it's no wonder that it takes over three hours to explore it all. To inject an added element of fun to the experience, collect a tour map from the Information Center (located at the Peace Square and Meeting Square), and get a stamp from various checkpoints within the compound. Upon completion, you'll even be entitled to a free gift!
If, however, you wish to explore the grounds more efficiently, opt for a ride on the Road Train that will bring you from Peace Square to the various landmarks.
Where:
Seoul Olympic Park
How to get there: Exit 3 of Olympic Park Station (Seoul Subway Line 5), or Exit 1 of Mongchontoseong Station (Subway Line 8).
9. Cool down at the Cheonggyecheon Stream
What we love about Seoul is the fact that there's a trickling stream running right through the heart of the city. Being much more than a trickle, however, the Cheonggyecheon Stream offers some much-needed tranquility and respite amidst the city's hustle and bustle.
Choose to relax along its banks, or walk right down to it and dip your feet into the cooling waters. From 5-13 May 2018, the annual Lotus Lantern Festival sees the stream illuminated with rows of colourful lanterns. The rest of the city is awash with parades and various activities as well, so if you're planning to make a visit to Seoul – there's really no better time to do so!
How to get there:
Exit 4 of City Hall Station (Seoul Subway Line 1 & 2)
10. Collect tons of freebies at Myeongdong
Calling all cosmetics lovers! If you don't already know, Myeongdong is paradise for all things cosmetics. It's home to brand names like Etude House and Innisfree, and shop owners are often happy to give out free samples of their products. You know the drill – unleash your inner Singaporean instincts and collect away!
If you didn't manage to try on a hanbok at Gyeongbokgung Palace, head to the Seoul Global Cultural Center located right in the heart of Myeongdong. Grab the chance to take lots of pictures whilst donned in Korean traditional costume. The staff there speak fluent Korean, English, Japanese and Chinese, so you won't have to worry about grappling with the language barrier!
How to get there:
Exits 5, 6, 7 and 8 of Myeongdong Station (Seoul Subway Line 4), or Exits 5, 6 and 7 of Euljiro 1(il)-ga Station (Seoul Subway Line 2).
Not sure how all your loot is going to fit into your luggage? Well, book your flights with Korean Air and you won't have to worry one bit. Get 1 x 23kg baggage when you fly on Economy Class, 2 x 32kg when you fly on Business Class, and 3 x 32kg when you fly on First Class – allowing you to collect all the free samples you desire. What's more, get 20%, 15% and 10% off when you fly with each respective class, so don't hold back – use the promo codes <ILOVEKE20FR>, <ILOVEKE15FR> and <LOVEKE10EY> to qualify for these discounts upon check out.
11. Go on a free walking tour
There's no better way to experience Seoul than on a free walking tour! You've got your work cut out for you as you're taken to see the sights by an experienced, multilingual local. The City of Seoul offers a variety of programmes depending on what you want to see, but you could also sign up for a programme with SeoulMate, where tours are conducted by Korean college students.
With SeoulMate, you can choose to have a tour of the Bukchon Hanok Village, Gangnam, Haneul Park, or even the War Memorial of Korea and Seodaemun Prison. Reservations are due every Thursday through their website – there's no better way to discover the city through the eyes of a local!
How to get there:
Varies depending on tour
12. Take a hike through the Bukhansan National Park
National parks are hardly found within close proximity of a city, making Bukhansan National Park an absolute godsend for outdoor lovers! Located just north of Seoul, the national park offers a spectacular hiking experience for anyone.
Perfect for a day trip, you can choose to either descend the same way you came, or descend along the walls of the Seoul Fortress. The trails tend to get extremely crowded with both locals and tourists alike, so it's highly recommended to start your hike early. Besides, you'll definitely want to allow enough time to get down the mountain before nightfall.
How to get there:
Exit 1 of Gupabal Station (Metro Line 3), and take Bus 704 going towards Bukhansanseong Fortress. Get off at the entrance of the park.
See, who says that you have to fork out all that cash to properly enjoy Seoul? All these FREE activities will guarantee that you can have just as good a time while you're there! Cast that budget planning aside and grab your promotional tickets to Seoul now before they're all gone – from now to 30th September, book your flights with Korean Air and enjoy up to 20% off your flights! Korean Air has only just moved to Changi Airport's new Terminal 4, so why not grab the chance to explore this brand new terminal? There's lots to see and do!
Besides flights to Korea, enjoy this awesome discount to Japan, China and U.S.A. as well. So what are you waiting for?
---
Brought to you by Korean Air.