There is no doubt that Seoul, South Korea is a beautiful destination that you would have to visit at least once in your life. But during Seoul cherry blossom season, the city becomes even more stunning with the blooming pink flowers. If you're travelling here during the most bloom-filled time of the year, read on for our comprehensive guide; including the top Seoul cherry blossoms spots, the best places to stay, and things to expect, so you can enjoy your trip exhaustively. 
Also read: 16 Best Airbnbs & Vacation Rentals in Seoul for Every Budget
Best places to see cherry blossoms in Seoul
Each year, cherry blossoms in Seoul usually start flowering at the end of March to April (but more on that later). Find out the best places to visit for cherry blossom viewing!
1. Yeouido Park
One of the most well-known Seoul cherry blossoms spots, Yeouido Park has an open area suitable for bicycling and skateboarding, and a footpath that leads to enchanting seasonal flowers, a pond and a playground. There's also a coffee shop and a large grass field where visitors can enjoy a cup of coffee in the park while admiring the cherry blossoms. 
Address: 68 Yeouigongwon-ro, Yeongdeungpo-gu, Seoul, South Korea
Opening hours: All day 
2. Namsan Seoul Tower
The Namsan Tower, also known as the Seoul Tower and N Seoul Tower, is a 236-metre-tall structure situated on Nam mountain. During springtime, it becomes one of the best places to see cherry blossoms in Seoul, as it has the city's longest trail of sakura trees. The picturesque scenery when the pink flowers bloom is a sight not to be missed!
Address: 105 Namsangongwon-gil, Yongsan-gu, Seoul, South Korea
Opening hours: 10am to 11pm
Admission fee: ₩16,000 (~S$17)
Also read: 10 Tips for Shopping in Seoul, According to Frequent Travellers
3. Changgyeonggung Palace
Changgyeonggung Palace was built in the mid-15th century by King Sejong. An underrated Seoul cherry blossom viewing spot, it has a large number of sakura trees planted within the compound. Even so, it is still not as popular as other cherry blossom spots in Seoul. So, if you enjoy marvelling at the flowers in a quiet and calm environment, then this is the place to go. 
Address: 185 Changgyeonggung-ro, Jongno-gu, Seoul, South Korea
Opening hours: 9am to 5:30pm, closed on Monday
Admission fee: ₩3,000 (~S$3)
4. Seoul National Cemetery
Nestled in Dongjak District, the Seoul National Cemetery is a hidden gem for cherry blossom viewing. In April, the cemetery honours and pays respect to those who passed away in wars by hosting an event with the weeping cherry trees (also referred to as suyang). The large weeping blossom trees, when they are in full bloom, are also a symbol of protecting the country.
Address: 271-20 Dongjak-dong, Dongjak-gu, Seoul, South Korea
Opening hours: 6am to 6pm 
5. Seokchon Lake Park
Also known as Songpa Naru Park, Seokchon Lake Park is a prominent location for the Seokchon Lake Cherry Blossom Festival. During the event, famous singers would perform as people walk around and embrace the spectacular sight of pink cherry blossoms by the lake. Open 24 hours, visitors are also welcome to take a stroll at the lake during nighttime. 
Address: South Korea, Seoul, Songpa-gu, 송파나루길 206
Opening hours: All day
6. Seoul Children's Grand Park
Seoul Children's Grand Park is a huge green space that consists of a grassy field, a futsal stadium, an outdoor concert stage, a zoo, botanical gardens, and a children's playground. Since its opening around 50 years ago, this park has become among locals' favourite places to have fun. Come springtime, it makes for an ideal Seoul cherry blossom viewing venue. 
Address: 216 Neungdong-ro, Gwangjin-gu, Seoul, South Korea
Opening hours: 5am to 10pm 
Admission fee: ₩7,000 (~S$7)
7. Seoul Forest Park
Seoul Forest Park in Seongdong District is the third largest park in the city. This 3,000-acre grassland features several parks and gardens, which include facilities like a lake, water fountain, butterfly garden, insect garden, and even an eco forest. It also has its own cherry blossom path, which is essentially a trail of lining pastel-pink cherry trees. It's no wonder it's a famous to-go spot during Seoul cherry blossom season. 
Address: 273 Ttukseom-ro, Seongdong-gu, Seoul, South Korea
Opening hours: All day 
Also read: 15 Underrated Places in South Korea That You Should Experience
Best places to stay during Seoul cherry blossom season
1. This simple accommodation near Namsan Tower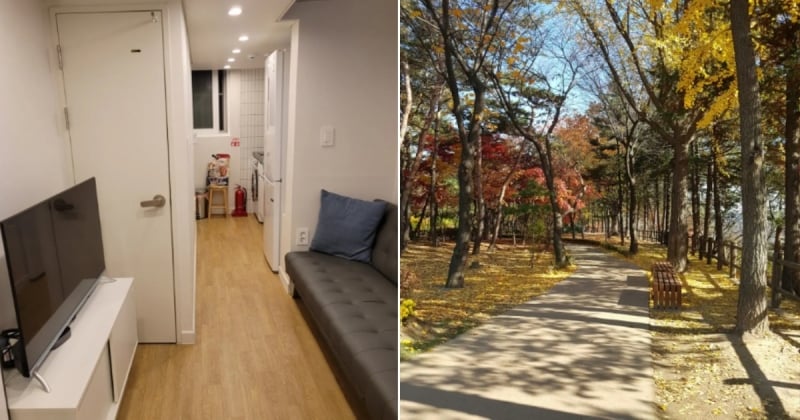 To enjoy the cherry blossoms vista around Namsan Tower, consider this tiny and simple accommodation in Itaewon. The Airbnb is amidst a park with a view of Namsan Tower, so you don't have to travel too far to enjoy the lovely cherry blossoms sight. Although small, this place has all the basic amenities and is only a seven-minute walk from the Noksapyeong Station, convenience stores, and chic cafes. 
2. This cosy studio with a river view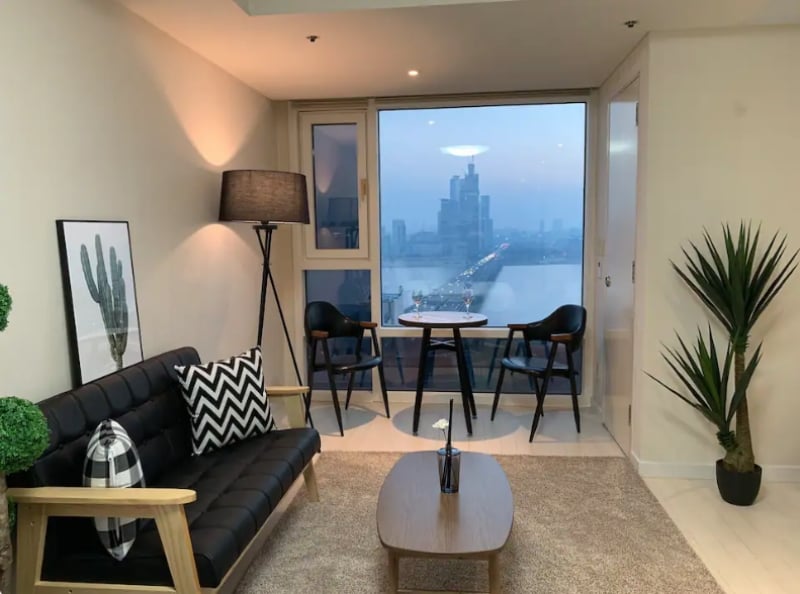 If you're looking for accommodation with a stunning view of the Han River, then this Airbnb is perfect for you. Located in the Mapo District, this stay is conveniently connected to Mapo Station and stores like 7-Eleven. You can also take the station's airport railroad to easily reach Incheon International Airport, which is just one stop away.
3. This minimalistic unit in Yeouido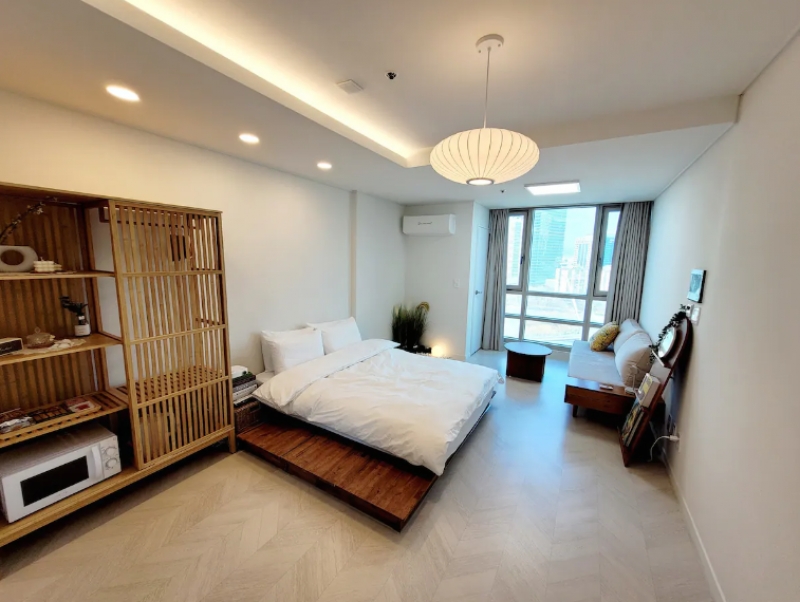 Situated on the island of Yeouido, this Airbnb features a city skyline view. It provides easy access to the malls and the lake, making it a great place to stay during your Seoul cherry blossom trip. The rooms are equipped with wooden furniture and feature a minimalist design, promising a comfy and peaceful vibe. It is also located right next to Singil Station, making it very convenient for tourists who want to explore more of the city.
4. Gangnamstay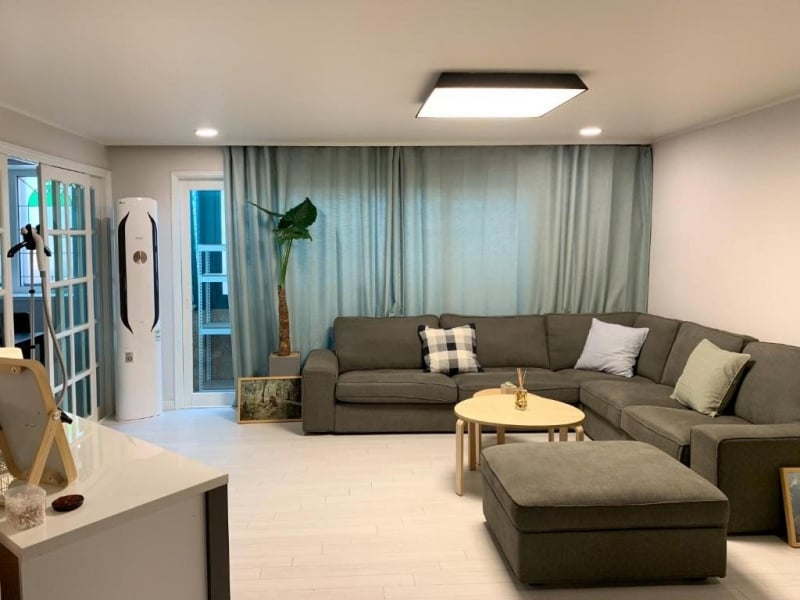 Less than two kilometres from Gangnam Station, Gangnamstay is a quaint dormitory with a shared lounge. Aside from the city view and private terrace, the host would also prepare a tasty traditional Korean breakfast for the guests. Nearby famous attractions include the Namsan Tower, COEX Aquarium, and Museum of Korean Embroidery. The Yeoksam Pine Tree Park is also just 300 metres away. 
5. Lotte Hotel Seoul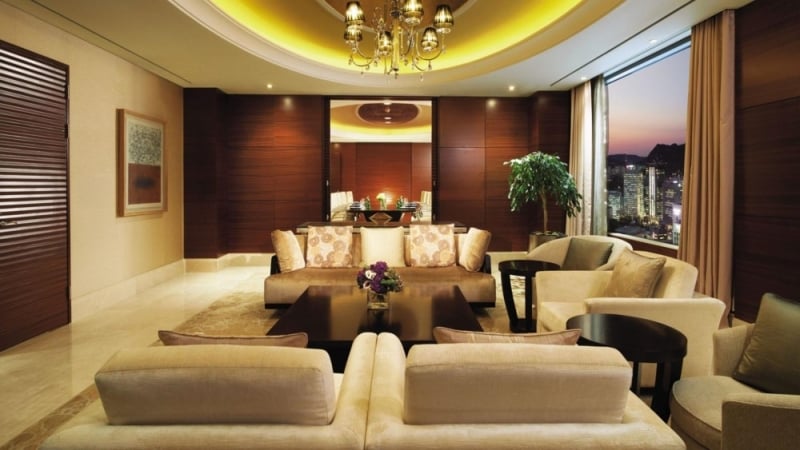 You'll find the five-star Lotte Hotel Seoul right in the heart of the city, making it easily one of the best places to stay during your trip. Its location allows guests to easily access the top Seoul cherry blossoms viewing spots, such as Seokchon Lake Park. Both the Main Tower and Executive Tower have more than 1,000 guest rooms, all of which are designed by world-class design firms and feature a stunning view of the city. The hotel's facilities include meeting rooms, restaurants, a spa, a hot spring, a pool, an indoor golf course, and more.
Tips for travelling in Seoul during cherry blossom season
1. Check the cherry blossom forecasts
When travelling for the cherry blossoms in Seoul, the first thing you would want to do is check the forecast in advance so that you can plan and time your visit as precisely as possible.
The Seoul cherry blossom trees start flowering and blooming a little differently each year. Between late March and the beginning of April is often the best time for cherry blossom viewing in Seoul. However, keep in mind that the forecasts are subject to change due to the fluctuating weather conditions, so we recommend checking regularly and allotting more days for your trip. 
Also read: South Korea Cherry Blossom 2023 Forecast: When & Where to See
2. Dress up nicely (and appropriately!)
When travelling to Seoul during cherry blossom season, do prepare clothing essentials like sweaters, jackets, long pants, and jeans; it tends to get rather cold, especially during nighttime. Besides, Seoul is known to be a fashionable city, so it wouldn't hurt to dress up nicely (and appropriately at the same time). Just imagine that you are the main character in a Kdrama or Kpop MV, accompanied by pretty pink flowers. 
3. Know how to get around the city
If you want to fully experience Korean culture, using public transportation would be recommended. Like in cities in Japan, the subway system here is very advanced, so travelling via the subway would be a good choice in Seoul. 
We recommend downloading the Kakao Metro app in advance to get ahold of the subway system. The map is useful when it comes to finding the nearest stop, the quickest and cheapest route, as well as knowing the period of time during which the subway will arrive.
Moreover, you can also consider getting the Tmoney card, as a method of payment as well as a transportation card for both subway and buses. The price of the card starts from ₩2,500 (~S$3), and tourists can get it from the airport, convenience stores, and vending machines in Seoul's subway stations.
Also read: 15 South Korea Apps to Download for Your Travels to The Land of The Morning Calm
4. Take note of the budget for the trip
Excluding airfares, the general budget for a Seoul trip during the cherry blossom season should cost around S$125 per day. The cost for meals per day should be approximately S$35, and around S$18 for transportation.
The price of accommodation will depend on your travelling style and preferences, but a standard stay in Seoul should cost around S$63 per night. If you are travelling for a week, it would be ideal to prepare a budget of S$870 or more, especially if you're planning to spend some money on shopping.
Also read: Eat Your Way Through Seoul: 12 Delicious Korean Street Foods & Where to Find Them 
5. Take note of the essential things to bring
When travelling during the Seoul cherry blossom season, remember to wear comfortable footwear, since you will probably be walking a lot while exploring the parks and other cherry blossom viewing spots.
In Seoul, both cash and card payments are widely used. Although cards are accepted in most stores, it is best to prepare more than enough cash for when you buy from markets or restaurants that only accept cash payments. Don't forget to purchase a data SIM card or turn on your data roaming. A universal adapter and power bank will be very helpful when you need to charge your electronic devices.
With the influence of K-pop and K-dramas, simple Korean phrases are becoming quite common among the international audience. Nonetheless, it is best to download a translation app to be safe and communicate with the locals better. 
Lastly, don't forget to bring a camera to capture the lovely cherry blossoms in Seoul, and save the wonderful memories forever!
Also read: Cherry Blossom Season 2023: Must-Know Tips & Essentials
So here you go, a Seoul cherry blossoms season guide for travellers who are planning to visit the city during this season. Have fun admiring the gorgeous cherry blossoms in real life and follow our Facebook page for more useful travel guides! 
---
This article contains affiliate links. When you book through these links, we may earn a small commission at no additional cost to you. All Airbnb and Booking.com images courtesy of the respective property listings.