You've travelled to Seoul more than once. You've covered the 'twirling your hanbok dress' boomerang, the 'sipping on coffee' selfie in a café and perhaps even an #ootd shot at Common Ground's hipster blue container backdrop. So, what's next?
Well, a photoshoot at Yongma Land may be the answer to your extra lit Instagram feed.
A small abandoned theme park nestled in Yongmasan, Seoul, Yongma Land is an eerily beautiful childhood haunt that gives off a surreal and nostalgic vibe, as if frozen in time. Once popular among families and thrill-seekers in the 80s, it lost its appeal gradually due to the opening of fancy theme park giants like Everland. Eventually, it ceased its operation in 2011.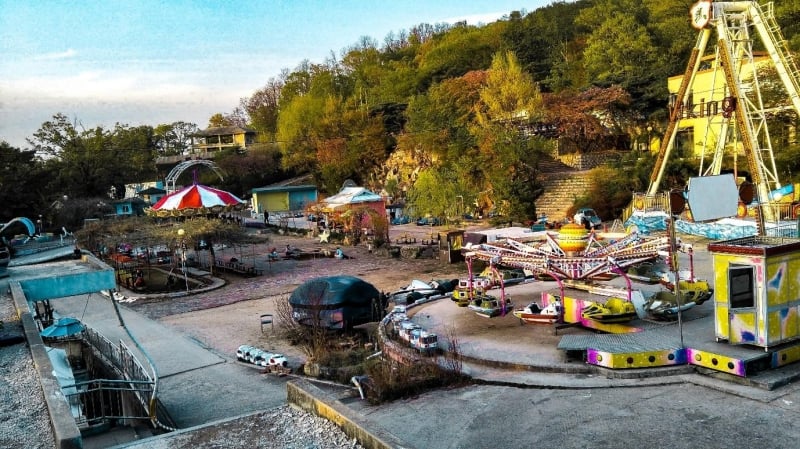 Vines and dust adorn the silent carousel, old-school dysfunctional bumper cars and once brightly-coloured Viking ship. Now in the hands of an enterprising Korean ajusshi, Yongma Land invites locals and travellers alike to revel in the ghost town-like charm for just 5,000 won.
A hidden gem away from the public's eyes, Yongma Land is also a famous MV filming and album photoshoot location for KPOP idols such as IU and EXO.
Here are five #seoulpretty spots in Yongma Land for you to nail that #ootd shot!
1. With the carousel (try out the reflection shot)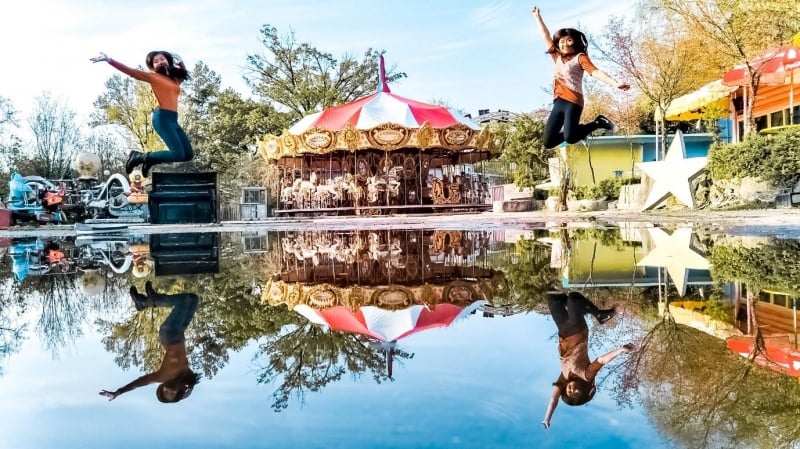 This shot might look unreal and photoshopped, but it's not. This is just a drop-dead gorgeous and creative reflection shot!
The crux of taking this photo lies in making use of the puddle of water deliberately placed in the centre of the park to capture a perfectly symmetrical reflection of yourself with the carousel.
On top of that, if you stay till around 7pm KST, the park owner will turn on the brightly-lit fairy lights, creating a breathtakingly magical moment that you mustn't miss out on!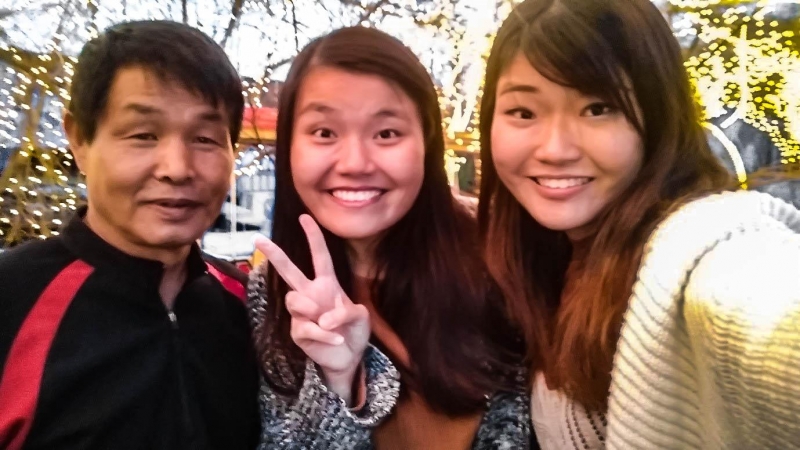 A highly skilled photographer is also necessary for a good reflection shot. We were lucky enough that this amiable park owner offered his superb photography skills, and even laid down a mat on the ground to help us capture the beautiful water reflection. So, guys, look for him when you're there!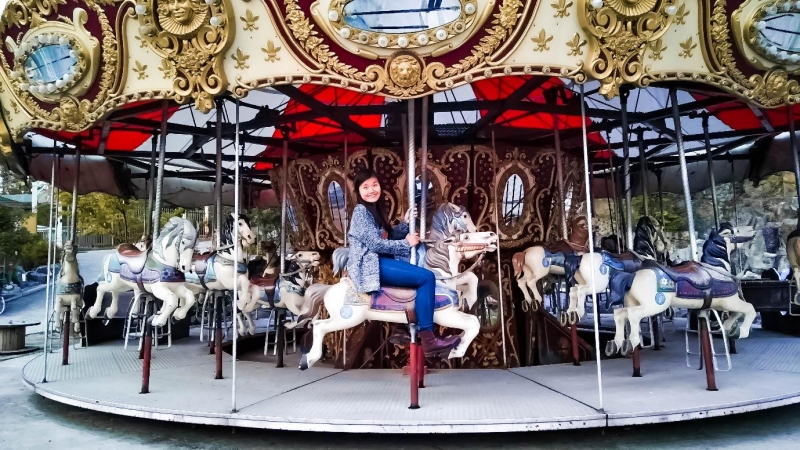 If you don't fancy interesting reflection shots (erm, why don't you?), have a go at natural or candid shots. When will you ever have the chance of taking an #ootd with an empty carousel, right? Seize the opportunity! Sit on one of the horses of the vintage carousel, face the camera or look away smiling and voila! You've got the perfect picture.
2. In a shopping trolley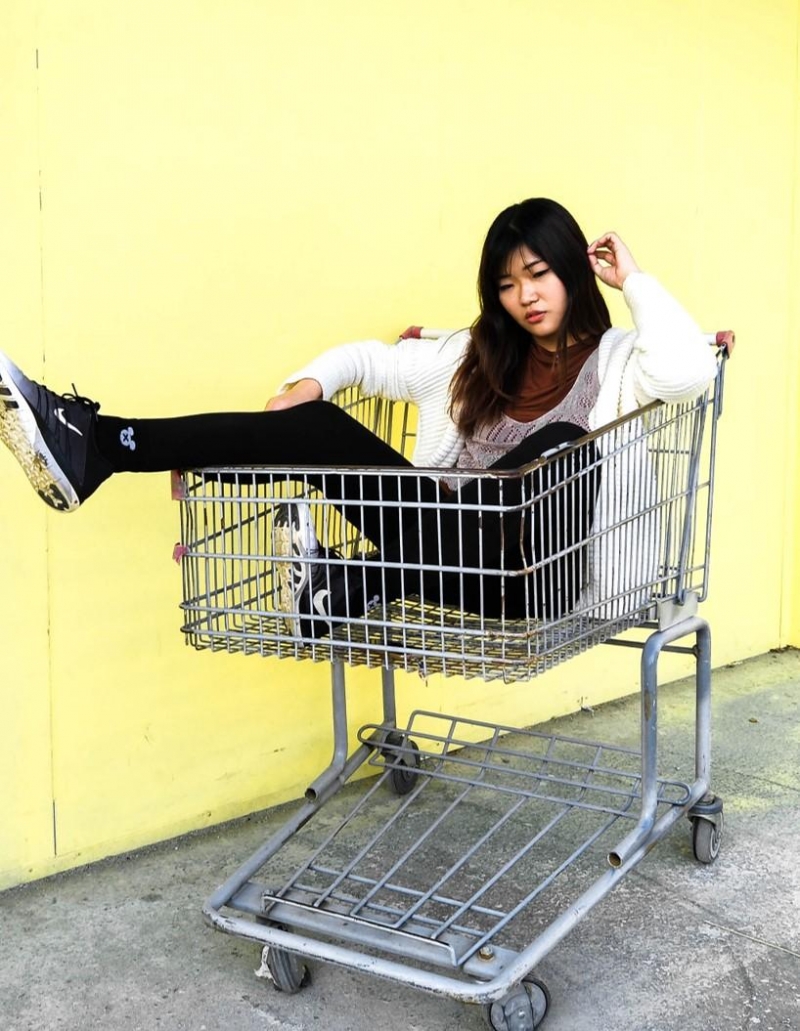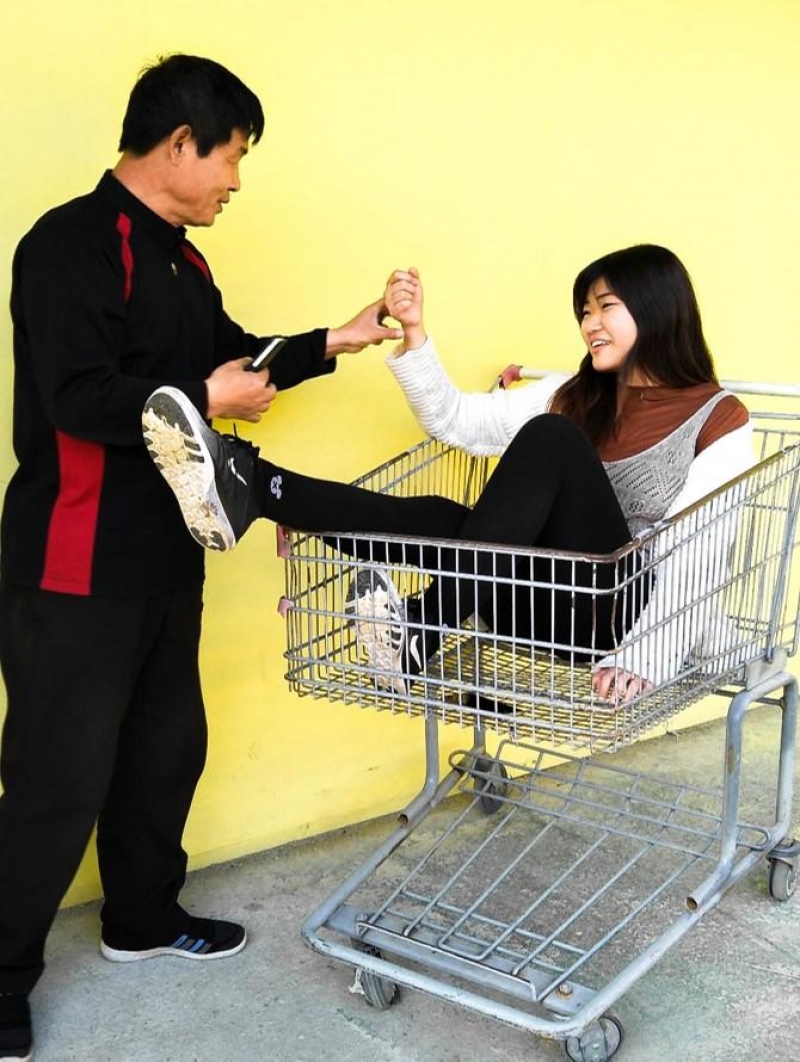 If you're an avid social media user, you must have seen how simple things used in our daily life such as shopping trolleys can be creatively used in photos or even videos.
With a keen eye for photography, the park owner positioned the trolley at a 45-degree angle in front of the yellow wall before I sat my butt in the huge and spacious shopping trolley. You can strike either an emo pose with your eyes looking slightly downwards or a 'happily having fun' pose with your hands raised up while smiling. That'll do all the trick! There're two shopping trolleys up for grabs too.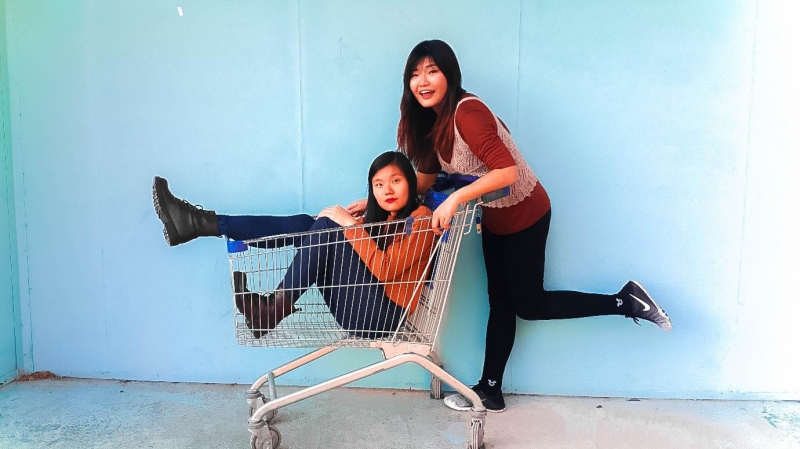 Otherwise, try out this duo shot if you're there with your friends!
3. On an antique piano
Indeed, never would I've thought of sitting on a piano top. All thanks to the park owner who provided us with a fresh approach to photographing with a piano! It's tried and tested that the piano won't break even with two people sitting on it. For a perfect duo shot, do try to mimic the actions of each other down to details like the angle you're facing and the positions of your hands and legs.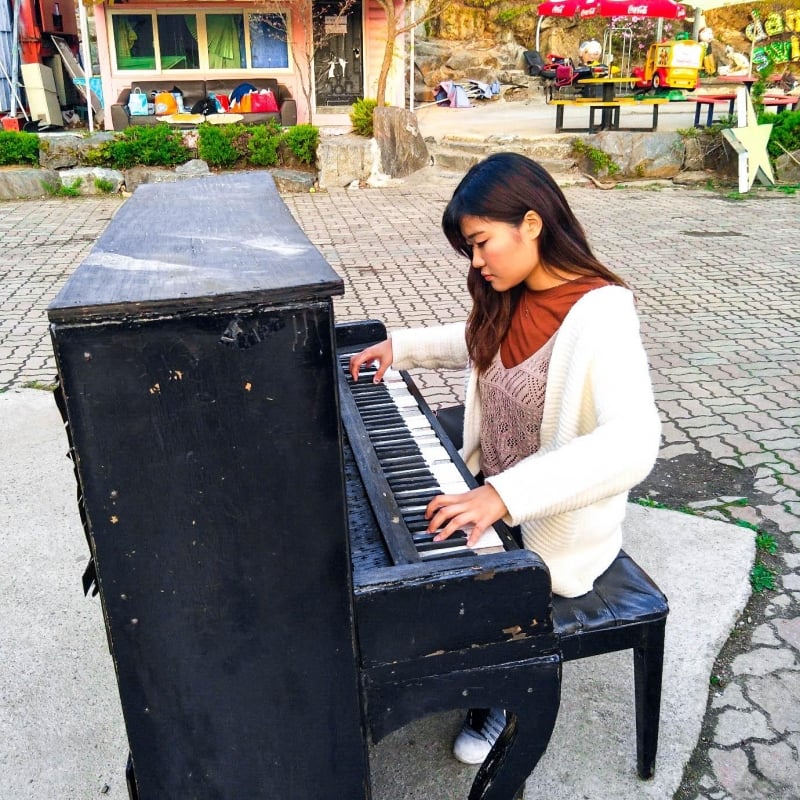 Here, put your acting skills to the test. If you act naturally as if you're really playing the piano (when you're not), it can turn out to be an unexpectedly great shot!
4. Against pastel coloured walls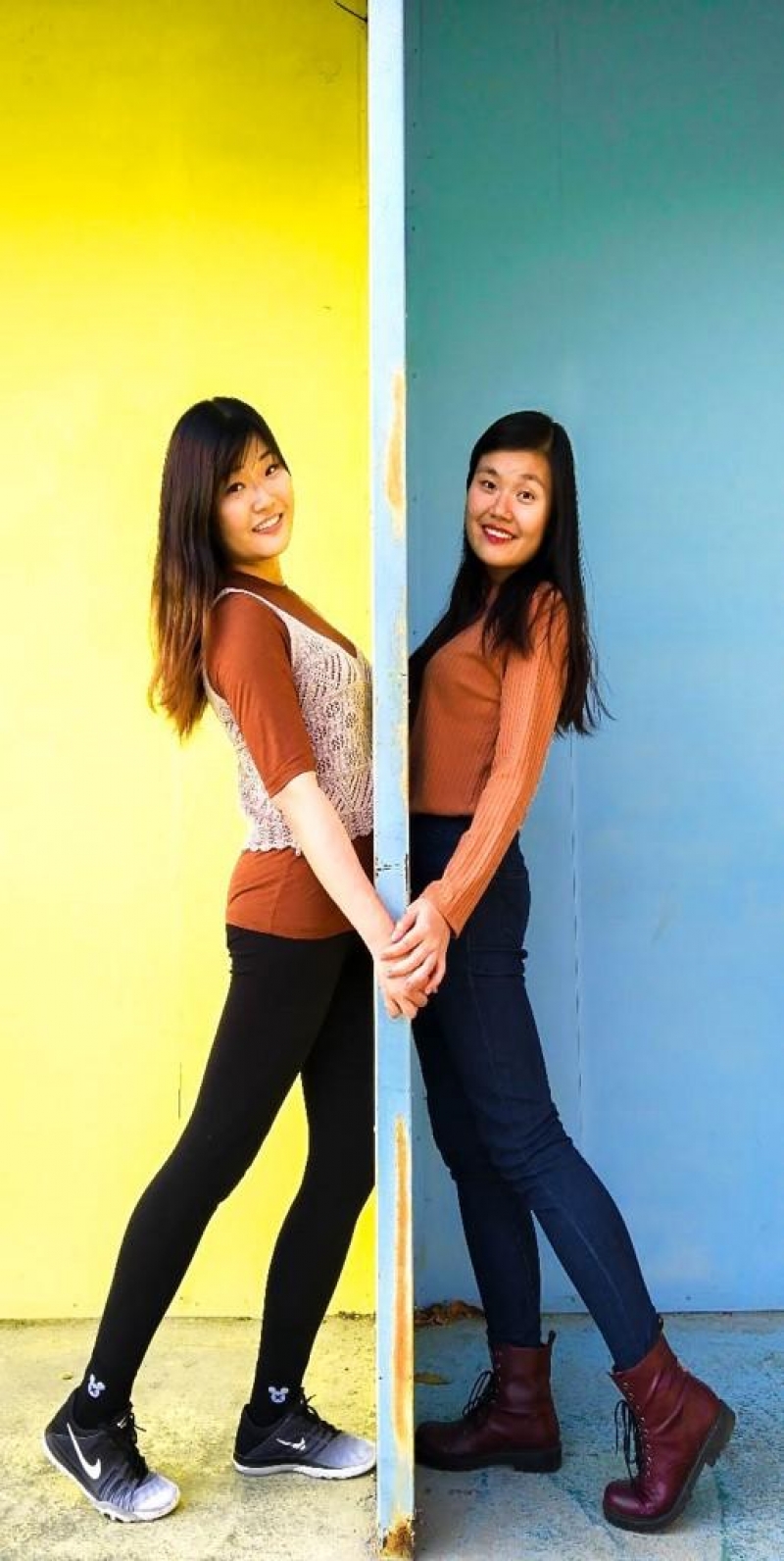 Nothing attracts me more than these bright pastel-coloured walls situated near the theme park entrance, which screams 'you MUST take a photo here!'
Our colour-coordinated outfit, with the complementary baby blue and pastel yellow colours, worked in harmony to bring out a cheery image. Using the partition as the centre, it brought out the contrast between two sides of the same wall. Try replicating this with your friend using another pose!
5. On old warehouse-like boxes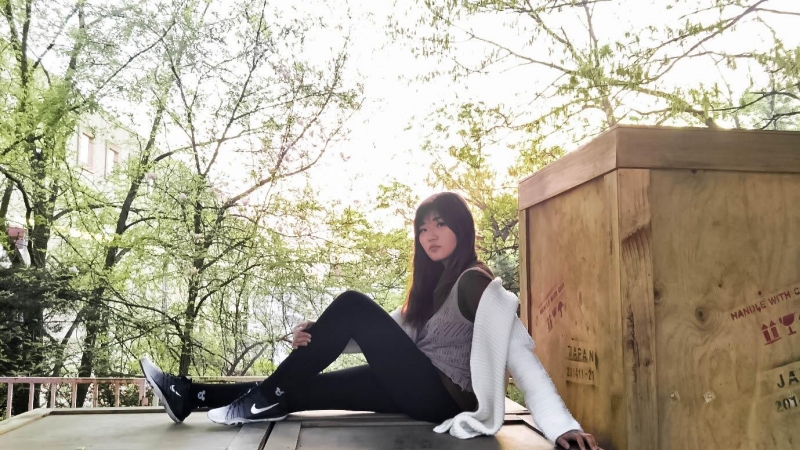 Of course, a photoshoot won't be complete without a few cool and swag pictures.
Apart from the main theme park attractions, this semi-open, old warehouse space is found in a corner under a Disney Princess castle. Visible from the outside, you have to take a few steps down a staircase to explore the space. There are huge wooden boxes written with words and graffiti art, stacked on top of each other and a torn, ripped faux leather sofa lying in the corner. A small wooden ladder is also provided for visitors to climb up the boxes. For a second, I thought gangster fight scenes could be filmed here.
With the lush greenery and natural lighting as a backdrop, strike a casual posture while looking fiercely into the camera.
6. With taxis, helicopters, army tankers and other transportation-themed kid rides
Other than famous theme park rides such as Viking ship and carousel, how can one miss out the 'sidekicks' in Yongma Land? It's indeed hard to grasp the most glam pose for taking a photo with the funfair kid rides. But the cute transportation-themed kid rides add colours to your otherwise plain #ootd yet won't steal your limelight away. Here're a few inspirations for you to reference from!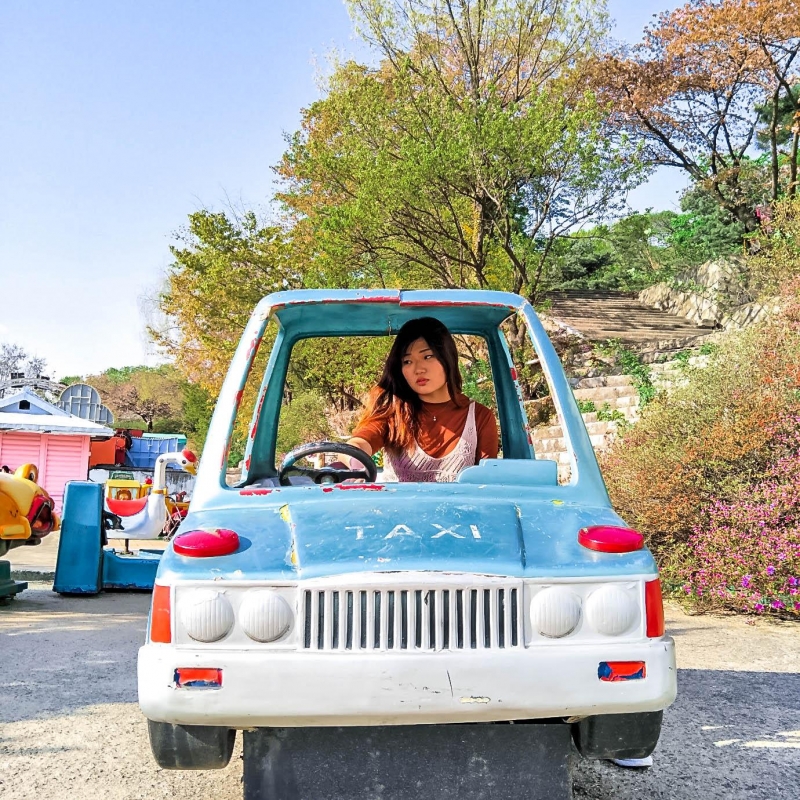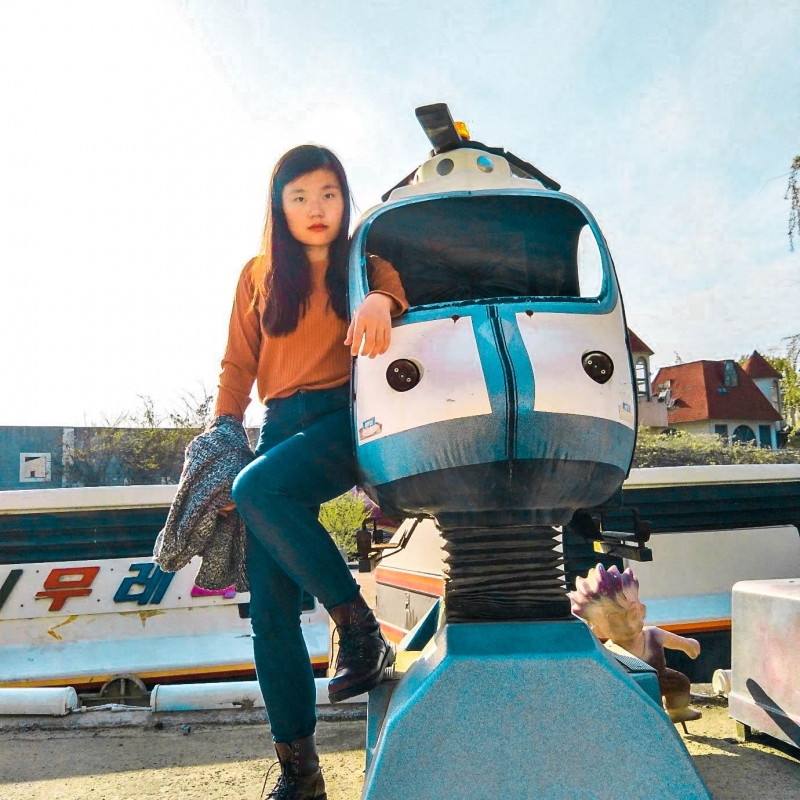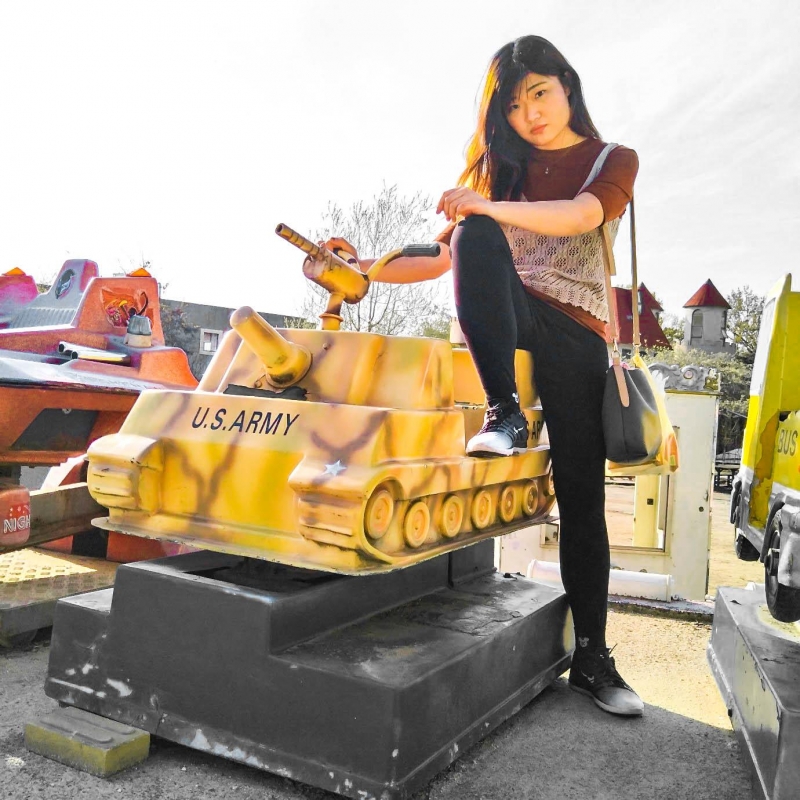 From whimsical photography props like huge shopping trolleys to uniquely dilapidated rides and enchanting brightly-lit fairy lights at night, Yongma Land has checked off all the must-haves of a unique photogenic spot in Seoul.
So, next time if you're in Seoul and have run out of places to visit, you know where to go!
Address: 69-1 Mangu-dong, Jungnang-gu, Seoul, South Korea
How to get there: The easiest way is to hail a cab (around 3,000 won for 2 minutes ride) from Mangu Station. Yongma Land is a well-known attraction to many taxi drivers, so they do know the driving route. You can choose to explore on foot too. But it's not possible to get there by subway or bus.
My sister and I spent around 3 to 4 hours in Yongma Land. If you don't want to miss the fairy lights that'll only turn on at around 7pm KST, I'd recommend going there in the late afternoon.