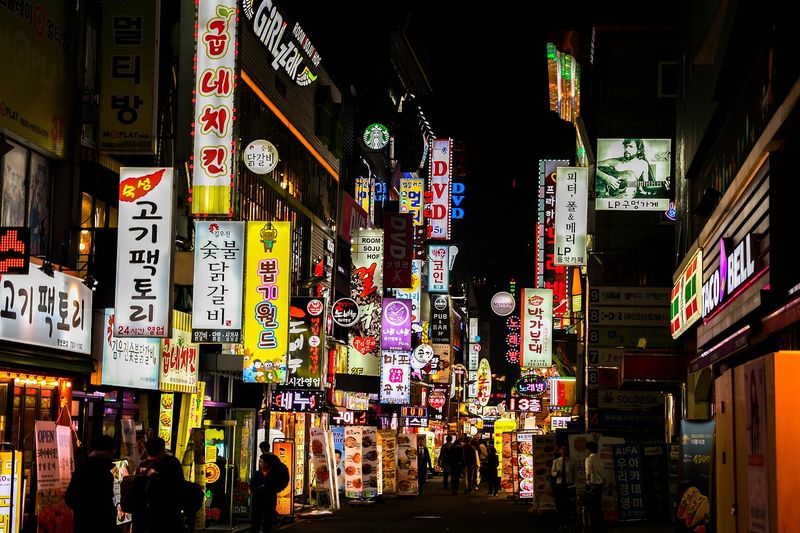 Done for the night but not ready to call it a day? On a late night in Seoul, there's always the option of all-night shopping at Dongdaemun or a late-night chow down on a bowl of ramyeon or Korean street food.
However, there's way more to Seoul than just shopping, eating and partying! As the sun goes down, the city of Seoul comes to life as the streets explode into a sea of neon hues and friendly chatter. Read on to discover all the coolest things you can do after dark in South Korea's buzzing capital.
1. Sing the night away with noraebang
Karaoke, or noraebang, is serious business amongst Koreans and a typical noraebang comes equipped with a high-tech set up, along with a mindblowing range of songs. Spend the night belting out your favourite tunes and compare your performance to your friends with the in-built grading system.
There are tons of noraebang places around Seoul for you to choose from, but remember to be discerning and make sure you're getting into some clean fun! Luxury Su Noraebang has numerous branches and is incredibly popular due to the quality equipment, pleasant service and comfortable interiors.
Luxury Su Noraebang
24 hours daily
2,000 won per person before noon, 8,000 won – 28,000 won after noon
2. Hang out at the Han River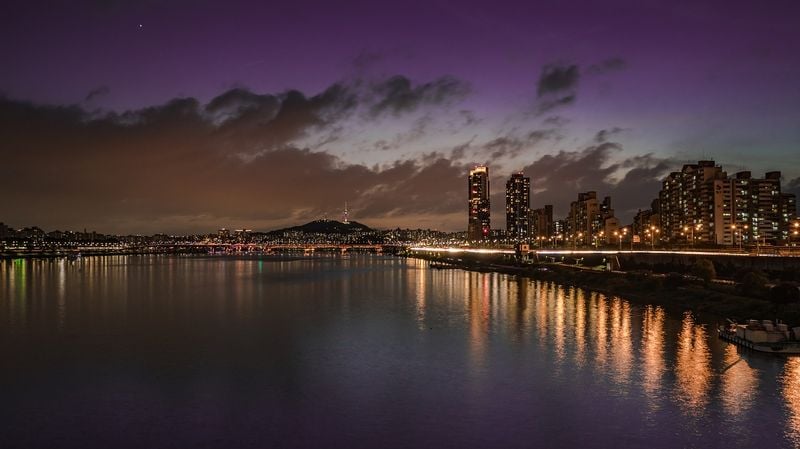 While the Han River is great for paddle boating and picnicking in the day, by night it transforms into a tranquil spot to just chill out and admire the bright lights and still waters. The Hangang Park, which consists of over 10 different parks across various districts, offers a variety of quiet and scenic locations to relax by the river. If you're travelling to Seoul in the summer, you can even participate in the various events being held near the river, like outdoor movie screenings and concerts!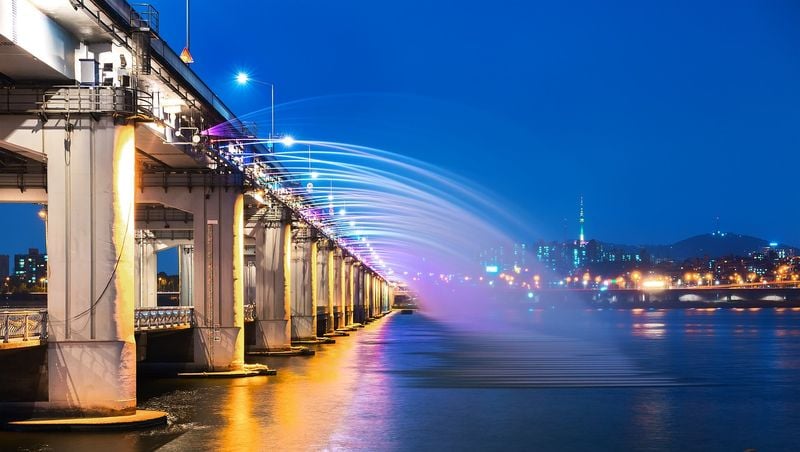 Don't miss the Banpo Bridge Rainbow Fountain as well, a dazzling multi-coloured light show that is a guaranteed to take your breath away. If you'd like to enjoy the Han river from a slightly different perspective, take the Hangang River Ferry Cruise for a gorgeous ride along the glittering waters, complete with excellent views of the Banpo Bridge Rainbow Fountain and a delicious meal!
Hangang Park
Seoul-si Seongdong-gu Seongsu1-ga 1-dong
24 hours daily
Banpo Bridge Rainbow Fountain
40, Sinbanporo11-gil, Seocho-gu, Seoul
Operating hours depend on season so check the website for information beforehand
Hangang River Ferry Cruise
290, Yeouidong-ro, Yeongdeungpo-gu, Seoul
10:30 – 2100 daily
3. Set a new high score at the arcade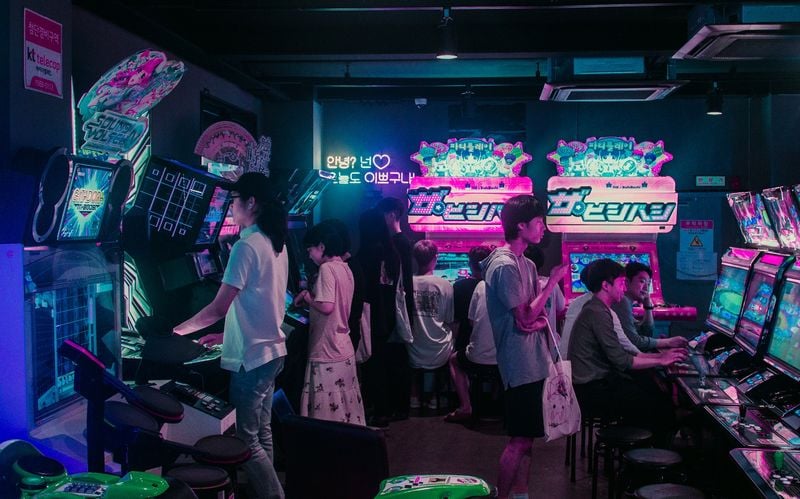 Another '90s revival trend, playing arcade games has sent a jolt of nostalgia through the Korean youth, with plenty of new arcades opening in Seoul. From Street Fighter consoles to claw machines, grab a friend and embark on a blast to the past. Head to Funnyland, one of the bigger players in Seoul, and hop on to any of their brightly lit machines for a fun and enjoyable night!
Alternatively, Rabbithole Arcade Pub offers a slightly more laidback gaming experience with its cosy and quirky decorated interiors. Even if you're not one for games, you can kick back with a drink or two and groove to the great music!
Funnyland
46-1 Eoulmadang-ro, Mapo-gu, Seoul
Rabbithole Arcade Pub
Yongsan-gu, Yongsan-dong 2-ga 39-17, B1, Seoul, Korea 04391
20:00 – 0200 (Tue-Thu), 19:00 – 0400 (Fri-Sat), closed on Sun
4. Chill out to some live jazz
Seoul's jazz scene is thriving, from upscale, glossy bars to funky, little outfits, all piping out stellar music. Appreciate the bluesy sounds from some of the best jazz musicians in the country as you sip on a cocktail or two. Not to be missed is Seoul's oldest jazz club, All That Jazz, which has recently moved to a bigger venue to accommodate the growing crowds flocking to it daily.
For a more local selection of music, head to Soul to God which is a snazzy restaurant bar that highlights local talents and offers a wide range of food and drinks. Crazy Horse, on the other hand, offers a slightly different but no less electric atmosphere, boasting handpicked musicians and delicious cocktails. Take your pick and jazz up your evening!
All That Jazz
3F 112-4 Itaewondong, Yongsangu, Seoul, Korea
18:00~01:00 (Sun-Thu), 18:00~02:00 (Fri, Sat) (check website for show timings)
Soul to God
3/F 89-4 Cheongdam-dong, Gangnam-gu, Seoul, Korea
17:00 – 04:00 daily
Crazy Horse
546-6 Sinsa-dong, Gangnam-gu, Seoul, South Korea
18:00 – 02:00 (check website for show timings)
5,000 won – 8,000 won for entry to special performances
Website
5. Meet your match at a booking club
If you're single and ready to mingle, skip the regular clubs and head to a booking club instead! Korea's booking clubs have changed the dating game, making finding your date for the evening that much easier. A game of real-life Tinder, these clubs are also called "hunting clubs" and rightfully so! Go with a group of single girl and guy friends, tell the waiter your interests, and the waiter will match you up with someone from another table until everyone has a date!
Most clubs have age limits of between 24 and 35. At Wang Dae Bak Join Club, the minimum age is 26 though it purportedly has an extremely high matching success rate!
Wang Dae Bak Join Club
B1, 81, Dongil-ro 22-gil, Gwangjin-gu, Seoul
19:00 – 07:00 (Sun-Thu), 19:00 – 08:00 (Fri-Sat)
6. Experience your own "Night at the Museum"
You probably won't be dealing with animal exhibits that literally come to life but a couple of museums in Seoul offer the novel experience of seeing their exhibits in a new light.
The Museum of Modern and Contemporary Art, Seoul and Seoul Museum of Art have extended hours regularly, inviting you to appreciate art under the cover of night. Even better, entry to the Museum of Modern and Contemporary Art, Seoul, is free after 6pm!
Museum of Modern and Contemporary Art, Seoul
30 Samcheong-ro, Sogyeok-dong, Jongno-gu, Seoul 03062
10:00 – 18:00 (Sun-Thu), 10:00 – 21:00 (Fri-Sat)
4,000 won per person (free after 18:00)
Seoul Museum of Art
Deoksugung Gil 61, Jung-gu, Seoul
10:00 – 18:00 daily, Museum Night: 10:00 – 22:00 (every second and last Wednesday of the month)
Entry fee depends on the exhibition
7. Hit the clubs!
You can't go wrong with good ol' clubbing to party the night away. The clubbing scene in Seoul is diverse and thriving so you can choose whatever tickles your fancy. Club Octagon is possibly the capital's biggest club, plays smash hits and is at the top of several international club rankings. The great music and mind blowing experience doesn't come cheap though – be prepared to shell out a pretty sum as cover charge!
If hardcore partying is not up your alley, head to Vurt (for its good underground electronic music) or Brown (for its laid-back R&B and hip-hop tunes). For something off the beaten path, visit Trance, Seoul's oldest gay club and beyond good music, for amazing performances by trans ladies on the weekends.
Club Octagon
B1/B2 NewHilltopHotel, 645, Nonhyeon-ro, Gangnam-gu, Seoul, Korea
22:00 – 07:00 (Thu-Sat)
30,000 won per person including one drink
Vurt
Dongmak-ro, Hapjeong-dong, Mapo-gu, Seoul, South Korea
23:00 – 05:00 (Wed), 23:00 – 07:00 (Fri-Sat)
10,000 per person
Brown
21 Yanghwa-ro 6-gil, Seogyo-dong, Mapo-gu, Seoul, South Korea
21:00 – 04:00 (Tue, Wed, Sun), 21:00 – 06:00 (Thu-Sat), closed on Mon
15,000 won per person (Fri-Sat), free on weekdays
Trance
7 Usadan-ro 12-gil, Itaewon 1(il)-dong, Yongsan-gu, Seoul, South Korea
23:00 – 05:00 (Wed-Sun)
10,000 won per person including one free drink
8. Be enthralled by street performers
K-pop idols-in-training often take to the streets and offer free street performances at various corners across Seoul. Watch singers, rappers, dancers, musicians and magicians showcase their stuff – the heartbeat of Seoul's creativity and artistic talent. Some popular areas to catch street performances are along Eoulmadag-ro and Hongik University Street in Hongdae, and  near Sinchon Railway station and Maronnier Park, Daehangno.
9. Go old-school with vinyl
Ditch your regular late-night bar haunts for a vinyl bar. Be awed by the towering shelves of records that are sometimes from the owner's own personal collection.
Started by two long-time friends, Man-pyung boasts a cozy interior and offers a unique drinking experience in Seoul. Request a song and the DJ on duty will do his best to accede to your request, or find the next closest thing! Another bar that spins vintage vinyl is Music Pub There There, which serves delicious cocktails named after bands like Oasis and Coldplay.
If you're not into the whole bar scene but still enjoy vinyl records, try Hakrim Dabang, which serves an impressive range of desserts, tea and coffee. Cocktails are also available for you to enjoy as you immerse yourself in the funky tunes!
Man-pyung
2F, 27 Tojeong-ro
18:30 – 02:00 (Tue-Sun)
Music Pub There There
33-9, Donggyo-ro 38-gil, Mapo-gu, Seoul
17:00 – 03:00 (Mon-Fri), 17:00 – 05:00 (Sat-Sun)
Hakrim Dabang
94-2 Myeongrin 4-ga, Jongno-gu, Seoul
10:00 – 23:00 daily
10. Keep it exclusive with speakeasies
Spend your evening in Seoul's most private speakeasy bars and be transported back in time to the Prohibition era amidst the dark wood, leather seats, and the finest drinks and cigars. Take a trip down the rabbit hole at Alice and enjoy drinks in its snazzy interior.
For a taste of some fine whiskeys, Speakeasy Mortar is a must-visit – that's if you can find it. Maintaining an air of mystery, this speakeasy has no WiFi available and a strict "no photos" policy. Echoing the style of speakeasies past, no dancing is allowed either!
As exclusive as Speakeasy Mortar is, it's nowhere as exclusive as Le Chamber. You'll find yourself confronted with a small library – tug on the right book to be welcomed into the lavish high ceilinged room that will take you back to the roaring twenties.
Alice
84-20 Cheongdam-dong, Gangnam, Seoul
19:00 – 03:00 daily
Speakeasy Mortar
73-4, Dokseodang-ro, Yongsan-gu, Seoul
20:00 – 02:00 (Mon-Wed, Sat), 20:00 – 04:00 (Fri), closed on Fri
Le Chamber
83-4 Cheongdam-dong, Gangnam-gu, Seoul, South Korea
19:00 – 03:00 (Sun-Thu), 19:00 – 04:00 (Fri-Sat)
Now, who says all you can do in Seoul at midnight is just shopping and eating? Whether you're down for a relaxing evening or looking to find your own Korean oppa, Seoul is a whole new playground at night that's waiting to be explored! For more information on Seoul's nightlife, visit the Korea Tourism Organization's official website and Facebook page.
---
Brought to you by Korea Tourism Organization (Singapore Office).