Not too long ago, I published a brief guide to the Taiwanese port city of Kaohsiung but of course, being a BRIEF one-day itinerary, it was impossible to cover everything about the city. For months, I struggled with the guilt of selling that wonderful city short as I reflected upon myself in the deep, dark corners of my soul, searching for a way to redeem myself in this unforgiving world.
Okay, I'll skip the drama. So, down to business, this article is going to convince you just why Kaohsiung should be your next destination when you visit Taiwan!
P.S.. I'm going to skip over the basic information such as transport and MRT maps because you can read all about that in my previous Kaohsiung article. (Please do. Support my fragile ego. Please?)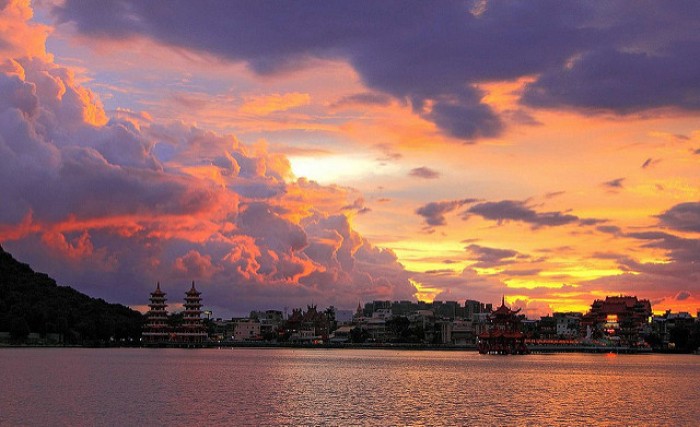 Image credit: Franx'
Kaohsiung has some fine AF scenery
Initially, wanting to cover all the major attractions in Kaohsiung seemed like a good idea but now that we've started…phew, where do we even begin?
Shoushan
Okay, let's start with Shoushan. What's there to say about it? It's a national park, it has a zoo, it houses a few monasteries and religious shrines. It's a beautiful place, basically. The scenic, hilly area is a good escape from bustling city life and certainly, the air is much fresher there. It's hard to miss any of the attractions in the Shoushan area, but what's most enjoyable is the hike up to the park itself. As you stop off at the various locations, look back at the direction you came from. You'll get a sense that you're leaving behind the busyness of the city. At certain points of the hike, you'll be able to peer down at the busy port and then it hits you. The serenity, the calm, the…shall I say it? Zen. Soak in the calm environment as you make your way up further still and you'll pass by a few resting shelters where they serve tea (you have to buy the tea, ahem) and you can just sit back, relax, and enjoy the view.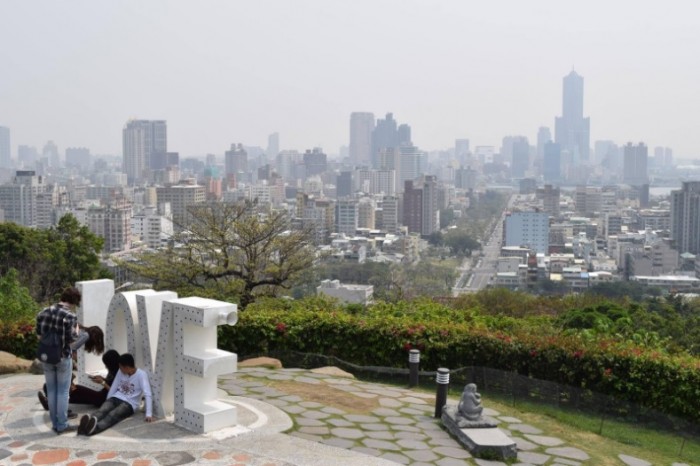 As you stop off at the various locations, look back at the direction you came from. You'll get a sense that you're leaving behind the busyness of the city. At certain points of the hike, you'll be able to peer down at the busy port and then it hits you. The serenity, the calm, the…shall I say it? Zen. Soak in the calm environment as you make your way up further still and you'll pass by a few resting shelters where they serve tea (you have to buy the tea, ahem) and you can just sit back, relax, and enjoy the view.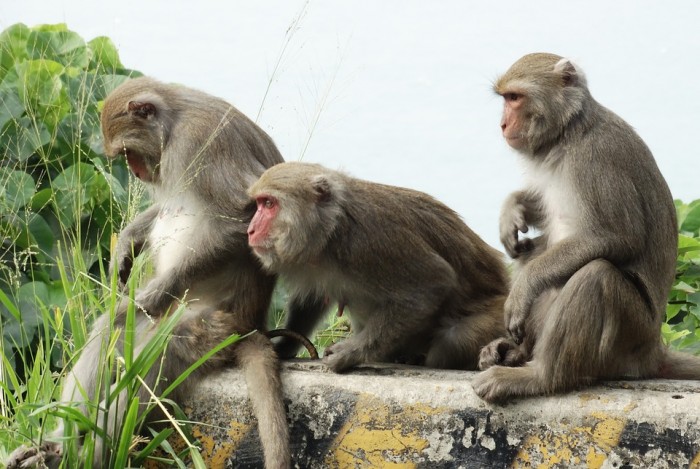 Image Credit: gilcricri
Your ears will also be treated to some beautiful sounds. Until you realise what's making those sounds. Yes, occasionally, some monkeys will get curious and may come a little close to the road and you will encounter them as you hike. Now, I know you're not children, but sometimes, these things have to be said anyway: these are not pokemon. Do NOT try to catch them, or feed them, or coax them into a selfie. Just let them be and don't give them a reason to come after your belongings. Shoushan is called Monkey Mountain by some in English for a reason.
Moving on!
River of Love
You know, water has always been related to love. You know the clichés. My love for you runs like a river, like an endless stream. There's something romantic about staring out at a lake or a pond, isn't it? Well, in Kaohsiung, you can quite literally visit the River of Love (Ai He in Mandarin).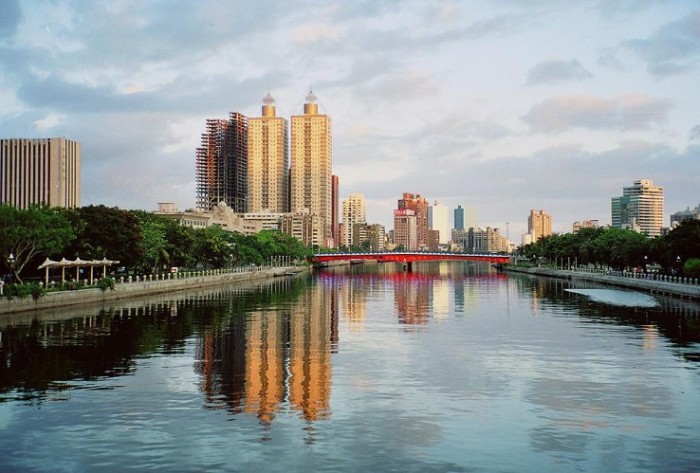 Image credit: Henry Trotter
Now, I wouldn't want to trump up the Love River and leave you disappointed, so here's the truth. Some will love it, some will think it's a waste of time. As mentioned, the Love River is another piece of beautiful scenery in the city of Kaohsiung, perfect for a stroll and for taking a few scenic photographs.
Love River Park
I recommend visiting at night when the lighting decoration of the buildings on both sides of the river add to the ambience of the view. Within the vicinity of the Love River is Love River Park, where is a hub of local activities during the evening, just before the sun sets. You'll find people cycling, jogging and just having a fun time. There are also many cafes around for those who would prefer enjoying the sights of the river with a cuppa in hand.
Lotus Pond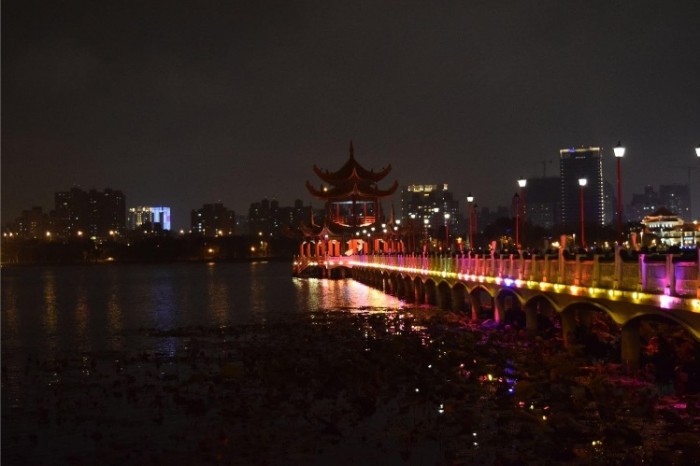 Keeping our heads above water (my pun game has seriously suffered, hasn't it?) We have the Lotus Pond! Now this, I must insist you visit at night. The reflection of the light in the water makes it a truly mesmerising sight to behold. Too bad my photography wasn't on point then. Apart from being a beautiful pond with lotus plants (…), the Lotus Pond is home to the iconic Tiger/Dragon Twin Pagodas (that's what I call them, it might not be their official name).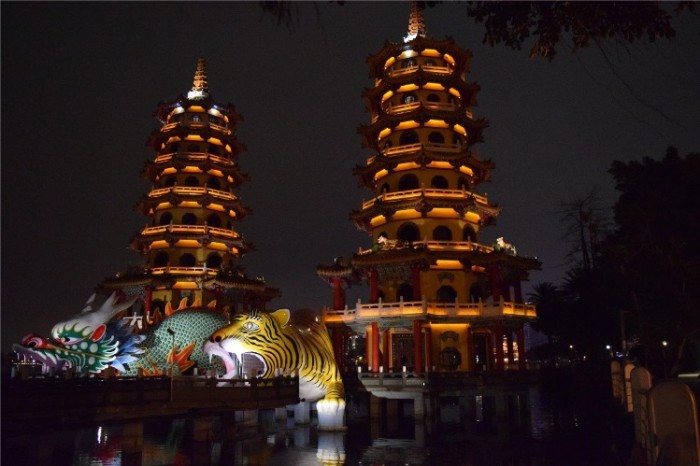 What makes them special are the entrance and exit points. To enter and leave the pagodas, you basically get swallowed up by a dragon (the entrance is quite literally a dragon sculpture) and get spit back out by a tiger. Apart from that fun experience, there are multiple religious statues of Buddhist/Taoist origins and temples and shrines nearby. During the day, you could snag yourself a nice jade pendant/souvenir from one of the many stores operating nearby.
Kaohsiung is an artsy paradise
For those of you who appreciate art and love museums, Kaohsiung has every bit of potential to blow your mind! The city celebrates local artists and houses a fine selection of museums and exhibitions that are sure to inspire and entice your artistic side.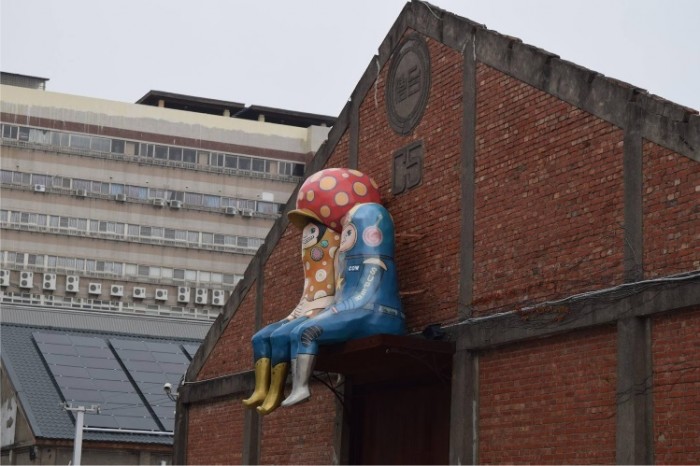 Pier 2 Art Centre
Let's start with my personal favourite: the Pier 2 Art Centre. It's an entire area that has been designated as an exhibition spot for local artists. You'll mostly find creative art installations here featuring cultural icons such as Bumblebee of the Transformers and local Taiwanese/Chinese cartoon characters. There are also many other interesting 3D and optical illusion-based art installations that are sure to bring out the inquisitive child in you.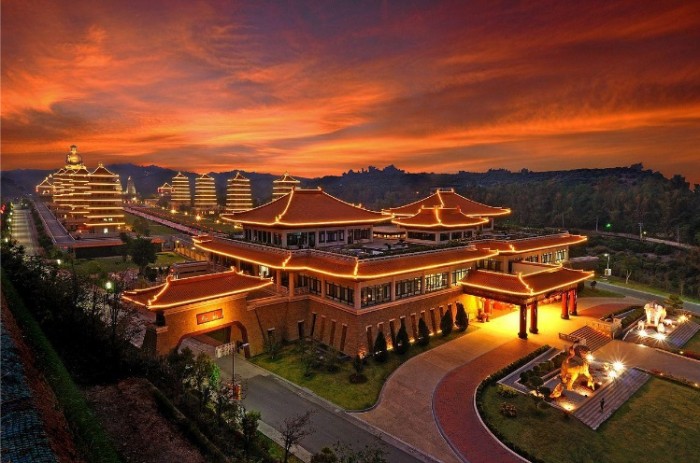 Image credit: Shih Ruchang
Fo Guang Shan Buddha Museum
There's also the Fo Guang Shan Buddha Museum, which, as the name suggests, houses many Buddhist artefacts and exhibitions. Despite the religious nature, I highly encourage visiting the museum, if not for the unique showcases then for the beautiful scenery outside. It's also free admission, so, there's that. AND there's a vegetarian buffet that's served for devotees and guests. I didn't have the chance to try it but I hear that it's pretty good! (Psst, we'll get to food later)
Dome of Light
Apart from the Art Centre and Buddha Museum, there are also many of the usual museums such as the Kaohsiung History Museum, the Takao Train Museum and the Fine Art Museum. But one artistic exhibition most people miss is the Dome of Light, which is housed in Formosa Boulevard MTR station. It's not a museum per se, but who says everything artistic belongs in the museum? It's still quite a sight to behold if you ask me!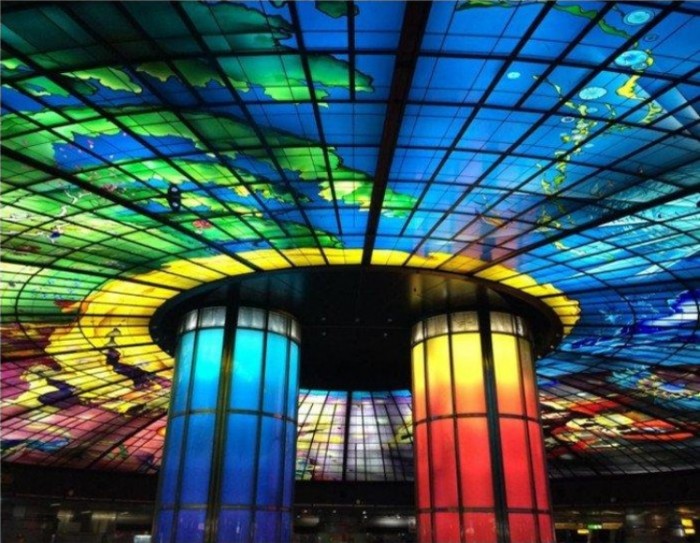 Take a day trip to Cijin Island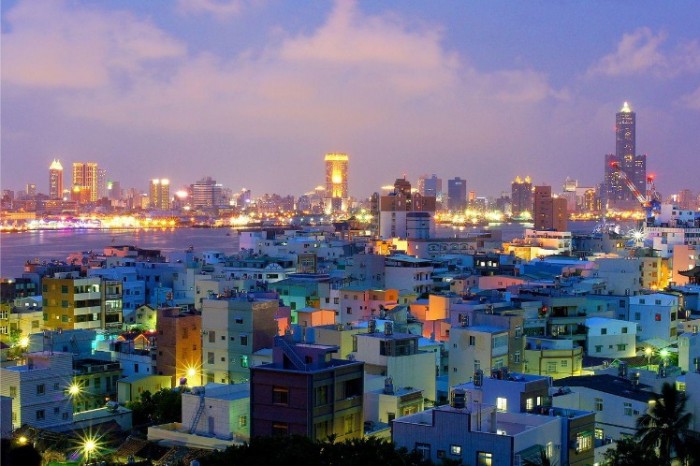 Image credit: Peellden
Now, if you're in Kaohsiung, do yourself a favour, head to Gushan, hop on a ferry and take a day trip to Cijin Island. It's a small island not far off the coast and it's a beautiful little gem. It houses some amazing historical landmarks such as the Cihou Fort and Lighthouse, and the Tianhou Temple, the oldest mazu temple in the world. It is also listed in Kaohsiung's protected relics list, the only temple in the whole city to be on that list.
Being an island, Cijin is also an ideal spot for beaching and great seafood!
The night markets are just as good As Taipei's
Taiwan is night market. Night market is Taiwan. Goodness, that sounded better in Korean but I digress. Any worthwhile tourist destination in Taiwan (and any country for that matter) is anchored in its street food. And Kaohsiung just so happens to have some of the best night markets selling some of the best street food there is to find!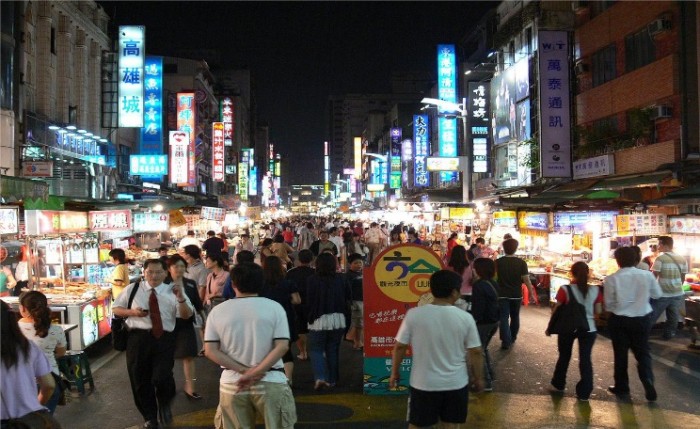 Image credit: WikiLaurent
There are many night markets in Kaohsiung but the two most famous ones are the Liouhe Night Market and the Ruifeng Night Market. Personally, I prefer the latter. It's has a more ambient (read: chaotic and packed like sardines) feel to it for a night market and the food is amazing. Many locals and students throng the small area of stalls during the weekends and if you manage to survive all that, your tummy will thank you and love and cherish you. What's that you say? Pictures?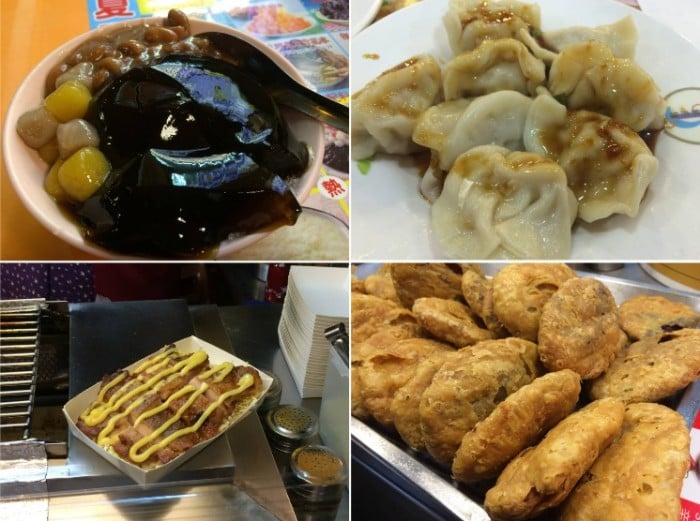 I was too busy eating to take many more pictures, so there are obviously some iconic food items missing, such as Taiwanese fried chicken, Taiwanese sausages, Taiwanese sausage rolls (it's a hot dog, except it's meat wrapped in meat), drumstick rolls (boneless chicken drumstick, grilled till crispy) and much more.
Kaohsiung is a shopping haven
I've always said that Kaohsiung is my favourite city in all of Taiwan and one of the top reasons is because it is a metropolitan city, as modern and developed as Taipei, but is comparatively more economical and less crowded.
Shopping in Kaohsiung can be a real joy, especially if you're out for a bargain. You can shop in the many night markets of course for lovable trinkets and souvenir shops are aplenty throughout the city. But right now, I'm talking shopping in the malls.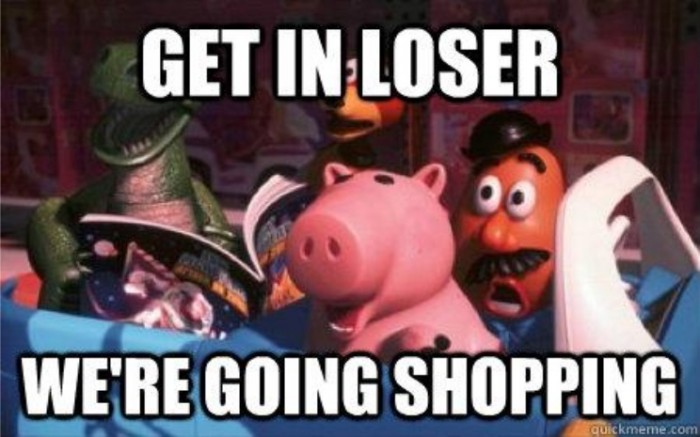 Image credit: Quickmeme
I usually don't go shopping at the mall when I'm out travelling, nor do I recommend it. But shopping in Kaohsiung can sometimes be so cheap (especially when they have end-of-season clearance sales) that not going might be a real waste.
There are multiple mega shopping malls in Kaohsiung but I'll just highlight two of them. Why? Because I'm approaching a word count which makes it a mid-term university essay. Also because there's something special about these two malls.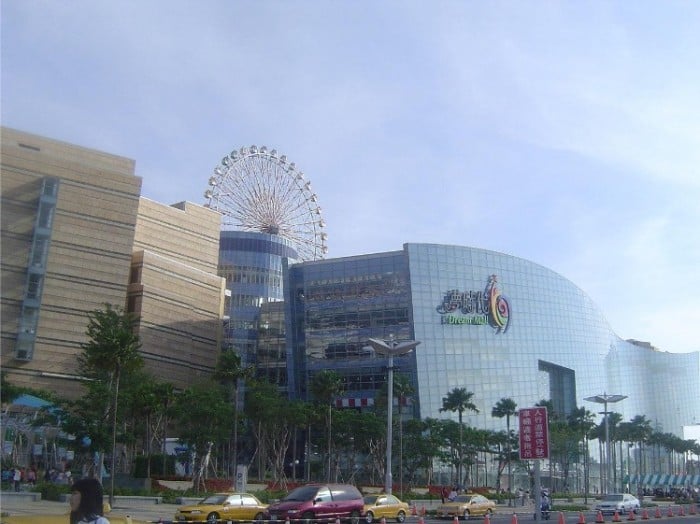 Image credit: 小鄧 
Dream Mall
The first one is the Dream Mall. Quite an apt name if you ask me! It's the largest mall in Taiwan and some say in South East Asia (channelling my inner Phua Chu Kang). It has 10 floors (not including the basement levels which are the food courts mostly) and each floor follows (generally) a certain theme.
For example, most of the kids' department can be found on floor…5? Or was it 6? You get the idea, though, right? You can find almost anything here and the price isn't through the roof either. So, owning your dream handbag won't just have to be a dream anymore. Haha…haha…ha….ahem. Also, there's a Ferris wheel on the roof (don't ask) and a Cineplex on the 8th floor.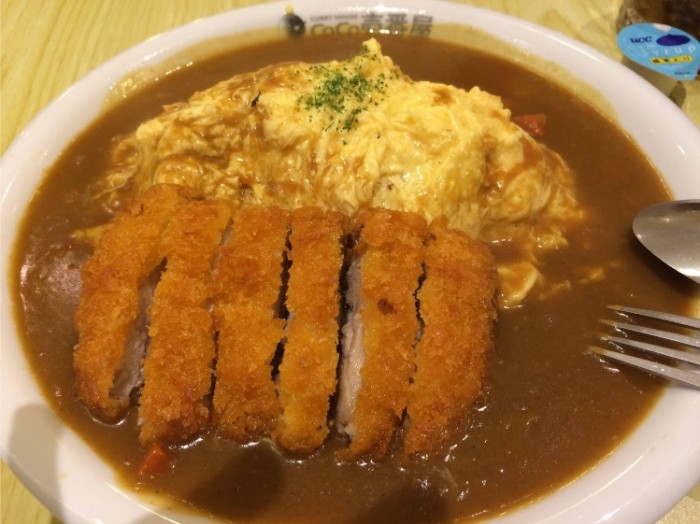 Han Shen Arena Mall
The next destination to shop till you drop is the Han Shen Arena Mall. It also features a little over 10 floors of anything you would want to buy at a mall. When I visited Kaohsiung, it was one of the newest department stores around (not too sure about right now) and it's extremely easy to get to. Just ride the MTR red line to Kaohsiung Arena. You'll find the mall easily once you're there.
The products range from casual day-to-day stuff to high end, designer products. What I like most about Han Shen Arena Mall is that one of the floors is purely dedicated to Japanese food and I am all for Japanese cuisine.
Kaohsiung is a great place to visit
All in all, Kaohsiung is a great place to visit and a top destination, if not THE top destination in Taiwan. (Ahem, I am prepared for all the flaming comments, should they come). Still, I feel like I've left out some more great destinations in Kaohsiung and that I've not fully covered everything. Still, I hope I've given you enough to convince you that Kaohsiung really should be your next destination in Taiwan! You won't be able to live with yourself if you skip over this port city when you travel there! So quit your yappin' and get to packin', the port city of Kaohsiung beckons!