I've been an avid Harry Potter fan since I was 10 years old. I've read all 7 books and watched all 8 films — numerous times. And even though it has been 9 years since the release of the seventh book, "Harry Potter and the Deathly Hallows", and 5 years since the premiere of the eighth film, I've still managed to keep the Harry Potter magic in me alive — through visits to theme parks (such as The Wizarding World of Harry Potter in Universal Studios Japan) and real-life filming locations (such as Platform 9 3/4 in King's Cross St. Pancras Station in London). The only thing missing was a visit to Leavesden for The Warner Bros. Studio Tour London – The Making of Harry Potter.
Also read: Finding Harry Potter, Sherlock Holmes and Neverwhere in London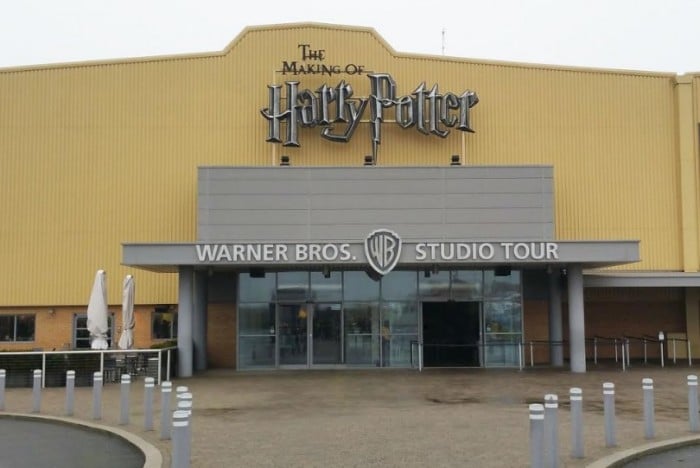 The Making of Harry Potter
So I did what any Potterhead would do — I went online and got myself a ticket to the film studios! And one fine day in May this year, I found myself in the outskirts of London, wide-eyed and open-mouthed as I stared at the massive production site that held the secrets of the Harry Potter films.
It took me almost a day to fully explore the studios, which I think is completely normal. I mean, this was the main base of the Harry Potter production crew from 2000 to 2010 so it houses 10 years-worth of carefully-preserved sets, props and costumes! You just can't rush through all the awesomeness!
For you to properly appreciate my experience in the magical world of Harry Potter, let me give you a virtual tour — complete with tons of photos, of course.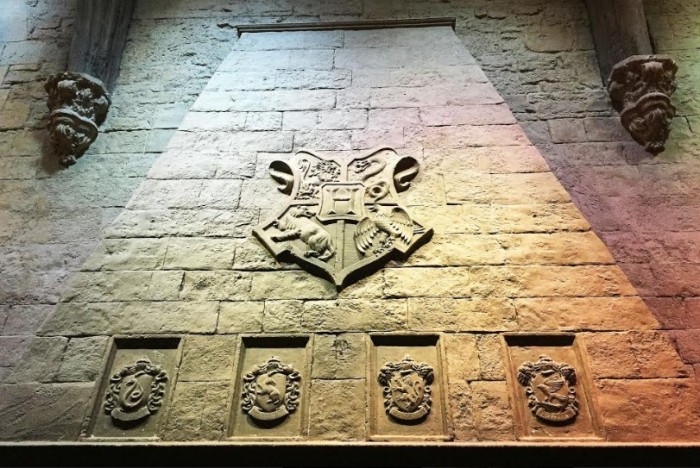 The Hogwarts Crest
Soundstage J
Let's start off with Soundstage J! Here, you'll be welcomed by none other than Daniel Radcliffe (Harry Potter), Emma Watson (Hermione Granger) and Rupert Grint (Ron Weasley) — not in person but via a short clip. After which, a door will open to reveal.. the Great Hall! Although the ceiling isn't enchanted — meaning: no floating candles — as that was created using visual effects, you'll still feel like you're in a dream. You'll be allowed only a few minutes to go around the Great Hall before being ushered into the main room so take in as much as you can while you're there.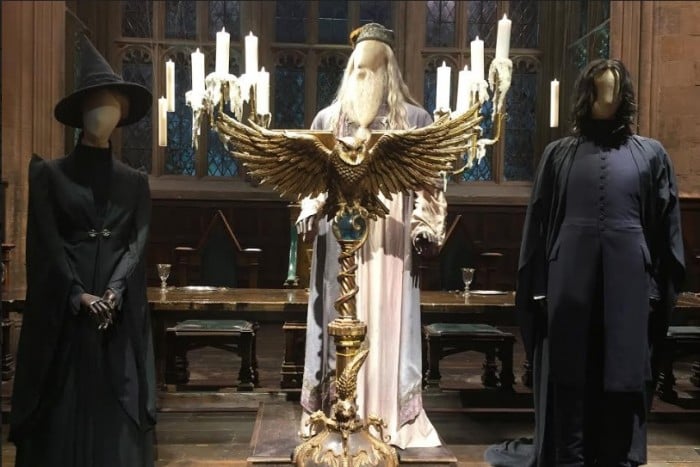 McGonagall, Dumbledore and Snape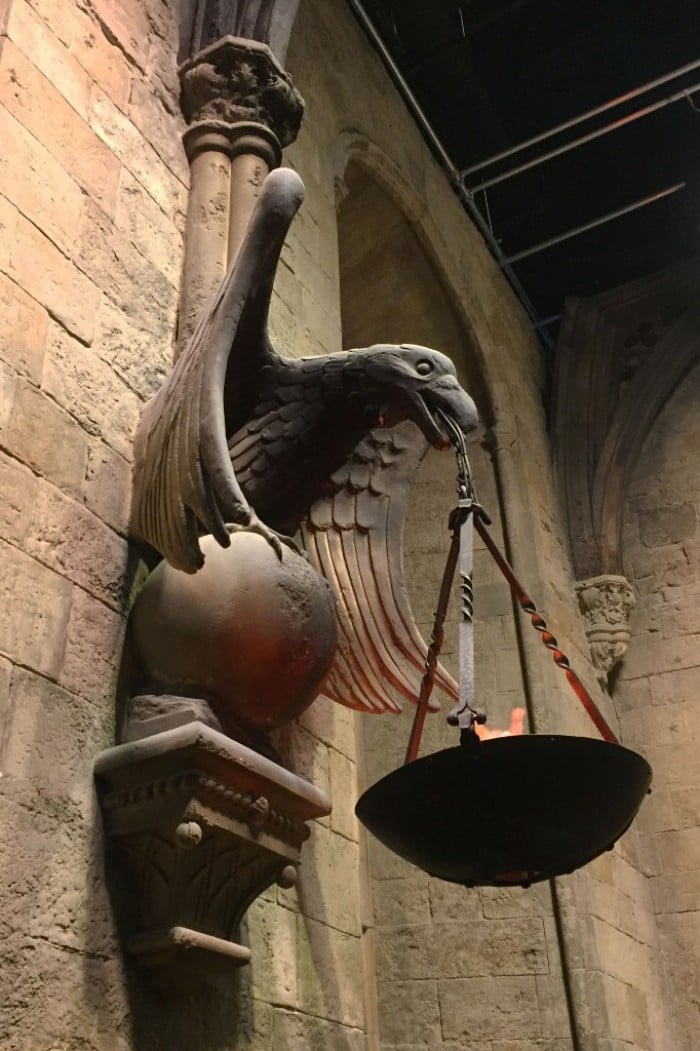 Ravenclaw Flambeaux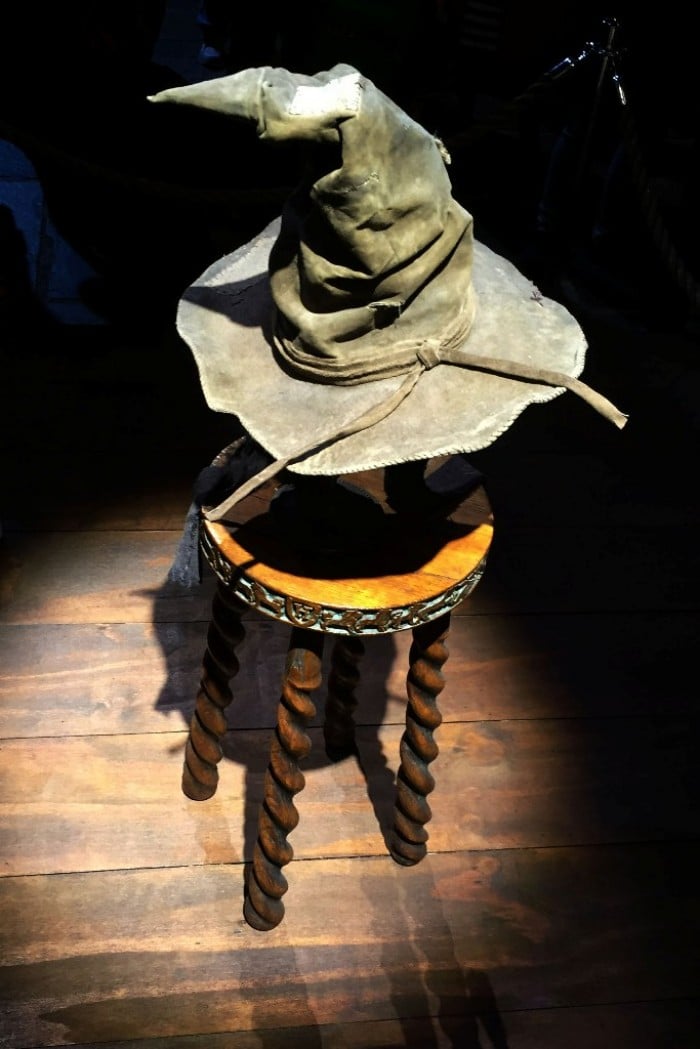 The Sorting Hat
The main room contains various exhibits that will make your Muggle heart skip a beat. Major sets like The Gryffindor Boys' Room, The Gryffindor Common Room, Dumbledore's Office, Snape's Potions Classroom, Hagrid's Hut, The Burrow, Borgin and Burkes, Malfoy Manor, The Ministry of Magic and Umbridge's Office can be found here.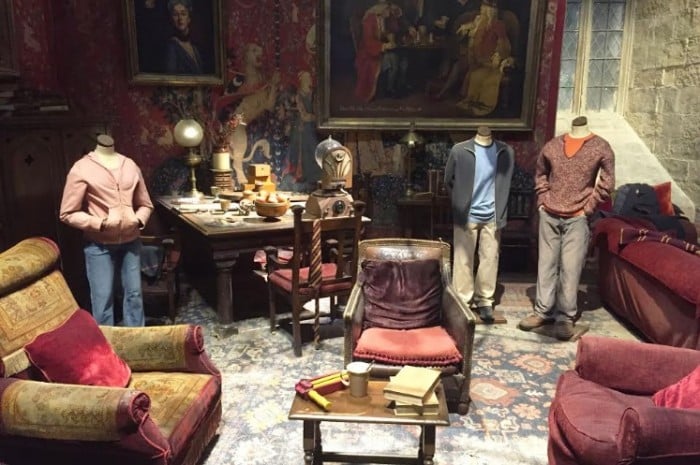 Gryffindor Common Room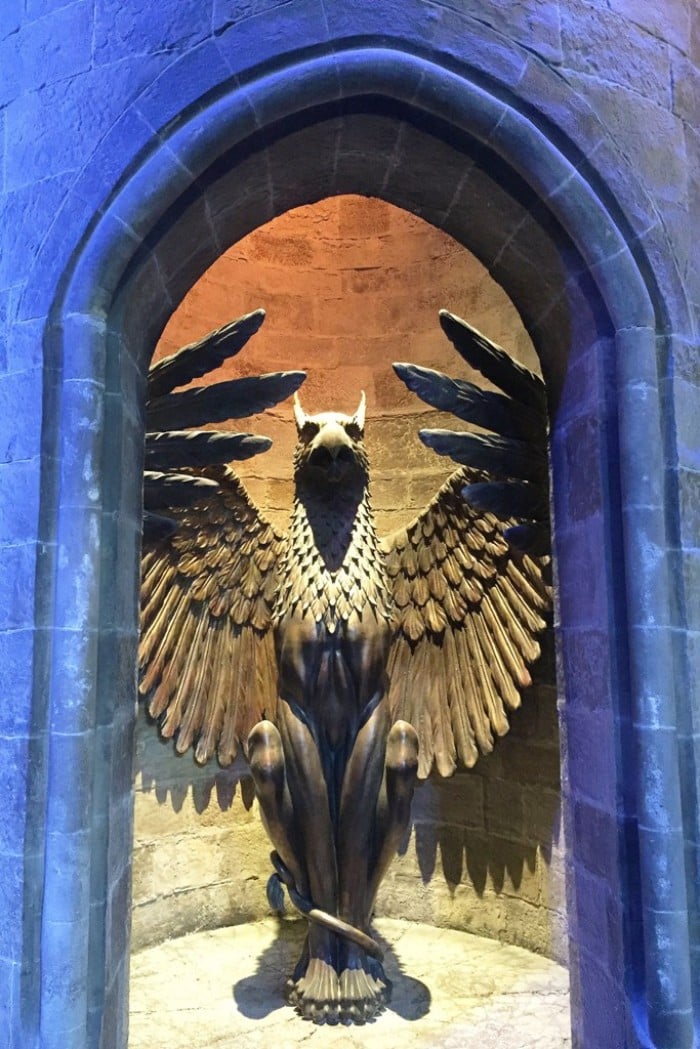 What's the password to Dumbledore's office?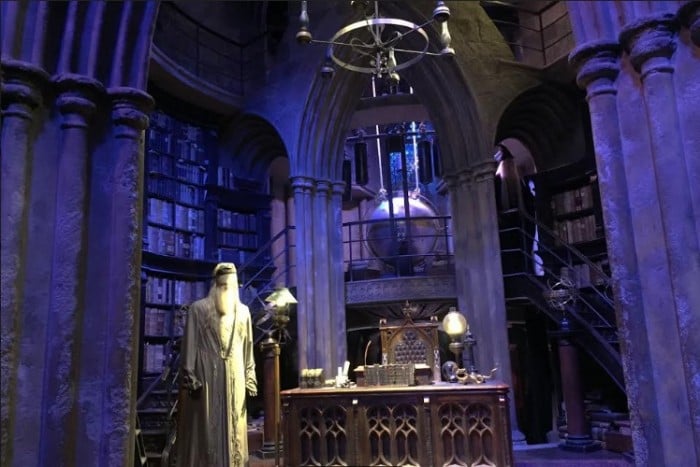 Dumbledore's Office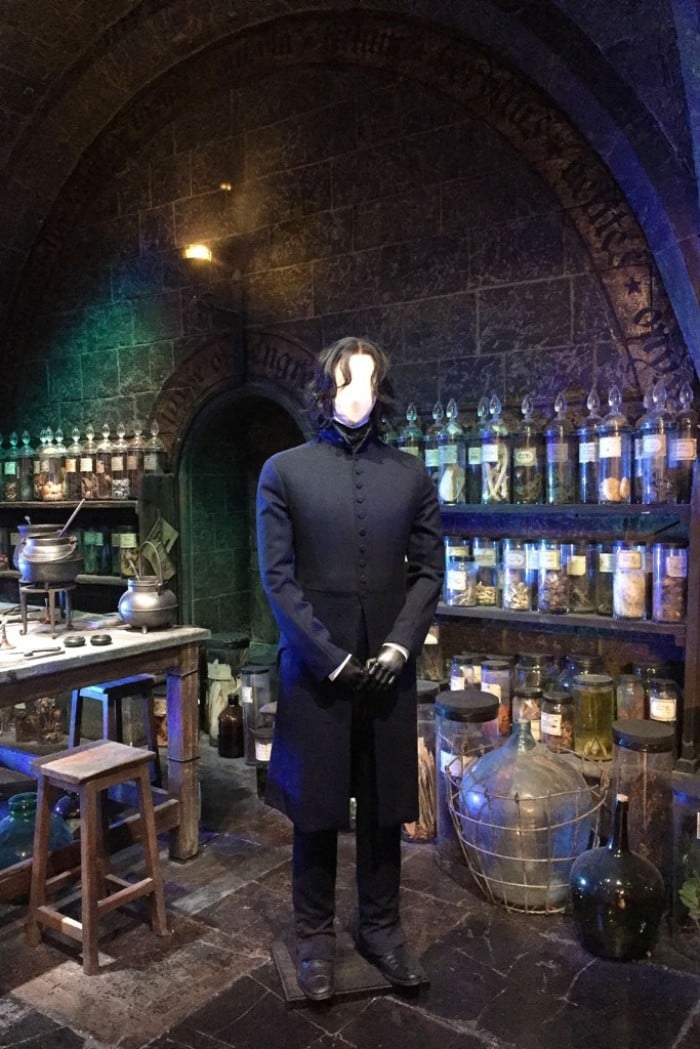 Snape's Potions Classroom
Hagrid's Hut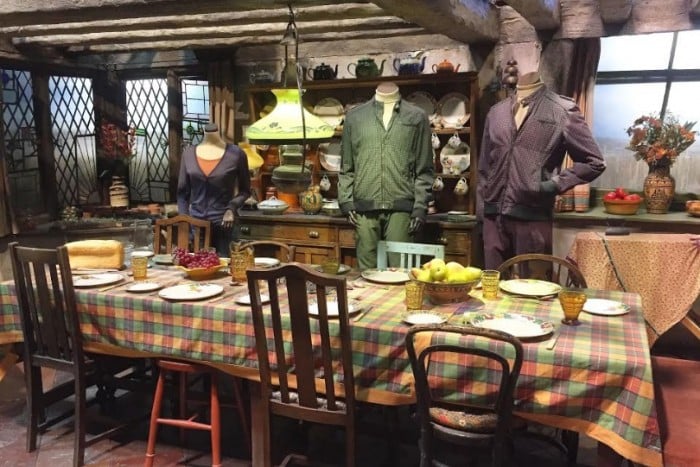 The Burrow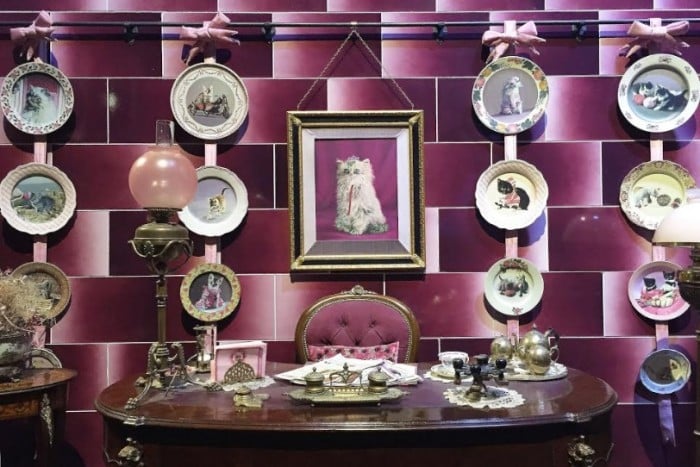 Umbridge's Office
Costumes — such as Yule Ball gowns, Quidditch robes and Hogwarts uniforms — are displayed as well, together with hundreds — or maybe thousands — of well-made props. I was able to get close to and inspect some of them. The crew's attention to detail blew me away! Be sure to spot the Goblet of Fire, the Triwizard Cup, the Golden Snitch, the Philosopher's Stone, the Horcruxes and many more as you work your way around.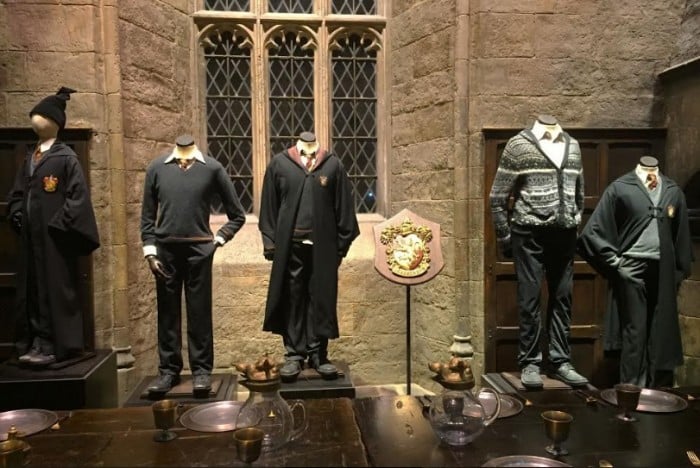 Gryffindor Uniforms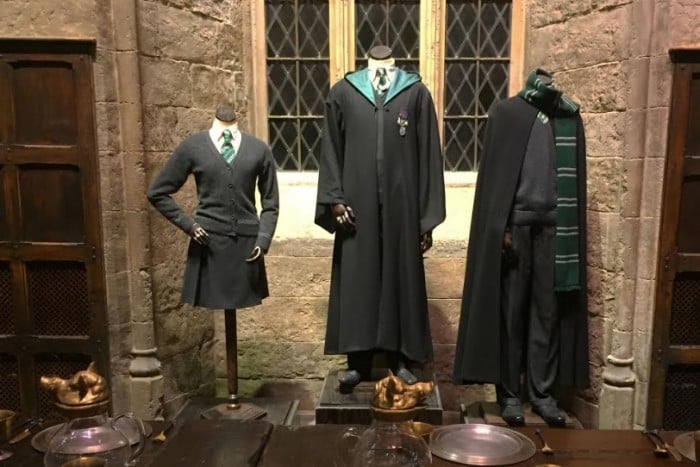 Slytherin Uniforms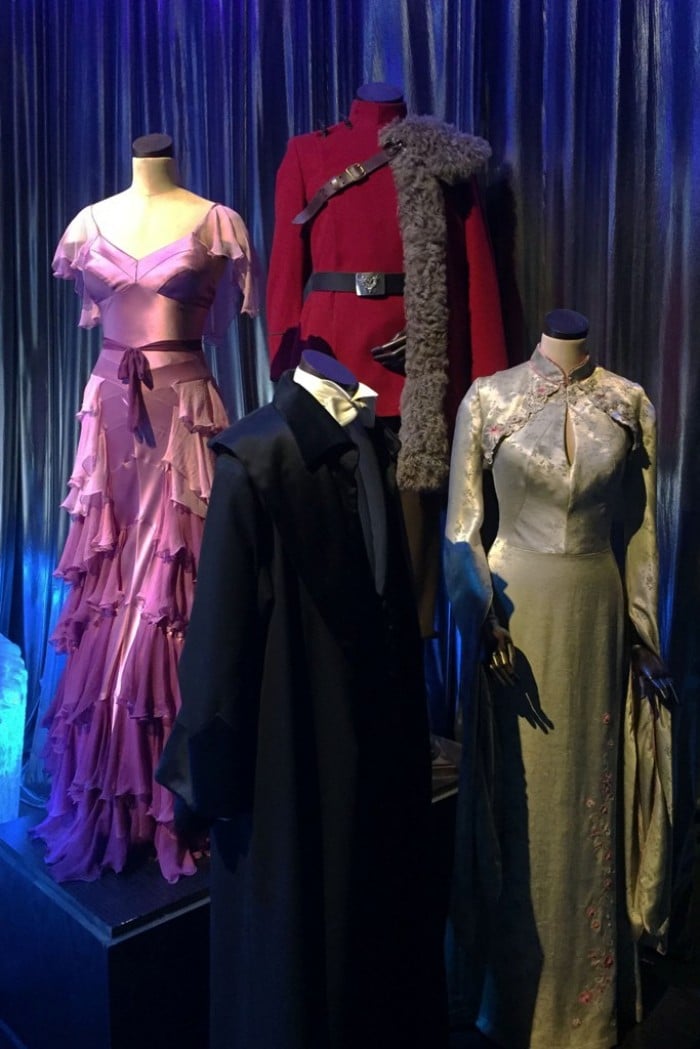 Yule Ball Gowns
There's a green screen area in Soundstage J, where you can get a photo of yourself riding on a broomstick. But that comes at a price. If you don't want to fork over a few pounds for a souvenir photo, there's another photo station for Platform 9 3/4, which is right next to the Hogwarts Express. There, you can get a shot of yourself pushing a trolley through a wall at no cost.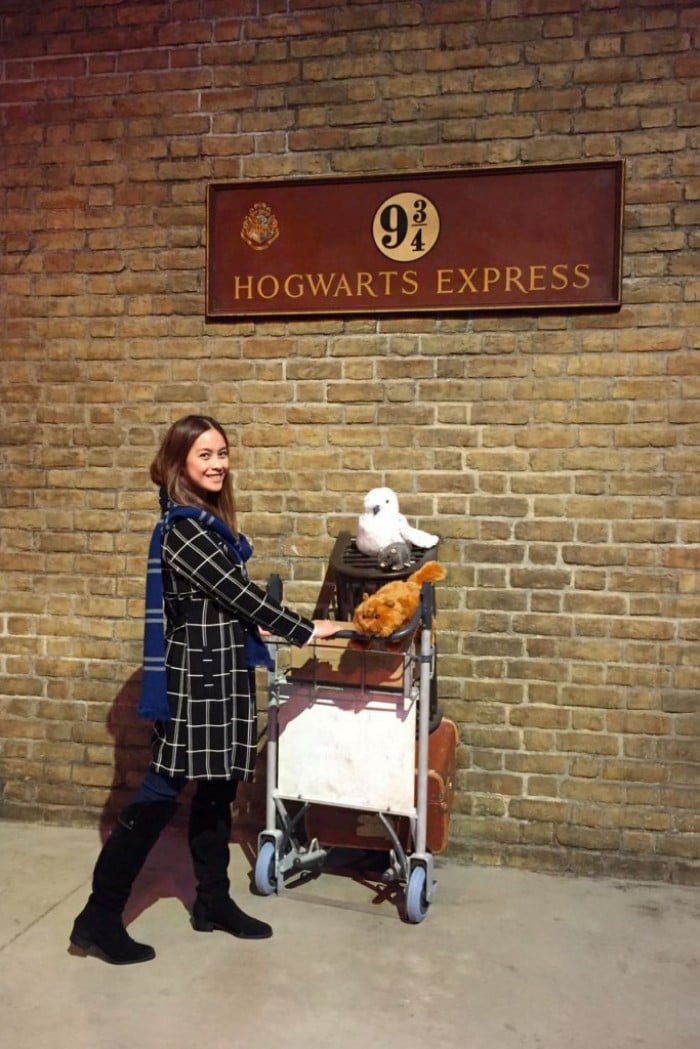 Platform 9 3/4
The Backlot
I'm sure you've taken hundreds of photos and absorbed so much Harry Potter film-making trivia by the time you exit Soundstage J. But that only makes up 50% of the tour! There's more to see! So you'll need to rest and grab a bite to eat before you continue on. Luckily, The Backlot, which is located in the middle, has a nice little cafe, where you can buy hot meals and of course, Butterbeer! Order the famous drink in a souvenir tankard or stein for only GBP 6.95. If you have a sweet tooth, try the Butterbeer ice cream as well. It's GBP 4.95 for a waffle cone and GBP 6.95 for a sundae.
After you've relaxed and eaten, head on out to The Backlot. I hope it's bright and sunny when you visit because this is an open-air area. Here, you'll find the exterior sets, sculptures and vehicles used in the films such as The Knight Bus, Privet Drive, The Hogwarts Bridge, Godric's Hollow and The Wizard Chess Pieces.
Also read: London On A Budget: 20 Fun and Free Things To Do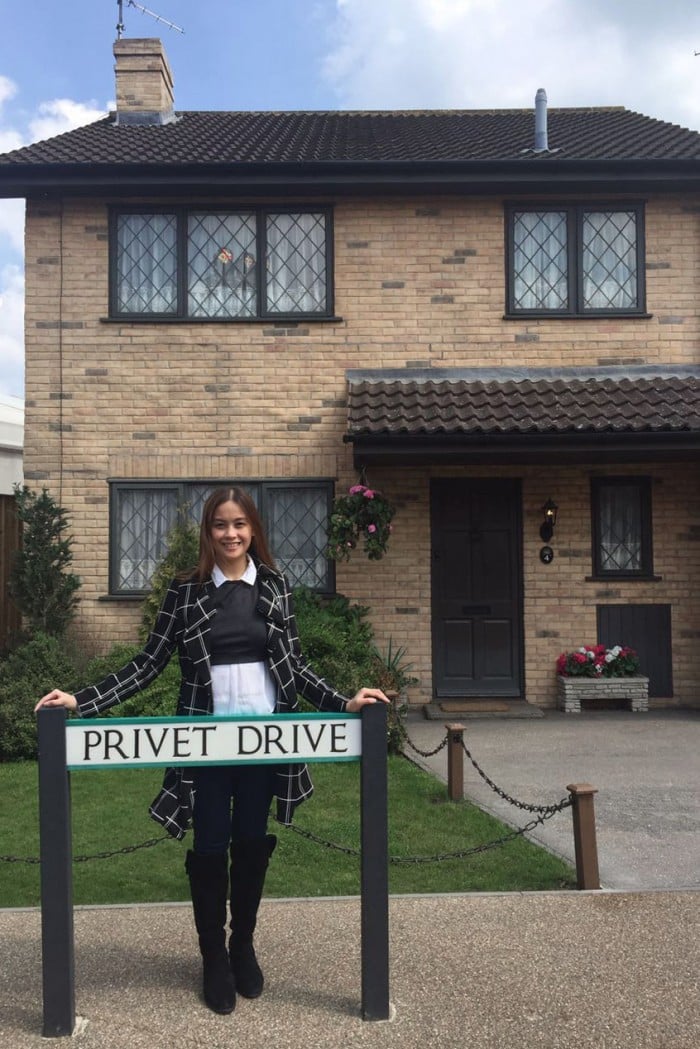 No. 4 Privet Drive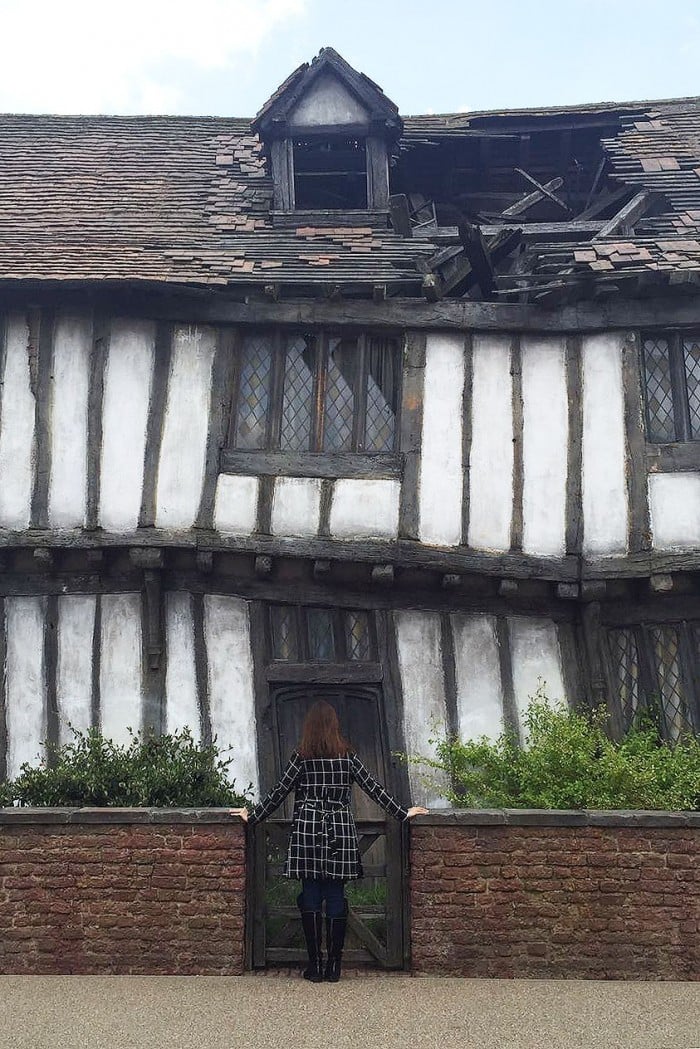 Godric's Hollow
Soundstage K
The last part of the tour is in Soundstage K, where you'll see how the creatures in the film were created. The Creature Effects Department used everything from make-up to prosthetics to remote controls just to make the creatures seem as real as possible on the big screen. So yes, Dobby the House Elf, the Gringotts Goblins, Aragog, Buckbeak and many others were not purely computer-generated. Knowing this made me appreciate the films even more!
Past the scary creatures is Diagon Alley. Pass through this constructed street and peek inside shops like Weasleys' Wizard Wheezes and Ollivanders Wand Shop.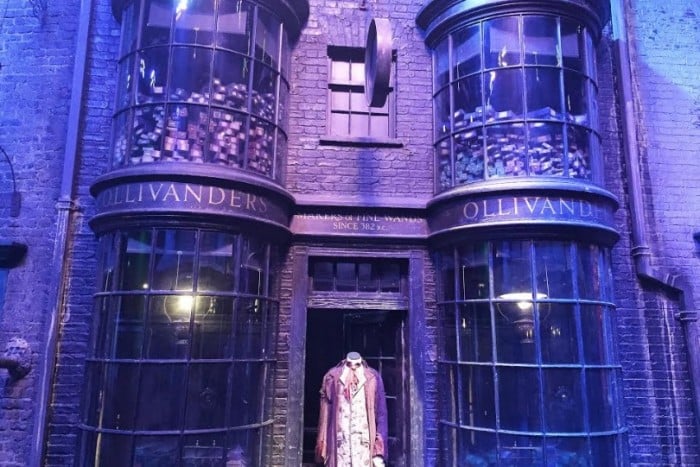 Ollivanders Wand Shop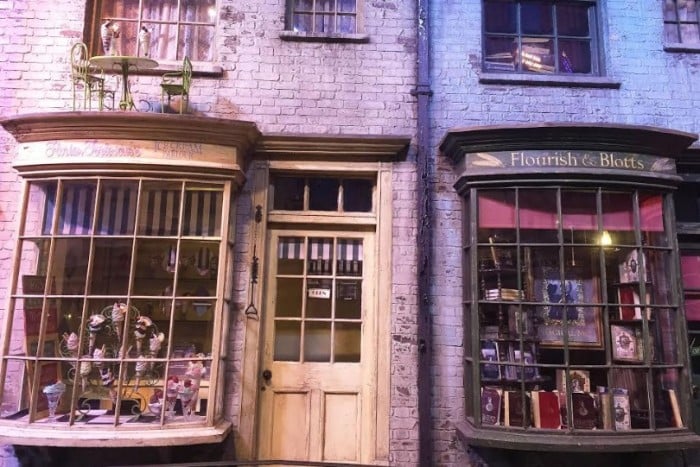 Flourish & Blotts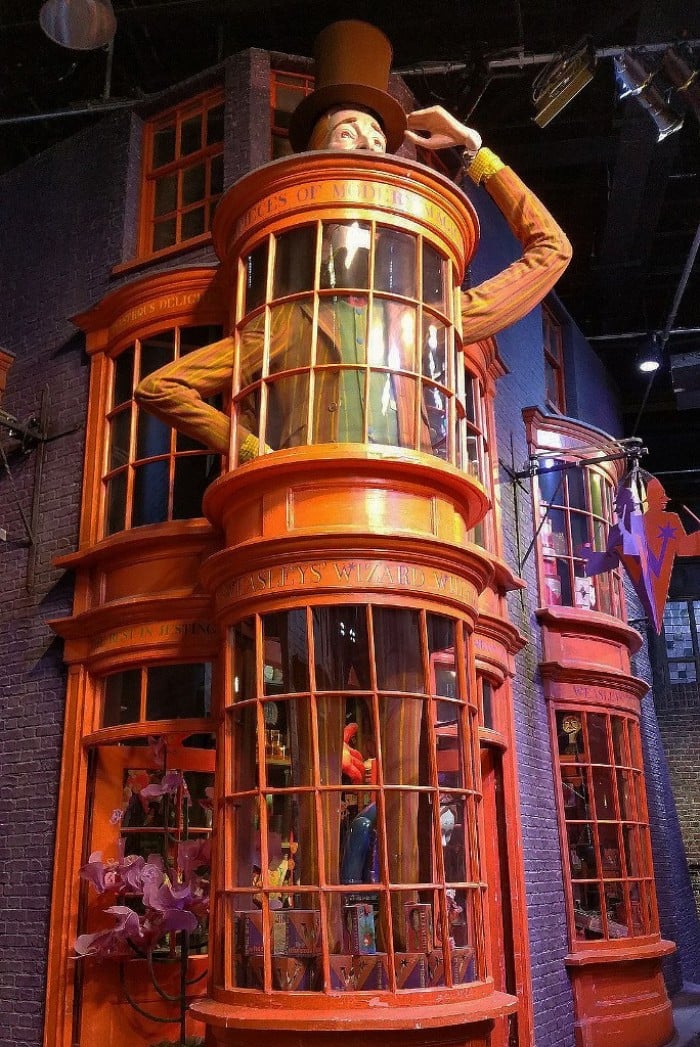 Weasleys' Wizard Wheezes
For the final exhibit, prepare to "Oooh!" and "Aaah!" because you'll see the 1:24 scale model of.. the Hogwarts Castle! Close to a hundred people built this castle and everything was hand-sculpted so the details are really intricate.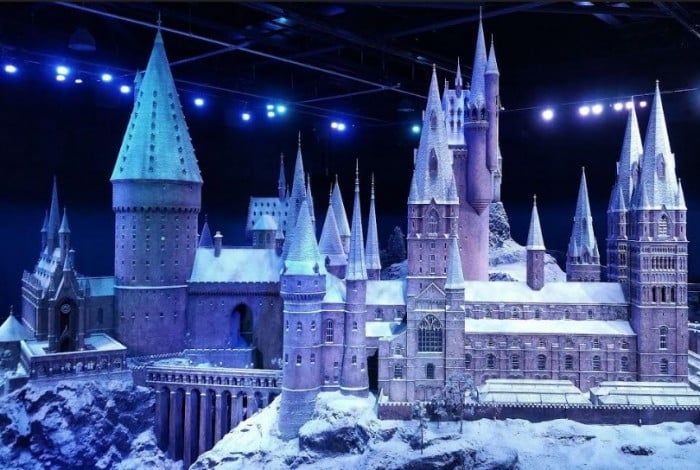 Hogwarts Scale Model
The tour ends with a visit to the wand room and a souvenir shop. Before you leave, indulge in Bertie Bott's Every Flavour Beans. Get yourself a wand and a scarf. Bring home a plush Hedwig or Crookshanks. Whatever your heart desires and your pounds can buy, they have it here. So go ahead, enjoy!
Important Information
I want to make sure you get the most out of your visit so I've listed down a couple of things you should consider:
Tickets are

not

sold at the studios. You must purchase them weeks in advance. An adult ticket (ages 16 and up) costs GBP 35 and a child ticket (ages 5 to 15) costs GBP 27. Children, aged 4 and below, may enter for free but they must still get a ticket. Children must always be accompanied by an adult. Tour packages are also available for families and big groups.
The studios are actually located in the outskirts of London. But don't worry. It's quite easy to get there. Use the Journey Tool from the studios' main website to get exact directions.
Each ticket has an allocated time slot so arrive 20 minutes before your schedule to avoid being turned away.
Tickets can be collected from one of the ticket windows outside the studios. Just present your booking confirmation plus a valid ID upon claiming.
There's free Wi-Fi inside the studios so you can start posting photos immediately! For Instagrammers, don't forget to tag @wbtourlondon and use #wbtourlondon!
If you have questions/concerns that I didn't cover, you can always visit the studios' main website for more information.
Also read: Exploring The English Countryside: Counties To Visit Near London